Driving from Rome to Florence is one of the most popular mini-road trips in Italy–and one of the most frequent questions we get from readers is where to visit along the way!
We've traveled between Florence and Rome many times at this point, hitting up plenty of fun destinations along the way.
This guide is designed to help you make the most of your drive from Rome to Florence (or vice versa–these suggestions work in either direction).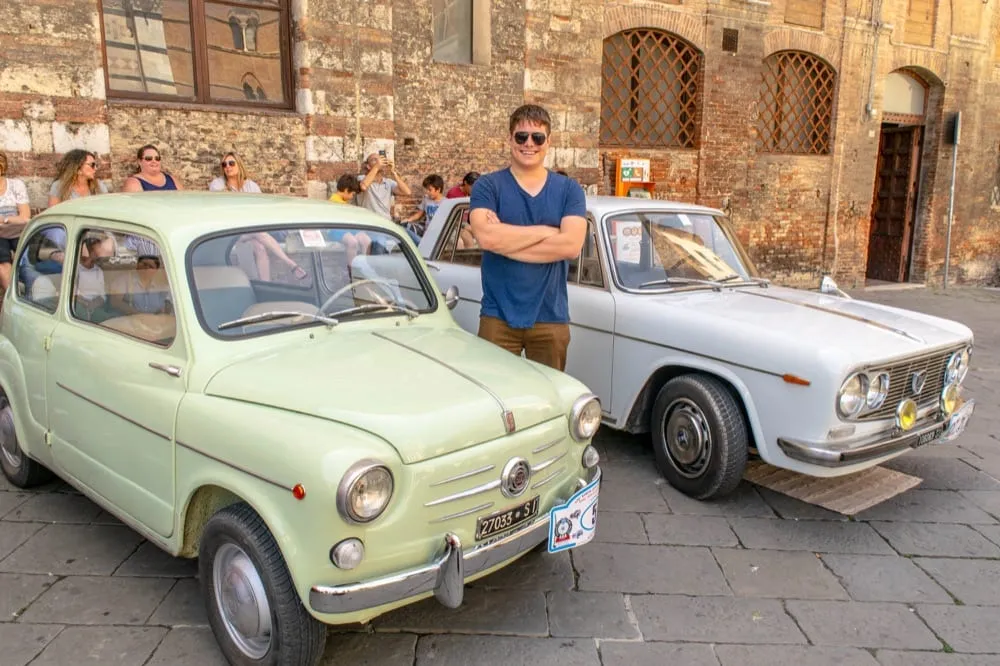 Some links in this post may be affiliate links. If you make a purchase through one of these links, we may earn a small commission at no extra cost to you. Please see our

disclosure policy

for more detail.
What's it like to drive from Rome to Florence?
Beautiful!
That's honestly our biggest takeaway: it's a beautiful drive, and quite relaxed as compared to driving in some other places in Italy.
With the exception of any stops that you might make (small towns, country wineries, etc.), the bulk of the drive from Rome to Florence takes place on well-maintained A1.
The A roads in Italy feel more or less like driving on any highway anywhere in the world, except you get the joy of watching the Italian countryside pass by through the window.
When we drove this route with my dad and stepmom, they remarked that the drive was much hillier and more beautiful than they imagined.
It's definitely not a boring drive!
How Long Does it Take to Drive From Rome to Florence?
Without stopping or considering the traffic to exit Rome and enter Florence (or vice versa), the drive time from Florence to Rome is about 3.5 hours via the most direct route.
The fairly short timeline means that even if you're driving from Rome to Florence in a single day, you still have the opportunity to make a day of it and stop somewhere fun along the way!
(And after all, if you're not stopping to sightsee, taking the high-speed train is a much faster and more efficient way to travel between Rome and Florence!)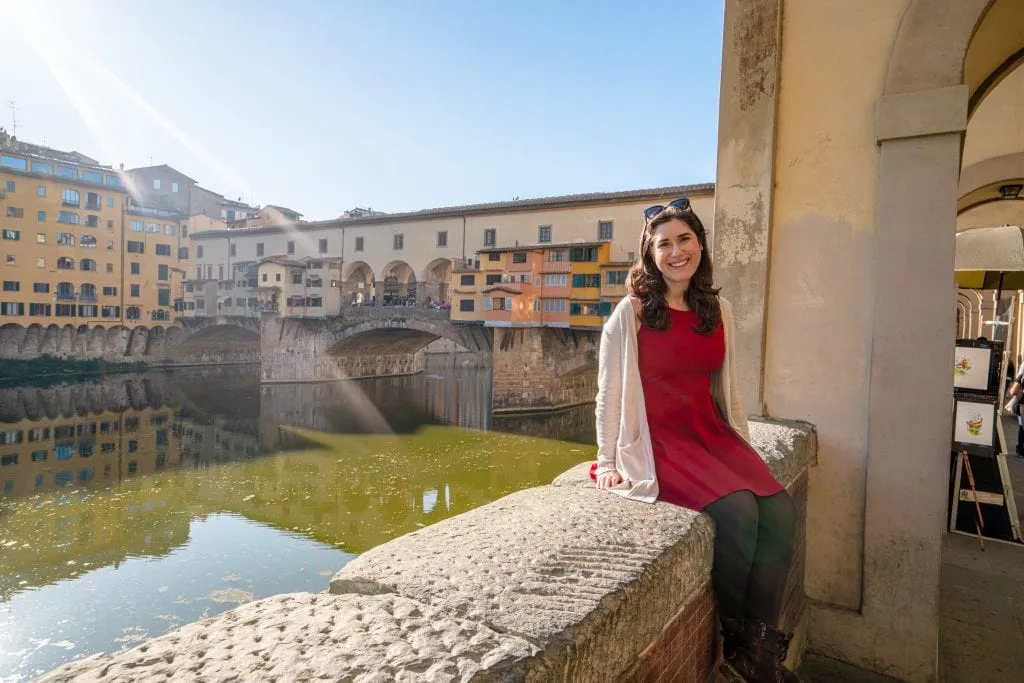 Where to Stop When Driving From Rome to Florence
Here are our absolute top picks for where to stop on a drive from Rome to Florence.
Any one of these is doable even when completing the Rome to Florence drive in a single day!
Orvieto
The beautiful hilltop town of Orvieto makes a fabulous day trip from either Florence or Rome–but if you can squeeze it in between the two destinations to avoid doubling back, that's even better!
We adore this small town and highly recommend a visit.
Be sure to admire the fabulous Duomo, climb the Torre del Moro for amazing views, explore some of Orvieto's Etruscan and papal history, visit Orvieto's underground, and sip some Orvieto Classico wine.
If you have time, consider adding a museum or two to your list!
We also loved descending into St. Patrick's Well on the edge of town.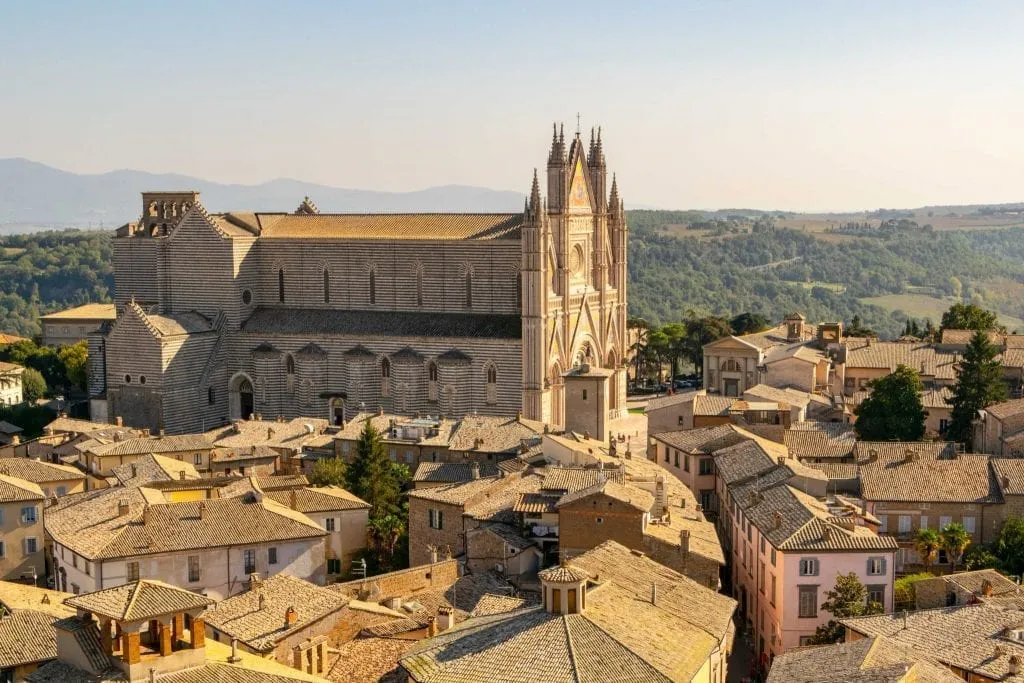 Montepulciano
In our opinion, Montepulciano boasts some of the absolute best views of the Tuscan countryside from any hilltop town, and some of the best wine, too.
Montepulciano is small and doesn't take too long to see, making it the perfect stop when driving from Rome to Florence. 
Even with its small size, though, we count it among our favorite villages in Tuscany and highly recommend a visit.
While you're there, be sure to check out some of the best things to do in Montepulciano!
Stop by the beautiful Piazza Grande, admire views of the nearby Church of San Biagio which is located just outside of town, and taste the local wine, vino nobile di Montepulciano.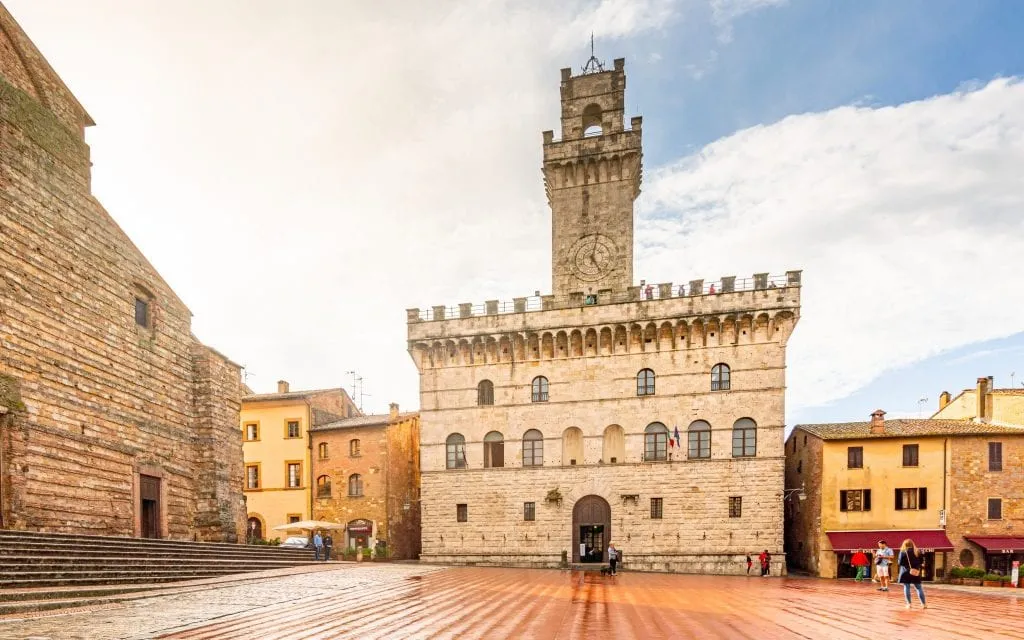 Civita di Bagnoregio
Easily one of the most unique and picturesque small towns in Italy, Civita di Bagnoregio is a bit of a headache to access without a car or tour, making it the ideal road trip stop.
Stunning and somewhat isolated, Civita di Bagnoregio (or simply "Civita") is perched on a cliff of tufa rock, and has been populated since the Etruscan era.
With beautiful views, pretty churches, and winding alleys to explore, Civita di Bagnoregio is an idyllic stop on a drive between Florence and Rome.
There are a few quirks to visiting Civita di Bagnoregio: the town charges an entry fee (5 Euro as of the time of writing), and you can only access it via a long pedestrian bridge.
Don't miss the views from the Belvedere before you head down and cross the bridge, either: this is where you'll find the postcard shot of Civita di Bagnoregio!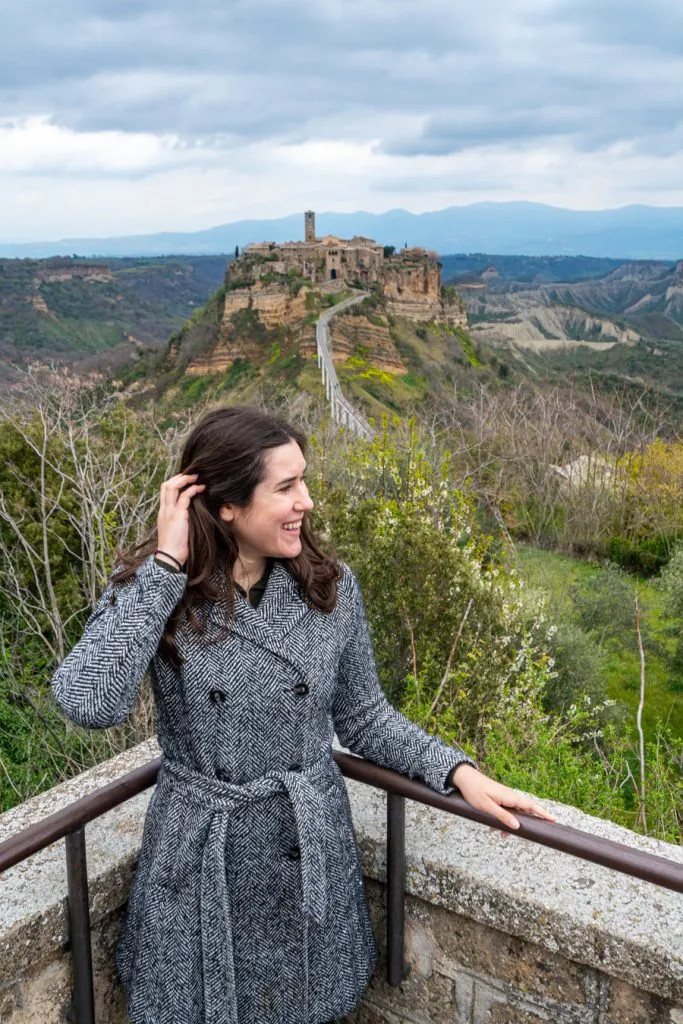 Cortona
As the Tuscan village that is featured in the famous Under the Tuscan Sun book and movie, there's no doubt that Cortona is a charming place.
Idyllic, beautiful, and quite small, Cortona is a fabulous stop during a Rome to Florence road trip.
It's also a bit of a hassle to reach by train, as you have to take the train to the nearby area of Camucia and then grab a bus to the charming center of Cortona.
In other words, if you're hoping to visit Cortona and want to simplify your transportation, it's a great place to visit by car.
Once you finish exploring Cortona itself, consider using the freedom a road trip gives you to visit the beautiful nearby Monastery of Celle.
Arezzo
Beautiful, quiet, and often overlooked on trips to Tuscany, the city of Arezzo is a bit bigger than the other options outlined above but also makes an excellent stop when driving from Rome to Florence.
Home to Roman ruins (including the remains of Arezzo's very own Colosseum), sweeping views from the Medici fortress, some impressively well-preserved fifteenth-century frescoes, and a large number of antique shops just waiting to be perused.
If you're looking for a somewhat off-the-beaten-path Tuscan city, Arezzo is a fabulous option for your Rome to Florence road trip.
Be sure not to miss a chance to climb the clock tower at Palazzo della Fraternita dei Laici right off the main square (Piazza Grande)!
The views from the top are absolutely sublime, and it is our personal favorite spot in Arezzo.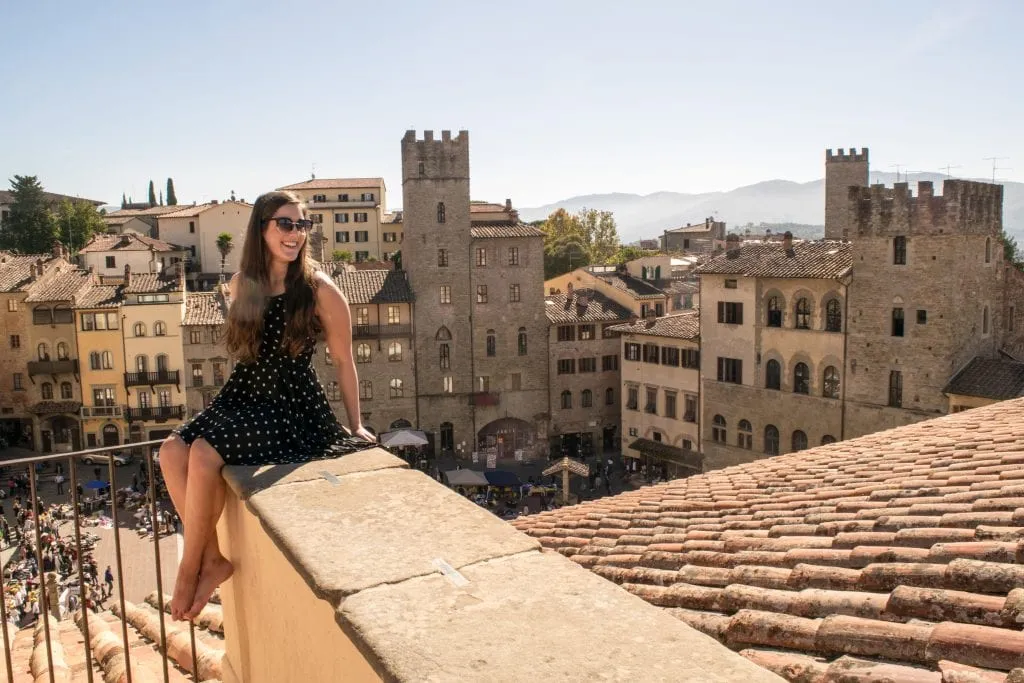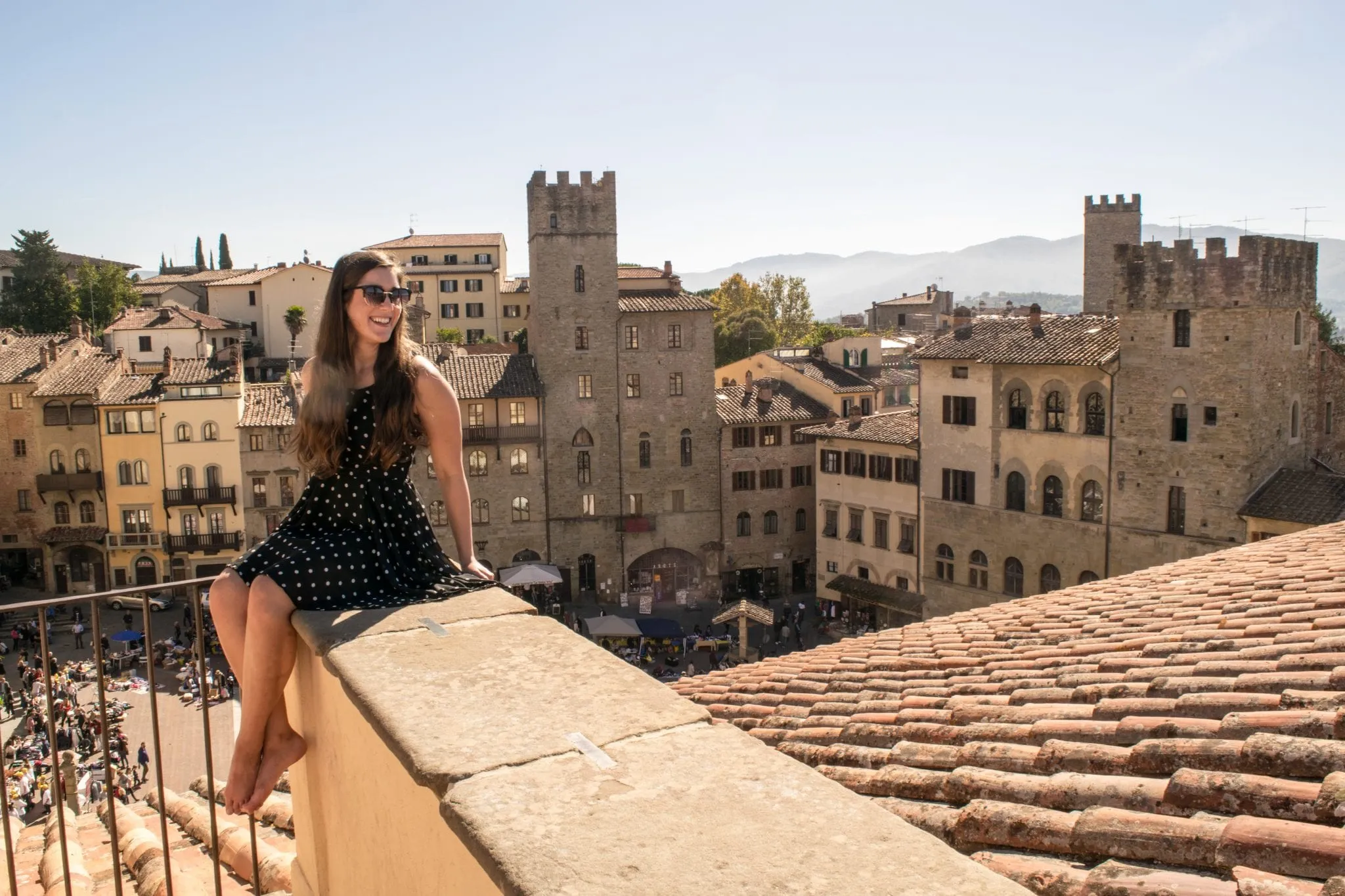 Other Stops to Consider on Your Rome to Florence Road Trip
Planning a Rome to Florence road trip that will last longer than a day?
If you're hoping to stop for a night or two between the two cities, you can expand your reach, opening up several more interesting places to visit in central Italy.
The destinations outlined here are a bit more out of the way and/or take a bit more time to visit, but make excellent side trips between Florence and Rome if you have time to spare!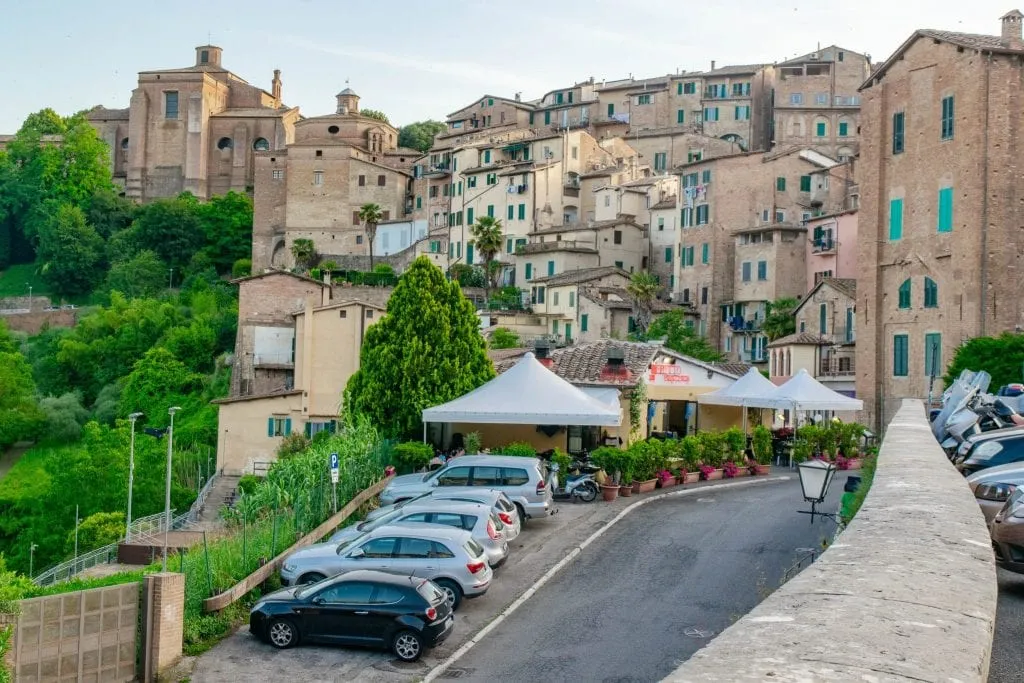 Siena
Gorgeous Siena, Florence's ancient military rival, isn't exactly on the way to Florence from Rome (via the fastest route, anyway), but it's still worth a visit.
With an impressive history, a fascinating culture (the Palio di Siena biannual horse race has been running since 1719!), and plenty of fun things to do, Siena ranks among many visitors' favorite cities in Tuscany.
Siena is home to arguably the most beautiful Duomo in Tuscany (don't forget to check out the Piccolomini Library while you're in there!).
We absolutely recommend taking the Porta di Cielo, or Gate to Heaven, tour of the cathedral's roof if you can–it's magnificent.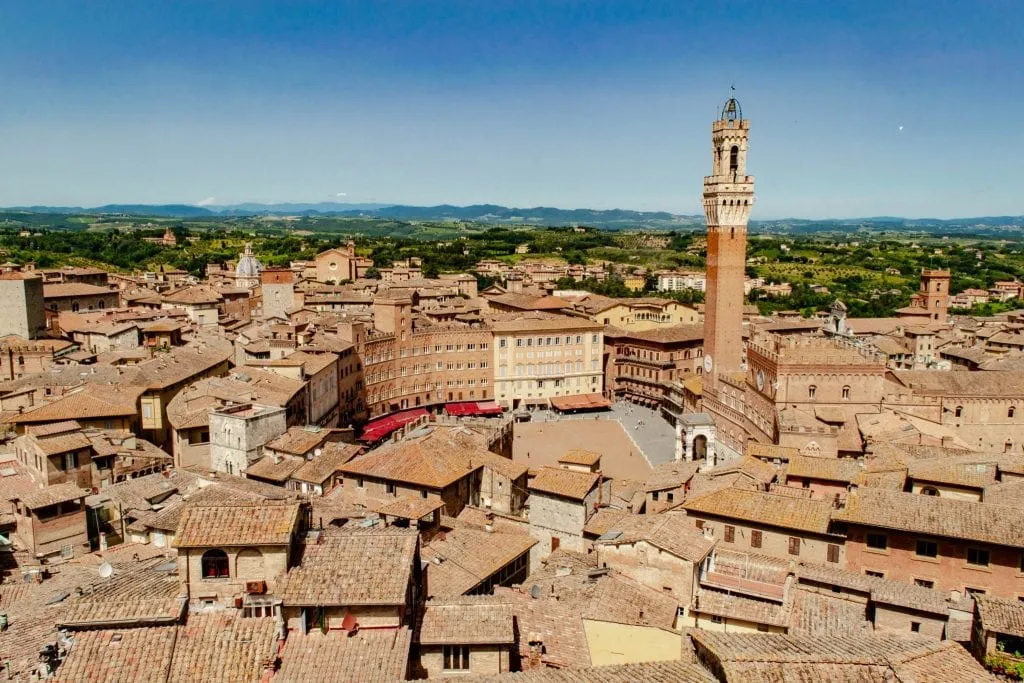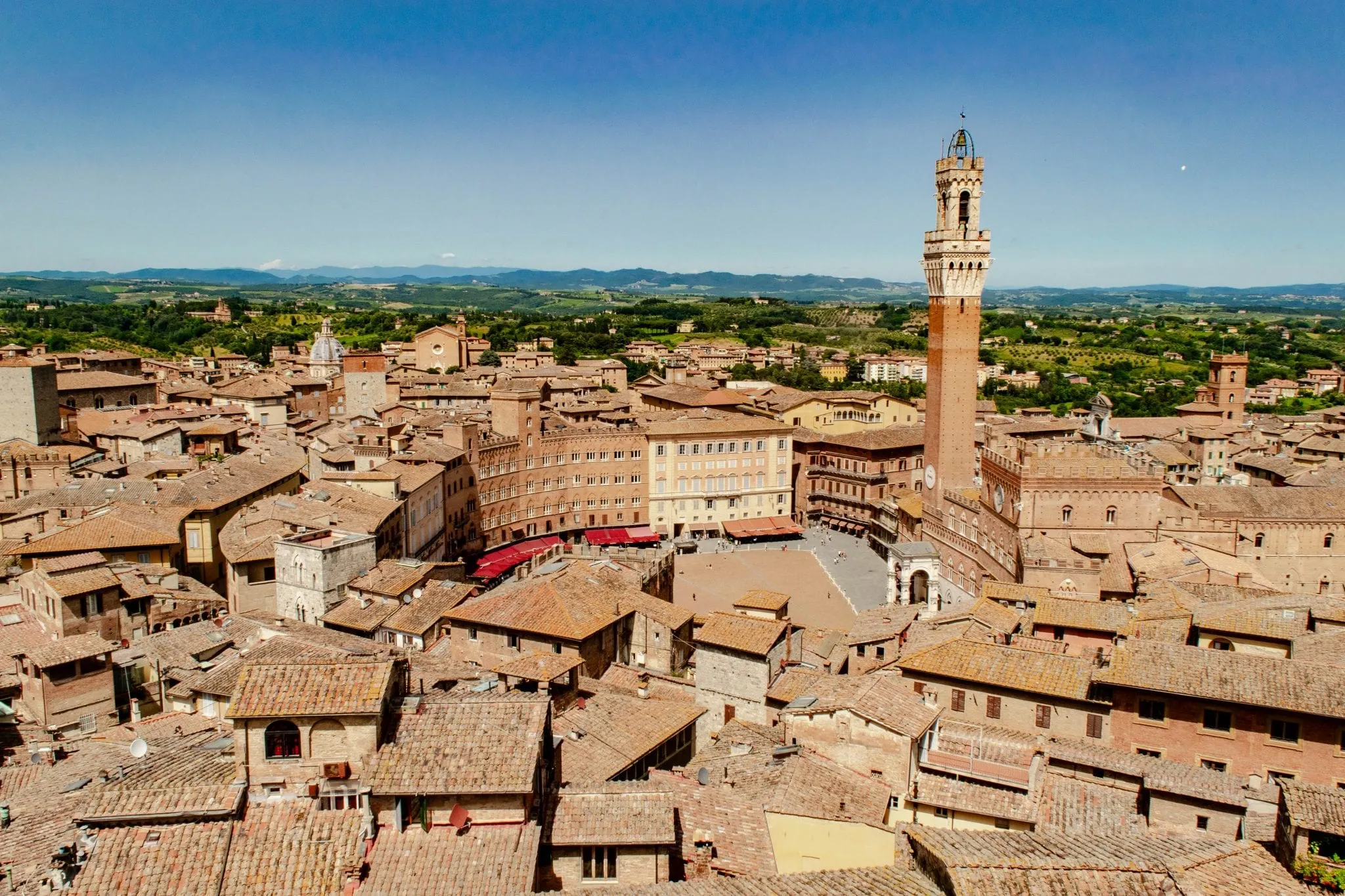 Perugia
Visiting Perugia on the drive from Rome to Florence requires you to go around your nose to get to your face, so to speak, but Perugia can be worth the detour!
This walled city boasts beautiful views, lots of Etruscan history, and delicious food.
As the capital of Umbria, you'll find plenty of stunning architecture in Perugia too, including the Palazzo dei Priori and the Cathedral of San Lorenzo.
Don't miss the chance to sample the local chocolate, either!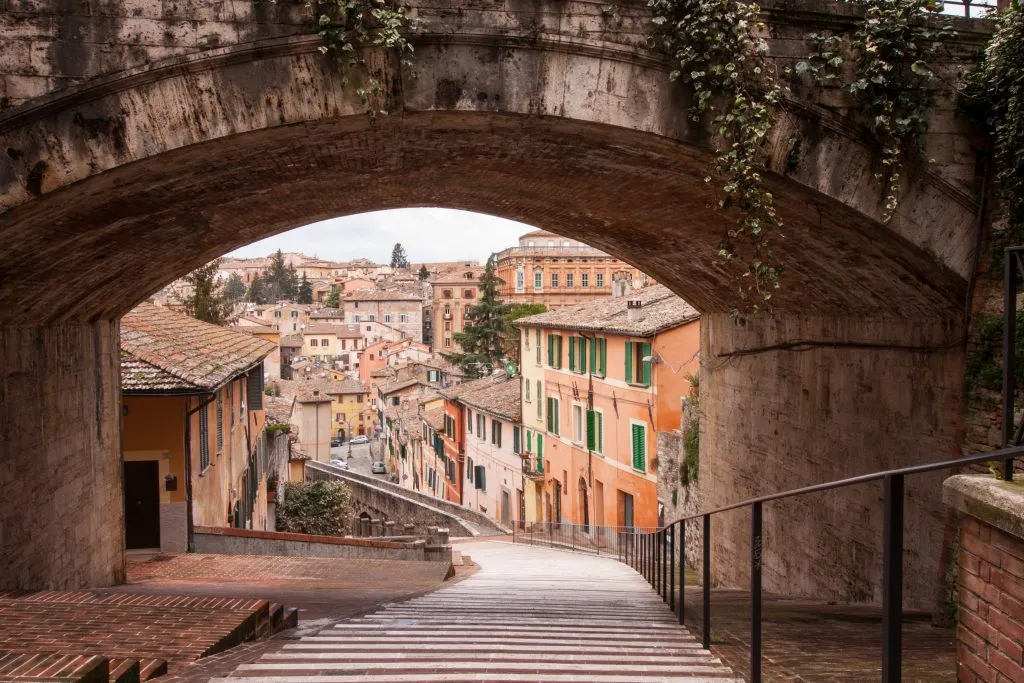 Assisi
As the location of the birth, work, and death of St. Francis, Assisi is one of the most popular pilgrimage destinations in Europe among Catholic travelers.
Even if you're not Catholic, though, this small Umbrian town has plenty of history and beauty to offer.
St. Francis was the founder of the Franciscan Order–a name you'll see pop up a lot in Italy–and is also one of the patron saints of the country.
In Assisi, you can tour the impressive Basilica of St. Francis while learning about the life and history of the saint.
Pisa
As the most popular day trip from Florence and one of the most famous sights in all of Tuscany, Pisa makes a great stop if you have a few extra hours to use up with your rental car during your Rome to Florence road trip.
Quite frankly, Pisa does not take long to see–a half-day is generally plenty for the major highlights–and having the flexibility to move on when you're ready is a benefit given the large numbers of crowds you can generally find there.
The famous Leaning Tower of Pisa is even more beautiful in person than we ever imagined from pictures!
While Pisa itself is far from the loveliest town in Tuscany, if you've always wanted to climb the tower, it's definitely worth a quick stop–be sure to book your tickets before you arrive, though!

Book your skip-the-line tickets to visit the Leaning Tower of Pisa today!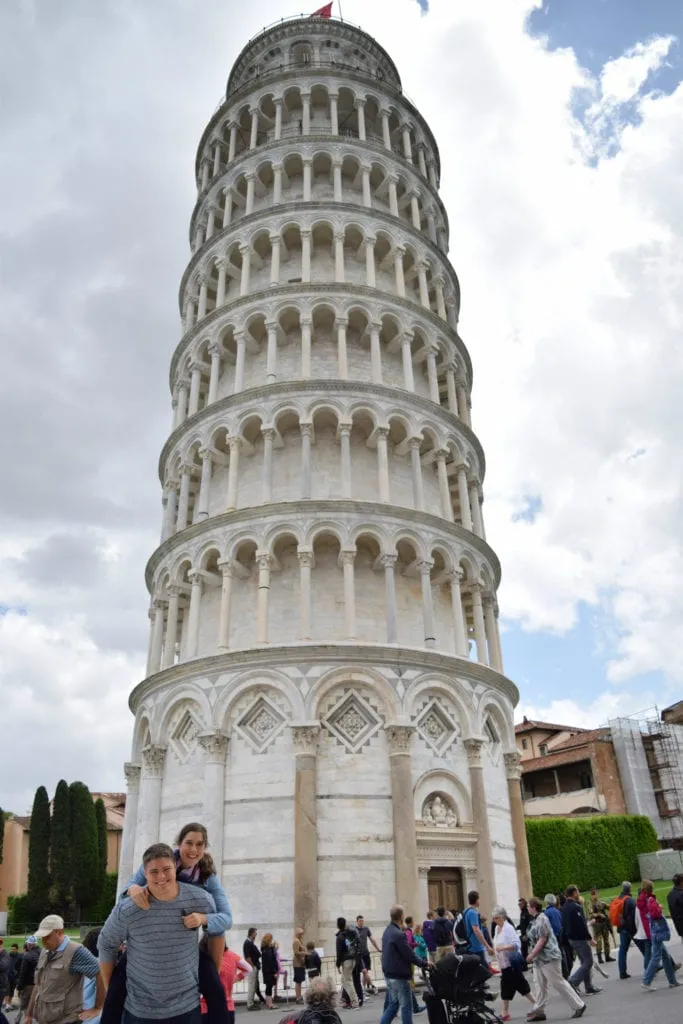 Terme di Saturnia
The most famous of all of Tuscany's hot springs have emerged from comparative obscurity into a full-blown famous photography location in recent years.
That's for a good reason, though: there's no doubt that it's still a dream to visit!
If you're a fan of hot springs and want to make a detour for a soak during your drive from Rome to Florence, consider adding Terme di Saturnia to your itinerary.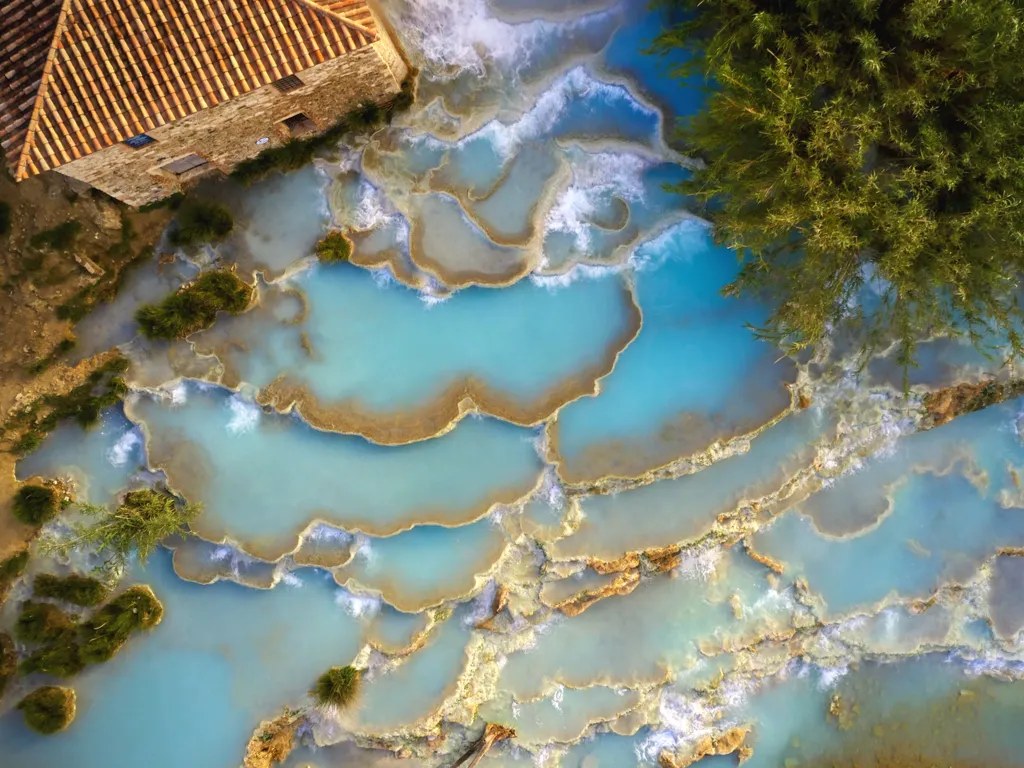 Tips for Driving From Rome to Florence
Driving from Rome to Florence along the major highways is among the simplest driving we've encountered in Italy.
If you're a confident driver, I would say there's no reason to hesitate over renting a car for this route.
There are, however, a couple of complications that pop up once you leave the main highways and head to, say, Orvieto or Cortona.
Here are a few tips to keep in mind for the drive from Rome to Florence, and if you're planning a longer trip, you may want to also check out the additional advice we have in our Tuscany road trip guide.
Don't plan too many stops between Rome and Florence.
Looking at all the tantalizingly accessible destinations on a map of the drive from Rome to Florence can make it incredibly tempting to try to squeeze in as many stops as possible, but try very hard to resist that idea!
While the distances are fairly short, finding parking, walking to the center of town, exploring the town, and then reaching your car again takes quite a bit of time for each place.
If you're completing your Rome to Florence road trip in a single day, we recommend choosing just one extra stop between the two.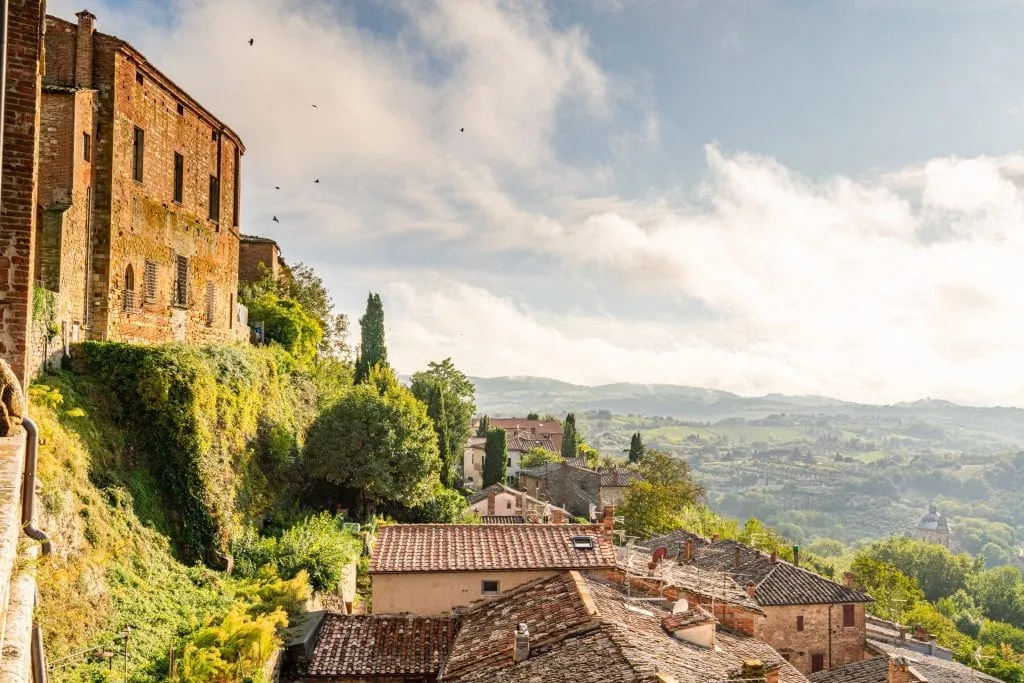 Shop around for your rental car.
I'm almost 100% certain that we've used a different rental car company every time we've rented a car in Italy.
That's how much the prices can vary depending on your time of travel, pickup and dropoff locations, size of the vehicle, and more!
We recommend searching for your car via Discover Cars, which will allow you to check out the rates of several different rental car agencies at once and compare prices and inclusions side-by-side.
Price rental car options for the drive from Rome to Florence today!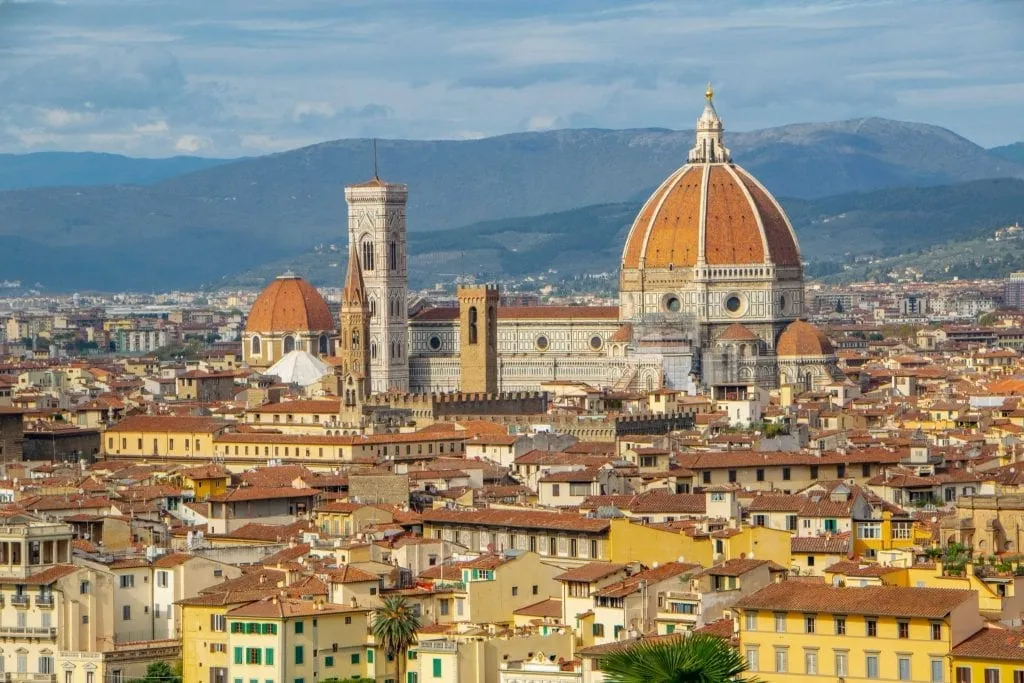 Be careful to avoid ZTL zones.
ZTL zones are restricted access areas that dot most of Italy's historic city centers, including both Rome and Florence.
If you drive into one, even accidentally, you're risking a big ticket (and we've definitely had to call tiny Tuscan police stations to help some of our family members pay them off months after the fact).
Avoid them by parking on the outskirts of historical centers and by doing your research ahead of time, including where to park in each city you hope to stop in when driving from Rome to Florence.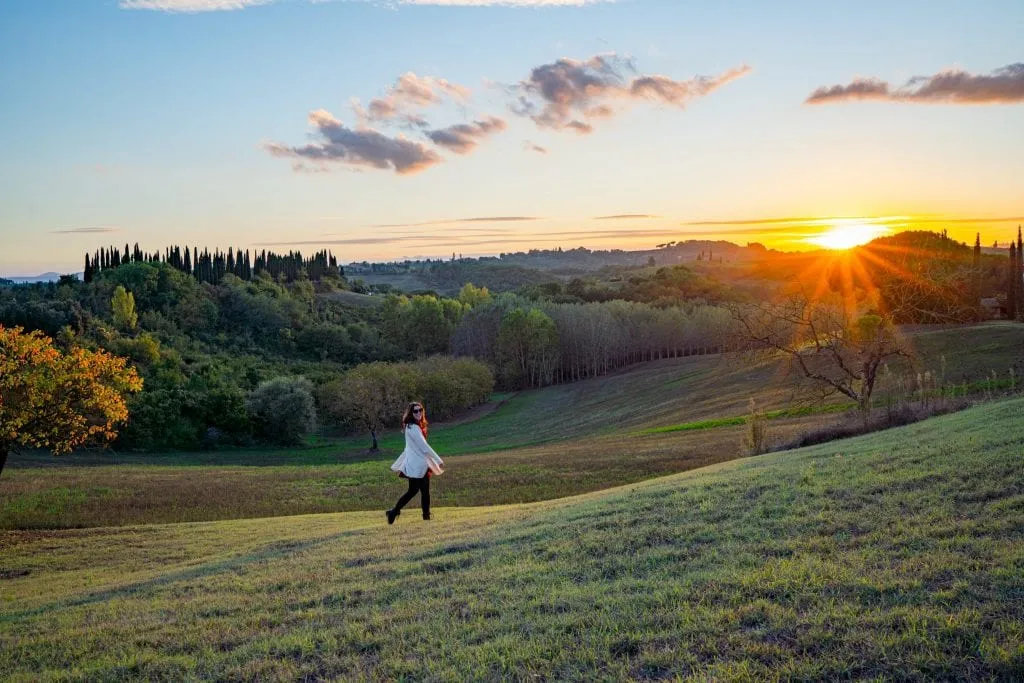 Autogrills make great quick stops when driving from Rome to Florence.
Need to fill up the gas tank, down a shot of espresso, go to the restroom, eat a reasonably tasty and affordable cooked lunch, or grab some snacks?
Keep an eye out for an Autogrill when driving along the highway–they can help you out with that.
Autogrills are essentially very nice gas-stations-slash-coffee-bars-slash-cafeterias, and you can find them right off the highway all over Italy.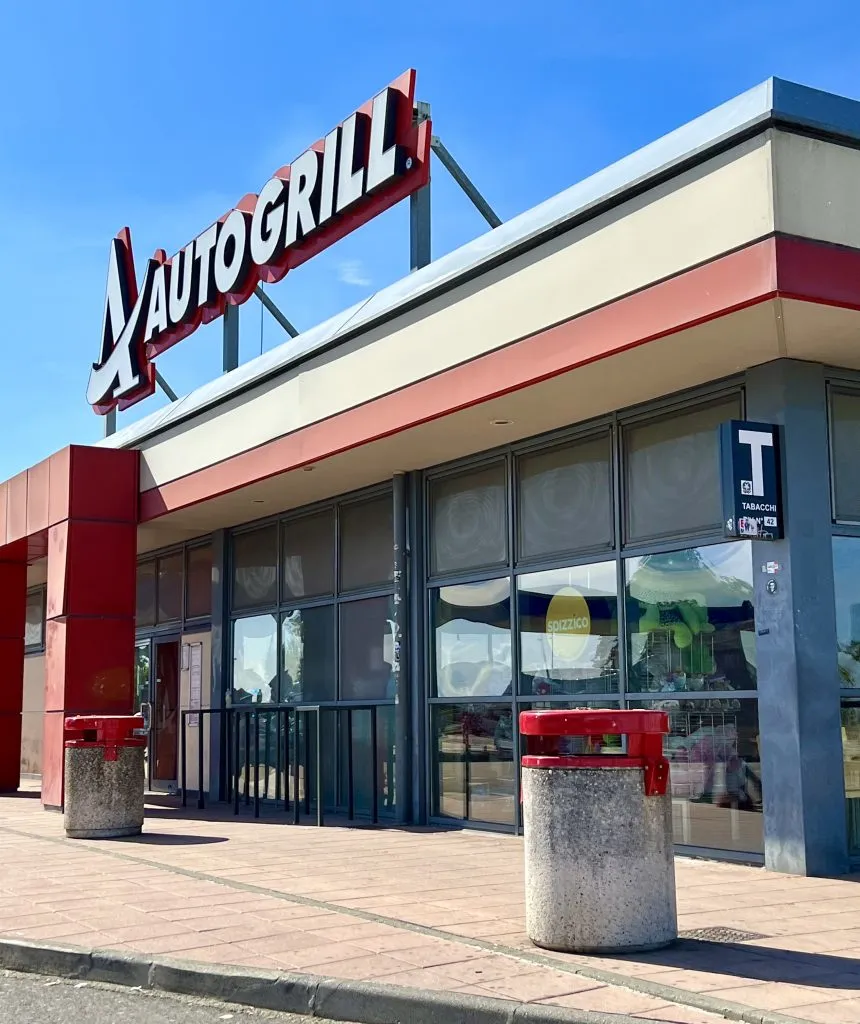 You need an international driving permit to rent a car in Italy.
You can pick this up before you leave home from AAA, and it's very easy and cheap to do–just a bit annoying, as it's one more thing to add to your to-do list before leaving for your trip to Italy.
Now, that being said–will your rental agency always ask for it? No.
Will the police always ask for it? No.
Is it worth the risk of being refused a rental car or getting a ticket over $25 USD and a bit of hassle?
We don't think so.