Stepping inside the delightful fishing village of Cassis, France, is a lot like stepping inside an impressionist painting.
From the shimmer of the water in the port to the pastel-painted buildings, and from the towering chateau that overlooks the town to the delightful calanques that lurk outside of it, Cassis is a treasure for the eyes.
It took us approximately three seconds after strolling into the center of Cassis to become utterly smitten with it: the harbor alone would make Cassis worth visiting while exploring the South of France, an impressive feat for a town that is surrounded by plenty of other adorable coastal villages.
Considering a visit to Cassis? Here's what to expect in this lovely Provencal town.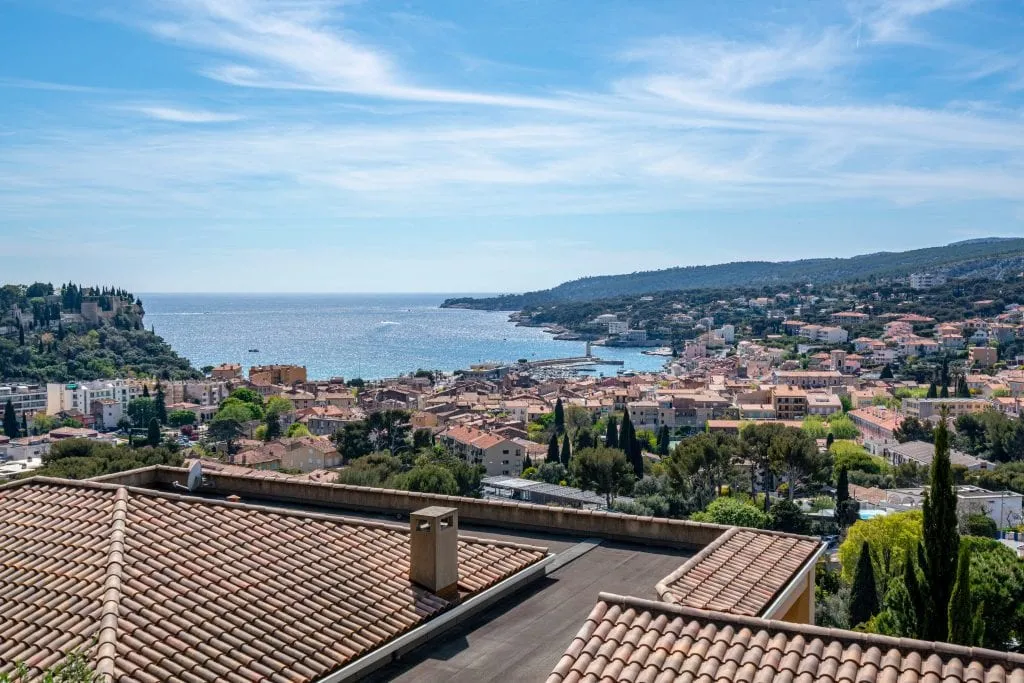 Some links in this post may be affiliate links. If you make a purchase through one of these links, we may earn a small commission at no extra cost to you. Please see our

disclosure policy

for more detail.
Where Exactly is Cassis?
Cassis is a small, Provencal fishing village in southern France, located about 45 minutes east of Marseille by car and about 45 minutes south of Aix-en-Provence.
Known for its calanques, beaches, and beautiful port overlooked by a medieval chateau, Cassis isn't exactly the image that comes to mind when you think of a typical town in Provence–but it is a lovely addition to any trip to the area.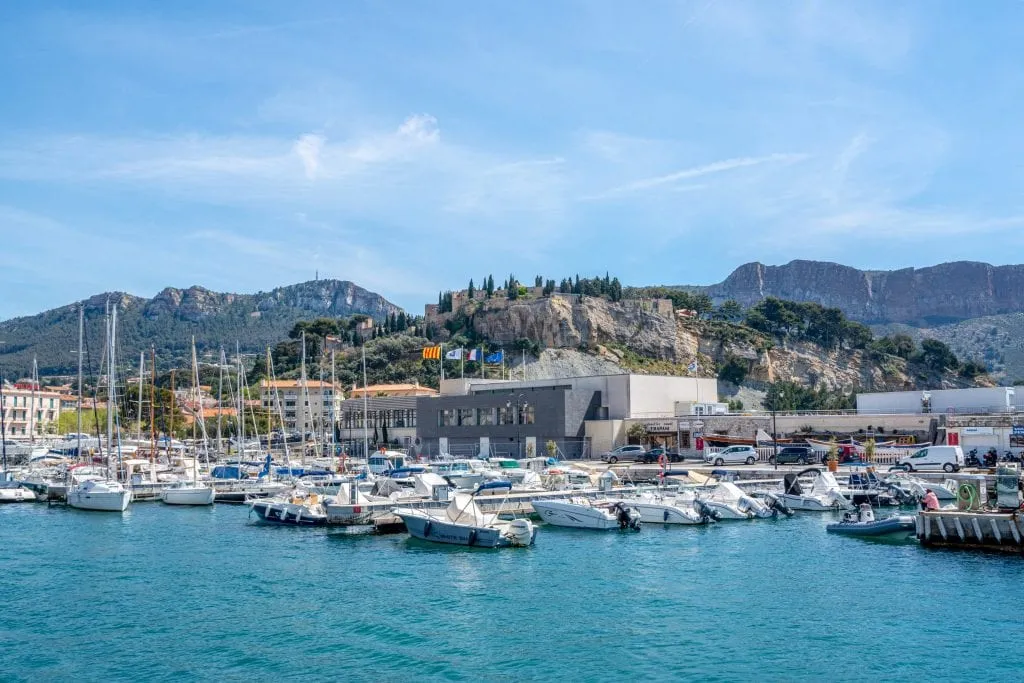 Best Things to Do in Cassis
Head immediately to the Port de Cassis.
I said before that stepping into Cassis is like stepping into an impressionist painting, and nowhere is that more true than Cassis' harbor, the Port de Cassis.
From the many boats docked in the water to the many restaurants bursting with noise and color–not to mention the great view of the Chateau de Cassis in the distance–the harbor is the perfect first stop during any trip to Cassis.
Relax on the beach.
The area surrounding Cassis is littered with gorgeous (mostly pebble) Meditteranean beaches, but for a very easily accessible option right within Cassis, consider soaking up the sun at the sandy Plage de la Grande Mer!
Check out Calanque de Port Miou.
As one of the most easily accessible and most distinctive of the calanques, the Calanque de Port Miou can easily be reached from a parking lot near Cassis–no hiking required.
As the name would suggest, this calanque is used as a port, and the views of it from above are absolutely lovely.
Hike the Calanques de Cassis.
Want to visit some of the more rugged Calanques de Cassis?
Lace up your hiking boots for some fantastic day hikes in southern France–or if you're less athletically inclined, consider a boat tour from Cassis to admire them from the water!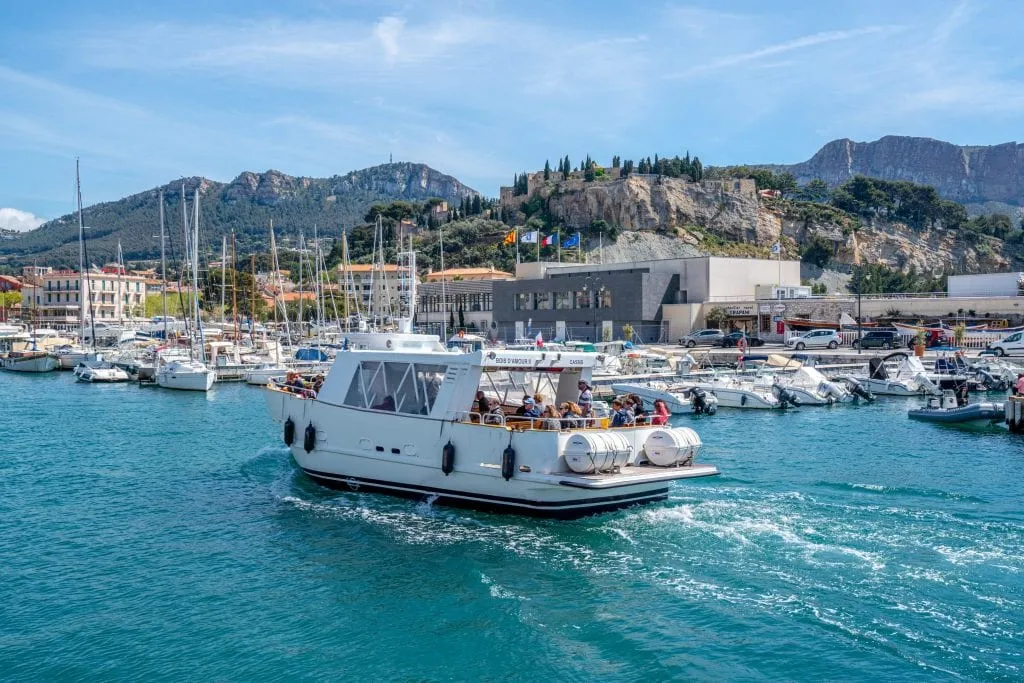 Visit Cap Canaille.
Just a short drive from Cassis sits the highest sea cliff in France: visit Cap Canaille for incredible Meditteranean views!
Stroll the quiet backstreets of Cassis.
As contrasted with the bustling harbor, the busy beaches, and the popular hiking trails, the small backstreets of Cassis are surprisingly quiet by comparison–but they're also bright, colorful, and chock full of Provencal charm.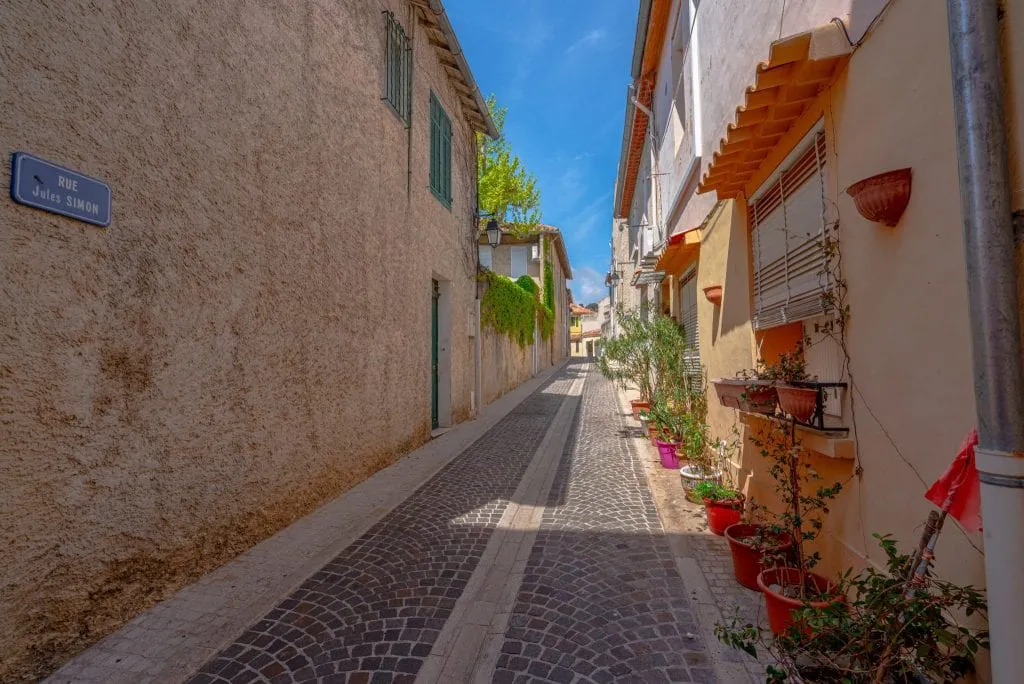 Admire the Chateau de Cassis.
Sadly, the medieval Chateau de Cassis isn't available for tours–but if you want to splurge on a luxury hotel while visiting Cassis, that's what it is today!
Even if you don't want to check into a room, though, be sure to admire the views of the Chateau de Cassis from the harbor–its dramatic location perched on the cliffs above the town is an absolutely lovely addition to the view.
How to Get to Cassis
By Car
Driving to Cassis is a popular option to visit this little seaside town, and how we chose to visit.
However, fair warning–while driving to Cassis is fairly simple, parking can get extremely congested (especially if you accidentally show up during a holiday weekend like we did).
Be prepared to drive around looking for a parking place and to walk quite a distance into the center of Cassis once you find one… unless you learn from our mistakes and reserve a parking spot in one of the garages in advance, that is.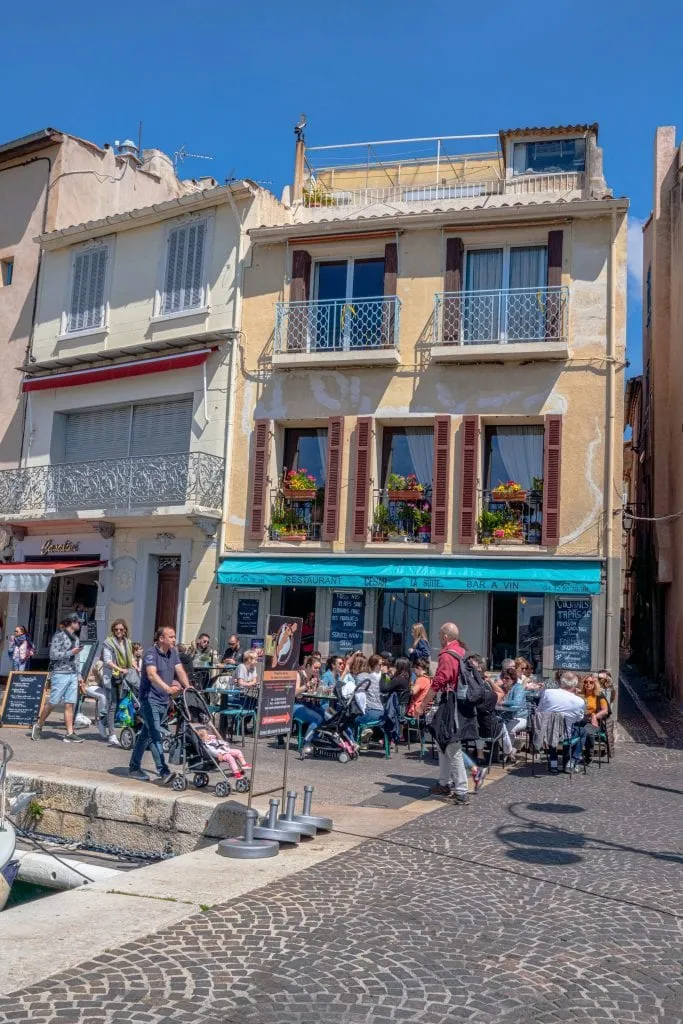 By Public Transportation
Trains run regularly between Marseille and Cassis, and take about 30 minutes each way.
Buses are also available, but limited, especially in the evening. If you hope to travel to Cassis by bus, be sure to check the bus schedule before finalizing your plans to visit.
By Tour
All of these options sound like more hassle than they're worth?
Consider booking a day trip to Cassis from Aix-en-Provence or Marseille instead!
This day trip from Aix-en-Provence and this day trip from Marseille are both very popular and well-reviewed, and make excellent options for visiting Cassis.
Book your trip to Cassis from Aix-en-Provence or Marseille today!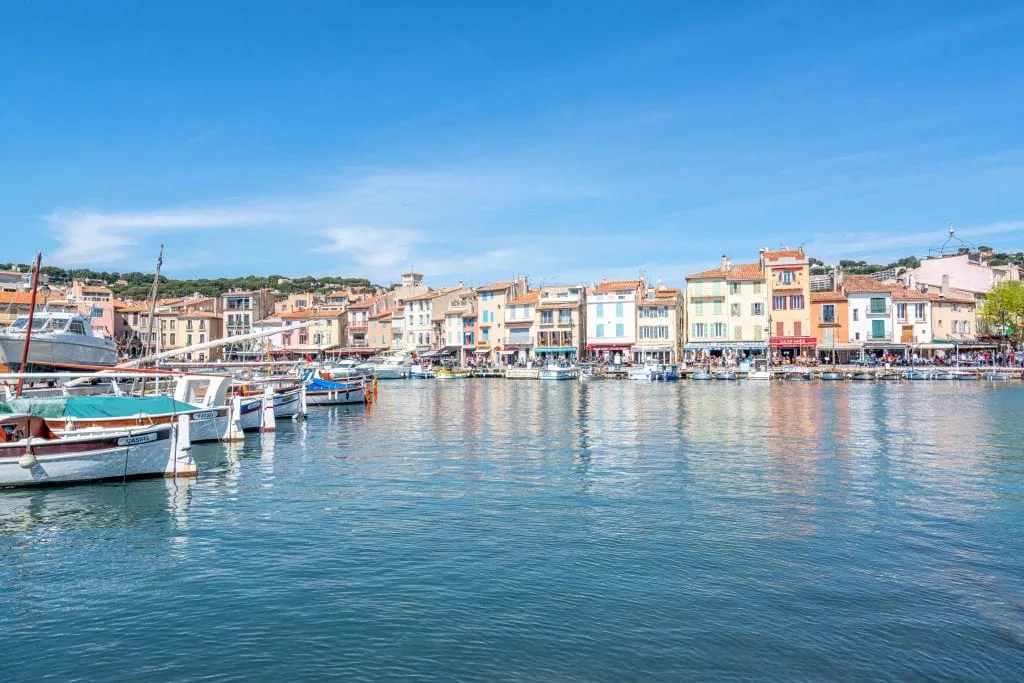 When to Visit Cassis
While the summer months bring the best swimming weather to Cassis, they also bring the crowds.
Though we visited in April, we mistakenly scheduled our trip to Cassis over a holiday weekend in France, and therefore accidentally sampled what the town feels like when packed to the brim with visitors–and let's just say we'd rather brave less-than-ideal weather than that level of congestion in Cassis again.
Therefore, unless you're looking forward to swimming more than anything else, we recommend scheduling your visit for shoulder season (either late spring or early fall) instead of in the throes of summer!
How Long to Spend in Cassis
If you only have time for a brief taste of Cassis, you can get a quick sampling of the Port de Cassis, the lovely, quiet backstreets of the village, and the Port Miou in one day.
If you're road-tripping through France, it's easy enough to drive to the town (though parking can be a bit of a nightmare, as we discussed above), but if you'd rather not worry about transportation or the logistics of your visit to Cassis, you can easily book a day trip there as well.
If you'd rather have time to get out of town a bit and explore more of the Calanques de Cassis, we strongly recommend spending a night or two in town to make the most of your visit–and as a bonus, you'll also get to see the more quiet side of Cassis once all the daytrippers clear out for the day, which is a reason to stay within itself!
Book your trip to Cassis from Aix-en-Provence or Marseille today!