Crab cakes, water views, excellent museums, and a heavy dose of American history: these are just a few things you'll find when spending a delightful weekend in Baltimore, Maryland!
Less touristed than nearby cities like Washington DC or Philadelphia, but incredibly interesting in its own right, spending a couple of days in Baltimore makes for a fun East Coast weekend getaway.
If you're planning your first trip to Baltimore and are looking to hit up the city's most iconic sights, views, museums, and neighborhoods, this Baltimore weekend itinerary is for you.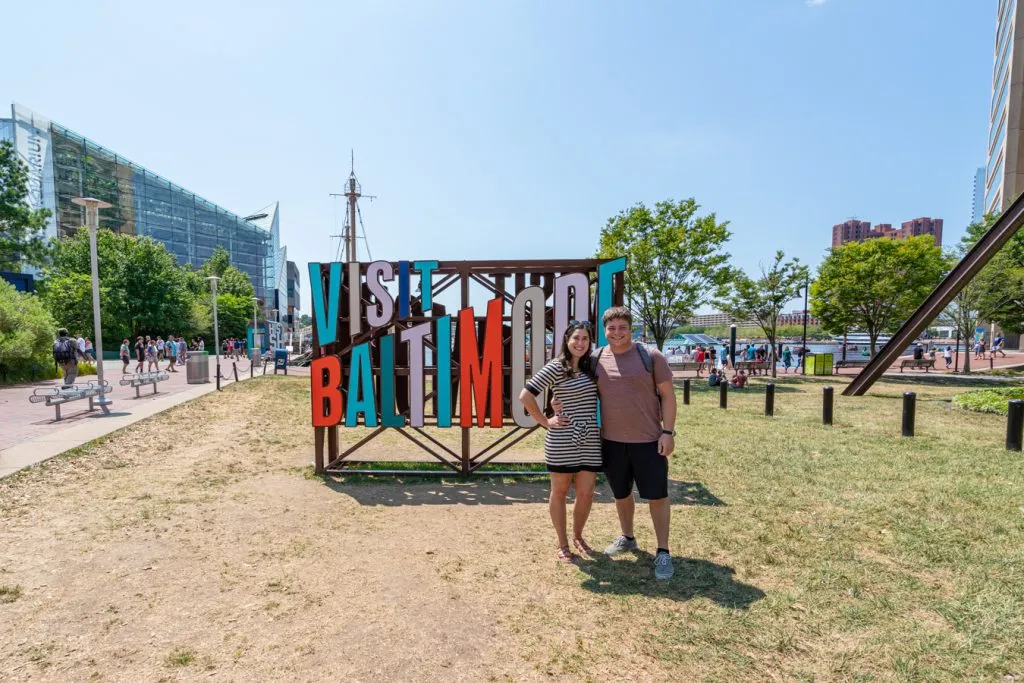 Of course, trying to see Baltimore in a weekend means there's no way to pack in everything–but even with only a couple of days, you can make a solid dent into the best things to do in Charm City.
Given the fast-paced nature of this introduction to Baltimore, you can also easily convert this 2-day guide into a 3 day Baltimore itinerary if you have a full long weekend to enjoy the city.
Here's how to make the most of 2 days in Baltimore, MD!
Your Fun Weekend in Baltimore Itinerary
Day 1 in Baltimore: Fort McHenry, Inner Harbor + Museums
Kick off your morning at Fort McHenry.
Easily one of the most famous places to visit in Baltimore, Fort McHenry is known for the important Battle of Baltimore during the War of 1812, and for being the place where Francis Scott Key wrote the words to the Star-Spangled Banner.
Fort McHenry later operated as a military prison during the Civil War, and as a hospital during WWI, before being retired and transferred to the National Park Service in the 1930s.
You can read more about the long history of Fort McHenry here.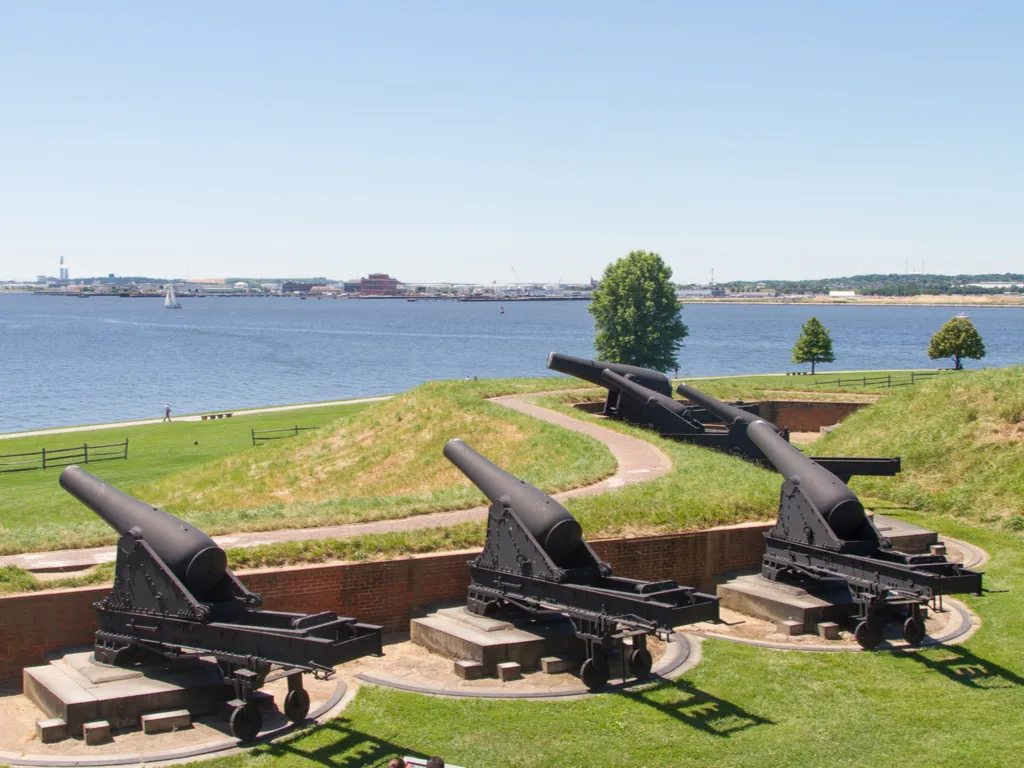 Touring Fort McHenry costs $15/person, but your America the Beautiful pass (AKA national parks pass) is accepted.
The grounds and surrounding park are free to tour and well worth a visit when spending a weekend in Baltimore!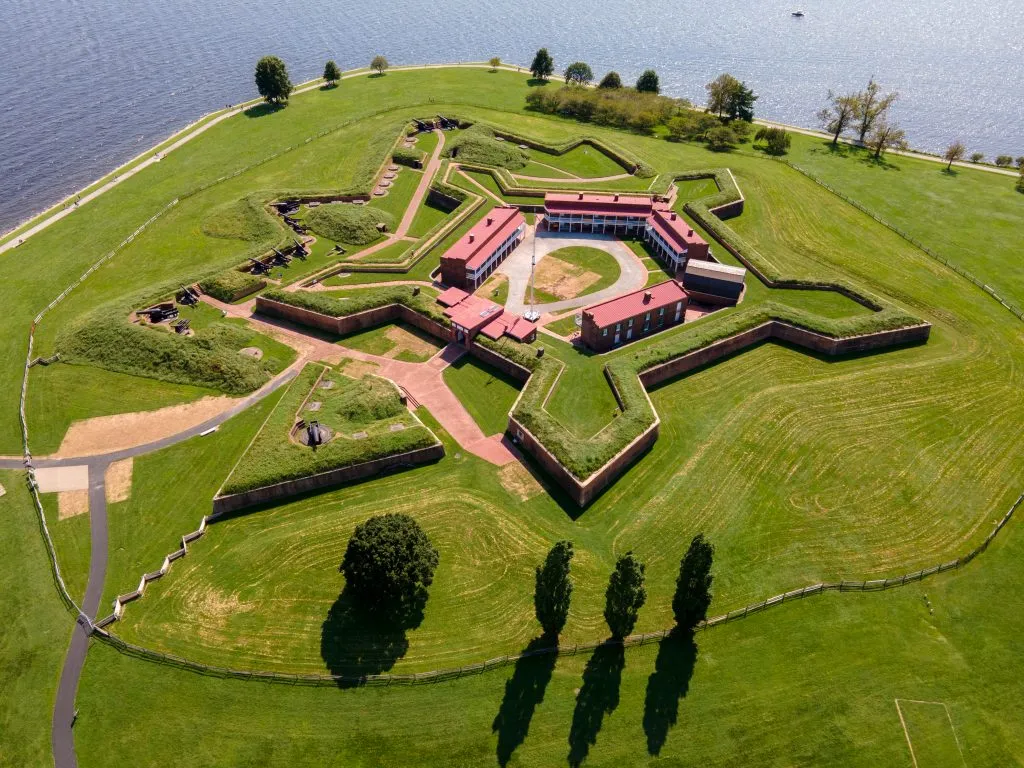 Grab brunch at Miss Shirley's Cafe.
Easily one of the most popular restaurants in Baltimore, Miss Shirley's Cafe has been celebrated in everything from the Travel Channel to Food Network to Southern Living.
You truly cannot go wrong when ordering here, but we can especially recommend the Breakfast Fried Deviled Eggs, blueberry pancakes (some of the best I've ever eaten, truly), and the Gravy Train Southern Skillet.
While the Roland Park location is the original, for the purposes of this Baltimore itinerary, we recommend the Inner Harbor location.
Keep in mind that Miss Shirley's does not take reservations and often has a huge wait over the weekend.
We recommend getting onto the waiting list as soon as you get to Inner Harbor, and then using your inevitable waiting time to explore the waterfront.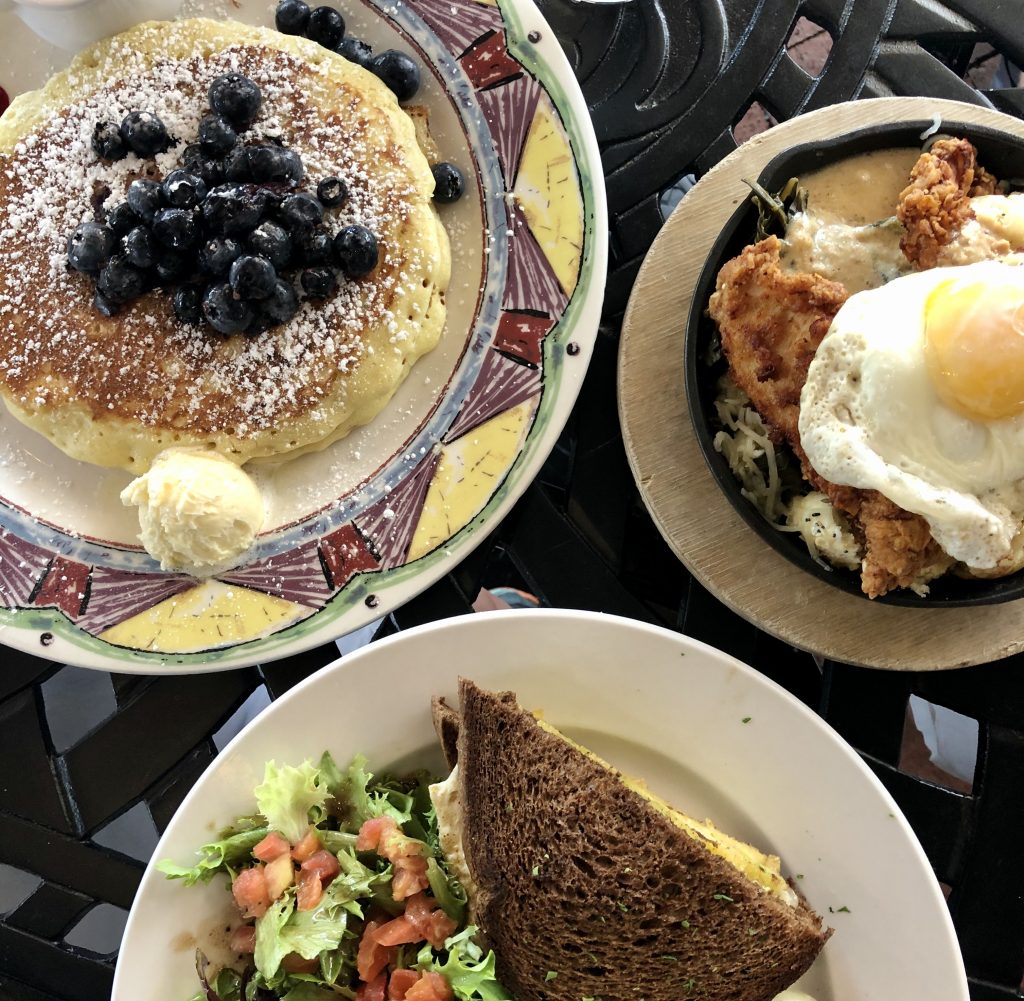 Explore the historic ships of Baltimore's harbor.
Baltimore's waterfront is populated with a very memorable collection of watercraft.
From the Sloop-of-War USS Constellation to the LV116 Chesapeake Lightship, lovers of maritime history will be thrilled to explore the city's collection of historic ships.
One ticket allows access to 4 unique watercraft and the Seven Foot Knoll Lighthouse, and all of the entrances do not need to be used on the same day.
Pay a visit to the National Aquarium.
Widely considered to be one of the best aquariums in the USA, the publicly-owned National Aquarium in Baltimore is a fascinating place to visit during a Baltimore weekend trip and is well-known for its conservation efforts.
The environment is both beautiful and educational, and comes with the added bonus of gorgeous views over the Inner Harbor from some areas.
In keeping with the evolving nature of the best practices for caring for magnificent sea creatures, the National Aquarium is also striving to make substantial improvements to the quality of life of their animals, including working on moving their dolphins from the aquarium to a suitable sanctuary.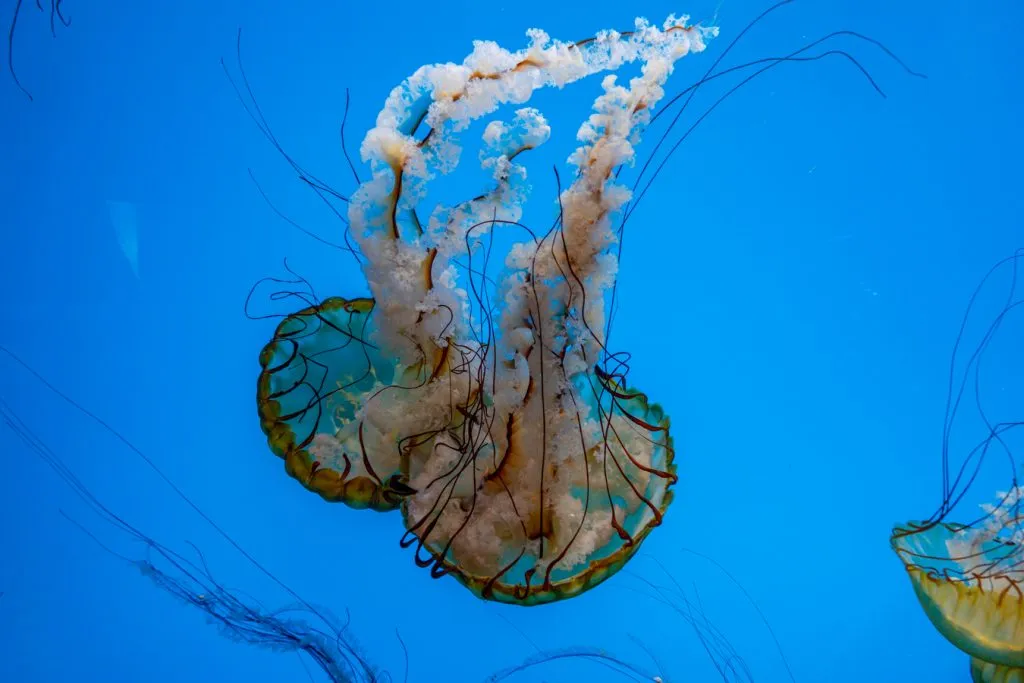 Cruise through Baltimore's Inner Harbor.
Beautiful and surrounded by several of the best things to do in Baltimore, there's no doubt that exploring the Inner Harbor from all angles is a must during a weekend getaway in Baltimore!
To enjoy places like Federal Hill and Fort McHenry from a different angle–not to mention to have a chance to enjoy sightseeing from the Inner Harbor itself–hit the water in an Inner Harbor Cruise!
This popular lunch cruise is a fantastic way to get to know Baltimore while also resting your feet after a busy morning of sightseeing.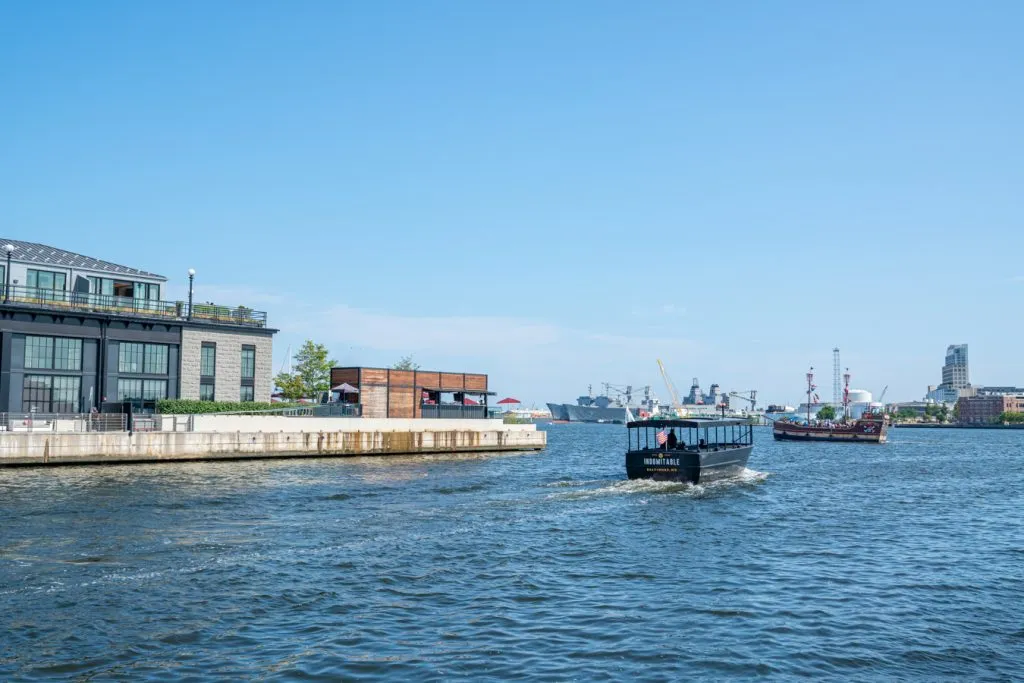 Dive into one of Baltimore's fascinating art museums.
Baltimore is home to several incredible art museums, but we're going to start with a lesser-known one: The Walters Art Museum.
This museum started as a private collection and is home to an incredibly overwhelming and eclectic collection of art and artifacts, featuring everything from Ancient Greek and Roman statues to Renaissance paintings.
Best of all, like so many interesting museums in Baltimore, the Walters Art Museum is free to visit.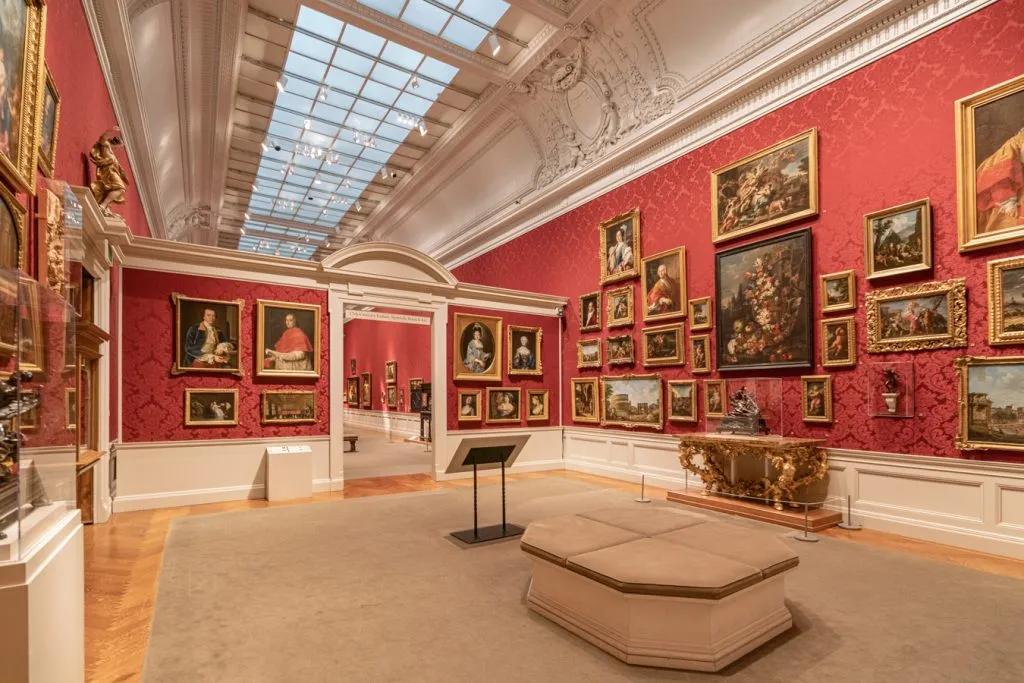 Step inside the George Peabody Library.
Located right across the street from the Walters Art Museum, the George Peabody Library is often considered one of the most beautiful libraries in the world!
Built in the 19th century, bibliophiles and architecture lovers alike will enjoy visiting this gorgeous space.
Snap photos with the George Washington Monument (and possibly climb it).
Standing tall over Mount Vernon Place, you can't miss the 178-foot-tall Washington Monument while in Baltimore!
Designed and built in the first half of the 19th century, in the wake of the War of 1812, the Washington Monument is an unmissable part of the Baltimore skyline.
If you're so inclined, you can even climb the 227 steps to the top of the monument for a view of the city.
Day 2 in Baltimore: Neighborhood Hopping, Museums + Great Food
Start your morning in Harbor East.
Trendy Harbor East is home to some of Baltimore's trendiest shopping and dining, wandering through this charming neighborhood is a great way to kick off your second day in Baltimore, Maryland!
Consider stopping by the Seven Foot Knoll Lighthouse.
As you make your way from Harbor East to Little Italy this morning, consider taking a bit of a detour to pay a visit to Seven Foot Knoll Lighthouse.
This striking screw-pile lighthouse is a small museum these days, and is part of the Historic Ships of Baltimore collection–your ticket from yesterday's ships will work here, as well.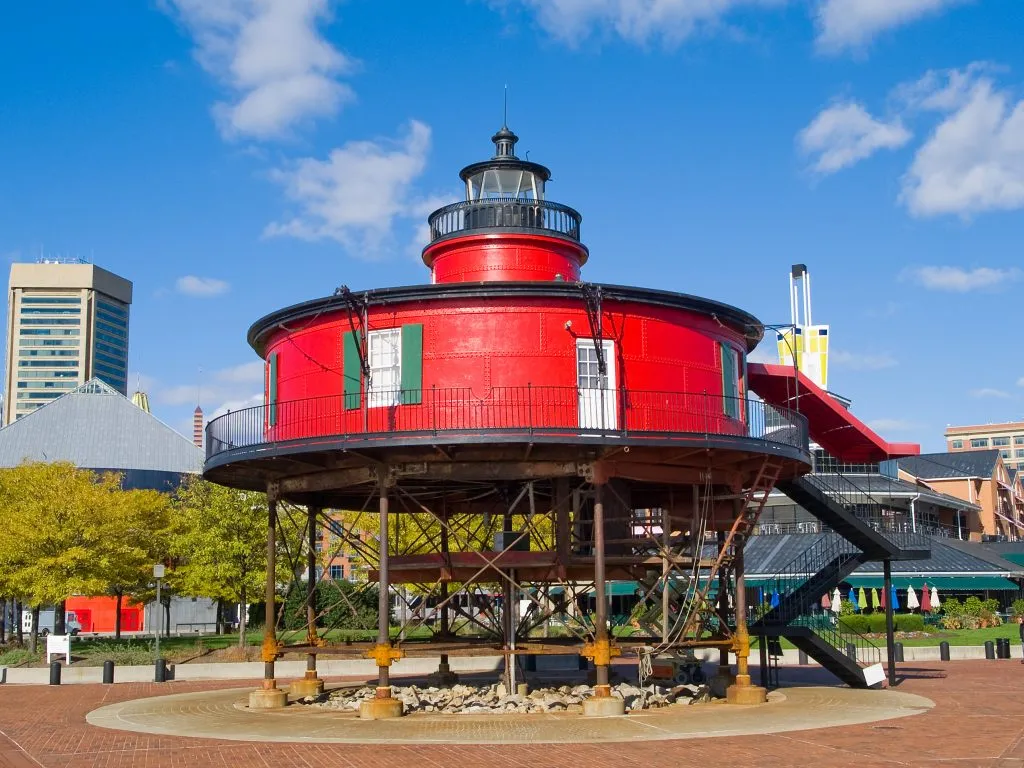 Explore Baltimore's Little Italy.
Small, laid-back, and charming, Baltimore's Little Italy is a fun neighborhood to explore on foot.
If you're looking for coffee, be sure to pay a visit to Vaccaro's–and whatever you do, don't skip the sweets.
Potentially hit up a Baltimore history museum.
There are several interesting museums located a (very) short walk from Little Italy, and depending on how long you spend exploring Harbor East, Little Italy, and Fells Point, you may be able to squeeze one into your 2 days in Baltimore!
Options for museums to visit include the historic Star-Spangled Banner Flag House (where the first version of what became our modern American Flag was sewn), and the Reginald F. Lewis Museum that explores African-American history and culture in Maryland.
Travelers who are visiting Baltimore with kids may prefer to hop across President Street to check out the popular Port Discovery Children's Museum.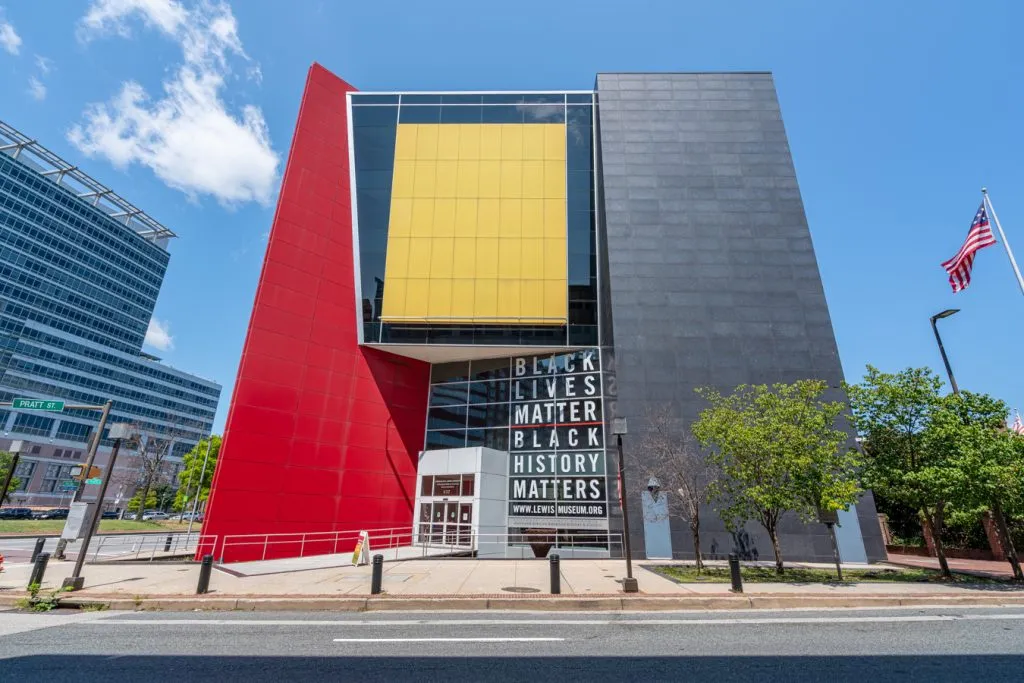 Head over to Fells Point.
Packed with cool shopping, excellent dining, cobblestone streets, and harbor views, there are many reasons that Fells Point is one of the most popular neighborhoods in Baltimore!
Be sure to stop by the Horse You Came In On Saloon, which is the last place Edgar Allan Poe was spotted drinking before his untimely death.
If you're interested in learning more about the interesting history of Fells Point (War of 1812 history included) while also chowing down on some of the best of Baltimore cuisine, consider exploring Fells Point via this fun history and food tour!
Visit one of Baltimore's most iconic museums.
Baltimore has far more incredible museums to explore than can fit into a single weekend getaway in Baltimore, but visiting at least one of these iconic spots is a must!
The Baltimore Museum of Art and the American Visionary Museum are both widely celebrated for their collections–and they're incredibly different.
Baltimore Museum of Art
Home to nearly 100,000 works of art, the fabulous Baltimore Museum of Art is especially well-known for having the largest collection of Henri Matisse's works held by any public institution.
American Visionary Art Museum
Officially designated by Congress as the US's museum for visionary art, also known as outsider art, a single glance at the exterior of the American Visionary Art Museum is enough to make it obvious that this is not your traditional art museum.
If you're interested in extremely unique, modern art, the American Visionary Museum belongs on your list of things to do in Baltimore this weekend.
Chow down on crab cakes for dinner.
What better way to wrap up a weekend in Baltimore than with one of Maryland's most celebrated foods?
No trip to Maryland could be considered complete without (at least) one serving of crab cakes.
There are near-limitless options for excellent seafood in Baltimore, but a few popular and conveniently located restaurants include Thames Street Oyster House and Rusty Scupper Restaurant & Bar.
Where to Stay for a Weekend in Baltimore, MD
When deciding where to stay in Baltimore, MD, location is everything.
While you may not be able to stay within walking distance of all of the best things to do in Baltimore, you can stay close to many of them!
We recommend looking for a hotel in or very close to Inner Harbor, Fells Point, or Harbor East for your long weekend in Baltimore, MD.
Here are a few well-reviewed choices, including the historic hotel we loved!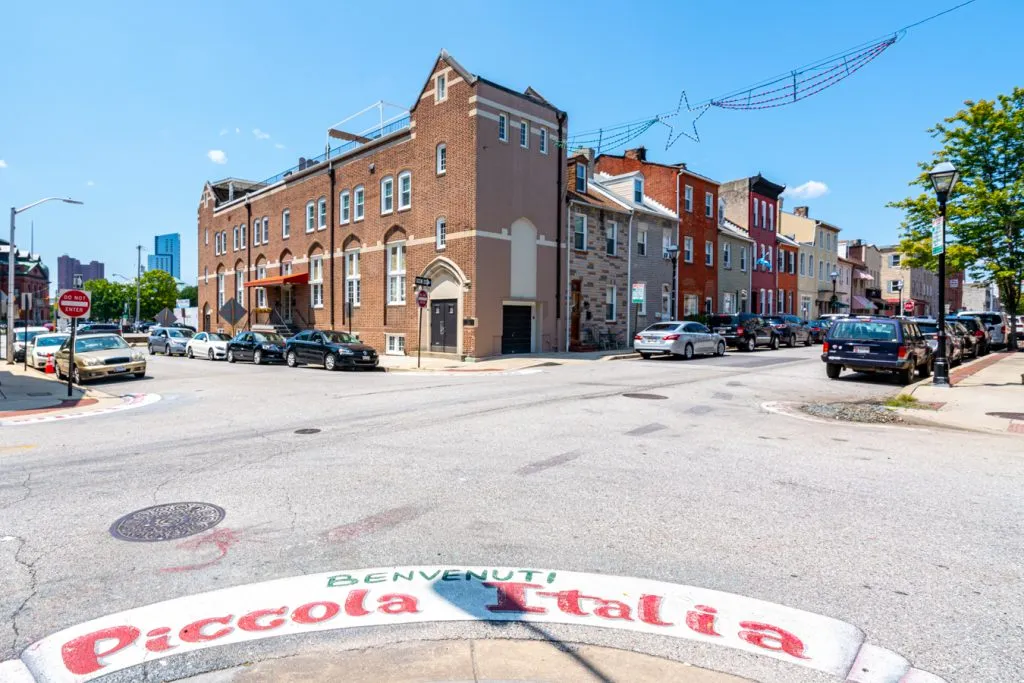 Budget
Tru By Hilton Harbor East — For an affordable stay in a fantastic location, you can't beat Tru By Hilton Harbor East.
With modern rooms, an included breakfast, and a location that puts you within an easy walk of Baltimore's most popular neighborhoods, Tru By Hilton is one of the absolute best value stays for a weekend in Baltimore.
Mid-Range
The Inn at Henderson's Wharf — Housed in a warehouse-turned-charming-hotel, you can find the popular Inn at Henderson's Wharf at the end of a delightful cobblestone street in Fells Point.
Excellent reviews, a beautiful patio, easy access to Fells Point shopping and dining, and a harbor view from some rooms, all make The Inn at Henderson's Wharf is a wonderful place to rest your head for a couple of days in Baltimore, MD.
Luxury
Kimpton Hotel Monaco Baltimore — We loved our stay in this award-winning, historic hotel!
Housed in the former B&O Railroad Headquarters, walking into the opulent lobby of the Kimpton Hotel Monaco Baltimore feels like stepping back in time–and the rooms are incredibly comfortable, too (we upgraded to a room with a city view and loved it).
The on-site restaurant, B&O Brasserie, is excellent and worth adding to your Baltimore weekend itinerary whether or not you stay in the hotel.
Do note that while this historic hotel is located in the Inner Harbor area, it is a short, easy walk down Charles Street to the waterfront.
Getting Around During a Long Weekend in Baltimore
While we've designed this weekend in Baltimore itinerary to be as walkable as possible, you will need alternative transportation to travel between some neighborhoods and attractions, including heading up to the Baltimore Museum of Art.
We personally drove into the city, and once we parked our car, left it in the garage rather than worrying about parking around the city.
Instead of driving, we opted to use Uber to travel from place to place in Baltimore.
We had consistently good experiences, and never spent long waiting for a ride.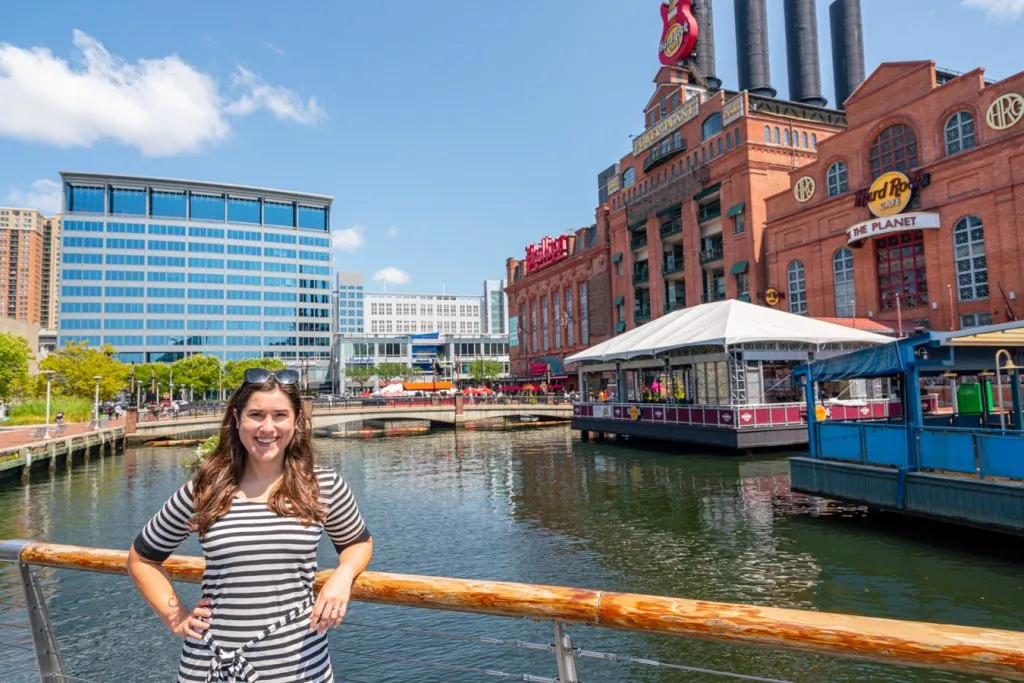 More Than 2 Days in Baltimore, Maryland?
Have a full long weekend in Baltimore, or perhaps even longer?
You won't run out of fun things to do!
With a longer Baltimore vacation to work with, consider seeing the Orioles or Ravens play (depending on the season).
Literary enthusiasts will enjoy touring the Edgar Allan Poe House (though fair warning: it is incredibly small and mostly unfurnished), or stopping by Poe's grave at Westminster Burial Ground.
Outdoorsy types may also want to ditch the city entirely and seek out some hiking near Baltimore.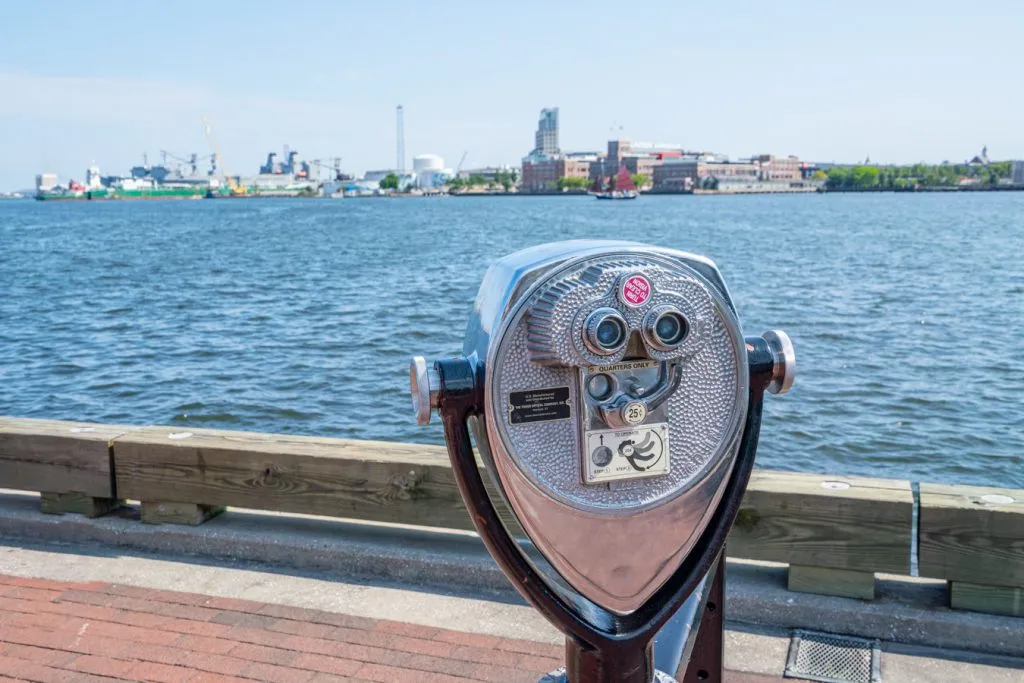 For lesser-known museums that are well worth a look, consider visiting the B&O Railroad Museum, Baltimore Museum of Industry, or Babe Ruth Museum.
To enjoy one of the best views of Baltimore (second only to the view over Baltimore via helicopter tour), head up to the 27th floor of the World Trade Center for incredible views of Baltimore and the Inner Harbor.