Soft white sand, glittering turquoise water, and picturesque palm trees: if you're looking for a Caribbean paradise, the best beaches in the US Virgin Islands have you covered.
Add in 12 months worth of sunshine, a relatively short flight from the mainland, and access to Virgin Islands National Park, and it's easy to see why US Virgin Island beaches are so highly sought after.
… And, as a bonus, US citizens don't even need a passport to see them!
The US Virgin Islands are extremely rich in marine life and have some of the greatest first-class snorkeling spots.
They offer a dreamy tropical paradise for sun-seekers who adore the beach life, as well as fun activities like kayaking for those seeking a bit of adventure.
From chilled-out private spots to party-pumping stretches of sand packed with people, you can find your kind of beach in the USVI.
Here are some of the best beaches to check out during your next vacation in the U.S Virgin Islands!
We've divided this guide by island, so whether you're looking for the best beaches in St. Thomas, St. Croix, or St. John, we have you covered.
This US Virgin Islands beach guide was written for Our Escape Clause by Virgin Islands travel enthusiast Kami Shoemaker from Travel Explorator. Thanks for joining us, Kami!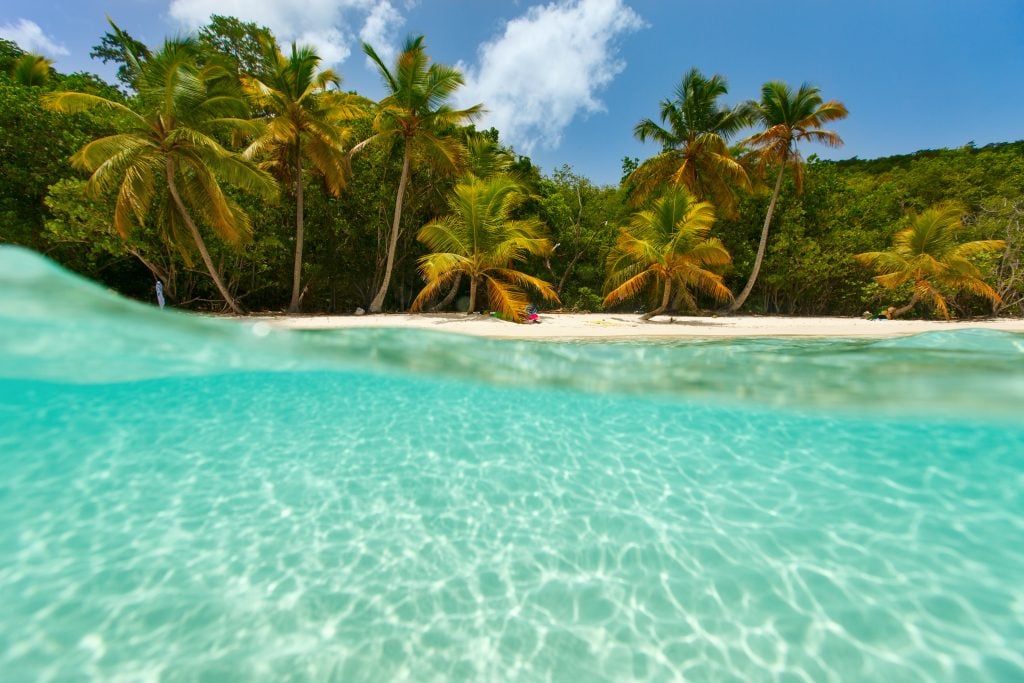 The Best US Virgin Island Beaches on St. Thomas
Magens Bay Beach
Magens Bay Beach is one of the most popular and most visited beaches in St. John, USVI.
The drive to the beach alone has incredible views and a peaceful atmosphere.
It's known for having soft white sand and being an ideal spot for snorkeling and swimming.
The entry for the beach is $5 per person, and if arriving by boat, the dock is an additional $8. Magens Beach is safe for swimming and other types of water sports.
The most popular is snorkeling due to its crystal clear waters.
The water is calm, so it's an ideal destination for families since kids can swim in, and there are also lifeguards on duty.
The beach has a lot of palm trees for shade, allowing visitors a break from the sun.
There is also parking and other amenities available like picnic tables, showers, restrooms, and equipment rental for water sports.
The beach has a concession stand for food and a beach bar for drinks.
If you're visiting St. John via cruise, you can also book transportation to Magens Bay!
Coki Point Beach
Coki Point Beach is a very small white sand beach on St. Thomas and very popular with locals.
It's completely free and has a more upbeat atmosphere.
Coki Point Beach is popular for its superb swimming and snorkeling opportunities with crystal clear water.
While the beach itself is free to enjoy, there is a small fee to park if you're driving.
It's within walking distance to other attractions on the island, making this USVI beach an easy addition to a St. Thomas itinerary.
There are some restaurants on Coki Point beach and various local and delicious food trucks parked nearby.
Snorkeling is amazing since the fish aren't shy around these waters and will come up to you.
Unfortunately, that's also due to them being fed by visitors, which you shouldn't do. There are also coral reefs near the shore you can check out.
Cokie Point beach is always sunny and has very little shade.
However, visitors can rent umbrellas and parasols for $10 a day, as well as chairs for $5 a day.
You can also rent snorkeling equipment from the local shops.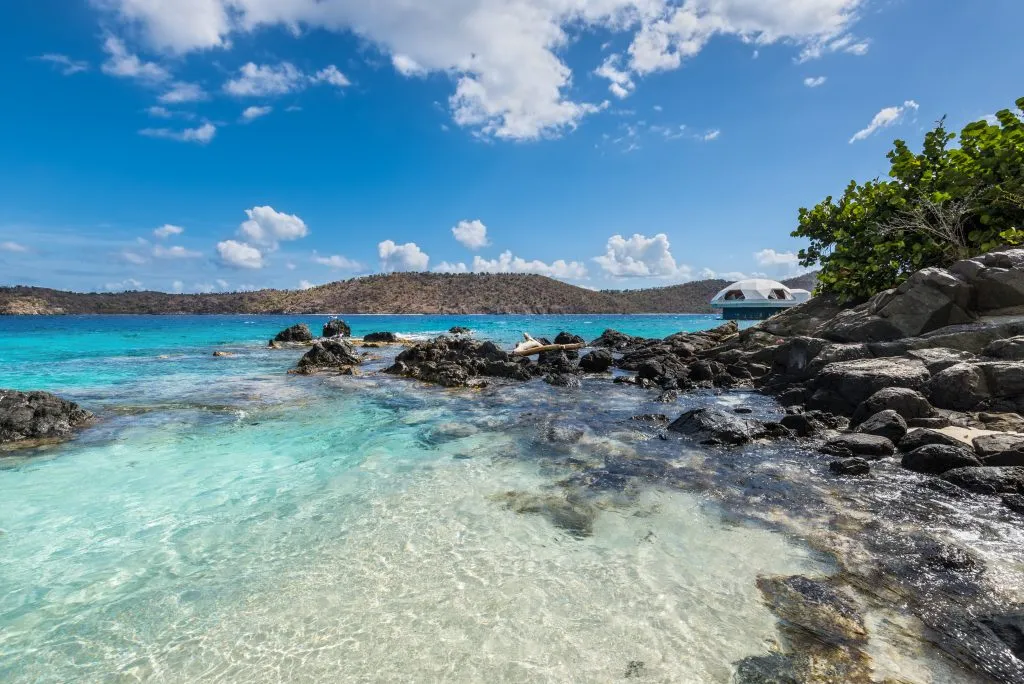 Lindquist Beach
Lindquist Beach is a smaller and less touristy beach in St. Thomas that is situated on the east side of the island.
It has a tranquil and relaxing atmosphere with great views of the Caribbean Sea.
The beach itself is very well maintained as it's part of Smith Bay, which is a government-owned and protected part of the island.
To enjoy Linquist Beach, it costs $2 to part, plus a $5 entry fee.
While it doesn't have too many tourists, it does have many amenities for visitors.
At Linquist Beach, there are lifeguards on duty, restrooms, picnic tables, and a limited amount of beach rental chairs.
There are no restaurants or cafes, so make sure to bring your own beverages and food.
While it's not as touristy, it is located near Red Hook with its many resorts and popular places to stay in Saint Thomas, plus nearby restaurants and bars for nightlife.
The sandy beach also has some excellent snorkeling points on the right side.
There is an abundance of sea life, including various species of fish and even sea turtles.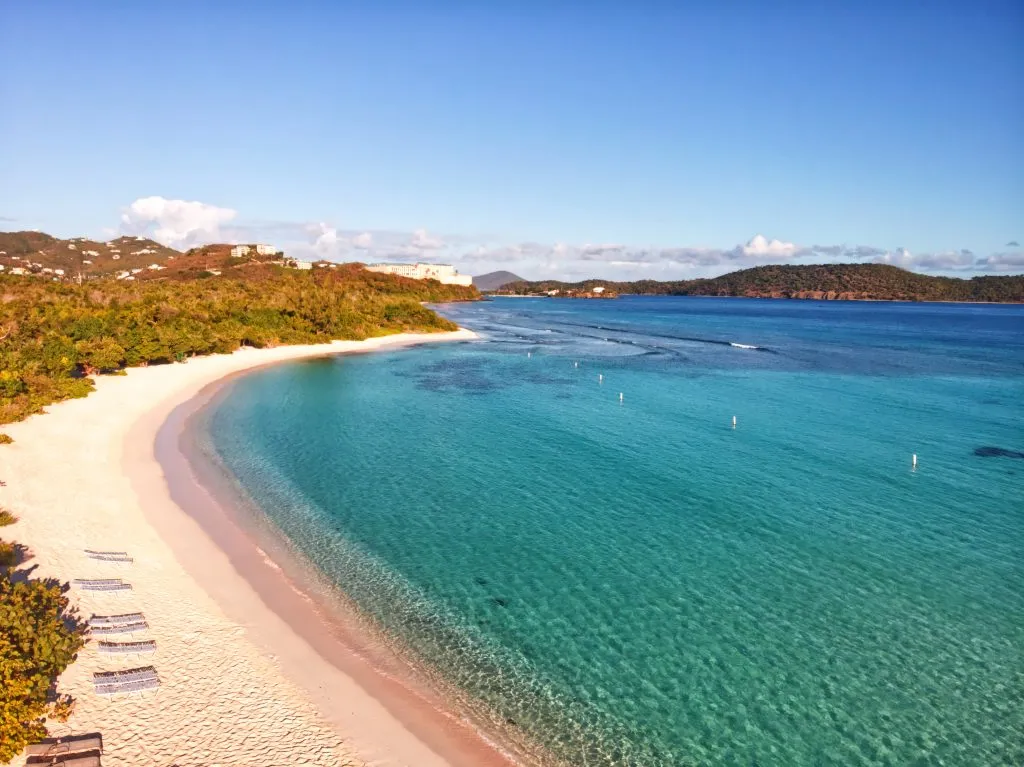 Brewers Bay Beach
Another of St. Thomas's gems, Brewer's Beach, has all the exotic feels of a top US Virgin Island Beach.
Nature lovers can enjoy some birdwatching with the pelicans and seagulls in the area or observe marine life with the sea turtles and rays in the water.
This St. Thomas beach is ideal for families with calm and shallow waters, perfect for young swimmers.
This beach is near the University of the Virgin Islands and the airport, so you can often hear the sound of plane engines taking off and landing.
Go during the week for a quiet scene because on the weekends, it can get busy with locals joining the tourists at this beautiful slice of sandy paradise.
Grab some refreshments and food at charming beachside food trucks, or take a picnic for a tropical beach feast Caribbean-style.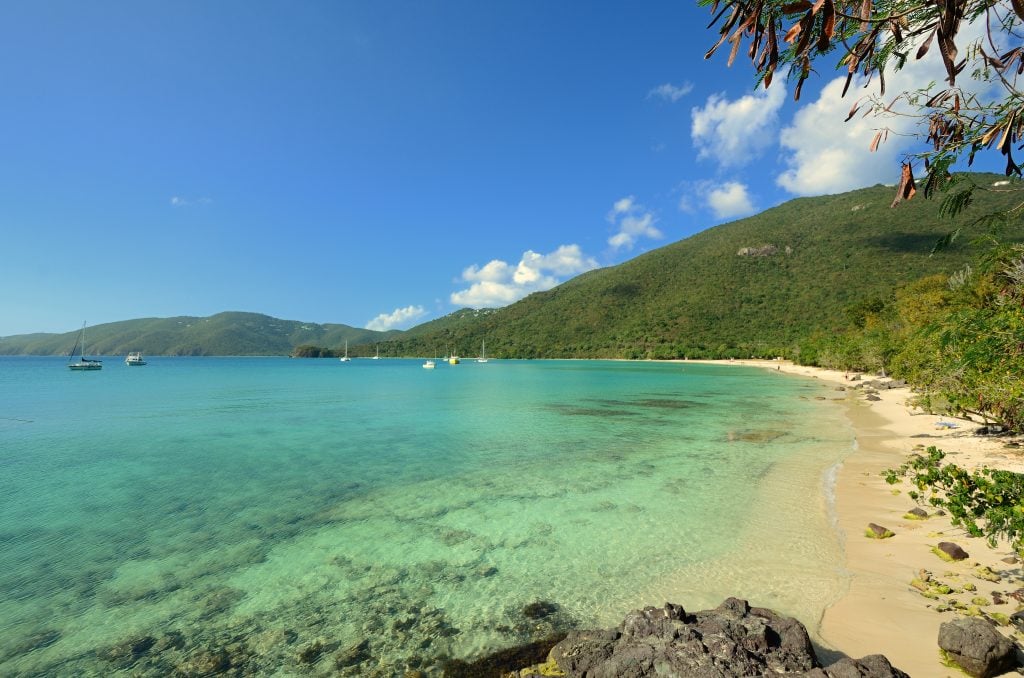 Sapphire Beach
On the north side of St. Thomas, Sapphire Beach offers everything you want out of a US Virgin Islands beach vacation.
It has sugary sand, crystal-blue waters, and coconut trees swaying in the breeze.
Rent a kayak for an early-morning paddle or go swimming amongst teems of colorful fish and other exotic sea creatures.
You can also spend some time lounging on the beach with the sun before getting lunch at the Sapphire Beach Bar.
There are also some small shops with drinks and snacks and big resorts with restaurants that welcome outside guests if the fish tacos and frozen cocktails at Sapphire Beach Bar don't tempt your taste buds.
This beach is popular for windsurfing, kayaking, and snorkeling.
You can rent gear for water sports or rent beach chairs if you prefer to be a spectator.
There is an artificial pond at one end of the beach where you might spot ducks and iguanas.
At the marina, you can go parasailing and rent jet skis.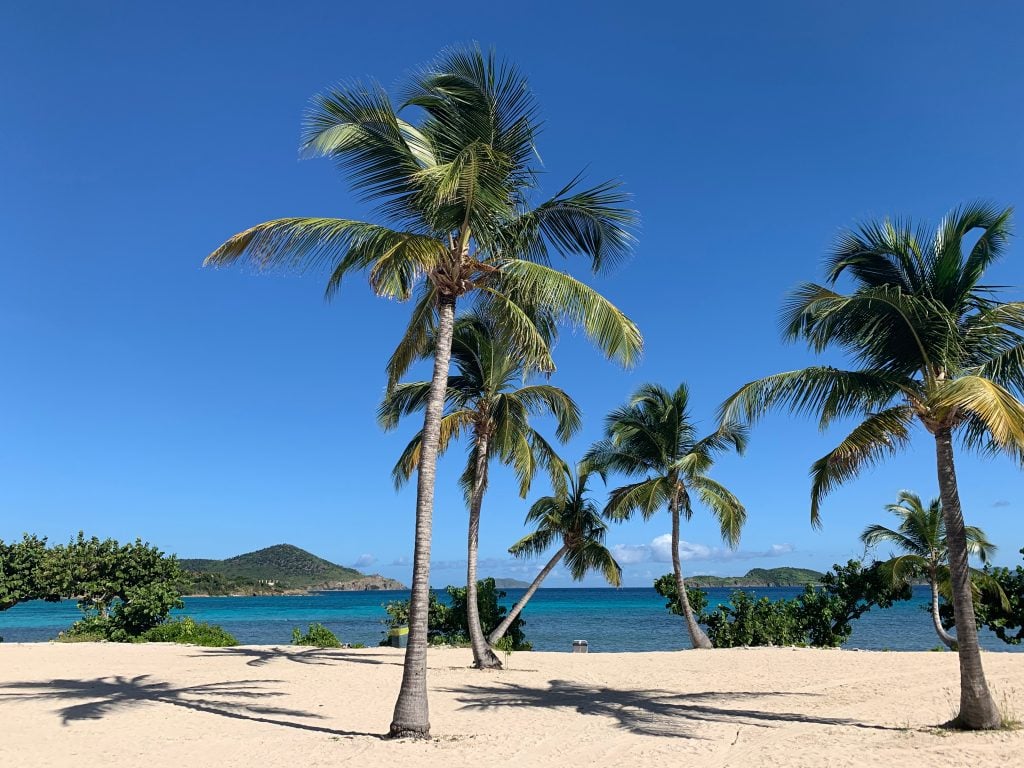 The Best Beaches in St. John, USVI
Maho Bay Beach
Maho Bay Beach is one of the best beaches in the US Virgin Islands if you want to swim with green sea turtles.
You won't have any issues finding these beautiful sea creatures near the seagrass areas towards the middle and right end of the beach.
You can also find many colorful fish and eagle rays swimming in the water, making it a prime spot for snorkeling in Virgin Islands National Park.
It has calm waters, so it's also one of the best US Virgin Islands beaches for families with small children.
The beach has covered picnic tables and restrooms.
You can also grab a drink and food across the street from food trucks and local vendor stands that are set up during the day.
It's a bit farther out from Cruz Bay than most of the other beaches on St. John, but the ride is worth the wait for this beautiful beach.
Trunk Bay Beach
Trunk Bay Beach is one of the most beautiful beaches in St John.
It's spotless, with turquoise waters filled with gorgeous sea creatures.
Trunk Bay is located within the U.S Virgin Islands National Park and is named after the local leatherback turtle that inhabits the area.
The beach is family-friendly, with restrooms and showers available for visitors to use.
Trunk Bay Cafe is also on-site, serving snacks and drinks.
While it's the only beach in St John that charges an entry fee, it's only $5 per person, which is worth the experience.
You should be prepared for a lot of sun, as the beach is exposed with few trees for shade.
While the waters aren't as calm as other beaches and are rocky in certain areas, there are lifeguards on duty.
However, one of the most incredible things about Trunk Bay is its underwater snorkeling trail that takes you on a short tour below the water with information about the marine life and landscapes of the area.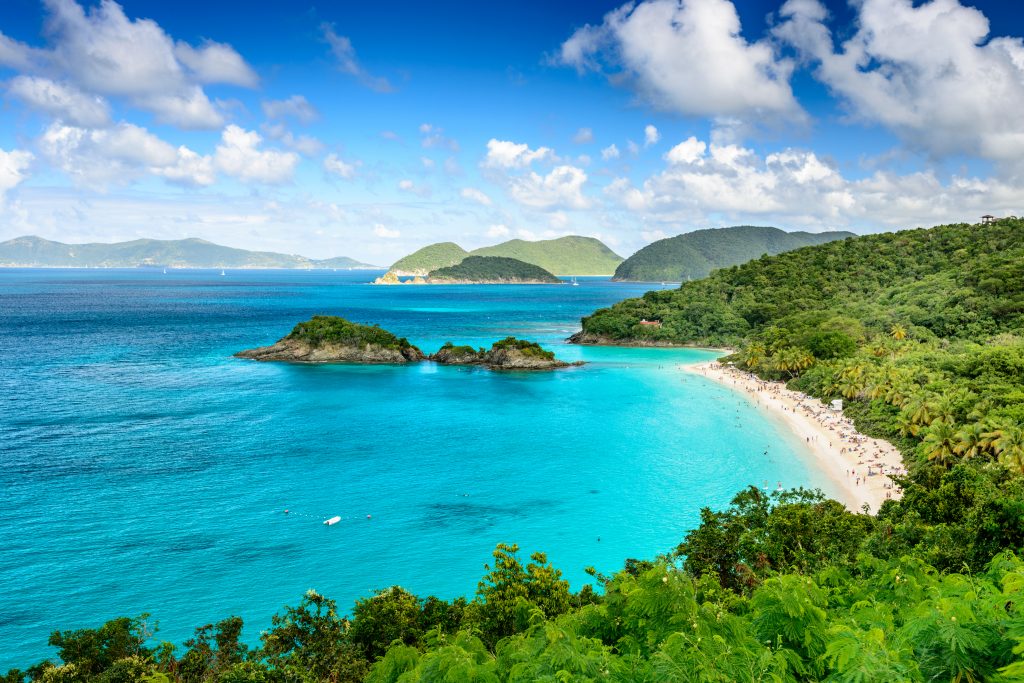 Honeymoon Bay Beach
Honeymoon Bay Beach is located within the Virgin Islands National Park and is part of Caneel Bay.
The St John beach is between two coral reefs with many fish and rays.
Honeymoon Bay Beach is known for being a secluded and quiet US Virgin Islands beach with soft white sand.
Unless you come by boat, Honeymoon Bay beach can only be reached by a short one-mile rocky hike on foot.
However, there is a shuttle service that takes visitors most of the way from the parking lot to the beach for a small fee.
The beach has amenities available for visitors to use, including restrooms, changing areas, and chair rentals.
There is also a bar and grill on Honeymoon Bay Beach, as well as a gift shop for any forgotten items or souvenirs.
Snorkeling tours in St John tend to stop at this beautiful beach.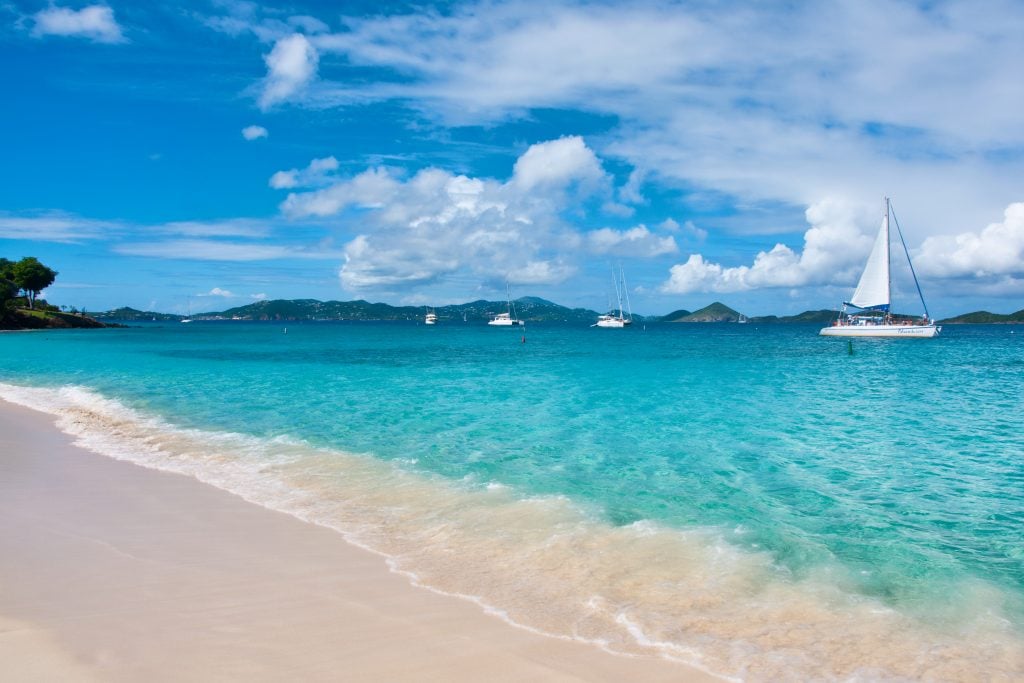 Salomon Bay Beach
This St. John beach is a beautiful beach on St. John with unforgettable sites.
To get to the beach, you can hike the 2.3-mile Lind Point Trail from the U.S Virgin Islands National Park Visitor's Center on Great Cruz Bay.
Before, you could drive to Caneel Bay Resort and take a nifty golf shuttle to the beach, but that resort remains closed for the year.
Expect to find a serene sight that often has more locals than tourists since getting to the pretty beach takes a little more effort than most.
Still, the hike is scenic and easy, and the ocean dip you get at the end is the perfect reward.
It's also close to Honeymoon Bay Beach, so you can explore both of these USVI beaches on your visit.
However, most people visit this beach instead of its close counterpart due to the fewer crowds.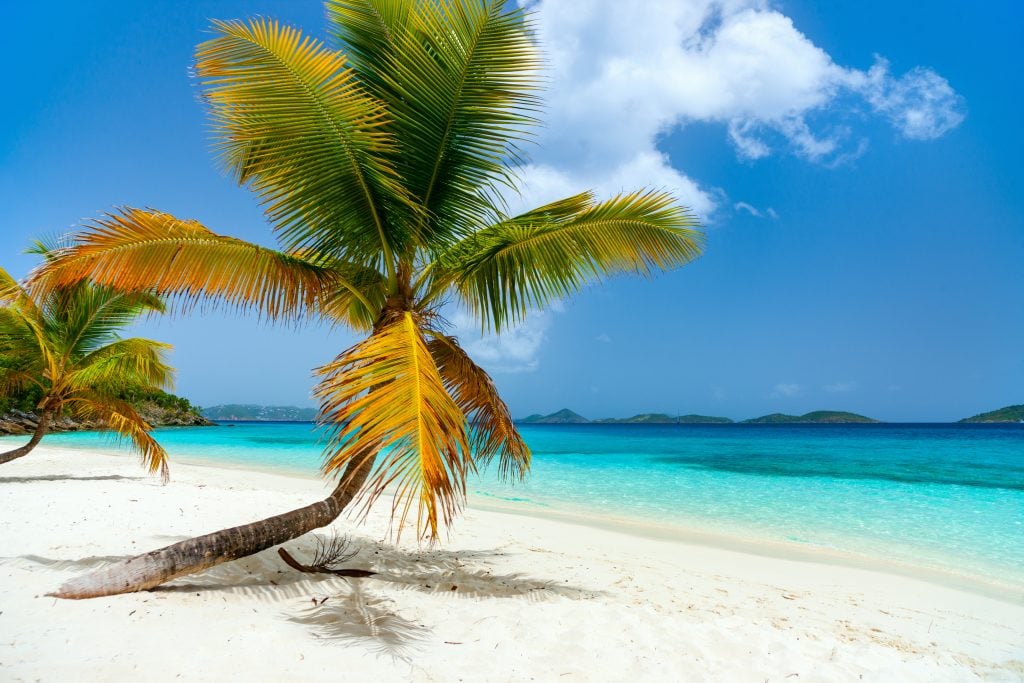 Hawksnest Bay Beach
On St. John's north shore Hawksnest Bay Beach is a blissful sandy spot that is easy to fall in love with.
That iconic sight of blue water meets soft sand and lush green foliage is perfect for you to enjoy.
It's excellent for swimming, but some care needs to be taken when the surf brings in bigger waves at certain times.
With BBQ grills, washrooms, and pavilions for dining, it's a hopping spot on weekends with locals having leisurely lunches and tourists who've heard about this beach.
There is plenty of shade to lay your beach towel, and the water is warm and refreshing.
If you fancy exploring, there is a trail that leads to Little Hawksnest Bay Beach, which is more intimate and secluded.
If you plan on snorkeling, check out the middle of the beach since that's where the coral reefs are located.
Here you can find quite a few Caribbean fish swimming in the waters, making it a fantastic beach for snorkeling in the US Virgin Islands!
The Best US Virgin Islands Beaches on St. Croix (+ Nearby!)
Cane Bay Beach
Cane Bay Beach is one of the most popular beaches in the U.S. Virgin Islands and is found on St. Croix's northwest coast.
It's a must for keen divers who want an off-shore dive rather than going out on the boat for the day.
It's also one of the best places for snorkeling on St. Croix!
With a deep drop not far from shore, the diving conditions are excellent, with sea turtles, fish, lobster, and moray eels often spotted.
Beginner divers can book a guided tour from dive shops around the beach area, and most also offer snorkeling rentals and tours. There is also horseback riding nearby.
On land, you have chair rentals, volleyball, dining, bars, and a generally cool place to hang out.
With epic views that the Caribbean is famous for, you could easily chill out at Cane Bay Beach all day long.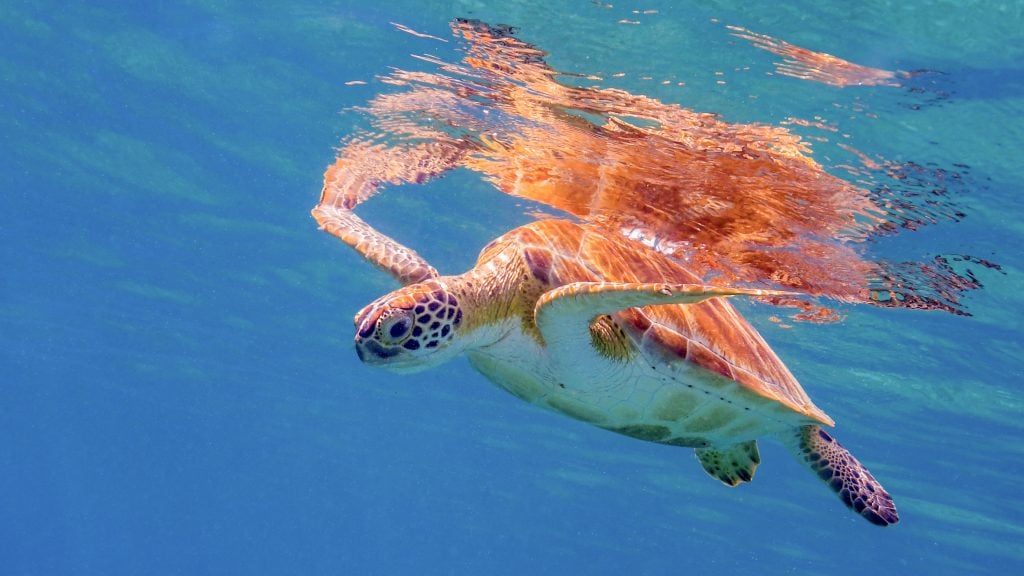 Buck Island Beach
Buck Island Beach is located on a small and uninhabited USVI island, surrounded by coral reefs and protected by the Buck Island Reef National Monument.
Full and half-day tours like this are available from St Croix, as the island is only accessible by boat.
Buck Island is also an excellent choice for a day trip from St. Thomas!
The island has a perfect ecosystem for sea life and is a popular nesting and mating site for turtles, birds, and other animals.
Visitors can observe the various species of marine life by taking part in the islands' underwater snorkeling trail.
Buck Island has no facilities, so be sure to bring everything needed for a day trip.
To protect sea turtles and the environment itself, Buck Island Beach is only open from 7 am to 5 pm each day.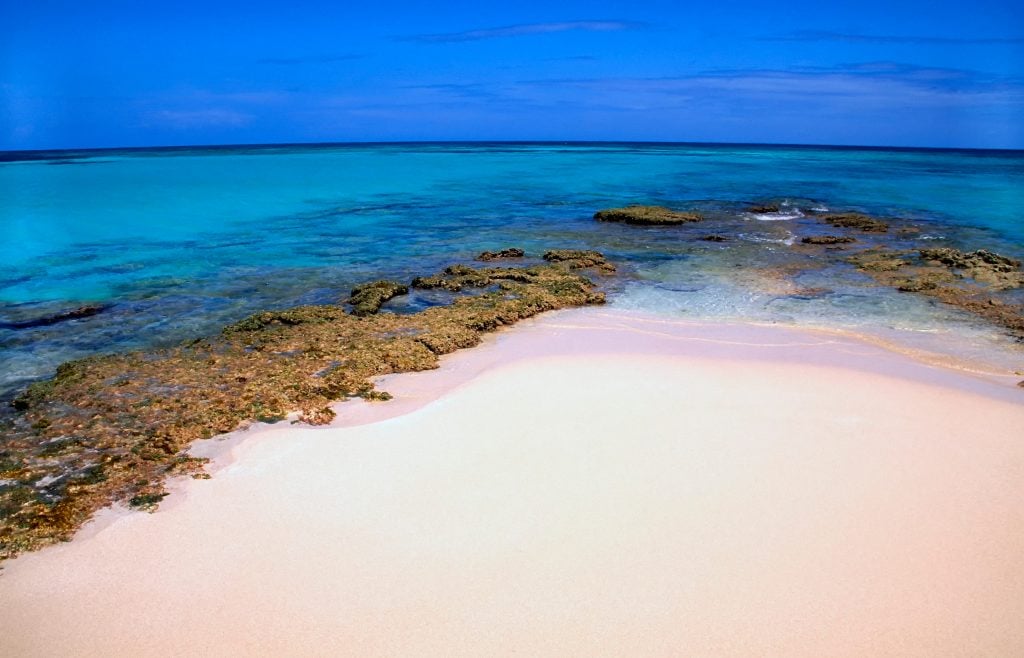 Protestant Cay Beach
You can find Protestant Cay Beach at Hotel on the Cay on Protestant Cay.
This small island in the Christiansted Harbor is worth visiting if you love beaches with a relaxed vibe with sun loungers and cabanas, palm trees for extra shade, and friendly locals.
You get a short ferry ride as part of the package, just climb aboard at the boardwalk near Fort Christiansvaern.
Safe for swimming and excellent for snorkeling, this beach is a haven for travelers who want a peaceful beach day.
When you get hungry, there is a restaurant and bar to refuel for another swim session or a long walk along the shoreline.
Stay to enjoy the sunset because the ferry runs from 7:00 am to midnight every day.
If you plan on doing some kayaking or snorkeling, you can find eagle rays and beautiful sea turtles in the crystal clear waters of this beautiful US Virgin Islands beach.
Sandy Point Beach
Sandy Point Beach is famous for being a sea turtle nesting site on the southwest end of the island.
The Sandy Point National Wildlife Refuge is seasonal and open through September-March to help protect hatching sea turtles.
There is an abundance of conch shells, driftwood, and crystal clear-to-the-bottom waters.
Since Sandy Point Beach is a very secluded and seasonal beach, there are no facilities or amenities for visitors.
This St. Croix beach is very well maintained and has lush unspoiled beauty, as it's a protected area.
Walking the long white sand shoreline is a great date idea and perfect if you come in the late evening for a beautiful sunset view.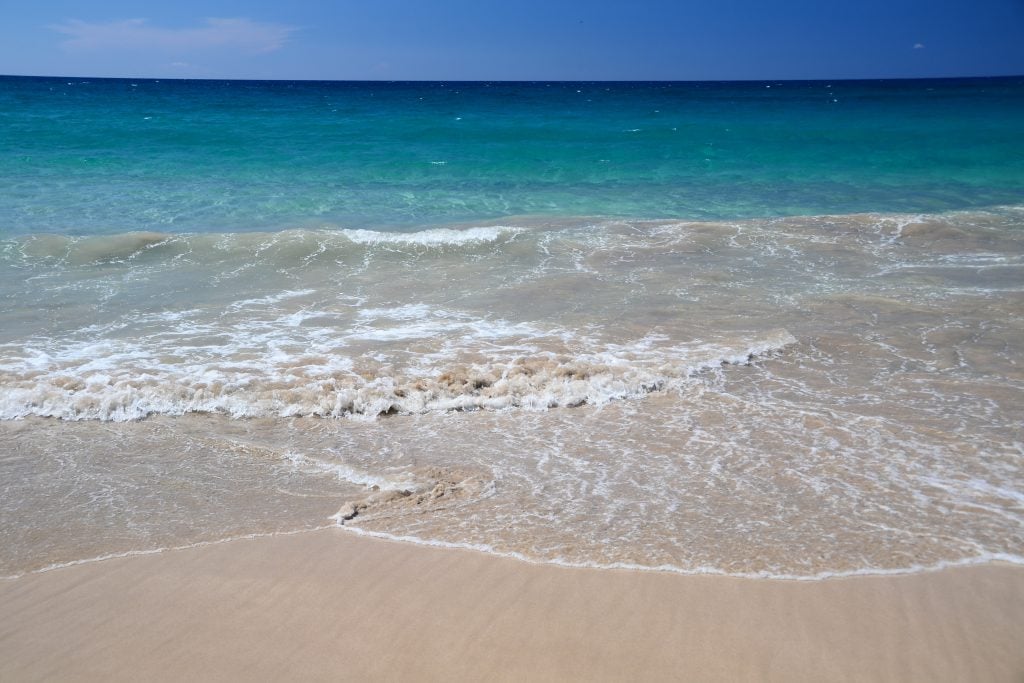 Frederiksted Fort Beach
You can start the day off with some fun in the sun at Frederiksted Fort Beach in St. Croix.
You can sunbathe, then take a walk to Fort Frederik to see the historic landmark built in the 1700s used to defend against pirates and other invaders.
Head back to the beach and cool off in the blue waters that feature an abundance of Caribbean fish.
This lovely beach is near the St Croix cruise ship pier, so it gets busy when boats come in with short-term travelers flocking to the nearest beach.
Share epic sunsets with local fishermen casting their lines out every evening.
You'll find quite a few beach amenities, including washrooms, picnic tables, close restaurants, and more.
There are also parking spaces available if you're driving to this beautiful US Virgin Islands beach!