The more we travel the world, the more we appreciate just how many amazing things to do in the US that there are.
From world-class cities to a national park system that encompasses everything from tropical beaches to glaciers, to idyllic road trips and charming small towns, there are an endless amount of USA attractions to explore.
This giant list of incredible things to do in the USA is based on our own personal USA bucket list and covers both places we have loved and those we are still dreaming of visiting.
Here are 101 of the best things to do in the USA!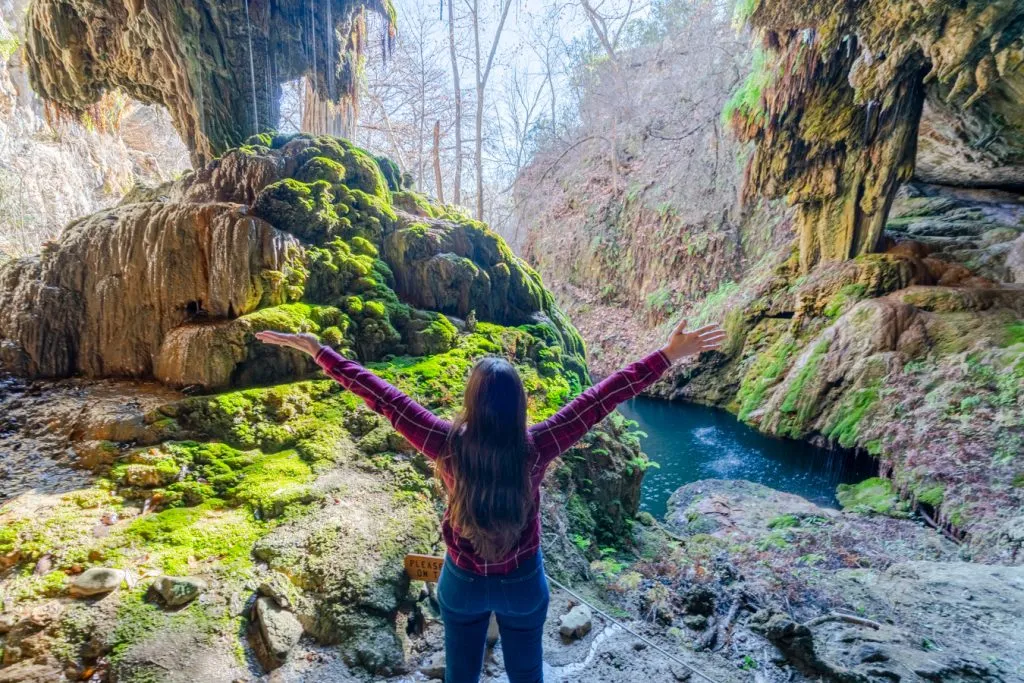 The Best Things to Do in US Cities
Explore the National Mall in Washington DC.
Bookended by the US Capitol Building to the east and the Lincoln Memorial to the west, many of the best things to do in Washington DC can be found along the beautiful green space that is the National Mall, including the White House and several Smithsonian Museums!
Walk across the Golden Gate Bridge on a sunny day.
The Golden Gate Bridge is not only San Francisco's most iconic landmark, it's one of the most famous attractions in the USA!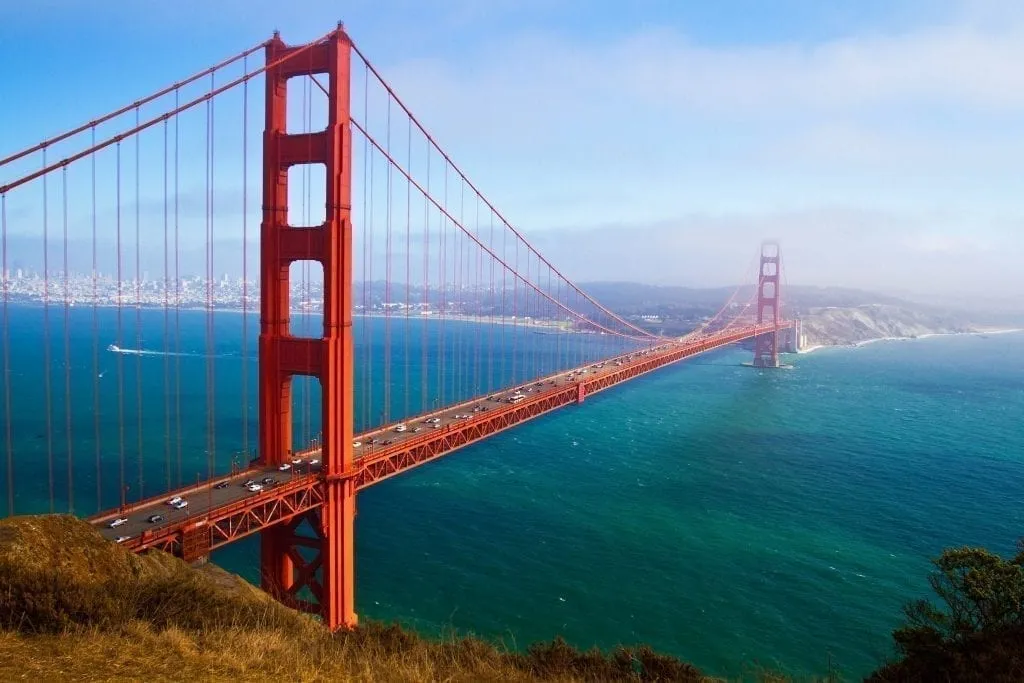 Enjoy a night of jazz in New Orleans.
If there's one thing that is synonymous with New Orleans, it's music, and no trip to New Orleans is complete without at least one night spent appreciating it!
A classic NOLA jazz club makes for a fantastic night out and is one of the best travel experiences in the USA.
Walk the Freedom Trail in Boston.
Boston's Freedom Trail traces 16 significant destinations in US History along a 2.5-mile route, and it's one of the best USA attractions for those interested in our country's history–especially, but not limited to, Revolutionary War history.
As a bonus, walking the Freedom Trail will deliver you to many of the best things to do in Boston!
Head to the top of the Gateway Arch.
If you recognize one landmark from St. Louis, Missouri, it's no doubt the Gateway Arch!
The tallest arch in the world was built in St. Louis in honor of the USA's westward expansion and boasts a great view of St. Louis from the top!
Don't worry, you don't have to climb it: a tram ferries visitors to the top.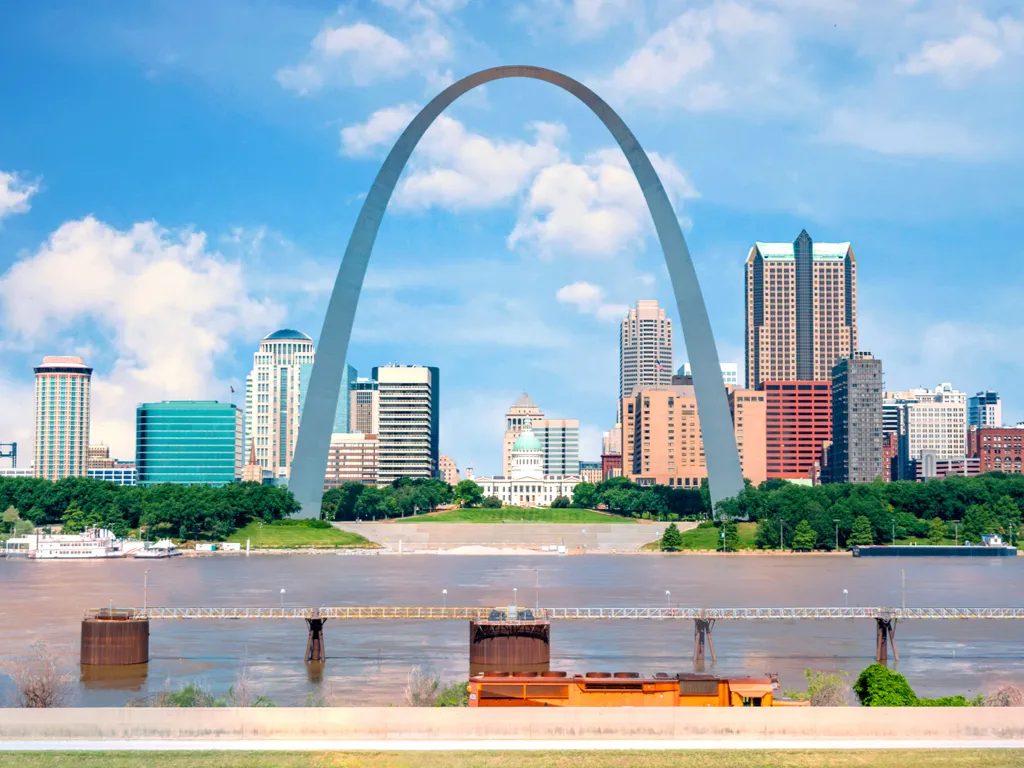 Enjoy live music in Austin, Texas.
The self-declared Live Music Capital of the World lives up to its name!
No weekend in Austin is complete without at least one night spent enjoying live music, at least one round of breakfast tacos, and at least one morning spent out on the water!
Soak in views of Manhattan from an NYC Observation Deck.
The USA's most famous skyline deserves to be admired from above.
Choosing whether to visit the Empire State Building or Top of the Rock is hard enough, but options like the One World Observatory and The Edge also offer magnificent views!
Visit the Rock and Roll Hall of Fame in Cleveland.
For a crash course in the history of music in the 20th and 21st centuries, you can't beat the famous Rock and Roll Hall of Fame!
Check out Independence Hall in Philadelphia.
It's safe to say that the building where the Declaration of Independence was signed qualifies as a classic American attraction!
Today, you can tour Independence Hall while visiting Philadelphia.
The famous Liberty Bell is also located right across the street!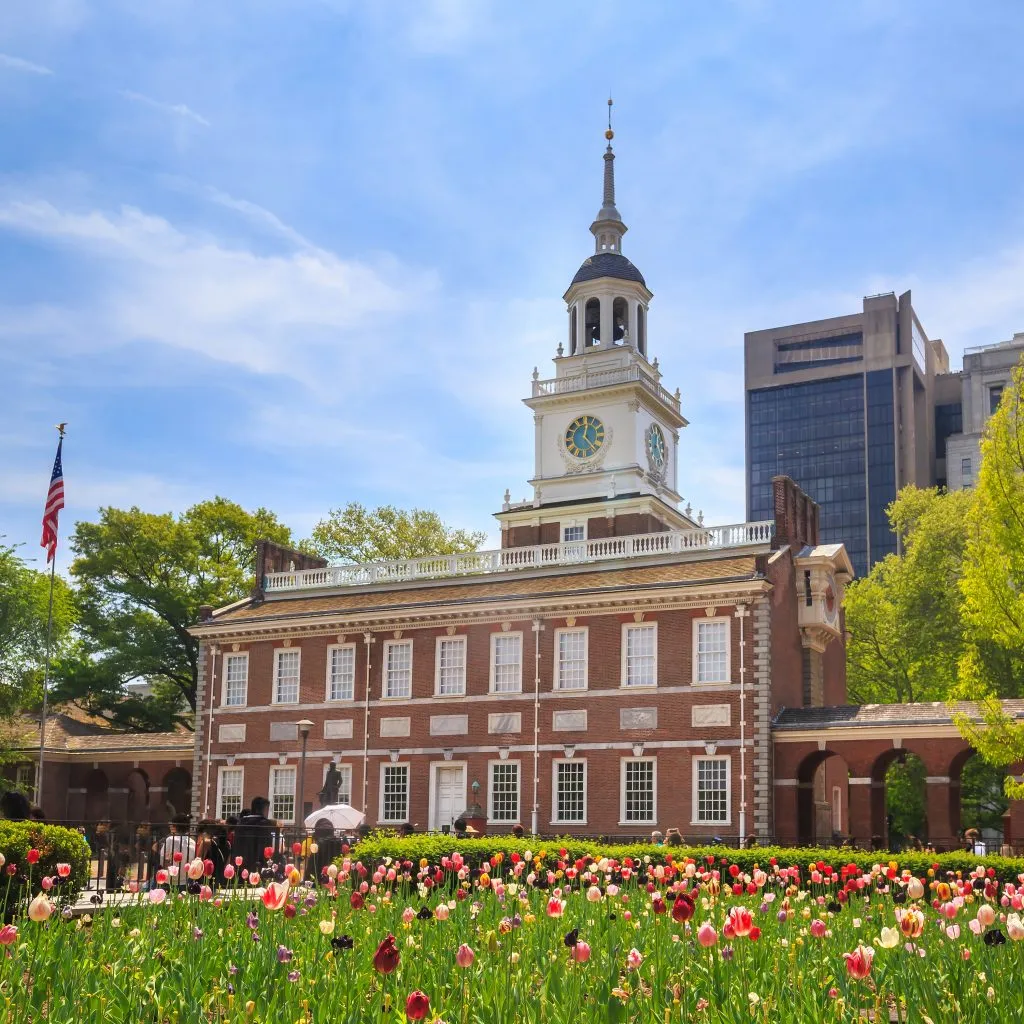 Attend the Grand Ole Opry in Nashville.
Even if you're not the biggest country music fan in the world, there's something special about an evening at the Grand Ole Opry!
Visit the U.S. Space & Rocket Center in Huntsville, Alabama.
Casual observers may associate space tourism in the US more with Houston or Florida's Space Coast, but space enthusiasts know that Huntsville also has plenty to offer!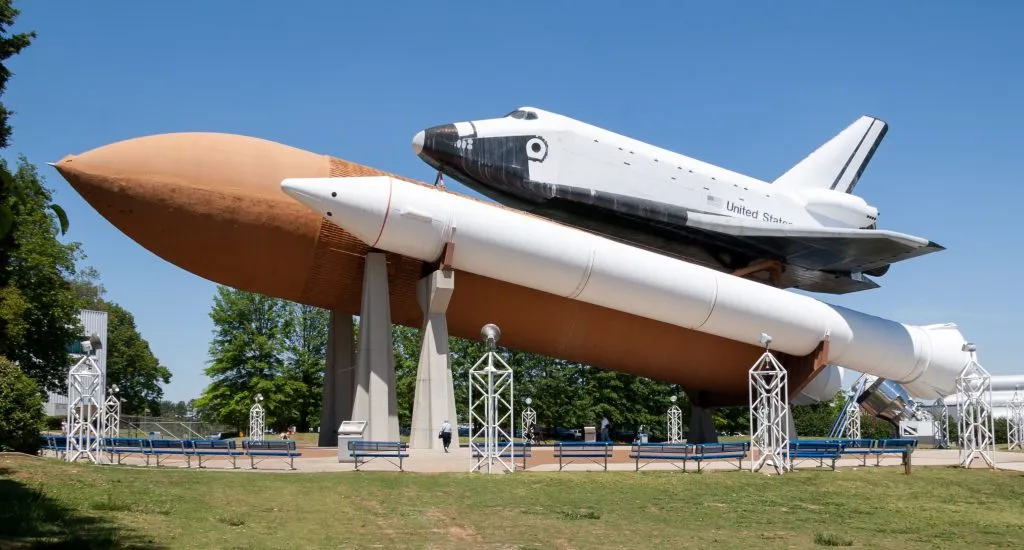 Snap photos with the Portland Head Light.
This gorgeous lighthouse in Portland, Maine is one of the most iconic places to visit in New England!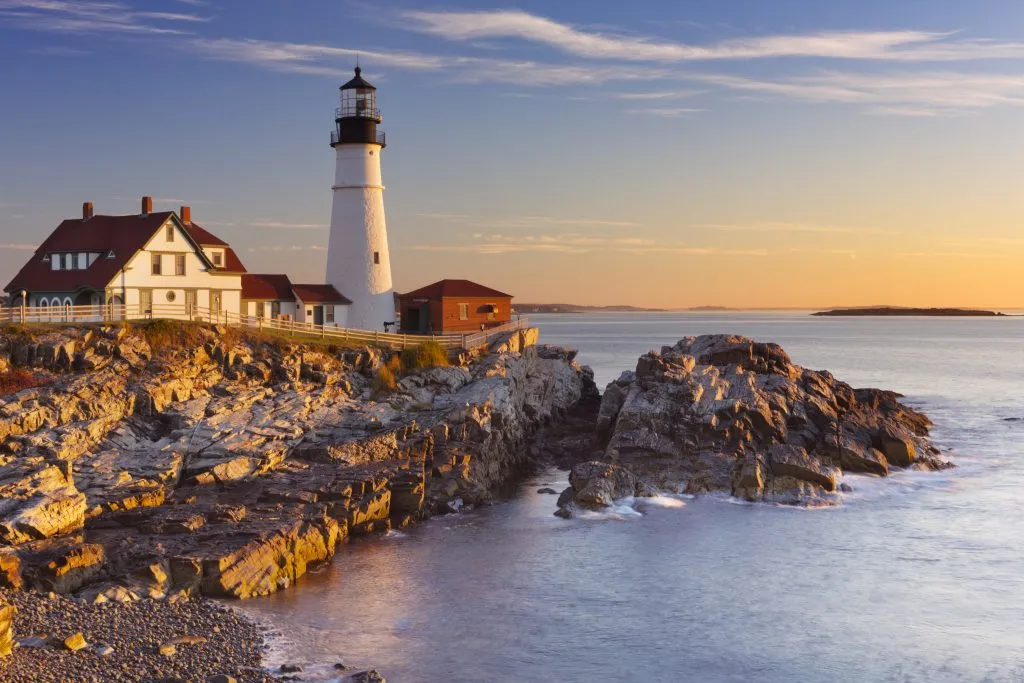 Meander through the 22 historic squares of Savannah.
In Savannah's historic center, most of the 18th-century city planning remains intact.
The result is a stunning, open-air architecture museum of sorts that makes exploring one of the most beautiful cities in the US on foot both easy and enjoyable (as long as you avoid the sweltering summer heat, of course).
Don't miss Jones Street during your self-led walking tour, either–a stroll here is one of the best things to do in Savannah!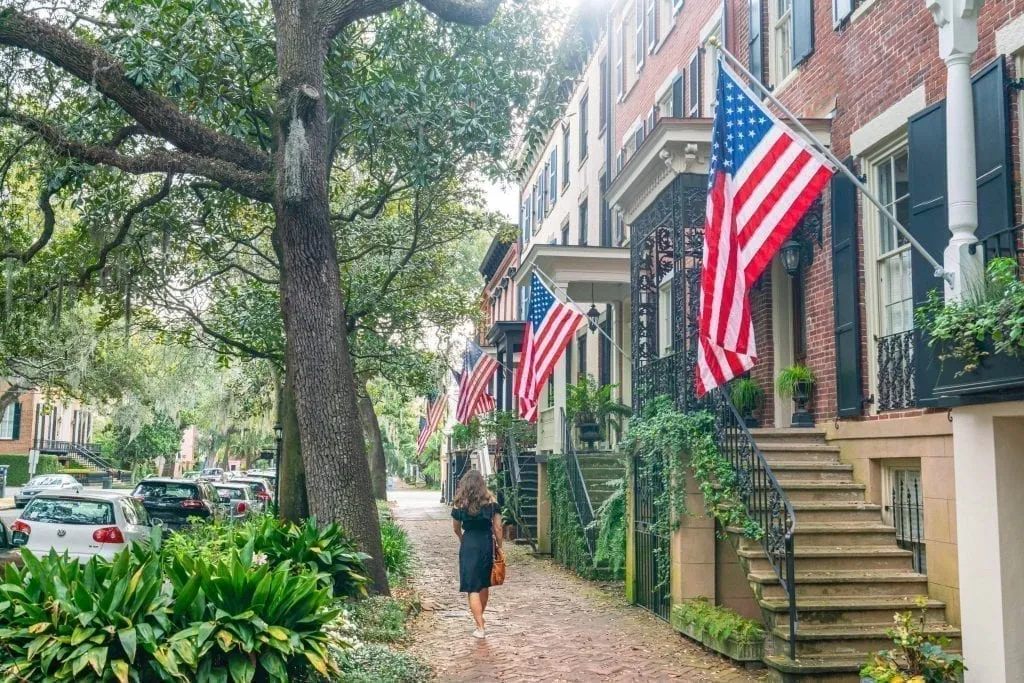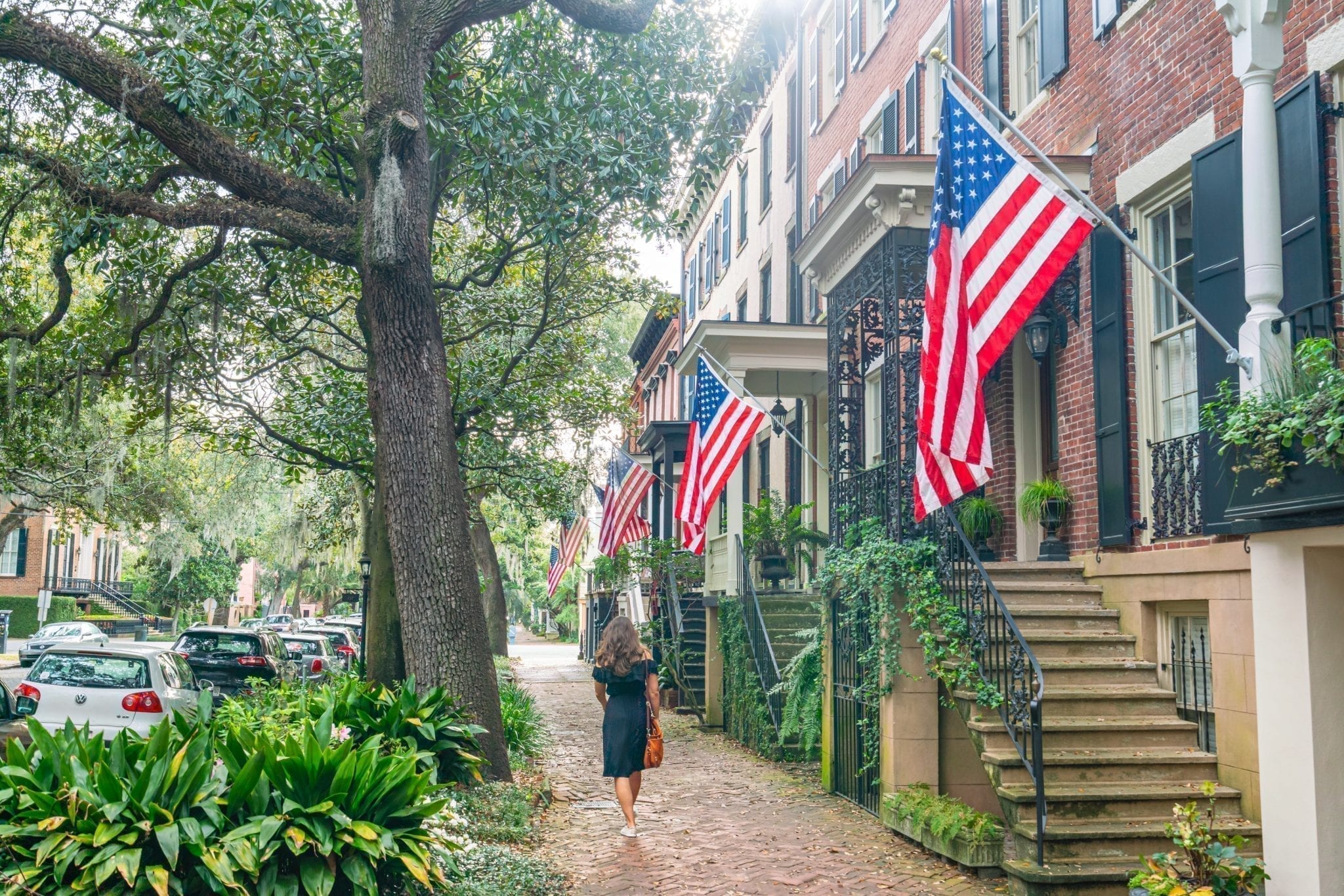 Spend a day in Annapolis, Maryland.
Annapolis may be the capital of Maryland, but with a population of just under 40,000, it's a bite-sized delight of a city.
Home to the US Naval Academy, a charming downtown, and a beautiful waterfront, Annapolis is a city that it's easy to find yourself returning to again and again.
Take an architecture cruise in Chicago.
There are many ways to admire the manmade beauty paired with its gorgeous natural setting that make Chicago such a fascinating city, but an architecture cruise on the Chicago River is definitely one of the best!
Hit the Strip in Las Vegas.
Love it or hate it, Las Vegas is an iconic feature of the American Southwest (and whether you stick around long or not, Las Vegas' airport makes it a great place to kick off a Southwest road trip).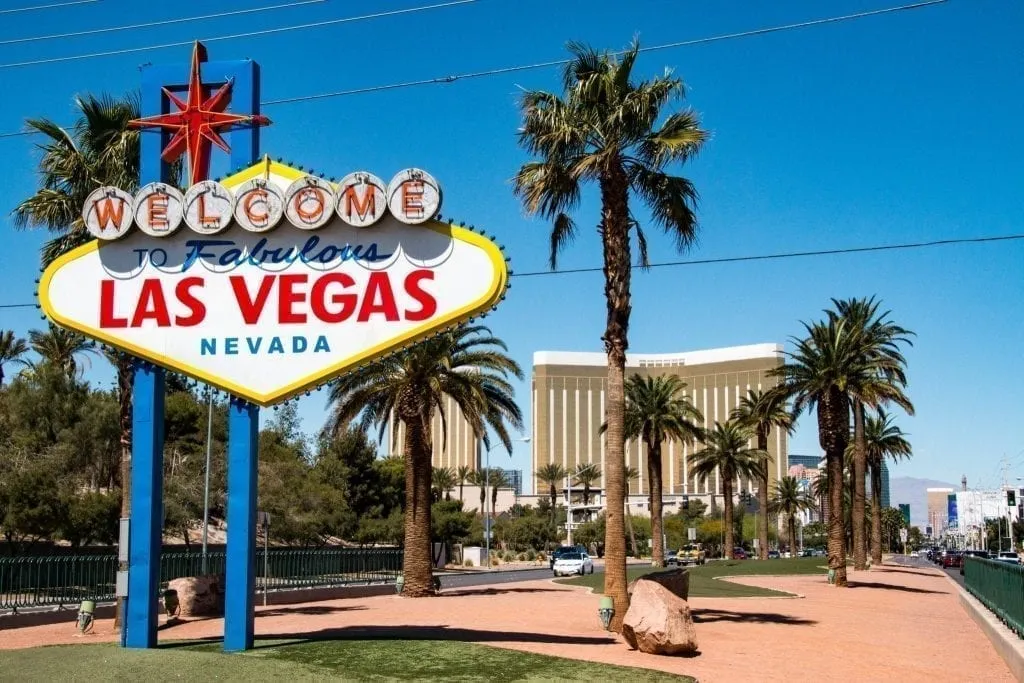 Set eyes on the Statue of Liberty.
The Statue of Liberty is easily one of the most famous attractions in the US, and whether you choose to climb it or not, setting eyes on it yourself is a must-do when visiting New York City!
Explore the French Quarter in New Orleans.
Interesting architecture, legendary food, the constant presence of live music, and endless layers of stories: New Orleans' French Quarter is one of the most unique neighborhoods in the US.
The French Quarter may be touristy, but it's also a place that's absolutely worth visiting for yourself, preferably during a delightful long weekend getaway in New Orleans.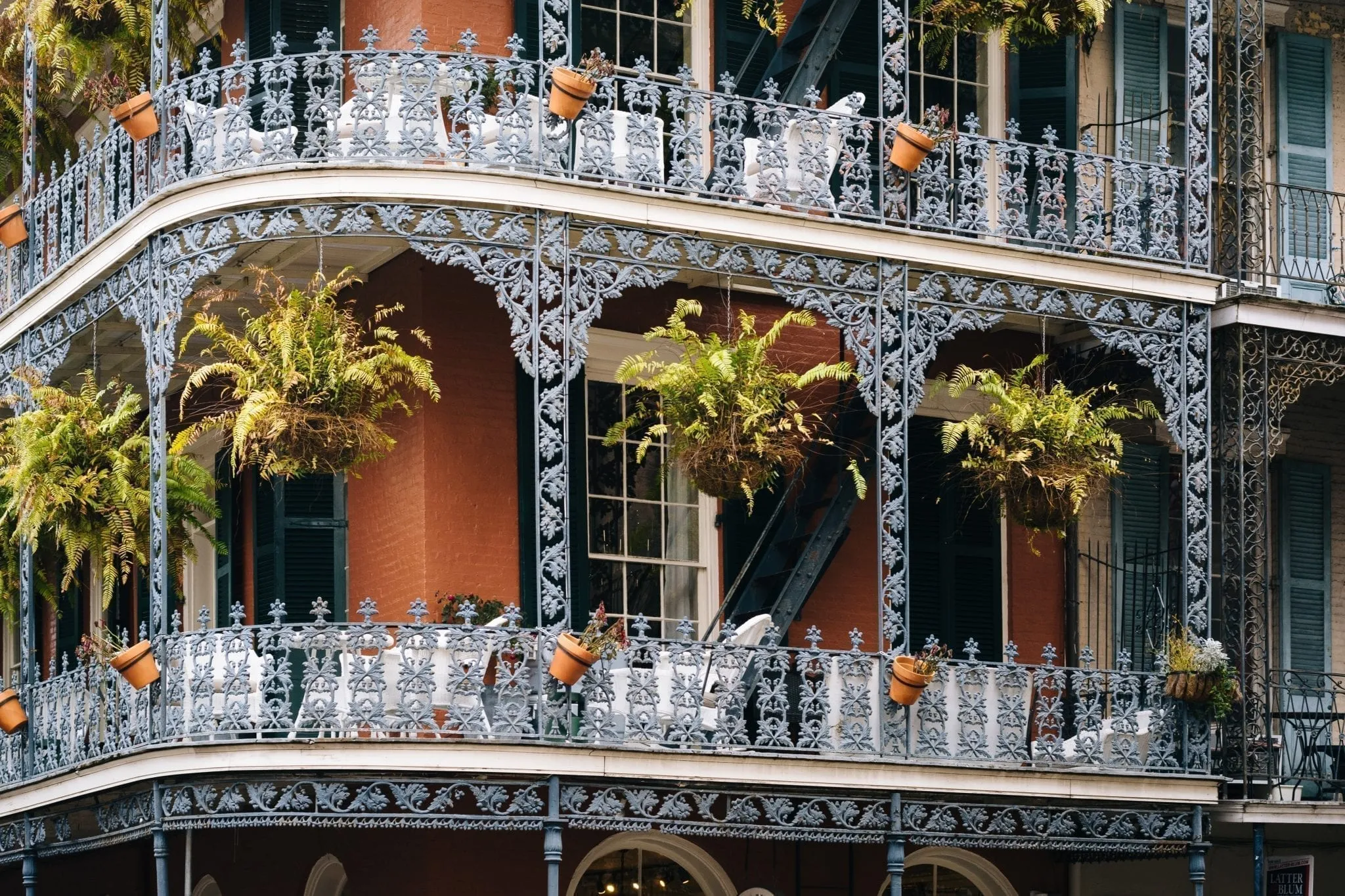 Visit Fort McHenry in Baltimore, Maryland.
Did you know that the Star-Spangled Banner was written in Maryland?
More specifically, it was written at Fort McHenry in Baltimore, which is both interesting and easy to access.
Once you wrap up at the fort, head over to Inner Harbor of Fells Point to explore more of the best things to do in Baltimore.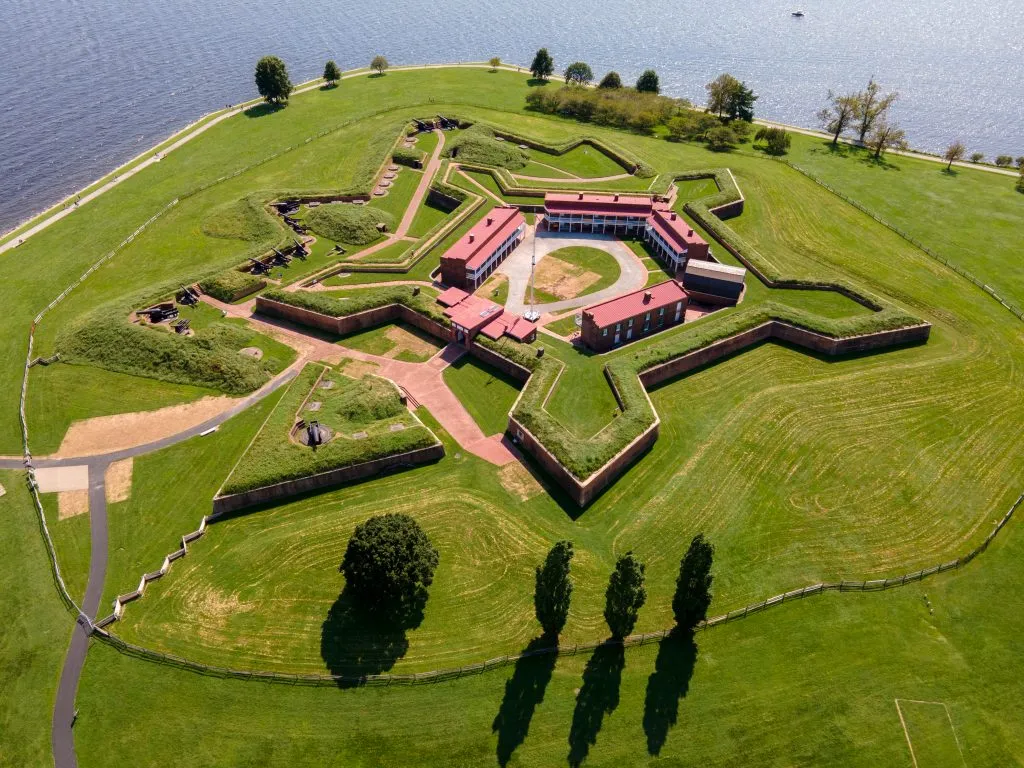 Tour the Biltmore Estate.
"America's Largest Home", built in the late 19th century by George Vanderbilt, is one of the most famous attractions in North Carolina and a must-see during a weekend in Asheville.
Far from being simply a big house, the Biltmore Estate is a time capsule, a winery, a set of magnificent gardens, and more, all rolled into a single interesting USA travel experience.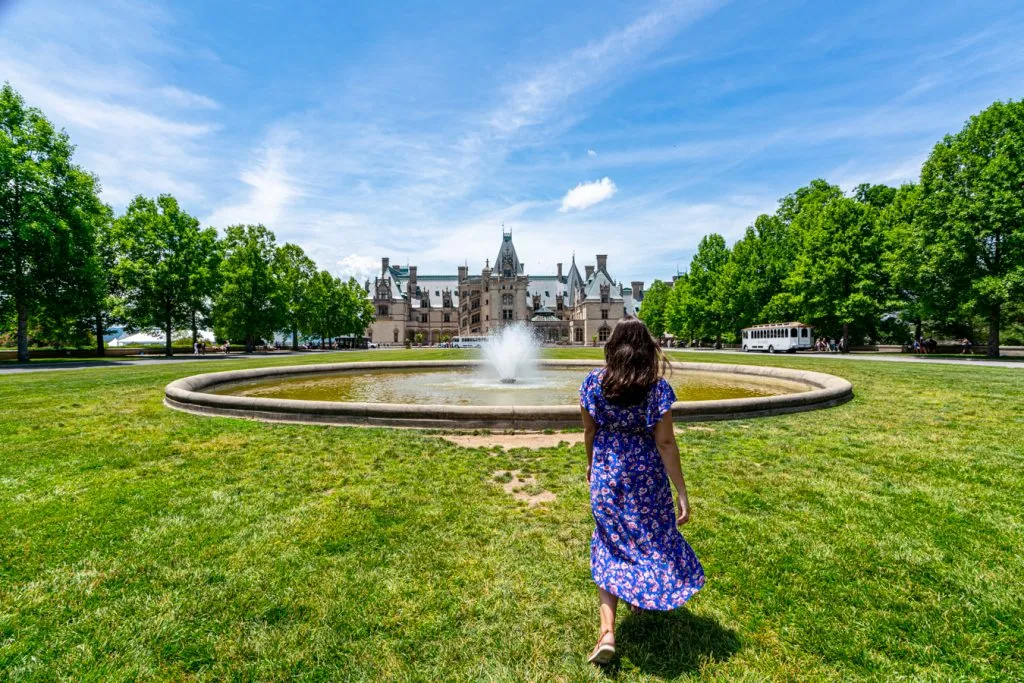 Small Town USA Attractions
Celebrate Christmas in Leavenworth, Washington.
As one of the most picturesque Bavarian towns in the USA, Leavenworth makes a fantastic and festive December getaway!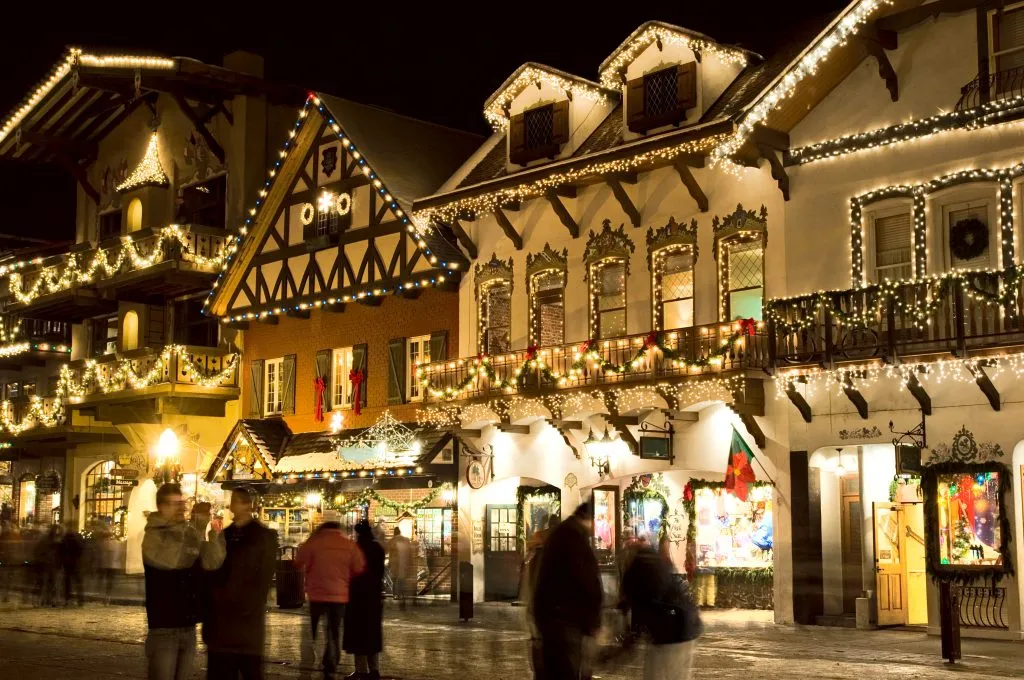 Explore Hot Springs National Park.
Aptly named Hot Springs National Park in Arkansas is one of the only US national parks located in an urban setting.
The park is surrounded by shops, restaurants, and more, offering a fantastic mix of natural highlights and small-town charm.
Nine historic bathhouses line Bathhouse Row, where visitors flocked to enjoy the local hot springs in the late 19th and early 20th centuries, two of which you can still take a soak in today!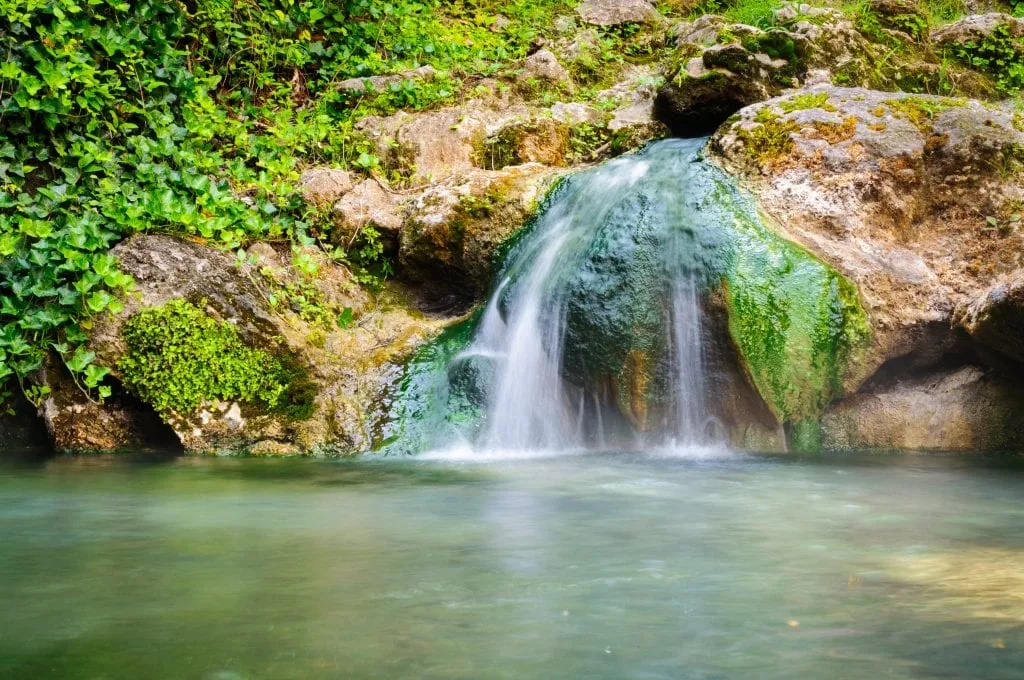 Discover the many charms of Mystic, Connecticut.
Often considered one of the most delightful small towns in New England, Mystic, Connecticut makes an excellent stop on a New England road trip or even a weekend getaway from Boston.
Don't miss the beautiful harbor or the Mystic Seaport Museum!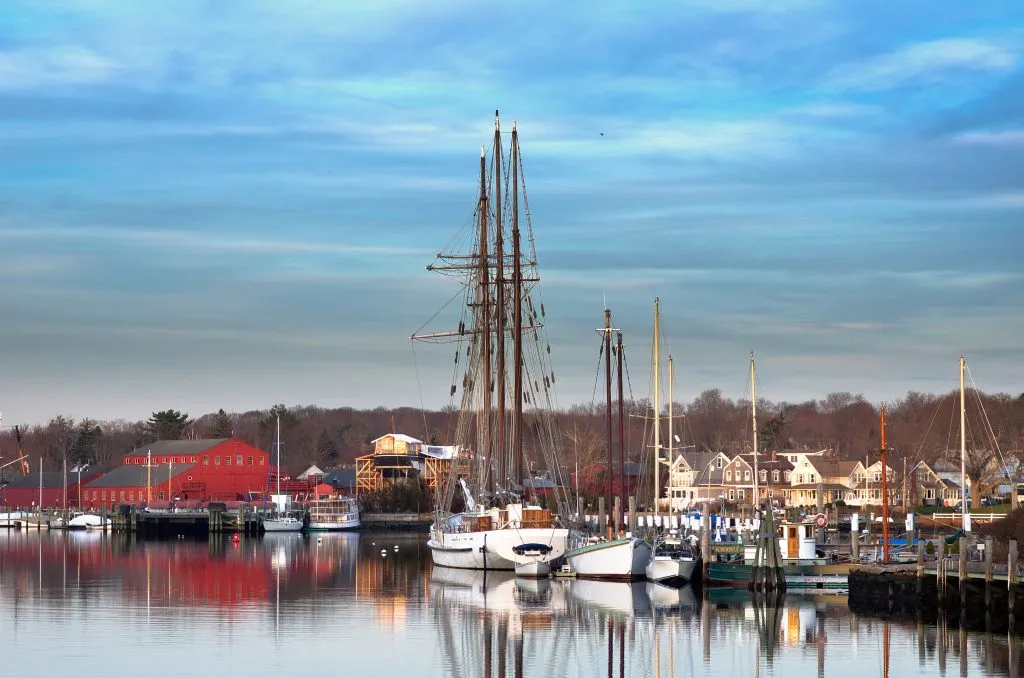 Take a step back in time on Mackinac Island, Michigan.
If you're not from the Midwest, you may not have heard of Lake Huron's Mackinac Island–but it's time for that to change.
This tiny island in Michigan is home to the iconic Grand Hotel, magnificent natural views like those at Arch Rock, and fun things to do that range from biking around the island to trying its famous fudge.
Here's the twist: to keep the island's historic vibe going, no cars are allowed on Mackinac Island, so be prepared to leave yours on the mainland!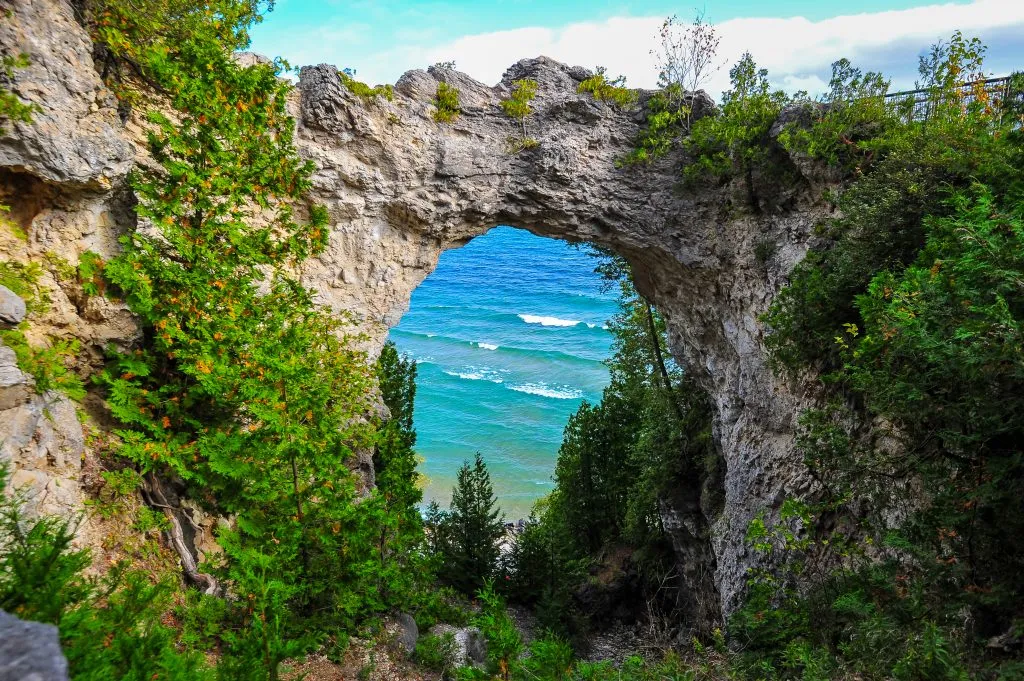 Explore Victorian architecture in Cape May, New Jersey.
Picture the Jersey Shore, and opulent Victorian homes may not be the first thing that comes to mind–but that's exactly what you'll find in beautiful Cape May!
Of course, once you wrap up exploring the history, plenty of beaches and the Cape May lighthouse are also waiting to be enjoying.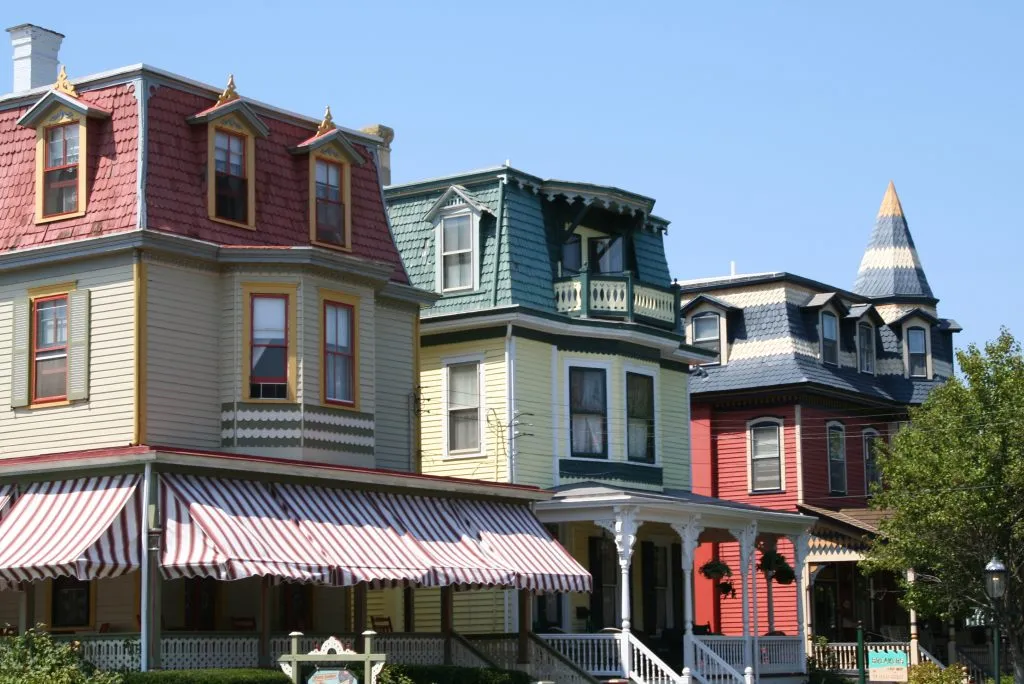 Wander through Gilded Age mansions in Newport, Rhode Island.
In the late 1800s, certain American families simply exploded in wealth–and for those based in New York, that often led to an opulent vacation home in Newport.
Today, you can find a sizable collection of those Gilded Age mansions (most famously, The Breakers built by the Vanderbilts) available to tour in Newport.
Don't miss the gorgeous Cliff Walk while you're in Newport, either!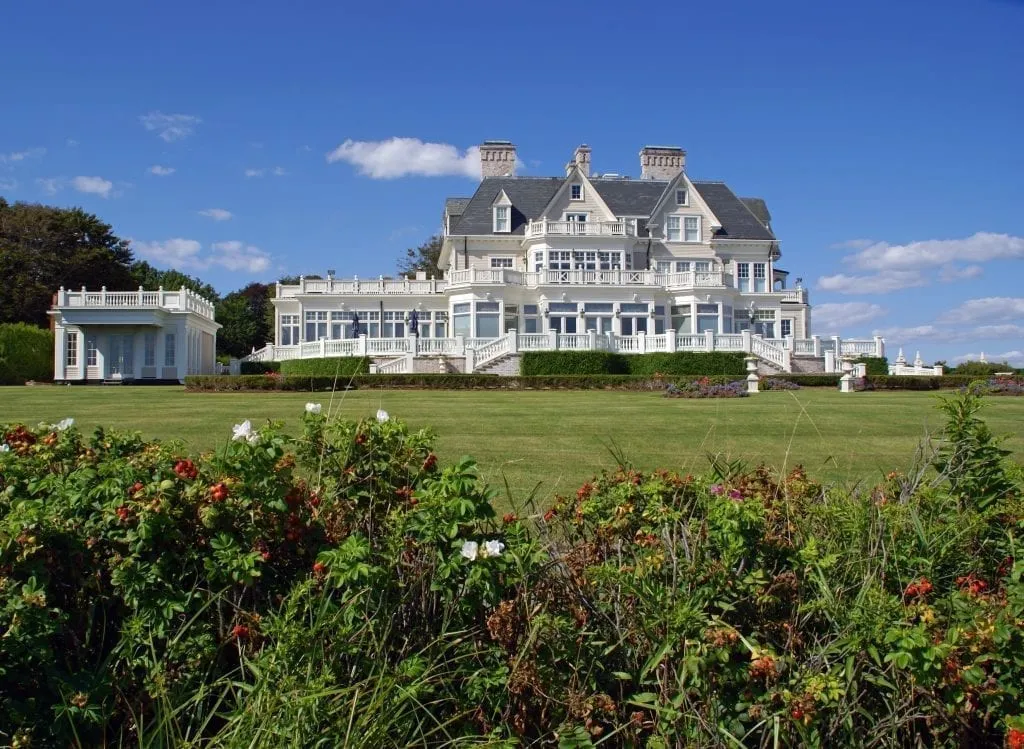 Step back in time in Colonial Williamsburg, VA.
Visiting the country's most famous living history museum is one of the most unique things to do in the US, and is a great stop during an East Coast trip exploring US history.
Walk among a recreated 18th-century village and hear stories directly from 18th-century "locals" at this memorable tourist attraction.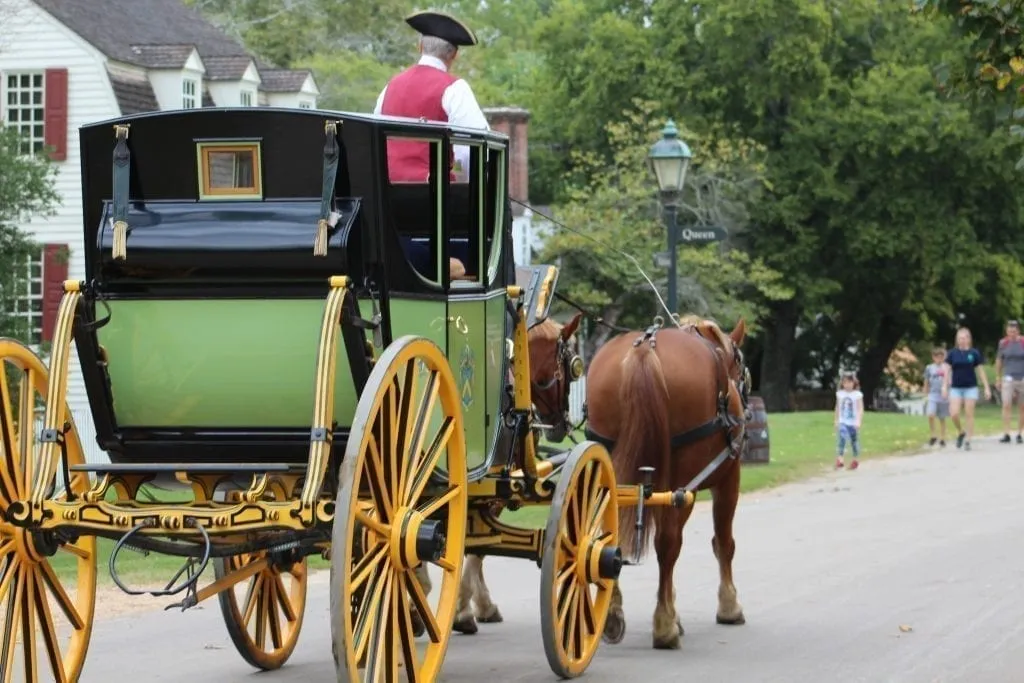 Check into the 1886 Crescent Hotel in Eureka Springs, Arkansas.
The charming small town of Eureka Springs is known for its picturesque downtown, beautiful Thorncrown Chapel, proximity to plenty of Arkansas' beautiful nature (it's not called "The Natural State" without reason!)… and its haunted hotel.
The 1886 Crescent Hotel and Spa was once a fraudulent cancer hospital set up by a con man, and it frequently ranks among lists of the most haunted hotels in America.
It also happens to be a gorgeous property that's well worth spending a weekend in.
We checked in here (and took a ghost tour, of course) the weekend we got engaged and would love to go back!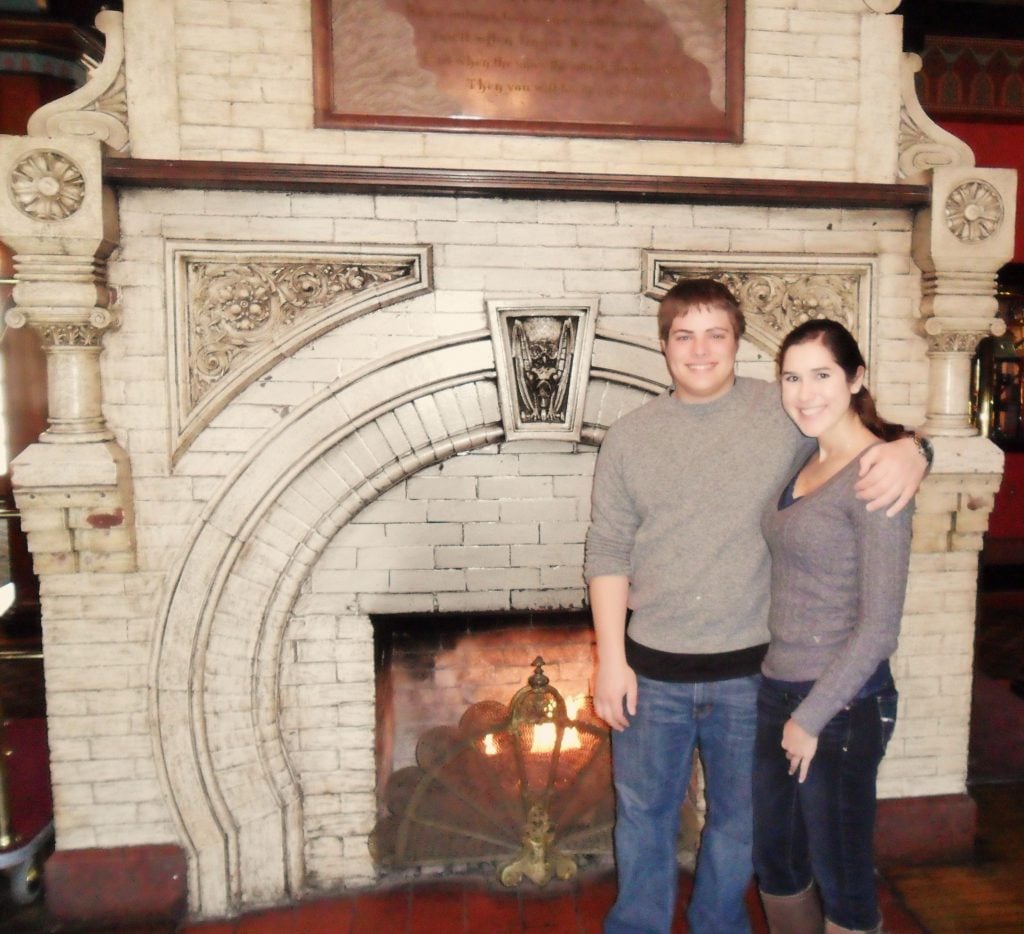 Delight in the beauty of Nantucket.
Lighthouses, hydrangeas, beaches, and beyond: Nantucket may only be 14 miles long by 3.5 miles wide, but this tiny island off the Massachusetts coast has been captivating visitors for generations.
Explore idyllic Stowe, Vermont.
With its picture-perfect fall foliage, status as one of the best ski destinations in New England, and easy access to the rest of Vermont's charms (which to be fair, in a state the size of Vermont, is true of just about anywhere), Stowe is one of the best small towns to visit in the USA.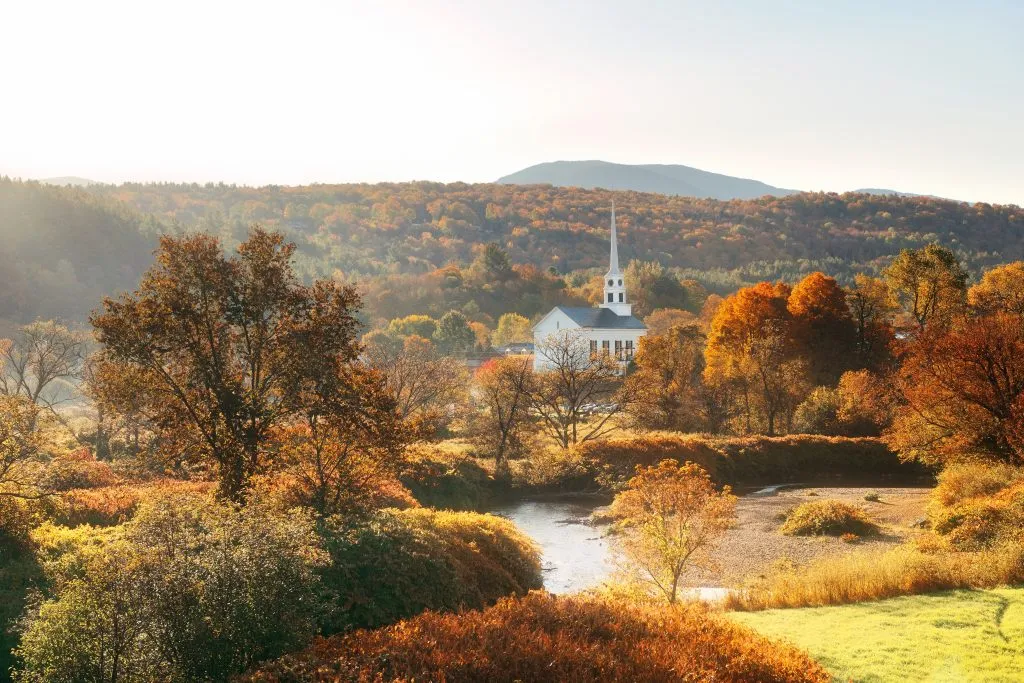 Tour the Gettysburg National Military Park.
If you're going to tour one historic military site in the US, Gettysburg National Military Park is certainly a contender for the choice.
Located in Gettysburg, Pennsylvania, this field was famously the site of the most devastating battle during the US Civil War, claiming the lives of more than 40,000 people.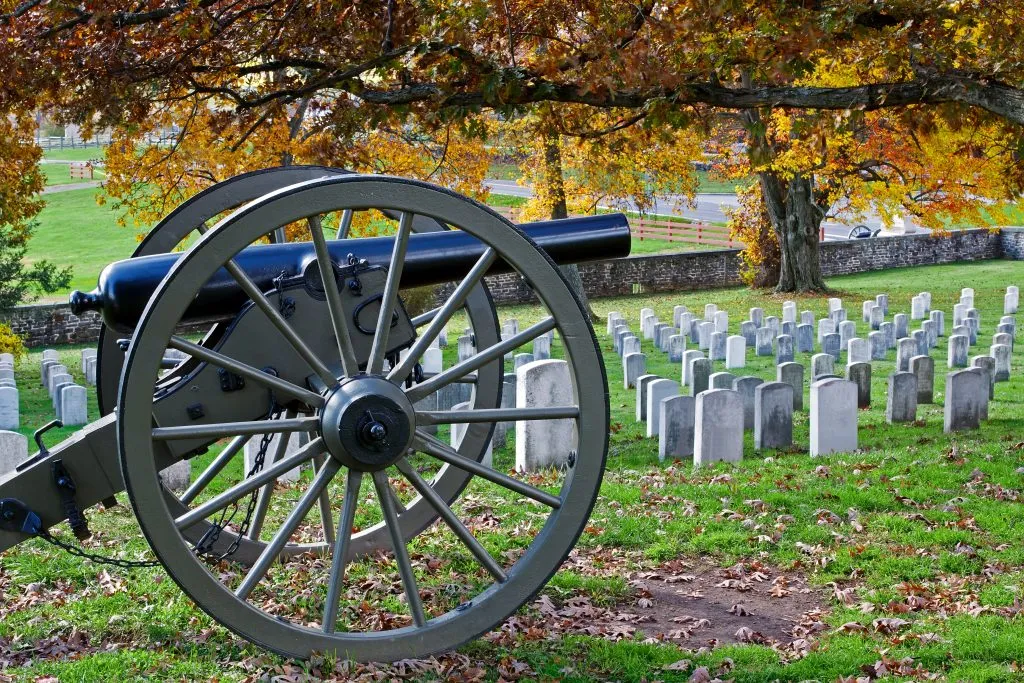 Outdoorsy Things to Do in America
Drive the Road to Hana on Maui.
Waterfalls, beaches, and winding roads: the Road to Hana is one of the most incredible road trips in the USA (but for those who get motion sickness: come prepared for a bit of a challenge).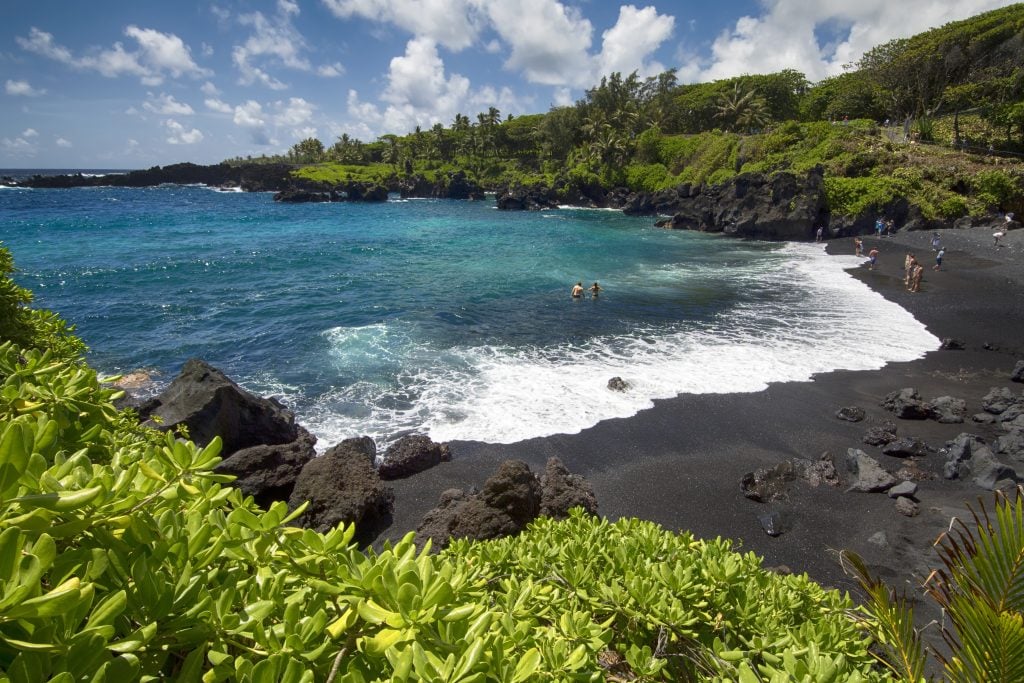 Hike one of the USA's National Scenic Trails.
These long-distance trails are among the most challenging and iconic in the US, with the most famous of them being the Appalachian Trail and Pacific Crest Trail.
While hiking for days or weeks on end may not be on everyone's USA bucket list, you can choose to hike only a small section (even just one day's worth!) of these trails to sample them for yourself.
Relax on Alabama's Gulf Coast.
Florida's Gulf Coast may get all the national attention, but the shores of Alabama are located just next door–and are not only incredibly beautiful but more affordable than nearby Florida!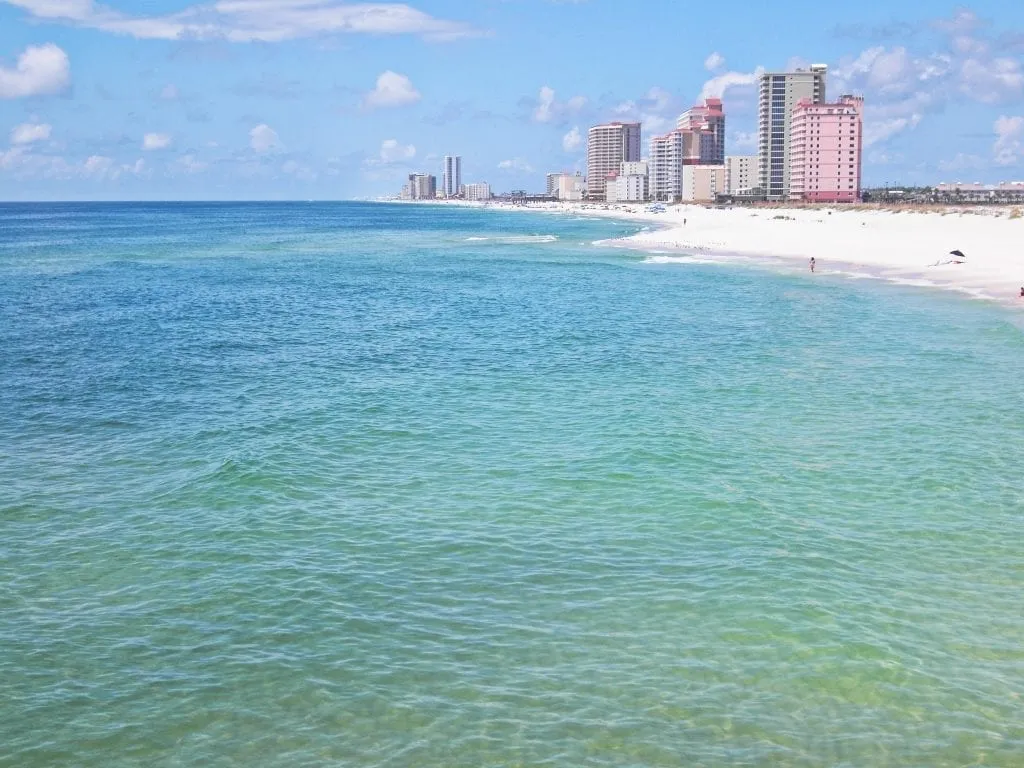 Take a helicopter tour over Kauai.
Want to get your adrenaline pumping while admiring one of the most stunning landscapes in the USA?
A helicopter tour along Kauai's famous Na Pali Coast has you covered!
Watch the sunrise over Cadillac Mountain in Acadia National Park.
For part of the year (October 7 through March 6), Cadillac Mountain in Maine's Acadia National Park sees the first sunrise in the continental USA–and year-round, it's definitely a beautiful sunrise.
You can either hike or drive to the top of the mountain and if like us, you're not much of an early riser, the sunsets from Cadillac Mountain are pretty spectacular as well.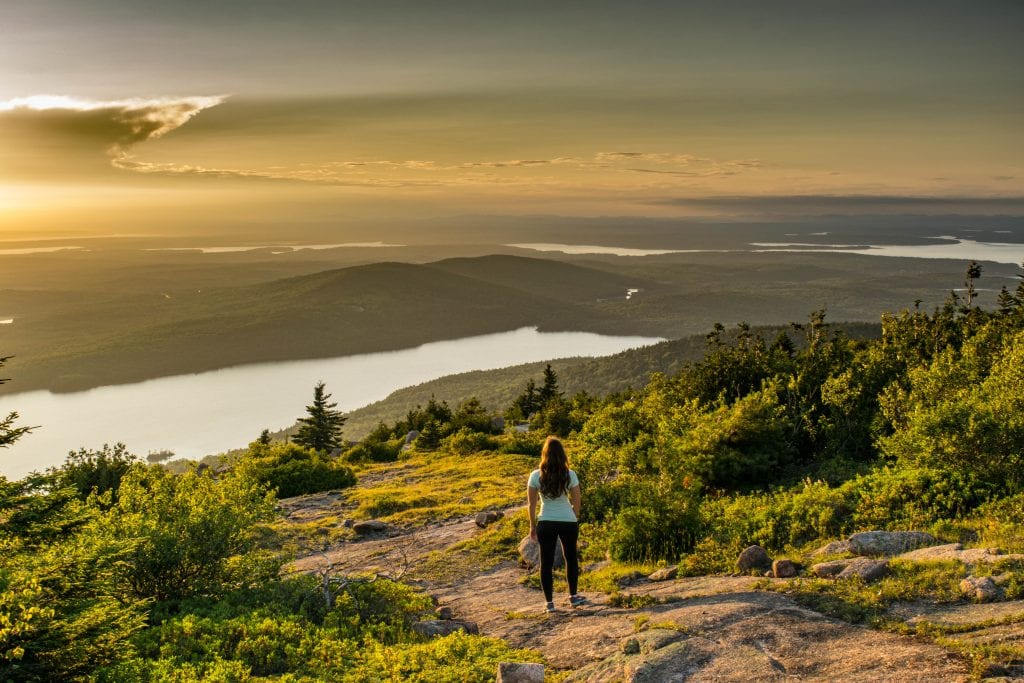 Marvel at the beauty of the Lake of the Ozarks.
With 1,150 miles of shore length, Missouri's Lake of the Ozarks boasts (now somewhat famously, thanks to the TV show Ozark) more coastline than the state of California.
Featuring endless nooks and crannies to explore, it's one of the most popular lake destinations in not only Missouri but also the surrounding states.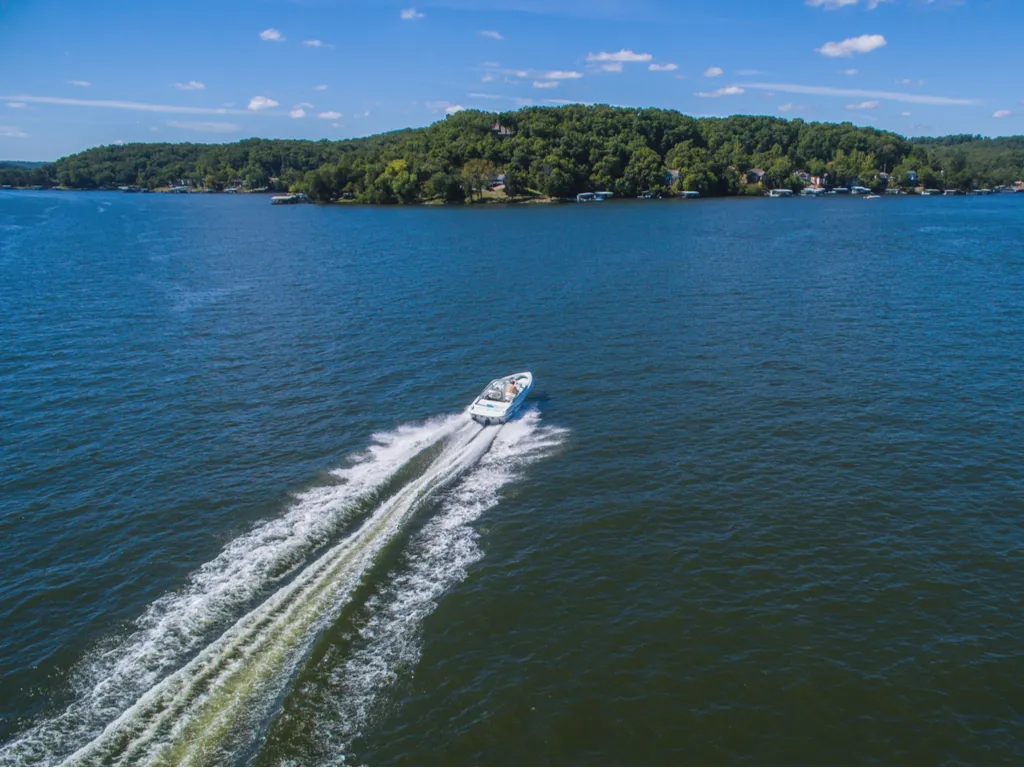 Walk among ancient redwoods in California.
The tallest trees on Earth can be found growing in northern California–and with several trees that are 2,000 years old, they're also among the oldest.
There's something magical about admiring these ancient beauties up close, and it is an unforgettable bucket list travel experience in the USA to hike among them.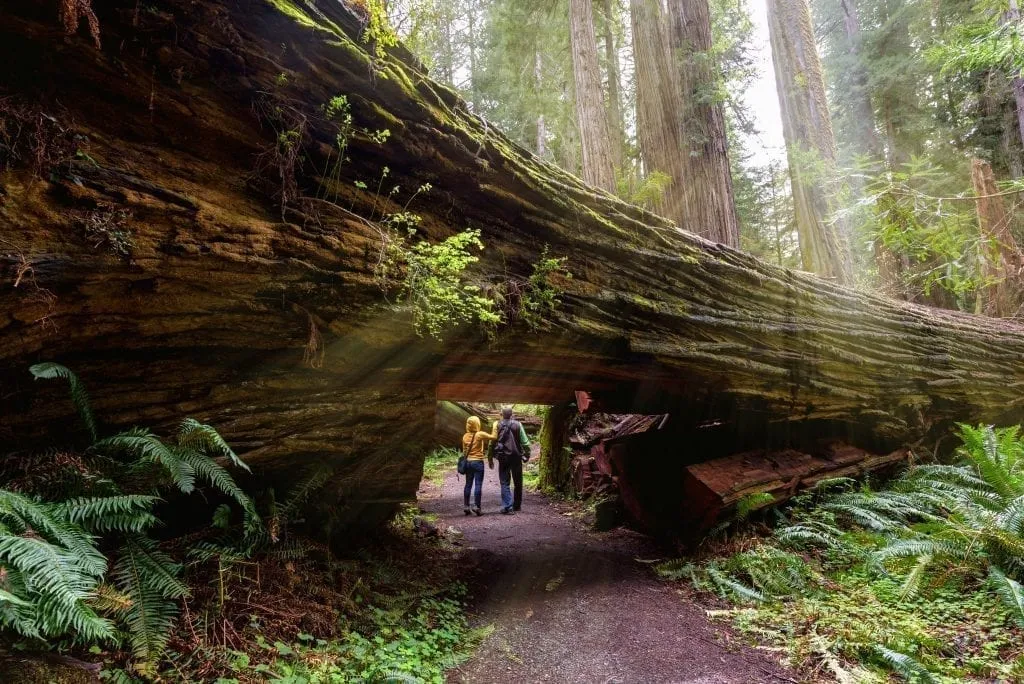 Chase waterfalls in Great Smoky Mountains National Park.
Did you know that Great Smoky Mountains National Park is the most visited of all the national parks in the USA?
By definition, that definitely ranks visiting it among the best things to do in the US–and with incredible trails, beautiful vistas, scenic drives, and many, many waterfall hikes to choose from (we loved Rainbow Falls!), it's easy to see why this park is so popular.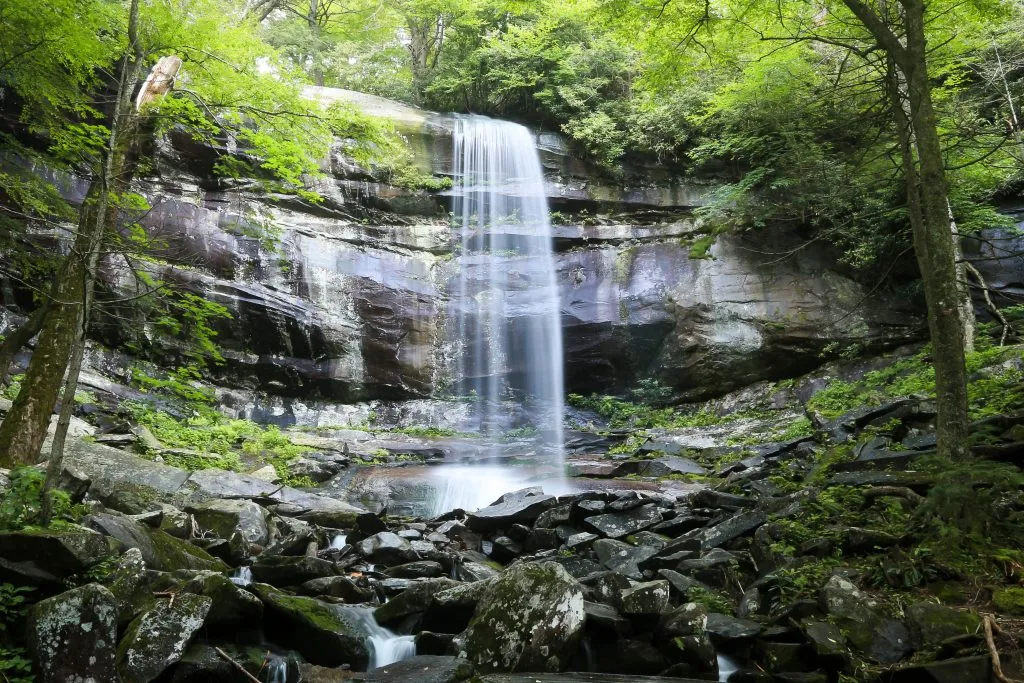 Drive across the Bonneville Salt Flats.
When ancient Lake Bonneville dried up, the Bonneville Salt Flats remained in Utah.
Today, they're one of the most unique attractions in the USA!
Drive Going-to-the-Sun Road in Montana.
Open seasonally from roughly June to October, Going-to-the-Sun Road is the only road that traverses Glacier National Park, and it boasts absolutely sublime views of the park.
If you're visiting during the summer, this scenic drive is an absolute must-do for your Glacier National Park itinerary!
Admire the deepest lake in the United States.
Oregon's Crater Lake is not only the largest lake in the US, it's considered both the cleanest and the clearest body of water in the country!
Hiking around this magnificent body of water is one of the best things to do in the USA.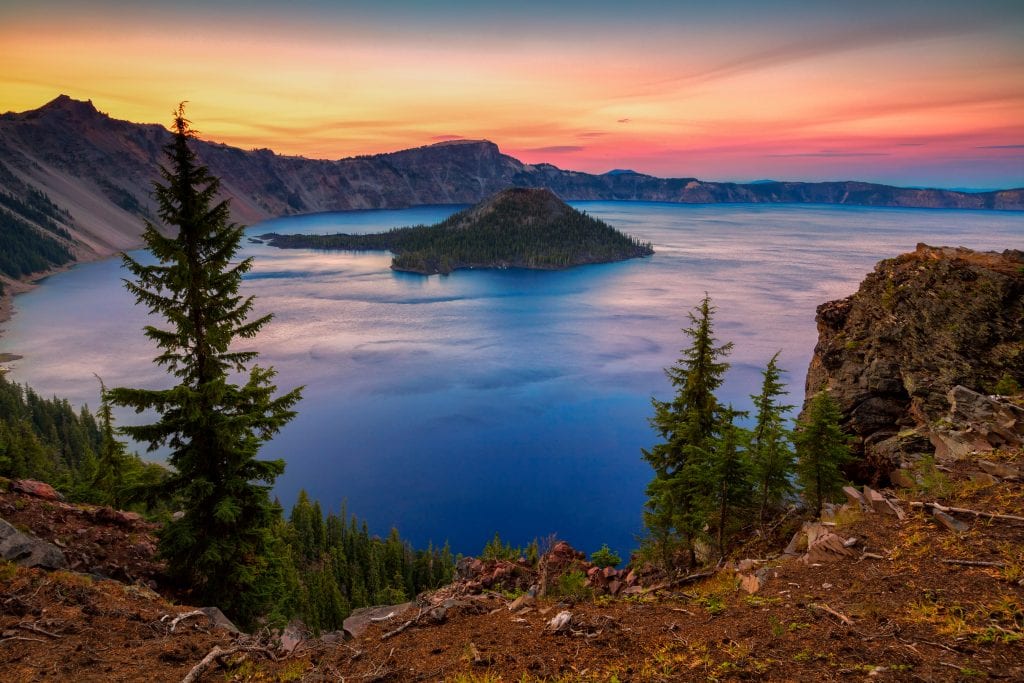 Stare in awe at the geothermal activity of Yellowstone National Park.
From the brilliant colors of the Great Prismatic Spring to the famed thundering of Old Faithful to the many, many other geothermal pools, geysers, fumaroles, mud pots, and more, a visit to Yellowstone National Park is truly one of the most unique–and iconic–USA attractions to visit.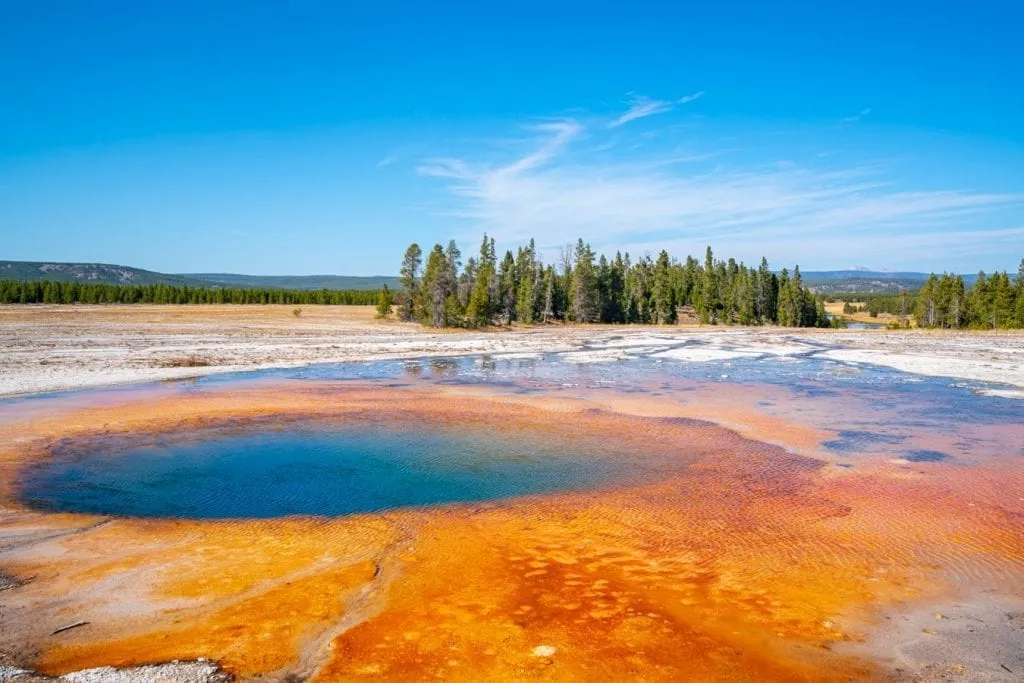 Have a Midwestern beach day at Indiana Dunes National Park.
Towering sand dunes and sparkling beaches may not be the first thing that comes to mind when you think of Indiana, but that's part of why Indiana Dunes National Park belongs firmly on any list of the best USA attractions.
There's nothing like the unexpected to help you appreciate just how diverse US landscapes are!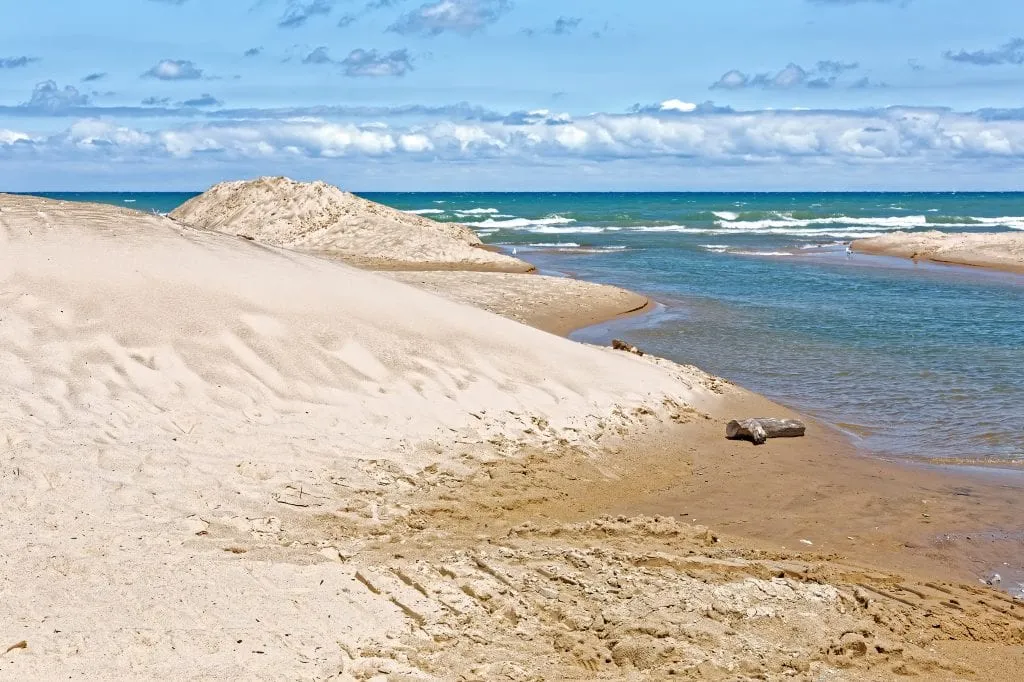 Drive the North Shore Drive in northern Minnesota.
Stretching for 154 miles between Duluth and Grand Portage, North Shore Drive will show off some of Minnesota's most spectacular scenery, featuring plenty of unforgettable views of Lake Superior.
Along the way, you'll find 7 state parks (including the magnificent Gooseberry Falls State Park), as well as fun attractions like Split Rock Lighthouse.
Hike into the Grand Canyon.
You don't need to hike all the way to the Colorado River to appreciate the grandeur of the Grand Canyon!
Even a well-chosen day hike in the Grand Canyon is enough to appreciate the absolute majesty of the largest canyon in America.
Dipping below the surface, even if only a bit, adds a level of perspective to the canyon that you just can't get from the rim (however wonderful the views are).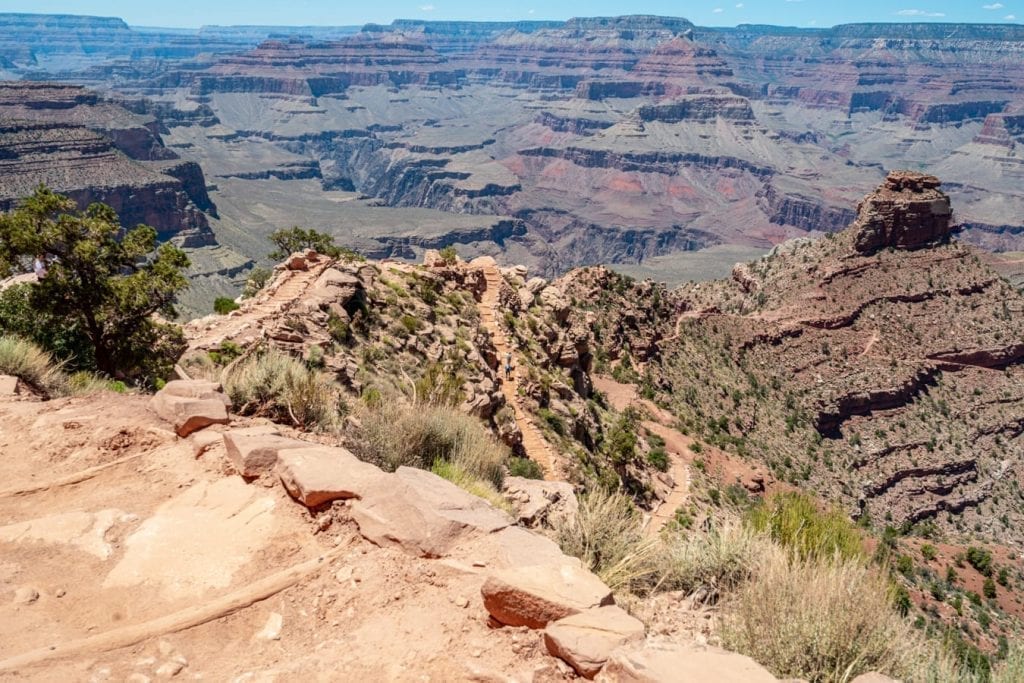 Road trip the Olympic Peninsula in Washington State.
Hiking through a rainforest, perusing small towns, and watching the sunset over dramatic beaches are just a few of the wonderful things to do on Washington's unique Olympic Peninsula!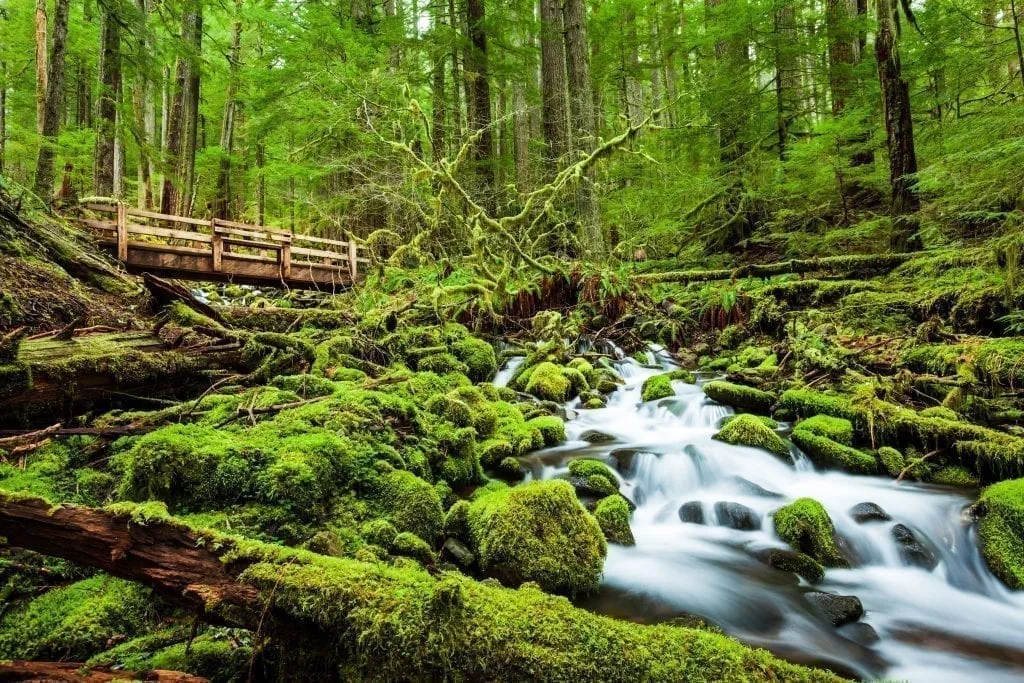 Visit New River Gorge National Park.
Did you know that West Virginia is home to a gorgeous national park?
On December 27, 2020, New River Gorge became the USA's newest national park!
Enjoy Art Deco lifeguard stands and beautiful water on South Beach.
Miami's South Beach is among the most famous urban beaches in the country, and even if you want to spend most of your trip to Miami away from the sand, it's worth working in a little beach time to sample South Beach for yourself.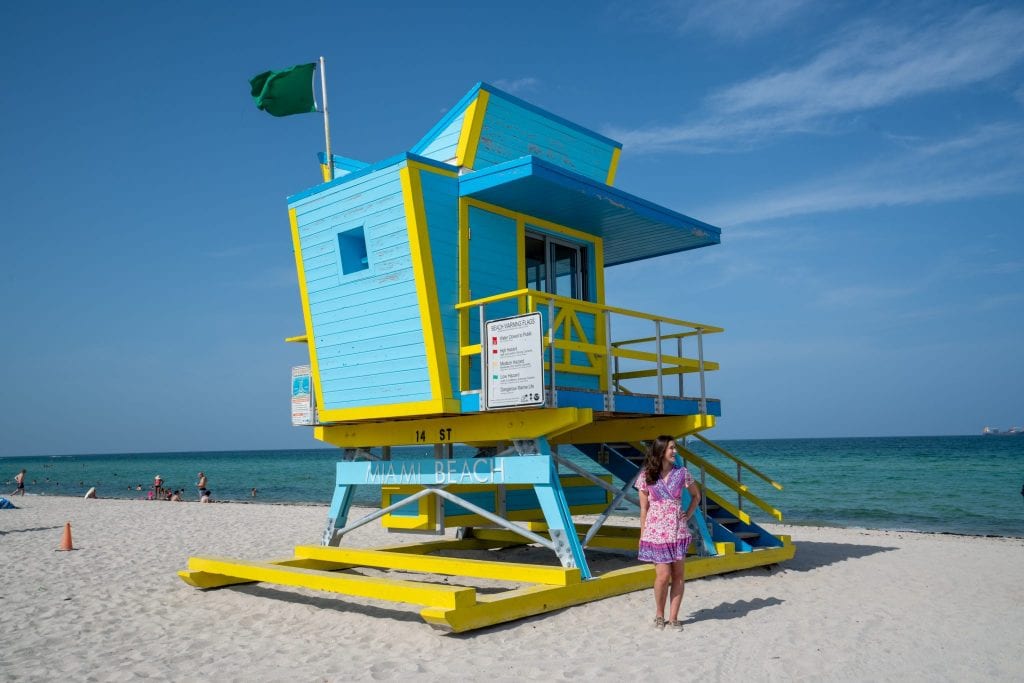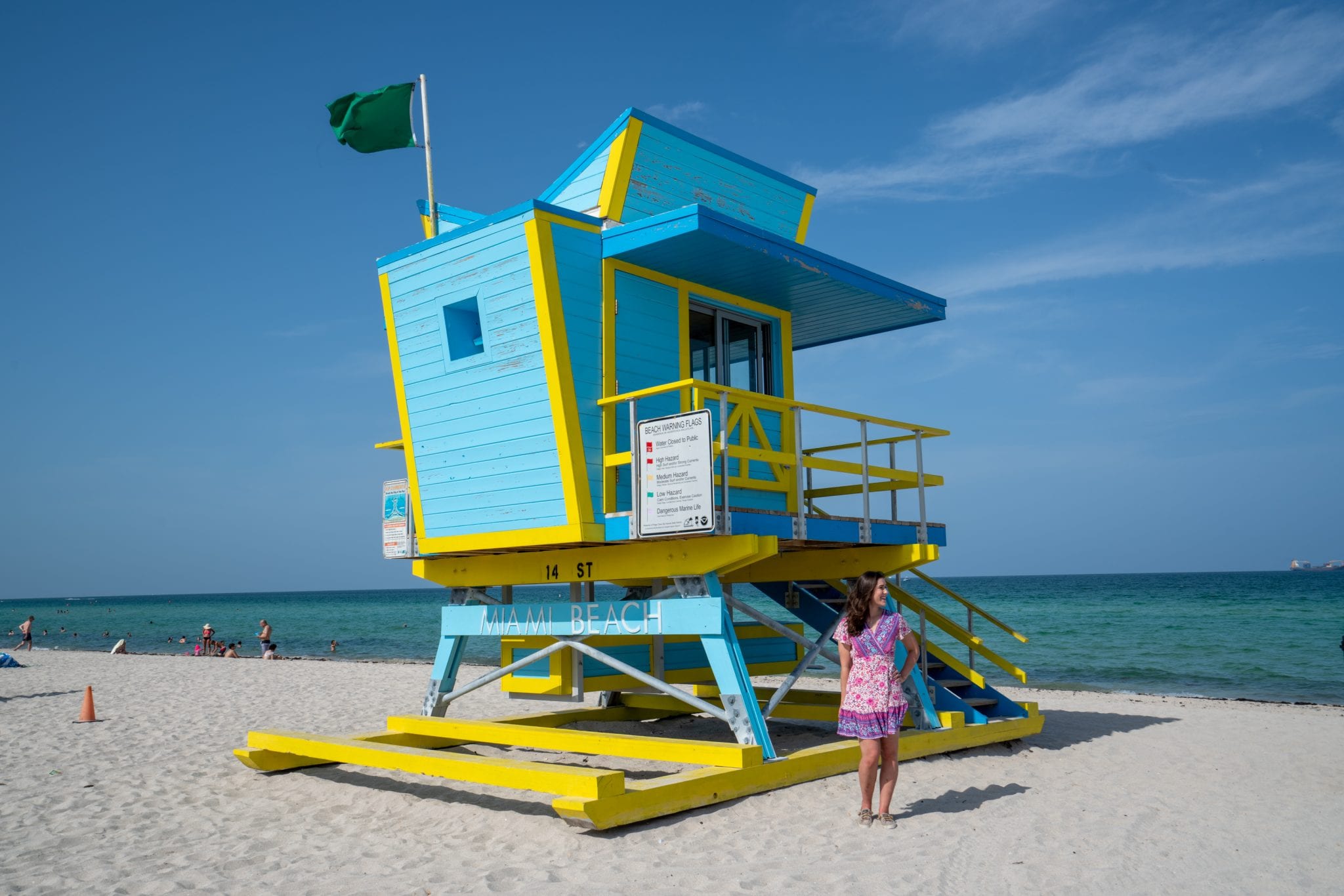 Walk through a forest of cacti in Saguaro National Park.
The USA is full of otherworldly landscapes, but the forest of saguaro in southern Arizona is definitely among the most unique places in the US!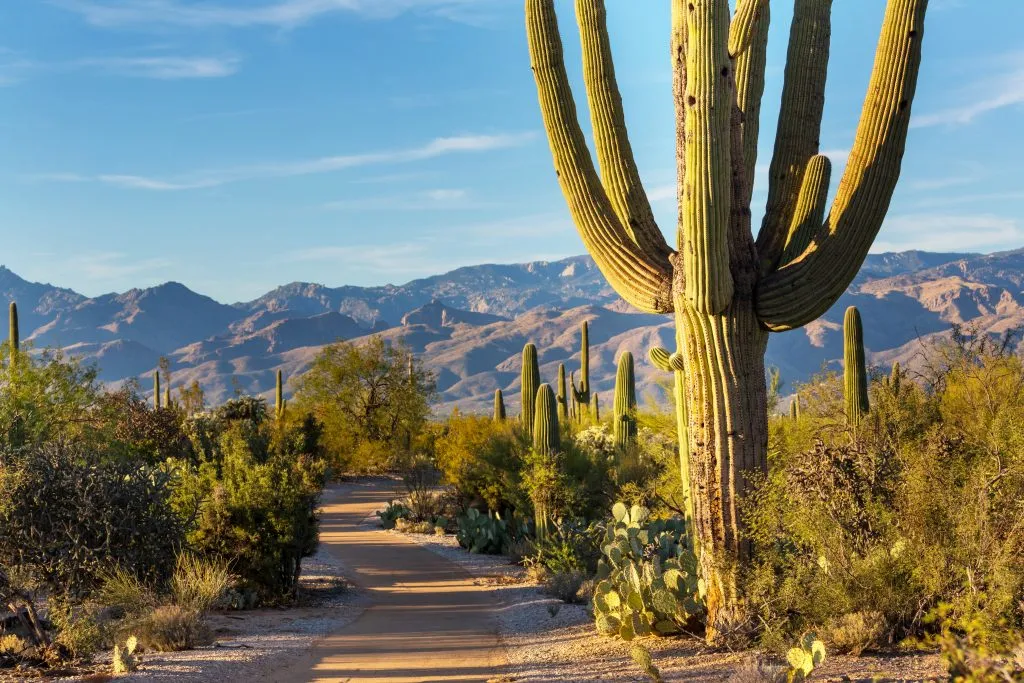 Explore Kenai Fjords National Park.
Magnificent glaciers and humpback whales are just a couple of the incredible things waiting for you at Alaska's Kenai Fjords National Park!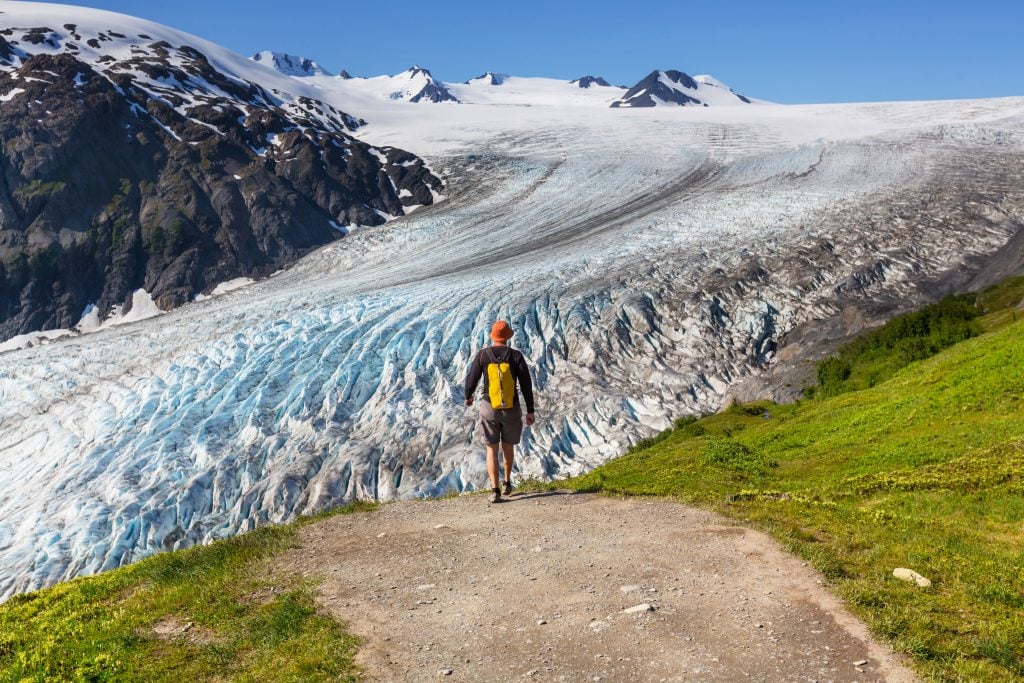 Road trip Utah's Mighty Five.
Utah is justifiably famous for its collection of 5 magnificent national parks–Arches, Canyonlands, Zion, Bryce, and Capitol Reef–that can be visited in quick succession on a well-planned Utah national parks road trip.
Thanks to its magnificent landscapes, this road trip consistently ranks among the best things to do in the USA.
Marvel at the landscape in White Sands National Park.
New Mexico's aptly-named White Sands National Park has to be seen to be believed: there is simply no other USA attraction like it!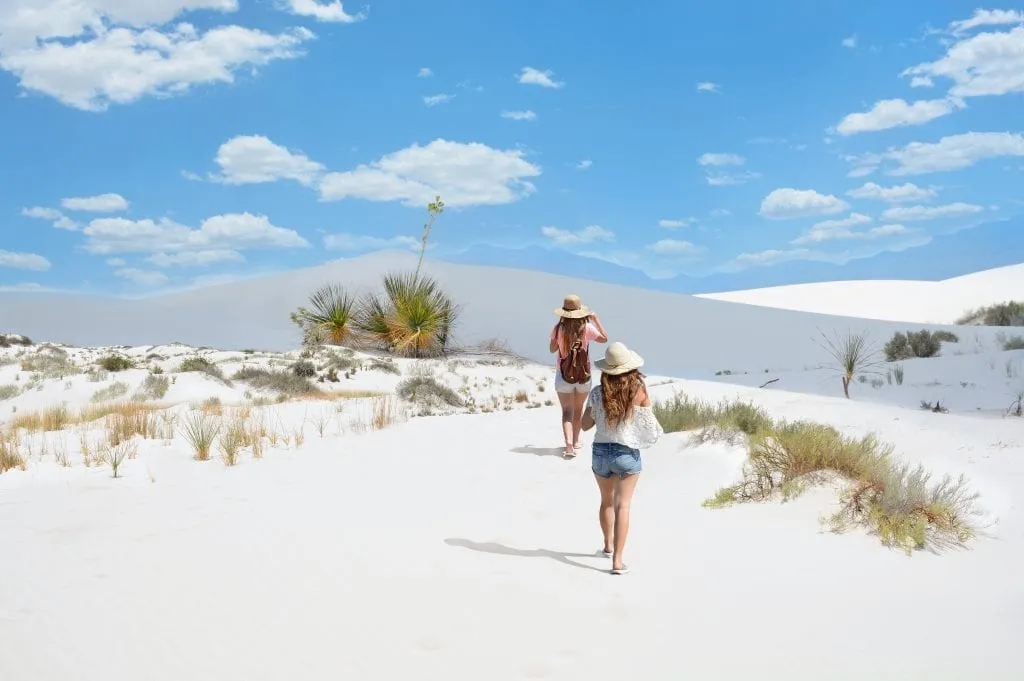 Drive New Hampshire's Kancamagus Scenic Byway in the fall.
It's well-known that New England's fall foliage is a bucket list USA travel experience for many–and the Kancamagus Highway in New Hampshire offers the best of the best in leaf-peeping!
Peak foliage varies by year, of course, but typically peaks in the first two weeks of October.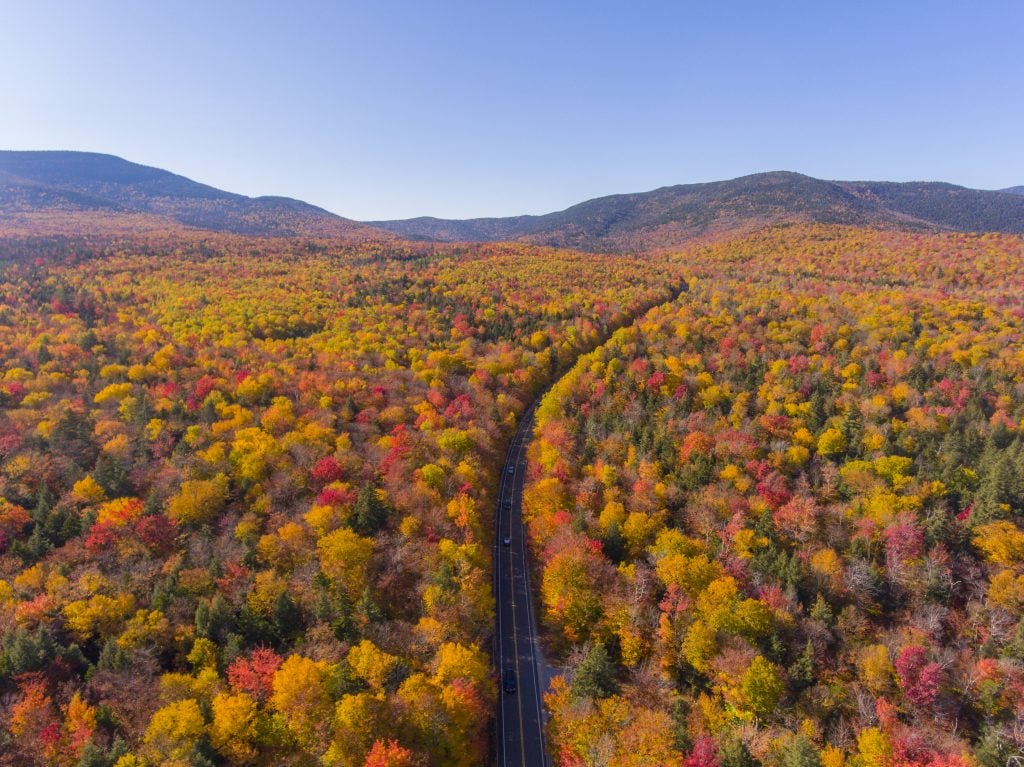 Soak up the beauty of Ginnie Springs.
There's a reason that Ginnie Springs is one of the most famous natural springs in Florida: it is absolutely stunning.
However you prefer to enjoy gorgeous water, you can make the most of Ginnie Springs, whether you're hoping to go swimming, snorkeling, SUPing, or even scuba diving.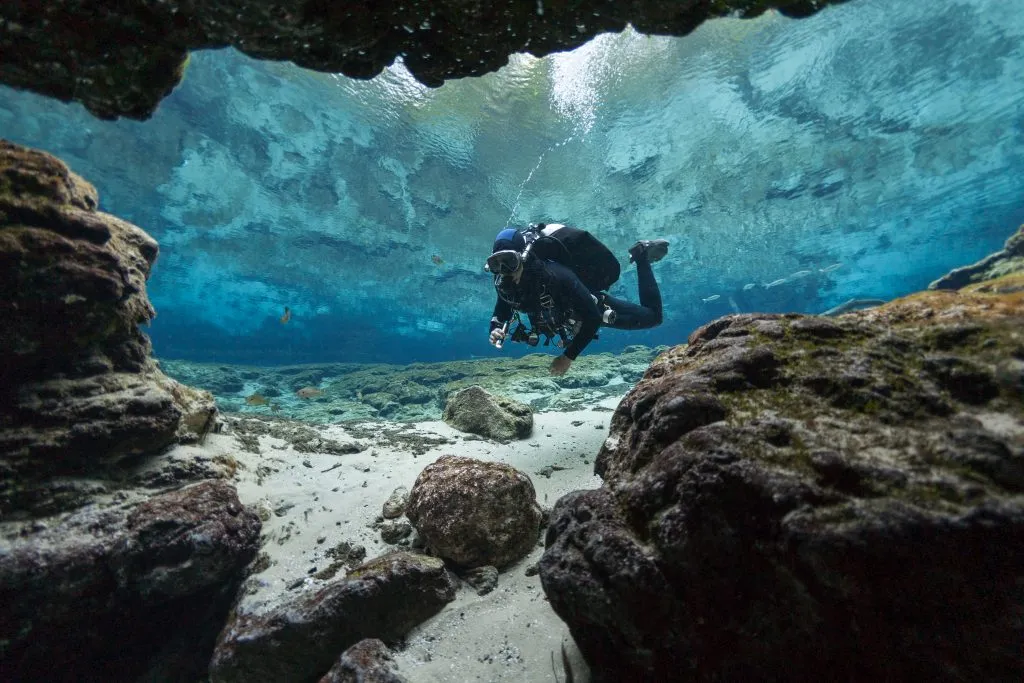 Pay a visit to Niagara Falls.
The stupendous Niagara Falls straddles the border of New York State and Ontario, and it's widely considered one of the most impressive waterfalls in the world (or, technically speaking–a group of 3 waterfalls).
Niagara Falls has long been considered one of the top tourist attractions in the USA, and seeing its power in person will immediately show you why!
Sail along Kauai's Nā Pali Coast.
Often considered one of the most beautiful landscapes in the country, admiring the wild beauty of Kauai's Nā Pali Coast can be done in three ways: via a difficult 11-mile hike, via a helicopter tour, or via a boat tour.
If you're a hiker, there's no reason not to do both, but either way, admiring the Nā Pali Coast from the water is one of the best things to do in the USA.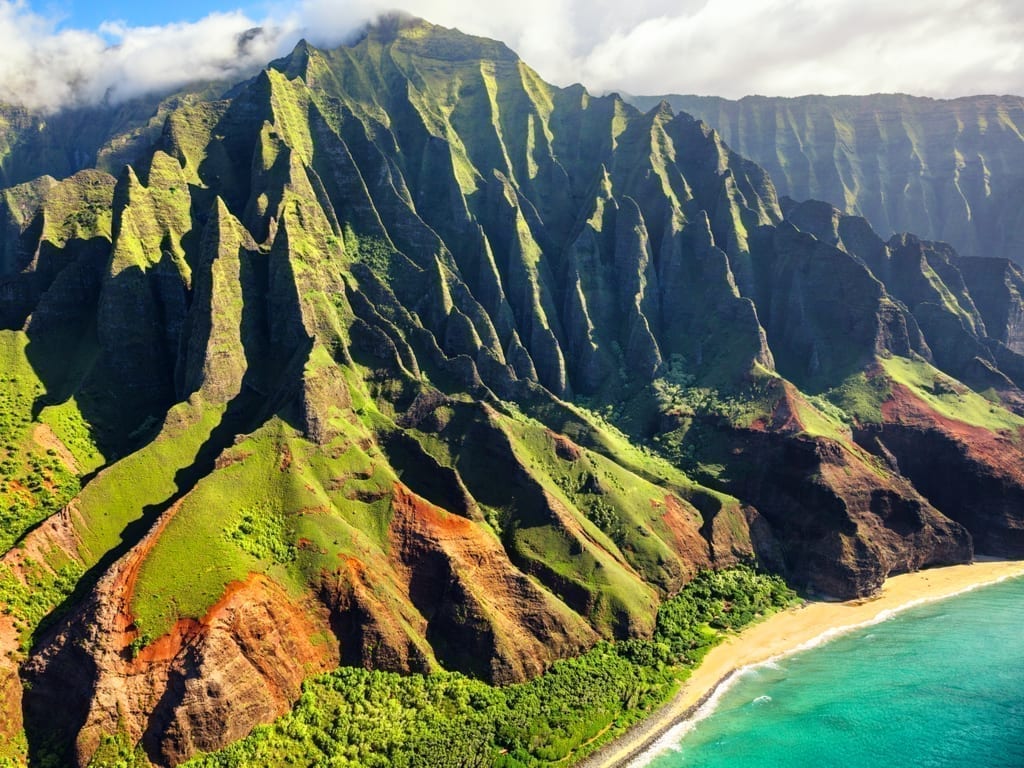 Hike to Nymph, Dream, and Emerald Lakes in Rocky Mountain National Park.
If you ask anyone who loves Rocky Mountain National Park the best hike in the park for first-time visitors (who don't want to spend all day hiking to Sky Pond or Chasm Lake, anyway), you'll hear about Nymph, Dream, and Emerald Lakes.
With a fairly short distance and an incredible number of views, these lakes are an excellent introduction to the Colorado Rockies.
Hit the water on Lake Tahoe.
Surrounded by the Sierra Nevada Mountains and located on the border of Nevada and California, Lake Tahoe is one of the most strikingly beautiful lakes in the country–and admiring all of that beauty from the water is one of the best things to do in the United States!
Whether you want to SUP, kayak, or swim (fair warning, with water temperatures in the 50s in the summer, this is not for everyone), experiencing Lake Tahoe from the water is something special.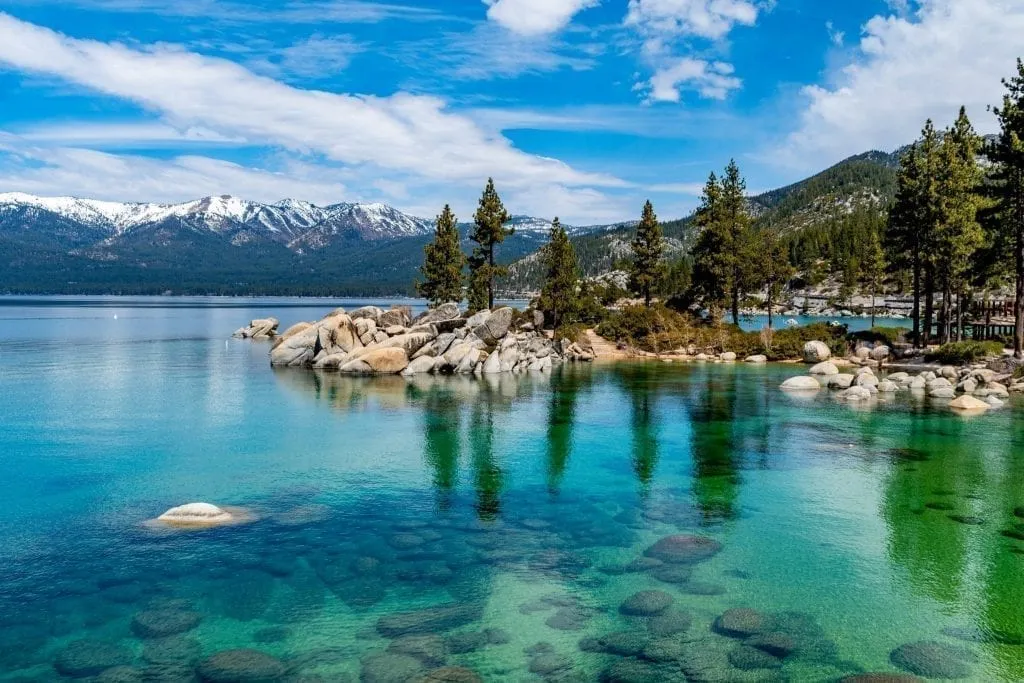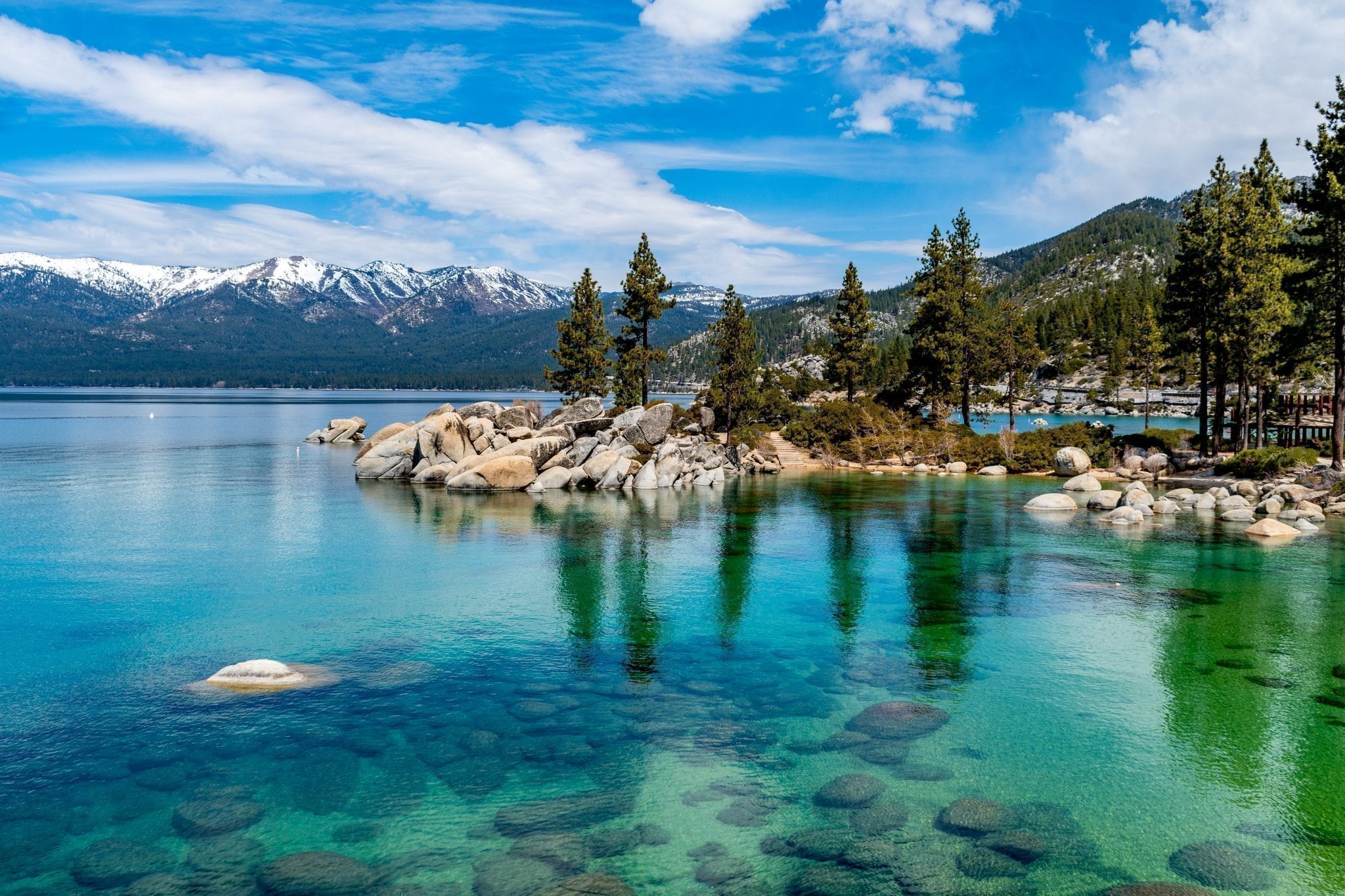 Marvel at Horseshoe Bend.
This stunning view of the Colorado River is one of the most famous attractions in America's Southwest for a reason!
Horseshoe Bend makes a fantastic addition to a trip to the small town of Page, Arizona.
Stand in awe at the beauty of Yosemite National Park.
Yosemite isn't one of the most popular national parks in the USA without reason: the landscapes here truly have to be seen to be believed.
While visiting during the summer is ideal, it's also popular enough to be downright competitive–especially if you want to enjoy the more famous hikes.
If you're open to a more offbeat trip (since some parts of the park will be closed), visiting Yosemite in winter can also be an incredible experience.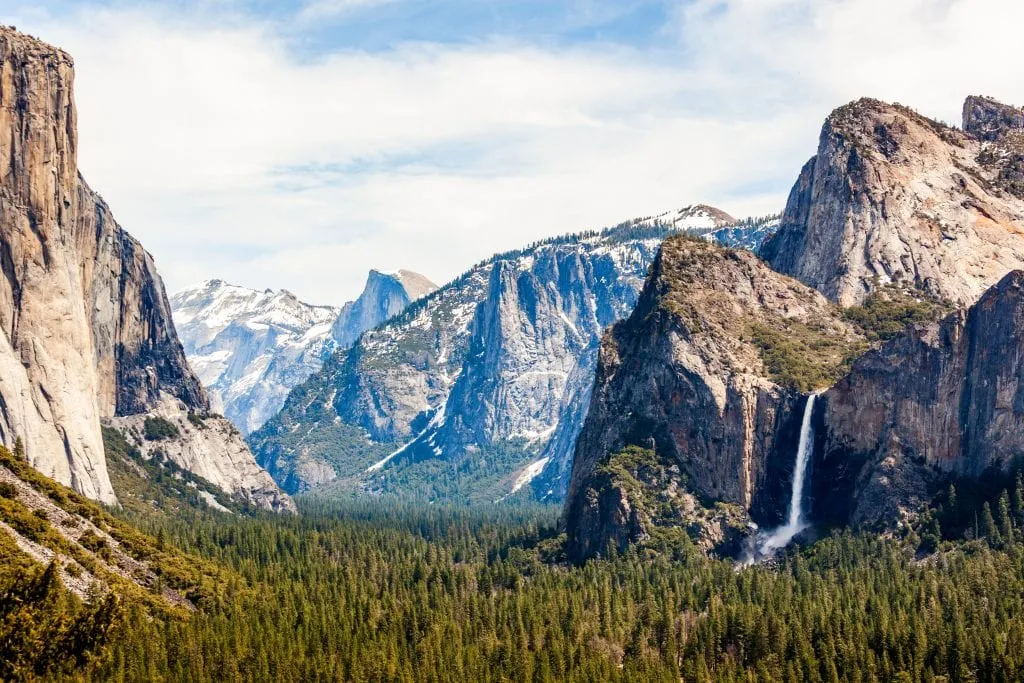 Admire Shoshone Falls, Idaho.
At 212 feet tall and 900 feet across, multi-layered Shoshone Falls is an unexpected delight in Idaho.
Taller than the famous Niagara Falls, Shoshone Falls is one of the most incredible waterfalls in Idaho (and in the US in general).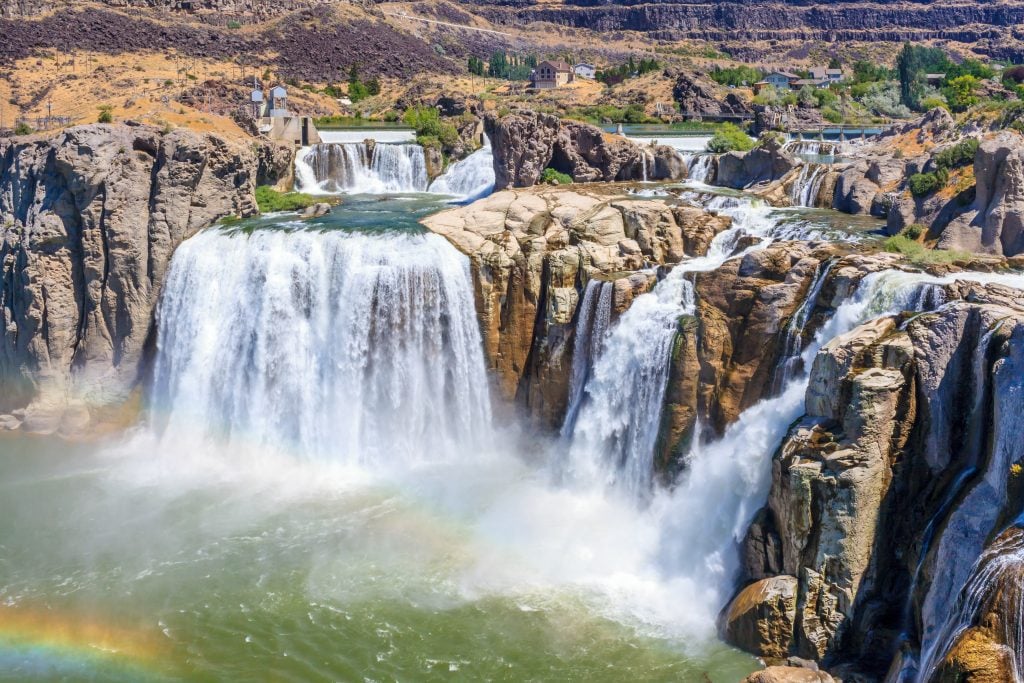 Hike along the US-Mexico border.
Texas' Big Bend National Park–plus its next-door neighbor Big Bend Ranch State Park–offers gorgeous views of the Chihuahuan Desert, the Chisos Mountains, and the Rio Grande River.
It also offers some of the most scenic opportunities to observe the southern border of the USA, including plenty of hiking opportunities right along the Rio Grande!
Enjoy an iconic stretch of the Pacific coastline in Cannon Beach, Oregon.
If you've seen photos of Oregon, you've almost certainly seen Cannon Beach's iconic Haystack Rock!
Beyond the views, though, Oregon's coastline also offers excellent hiking, adorable small towns, and charming lighthouses to visit.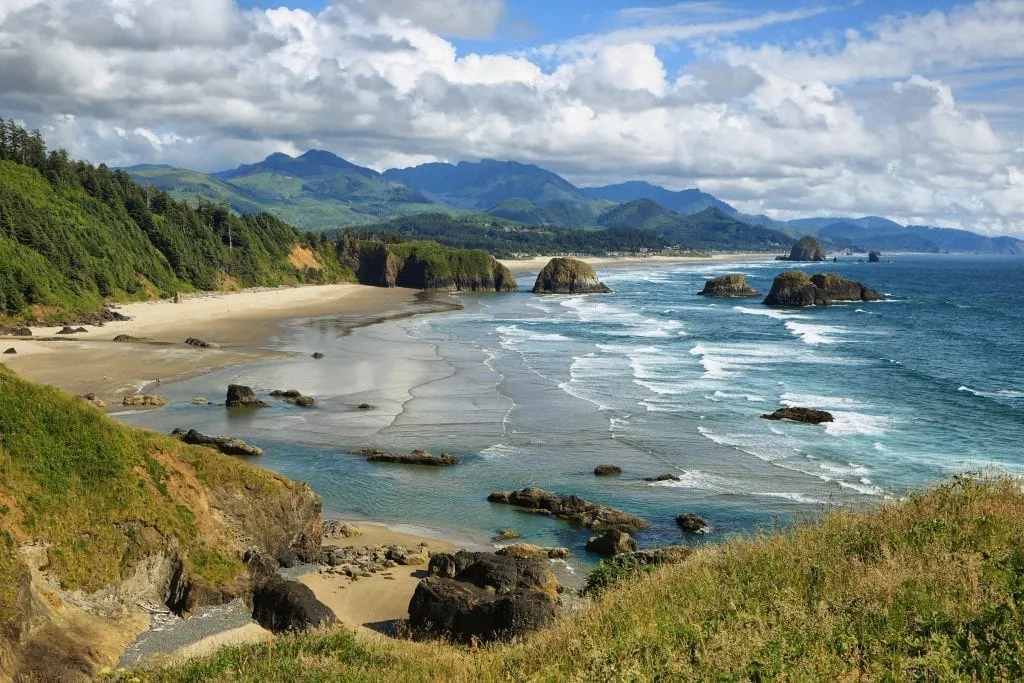 Go for a hike in Badlands National Park.
South Dakota's Badlands National Park is one of those USA attractions that defies photography.
The landscapes look striking in photos and videos, sure–but the sheer breadth of the place is lost until you're standing there yourself.
While the scenic overlooks are stunning and worth experiencing, it's worth going for a hike to get even more immersed in the landscape.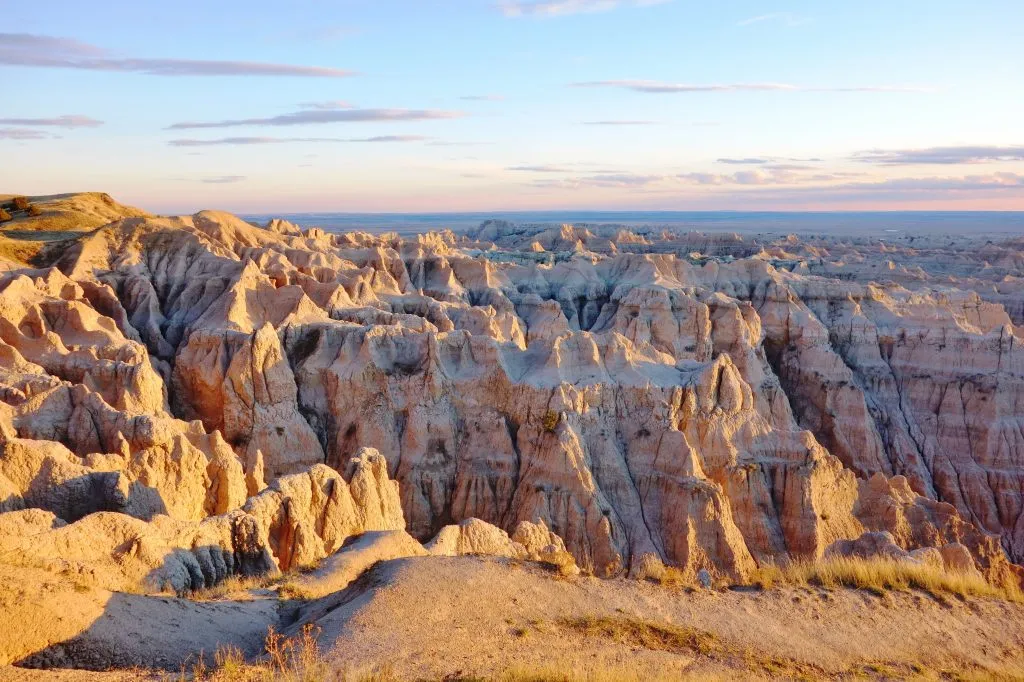 Hit the beach in North Carolina.
I may be slightly biased, but with seemingly endless barrier islands to visit, interesting history, gorgeous lighthouses, and soft sand, there's something magnificent about the coast of North Carolina.
Whether you visit a classic Outer Banks town like Roanoke, Kitty Hawk, or Nags Head or head a bit further south to options like Atlantic Beach, Beaufort, Emerald Isle, or even Wilmington, the beach towns of North Carolina are sure to captivate you.
Be sure to admire the coast from above if you can: several NC lighthouses can be climbed, including the delightful Cape Lookout!
Ride the Mount Washington Cog Railway.
Mount Washington, New Hampshire, clocks in as the tallest mountain in the Northeast USA (6288′), and riding the first-ever mountain cog railway to the top of the peak is a classic New England travel experience!
Want to visit Mount Washington but skip the train?
You can also drive up the mountain or, if you're up for a hiking challenge, climb it.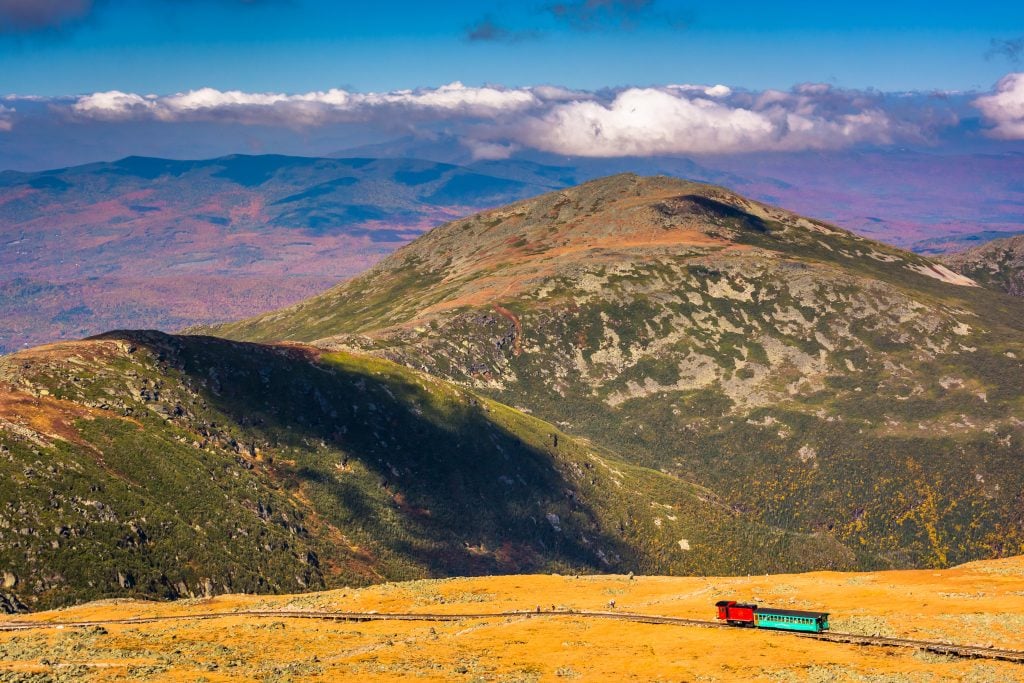 Explore the hottest place on Earth.
Death Valley National Park, located in both California and Nevada, is famously the hottest place on Earth–but for obvious reasons, summer tourism is not a thing here!
Plan a winter trip to explore these otherworldly landscapes for yourself, while escaping the cold elsewhere at the same time.
December is typically the coldest month of the year in Death Valley, and average highs still reach 65°F–so it's no surprise that Death Valley is one of the most popular national parks in winter!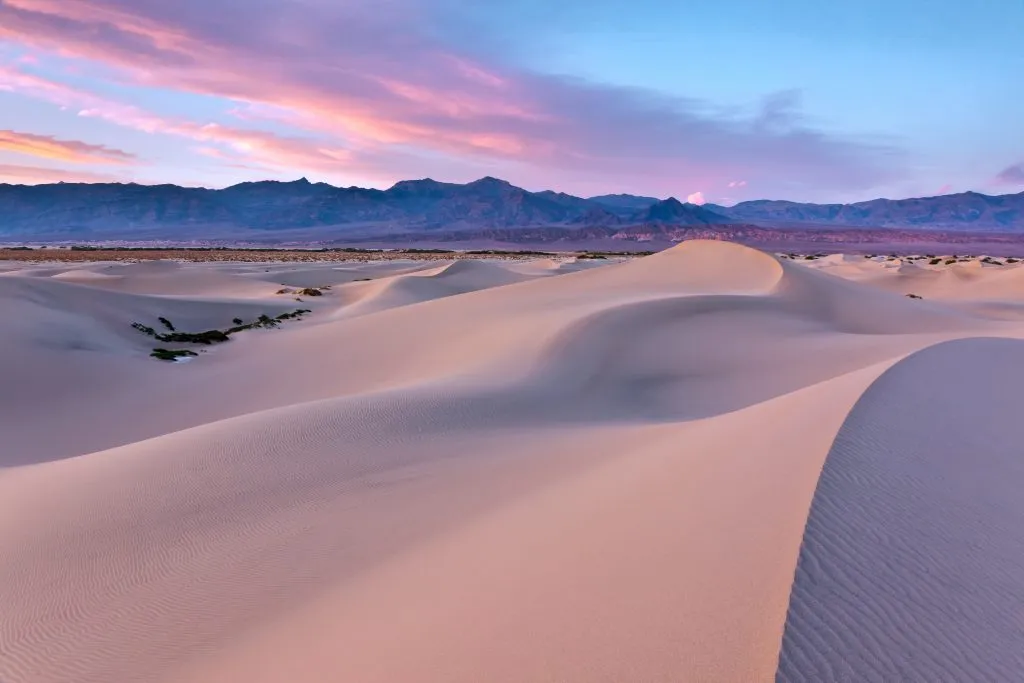 Get underground at Mammoth Cave in Kentucky.
Mammoth Cave National Park is home to the longest cave system in the world–that we know about, anyway!
With over 400 miles of the cave mapped, Mammoth Cave is a fascinating place to visit.
Drive the Blue Ridge Parkway in the fall.
Spanning 469 miles of the Blue Ridge Mountains in North Carolina and Virginia, the Blue Ridge Parkway is one of the most magnificent scenic drives in the USA.
It's particularly magical during the fall foliage season, but spring and summer have lots to offer as well.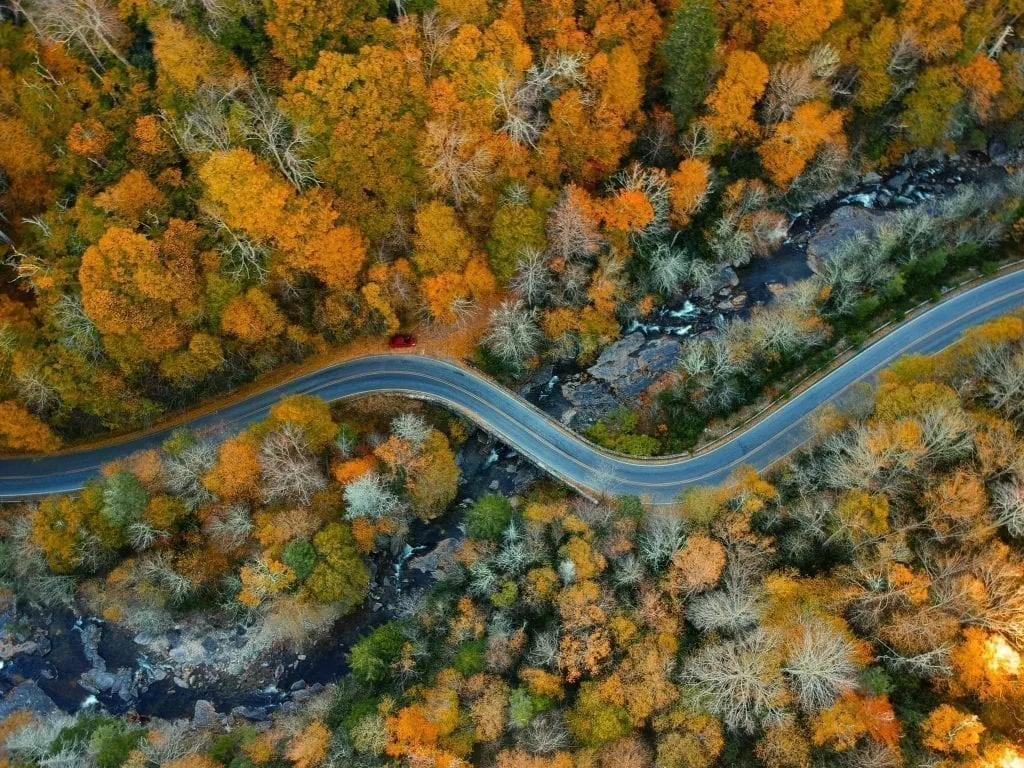 Hike to Delicate Arch in Arches National Park.
Delicate Arch is such a famous USA tourist attraction that it even features some versions of Utah's license plates!
Even if you only have one day in Arches National Park, visiting Delicate Arch is a must.
While you can observe the arch from a distance without much effort, it's well worth tackling one of the best hikes in Arches NP to stand underneath this famous formation for yourself.
It's much bigger than you might expect!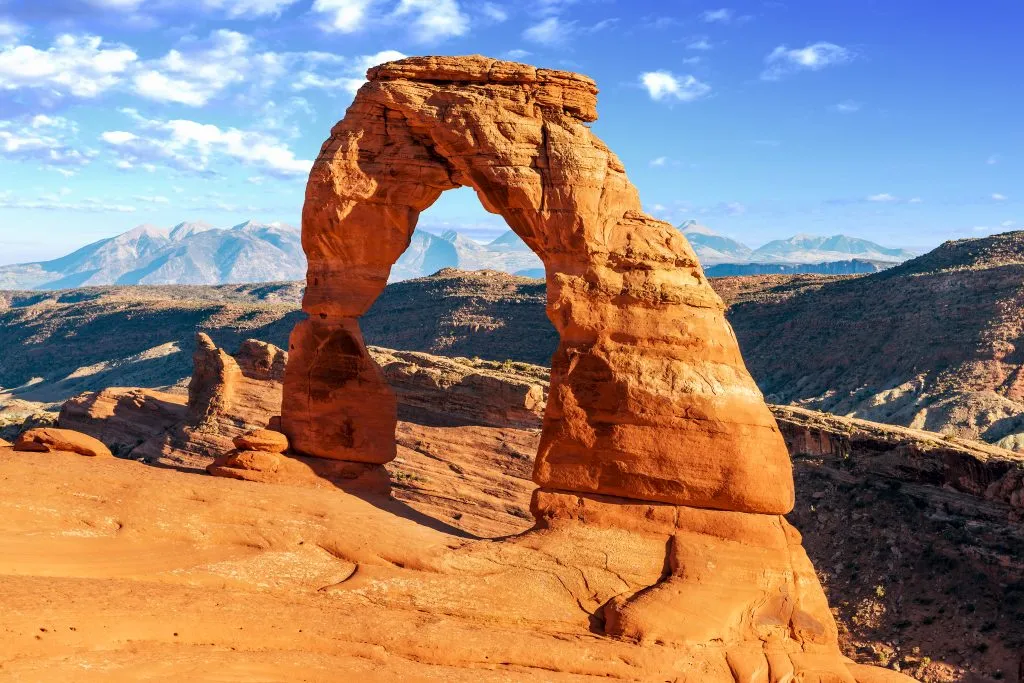 Foodie Things to Do in the US
Go wine tasting in Napa Valley.
The US' most famous wine region is well worth exploring in person!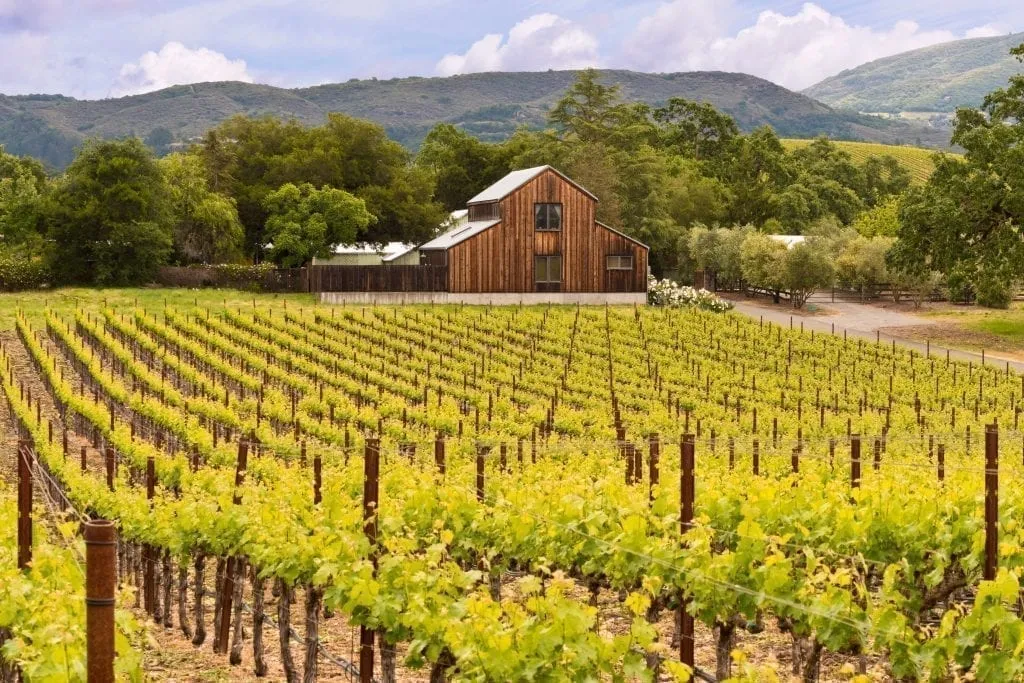 Explore the Kentucky Bourbon Trail.
If you're a bourbon fan, there's nothing in the USA quite like the Kentucky Bourbon Trail!
Discover oodles of natural beauty, small towns, and dozens of local distilleries are you road trip your way through the trail.
Want a little extra magic? Visit Kentucky in the fall to enjoy your bourbon with a side of fall foliage (and if you've never considered visiting Kentucky for foliage season, now is the time!).
Eat your way through colorful Charleston.
Charleston, South Carolina is known for its beautiful architecture, intense military history (though the US Civil War started at Fort Sumter in Charleston, Charleston itself actually focuses more on its influence on the Revolutionary War), nearby beaches, and fantastic food scene.
Charleston's Lowcountry food offerings are legendary, and they alone would be enough to justify planning a Charleston weekend getaway.
Spend a weekend eating your way through Texas BBQ joints.
I may be a bit biased–okay, I'm extremely biased–but Texas barbecue may just be the best style of barbecue in the USA (though to be fair, there is more than one style of Texas barbecue alone).
For a short foodie road trip that will take you to some of the most famed BBQ spots in the state, Austin, Lockhart, Luling, Taylor, and Llano are all relatively close together and will ensure that you leave Texas utterly stuffed.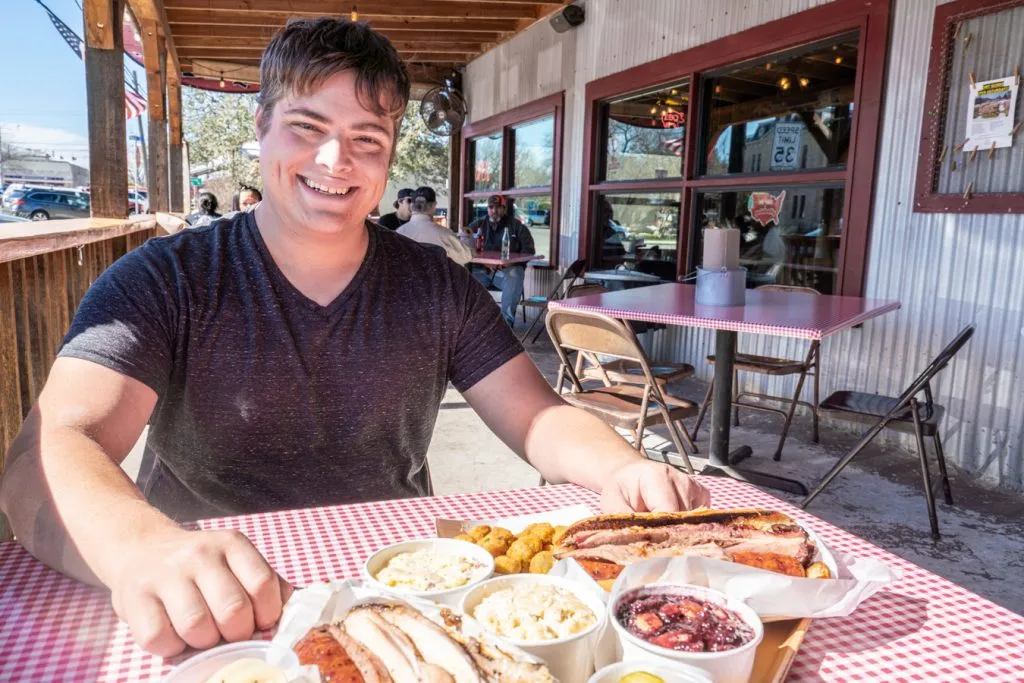 Other USA Tourist Attractions + Things to Do
Take a flightseeing tour in Alaska.
If there's one place to visit in the USA that's worthy of splurging on a sightseeing tour, it's Alaska.
There's simply no better way to appreciate the vastness or remote beauty of America's largest state than from above.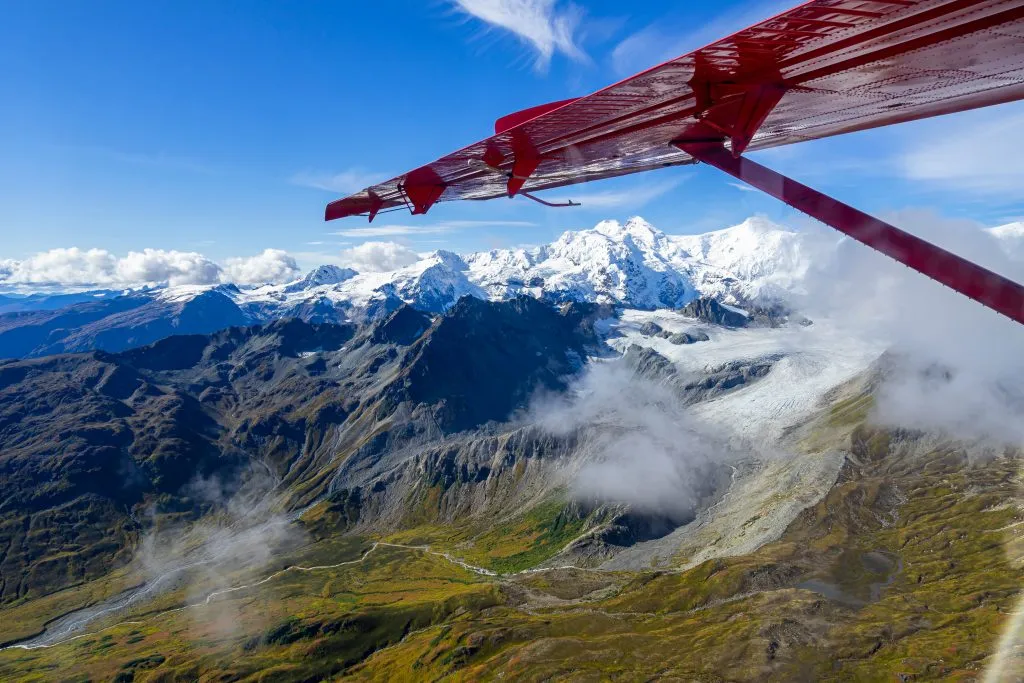 Attend the Albuquerque International Balloon Fiesta.
The biggest hot air balloon festival in the world is an incredible sight to behold, and one of the most memorable things to do in the USA!
If you want to actually go up in a balloon yourself, plan ahead and prepare to pay–but watching the Mass Ascension of balloons from the ground is still incredibly magical.
Take yourself out to a ball game.
Even if you don't care one iota about the intricacies of baseball, there's something incredibly fun about spending an evening enjoying America's Pastime.
Major League Baseball is about more than the sport: it's about the overall experience, and it's worth doing once (especially if you're at a historic stadium, and especially if it's a night game).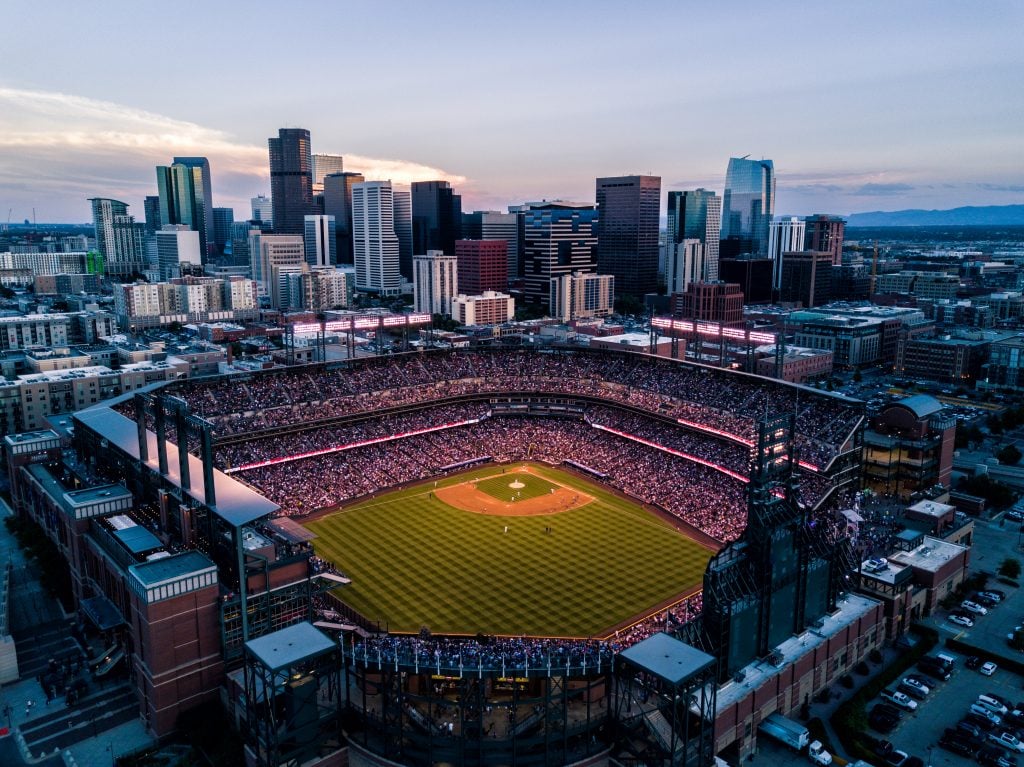 Explore the "Cape Cod of the Midwest".
In general, the Midwest's stunning Great Lakes scenery doesn't get enough love on US bucket lists… but it definitely should, starting with the delightful Door County, Wisconsin.
Set on a narrow peninsula surrounded by Lake Michigan, picturesque Door County offers everything from wineries to lighthouses (they have 11!) to apple picking to historic Belgian Chapels to scuba diving–all surrounded by 300 miles of shoreline.
Whether you want to rent a canoe, sample some of the best hiking in Wisconsin, or relax at a picturesque vineyard, Door County has something to offer.
Tour Mount Vernon in Virginia.
The plantation home of the USA's first president and most famous founding father lies (with the help of modern transportation, anyway), just outside of Washington DC.
For a look into the founding of the country, from the remarkable to the uncomfortable, Mount Vernon is a fantastic historic site to visit.
Ride the Narrow Gauge Railroad from Durango to Silverton, Colorado.
Stunning mountain views and interesting mining history are ready to greet you on this scenic railroad, considered one of the most beautiful scenic railroad rides in the country!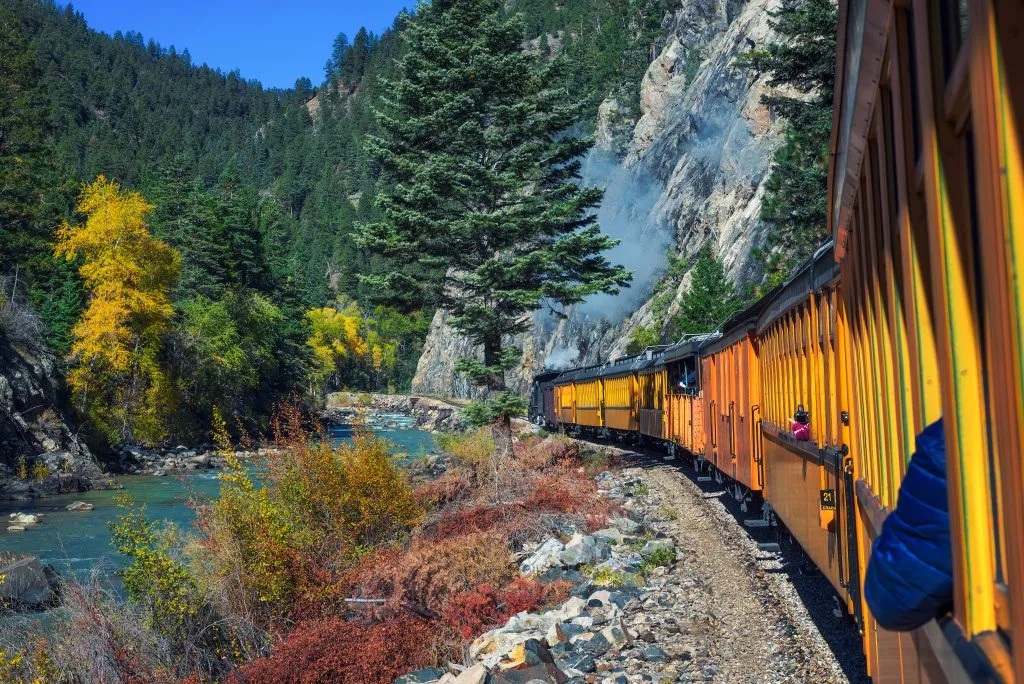 Enjoy the classic sights and rides at Walt Disney World.
Whether you're a kid or a kid at heart, there is something iconic about visiting Walt Disney World in Florida.
While you're there, snap photos with Cinderella's Castle, get soaked on Splash Mountain, eat your way around the world at Epcot, enjoy the magic of nightly fireworks, and so much more.
Or, if you're a West Coast person, you can always opt for the (much smaller, but still magical) Disneyland instead, which is one of the best things to do in California with kids of all ages!
The Disney World vs. Disneyland debate may continue to rage on for generations, but ultimately, there's no wrong answer.
Spend a weekend in a cozy log cabin.
Cold nights, a crackling fire, and walls made of logs: whether in the Smokies, the Rockies, or somewhere else entirely, checking into a log cabin for a weekend has long been on our personal list of what to do in the US.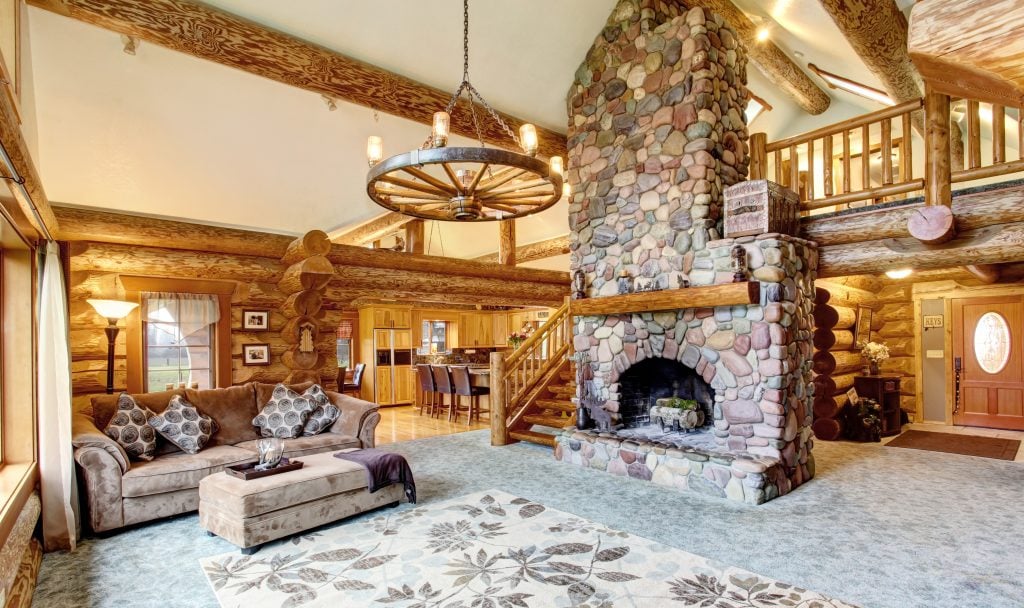 Seek out Route 66 Americana in Oklahoma.
Did you know that Oklahoma has the longest stretch of Route 66 of any state at 426 miles?
(Fun fact: when Jeremy and I met in high school, we each lived less than a mile from Route 66).
From the famous Catoosa Whale to the quirky Arcadia Round Barn to dozens of murals and diners, you'll find plenty of delightful kitsch on Oklahoma's portion of Route 66.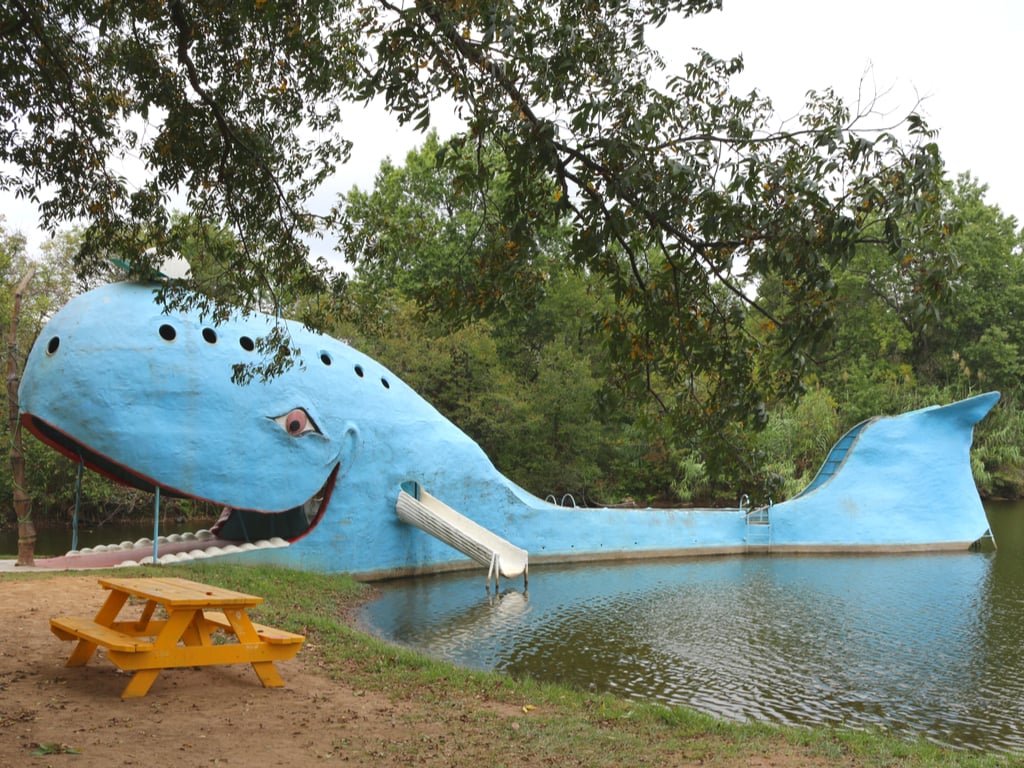 Go apple picking in the fall.
There's something comforting and cozy about picking apples in the fall–and while New England is a popular apple-picking destination, you can find opportunities across the country!
Check out the Enchanted Highway in North Dakota.
What's the first thing you think about when you think about North Dakota?
If it's wide-open spaces, picture adding impressive, life-size art to the landscape… and that's pretty much the Enchanted Highway.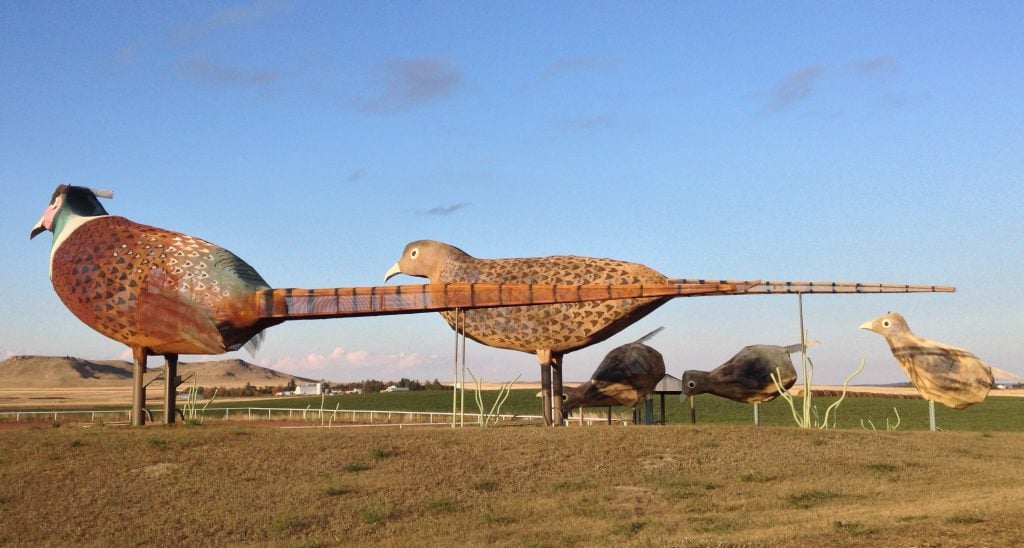 Spot wild horses on the beach in the Southeast USA.
From the famous Chincoteague horses of Virginia and Maryland to the wild horses on Cumberland Island in Georgia to Shackleford Banks in North Carolina, there are a surprising number of barrier islands in the South that are home to beautiful populations of wild horses.
They are absolutely magical to see in person!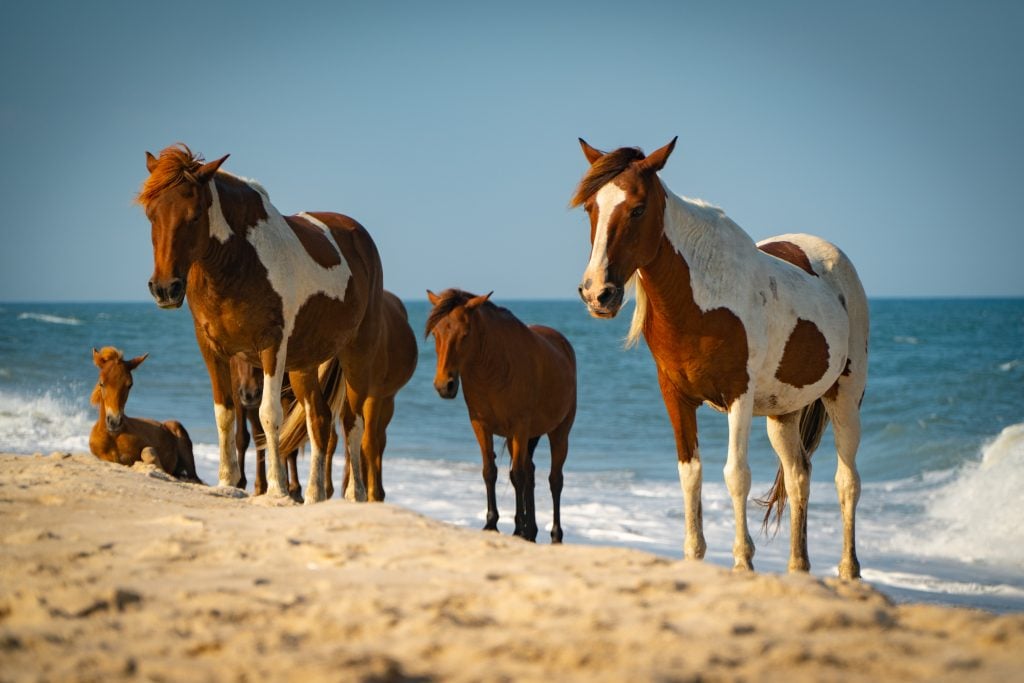 Ride roller coasters at Cedar Point.
Ohio's Cedar Point Amusement Park is widely considered to be home to many of the best roller coasters in the USA and is a sought-after destination for thrill-seekers.
Go whale watching.
Whether you opt to set off on a whale-watching cruise in New England, the Pacific Northwest, Alaska, Hawaii, or even along the California coast, you're guaranteed to be spellbound by the magic of spotting these beautiful creatures in the wild.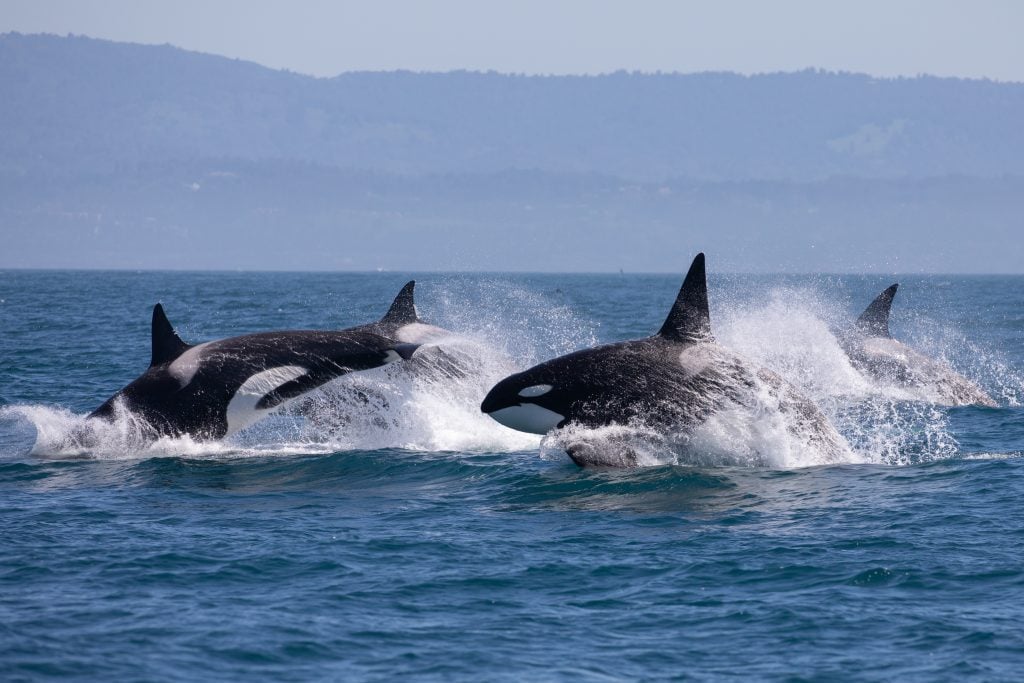 Snap a photo of the American Gothic House in Iowa.
You've almost certainly seen this image before: the painting of a rural couple standing in front of a white home, the man holding a pitchfork, is one of the most iconic American artworks.
But did you know that the house in the painting is based on an actual house in Iowa that you can visit?
The painting itself isn't there–it lives at The Art Institute of Chicago–but you can still snap a photo (even in a costume and holding a pitchfork, if you're so inclined) at the actual American Gothic House.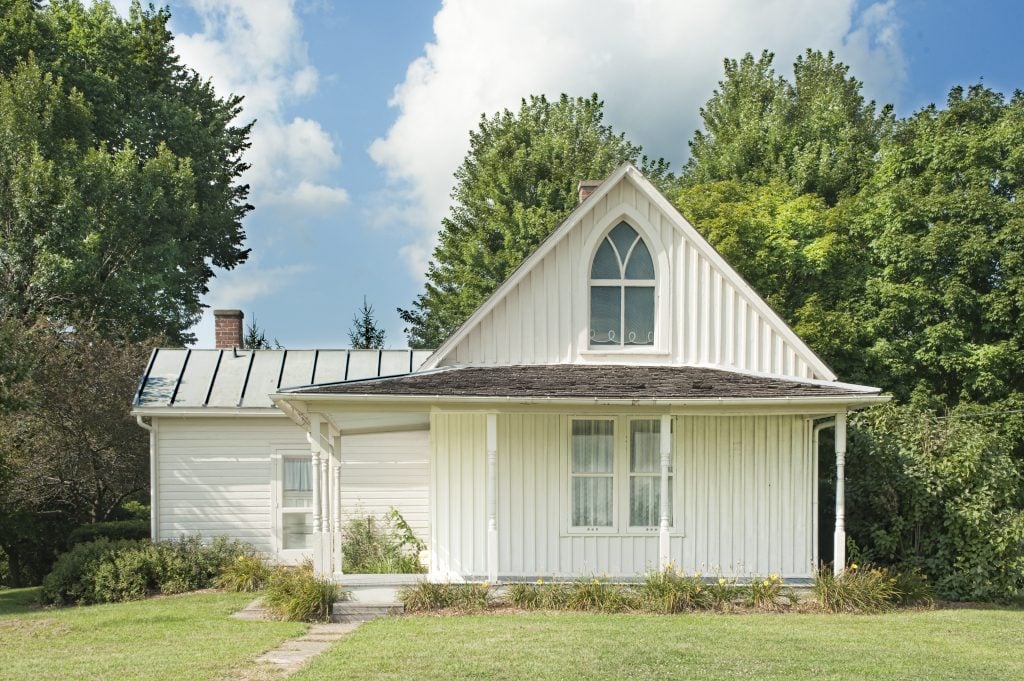 Road trip the Mississippi Great River Road… in Mississippi!
The scenic Mississippi Great River Road follows the USA's most famous river through 10 states and across 3,000 miles, covering everything from historic cities to small towns to wineries to beautiful scenery along the way.
If you're hoping to start with a more manageable section of the road as opposed to tackling all 3,000 miles, head right to Mississippi itself, where the road will show you the western border of the state, including cities like Vicksburg and Natchez.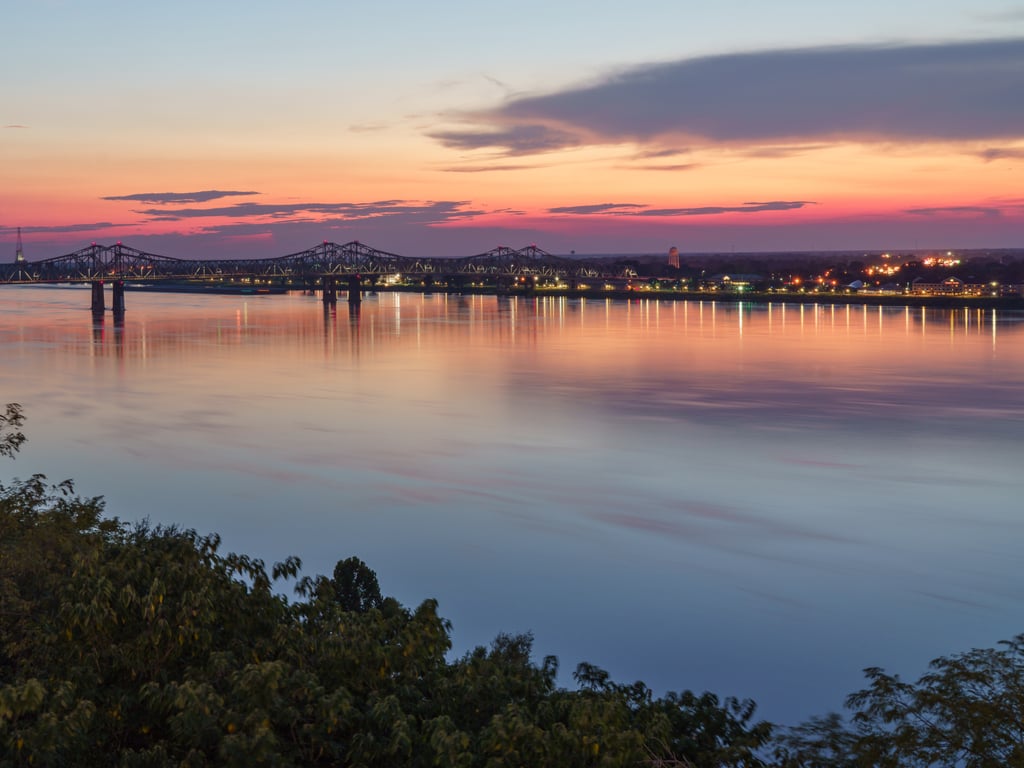 Seek out the Wild Dala Horses of Lindsborg, Kansas.
Did you know that there's a stronghold of Swedish-American pride in Kansas?
Welcome to Lindsborg, one of the USA's memorable hidden gems!
Dala Horses are traditionally constructed of painted wood and are a symbol of handicraft in Sweden.
Kansas' version has a twist, though: they are not only pony-sized, they're made of fiberglass, each uniquely decorated, and can be found around town.
If you're looking for offbeat, kitschy tourist attractions in the USA, add visiting the Wild Dala Horses to your list of things to do in the US!