There is something downright magical about celebrating Christmas in Europe.
From the fragrant smell of the mulled wine wafting through the Christmas markets to the regional, seasonal treats that vary in each country, to the joy of watching a snow-covered landscape zip by out the window on a cozy train ride, there is so much to love about the season.
During late November and December, even the short days are a bonus, giving even early birds an opportunity to experience the continent's Christmas markets, concerts, and general holiday merriment at "night" (in many countries, reliably anytime after 5:00 PM).
The holiday season is one of our absolute favorite times to travel in Europe, but it also comes with its own expectations and cultural quirks.
If you're planning your first Christmas trip in Europe and are curious about what to expect, this travel guide is for you!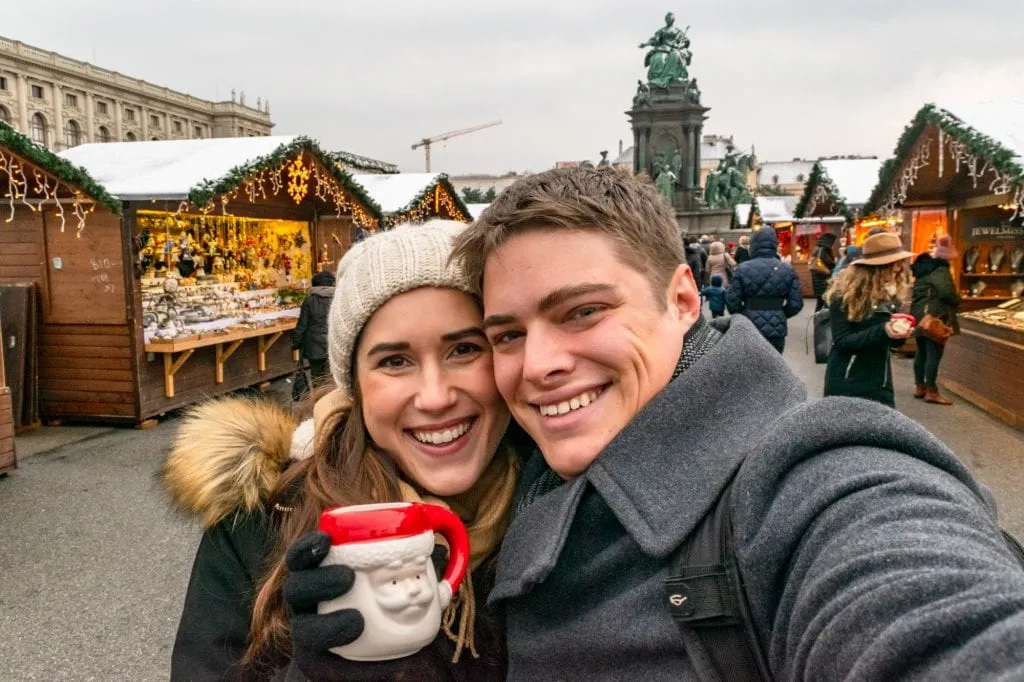 How to Use This Guide to Christmas in Europe
We've designed this Europe Christmas guide for travelers hoping to see the highlights of a few different destinations, spread out across multiple countries, in a time period ranging from roughly 10 days to 2 weeks.
We've primarily written it for someone planning their first holiday trip to Europe, but if this is your second trip, third trip, or beyond, hopefully, we have some interesting ideas and tips for you, too!
For this guide, we've chosen to focus primarily on Europe's famous Christmas markets and the destinations known for them.
However, it's safe to say that wherever you go in Europe in December, you'll be able to find some Christmas cheer along the way!
And, of course, given that Europe is home to around 53 countries and is roughly the same size as the USA, no one Christmas trip could hope to cover the entire continent or all of its numerous and distinct holiday traditions and celebrations.
For ease of communication, we'll talk in general terms about Christmas in Europe here, but once you pick your itinerary, of course, you'll want to follow up with further research on the specific locations you'll be visiting.
And, once you're further along in your planning process, we'd love to help you with some of that planning here on Our Escape Clause, too!
We'll link to relevant blog posts throughout this travel guide, but given the hundreds of posts we have on the site about visiting Europe, we won't be able to link them all.
You can use our destinations page or the search bar on the top right of the page (on desktop) or at the top of the pop-out menu (on mobile) to find our content about various specific destinations across Europe.
Or, you can scroll through all of our posts about Christmas in Europe here!
How to Celebrate a European Christmas (By Region)
Like virtually everything else on the continent, celebrating Christmas in Europe is highly regional!
Very specific traditions–often as local as being from a particular village–are still celebrated across Europe.
Celebrating Christmas in London or celebrating Christmas in Bavaria, for example, can look very different–but both are delightful!
On a very, very, very general level, though, here's what to expect if you plan a Europe Christmas trip across the continent.
Central Europe: Best for Christmas Markets
While most countries in Europe have gotten in on the Christmas market tradition these days, it all started with Germany and radiated out from there.
Dresden's Striezelmarkt, first held in 1434, is considered to be the world's first-ever Christmas market.
Today, the most immersive markets–meaning markets featuring the most thorough decor and theming paired with an incredible atmosphere and excellent food–can still be found in Germany.
The other most popular places for Christmas markets–Austria, northeastern France (Alsace, which includes places like Strasbourg and Colmar), Switzerland, Czech Republic–are all nearby, radiating out from the original like spokes of a wheel.
That's not to say that there aren't many other incredible places to celebrate a European Christmas, but if you're looking for the most legendary markets–Central Europe is where you want to be.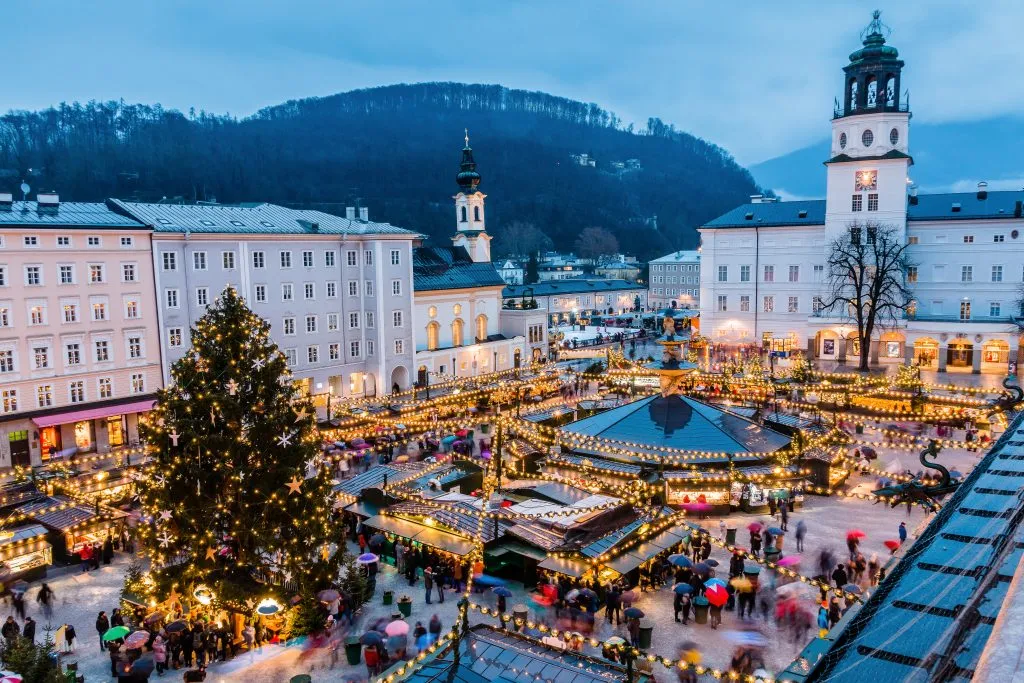 Christmas in Southern Europe
In southern Europe–places like Italy, Spain, Greece, and Portugal–you'll see some markets and plenty of lights, but overall, there's a slightly less "Christmas-y atmosphere" than in Central Europe.
This is partially due to climate, and partially due to culture.
The Christmas markets is this part of the continent are often more of an economic response to their popularity elsewhere than a longstanding tradition.
There are many exceptions to this, of course, like in northern Italy.
For example, the Italian region South Tyrol, which was part of the Austro-Hungarian Empire until 1918, feels very Central European to this day (Bolzano is a great starting point there).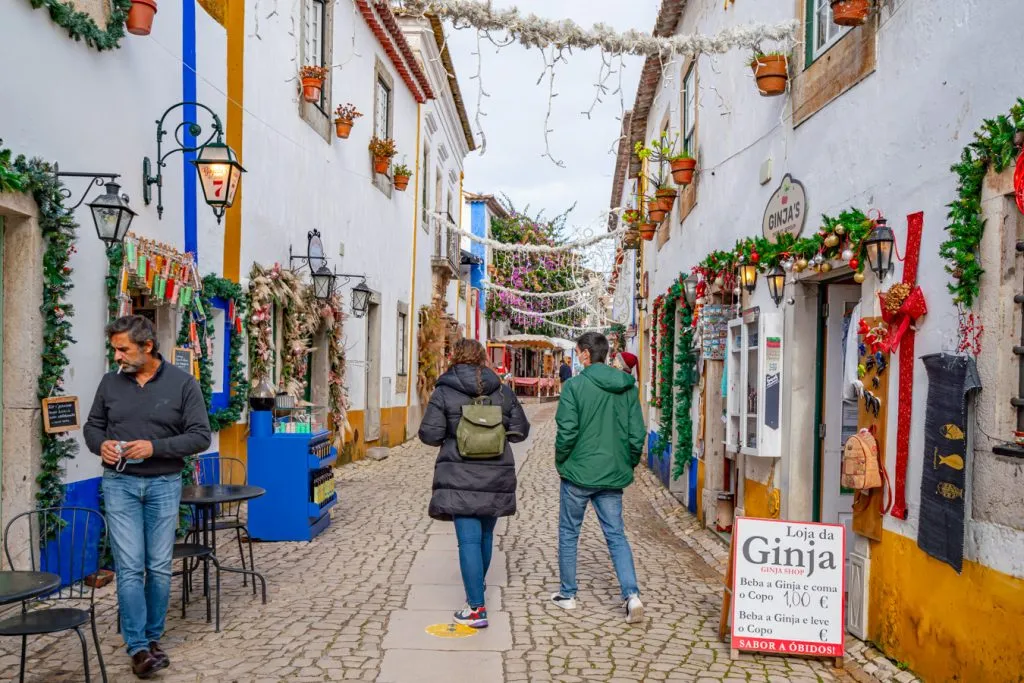 Christmas in Northern Europe
If I had to pick a runner-up for the most picturesque region to celebrate Christmas in Europe, northern Europe would be the one.
Featuring gorgeous Christmas markets with their own regional spin and lots and lots of lights (you need it when the sun doesn't stick around long during the day!), Christmas in northern Europe can be characterized by coziness.
This is due in large part to the long winters experienced in places like Scotland, Sweden, and Denmark.
Locals here are well-practiced at bringing cheer into the cold and dark season, both before and after Christmas.
Another bonus of celebrating in northern Europe?
A much higher likelihood of seeing snow!
Festive Christmas in Europe Itineraries
There are a near-infinite number of Europe Christmas itinerary ideas that would be festive and delightful, and we couldn't possibly round all of them up here!
We've crafted these sample vacation ideas, though, to give you a good idea of what you can accomplish with around 10 days to 2 weeks to celebrate Christmas in Europe.
I struggled to narrow down these ideas, and could easily add another 15 Christmas itineraries to this list.
To keep things (somewhat) simple, I focused these December in Europe itinerary ideas on the places most popular with first-time Christmas visitors, with just a few slight curveballs thrown in.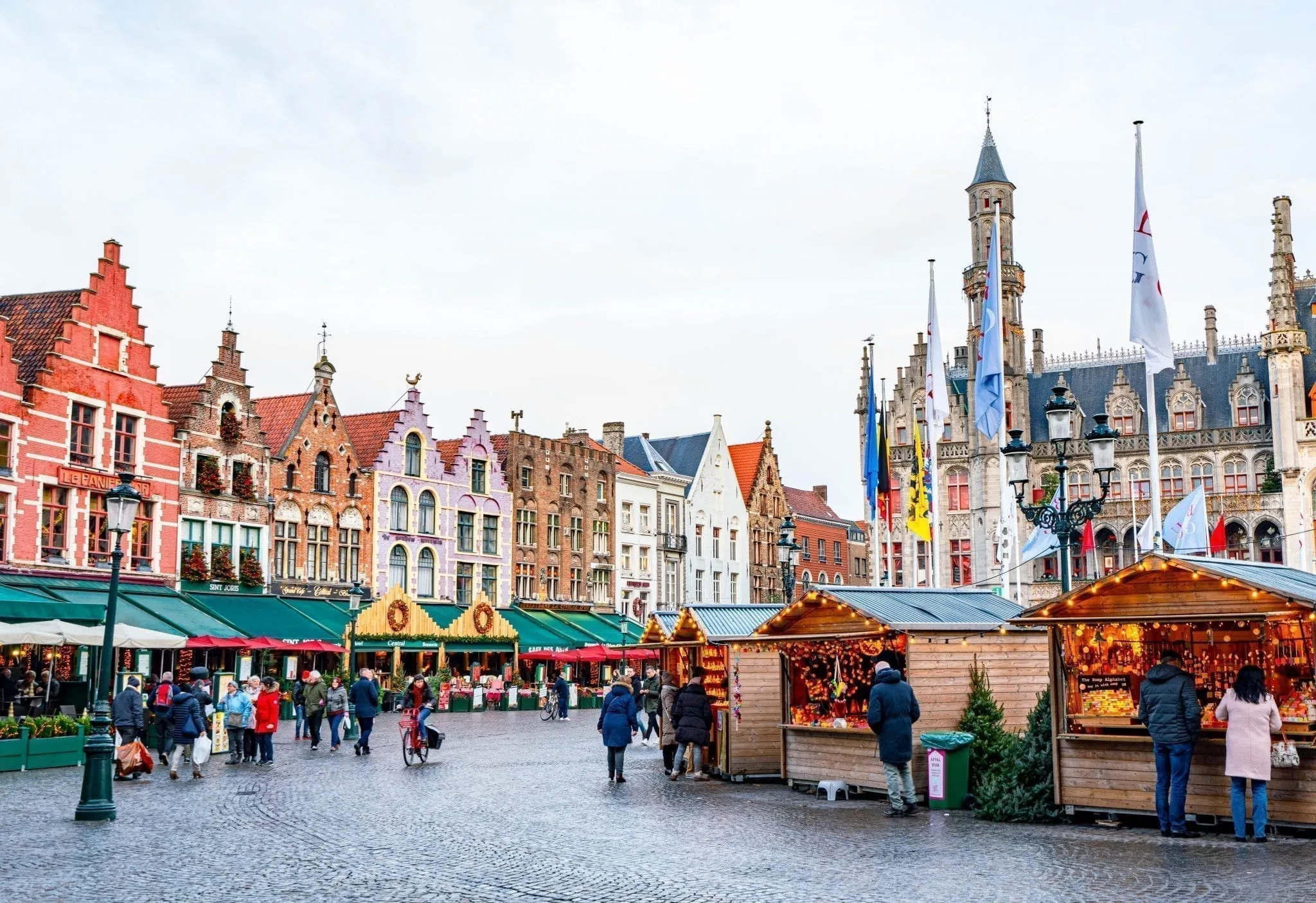 While I've named these itineraries based on the main cities that are easiest to base yourself in, visiting Europe's Christmas markets lends itself heavily to day trips–so what I'm actually referencing is the city and the immediate surrounding area.
For example, from Strasbourg, towns like Eguisheim and Colmar are must-sees.
When in Basel, don't miss the chance to head to Bern.
In Nuremberg, Bamberg and Rothenburg ob der Tauber are both tantalizingly close.
… and so on, and so forth.
Dresden + Prague + Nuremberg
Start with the market that started it all: Dresden hosts the oldest Christmas market in the world, and it's still a delight to explore.
From there, head to Prague, where you can sip glühwein in the shadow of the Astronomical Clock.
Afterward, loop into Bavaria, where you'll find charming Nuremberg, home to one of the most famous Christmas markets on the planet.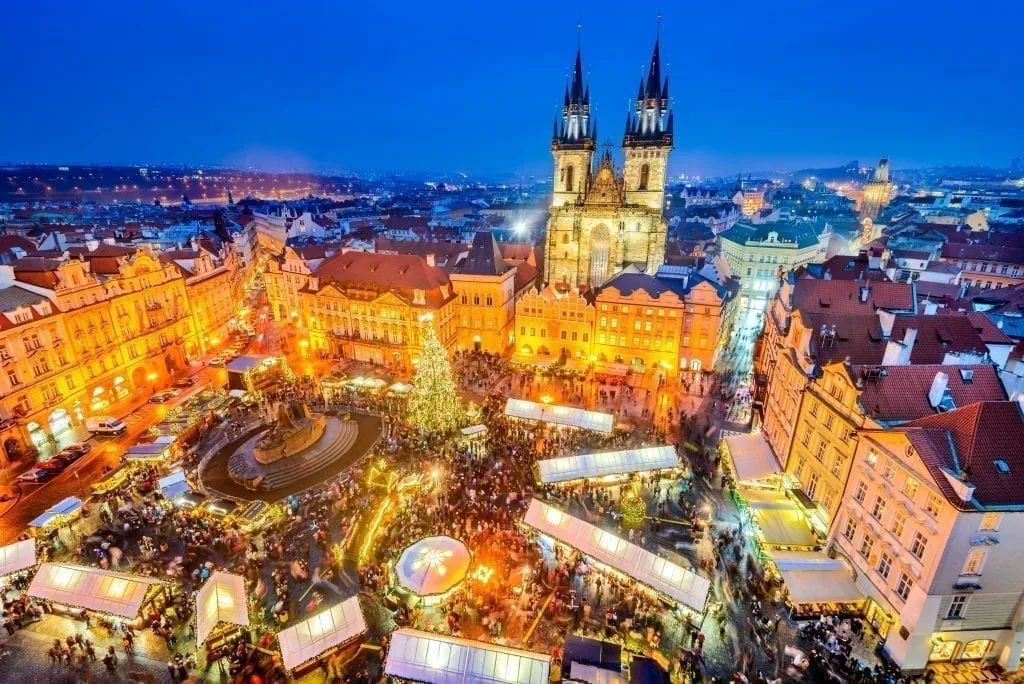 Munich + Salzburg + Bolzano
As the capital of Bavaria, Munich is the heart of the "classic" Christmas market image many of us have in mind in Europe.
It's also within easy reach of many delightful small towns perfect for day-tripping through the Bavarian countryside.
It's also close to Salzburg, which is both one of the best places to spend Christmas in Europe and only 90 minutes from Munich by train.
After a taste of Germany and Austria, head south to Bolzano, home to some of the absolute best Christmas markets in Italy.
Strasbourg + Heidelberg + Basel
France, Germany, Switzerland: with this Christmas itinerary for Europe, you can visit several of the most legendary destinations for the holiday season… without traveling more than a few hours on each leg of your journey!
Strasbourg, Heidelberg, and Basel are popular but simultaneously minor cities in their respective countries for most of the year.
In other words, they get plenty of tourism while being overshadowed by bigger fish like Paris and Lucerne.
At Christmas, though, these picturesque cities and their many accessible day trips shine extra bright.
Paris + Bruges + Cologne
Can't imagine a Christmas vacation in Europe without the City of Light?
Start in Paris, where you can ice skate with a view of the Eiffel Tower and sample plenty of raclette at the markets.
From there, head to Bruges for a Belgian take on the holiday season (heavy on the decor and waffles).
Wrap up in Cologne, which just may have the most elaborately decorated Christmas markets in Germany (complete with an animatronic reindeer singing carols)–or, in other words, the most elaborately decorated Christmas markets in the world.
Vienna + Prague + Budapest
The Central Europe classic!
This itinerary–often completed with an additional stop in either Bratislava or Salzburg–is a fantastic route year-round, with easy train connections and a wide variety of things to see.
Add in Christmas cheer in 3 cities that are all famous for their markets, and this route is bound to delight in December.
Don't forget about the incredible, opulent cafes in Vienna and Budapest, either–they shine ever more brightly during the holidays.
Tallinn + Helsinki+ Rovaniemi
A northern-Europe delight, this Christmas in Europe itinerary brings near-guaranteed snow sightings, especially once you're in Rovaniemi!
Tallinn's storybook-style old town hosts one of the most picturesque Christmas markets in Eastern Europe.
From there, hop on a ferry to Helsinki for a Nordic take on the holiday season.
If you happen to be in town for St. Lucia Day on December 13, you'll get to witness a popular Nordic festival–but if not, there will still be markets, ice skating, and Christmas cheer.
After Helsinki, head to Rovaniemi, the self-declared Hometown of Santa Claus, to visit the striking Santa Claus village and experience the best of Lapland at Christmas with a visit to a reindeer farm, dog-sledding, and possibly even a chance to spot the northern lights.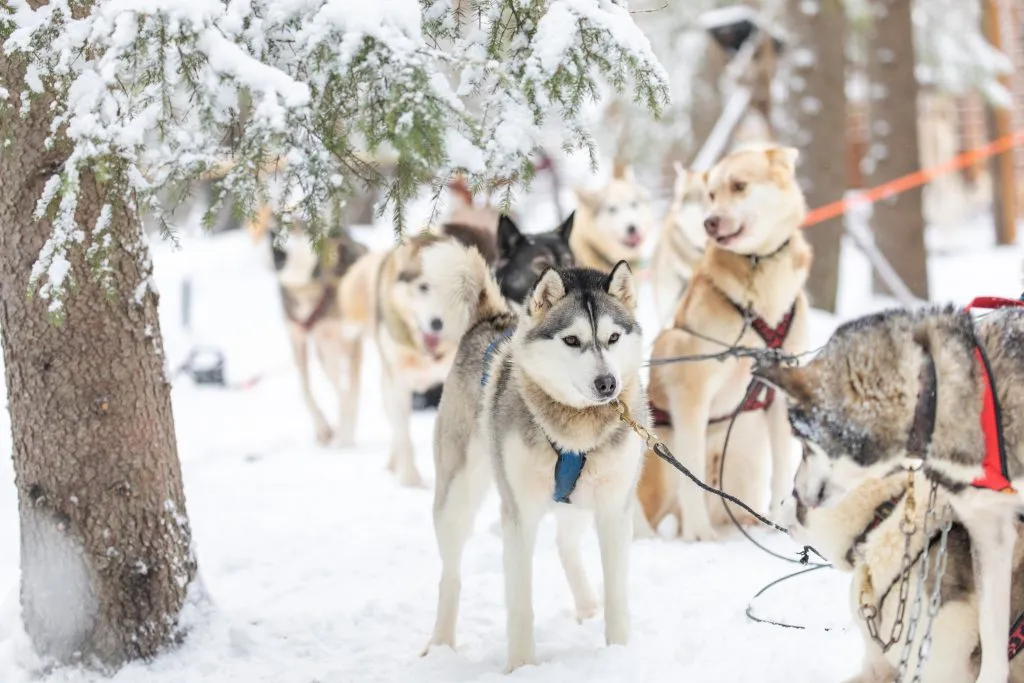 How to Get Around During Your Christmas Trip in Europe
While your exact Christmas itinerary will influence how you get around, we strongly believe that, when possible, trains are the best option for traveling between destinations during the holiday season in Europe.
They're far less hassle than driving (and you won't need to worry about inclement weather or competitive parking), more comfortable than buses, and more convenient than flights.
We love traveling Europe by train year-round, but that's especially true during the winter months.
There's something so comfortable and satisfying about watching the cold landscape zip by out the window while you're cozy inside the train.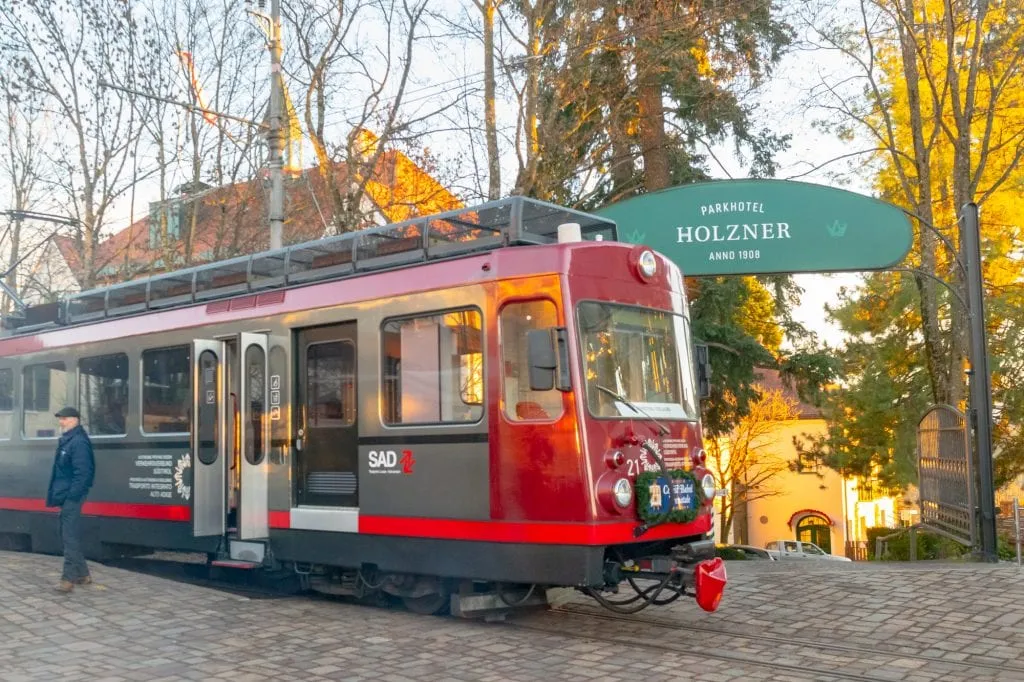 And, when you arrive, you'll most likely be dropped off in the heart of your next destination!
Train stations are typically in or near the historic center of major European cities, and as a result, they make changing destinations as simple as possible.
High-speed trains–like the ones you'll frequently use to connect between major cities–can get pricey, especially as dates get closer.
Because of this, we recommend booking your tickets in advance if possible!
We use and recommend Omio to plot train and bus routes around much of Europe, and to shop for tickets.
Check train schedules and shop tickets in Europe today!
Essential Tips for Spending Christmas in Europe
Don't necessarily plan your trip over Christmas Day.
When we talk about celebrating Christmas in Europe, we mean the season–not necessarily the day itself.
In most of Europe, Christmas is a day for being at home with family, and most stores and restaurants will be closed–which isn't very convenient for travelers staying in hotels.
Already booked your trip over the 24th and 25th?
Stock up on groceries in advance, and plan a day-of itinerary that involves resting and spending time wandering outside at places that never close, such as parks and open-air monuments.
… But also, Christmas isn't just the 25th.
Depending on where you are visiting, Saint Nicholas Day (December 5/6), Christmas Eve, Boxing Day, New Year's Eve, New Year's Day, and the Epiphany/Three Kings Day (January 6) all also come with their own closures and limited hours.
And, in the case of some family-run restaurants and other small businesses, the whole Christmas through New Year period is seen as a time to limit hours of operation or close entirely.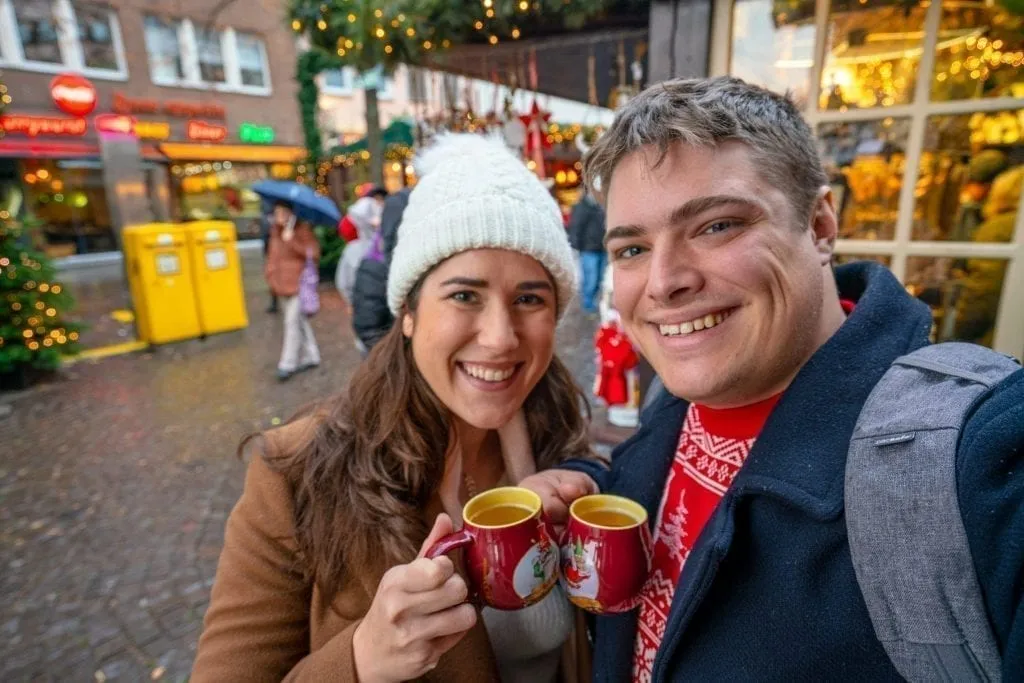 Plan your itinerary for Christmas in Europe with geography in mind.
This is important for trips to Europe happening at any time of year, of course, but don't forget about it during Christmas!
The smaller the geographic area you can stick to is, the more rewarding your European Christmas adventure will be.
This is not only to limit your time being eaten up in transit–which is a big deal, as dealing with luggage, trains, etc, is if possible even more of a hassle over the winter than in the summer (see: rain, bulky coats, trips focused on shopping)–but also because it will give you time to explore an area in-depth.
Christmas in Europe's cities is incredibly festive, and we would never recommend skipping them… but having time to explore nearby small towns, each with its own traditions, is one of the best parts of visiting Europe in December.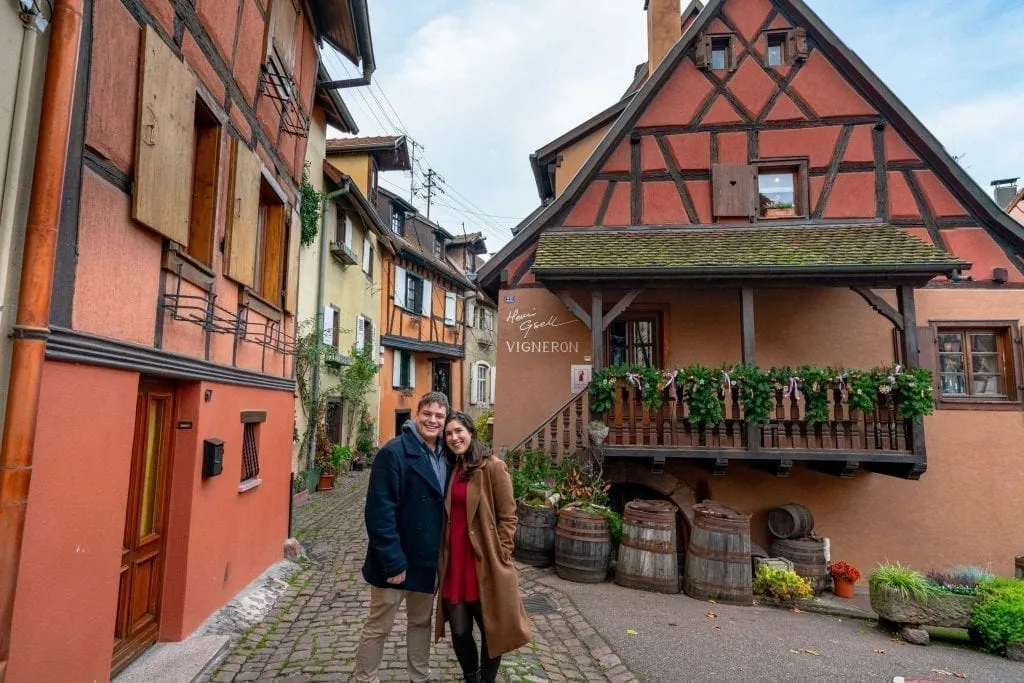 Think beyond December to avoid the crowds.
Want to take a Christmas vacation in Europe but nervous about the high prices of lodging and plane tickets?
If you plan carefully, planning your trip for late November or early January can be a great way to avoid the densest crowds and save a bit of money.
Consider playing around with hotel dates on Booking.com before committing to plane tickets–you may be surprised by how much the prices swing!
… But double-check the opening dates for the events you're planning to visit.
The opening dates for Christmas markets and other winter festival events vary from place to place, and also from year to year!
Most destinations set their opening dates well in advance, so you can start planning months ahead of time.
If you're not visiting at the very beginning or end of the season, you can even consider planning before dates are officially set: it's very safe to assume Munich's markets are open by December 15, for example.
A simple internet search of "(Destination Name) Christmas market opening dates" is the most reliable way to get updated information, as each town tends to set its own dates and share them on an (often small) local website.
Book your accommodation as soon as you can commit to dates.
As soon as you know when your Europe Christmas trip is set to take place, it's time to book your hotels!
This is especially true for popular holiday cities like Nuremberg, Strasbourg, Rovaniemi, and Salzburg: the best hotels do fill up, and prices are definitely not low!
In fact, for some of the most iconic Christmas destinations, December can be the most expensive time of year to visit.
We book our hotels and most short-term apartments via Booking.com when traveling throughout Europe.
Not only does Booking.com have an expansive inventory, but it also tends to have very competitive cancellation policies–a must when planning a holiday season getaway well in advance.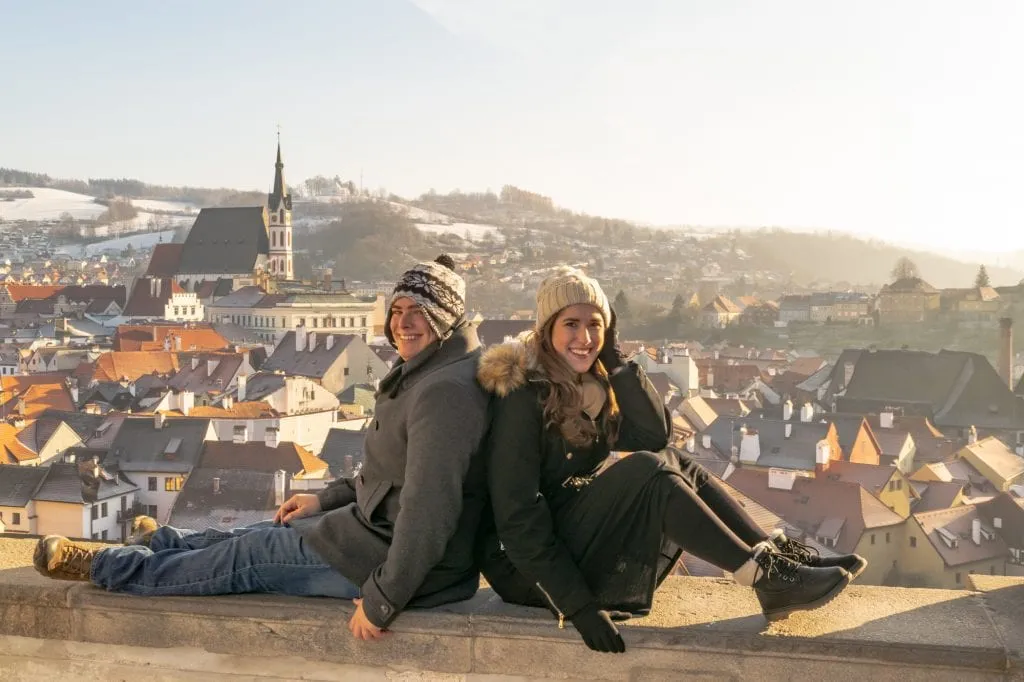 Don't forget about smaller cities as you create your European Christmas itinerary.
Paris, London, Munich, Amsterdam: yes, all of these places are utterly fantastic to visit, but to experience European Christmas traditions at their best, you need to look outside the major cities, too!
Small towns can be absolutely delightful at Christmas, though they do tend to have smaller markets with shorter opening dates, as well (though there are some exceptions to that rule).
Medium-sized cities, though, like Nuremberg, Strasbourg, Heidelberg, Salzburg, and Basel–and so many more–can offer the best of both worlds when it comes to celebrating Christmas in Europe.
Leave plenty of room in your luggage when you pack!
Perhaps this goes without saying, but it bears mentioning in a guide about planning a trip to Europe at Christmas: the shopping is excellent, and you're going to want to come home with more things than you started with!
From small trinkets like ornaments to edible delights like chocolate, and from wool sweaters to cuckoo clocks (okay, those you may want to ship home), the holiday season is our favorite time for souvenir shopping in Europe.
Packing accordingly as you get ready for your European Christmas vacation!
Avoid driving if possible.
We're big fans of traveling Europe by train year-round, but that's especially true around Christmas!
Unless you're specifically planning to visit tiny towns without train stations, it's much, much simpler–not to mention cozier–to avoid driving on your European Christmas trip.
The snow outside the window looks even more magical when you don't have to worry about driving or parking in it!
Go ice skating at least once during your trip to Europe this Christmas.
Yes, even if you haven't gone since you were 8!
You'll find ice skating rinks all across Europe around Christmas, usually next to a Christmas market and frequently overlooking a major monument (including the Eiffel Tower).
It's tons of fun, and absolutely worth feeling awkward for a few minutes.
And, hey, you can always hang onto the edge as long as you need!
Mix in "normal" attractions with seasonal ones.
We are full Christmas market enthusiasts around here, but we have to admit that a full week or 2 or 3 of nothing but markets–no matter how delightful–can get a bit repetitive.
Don't forget to leave room for some typical attractions like museums, neighborhood strolls, and viewpoints, too!
Use day trips to your advantage.
Packing up, moving cities, and checking into a new hotel can quickly eat into your time for exploring Christmas markets, so cut it down as much as you can!
Luckily, virtually every popular Christmas market city in Europe is surrounded by a wonderful mix of other cities and small towns with their own charms to offer.
Plan day trips to take full advantage of experiencing a wide variety of markets, with less packing!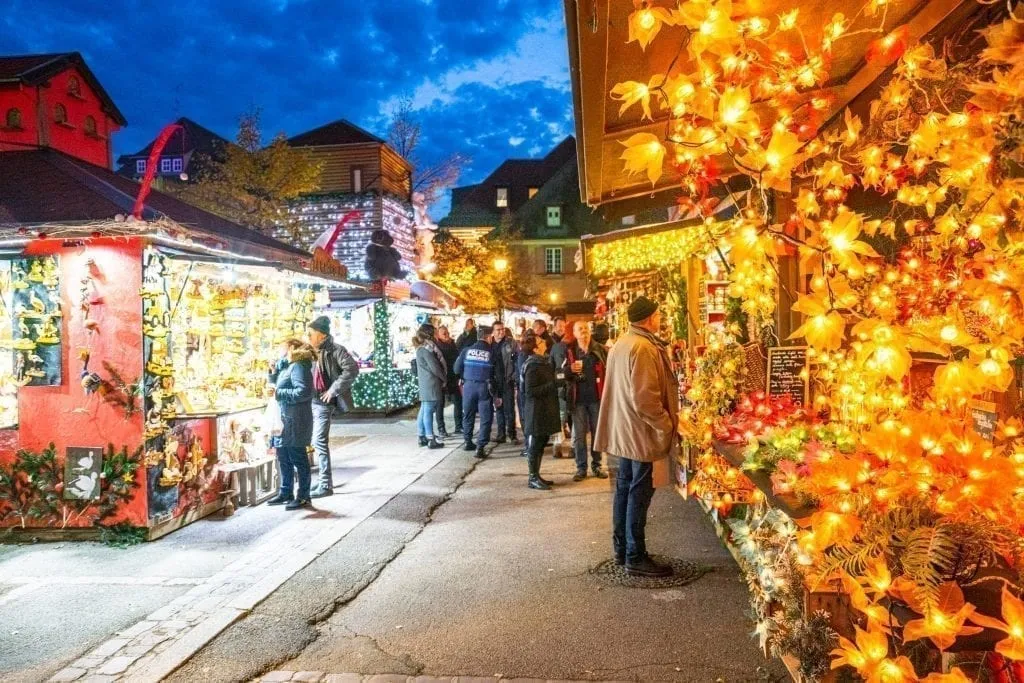 Keep an eye out for Advent concerts.
Music is an integral part of European Christmas celebrations, often featuring choirs singing in historic–and it's a magical experience.
You'll find Advent concerts in many places across the continent, as well as many other classical music concerts designed to add a festive air to the (physically) dark holiday months.
For example, Mozart concerts performed at the Mirabell Palace in Salzburg are very popular!
Know that Christmas markets can vary a lot.
Some markets will focus on food, some on handicrafts, others on activities like skating rinks and petting zoos, and still others on mass-produced goods (these are the least fun, of course).
In reality, most markets are a mix, featuring bits and pieces of each style, but often with some features overpowering others.
If you visit a Christmas market in one city and it's not for you, don't write off the destination–try another market, first!
Eating full meals at the markets is typical, affordable, and fun.
Years ago, on our very first Christmas market trip, we were on a strict budget and ended up eating almost exclusively at the Christmas markets themselves–because it was more affordable than sitting down in restaurants!
It's hardly a chore to eat at the markets (except perhaps for your digestive system)!
Local takes on everything from hearty meat and/or cheese dishes to delicious deserts are within reach in most cities.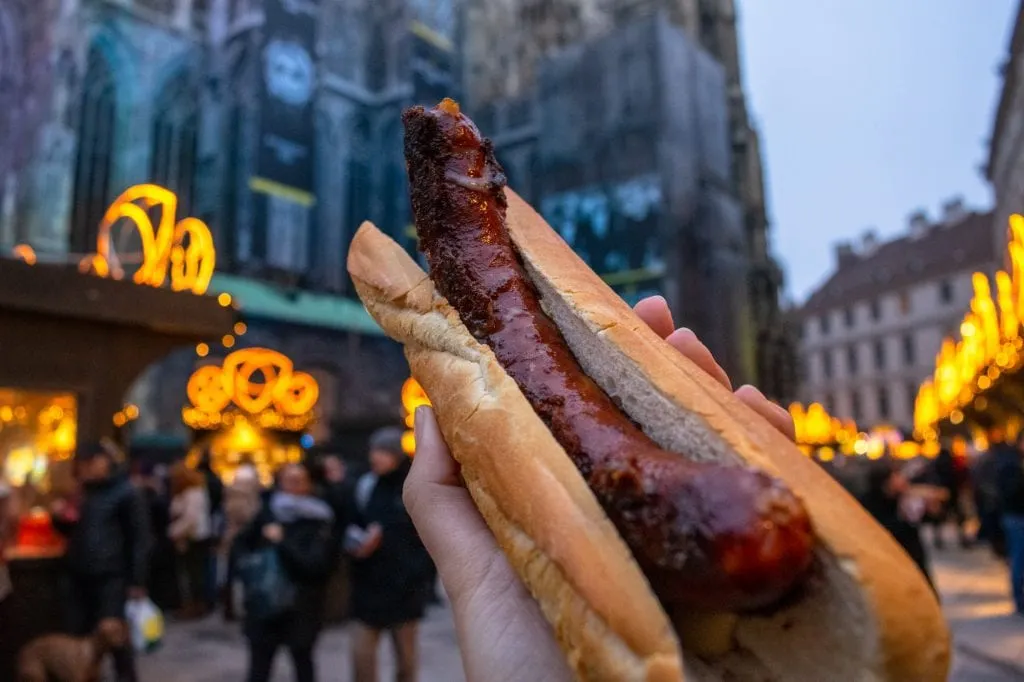 Be sure to visit Christmas markets both during the day and at night!
Generally speaking, the days are better for shopping and taking photos, and the nights are better for ambiance and people-watching.
Most locals come out to the markets in the evenings, and that's also generally when you'll find events like caroling happening!
Climbing towers is particularly delightful during Christmas in Europe.
Most cities in Europe have a gorgeous tower or 20 to climb for a bird's eye view of the city–and often, these towers are at churches!
Add this to the fact that Christmas markets are typically held in the plazas underneath the aforementioned churches… and you can imagine why the view can often be particularly special in winter.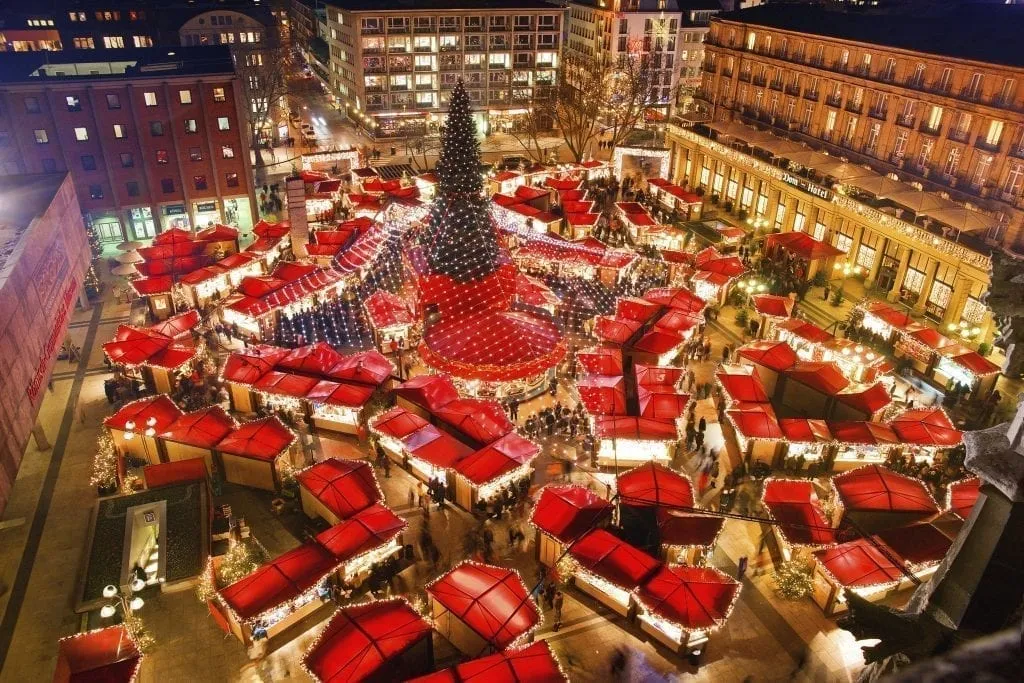 Expect to visit more than one Christmas market in each city.
While you can think of each city as having a general Christmas market experience as you plan, the reality is that most cities with a particular love of markets have several!
For example, Vienna has 12 major markets, Cologne has 7, and wild and funky Berlin is estimated to have around 80 (yes, 80).
You certainly don't need to visit every market in each city you visit, but try to sample a handful.
The markets are often within a short walk of each other and can have very different vibes, and it's lots of fun to compare and contrast!
FAQ For Visiting Europe at Christmas
Where are the best Christmas markets in Europe?
For travelers interested in the classic, immersive Christmas market experience, we personally feel that nowhere does it quite like Germany, Austria, and Switzerland.
This extends a bit to regions in other countries with heavy influence from Germanic culture, like Alsace in France, South Tyrol in Italy, etc.
That is absolutely not to say that there are no magical Christmas markets other places in Europe!
The UK, Hungary, Poland, Denmark, and more all have phenomenal options, not to mention the Baltics.
If you're planning your first vacation in Europe at Christmastime, though, and are hoping for the classic experience, Central Europe will exceed your wildest expectations.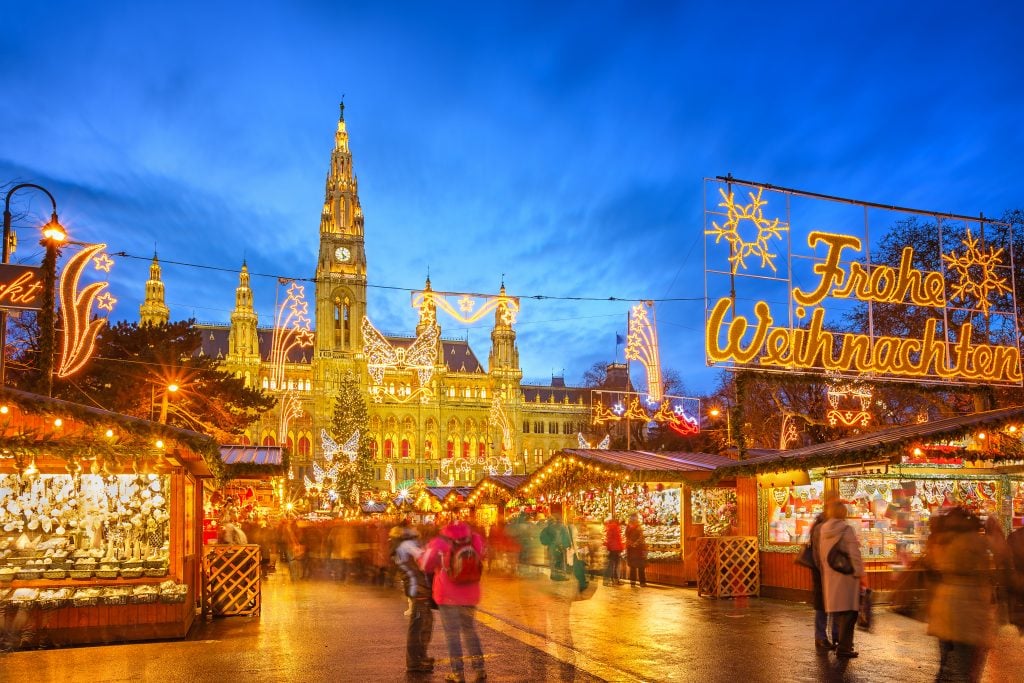 When's the best time to plan a European Christmas market trip?
This is a bit of a fluid question, as it depends quite a bit on which destinations you've chosen!
However, for an ideal mix of festive cheer, open markets, and various other Christmas events, mid-December–say, from about December 10 or so–through December 23rd could be considered the "perfect" time for a Christmas vacation in Europe.
That's not to say there's anything wrong with going earlier or later–in fact, we tend to start our Christmas trips in November because we're too excited to wait.
However, you'll need to pay much closer attention to the opening dates for various markets and events if you're visiting outside of the peak weeks.
When should I book my Christmas market trip?
As soon as you can commit to dates, it's time to book your trip.
December is the busiest time of year for some of the most iconic European Christmas cities, and still a very popular time for others.
If you have your heart set on visiting particular small-town markets with limiting opening dates, you can keep some flexibility there, but the more you can book early, the better.
We tend to book our holiday season trips months in advance.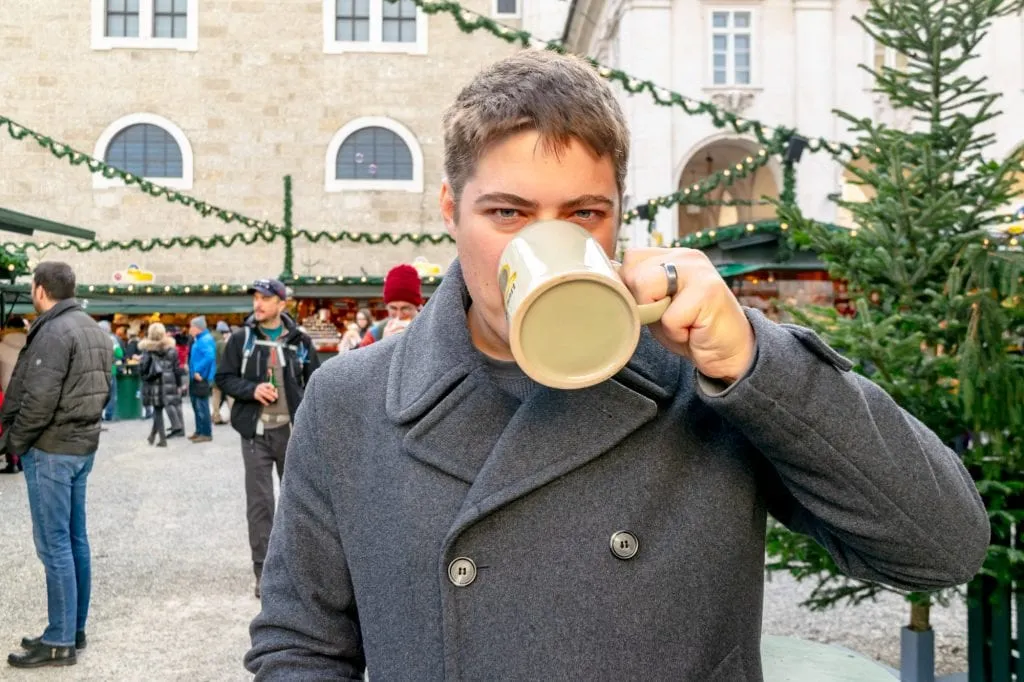 How much does it cost to visit Christmas markets?
Virtually all European Christmas markets are completely free to visit!
Any associated costs come from the food and drinks you buy, as well as extras like carnival rides.
There are some rare markets that charge an entrance fee–the Romantic Market in Regensburg, Germany, for example–but they are very few and far between.
Does it snow during Christmas in Europe?
Obviously, this varies dramatically based on the destination, and no one can perfectly predict the weather!
This Christmas market FAQ comes up a lot, though, and the simplest answer is this: not as often or in as many places as you might expect.
There's always a chance of being surprised with a White Christmas, of course, but the idyllic photos showing cities like Munich, Paris, and Vienna under a thick blanket of fresh snow as people sip glühwein in the markets are not the norm.
We've seen a small dusting of snow in cities like Vienna at Christmas, but certainly not enough to be particularly dramatic.
In many places in Central Europe, the bulk of the snow that sticks won't come until later in the season, and in southern Europe, of course, it's rarer.
If you have your heart set on seeing snow in Europe at Christmas, your best bet is to either head very far north, to places like Tallinn and Rovaniemi, or very high up, like to the picturesque Alpine villages (like Gimmelwald, for example) in Switzerland's Jungfrau region.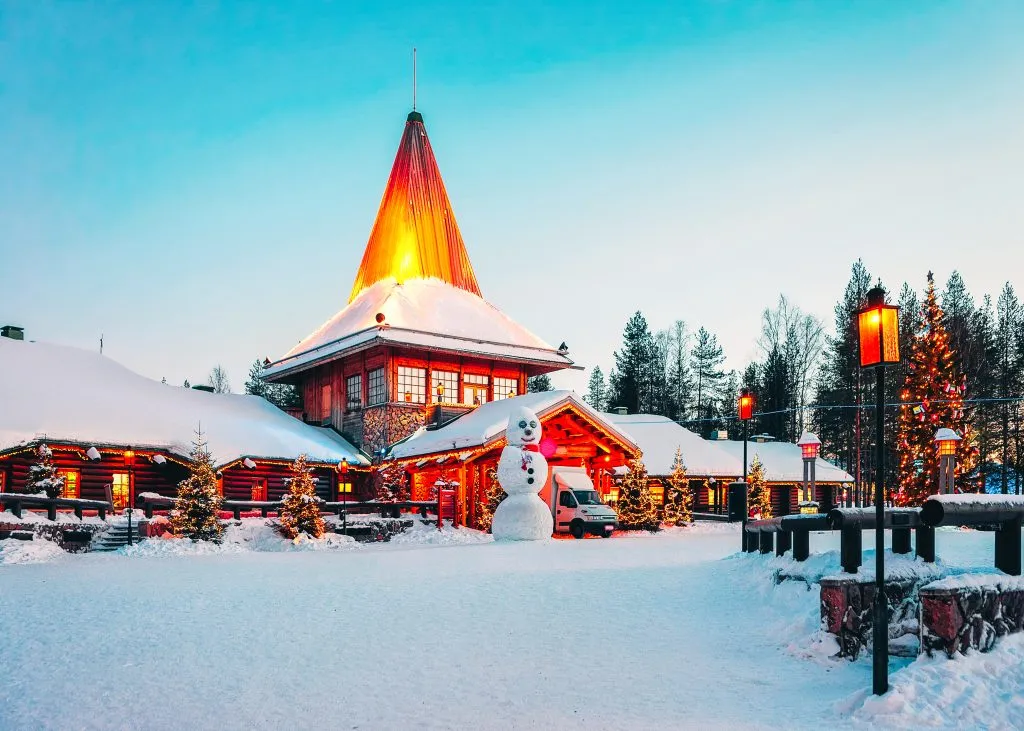 How do mug rentals work?
We were so excited to participate in the tradition of mug rentals during our first European Christmas vacation, and still love it!
Mug rental is a highly entertaining practice (or maybe that's just the glühwein talking), but it can be a bit confusing if it's your first Christmas market trip and you don't know what you're getting into.
At some Christmas markets (generally in Germany and Austria), when you buy your first drink at a given market, you put down a deposit (normally 2-4 Euros) for the mug, and you can then refill it however many times you want at the different stalls.
When you're finished, you can either turn your mug in and collect your deposit back, or you can keep the mug as a fun and inexpensive souvenir.
Is the holiday season a good time for my first trip to Europe?
It depends on what you're looking for, but it absolutely can be!
Christmas markets in particular are easily accessible and incredibly fun, and bound to make for an unforgettable first experience visiting Europe!
However, there's also no doubt that the weather is often less than ideal during the holiday season, and all of the decor and events–while wonderful–will mean that you're less likely to experience what the cities you visit are "typically" like.
For the right traveler, though, it can be quite the adventure!
If you're considering taking your very first trip to Europe, we have a guide for first-time visitors here.
What to Pack for Celebrating Christmas in Europe
We have a full suggested winter packing list for Europe here, but to get you started, here are some essentials that you'll want to be sure to bring on your Christmas trip to Europe!
Travel Insurance — We don't ever suggest traveling without travel insurance–anything can happen on the road, and traveling abroad is definitely a case of better safe than sorry.
Check inclusions and prices with Safety Wing for Christmas trips to Europe!
Travel Adaptors for Europe — If you're coming from outside of Europe, you'll definitely need adaptors for your electronics. Be sure to check the requirements for any particular countries you visit!
The United Kingdom, for example, is well-known for using different plugs than most of the continent.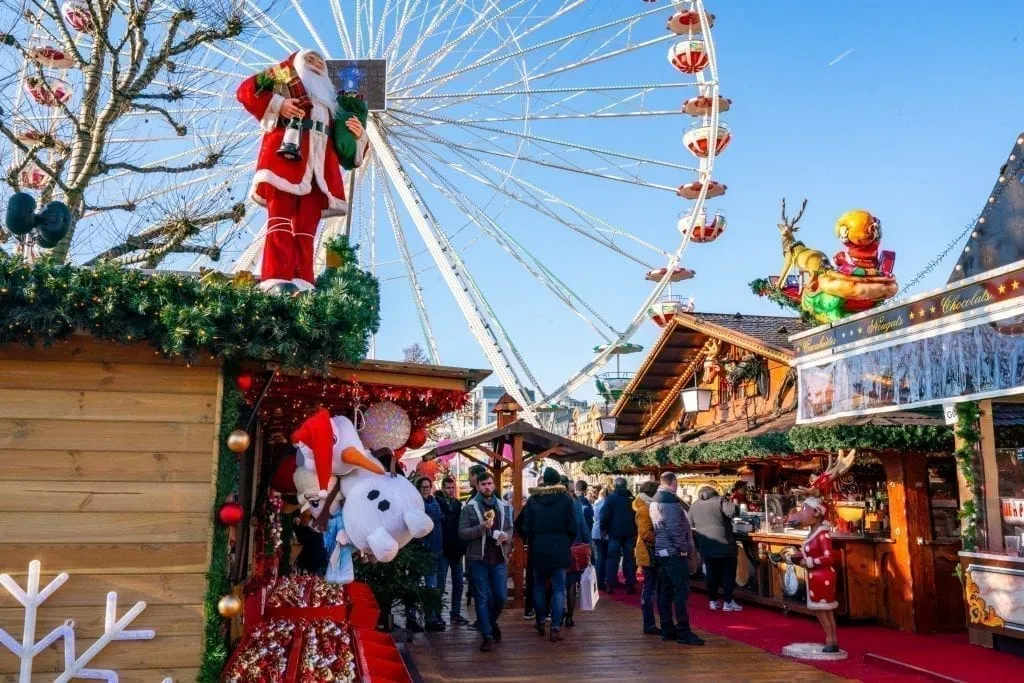 Comfortable Day Bag — You'll need something to carry around all your Christmas market purchases in, after all!
We currently use Pacsafe's sleek anti-theft backpack and love it, but if you don't want to shell out the cash for this trip, that's totally understandable.
Just aim for something comfortable to wear, not flashy, and medium-sized–we used a Northface Jester backpack for years and loved it as well.
Hand Sanitizer — We reach for this constantly when snacking at European Christmas markets!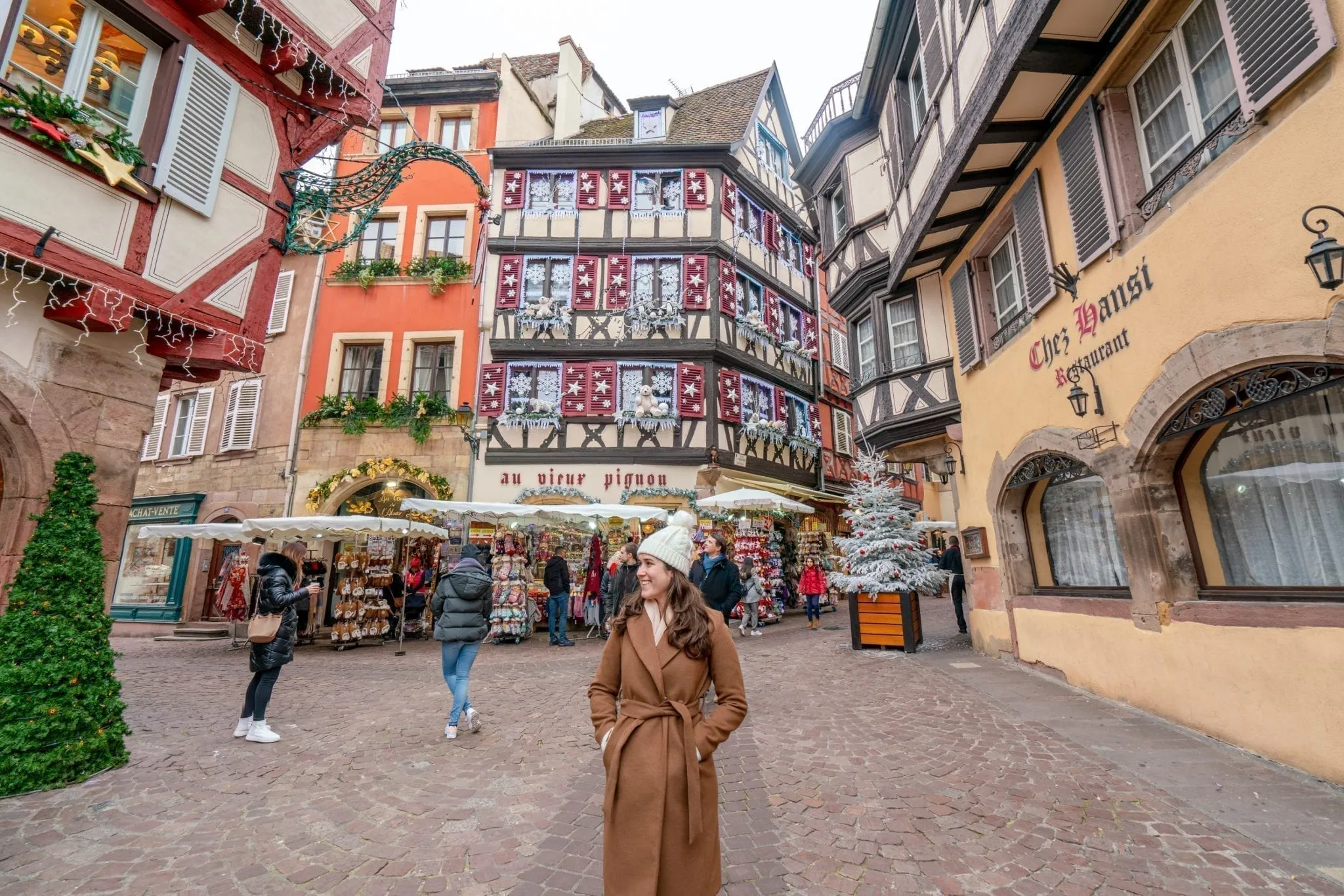 Portable USB Charger — The same cold weather that drains your camera batteries will impact your phone as well.
When traveling through Europe in winter, your phone will likely die much faster than in the summer.
Be sure to come prepared by packing a portable USB charger!
Umbrella — Option A: Plan on buying an umbrella when it starts pouring down rain.
Option B: Plan ahead and buy a (probably much sturdier) umbrella before leaving.
Option C: Hope you get lucky with the weather.
In our opinion, Option B is definitely the best one for your trip to Europe at Christmas!