June 3, 2018
8 Romantic Things to Do in Tuscany
Italy
"Romantic things to do in Tuscany"–even that phrase sounds like a honeymoon waiting to happen.
Tuscany ranks up with Paris as one of the most famous destinations for romance in the entire world, and when we based ourselves in Florence for a month, we knew we wanted to get into the spirit.
It wasn't hard: a newlywed (can we still call ourselves newlyweds after 4 years?) couple with a month to soak in the beauty of Tuscany would have to try hard not to get swept up in the romance of the place, and even then they might fail.
Looking for some romantic things to do in Tuscany with your beloved? Here's what we suggest.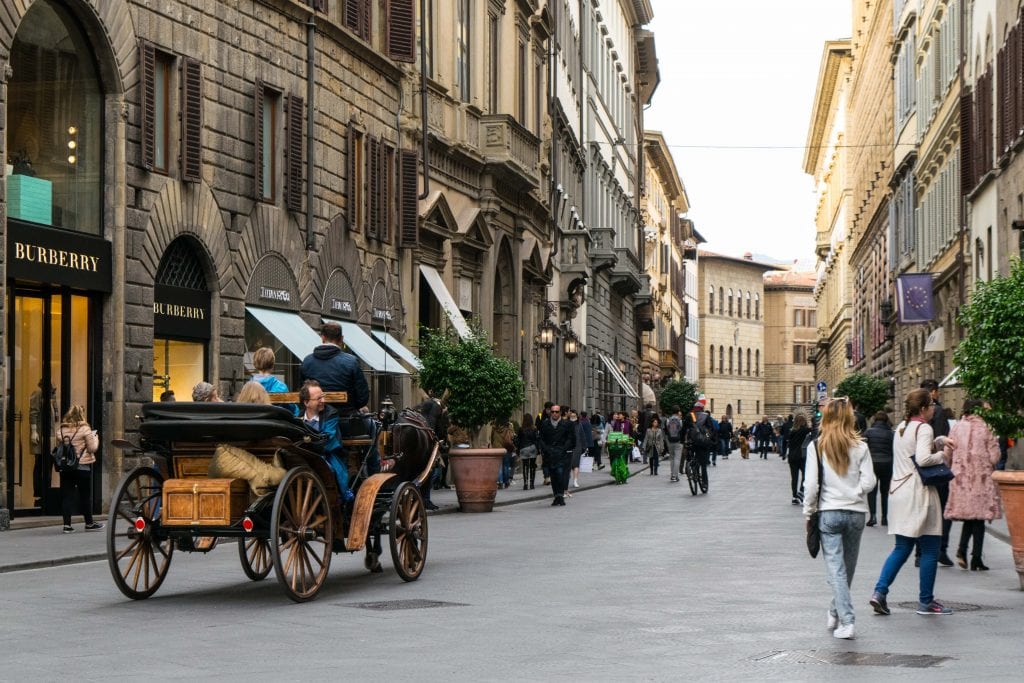 8 Romantic Things to Do in Tuscany
Ride a Vespa through the countryside.
We partnered with Walkabout Florence to ride our first-ever Vespa: Jeremy did the bulk of the driving, and I was quite happy to ride on the back.
The weather was perfect the day we set out–around 75 degrees and sunny–and before long, we were leaving our starting point of Florence behind and climbing high into the hills of Tuscany, winding our way past epic views of the city, through tiny towns with stone houses, and among vineyards.
Our tour included three stops–one at a beautiful church with panoramic views of Florence, one at a vineyard to admire the views, and one for lunch (including wine, of course) at a picturesque Tuscan farmhouse–and while all three were memorable and beautiful in their own right, it was hard to top the romance of riding a Vespa together through the beautiful countryside.
Watch the sunset over Florence.
The capital of Tuscany has a unique skyline: the Duomo and its famous cupola tower over the rest of the city, which looks positively petite by comparison. It is a beautiful sight, and settling in to watch the sunset over the city is a must-do on any list of romantic things to do in Tuscany.
While the Piazza Michelangelo is a popular sunset spot, we didn't get a chance to go up there for sunset on this visit. Instead, we watched the sunset together from the top of Giotto's Bell Tower, and the view was magnificent enough that we won't be forgetting it anytime soon.
Read Next: 60 Fantastic & Fun Things to Do in Florence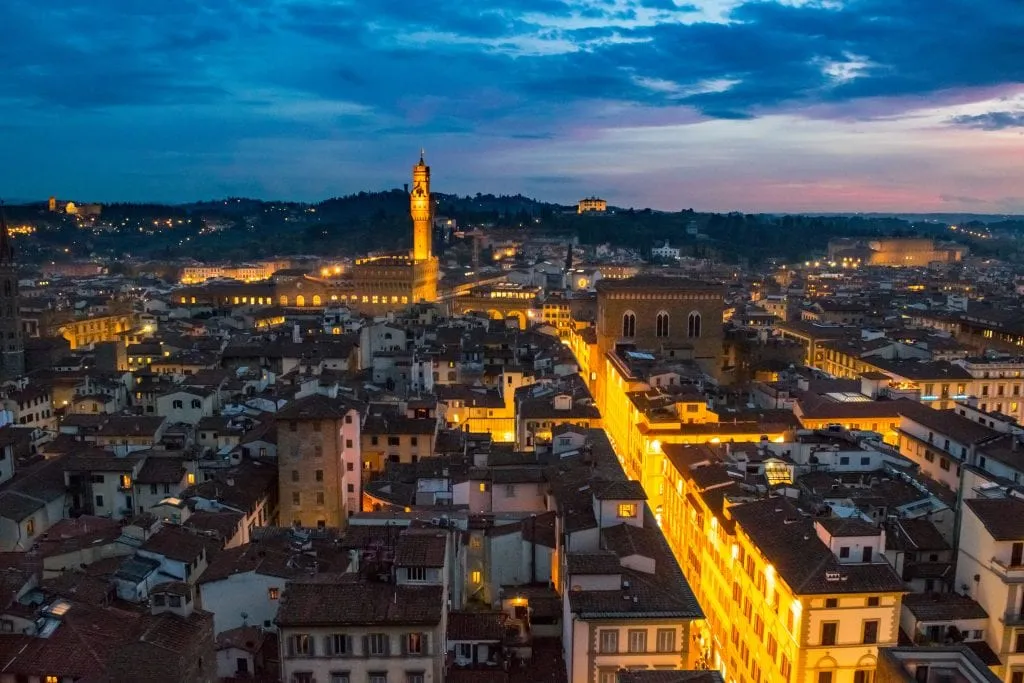 Stroll across the Arno River.
Crossing the Arno River on the famous Ponte Vecchio hand-in-hand with your partner is a must-do when on a romantic trip to Tuscany–be sure to stop and ogle over all the flashes of light coming from the jewelry stores that line the bridge!
The downside of crossing the river on the Ponte Vecchio, though, is that you can't admire the view of the bridge itself: we made a habit of walking across the Ponte Vecchio and then crossing back over the river on the nearby Ponte Santa Trinita (preferably with gelato in hand) to admire the Ponte Vecchio in all its glory when we went for our long walks around Florence.
Visit the small villages of Tuscany.
There are no shortage of charming small towns to woo you in Tuscany: from internationally famous spots like Pisa to more low-key spots like Arezzo, Tuscan towns all have their own personalities but an overwhelmingly similar Tuscan flair that makes them perfect for wandering aimlessly with your beloved.
Some of our favorites include Lucca (their oval-shaped town "square" is gorgeous), Arezzo (a little bit offbeat and adorable), Volterra (set high in the hills, the views from Volterra are stunning!), and San Gimignano (its towers give it a look all its own).
Read Next: Views in and Around Volterra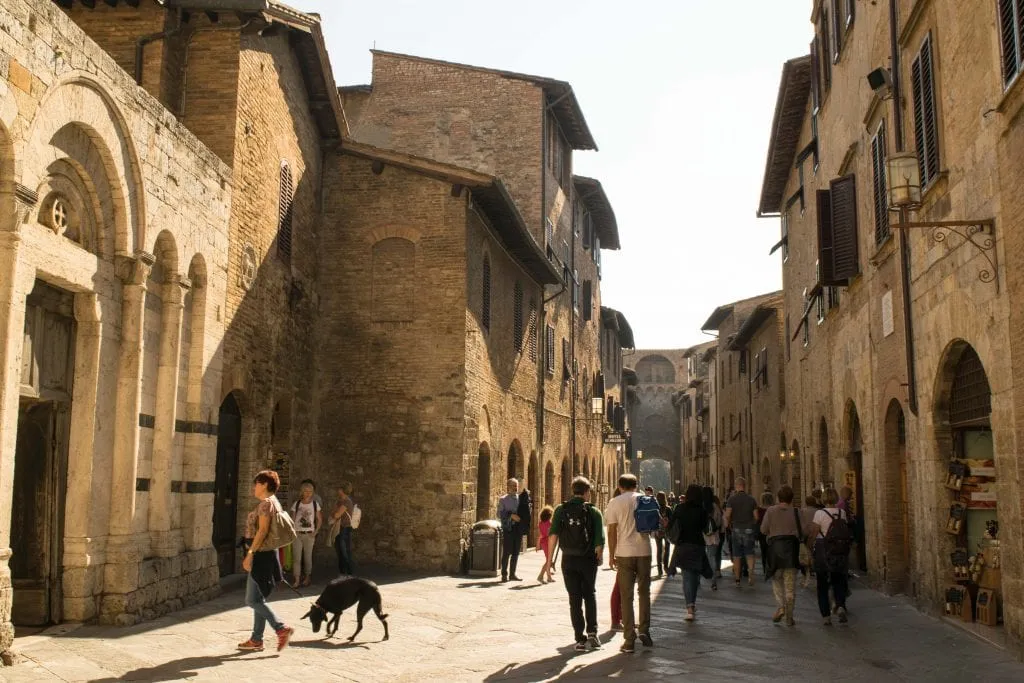 Go horseback riding through Tuscan vineyards.
We were invited out by Fun in Tuscany to have an incredible day in Tuscany including a wine tasting with a meal, a visit to San Gimignano, and, of course… horseback riding.
Jeremy and I love to go horseback riding together (we've ridden together in six countries so far!), and it's hard to imagine a more romantic place for it than Tuscany. We started our day with Fun in Tuscany by riding through never-ending vineyards, soaking in the sweeping views and beautiful villas that we passed along the way.
Our group was tiny–just us, one other person, a guide, and an adorable farmdog name Pepe ("pepper" in Italian) who followed along with us whenever he didn't get distracted and dart into the woods for a moment or two.
It was a very peaceful morning, and our time horseback riding was the perfect start to a fabulous day.
Don't visit Tuscany without travel insurance! We use and recommend World Nomads for their affordability, ease of purchasing & the clarity of their contract!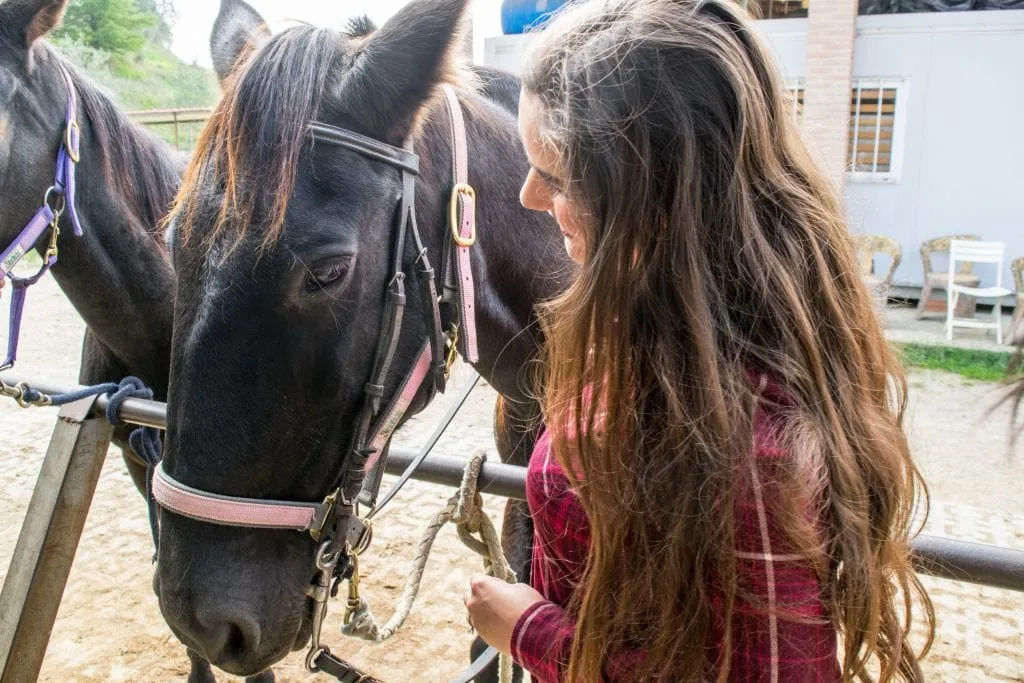 Admire majestic works of art.
The Ufizzi Gallery, home to Boticelli's "Birth of Venus". The Galleria Academia, home to Michelangelo's "David". The exterior of the Duomo, a masterpiece of its own.
… And that's just the world-famous highlights of Florence!
Tuscany is packed full of incredible frescos, statues, and art galleries of all kinds, making it the perfect place to meander through beautiful artwork hand-in-hand with your loved one.
And of course, that doesn't even include a mention of the architecture–the buildings in Tuscany are often works of art in and of themselves!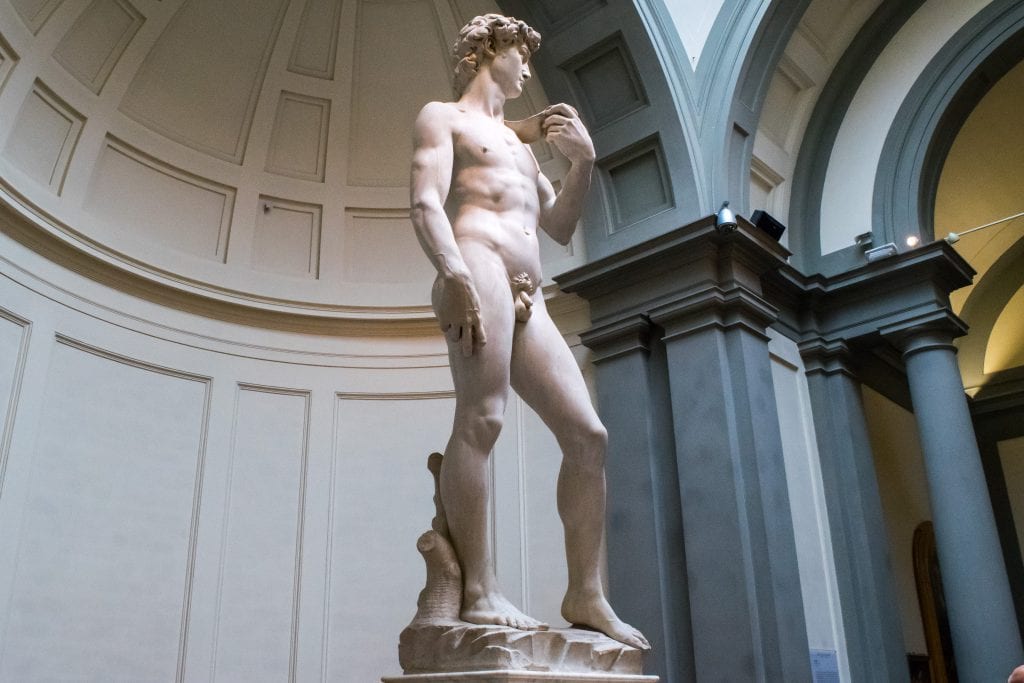 Indulge in a wine tasting (or three).
Tuscany is all about the wine, and at least once when there, be sure to sit down with your partner and enjoy the experience of learning more about Tuscan wines–all while indulging in them, of course!
While you can certainly find plenty of places to go wine tasting in Tuscan towns and cities, there's nothing quite like the romance of heading out for a wine tasting at a vineyard.
We loved tasting eight different wines at Tenuta Torciano as part of our day spent with Fun in Tuscany–and the meal served with the wine made it even better. Salami, bread, cheeses, balsamic vinegar, homemade lasagna with truffle sauce, cantucci cookies… I'm getting hungry even remembering it!
Before and after the meal we had a chance to wander around parts of the gorgeous vineyard property, enjoying each other's company and taking in views of vines and gazebos, and meeting several friendly chickens and one adorable basset hound.
Read Next: Food, Food, Food: Delicious Experiences & Things to Eat in Florence
Be spontaneous and wander.
Tuscany is the perfect place to be aimless: whether it's wandering the cobblestone streets of Florence, choosing a random small town on a map and hopping on a train to visit it, or ducking into small churches and out-of-the-way museums because you happen to be passing by, Tuscany is ideal for meandering with a loved one.
This is the kind of place where the word savor comes to mind: savor the views, the food, the wine, the time with your partner… nothing can be rushed in Tuscany, and that's the beauty of it.
Our time in Tuscany was absolutely perfect: words like "magical" come to mind when I try to think of ways to describe it.
Jeremy and I had an incredible time seeing the iconic sites and experiencing the best romantic things to do in Tuscany… but we also loved the quiet moments alone, the romance of sitting on the steps of yet another gorgeous building eating yet another delicious gelato staring at yet another perfect Tuscan view underneath a bright blue sky.
We savored every second of our time in the region, and when it was time to say goodbye, we had trouble tearing ourselves away, even though we knew that our "goodbye" was more like a "see you later".
If you're looking for a honeymoon destination, an anniversary trip, or even just a spontaneous getaway with your loved one… it's hard to imagine a place more romantic than Tuscany.
Where We Stayed in Tuscany:

Airbnb Apartment in the Heart of Florence — We based ourselves in Florence for our month in Tuscany, and it would be impossible to beat the location of this apartment! It was less than a 10 minute walk to the Ponte Vecchio, the Duomo, the Ufizzi, and many other sites in Florence. There was a little street noise at night, especially on the weekends, but it was worth it to us! The apartment is very small, but fully stocked–we cooked most nights we were there. We would not hesitate to stay here again while in Florence!

Never used Airbnb before? Sign up with our link for a discount on your first stay!

Prefer to stick with a traditional hotel? Check out romantic places to stay in Tuscany on Booking.com!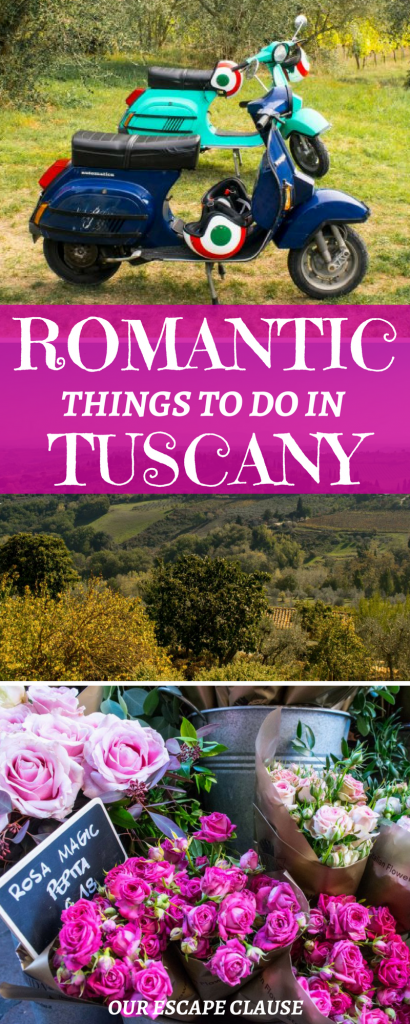 Many thanks to Walkabout Florence for hosting us on our Vespa tour in the Tuscan countryside, and Fun in Tuscany for hosting us on a day out that included horseback riding, wine tasting, and a visit to San Gimignano. All opinions are, as always, our own.

Some links in this post about romantic things to do in Tuscany are affiliate links. If you click through one of these links, we may earn a small commission at no extra cost to you. We are committed to only ever recommending products and services that we personally use and like.

w