Full of cultural, historical, and musical significance, a long weekend in Atlanta, GA is an amazing and underrated getaway destination in the US.
Atlanta is home to unique foods, museums, people, and tons of fun things to do!
It's a big city but truly feels like a small community bursting with Southern culture that you'll be sure to feel with 3 days in Atlanta, GA.
No matter your reason for visiting, there is so much to experience in the capital of Georgia.
Want to discover the best of Atlanta in 3 days?
This Atlanta weekend itinerary has you covered!
Note: This Atlanta travel guide was written for Our Escape Clause by Atlanta-area local Alanna Koritzke of Periodic Adventures. Thanks for joining us, Alanna!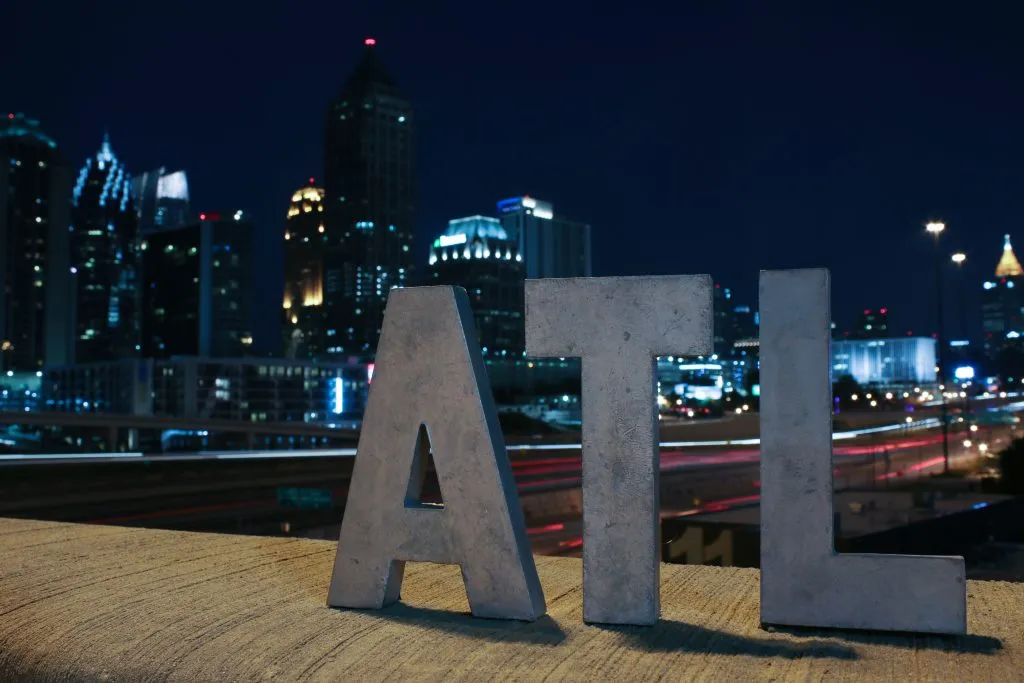 The Perfect 3 Day Weekend in Atlanta Itinerary
Day 1 in Atlanta: Food, Parks + Beyond in Midtown Atlanta
Start your weekend at the Atlanta History Center.
To kick off your time in Atlanta, visit the Atlanta History Center in Buckhead, on the northwest side of the city.
Here you'll find gardens, exhibits, and historic homes. The most famous home is Swan House, which you may recognize as President Snow's mansion from the Hunger Games films.
The inside is just as impressive as the outside with ornate décor in each room, of which there are many including a library, dining room, main hall, and numerous bedrooms!
Inside the history center, don't miss the cyclorama, a 360° restored painting of The Battle of Atlanta from 1886 that is a treasure to witness.
It's one of only two cyclorama-style paintings in the US and is an immersive experience with illusions to make the painting come alive.
Admission is $23 for adults, $20 for students, and $10 for children.
Taste your way through Ponce City Market.
For lunch, head to Ponce City Market to start exploring one of the most important Atlanta attractions: the food.
This well-reviewed food tour will give you a crash course in what makes Atlanta's food scene so great, while also introducing you to this corner of the city!
You'll try 5 different tastings of some of the best restaurants in the market.
Not to mention, your tour guide will share the history of the Ponce City Market building, which used to be an old department store and warehouse.
Now it has over 60 restaurants and shops plus a small theme park on the roof!
It is a very interesting building and is a great spot to taste a bunch of Atlanta staples.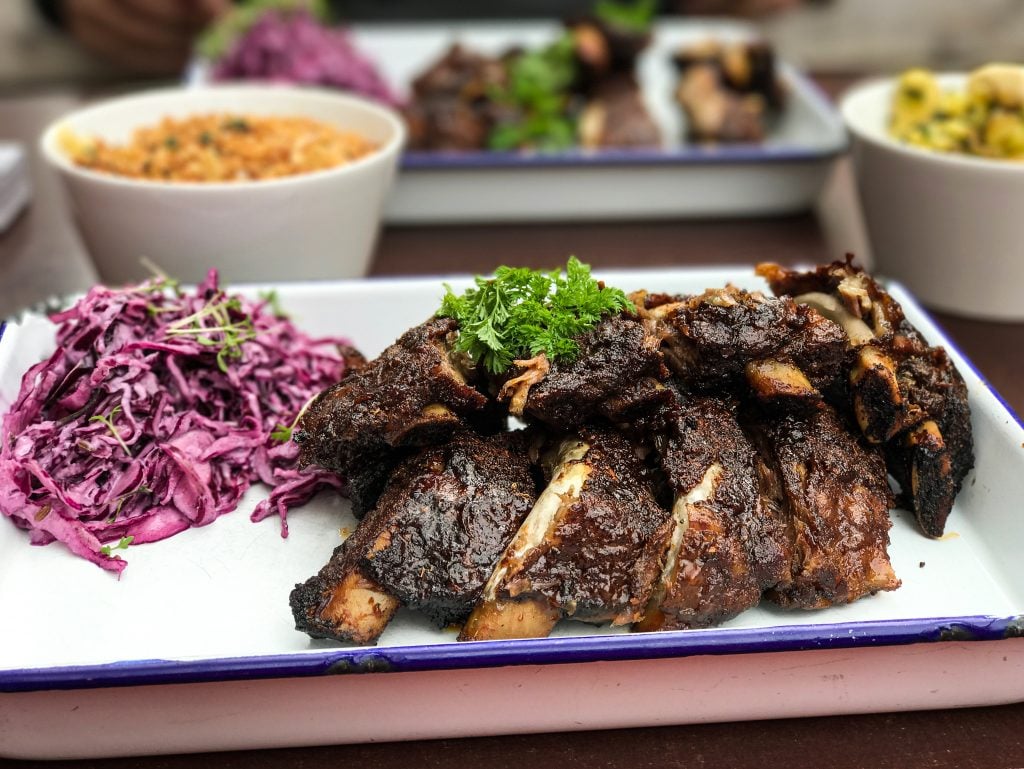 Walk like a local on the BeltLine.
From Ponce City Market, grab some bikes, roller skates, or just walk along the Atlanta BeltLine, a paved pedestrian path that circles Atlanta.
Take it north where you'll pass some beautiful murals and even some of the Tiny Doors of Atlanta, an art installment around the city showcasing unique mini doors.
Travel just over a mile where you'll see an exit at Monroe Dr and 10th St NE.
Continue along 10th St NE to the West where you'll reach Piedmont Park.
Take in skyline views at Piedmont Park.
This picturesque park is a great spot to take in some epic views of the Midtown Atlanta skyline!
To capture the most iconic view, head to Lake Clara Meer in the center of the park.
It looks like a backward capital L and at the bottom point, is the Midtown Reflection viewpoint.
There is a clear platform, so it's hard to miss.
Piedmont Park also has a dog park, basketball courts, recreational swimming pool, and tennis courts, and even hosts the largest music festival in Atlanta called Music Midtown in September.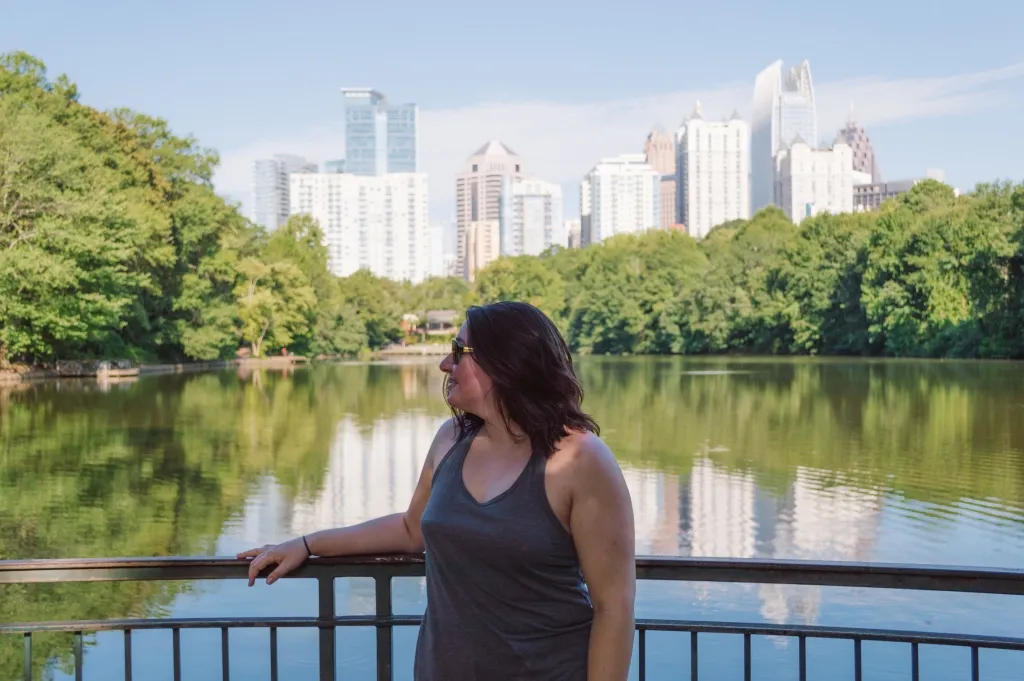 Witness topiary sculptures at Atlanta Botanical Gardens.
Next, within Piedmont Park lies the Atlanta Botanical Gardens.
The gardens are known for their giant topiary sculptures, which you'll find scattered throughout the grounds. Find the phoenix, dragon, Earth goddess, and more!
They also have a rotating theme and select sculptures are created to match the theme.
The gardens are very popular during winter as well when thousands of lights are added to the sculptures and trees.
Admission is $25 on the weekend and $23 on weekdays.
Please note that as of the time of writing, pre-booked tickets are essential for non-members.
Day 2 in Atlanta: Museum-Hopping
One of the best things to do on a vacation in Atlanta is sample all of the amazing museums in the city.
Pick and choose as you like for your second day!
You can easily enjoy one of these famous Atlanta museums in the morning and another in the afternoon because, with the exception of the Martin Luther King, Jr. National Historical Park, they are all located within half a mile of each other.
You'll also find the popular Centennial Park in this area.
While a CityPASS might seem appealing to combine multiple tickets into one, you would need to visit all four of the following museums for it to be financially worth it.
Instead, decide on a select couple to enjoy during your long weekend in Atlanta, GA!
The Georgia Aquarium
The Georgia Aquarium is one of the highest-rated aquariums in the country and it's the number one largest aquarium in the US!
It is home to hundreds of aquatic species and is heavily involved in research and conservation work.
During your visit, you can explore exhibits that are separated by environment.
Inside the Ocean Voyager, take the moving walkway through tunnels to view the animals on all sides including whale sharks, manta rays, and more than 50 species of fish.
The aquarium is incredibly popular, so to avoid extra hassle during your 3 days in Atlanta, book skip-the-line tickets in advance, with no extra cost to you!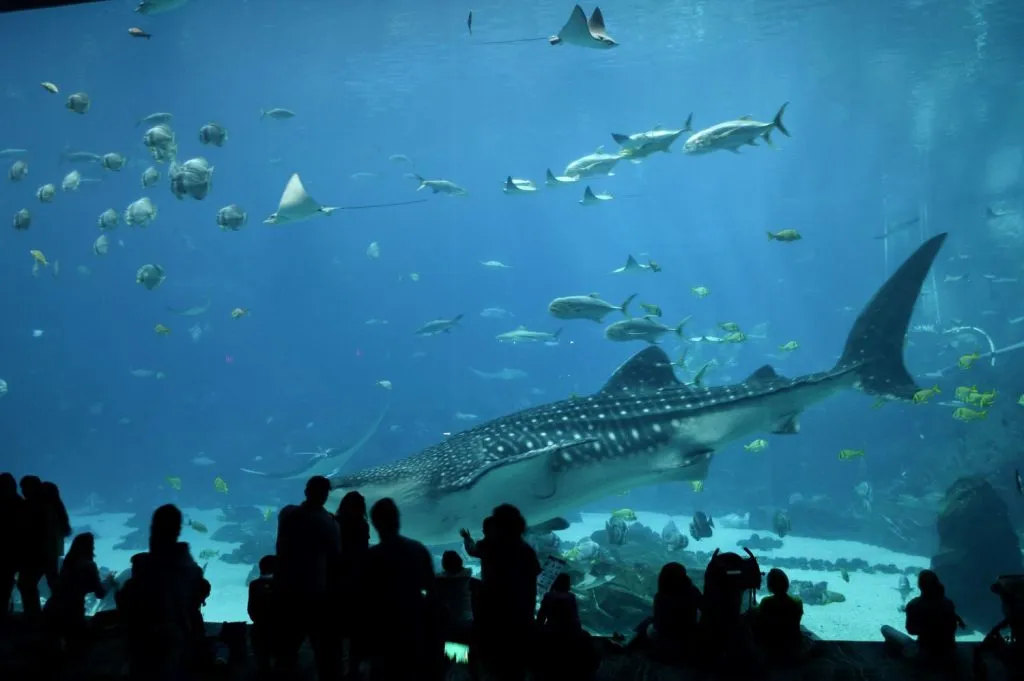 Civil and Human Rights Museum
The most important museum within this mile radius is the Civil and Human Rights Museum, where you'll learn about the U.S. Civil Rights Movement and modern human rights issues.
The exhibits here are so moving and well-curated that this museum is a must-do for all travelers, but especially American travelers.
Each exhibit will teach you something valuable.
One of the most noteworthy is the Lunch Counter Sit-In where you can participate in a powerful simulation sit-in augmented by auditory footage, which simulates what anti-segregation demonstrators endured in the USA in the mid-20th century.
Don't miss the exhibit on Martin Luther King Jr. on the first floor, which showcases his photos, papers, and items.
There's even a library housing 1000 of his personal library with his handwritten notes throughout.
You can access them with permission from the Archives Research Center staff.
World of Coca-Cola
Across from the Aquarium is the World of Coca-Cola where you can explore 12 exhibits featuring America's favorite drink.
Visit the Loft where you'll find Coca-Cola artifacts representing over 125 years of memories and over 30 countries.
In the Vault of the Secret Formula, you'll be tested to see if you can protect the secret recipe via an interactive experience and you'll even be able to formulate your own mix to try to get close to the actual formula.
The most iconic exhibit is the tasting experience where you get to try different sodas from around the world.
Ever wondered what Coca-Cola tastes like in Mexico, Korea, or France? Then the Taste It room is for you!
The World of Coca-Cola is a very fun, interactive museum and one of the best things to do in Atlanta on the weekend!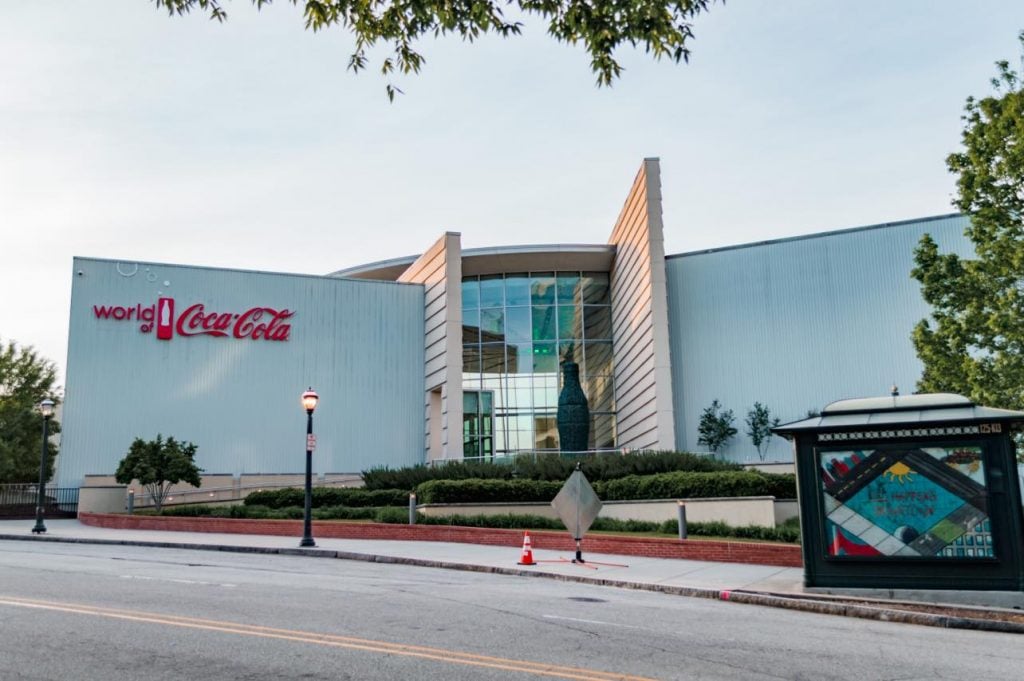 Martin Luther King Jr. National Historical Park
As the birth home of one of the most influential Civil Rights leaders in human history, there's no doubt that visiting the Martin Luther King Jr. National Historical Park is one of the best things to do during a weekend in Atlanta.
The park is made up of several sights important to Dr. King's life and death, including his birth home, Ebenezer Baptist Church where he was ordained as a minister, and the tomb where he is buried.
You'll also find sights like Fire Station No. 6, which is a museum exploring the history of the desegregation of the fire department, and memorials like the International World Peace Rose Garden.
College Football Hall of Fame
Nearby, you'll also find the College Football Hall of Fame where you can get a look into the sport that acts as the South's heartbeat. It's a way of life here.
You can learn about the sport, its players, and even test your hand at football.
This museum is perfect for kids because they can run through a Touchdown Tunnel to the Indoor Playing Field and Skill Zone.
If you've ever wondered how much people take football seriously in the South, then there's no better museum to explore.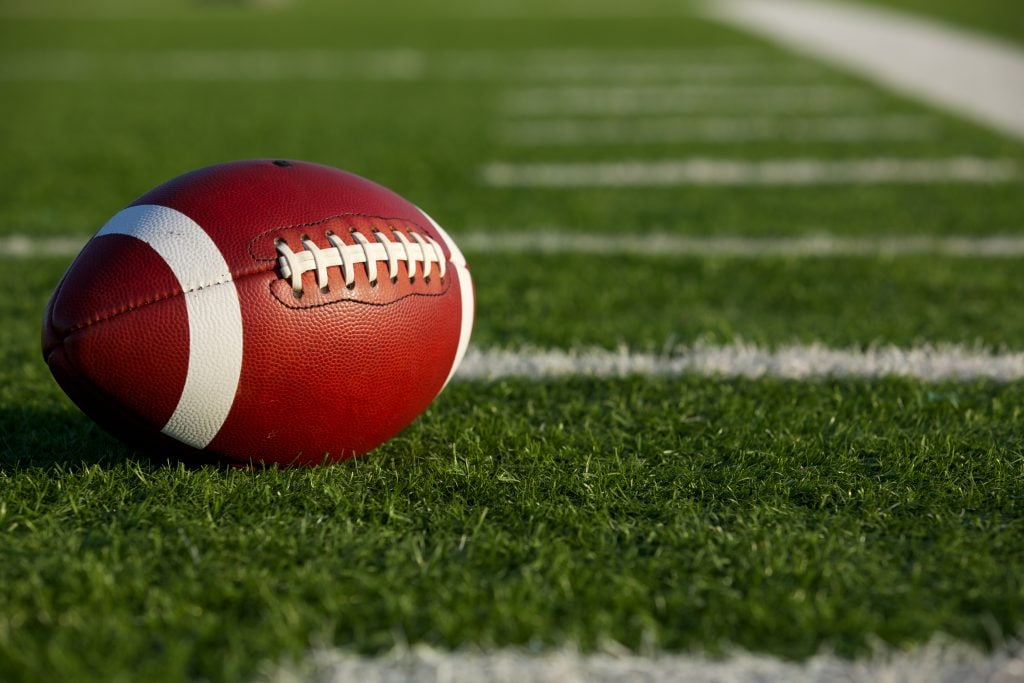 Day 3 in Atlanta: Get Outside the City on a Day Trip
The entire state of Georgia and more specifically, the area surrounding Atlanta, has become a major filming location for many popular franchises!
On your last day, take a day trip to see some of your favorite fictional worlds come to life.
There are a few notable tours to see the highlights from Walking Dead, Stranger Things, or a collection of Marvel films, among others.
If movies and TV shows aren't your thing, don't worry: we have some more nature-focused ideas for you as well.
Here are some memorable day trips to wrap up your 3 days in Atlanta, Georgia with!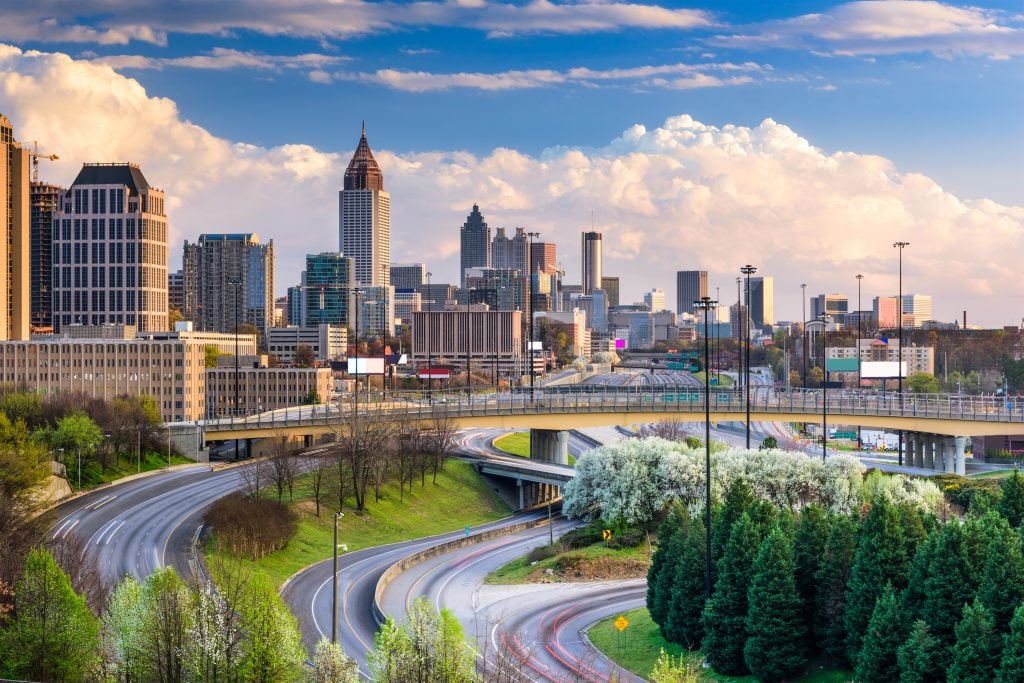 For Zombie Lovers: A Walking Dead Tour
Calling all zombie fans!
Atlanta and Georgia have become associated with The Walking Dead and they even host Walker Stalker Con each year.
Take the popular Walking Dead filming locations tour, where you have the chance to see filming locations in Atlanta including the iconic Jackson Street Bridge where Rick Grimes rode into town by horseback, the CDC, and Terminus locations.
Alternatively, visit the small Georgia town of Senoia on a tour to see "Woodbury" and "Alexandria" from the show, and visit the restaurant in town owned by Greg Nicotero, the show's director, and Norman Reedus, a star of the show.
This really is a must for Walking Dead fans and who knows, maybe you'll even run into the stars of the show…or a zombie!
Book your Walking Dead tour today!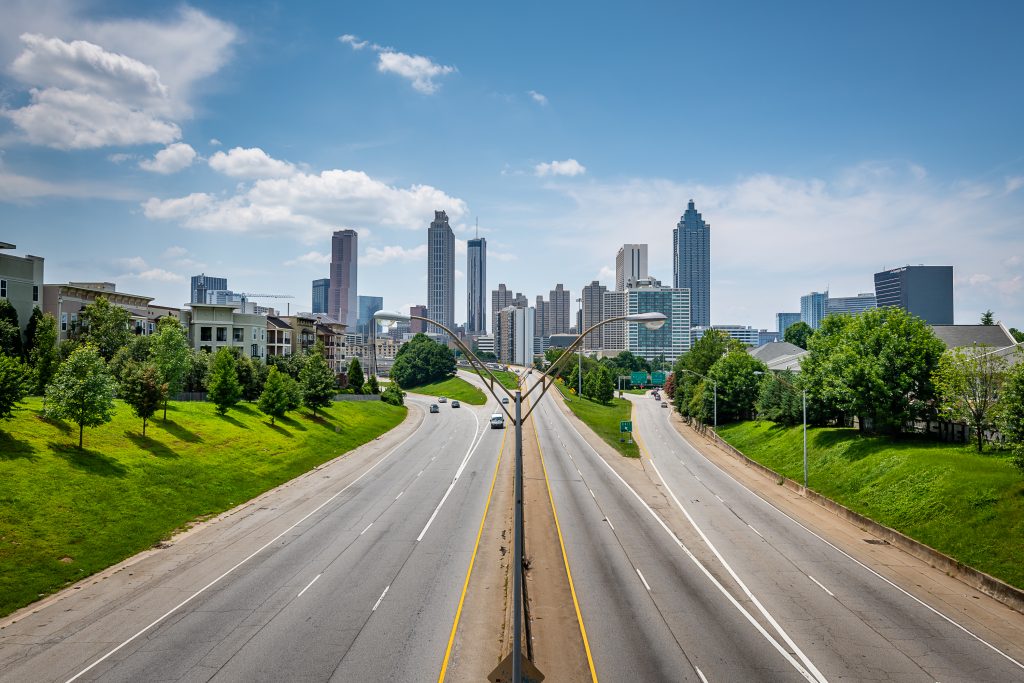 For 80s Fanatics: Visit Stranger Things Filming Locations
If you're not a zombie fan, maybe you need to take a trip to the Upside Down!
Another great Atlanta tour will do just that by showcasing Stranger Things filming locations including Hawkins neighborhood where the homes of the Wheelers, Sinclairs, and Hendersons sit.
You can also see Hawkins Middle School and Brimborn Steelworks from season 3!
On your own, you can even add Gwinnett Place Mall to your Stranger Things list as it was the filming location for Starcourt Mall…although, beware it doesn't look like the 80s in there anymore.
You also may need to consider grabbing a rental car if adding Atlanta suburb locations to your itinerary.
For Movie Fans: General Atlanta Filming Locations Tour
If you want more of a variety, the final tour you can choose covers a number of Marvel filming locations and other popular franchises like the Hunger Games, Divergent, and Anchorman 2.
See President Snow's mansion from the Hunger Games, headquarters for the Erudite Elite in Divergent, Peter Parker's high school from Spider-Man: Homecoming, and the Avengers Headquarters on this fun movie locations tour.
For Nature Lovers: Head to the mountains.
Another great day trip from Atlanta, especially in the late summer and fall, is a drive north to experience North Georgia's beautiful mountain region.
Head up to Ellijay to go apple picking at one of the many orchards and get some of their iconic apple cider donuts!
BJ Reese Orchards is a favorite, but be sure to check when apples are in season and which varieties.
Nearby, visit Amicalola Falls State Park, where you'll find numerous hiking trails, zip-lines, and the namesake waterfall.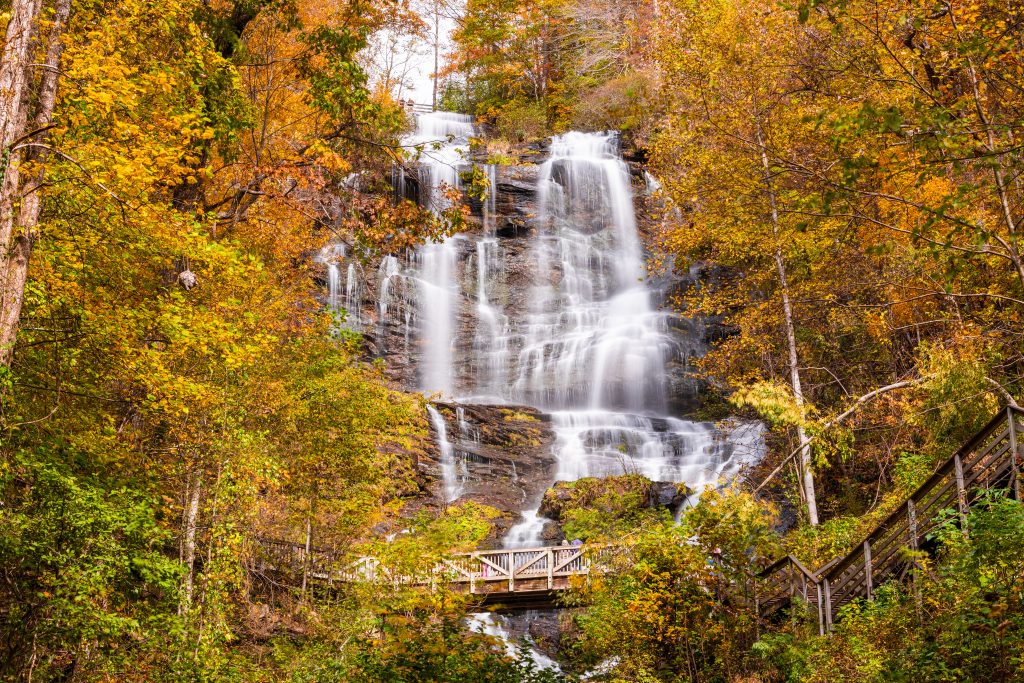 Where to Stay for a Weekend in Atlanta, GA
Generally speaking, Atlanta is a safe city so there are a number of neighborhoods to stay in.
Given the above itinerary and being mindful of safety, Midtown is the best place to stay.
As with any big city, watch your surroundings, don't leave your belongings unattended, and be alert at night.
Atlanta has a number of affordable Airbnbs, but the hotels are really where it's at because of their prime locations.
In Midtown, there isn't too wide a range of prices, but here are some popular, well-reviewed places to stay during your 3 day weekend in Atlanta!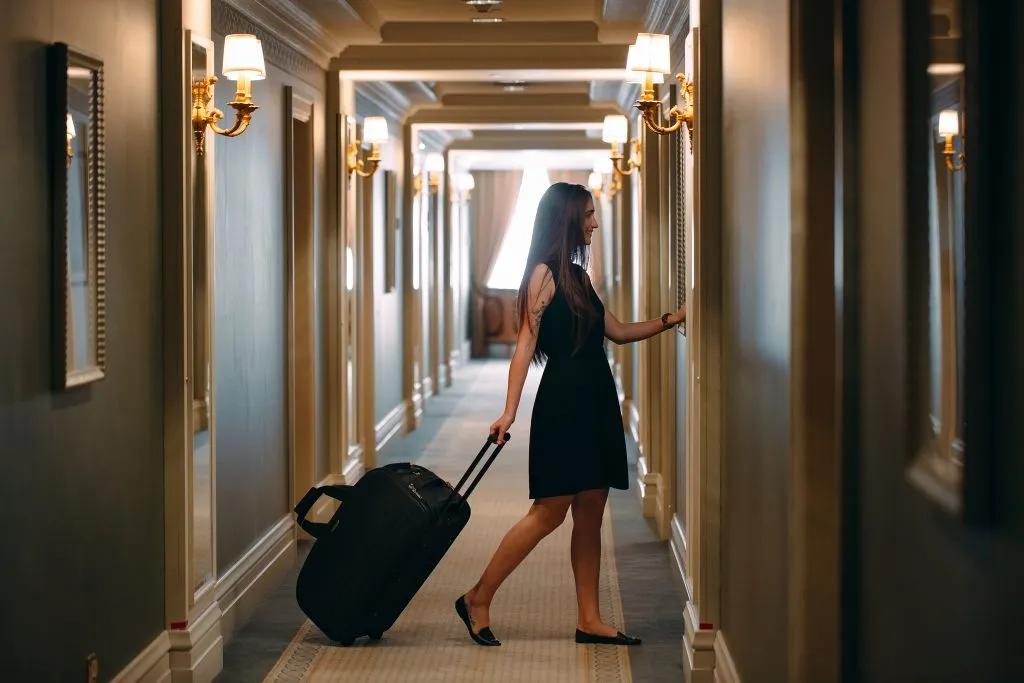 Classic Hotel Option
Hotel Indigo – This small chain is perfect for those on a mid-range budget.
It's located across from the Fox Theatre if you want to add attending a broadway tier show to your itinerary.
The location is unmatched and they're even pet-friendly!
Luxury Views
Epicurean Atlanta, Autograph Collection – Luxury travelers consider staying at the Epicurean Atlanta, Autograph Collection, which is such a beautiful, unique property that it's worth it to see the terrace.
It's within half a mile of Piedmont Park and only a mile and a half from the museums mentioned above.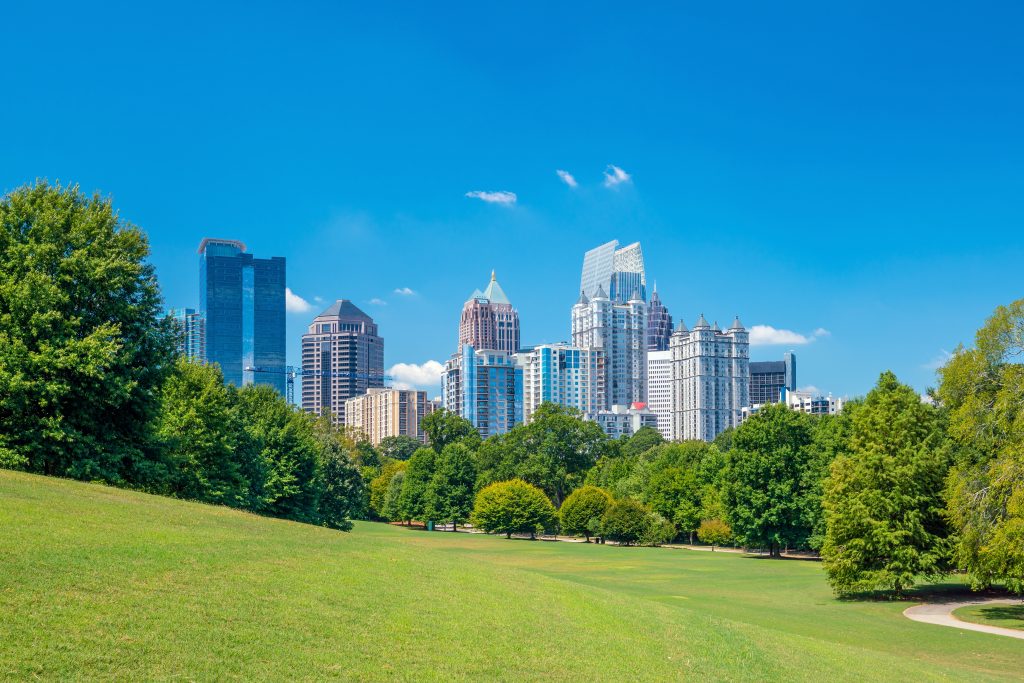 Unique Stay (Marvel-Themed)
Atlanta Marriot Marquis — If you want to stay in a Marvel filming location, opt for the Atlanta Marriott Marquis, which was the site of the Time Variance Authority in the Loki TV show.
The architecture of the building is stunning from the inside – it almost looks like a spine with ribs if you look at the external elevator shaft and protruding hallways.
There's not a bad view from the entire place inside and out. Breakfast at Sear is also phenomenal with made-to-order griddle items and omelets. They even have their own honeycomb!
It's such a unique building that it's worth the splurge for Marvel fans!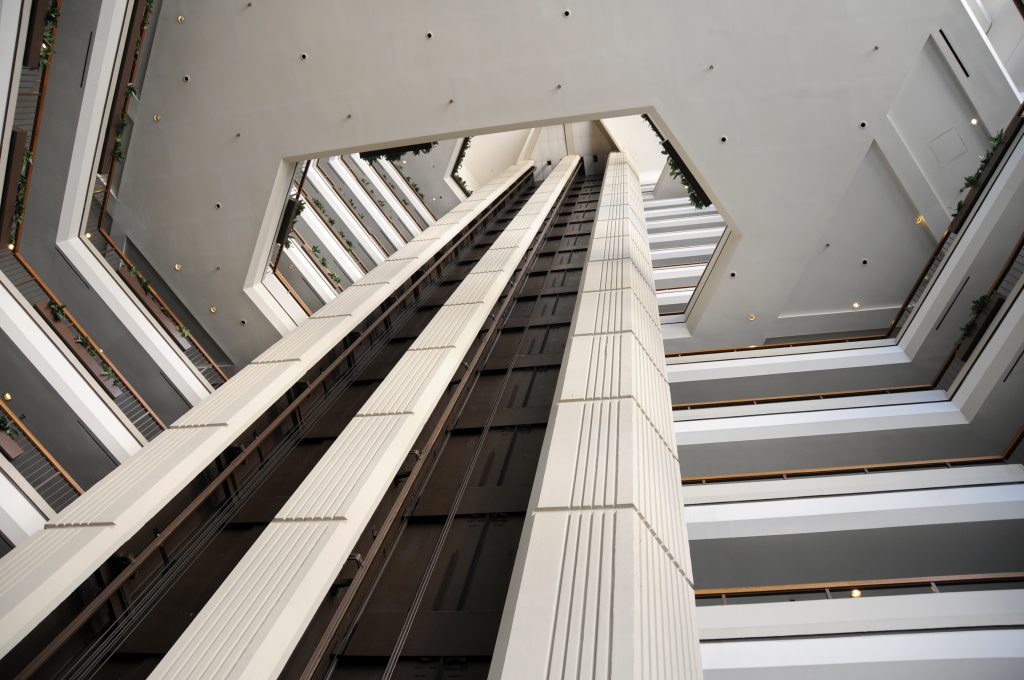 Where to Eat During 3 Days in Atlanta
Atlanta, perhaps unsurprisingly, has some of the best food in the United States.
During your Atlanta weekend getaway, be sure to sample some Southern cultural classics to taste like boiled peanuts, fried green tomatoes, and grits.
However, because Atlanta is a melting pot of cultures similar to other big cities, you'll be spoiled for choice when it comes to restaurants in Atlanta.
Here are a few popular Atlanta restaurants perfect for enjoying during your trip!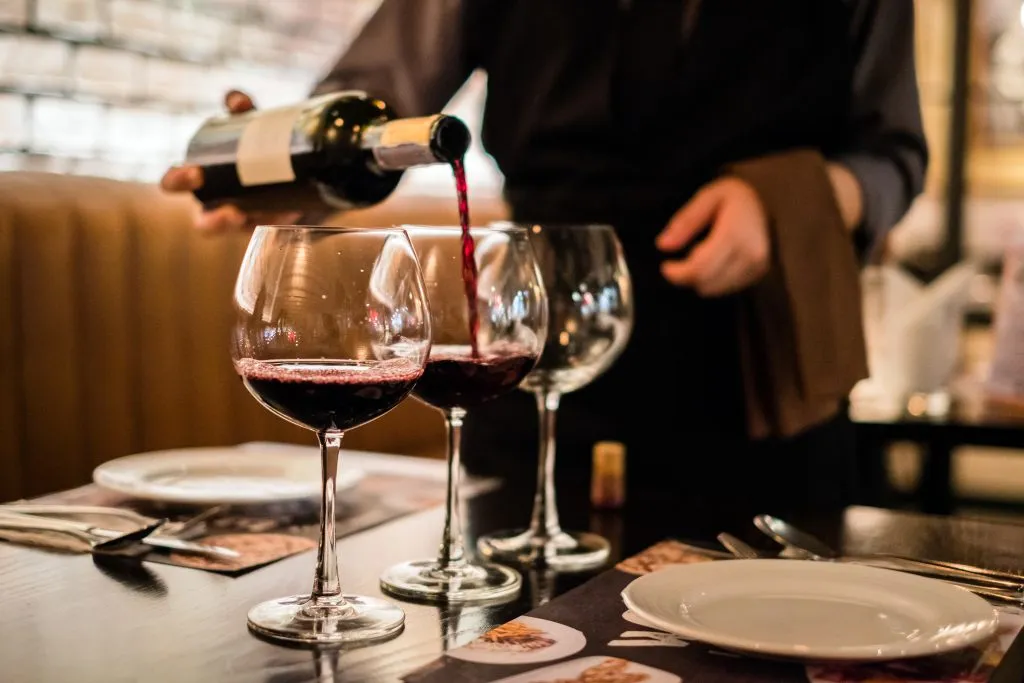 Mary Mac's Tea Room
To dive into Southern food, try a multi-course meal at Mary Mac's Tea Room, which has been around since 1945!
The Southern Special allows you to choose an entrée such as fried chicken, a dessert such as Georgia peach cobbler, and three sides.
For the most Southern picks, opt for black-eyed peas, cheese grits, and collard greens with crackling cornbread.
Another good choice is Brunswick Stew, which is a tomato-based stew with meat, okra, and other vegetables.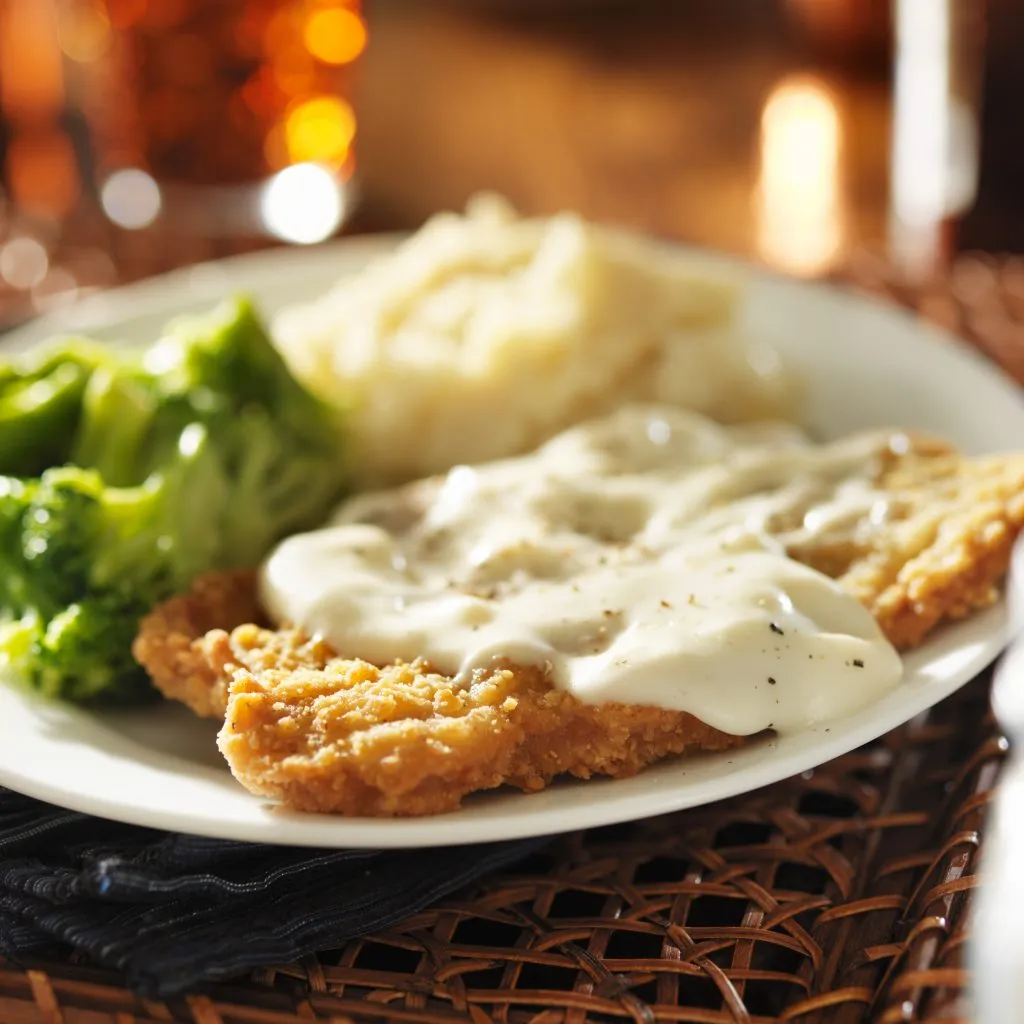 The Vortex
Another unique Atlanta restaurant is The Vortex, which boasts two locations in Atlanta – one in Midtown and one in Little Five Points.
This 21+ restaurant is known for its over-the-top burgers and cocktails including the insane Coronary Bypass Burger that's approximately 3700 calories! It's not for the faint of heart.
Of course, you can opt for more normal burgers or sandwiches.
The location in Midtown also has a small 74 person comedy club inside called The Laughing Skull, which has occasionally hosted big names like Kevin Hart!
Tabla
Located in Midtown, Tabla serves some incredible Indian cuisine with essentials like Tandoori chicken and tikka masala.
They also have unique dishes that are less common such as Amul cheese and jalapeno naan, and Dahi eggplant.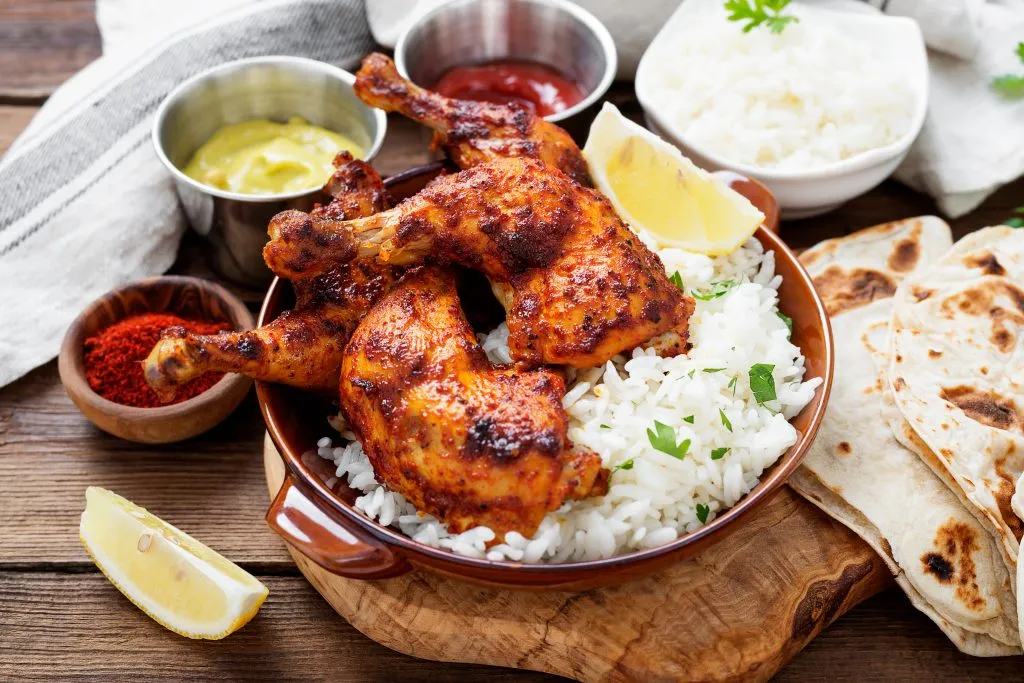 The Varsity
While it may not necessarily have the highest quality food, The Varsity is an Atlanta tradition so it's on the list!
The Varsity located at 61 North Ave is the first location of the small Georgia chain.
Try a chili dog, onion rings, and their iconic frosted orange (aka the FO). Go for the experience and stay for the views!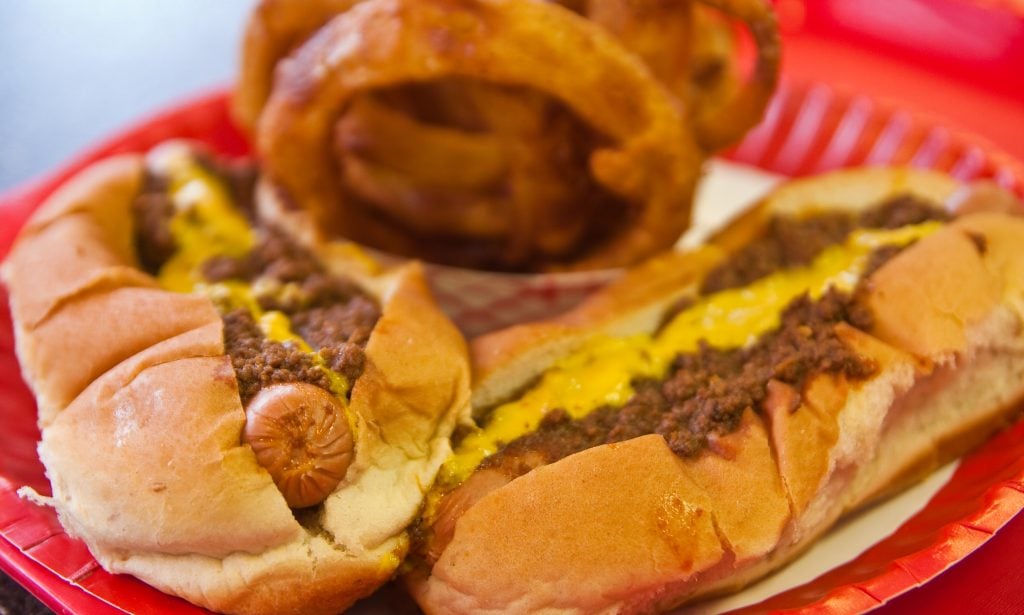 Getting Around During a Long Weekend in Atlanta
For this 3 day Atlanta itinerary a car is not necessary.
Here are a few other ways of getting around Atlanta (though if you do happen to plan to visit the suburbs or other places in Georgia, you may want a car!).
Public Transportation
Public transportation in Atlanta is called MARTA.
You can catch the Gold line (towards Doraville) from Hartsfield-Jackson airport (ATL) to Midtown Atlanta and the Red line (towards Airport Station) from Midtown to Hartsfield-Jackson airport.
Both lines meet at the Airport Station, which is in the domestic terminal.
If you need to travel to and from the international terminal, there is a free shuttle service outside baggage claim that goes between terminals.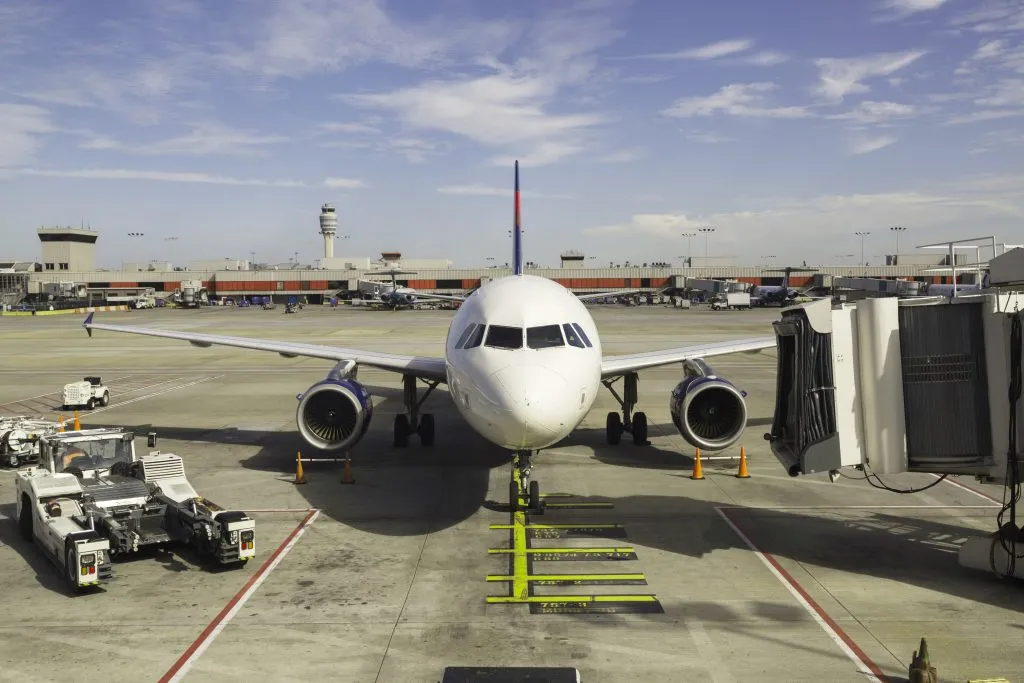 Alternatively, if your airline lets you check into the domestic terminal, you can get to the International Terminal (Concourse F) via the Plane Train, which is the airport's free transportation service between all terminals.
MARTA costs $2.50 per person each way and 4 transfers are allowed within a 3 hour period.
If you plan to travel across the city, a 2 or 3-day pass may be better financially as they cost $14 and $16, respectively.
You also need to purchase a Breeze Card to load fares onto, which costs $2 per card.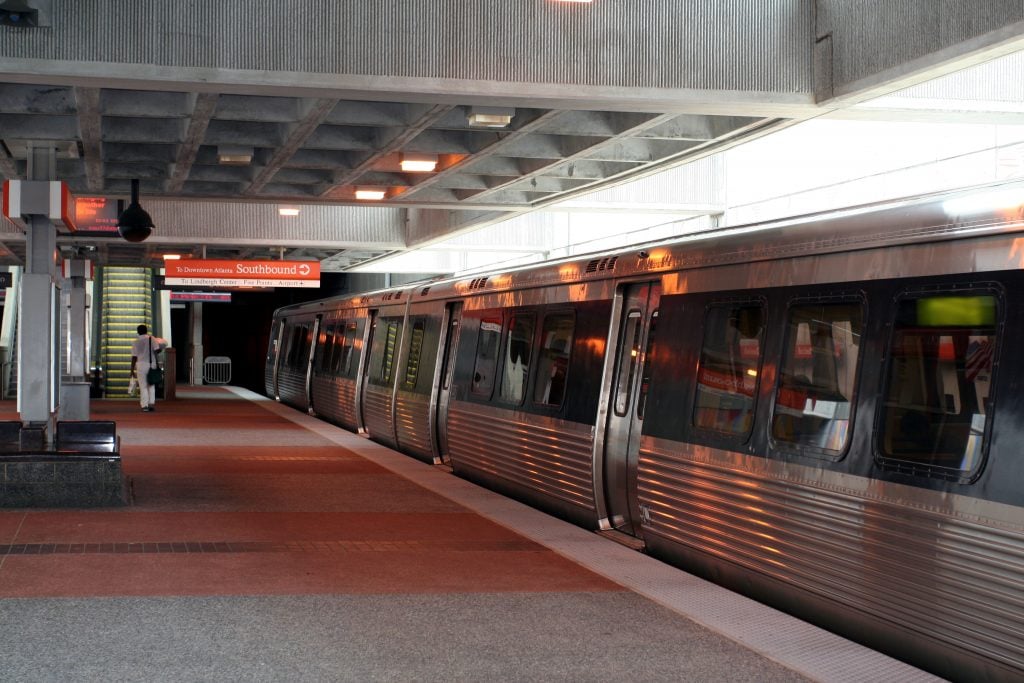 Ride Share
Rideshares in Atlanta are also readily available and are pretty inexpensive at $10-$15 on average.
These are good alternatives especially if traveling outside MARTA's operating hours which are 6:00 am-1:00 am.
On Foot
However, the best way to get around Atlanta, especially for this itinerary is to walk!
Most of these activities are within walking distance of each other.
There is so much to see walking around the city like murals, tiny doors, and even small shops to browse.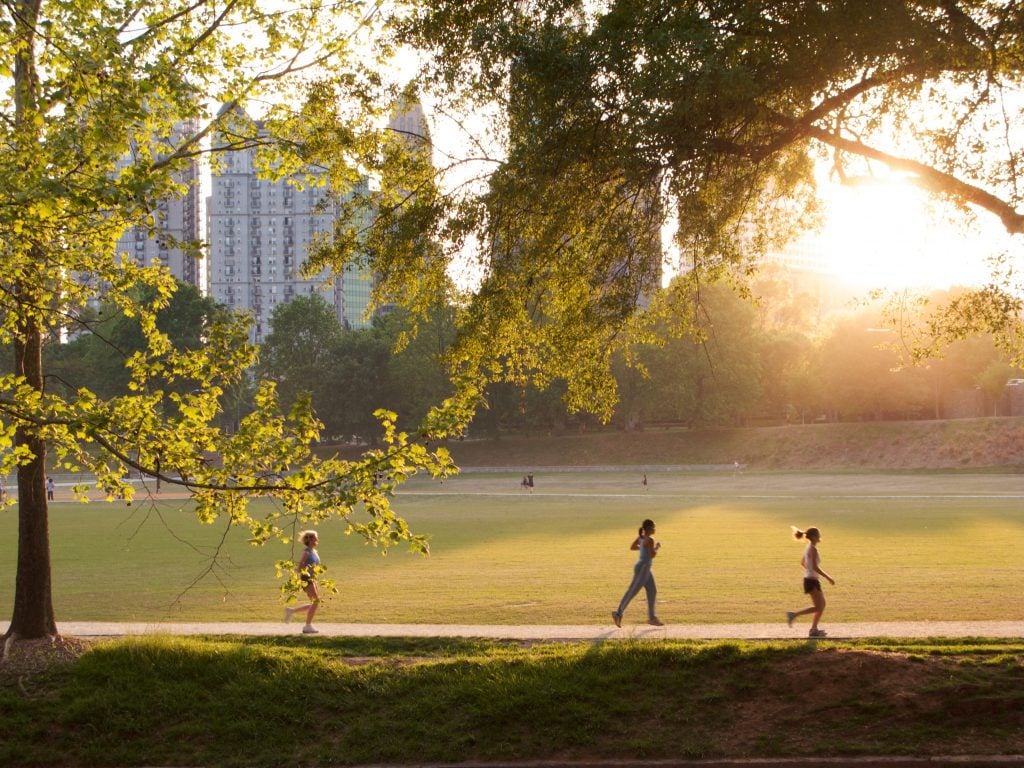 By Car
If you want the most flexibility, renting a car is certainly an option. Atlanta is typically very parking friendly.
All the museums have their own lots as well as the hotels, although you may need to pay extra.
If you're on a tight budget, consider renting a car only when you need it, rather than for the duration of your trip.
Shop rental cars for your weekend in Atlanta today!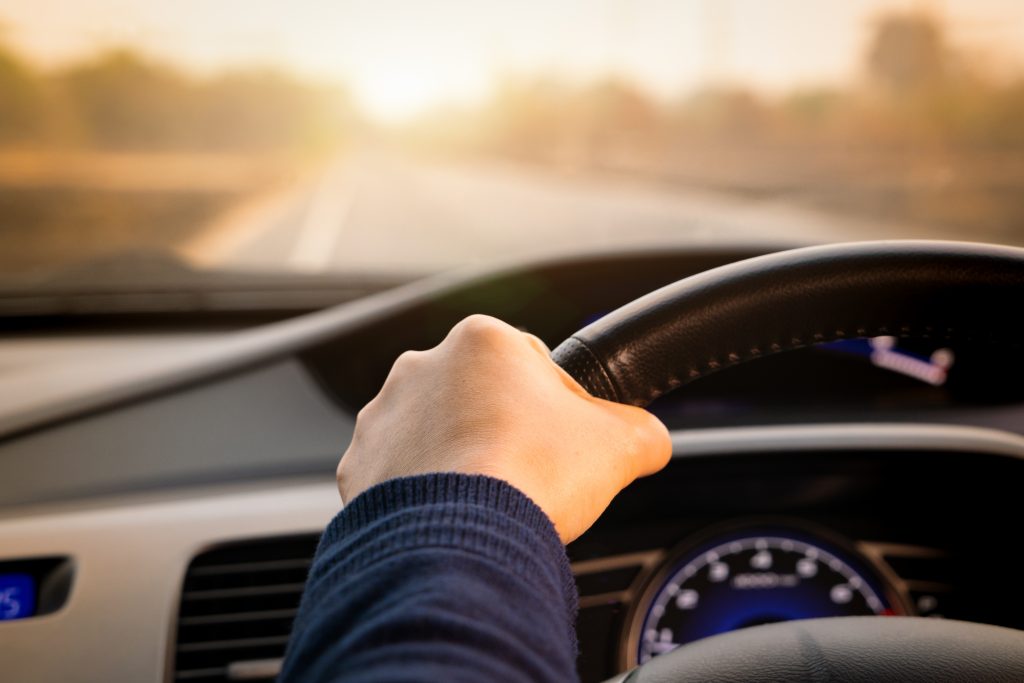 When to Take an Atlanta Weekend Getaway
While you can have a great weekend in Atlanta year-round, if you have a choice, spring and especially fall are the best times to visit.
Summer can be a fun time to visit, but Atlanta does get very hot with temperatures up to 100 degrees F and high humidity.
The summer also brings bugs, namely mosquitos.
If you travel in the summer be sure to bring your sunscreen and bug spray!
Not to mention, attractions are more crowded in the summer as that's when most families are traveling.
The summer does have many fun festivals to attend, however, such as Music Midtown in early September and lots of food and drink festivals, like Atlanta Summer Beer Fest.
The winter may seem like a good time to visit because the summer heat is long gone.
However, Georgia does get seasons so the trees lose their leaves and a deep chill comes in.
All in all, it looks pretty bleak in the wintertime. Atlanta does have a couple of fun holiday activities like the lights at the Botanical Garden and a Christmas market.
This brings us to fall and spring. During both of these seasons, the weather is milder and the foliage is alive and beautiful.
Spring has a couple of fun music festivals called Shaky Beats and Shaky Knees in May, which are electronic and rock music, respectively.
The cherry blossoms also bloom in early spring so it's a beautiful sight to see.
The fall is the best time to visit for a few reasons.
First college football is well underway, which is a fun thing to experience if you never have.
There are a few festivals to attend that are more pleasant given the cooler weather, like Taste of Atlanta in October.
Useful Atlanta Travel Tips for Your Getaway
Indulge in all the food.
It's no secret that the South whips up some delicious, yet slightly unhealthy meals.
In a classic meal, you can expect lots of butter and not as many vegetables (unless they're served with bacon and more butter).
So when you get a chance to try all the Southern food, indulge a bit.
The food really is delicious and it's such an essential part of the culture here, you don't want to miss it.
Of course, you can find healthy options and places that cater to dietary needs, if you need.
But, if you can be open to Southern food at its purest, you won't be sorry!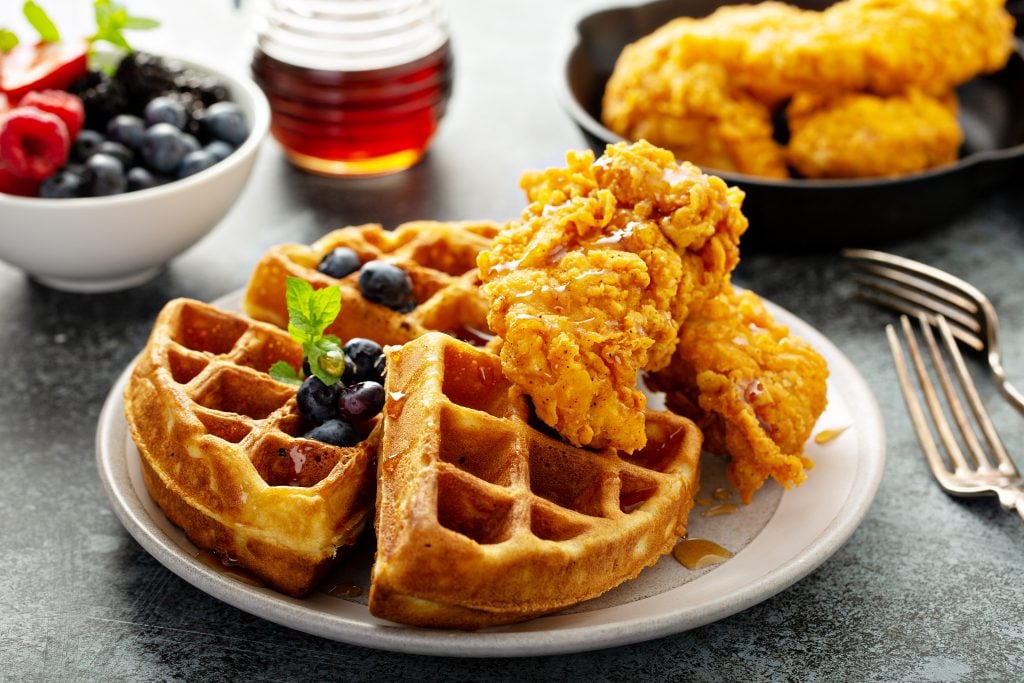 Consider avoiding driving, even if you're experienced.
Atlanta's heavy traffic and gigantic interstates are widely known, and as a visitor getting to know Atlanta in 3 days, the best way to experience them… is to avoid them altogether.
If you can stick with public transportation, you'll be happy you did!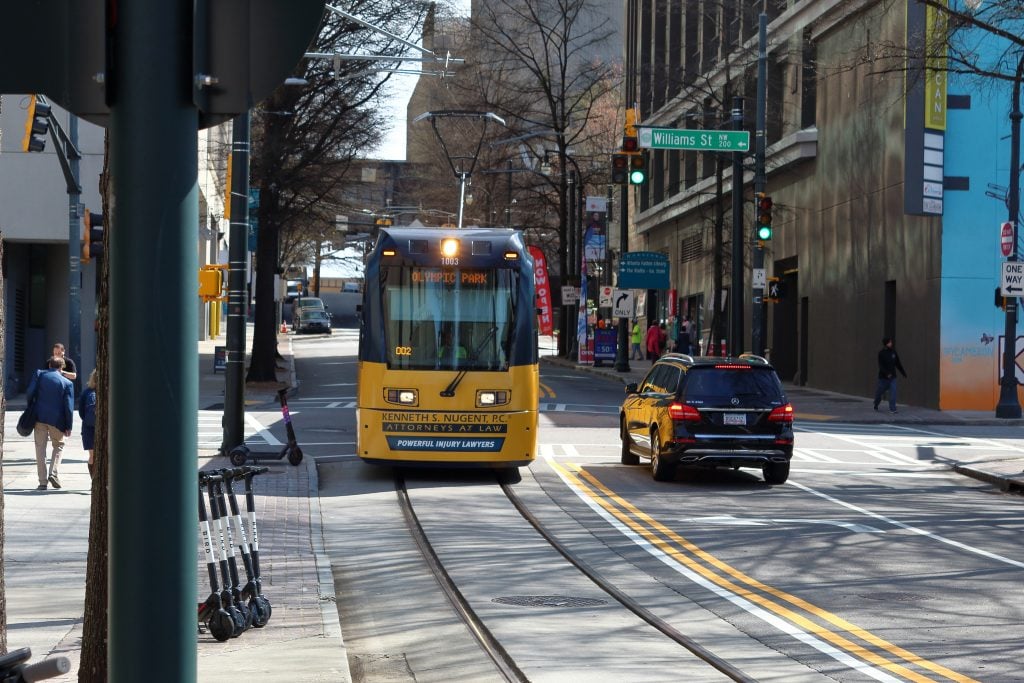 Embrace brunch culture.
Atlanta loves brunch. It's a way of life.
So if you have time to find a restaurant on the weekend with an outdoor patio, restaurants usually have a special food and drink menu.
Just note that there are local laws preventing alcohol sales on Sundays before 11 am or 12:30 pm, depending on your exact location.
Try South City Kitchen in Midtown for southern brunch specialties like fried green tomatoes, pimento cheese plate, and a Midtown Mary, a local take on a Bloody Mary cocktail.
Wherever you choose to go, make sure you find time for at least one brunch during your 3 day weekend in Atlanta, Georgia!