Chewy crust, perfectly fresh tomato sauce, savory cheese that seems to dissolve on your tongue: these are just a few things to expect when devouring your first (and second, and dozenth) pizza in Italy!
If you're dreaming of enjoying plenty of pizza on your upcoming Italy trip but find yourself curious about what differences to expect between Italian pizza and your hometown version, then this guide to how to eat Italy's world-famous pizza is for you!
We've lost track of how many pizzas we've eaten in Italy at this point, but we're solidly into the triple digits–and expect to continue adding to that number in the future.
From the iconic Margherita served at Naples' famous L'Antica Pizzeria da Michele to (occasionally disappointing) delivery pizza served in far-flung towns across the country, to every level of experience in between, we've seen just about everything when it comes to Italian pizzerias.
Here are our top tips for ordering and eating pizza in Italy–including some cultural quirks you may not expect!
Essential Tips for How to Eat Pizza in Italy
Italian pizza comes in many shapes and varieties–but Pizza Napoletana is the gold standard.
While we'll continue talking in general terms about "Italian pizza" here, the reality is that there's far more than one version of pizza in Italy!
The gold standard, though, and the one which pizzerias across the country try to emulate with varying levels of success, is Neapolitan pizza from Naples (or in Italian, Pizza Napoletana).
Neapolitan pizza is iconic for good reason, and this is where you'll find the chewy crust cooked quickly in a wood-fired oven, the incredible Bufala mozzarella, and the delicious San Marzano tomatoes that Italian pizza is famous for.
Most of these Italy pizza tips revolve around Pizza Napoletana, but it's worth keeping an eye out for more hyper-local varieties as well, from Roman-style thin-crust pizza to sfincione in Sicily.
We'll cover a few different varieties of Italian pizza to be aware of in a section below, but for now, this is the style of pie to keep in mind when reading these pizza tips:
Go ahead–order a whole pizza for yourself.
Italian pizzas come in exactly one size–you won't see a small, medium, or large option on the menu–and it's meant to be consumed by one person!
In other words, no need to haggle with your companions over toppings: everyone can order exactly the pizza that they want.
Your pizza won't come sliced.
Get ready to put in a little elbow grease, because in Italy, your pizza comes as an intact, round pie.
Generally, you'll cut it using a standard knife and fork, but sometimes…
… and it may come with a pair of scissors to slice it.
Yes, scissors!
We've only run into this a couple of times, despite devouring more pizzas in Italy than we can count, but it does happen.
Italy may be famous for its wine, but with pizza, reach for beer.
While there are many, many traditional foods in Italy that are meant to be savored over a glass of local wine, pizza is not one of them!
In Italy, pizza is traditionally enjoyed with a cold beer instead.
A standard Italian Peroni is a classic order, but for something else cheap and (usually) local, ask for a birra alla spina (beer on tap).
Don't discount pizza bianca!
Not into tomato sauce?
Don't worry–pizza bianca has you covered.
While not as traditional as pizza rosso (red pizza), virtually every pizzeria in Italy will have a menu section for "white pizza", which generally uses cream or pesto as a base instead of tomato sauce (or in certain Roman variations, no base at all).
You'll even frequently find pizza carbonara on the menu here, inspired by the popular Roman pasta!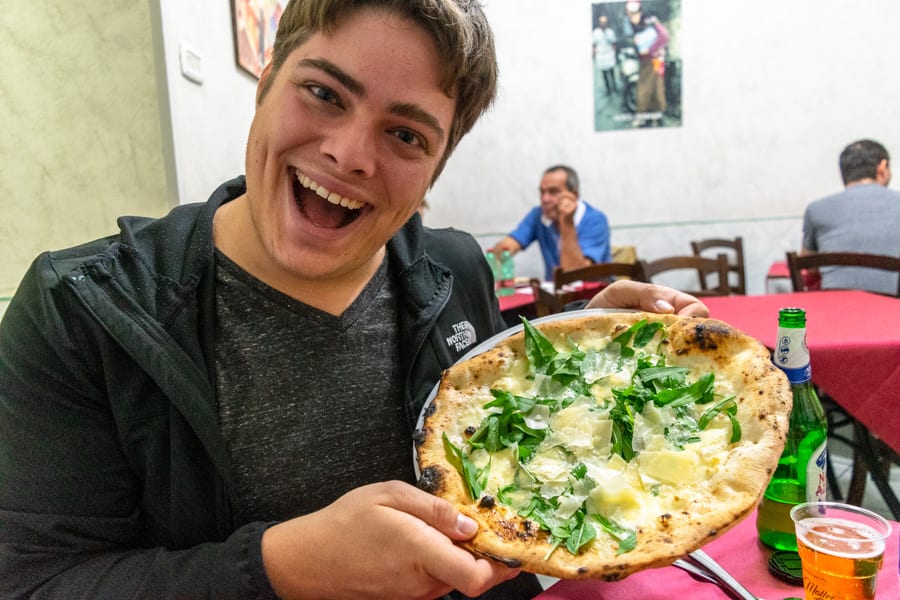 Look for a pizzeria with a wood-fired oven.
While the absolute best pizza Napoletanta can be found–where else–in Naples, pizzaioli (pizza chefs) across the country make delicious, Naples-inspired pizzas.
And the one piece of non-negotiable equipment they need to do so (other than those delicious and fresh local ingredients) is a wood-burning pizza oven.
If you confirm a pizzeria uses one, odds are you'll enjoy your pizza there very much!
(Incidentally, this is one of the major reasons that Venice doesn't tend to have good pizza–wood-fired ovens are banned there, so only a few pizzerias with ovens that were grandfathered in have access to this essential tool).
Don't expect to choose your pizza toppings from a list.
In Italy, pizzas are designed by the restaurant (or in many cases, are one of several very traditional Italian pizzas–more on that below) and not the customer.
There is no "choose 1/2/3 toppings" from a list option–what you see is what you get!
… or your style of crust.
Much like how the size of your Italian coffee is determined by the kind of drink your order rather than picking a size, the crust on your Italian pizza is determined by the style of pizza that pizzeria makes.
Typically, this is a variation on the Neapolitan crust–thin but very chewy, with raised edges–but there are others you'll see throughout Italy as well (more on that below).
Pizzerias often have extended hours (perfect for an early or late meal).
Restaurants in Italy are known for their limited hours, often opening from 7:00 PM to 10:30 PM or so for dinner (give or take).
Pizzerias, though, often have more extended hours, opening earlier in the evening and staying open later at night.
If your stomach isn't perfectly lined up with the Italian dining schedule yet, that can make pizza an even more tempting dinner option!
Keep your translation app handy when ordering pizza in Italy.
While some pizzerias, especially in tourist-friendly neighborhoods, will include English translations with their menus, most will not!
And while your Italian (food) language skills will probably improve throughout your trip, memorizing the Italian word for each and every possible pizza topping is a big ask.
Translation apps are your friend here (we normally just use Google Translate).
If you want to eat pizza like a (fancy) Italian, pick up your knife and fork.
Traditionally, pizza served in Italian pizzerias is eaten with a knife and fork, rather than with your hands.
Sliced pizza served as a street food is more traditionally eaten by hand.
However, in practice, this varies wildly (unless you're in a particularly upscale place).
You'll definitely need a knife and fork (or scissors) to start with, though, since pizza in Italy doesn't come sliced!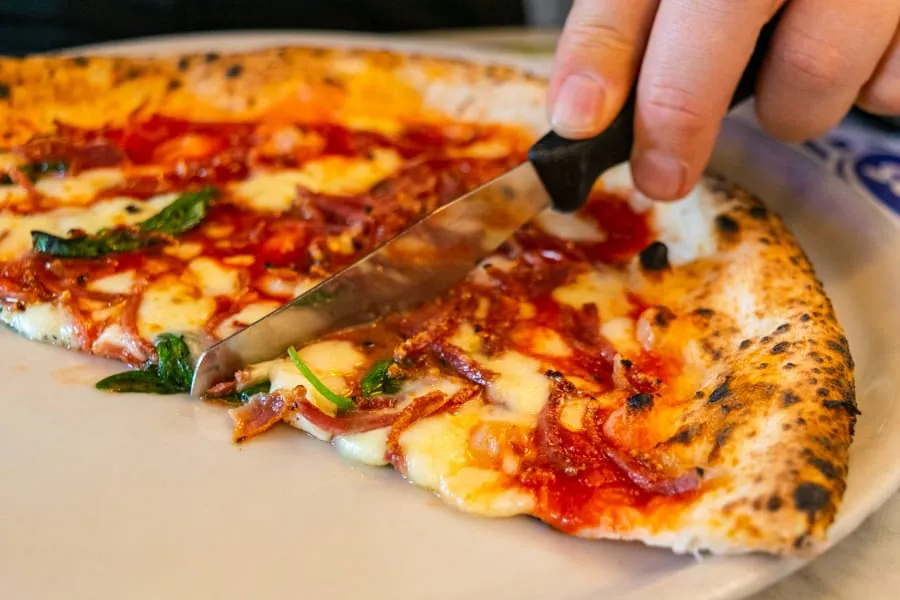 You're not reading the menu wrong: pizza in Italy is very affordable!
Prices vary wildly depending on region, of course, but wherever you are, you can expect a pizza served in a sit-down pizzeria to be about the same price–or even a bit cheaper than–a basic pasta.
In southern Italy, you can easily find pizza for well under 10 Euro, and the Margherita pizza from the legendary L'Antica Pizzeria da Michele in Naples only costs a flat 5 Euro!
(Though I can't resist mentioning that is a full Euro higher than the 4 Euro we paid on our first visit back in 2018–things change!).
Different Styles of Pizza in Italy
While you won't exactly find a thin crust, homestyle crust, or pan crust option when eating pizza in Italy–let alone anything resembling the Chicago deep dish–there are nonetheless several styles of Italian pizza you may run into!
Very briefly, here's what to keep an eye out for…
Pizza Napoletana
Pizza Napoletana, or Neapolitan pizza, is the most iconic Italian pizza style, born in Naples and copied (with varying levels of success) across the country and world.
Simple ingredients left to shine on their own terms, and a thin-but-chewy crust with raised edges that cooks in about 90 seconds or so are the hallmarks of this famous pizza.
Most of this guide to how to eat pizza in Italy is focused on Neapolitan-style pizza, and it's the most common version you'll come across.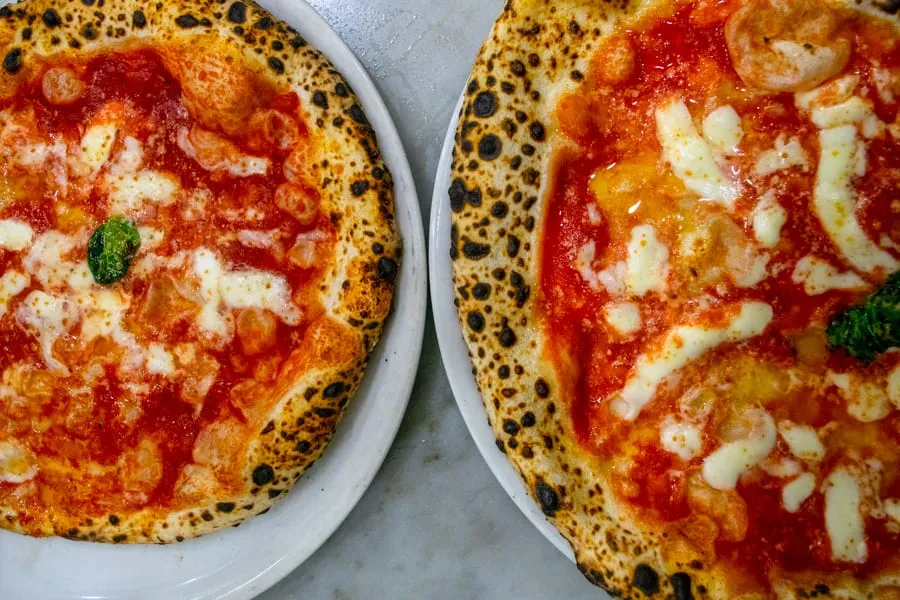 Pizza al Taglio
Pizza al Taglio, or pizza "by the cut" is baked in a large rectangular tray and then served casually as a takeaway or street food.
This style of pizza is from Rome, though you'll also find it in other places around Italy today!
Pizza al Taglio is generally sold by weight, and is perfect for a quick snack between sightseeing stops or if you want to grab something quickly to bring back to your hotel room.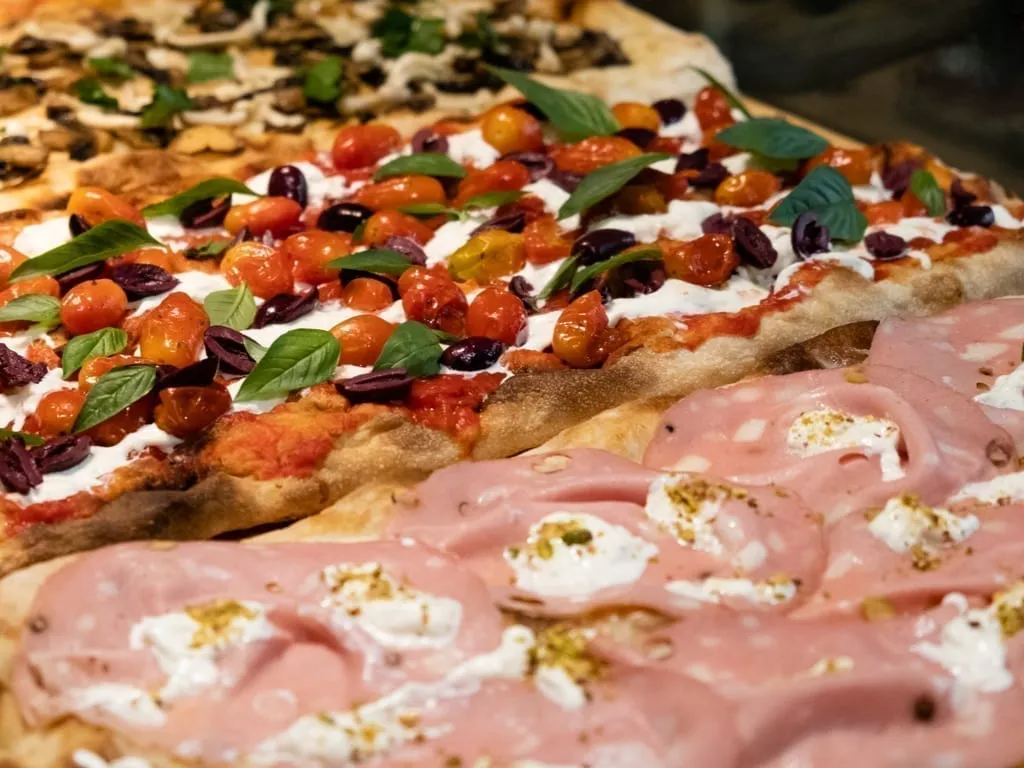 Sfincione
Sfincione, or Sicilian-style pizza, originated in Palermo as a popular street food!
This pizza features a thick crust and is generally topped today with tomato sauce, pecorino cheese, olive oil, onions, and–frequently–anchovies.
It bears very little resemblance to the "Sicilian pizza" served in American pizzerias, though if you squint, you can maybe see a slight inspiration (the thick crust, basically).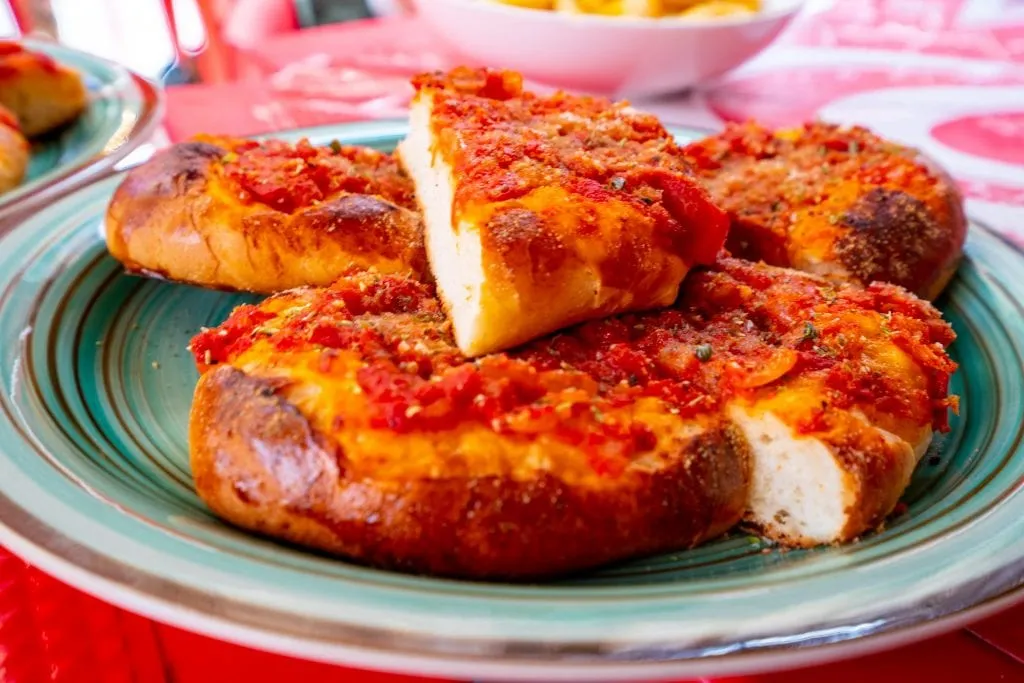 Pizza alla Romana
Originating in Rome but now seen far outside the city, Pizza alla Romana is, like the iconic Neapolitan pizza, a round pizza served on a round plate.
Unlike Neapolitan pizza, though, Roman pizza has a thin crust all the way through (no raised edges to hold in toppings), and has a crispier base, thanks to the oil added to the dough.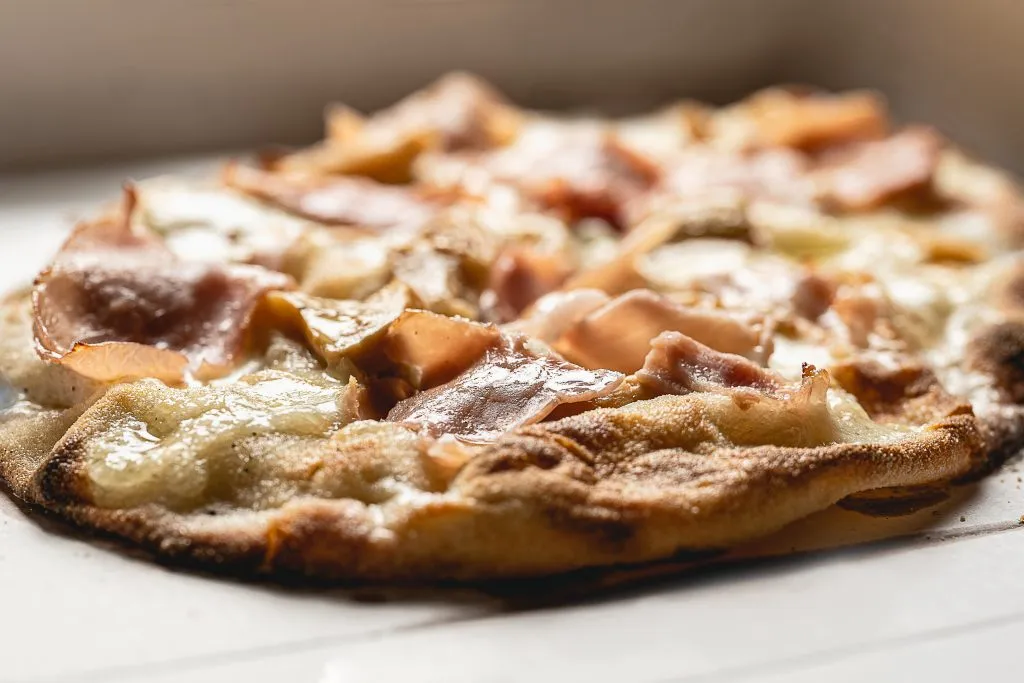 Pizza al Padellino
Translated as "pan pizza" (though not quite like the kind served in the US), Pizza al Padellino is baked in small, round pans.
It's the closest that a traditional pizza in Italy comes to a deep-dish pizza!
However, since it's from Turin, the (underrated) capital of Piedmont, most first-time visitors to Italy are unlikely to run into it.
(For what it's worth, though, the Piedmont region is incredible and absolutely worth visiting for food, wine, history, and nature lovers!).
Pizza alla Pala
Translated as "paddle pizza" due to the fact that it's traditionally served on a wooden paddle, this Italian pizza is typically cooked in an electric oven.
Made with "stretched" dough that has a higher rise, it's a great option for enjoying a less common pizza in Italy.
Pizza Fritta
Fried pizza, or the "other" Naples pizza, is–you guessed it–made with fried dough and toppings.
As the story goes, it was born out of food and equipment shortages post-WWII, and has gone through waves of popularity since.
It's also delicious, and a different kind of pizza experience in Italy!
10 Common Types of Pizza to Order in Italy
While many pizzerias in Italy offer their own creative creations alongside the classics, there are certain Italian pizzas that can be expected to be found on most, if not all, pizza menus in Italy.
This list is absolutely not exhaustive, but it should give you an idea of some classic options that you can expect to see again and again (though keep in mind you'll probably come across a few regional or even just restaurant-specific variations).
Here are some of the most common pizzas to order in Italy!
Margherita
If you only sample one classic pizza in Italy, make it this one: Pizza Margherita is an absolute icon in both Naples and in Italy as a whole!
Traditionally made with San Marzano tomatoes, mozzarella di bufala, basil, and olive oil, it's as simple as it is perfect (and conveniently resembles the Italian flag).
Pizza Margherita is the most traditional pizza in Italy, and almost certainly the most eaten as well!
If you're outside of Naples, the tomatoes used may be different and the mozzarella may not be bufala (or you may have the option to upgrade to the sought-after bufala for a Euro or so), but a Margherita will almost certainly be on the menu in any Italian pizzeria.
Marinara
The simplest traditional Italian pizza of them all, Pizza Marinara lacks even cheese!
Made with tomato sauce, oregano, olive oil, and garlic, ordering a Marinara gives the crust and tomato sauce an opportunity to shine.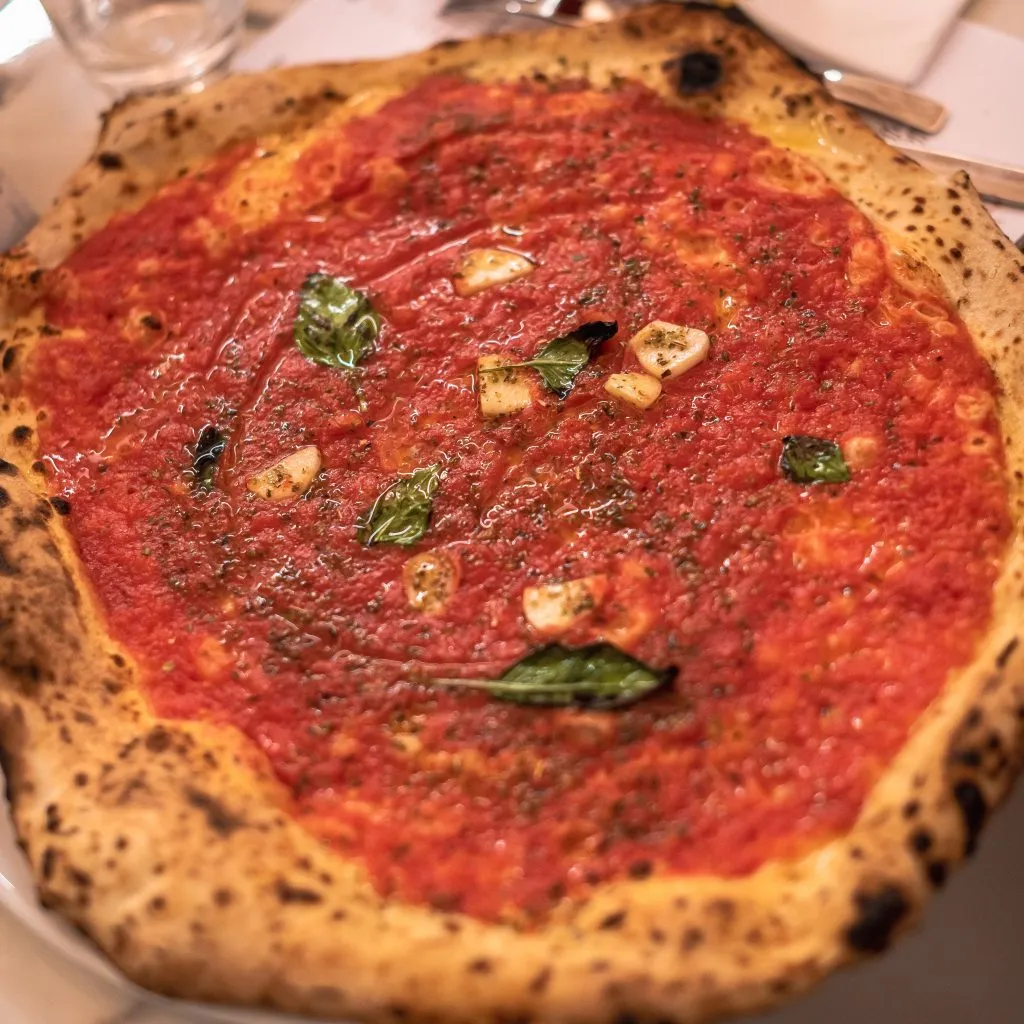 Diavola
If you're a pepperoni pizza fan at home, a Diavola is the closest thing you'll find on Italian pizza menus!
Made with mozzarella cheese, tomato sauce, spicy salami, and often hot peppers or chilis, it's delicious and has a tiny bit of a kick.
Some variations also include black olives.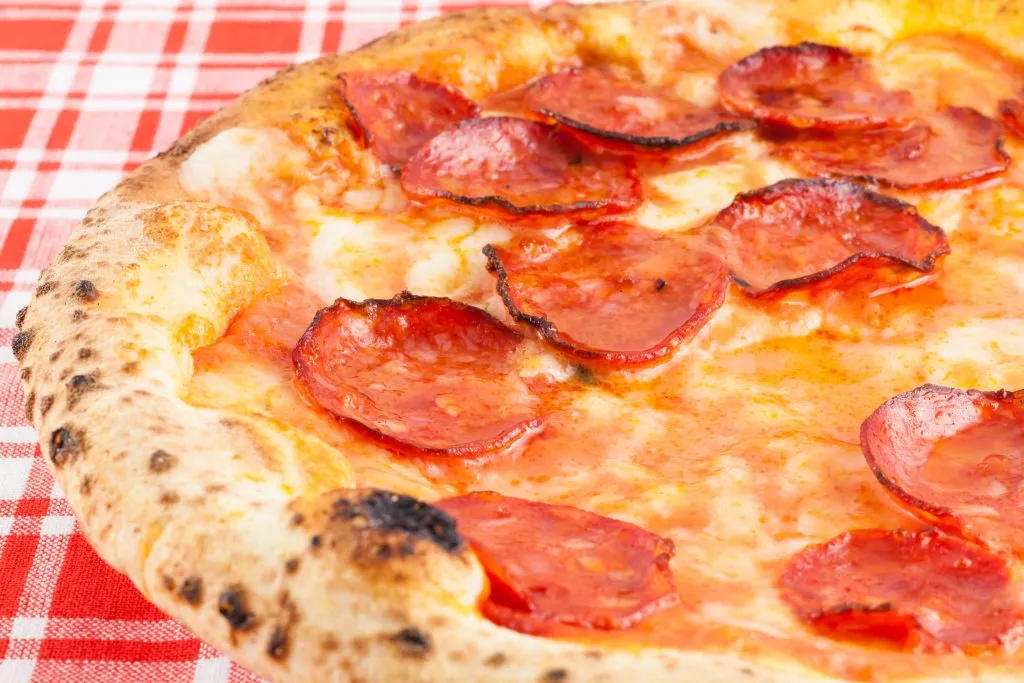 Quattro Formaggi
Quattro Formaggi literally translates as "four cheeses", and that's exactly what you can expect when ordering this traditional pizza in Italy!
Originally from Campania (like so many of Italy's pizza traditions), the most common four cheeses used were mozzarella, gorgonzola, fontina, and parmigiano-reggiano.
Other than the mozzarella and gorgonzola, though, the cheeses can vary a bit based on pizzeria and region!
This pizza is also sometimes served with tomato sauce and sometimes served as a pizza bianca.
If you're traveling with a kid (or adult!) who's on the hunt for a simple "cheese pizza", a Quattro Formaggi will probably look and feel more familiar than a Margherita.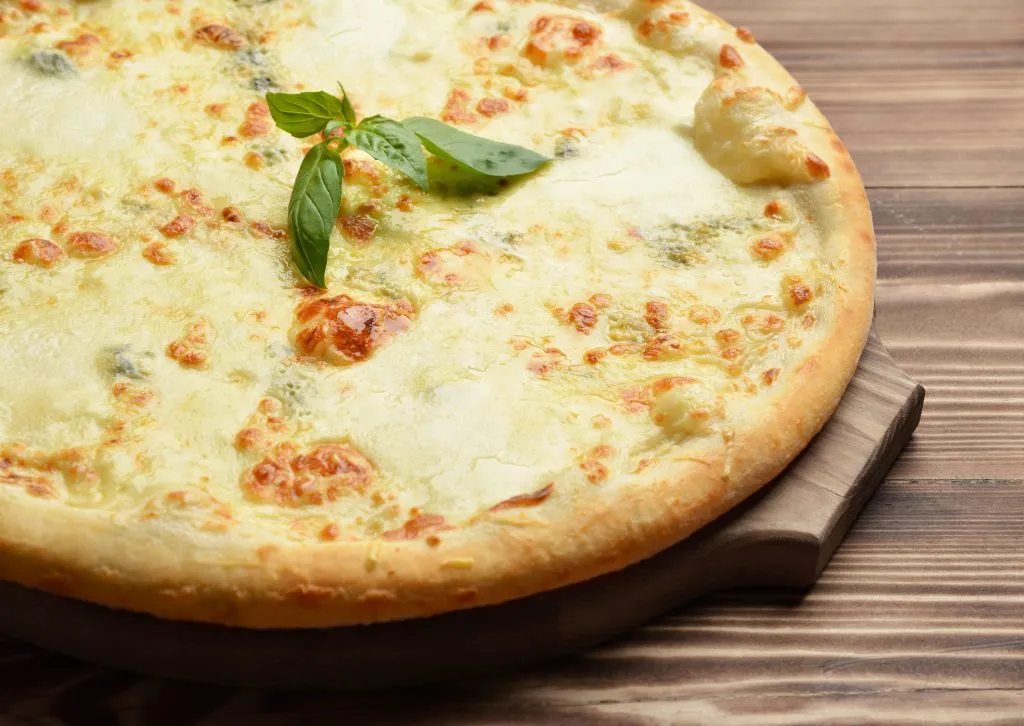 Quattro Staggioni
Perfect for travelers who want to try a bit of everything, the Quattro Stagioni (or "four seasons") pizza includes tomato sauce and mozzarella topped with olives, ham, mushrooms, and artichokes.
Each of the final four toppings covers its own quadrant of the pizza, offering an experience that's something like ordering four pizzas in one!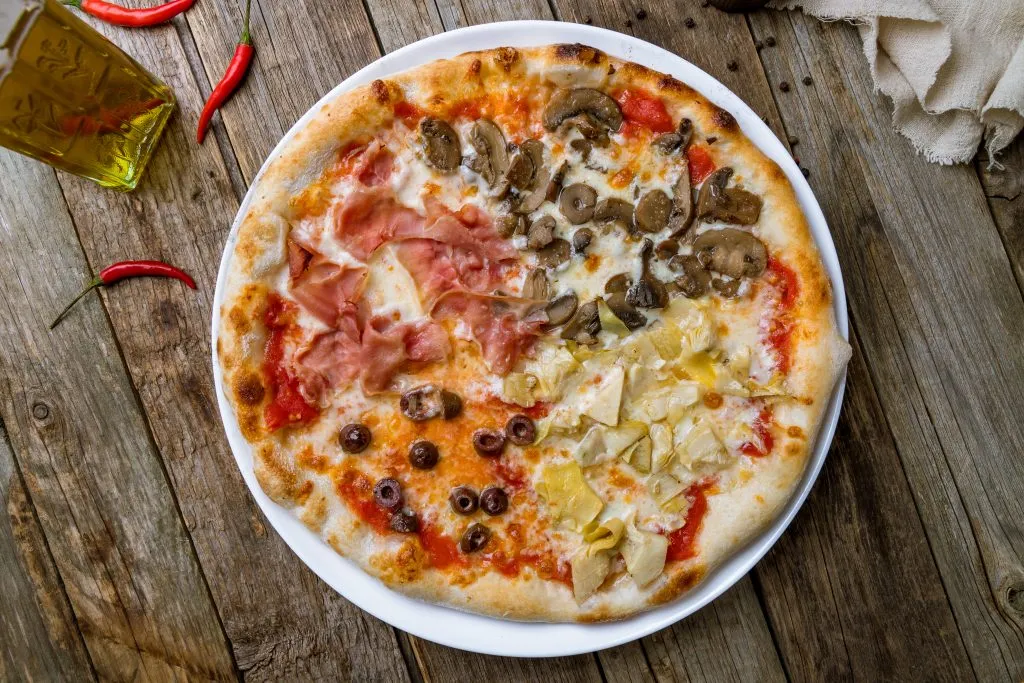 Capricciosa
One of my personal favorites (you'll catch me eating this pizza several times on every trip to Italy), the Capricciosa is more or less a "mixed up" version of a Quattro Staggioni.
In other words, you can expect to find tomato sauce and mozzarella topped with ham, mushrooms, artichokes, and olives–but with all of the toppings spread across the pizza.
I do often stumble across regional variations here, including some pizzerias that include peppers and/or salami, or subtract the olives, but the most traditional version is as listed above.
Prosciutto e Funghi
Simple and delicious, this classic pizza is served with tomato sauce, mozzarella, prosciutto cotto, and mushrooms.
It's not complicated, but it is a staple on pizza menus in Italy!
Prosciutto e Rucola
To travelers from the US like us, cold ingredients served on top of a pizza may be a bit unexpected–but fresh arugula in particular is a very popular pizza topping in Italy!
Prosciutto e Rucola, or prosciutto (ham) and argulua, pizza combines the saltiness of the prosciutto with the crispness of the argulua for a delicious combination.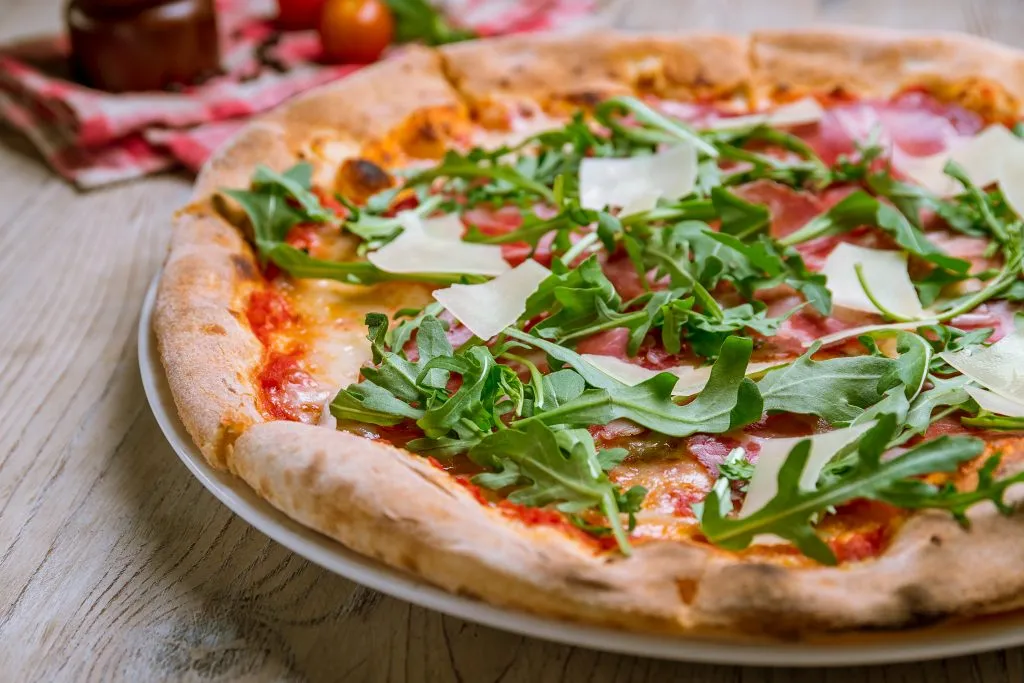 Ortolana
The go-to vegetable-topped pizza in Italy, an Ortolana is traditionally topped with eggplant, zucchini, artichoke hearts, and bell peppers–plus tomato sauce and mozzarella.
Pizza Ortolana literally translates as "greengrocer's pizza", and you can see the inspiration!
Like a Capricciosa or Diavola, though, you'll find plenty of local twists on which vegetables are included, so give the menu a thorough perusal if there are some veggies you'd rather not see on your pizza.
Frutti di Mare
Literally seafood pizza, Frutti di Mare is traditionally topped with scampi, mussels, or squid.
If you're a seafood lover visiting one of the many beach towns in Italy, it's a must-order!
Read More About Food Culture in Italy
Enjoy these tips on how to eat pizza in Italy and want to dive further into Italian food and culture?
You can browse our 100+ Italy blog posts here, or check out some more of our Italy food guides: