There's a reason Trastevere is such a popular neighborhood in Rome: with its colorful buildings, winding cobblestone streets, oodles of restaurants, and relaxed vibe, Trastevere is exactly what a lot of tourists come to Rome looking for–so it stands to good reason that a Trastevere food tour would be an excellent idea, right?
We're no different than most visitors: we adore Trastevere and consider it one of the most photogenic neighborhoods in Rome.
So, when choosing a neighborhood to devour some tasty Roman cuisine in on a food tour during one of our recent trips to Rome, Trastevere immediately came to mind.
Here's what we found on our delicious Trastevere food tour–and why we think you should take one!
Some links in this post may be affiliate links. If you make a purchase through one of these links, we may earn a small commission at no extra cost to you. Please see our

disclosure policy

for more detail.
A Bit About Trastevere
Once an immigrant and working-class neighborhood with a smattering of villas belonging to the wealthy, and later an artistic enclave attracting writers, artists, and political thinkers, Trastevere has emerged into mainstream consciousness in recent decades and become one of the current trendiest neighborhoods in Rome.
A combination of its beauty, the fact that it is home to several universities, and its artistic spirit means that it has become increasingly popular with not only artists but students and many, many expats.
Today, Trastevere is busy and bustling and is one of the most sought-after places for people to stay during their visit to Rome due to a combination of its charm, proximity to plenty of tasty things to eat in Rome, and easy access to Centro Storico across the river.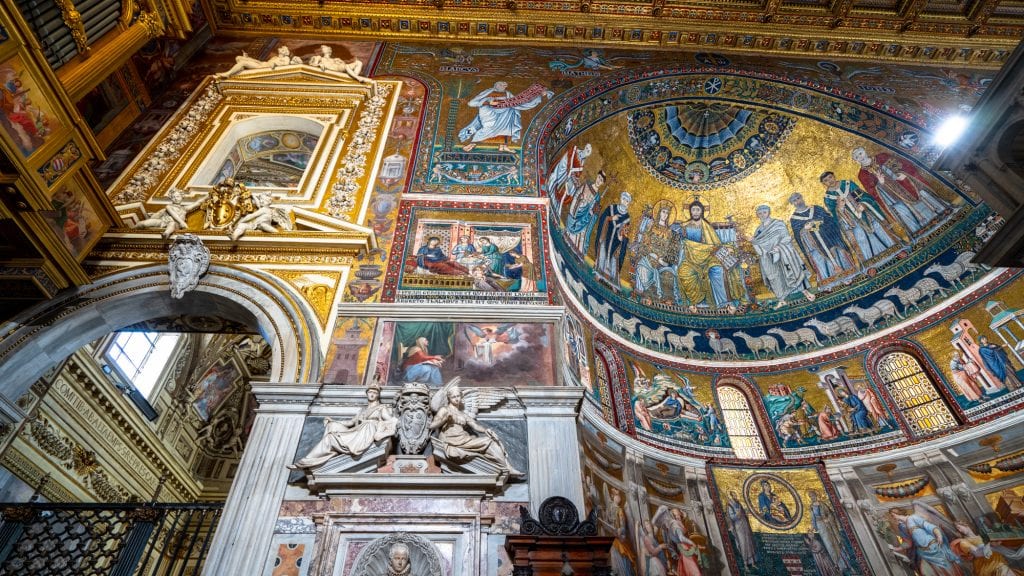 Why We Took a Trastevere Food Tour
Nearly 3 years of full-time travel and many trips to Italy later, we often get asked if we still think tours are "worth it".
The answer is simple–especially when it comes to food tours–that we think they're now more valuable than ever.
While we love exploring independently and spend most of our time doing so, we get value out of each carefully chosen day tour we take, and absolutely adore the extra knowledge we gain by having a good guide along for the ride.
Plus, what better way to taste a dozen delicious things in a row and learn about food in Rome than by taking a food tour?
On one of our most recent trips to Rome, we knew a Trastevere food tour was on our list: we wanted to spend some additional time in the beautiful neighborhood across the Tiber, wanted to eat some tasty food, and wanted to make the most of our time in the city.
It ended up being an excellent idea: we loved our Trastevere food tour and can heartily recommend it.
You can book the same Trastevere food tour we took here!
Highlights of Our Trastevere Food Tour
When we met our guide Ricardo on Tiber Island to begin our food tour, we knew it was going to be an excellent day.
Ricardo was knowledgeable and entertaining, the sun was shining, and despite taking our tour in February, the weather was mild.
Here are some of our favorite moments from our Trastevere food tour.
Discovering a cookie store so popular that it doesn't have a sign out front.
Given its popularity with both locals and tourists, it's hard to call Biscottificio Artigiano Innocenti a secret, exactly–but let's call it a place for people in the know, hidden down one of Trastevere's remaining quiet streets, far from the busy streets crawling with restaurants and bars.
This cookie shop is packed full of delightful sugary treats, smells like heaven, and their most popular cookie is called brutti ma buoni–literally translated as "ugly but good" (and "good" is underselling it a little if you ask us).
The thing you notice immediately upon walking into the shop? The giant yellow oven, straight out of the 1950s.
According to the shop owner, parts are no longer being made to service it–they have simply learned to fix it themselves when the situation arises.
Chowing down on some incredible carbonara.
We have made no secret of the fact that we adore carbonara: it just might be our favorite food in Italy, and that is really saying something.
So, when we learned that our Trastevere food tour included a visit to a restaurant literally named Eggs, we were both thrilled (carbonara!) and surprised (it's so modern?).
Ricardo told us that the restaurant was known for serving very traditional carbonara in a very modern environment–and considering that we ended up literally scraping up every last bit of sauce we could get out of our pans, we would say they did a great job.
Arguably even better? Ricardo happily provided us with a list of other great restaurants around the city to find incredible versions of our favorite dish–so we have some more eating to do on our next trip(s) to Rome.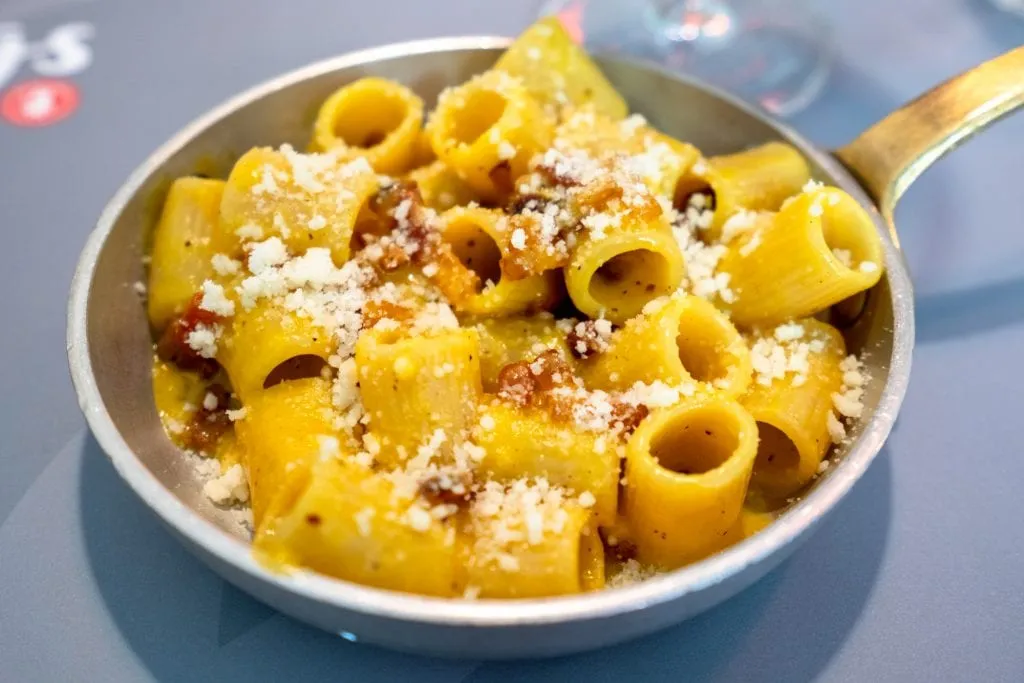 Visiting a local food market and eating the best Caprese salad of our lives.
We love checking out local food markets wherever we go–but nowhere more than Italy, where to food is constantly delicious and the prices nearly always wonderful.
Given that we took our food tour through Trastevere in February, we weren't exactly expecting to experience a Caprese salad–but this is Italy, after all. We should have known.
Juicy, delicious tomatoes brought in from Sicily paired with incredibly fresh mozzarella, crisp basil leaves, and drizzled with finger-licking-good Italian olive oil–is there a better combination in the world?
We love Caprese salad any day of the week, but to have one made with such incredible ingredients served to us so unexpectedly was an extra special treat.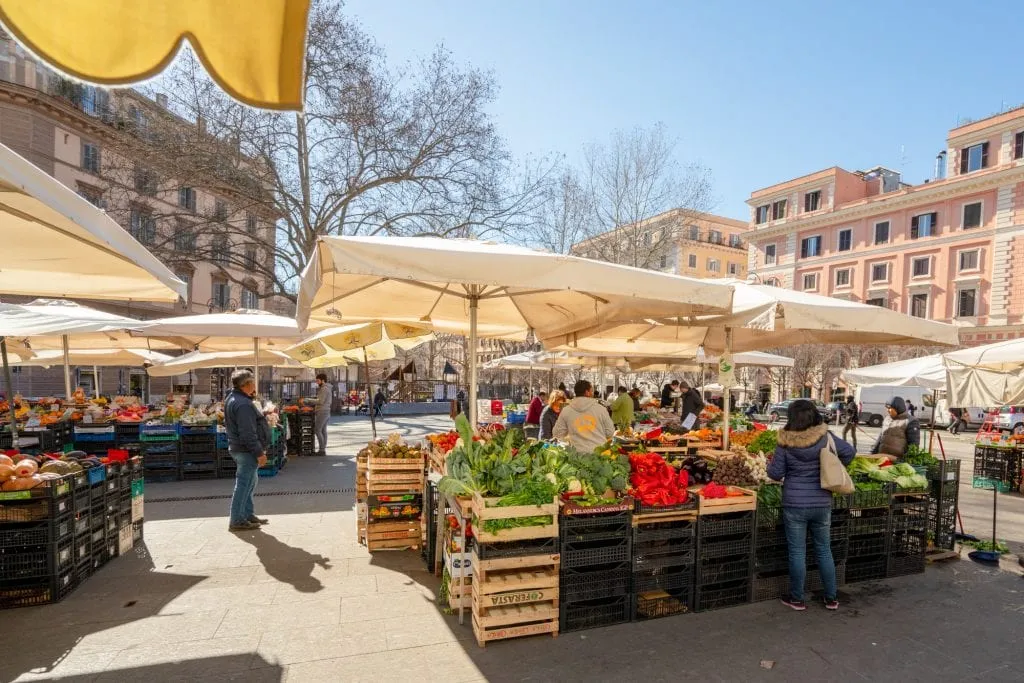 Learning all kinds of non-food-related facts about Trastevere.
We've had many wonderful tour guides in Italy, and Ricardo is definitely near the top of the list: his detailed knowledge about the neighborhood gave our Trastevere food tour depth that wouldn't have existed in the hands of a less passionate guide.
In addition to our food stops, we learned about the history of Tiber Island, ducked into the Basilica di Santa Maria in Trastevere's main piazza, and learned about what makes the basilica unique (hint: among other things, its mosaics include one of the world's only images of Mary breastfeeding baby Jesus), busted some Italian food myths, visited a gorgeous musical instrument shop, and discovered beautiful, quiet streets.
We also chatted about historical details regarding the neighborhood of Trastevere and Rome as a whole–like why the Roman dialect is primarily spoken in areas outside the city center these days and the effects of Trastevere's growing popularity.
As delicious as the food in Trastevere was–which is extremely–it's these kinds of details and personal touches that made our Trastevere food tour an incredibly memorable experience.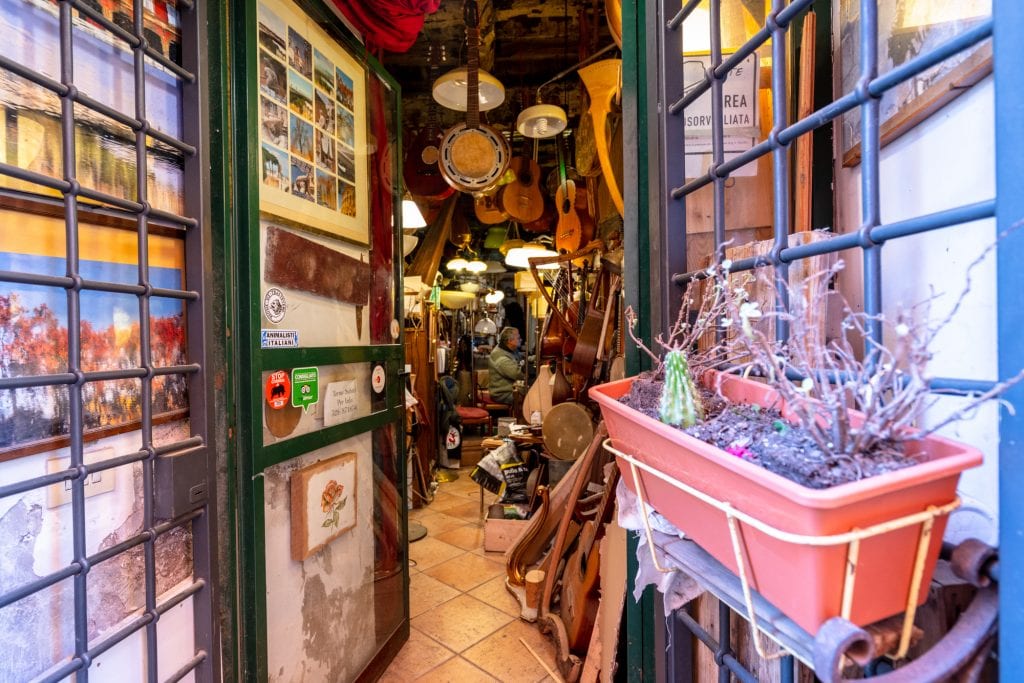 Book your Trastevere Food Tour Today!
Want to book the same Trastevere food tour we took? You can!
This is the tour we took–as you can see, it involves more stops than the ones we listed here, but we don't want to spoil the whole tour for you!
Suffice it to say, you'll be in great hands and leave the tour even more in love with Roman cuisine and Trastevere as a whole than when you started.
There are options for both a morning and an evening tour, so choose whichever one fits best into your Rome itinerary.
Keep in mind that this Trastevere food tour does sell out sometimes, especially in the summer, so book at least a few days ahead of time if you can!
Book your Trastevere food tour today!