Of all the regions of the USA, there's a good chance that (for non-locals) the Midwest is the most surprising–and that alone is an excellent reason to plan a Midwest road trip!
Packed with diverse national and state parks, incredible beaches (yes, beaches!), interesting cities, a seemingly endless array of quaint lighthouses and charming small towns, and so much more, the Midwest is far more than "flyover country".
Sure, many of the best road trips in the Midwest require a lot of time on the interstate.
And yes, visiting in winter probably isn't optimal for most first-time visitors.
But, if you've never visited the region before, any of these incredible Midwest road trip routes–many of them written by locals–are bound to leave you enchanted.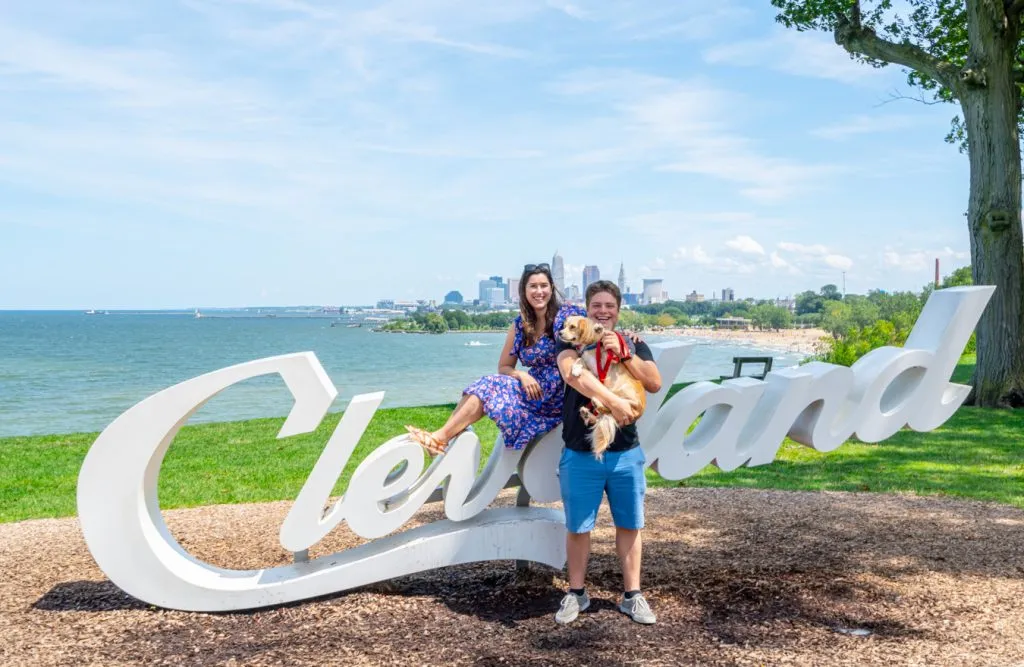 We asked several other travel bloggers to share their favorite Midwest USA road trip ideas with us, and they delivered a remarkably diverse set of routes, perfect for everything from weekend getaways to long vacations.
From the wide-open spaces of Theodore Roosevelt National Park in North Dakota to the stunning architecture of Chicago to the historic charm of Mackinac Island, there are so many incredible places to visit in the Midwest.
We have offered suggestions for the best hotels in each place but if you are doing this as a true road trip it is really cool to do it in an RV. You can rent incredible RVs and camper vans from Outdoorsy, book here for your next road trip!
Here are some of the best Midwest road trip itineraries to consider for your next vacation!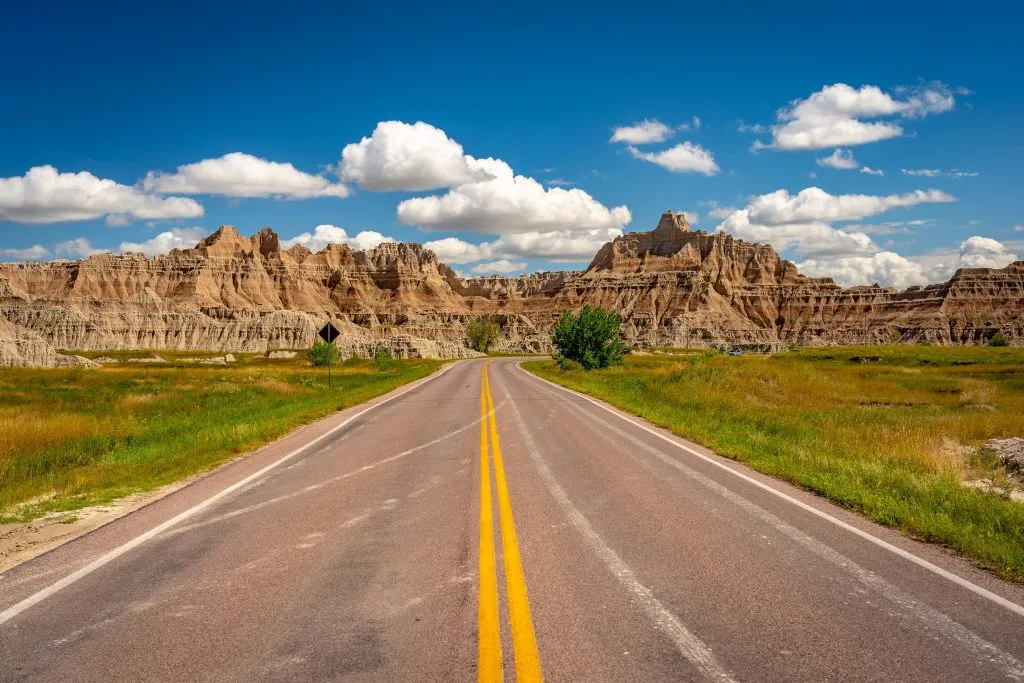 Quick Tips for Taking Your Midwest Road Trip
Don't underestimate the driving distances.
The Midwest is an expansive region with lots of wide open spaces, and that can lend itself to drives that are longer than some visitors might expect!
Be sure to check estimated driving times carefully when planning your route, and build in plenty of stops to stretch your legs.
… And also to check out the many quirky roadside attractions in the region, like the Corn Palace in South Dakota or the American Gothic House in Iowa!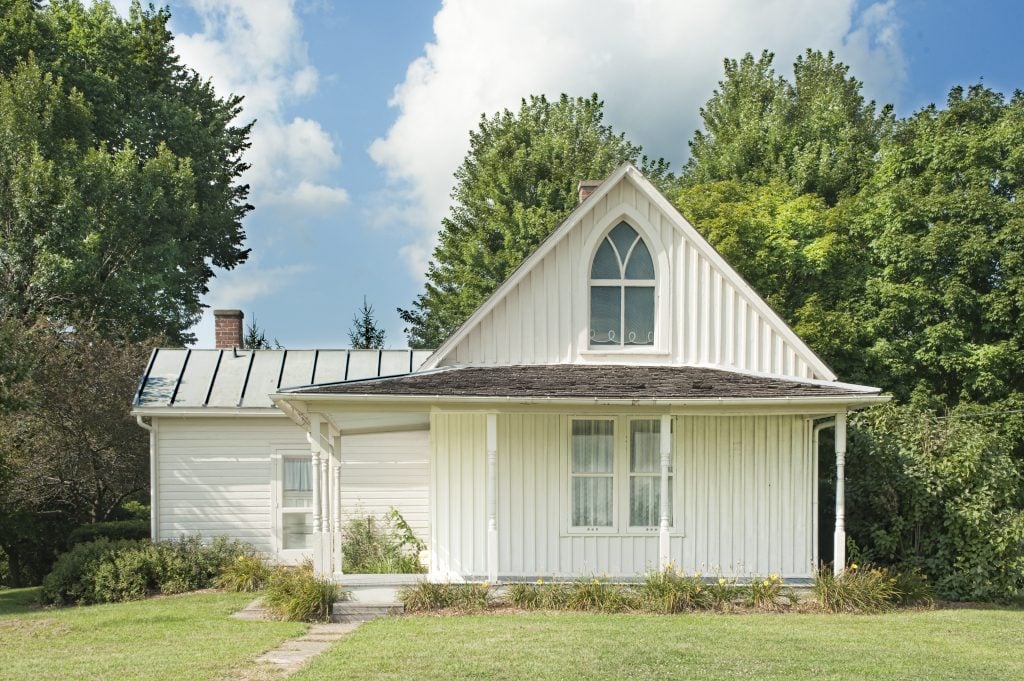 If you're renting a car, shop around.
The best company to rent a car from for your Midwest road trip will likely vary dramatically depending on where and when you're traveling.
Sometimes large international carriers offer the best prices, sometimes local outfits. Sometimes one company has an excellent base price, but terrible rental requirements.
The best way to find your rental car is to search through Discover Cars, which will sift through dozens of companies to find the best combination of low prices and reasonable rental terms for your road trip route.
Browse rental cars for your Midwestern USA road trip today!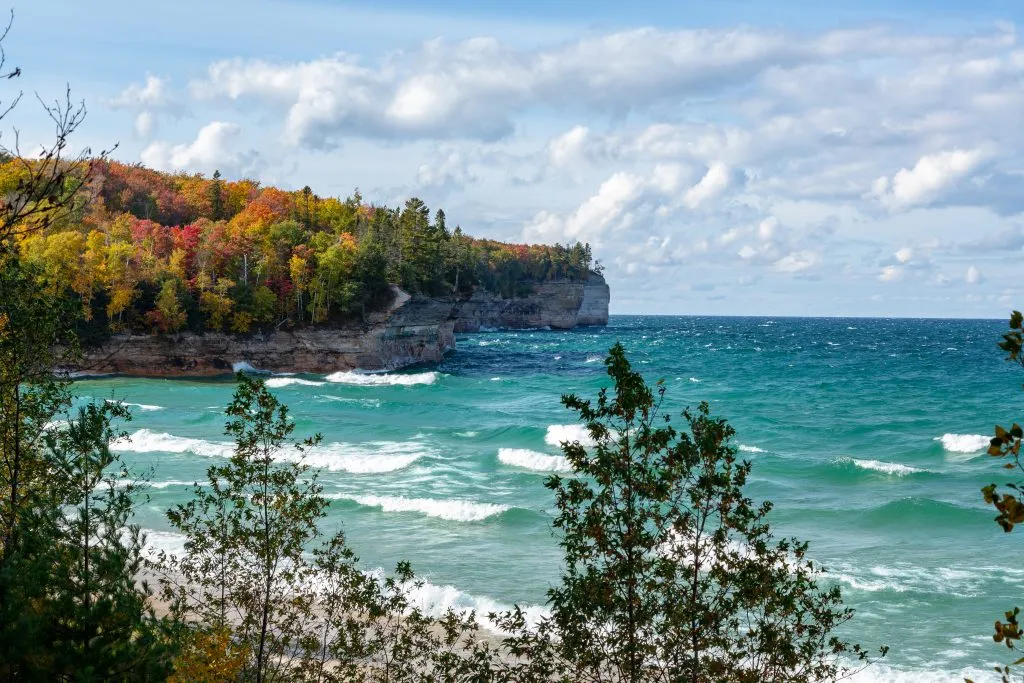 Read the rental requirements carefully.
Especially make sure you know how many miles you've been allotted (or ideally, if they're unlimited), if you need to return the car empty or full of fuel, what to do if the car breaks down, and what damages you're liable for in the event of an accident.
Make sure you pack the right gear.
From safety gear to snacks, a road trip in the Midwest requires bringing the right tools along, whether you're taking a short vacation, trying out van life, or something in between.
We recommend taking a look at the suggestions on our road trip packing list before you go!
Don't overextend yourself.
Exploring all of the incredible places to visit in the Midwest is a project for a lifetime, not one trip!
As tempting as it is to add on additional driving to stop at just one more waterfall, lighthouse, or small town, make sure that you leave enough time to thoroughly explore each destination rather than spending the entirety of your vacation driving from one spot to the next.
Be prepared to be surprised!
If this is your first trip to the Midwest, there's a good chance that its diversity and beauty will enchant you in all the best ways.
When exploring the Midwest, beautiful beaches, delicious food, gorgeous fall foliage, incredibly warm people, and dynamic cities–among many other treasures–are just around the corner.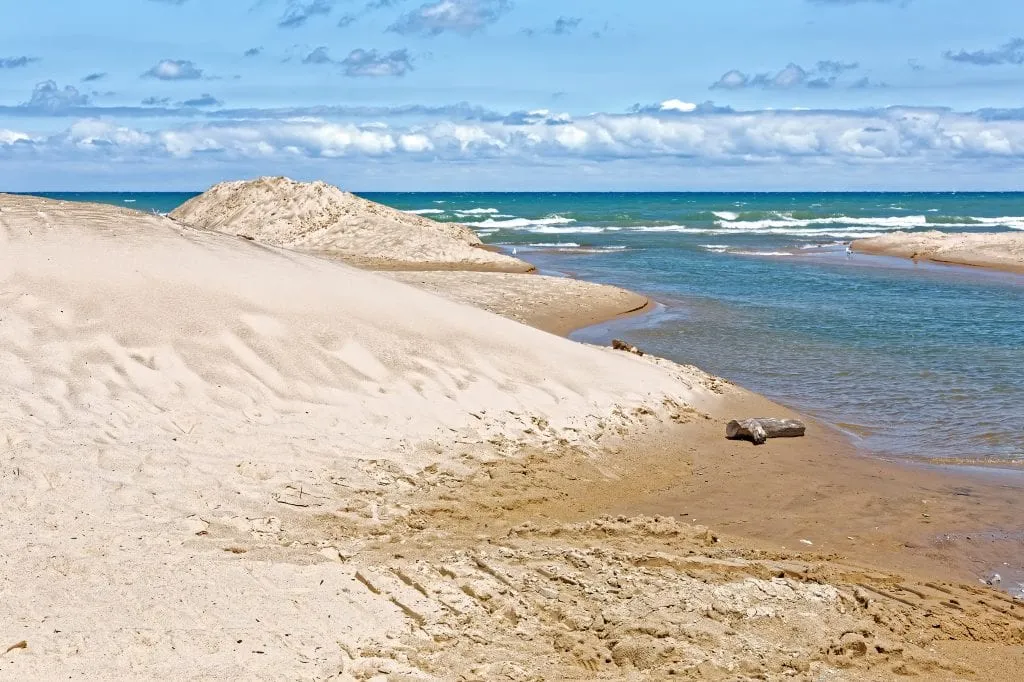 Single-State Midwest Road Trip Itineraries
South Dakota State + National Parks Road Trip
From Allison of Eternal Arrival
One of the best Midwest road trips is a loop from Rapid City, South Dakota making stops in its two national parks, as well as Custer State Park!
This is an easy road trip that you can do in as little as 4 days, but you can also make it part of a larger South Dakota road trip itinerary.
Start in Rapid City to begin your trip and then make your way first to Wall, SD.
This fun little town is a great place to stop at Wall Drug Store for scenic photos in an Old West-feeling setting.
From there, head through Badlands National Park from the Northeast Entrance, taking the 30-mile Badlands Loop Road and stopping at as many overlooks as possible!
Depart via the Pinnacles Entrance and then make your way to Wind Cave National Park.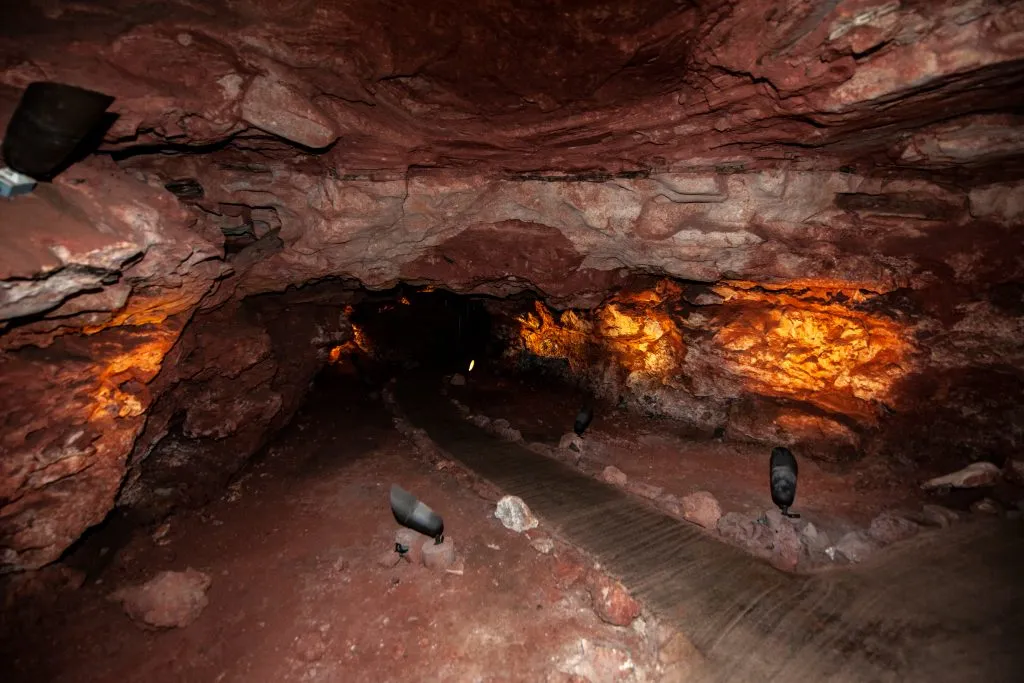 Wind Cave National Park is beautiful but there must be some advance planning as you need advance reservations to visit Wind Cave.
Book your reservation for one of the 3 tours, ranging from moderate to hard difficulty, on the NPS website here.
After visiting Wind Cave, swing up north towards Custer State Park for one of the final stops on this South Dakota tour.
Custer State Park in the Black Hills is home to lots of stunning wildlife, including bison, pronghorn antelope, and elk. Bring your binoculars and a zoom lens!
Finally, drive back to Rapid City to end your road trip.
Driving Distance
210 miles.
Recommended Road Trip Length
At a minimum, you should spend at least 2 days in Badlands National Park, 1 day in Wind Cave National Park, and 1 day in Custer State Park.
This road trip can be done easily in 4 days, but you can stretch it out to a week and visit other sites like Mt. Rushmore, the Black Hills National Forest, Keystone, and Crazy Horse.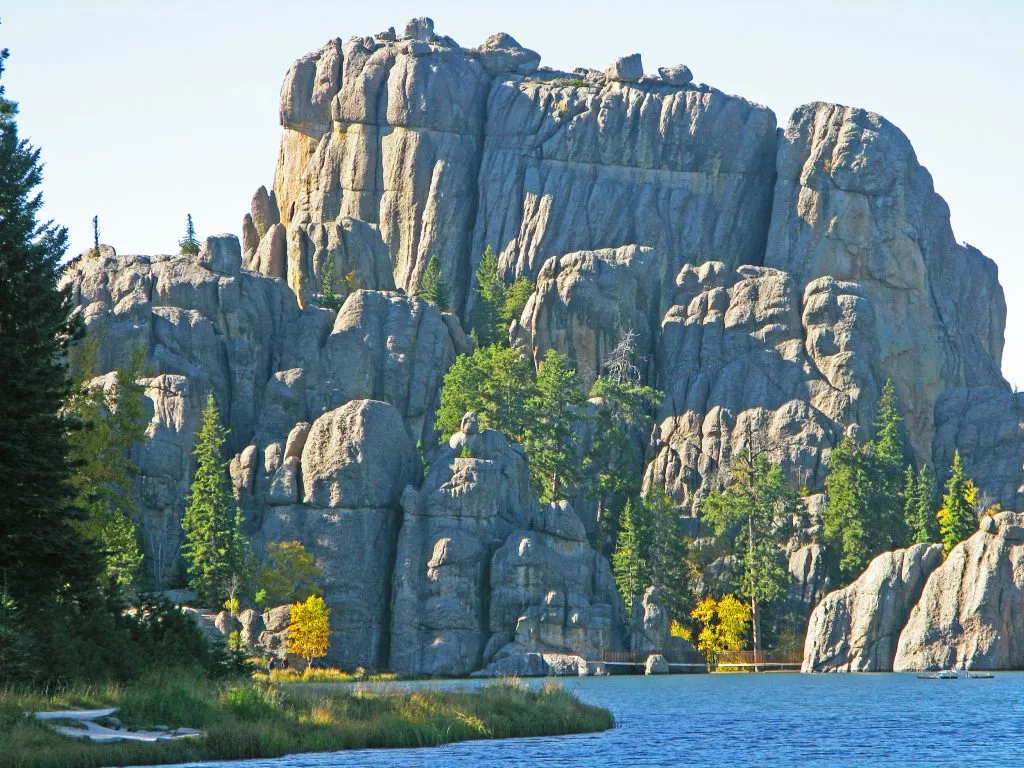 Ohio Road Trip Along Lake Erie's Coast
From Theresa of Fueled By Wanderlust
One of the Midwest's best road trips is driving Ohio's Lake Erie coast from Cleveland to Marblehead for gorgeous lake views, beautiful sunsets, and lots of local history.
Beginning in downtown Cleveland, spend a day exploring the Rock n Roll Hall of Fame, Old Arcade, and West Side Market.
Depart Cleveland the next day via Route 2, with several lakefront parks to your right.
Edgewater Park and Lakewood Park offer Cleveland skyline views, while Edgewater Park and Huntington Reservation have pretty beaches.
Continue for thirty minutes towards Lorain, OH, transitioning over to Route 6.
While being a rust belt city, Lorain also offers a broad beach at Lakeview Park and the charming Lorain Harbor Lighthouse.
Literature fans may also know it as Toni Morrison's hometown and the setting of The Bluest Eye.
Vermilion, the next town over, is a quaint location for an overnight stay.
Its small downtown has an old-timey feel, with historic storefronts and a soda shop.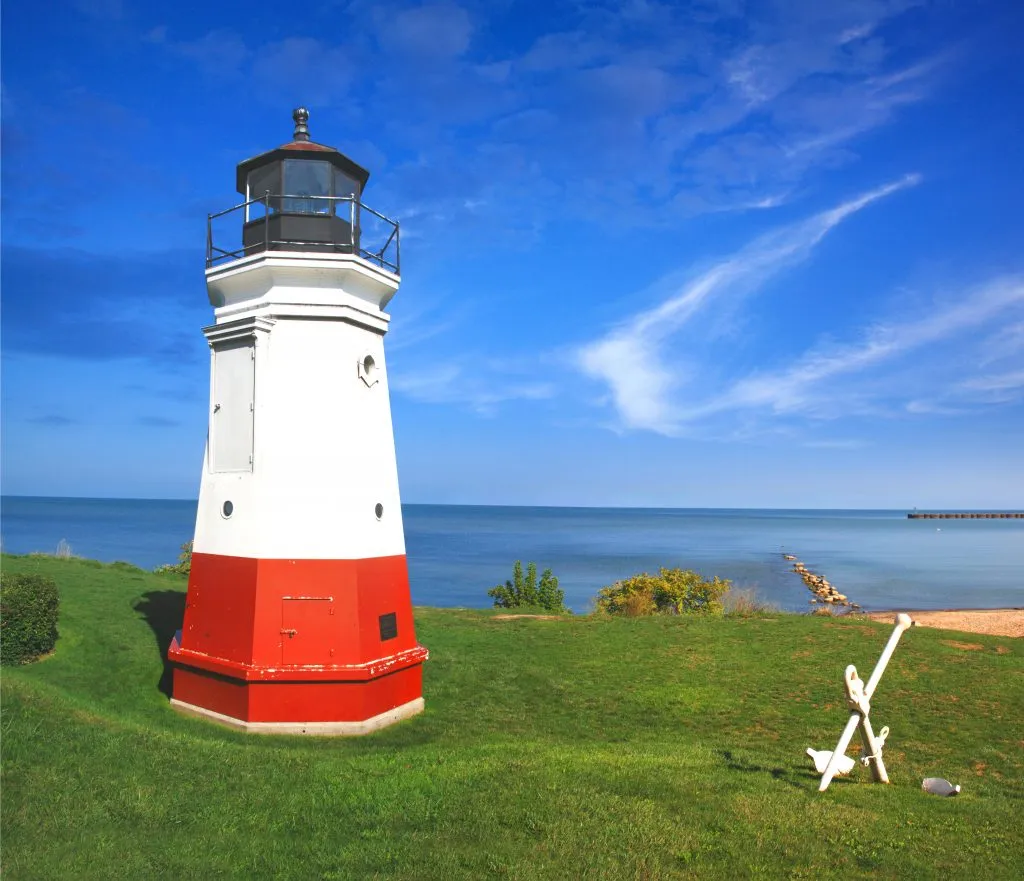 Take a stroll down Main Street for elegant dining at Chez Francois, and to see tiny Vermilion Lighthouse and its adjacent beach.
After leaving Vermilion, continue down Route 6 for a short rural break until you reach Sandusky.
After consuming Asian fusion food and craft beer at Small City Taphouse, walk 10 minutes to the Maritime Museum of Sandusky.
This museum features exhibits on the Battle of Lake Erie and Sandusky's role in the Underground Railroad.
If you love roller coasters, plan an extra day in Sandusky to catch thrills at Cedar Point.
Finally, drive 30 more minutes to the tip of the Marblehead Peninsula to reach the 200-year-old Marblehead Lighthouse.
This beauty is the oldest continuously running lighthouse on the Great Lakes.
Driving Distance
80 miles.
Recommended Road Trip Length
With no stops, this drive takes a little over 2.5 hours.
However, I recommend slowing down over a long weekend to fully enjoy each stop.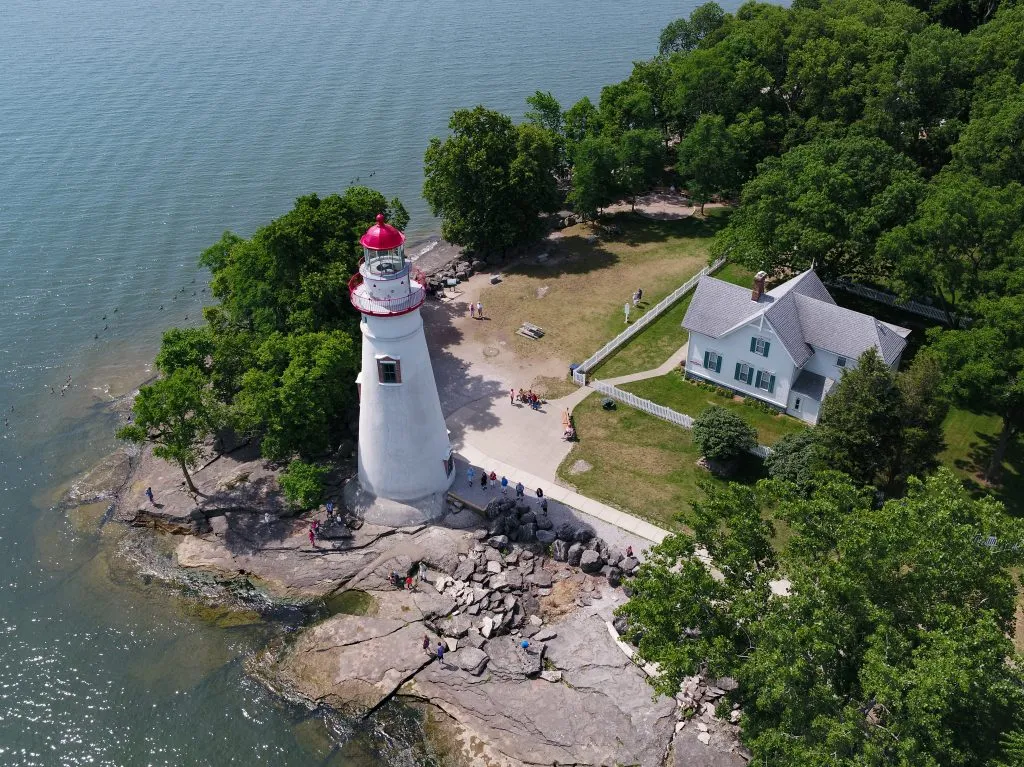 North Dakota Road Trip (Fargo to Theodore Roosevelt National Park)
From Anwar of Beyond My Door
Many people overlook North Dakota, however, the state has a plethora of road trip-worthy sites.
Starting in Fargo, visiting the town that is unfairly characterized by the movie of the same name, visitors can enjoy this hip small city of the north.
Be sure to check out the Plains Arts Museum and the wonderful contemporary, traditional, and folk art of the region.
For those with more time, a quick stop in adjacent Moorhead MN, and the Hjemkomst Center, visitors can connect with the local Scandinavian culture through this incredible boat journey.
From Fargo, head west stopping in Jamestown, to see the old wild west town and the largest buffalo.
Similar to many other big roadside attractions throughout the state.
From here, visitors can detour slightly north and visit interesting Lewis and Clark expedition sites such as Fort Mandan (where Lewis and Clark wintered) and the nearby Knife River Indian Villages known as the birthplace of Sacajawea.
Both can easily be visited on the same day before heading on towards Bismarck.
Bismarck, the capital but smaller and sleepier than Fargo has a cute downtown as well as beautiful nature nearby.
But if you are pressed for time save the nature exploration until you head to Theodore Roosevelt NP, 2 hours west of the capital.
Named for the 26th president, the park protects North Dakotan Badlands and local flora and fauna such as bison.
The park is divided into two non-connected units and at least 2 days are worth spending in the park.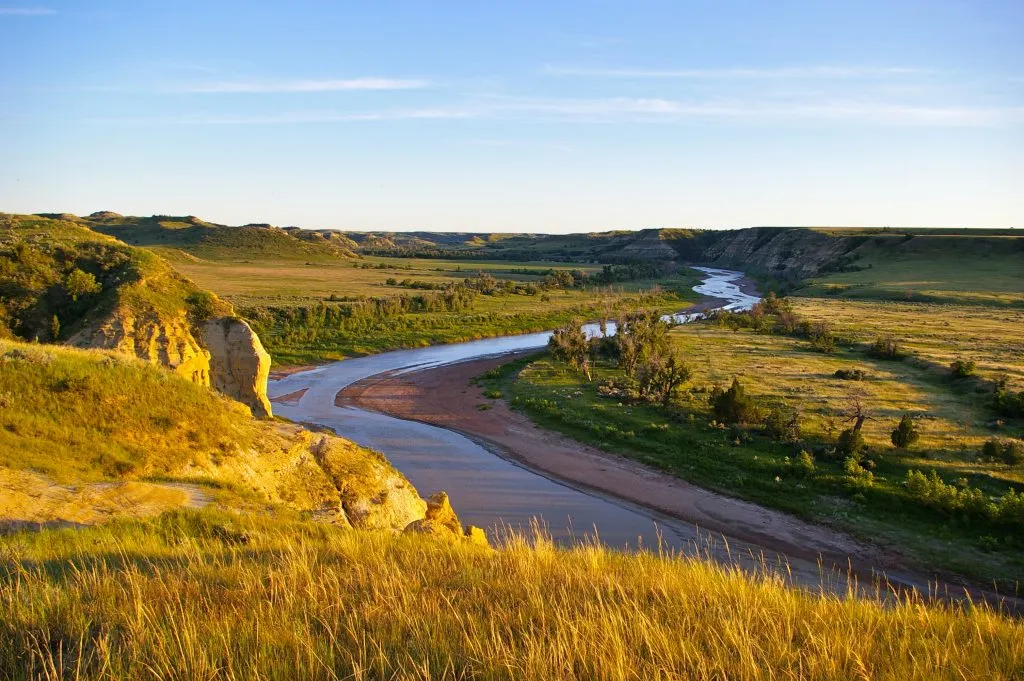 But if you have very limited time, the South Unit has more diversity of sights.
For those with more time and desire to explore local history, a quick stop at Fort Union Trading Post (90 minutes from the north unit) is worth a look at the fur trade and one of the most important forts in the mid-1800s.
Driving Distance
About 550 miles, plus time in the national park.
Recommended Road Trip Length
This Midwest road trip can be anywhere from 4 to 8+ days.
It's recommended to spend at least 2 days in Fargo, a day en route to Bismarck, 1-2 days in and around Bismarck, and another 2-3 days in Theodore Roosevelt NP.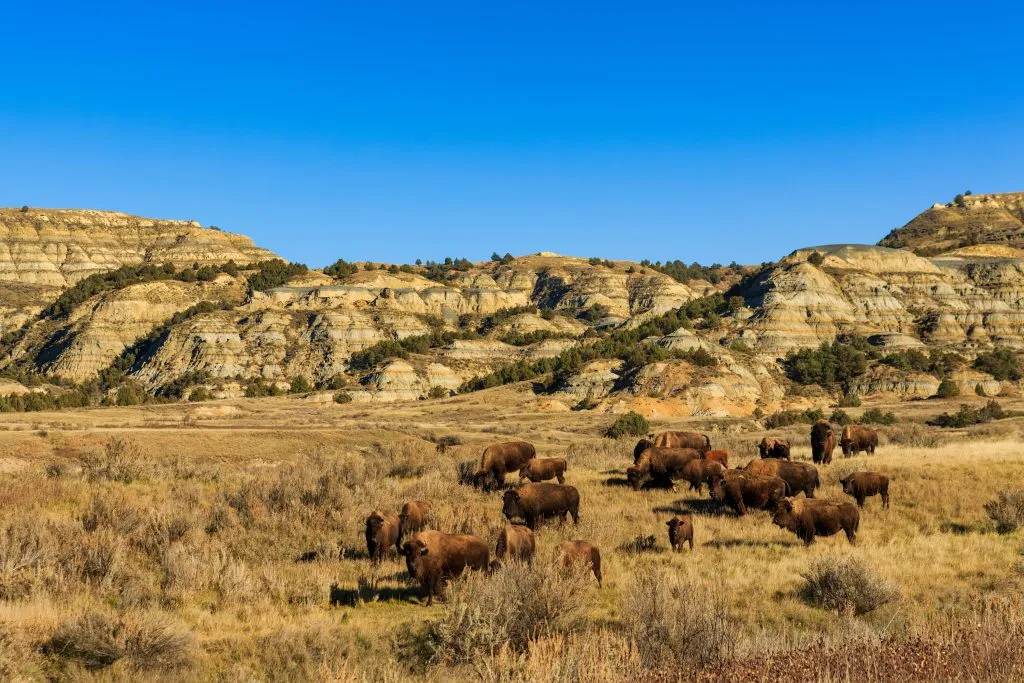 Minnesota's Iron Range
From Susan of This Big Wild World
Have you heard of Minnesota's Iron Range?
Stretching from central Minnesota and north to the border of Canada, the region is home to some of the best mountain biking in the country, excellent hiking, and the pristine wilderness of the Boundary Waters Canoe Area.
This Midwest road trip itinerary starts and ends in Minneapolis, which is a city worth exploring!
Enjoy an afternoon at a Minnesota Twins baseball game or paddling the lakes in the heart of the city.
Next, head to Crosby which is part of Cuyuna Country. What once were mining pits are now crystal clear lakes surrounded by mountain biking trails for all levels.
Spend a day paddle boarding or kayaking the lakes or cruising the trails. Gear rentals are available in Crosby.
From there, drive to Ely which is a gateway into the Boundary Waters.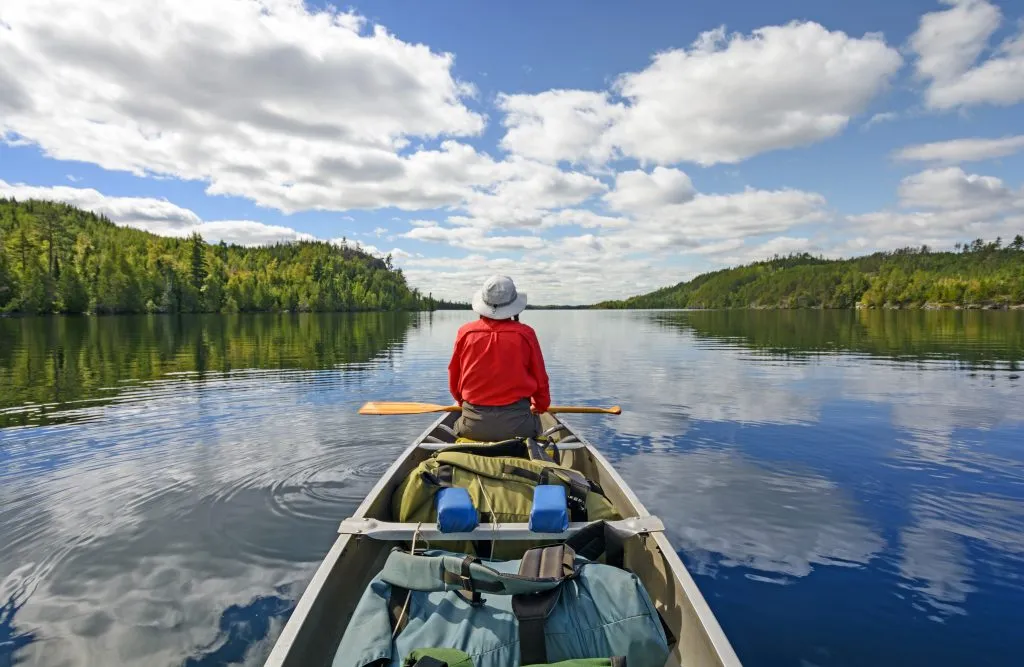 This area is among the most beautiful and remote wilderness in the US, best explored by canoe. Find guides and outfitters in Ely for gear and permits.
For hiking, try the Norberg Lake Trail at nearby Bear Head Lake State Park or the Bass Lake Loop Trail.
Duluth is a harbor town on Lake Superior, offering easy access to popular destinations along Minnesota's north shore.
Be sure to watch for the big ships entering the harbor near Canal Park, relax on the beach at Park Point, and stop at one of the many breweries in town.
Ursa Minor and Bent Paddle are local favorites!
Driving Distance
550 miles.
Recommended Road Trip Length
These destinations are just 2-3 hours apart and have tons to explore.
Spend a minimum of 1 day in each of the 4 destinations for a 4-5 day trip.
Or, take your time and spend up to 3 days in each destination for a 7-10 day road trip.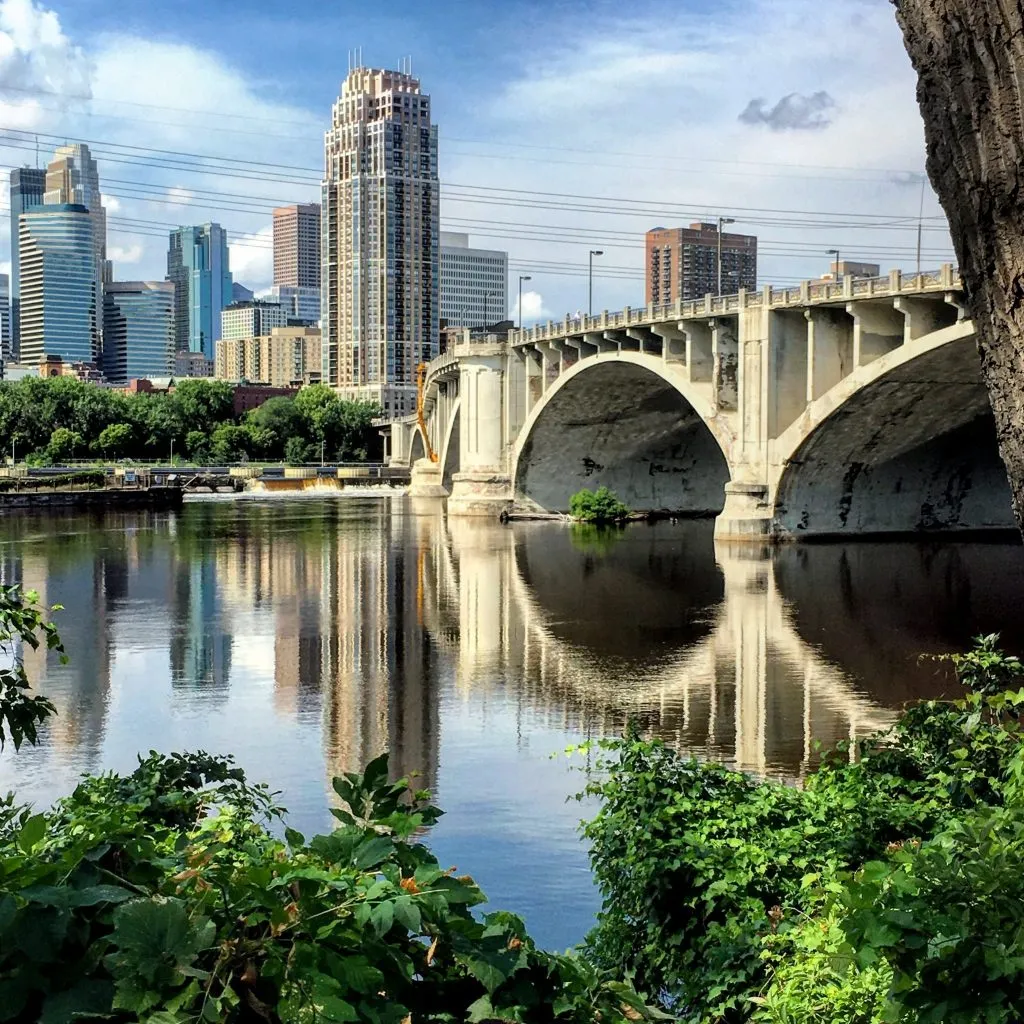 Badlands National Park Scenic Road Trip
From Theresa of The Local Tourist
At only39 miles, the Badlands Loop State Scenic Byway is a short but mighty road trip in South Dakota.
Driving through Badlands National Park is a surreal experience.
You'll feel like you're on another planet instead on a road trip in the Midwest USA.
The drive begins in Cactus Flat at Exit 131 off I-90. You'll know you're nearing the exit because you'll begin seeing sand-colored buttes, spires, and cliffs to the south.
After taking the exit, it's a short distance to enter Badlands National Park.
Before you even get to the Ben Reifel Visitor Center, you'll see a few overlooks and trailheads.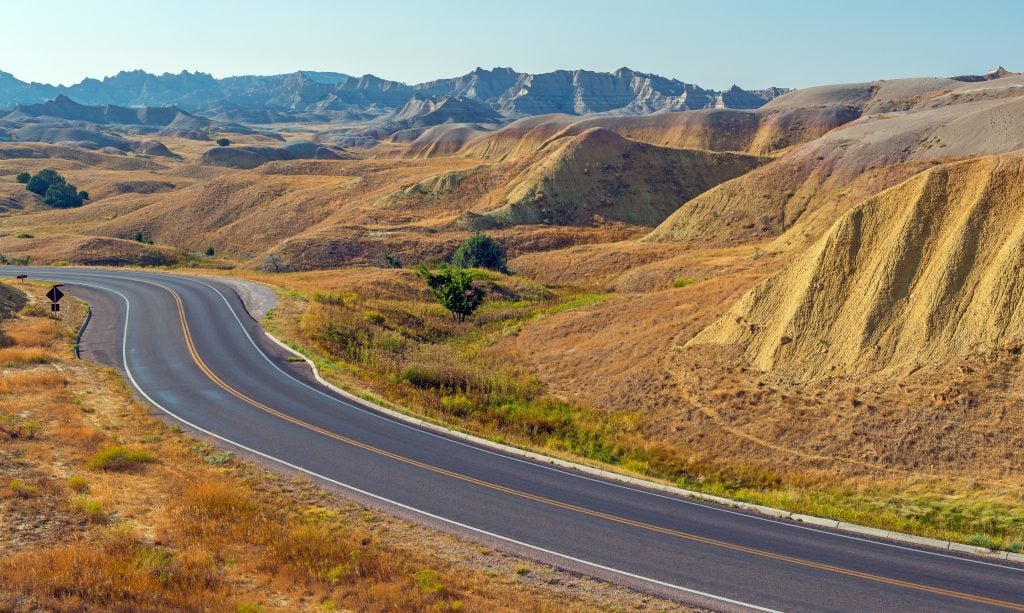 The visitor center itself is a great place to get your bearings, take a bathroom break, and get something to eat at the restaurant next door.
From there, you'll continue west through the otherworldly landscape.
In addition to the unique formations, you're also likely to encounter pronghorn antelope, bighorn sheep, bison, and prairie dogs.
The road ends at Wall, which is a destination in its own right with its famous, or infamous, Wall Drug.
Driving Distance
39 miles.
Recommended Road Trip Length
You could drive straight through in about an hour, but what's the fun in that?
For a more immersive experience, camp at one of the two campgrounds within the park and take some day hikes.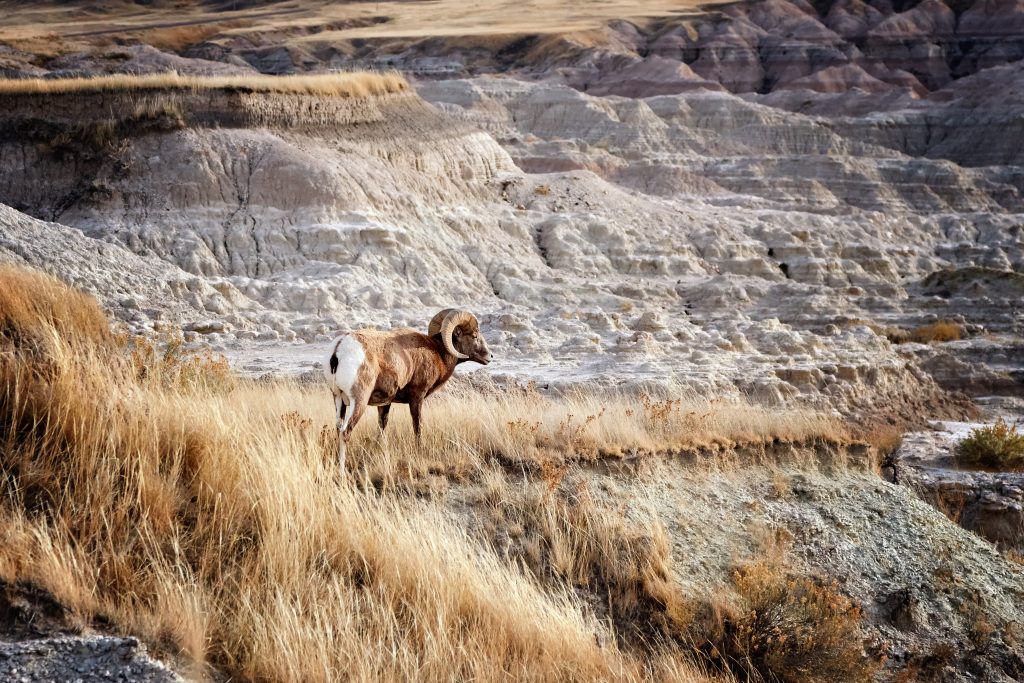 Michigan's Upper Peninsula
From Linda of Midwest Explored
Easily one of the best road trips in the Midwest USA, a drive through Michigan's upper peninsula is a must-do.
Start one of the best Michigan road trips of them all by crossing Mackinac Bridge into the Upper Peninsula.
If you want, leave your car behind and enjoy all that Mackinac Island has to offer before continuing on.
After all, this island is completely car-free and features top attractions like Fort Mackinac and Arch Rock.
Next, continue onto the peninsula and check out the natural beauty of Kitch-iti-kipi, an incredible local spring with crystal-clear waters.
Then, hop back on the road and drive to Porcupine Wilderness State Park.
It's a wonderful area with stellar views of Lake Superior, gorgeous local waterfalls, and 90+ miles of trails that will take you through vast old-growth forests.
From here, drive until you hit Marquettethe.
It's known for being the largest city in this UP (Upper Peninsula for all the non-Michiganders out there) and is a great place to explore Presque Isle Park, Sugarloaf Mountain, and Lakenenland Sculpture Park.
Finally, conclude your road trip at the Pictured Lakes National Lakeshore with its dynamic natural landscape.
Be sure to explore the multicolored Pictured Rocks cliffs, Miners Castle, Chapel Rock sandstone formations, and Twelvemile Beach.
Driving Distance
115 miles.
Recommended Road Trip Length
While this road trip isn't long, taking around 2 hours to drive, plan on devoting between 3 and 5 days to this trip.
You could definitely spend an entire day on Mackinac Island alone!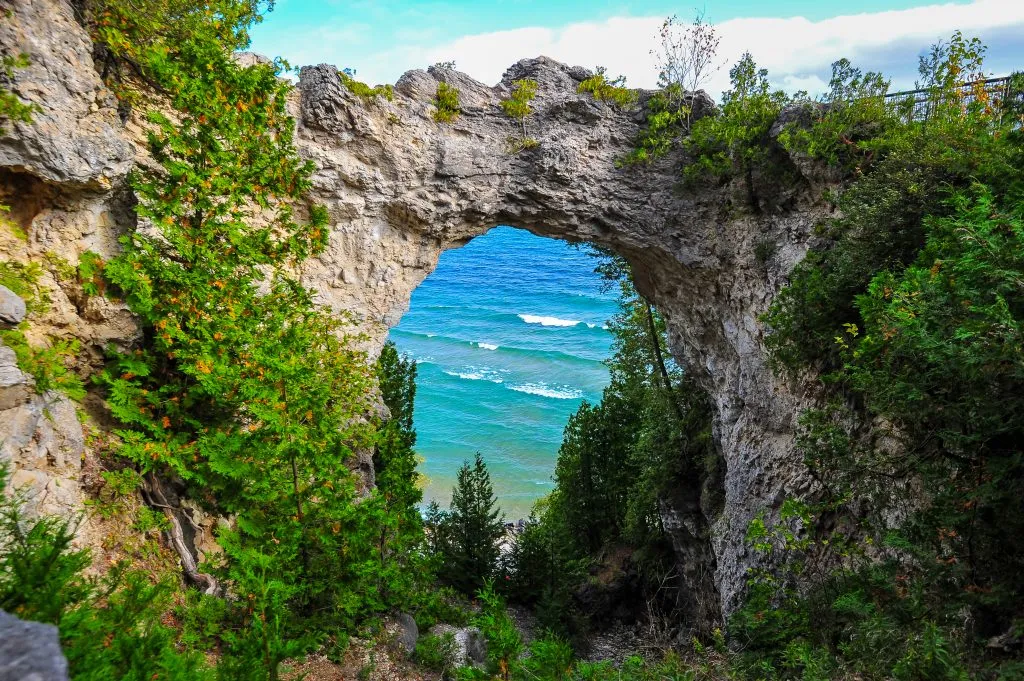 Mount Rushmore to the Badlands, South Dakota
From Candice of CS Ginger
Mount Rushmore to the Badlands of South Dakota is a fantastic Midwest road trip route.
While there's a sad story behind the impressive facade of Mount Rushmore, there's no doubt that visiting the monument and associated museum is an incredible experience.
After visiting Mount Rushmore and touring all it has to offer, you will travel to the Badlands National Park.
Badlands National Park is a very beautiful and unique area.
There are really fun hiking trails in the Badlands, and it is a great place to visit with your family.
You will be surprised at all the animals the Badlands offer.
You can see big horn sheep, buffalo, and the famous prairie dog area where you will see lots of prairie dogs. You can get very close to the prairie dogs but don't touch them or get too close!
If you want to stay in the park, you will need to stay at Cedar Pass Lodge in one of their rental cabins.
There are some hotels and camping options close by, but the Cedar Pass Lodge is the only option if you are looking at staying inside the park.
This is a classic road trip in the Midwest, and a fantastic way to spend a long weekend (or longer!).
Driving Distance
About 80 miles.
Recommended Road Trip Length
We recommend spending at least 3 days enjoying this road trip in South Dakota, though 4-5 days would be better if you have more than a long weekend to work with.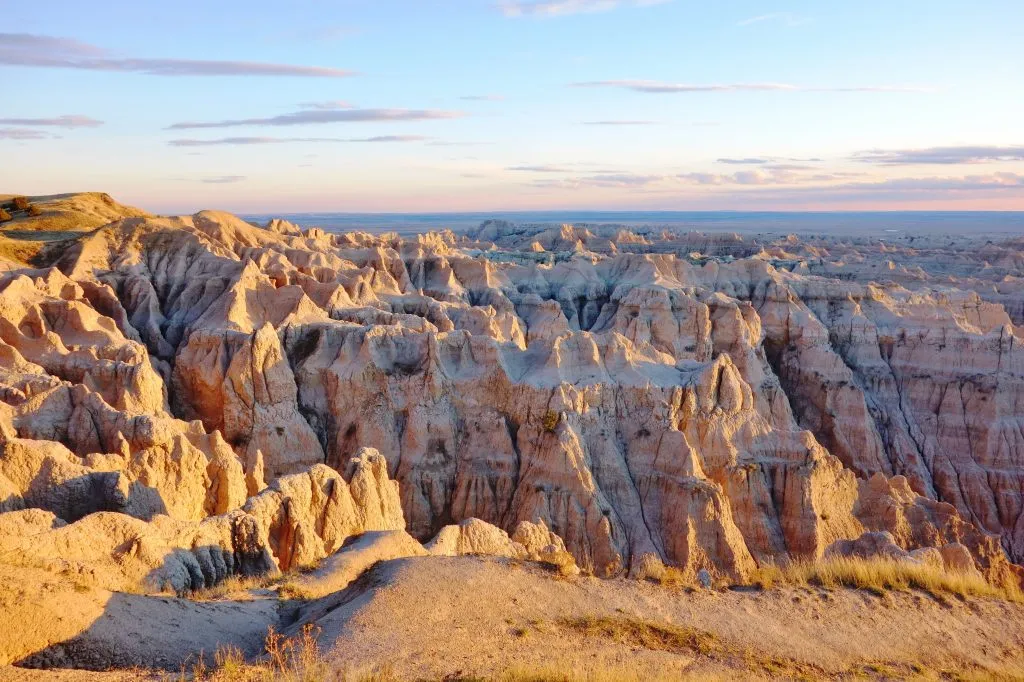 Multi-State Road Trips in the Midwest
Missouri + Southern Illinois Road Trip
From Tori of Tori Pines Travels
When planning a road trip in the Midwest, you won't want to miss Missouri and Southern Illinois.
The perfect road trip includes a variety of cities filled with activities, nature to explore, and delicious food to eat, and you'll find plenty of that here.
Start in Kansas City, Missouri where you'll visit the American Jazz Museum and Money Museum.
For the famous Kansas City BBQ, check out Gates Bar-B-Q and order burnt ends.
Spend two nights here, before continuing east across the state to St. Louis.
A weekend in St. Louis is the perfect amount of time.
Start at the country's smallest national park, The Gateway Arch National Park, ride the tram to the top for incredible views over the city.
The free museum teaches the history of St. Louis and its title as the gateway to the west.
That night, visit Busch Field for a Cardinals game with the arch as your backdrop.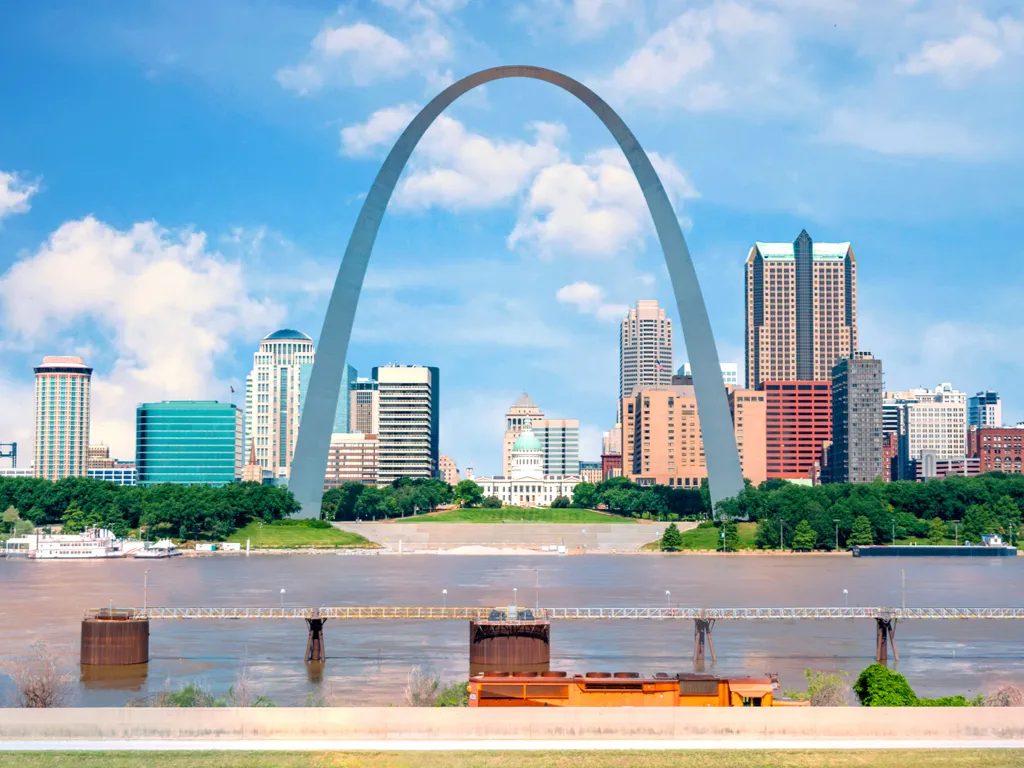 For kids, and kids at heart, spend a few hours at the City Museum, the most unique children's museum you'll find.
Fill the rest of your time with visits to the free activities, the St. Louis Zoo, St. Louis Art Museum, and Missouri History Museum!
Eat some of St. Louis's staples, toasted ravioli, St. Louis Style pizza, St. Louis style ribs, and gooey butter cake.
Finish off the road trip by venturing across the river into Illinois to Shawnee National Forest.
The draw here is the Garden of the Gods which features fun dog-friendly hikes and super unique rock formations.
Driving Distance
400 miles.
Recommended Road Trip Length
The whole trip should take about 5 to 6 days, and will only require about 6.5 hours of driving.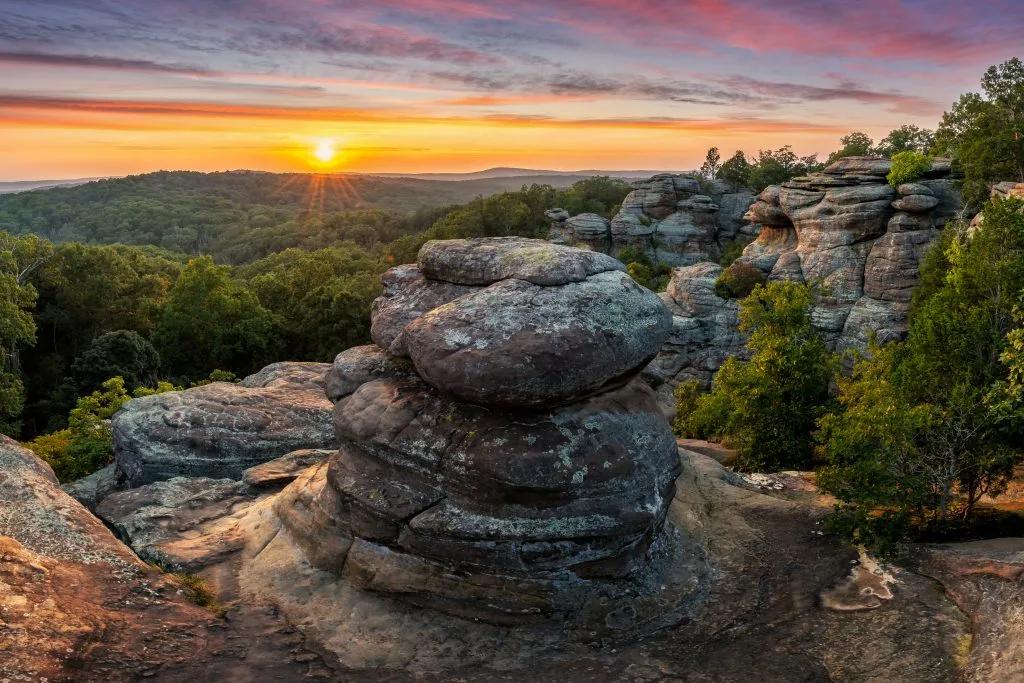 Great Cities of the Midwest Road Trip Loop
From Lisa of Waves and Cobblestones
Looking for a fun road trip itinerary in the Midwest?
Making a round trip from Chicago, Illinois to Milwaukee and Madison in Wisconsin will give you a great sampling of museums, architecture, and natural beauty to enjoy.
Start your road trip in Chicago, Illinois. One of the undisputed best experiences here is the architectural river cruise.
Your vantage point from the river gives you great views of the skyscrapers, and you'll learn a lot about Chicago's architecture and history.
Chicago is also home to several fantastic museums, including the famous Art Institute of Chicago.
The Field Museum is the home of Sue, the largest Tyrannosaurus rex specimen ever discovered.
Your next stop is Madison, Wisconsin. This college town is also the capital of Wisconsin.
The Capitol building is incredible and is free to tour. Be sure to take in the panoramic city views from the observation deck!
One of the best things to do in Madison is to visit the Olbrich Botanical Gardens.
The outdoor areas of the garden are free to visit. Don't miss the phenomenal Thai pavilion and garden – this is definitely the garden's highlight!
Continue on to Milwaukee, Wisconsin.
Enjoy local favorites like bratwurst and fried cheese curds (and perhaps a local beer) at Old World 3rd Street.
Then take a stroll along the downtown Riverwalk and enjoy the public art including 'The Bronz Fonz'.
Spend an afternoon at one of Milwaukee's museums, such as the world's only Harley-Davidson Museum.
Be sure to take a look at the amazing architecture of the Milwaukee Art Museum, with its Burke Brise Soleil 'wings'.
Driving Distance
320 miles round-trip.
Recommend Road Trip Length
This Midwest road trip itinerary will take you about a week since you'll want to spend a minimum of 2 days in each city.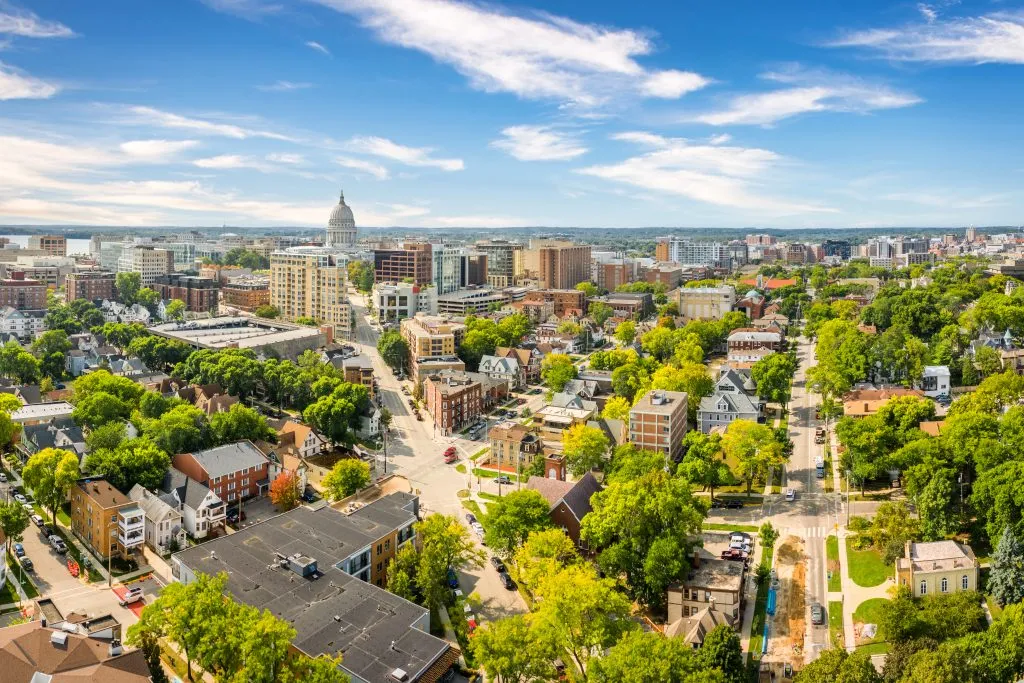 Route 66 Road Trip Through the Midwest (Chicago to Oklahoma)
From Kylie of Between England and Iowa
The classic US road trip Route 66 starts in Chicago Illinois and passes through the Midwestern states of Missouri and Kansas before crossing into Oklahoma and continuing west all the way to Los Angeles, California.
Of course, it's quicker to travel on the Interstate but the heart of the road trip is to follow the original route across the country.
Travelers could easily spend a couple of days exploring Chicago alone, but it's at least worthwhile checking out the Route 66 BEGIN sign at E Adams St and S Michigan Ave.
The stretch across Illinois between Chicago to St Louis can take upwards of 12 hours, especially if stopping at several of the different points of interest.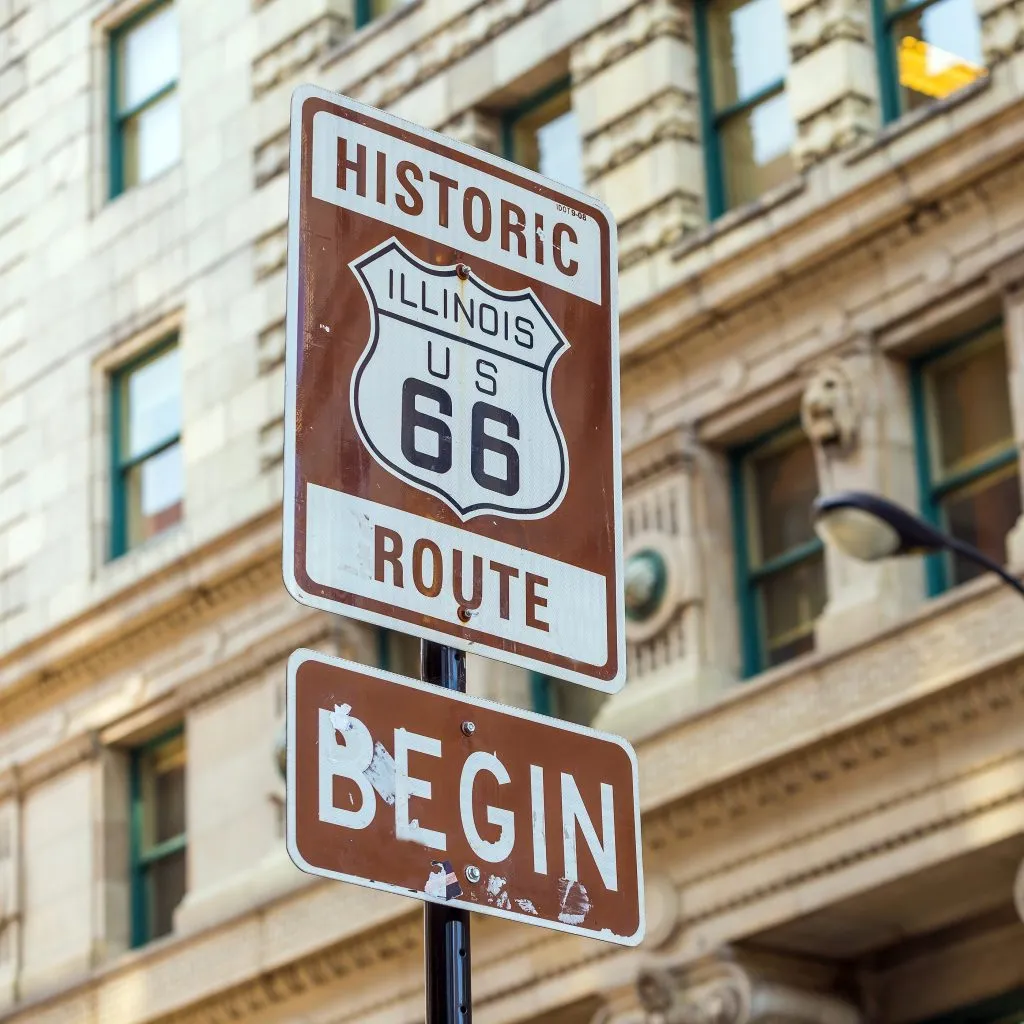 When the Interstate was built, it bypassed all the small towns along the route.
To encourage travelers to come back many of the towns created unique roadside attractions.
Today, you can find a mixture of historic buildings that were part of the original Route 66 as well as the unique attractions from the time after the Interstate was built.
Some highlights between Chicago, IL, and Catoosa, OK include The Gemini Giant (Wilmington, IL), Pontiac, IL, the Chain of Rocks Bridge, IL, Gateway Arch National Park (St. Louis, MO), the World's Largest Rocking Chair (Fanning, MO), Cars On The Route (Galena, KS) and the Blue Whale (Catoosa, OK).
Driving Distance
Approximately 700 miles.
Recommend Road Trip Length
This road trip could be done in around 3 days (overnight stops in St Louis, MO, and Carthage, MO).
However, with the addition of spending time exploring the larger cities of Chicago and St. Louis, it is better to take around 5 or 6 days.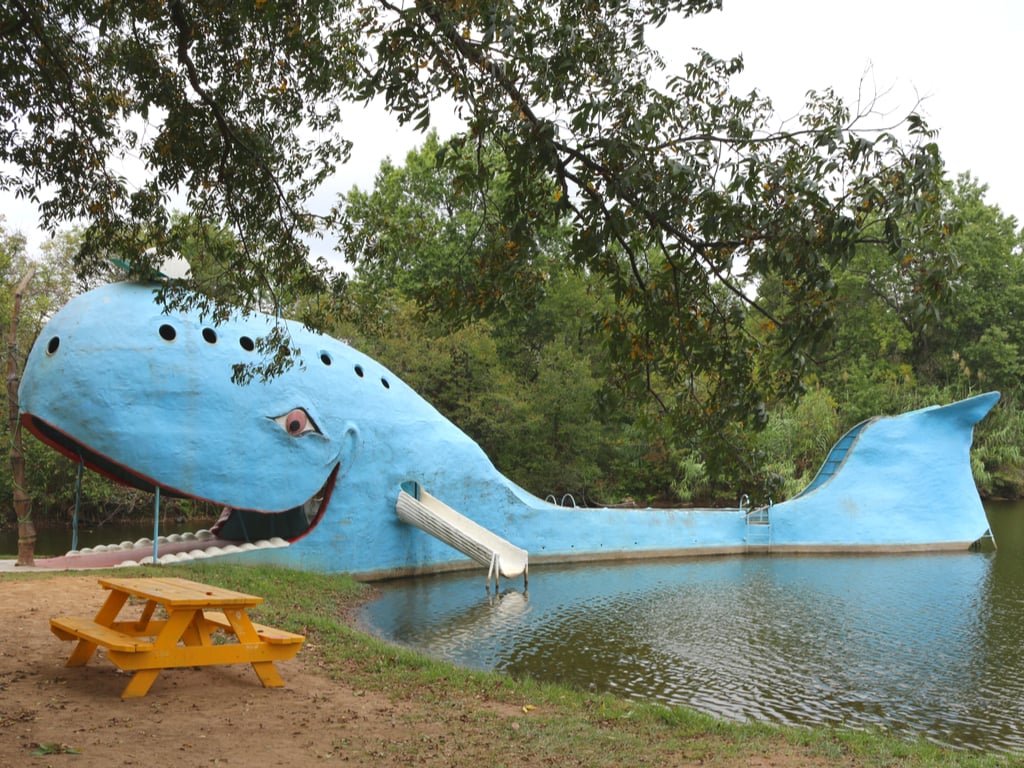 Great Lakes Road Trip in Wisconsin + Michigan
From Jenifer of The Evolista
One of the best Midwestern road trip journeys is a National Lakeshore Road Trip to visit 2 of the best kayaking trips in the US, Apostle Islands National Lakeshore and Pictured Rocks National Lakeshore.
Apostle Islands National Lakeshore is a spectacularly beautiful area in the most northern part of Wisconsin that has a 12-mile stretch of mainland rocky cliffs with sea caves and a chain of 21 islands.
It also has the distinction of having the most lighthouses in the USA.
A kayak tour of the mainland sea caves will take you to the prettiest spots around the reddish sandstone shoreline.
You will cruise through incredible caves in turquoise water and can also hike the Lakeshore Trail through old-growth forest for a different vantage point.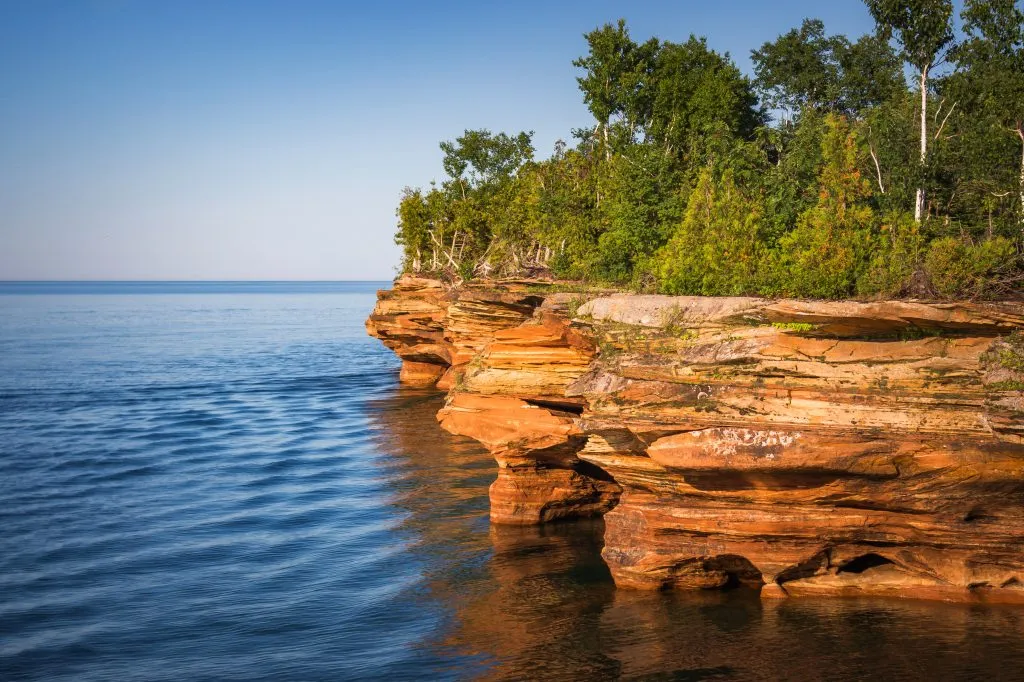 On your way to Pictured Rocks National Lakeshore, break up the drive with a day at Porcupine Mountains State Park where you'll find waterfalls, tons of hiking trails, and gorgeous views, especially for fall foliage.
It adds an extra hour of drive time but it's completely worth it.
When you arrive in Munising, you'll be treated to Pictured Rocks National Lakeshore's towering multi-colored cliffs, bright blue waters, and hidden caves.
On a kayak tour, you can paddle to Lovers Leap Arch, Chapel Rock, Battleship Row, and sea caves. Or hike the Chapel Loop Trail to get even more incredible views.
But this place isn't all about the rocks. Don't miss Twelvemile Beach for a traditional beach day or enjoy the sunset at Sandpoint beach.
And you'll also find beautiful waterfalls at Munising Falls and Miner's Falls.
Driving Distance
290 miles.
Recommended Road Trip Length
This road trip in the Midwest takes approximately 6 hours of driving.
Plan at least 4 days to be able to do daily activities and a week to enjoy at a more leisurely pace.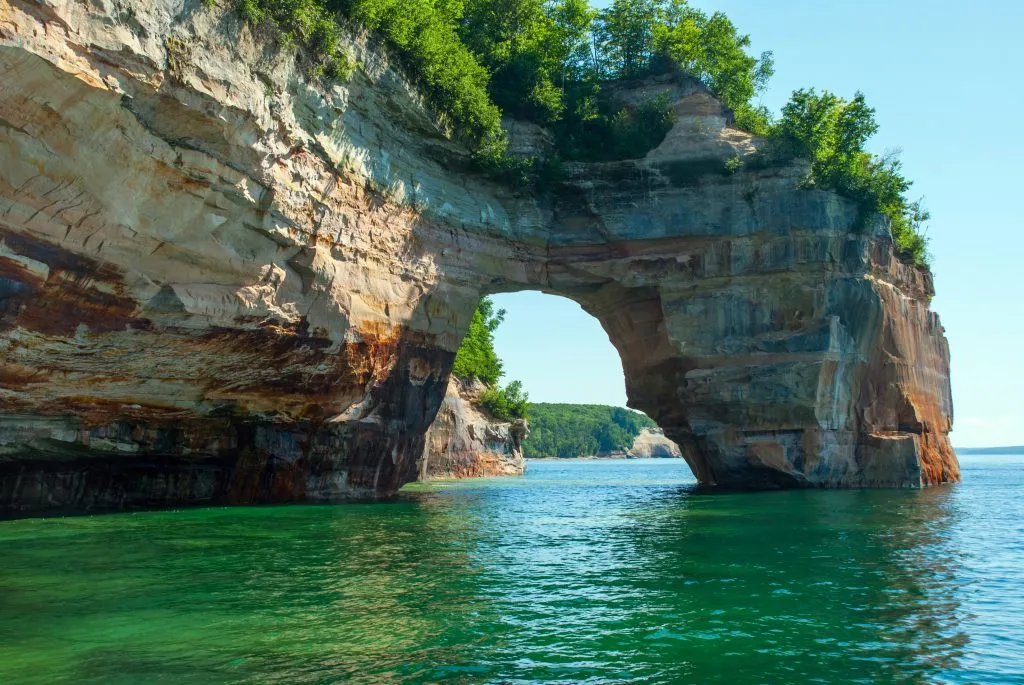 Kansas City, Omaha + Des Moines Road Trip Loop
From Sage of Everyday Wanderer
There are many things to love about Kansas City — flowing fountains, tree-lined boulevards, and the world's best barbeque.
So before you head north on this road trip loop through America's Heartland, be sure you've hit all of the highlights in the Chiefs Kingdom.
Start with the Liberty Memorial. This 217-foot tall limestone tower surrounded by acres of green space honors those who perished in World War I and is home to the only museum dedicated to the Great War.
It's also one of the best places to view the Kansas City skyline.
Then head to the Country Club Plaza where you can shop, dine, and admire Spanish-inspired architecture and several of the city's most renowned fountains.
Then stroll through the sculpture garden, explore the glass maze, and snap a selfie with one of four, oversized badminton shuttlecocks at the Nelson-Atkins Museum of Art.
And you certainly won't want to leave town without eating your fill of Kansas City barbeque.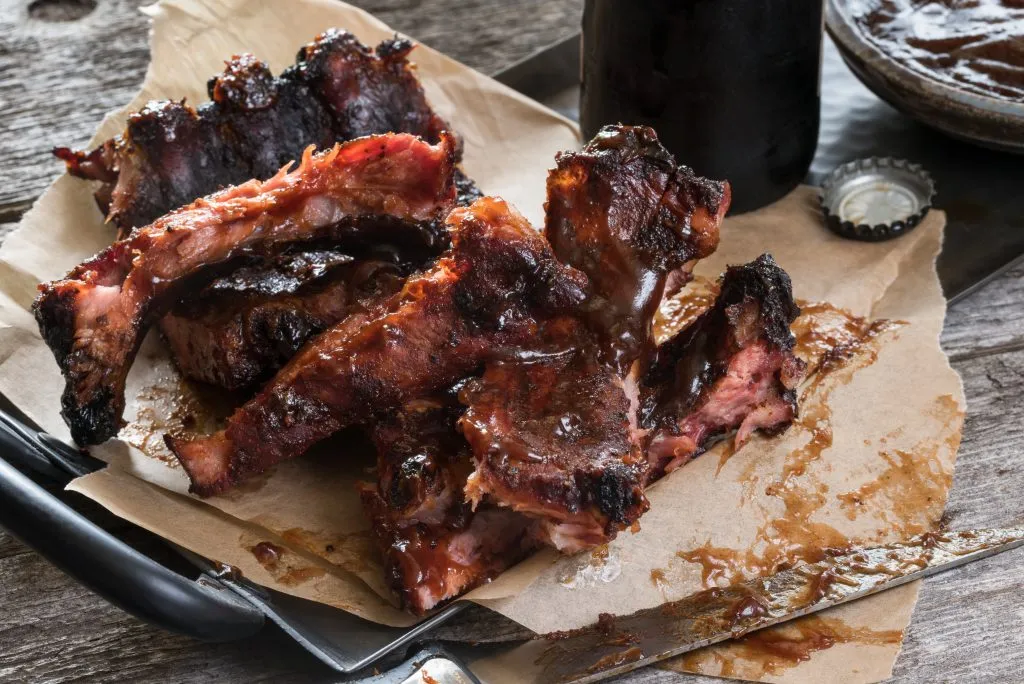 The next stop is Nebraska's biggest city, Omaha, about three hours to the north.
Walk across the Missouri River – a natural border between Nebraska and Iowa – on the Bob Kerrey Pedestrian Bridge.
Then enjoy The RiverFront connecting river to Downtown Omaha with lush green space, pet-friendly areas, a sculpture garden, and more.
Fuel up at a cafe or eatery in the Old Market, and don't miss the world-renowned Henry Doorly Zoo and Aquarium.
The capital city of Des Moines is about two hours east of Omaha.
Stretch your legs after the drive by wandering through Pappajohn Sculpture Park or strolling through the botanical garden.
Tour the gold-domed capitol building, and learn more about Iowa's biggest city with an interactive scavenger hunt.
Outdoor enthusiasts will want to hike or bike the Des Moines River Trail, and foodies will want to compare the barbeque at Flying Mango to what they enjoyed in Kansas City.
On the way back to Kansas City, stop in Pella. With its working grain windmill, Dutch bakeries, and thousands of tulips in the spring, you'll feel as if you've been transported to the Netherlands while exploring the middle of America.
Driving Distance
580 miles.
Recommended Road Trip Length
We recommend enjoying this Midwest road trip itinerary over the course of a week, in order to allow about 2 days per city.
---