I'll be perfectly honest: even as extremely experienced travelers who have spent years bouncing around Europe, we were a bit nervous about booking a Barcelona to Rome ferry with Grimaldi Lines.
Why?
Probably the same reason that you found this blog post: the generally abysmal online reviews for Grimaldi Lines, complete with a 1.5-star rating with Tripadvisor.
Generally speaking, Tripadvisor is far down the list of places we go for travel advice–but it's hard not to take notice of hundreds of less-than-thrilled reviews when the commitment involves an almost 24-hour non-negotiable stay on a boat!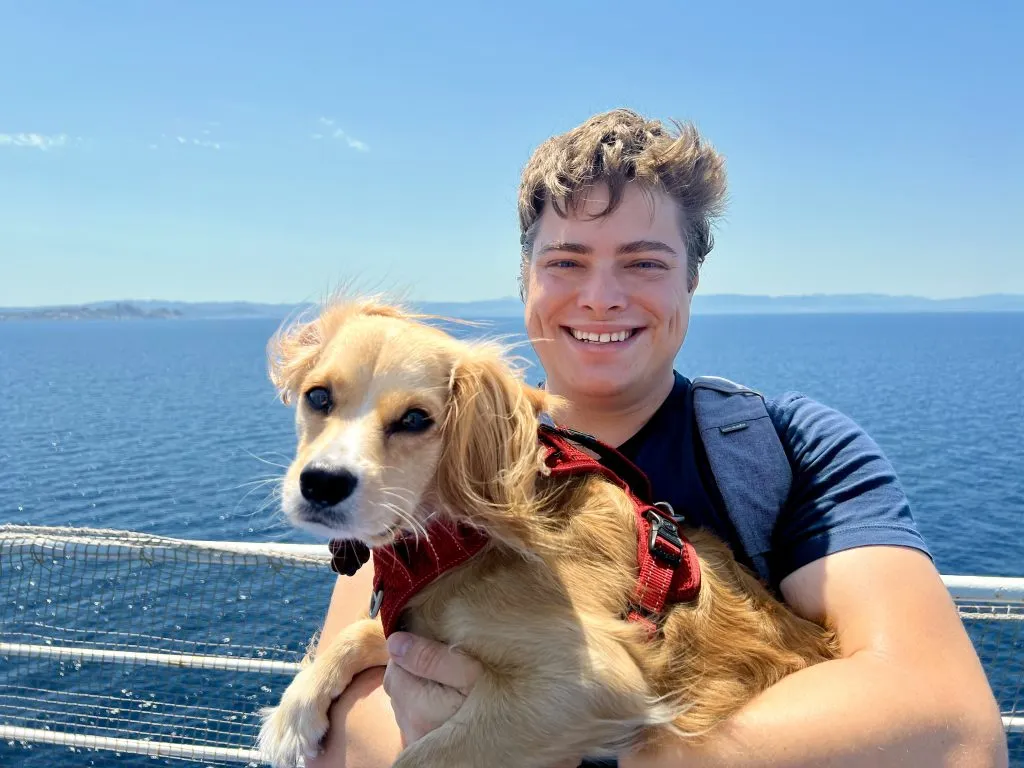 On the flip side, though, there were plenty of reviews–many of them from fellow long-term travelers and/or dog-toting travelers like ourselves–stating that the experience was perfectly fine and well worth enjoying.
In the end, we made the booking.
And, while I'll cover far more detail below, here's the headline review: we would take another Grimaldi Lines ferry in a heartbeat, and in fact, we almost certainly will!
Here's everything we wish we had known when booking a ferry from Barcelona to Rome (or, technically speaking–to Civitavecchia).
Why We Decided to Book a Ferry From Barcelona to Rome
Our primary motivation for taking a ferry from Spain to Italy in the first place, rather than flying, was simple: our dog, Ranger, was traveling with us, and Grimaldi Lines is dog-friendly!
While we could have technically driven the route a bit faster, it would have been much more expensive (especially when accounting for the extremely high drop-off fees that come with picking up a rental car in one country and dropping it in another), and a much less memorable experience.
We've driven from Portugal to Italy several times by now while living in Lisbon as American ex-pats, and while it's a beautiful route at times, at a certain point, highways are highways.
Plus, there's simply the novelty factor: being on a boat on the Mediterranean during the summer, however unromantic said boat may be, will always appeal.
Our Grimaldi Lines Experience From Barcelona to Rome
Overall, if asked to sum up our Grimaldi Lines ferry experience in one sentence, it'd be "The views are the best part, everything else is dated but okay."
Boarding Our Ferry From Barcelona to Rome
Boarding the ferry in Barcelona was incredibly simple, much more so than I expected: we barely waited in line!
The process was smooth and we were directed onboard without a fuss.
We were traveling in mid-June, long before the standard European vacation month of August but still solidly in the summer, and expected more crowds and/or chaos.
The Cabin
We opted to book a cabin for peace, quiet, and privacy, a decision that was definitely enhanced by reading many online reviews about loud and crowded common areas (though we probably would have booked a cabin regardless).
The cabin was nothing to write home about, but it was fine: two small beds, enough room for our luggage, and a tiny bathroom that was (mostly) clean, minus a couple of stray hairs.
Ideal?
No, but it was fine–think backpacker standards of cleanliness.
Onboard Food and Amenities
Basic food, like snacks and coffee, is available at several places onboard, and full meals are served at specific times of day.
We can't personally review anything but the coffee (solid for being in the middle of the sea, but then again, we were sailing with an Italian company and en route to Italy), but general impressions gave the air of airport food.
There was a very basic pool open on the top deck that many kids on board seemed to love almost as much as their parents enjoyed the deck chairs surrounding it.
Crowds were minimal in most public spaces, we always had plenty of room to ourselves.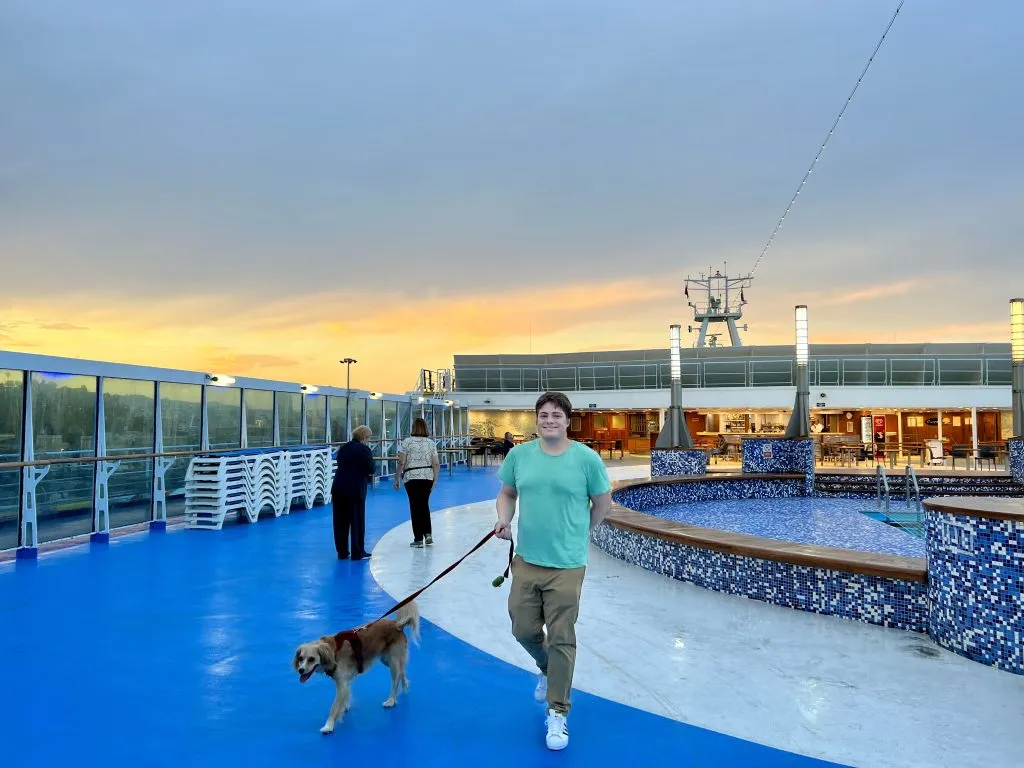 Arriving in Civitavecchia
About an hour before arrival, crew members had everyone start packing up their belongings and moving into place to disembark.
The process was hot, long, and crowded, but not through the fault of anything other than the reality of a large group of people disembarking at once and needing the same services at the same time on a sticky summer afternoon.
I wouldn't call the experience fun, but we have no complaints–and the pasta we got in Civitavecchia that night chased away all memories of the long wait.
Highlights of Our Experience
Hands down, without a doubt, the absolute best part of taking the ferry from Barcelona to Rome was enjoying views of the Mediterranean Sea, Sardinia, and Corsica along the way.
The decks were breezy, and while the amenities on deck were basic, it was hard to care in the slightest with the sea breeze tousling our hair.
Well after our journey was over, the details of getting a less-than-ideal night's sleep in a small cabin bed are far less prominent in our memories than the beauty that surrounded us during much of the journey.
What's it Like Taking a Dog on a Grimaldi Lines Ferry?
If you found this blog post when debating whether or not to book a Grimaldi Lines ferry, there's a good chance you're a fellow dog traveler (and we saw many other dogs onboard).
Grimaldi's pet policy is very generous, including allowing travelers to book specific pet-friendly cabin packages, which we took advantage of.
Well-behaved, leashed dogs are also allowed on all the outdoor decks, which Ranger loved even more than we did.
Technically, there is an option to house dogs and cats in an on-board kennel, but when we walked by, it was utterly deserted.
Not surprising considering it's easy and far more pleasant to keep your furry family members with you!
Tips For Enjoying the Barcelona to Rome Ferry
Expect transportation, not a cruise ship experience.
After experiencing the Grimaldi Lines ferry from Barcelona to Rome ourselves, our general takeaway regarding the online reviews is that there's a clear mismatch in expectations.
Some travelers arrive onboard expecting something akin to a cruise ship experience, something that they can count as part of their holiday or vacation.
And while that's understandable–Grimaldi Lines' marketing does lend itself in that direction–it's simply not the case.
What entertainment there is felt extremely dated, and gave the vibe of walking around on a boat that saw its heyday of luxury a few decades back.
Treat the ferry as a form of transportation, like a train or an extraordinarily spacious bus, and you'll be much more likely to walk away satisfied.
Pack lots of snacks.
Personally, not having access to my own food stash when on a boat for almost 24 hours is not appealing, and after our ferry ride, we were glad we stocked up!
There's plenty of food onboard but like any other environment with a captive audience, the prices don't necessarily reflect the quality.
Bring offline entertainment.
Don't expect to scroll through social media in the middle of the sea–and if you want to, be prepared to pay dearly for it.
Instead, bring along a few books (perhaps some books about Italy), download some TV shows, pack a deck of cards, or all of the above!
If you get motion sick on boats, come prepared.
I do have a tendency toward motion sickness, and luckily didn't have much of an issue en route from Barcelona to Rome.
However, it's definitely best to come prepared–had the weather been worse, for example, I would have been glad to have supplies!
Personally, I generally travel with Sea Bands, plus non-drowsy Dramamine as a backup, when I'm worried about the potential for motion sickness.
Spend plenty of time on deck (especially near Sardinia and Corsica).
The views of the Mediterranean Sea, Sardinia, Corsica, and of course the other boats on the water, are among the absolute best parts of taking the ferry between Spain and Italy instead of flying, so don't miss it!
During the daylight hours, we recommend spending as much time as possible outdoors on deck, soaking up the views.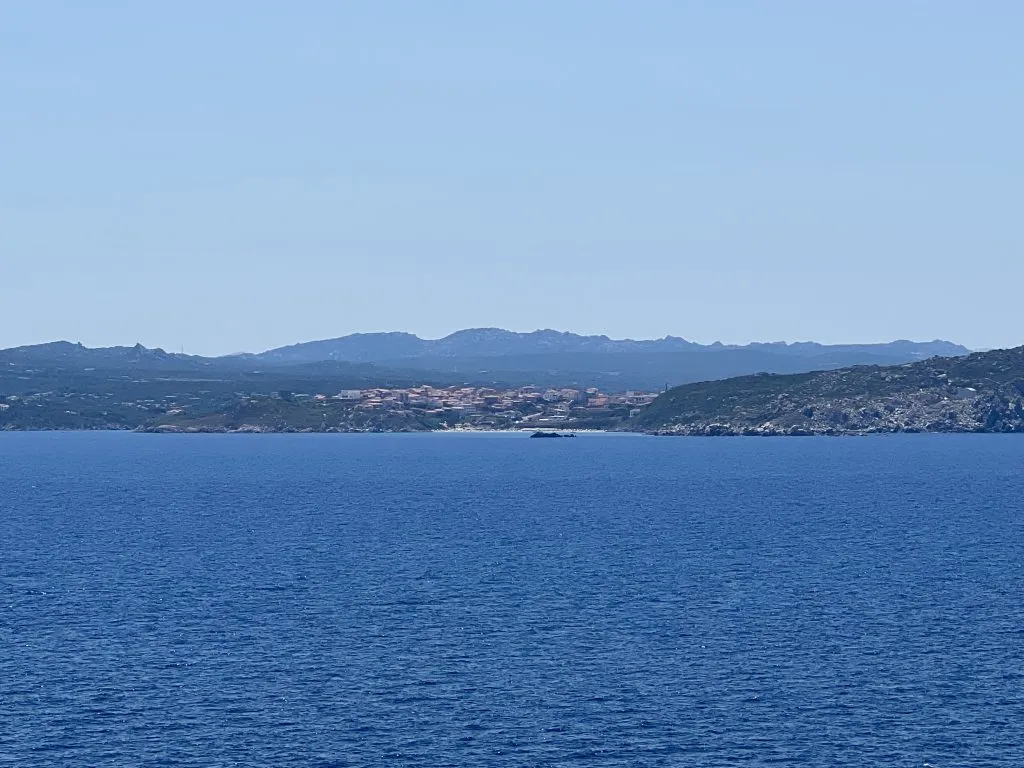 Embrace the journey!
Here's the bottom line: the Grimaldi Lines ferry from Barcelona to Rome isn't going to gift you with the best night's sleep of your life, 5-star accommodations, or gourmet food.
… But it will undoubtedly rank among the most memorable ways you've traveled from one country to another, and one way or another, it's an under 24-hour trip.
If you go into the experience with the right expectations, there's a good chance that–like us–you'll walk away glad that you gave the ferry the chance.
Is that partially because it probably solved another problem for you, like easily transporting a pet or vehicle?
Sure. But there are definitely highlights to enjoy along the way, too!
FAQ For Taking a Ferry From Barcelona to Rome
What should you expect when taking a Grimaldi Lines ferry from Barcelona to Rome?
When taking the Spain to Italy ferry with Grimaldi Lines, it's best to expect dated but adequate amenities, but also beautiful views.
How long is the ferry from Barcelona to Rome?
Sailing from Barcelona to Civitavecchia (outside of Rome) covers a distance of roughly 534 nautical miles, and the route takes just under 24 hours to complete.
The time estimates available on Grimaldi Lines vary between roughly 21 and 23 hours of total travel time, though it's best to be somewhat flexible with your arrival time, as delays are possible at sea.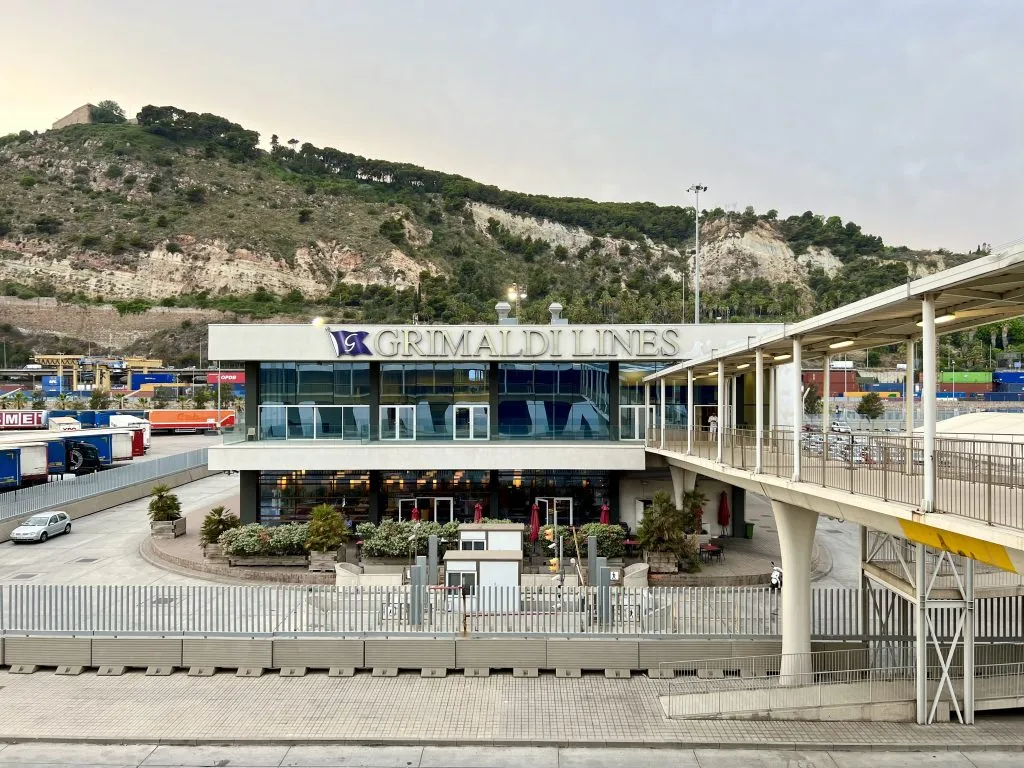 Is taking the ferry from Spain to Italy worth it?
For the right traveler, the Barcelona to Rome ferry is absolutely worth it!
If you're hoping to avoid flying for whatever reason (pets, vehicles, sense of adventure–you name it), the ferry is a fantastic alternative and a memorable–though far from luxurious–travel experience.
We have no regrets regarding booking our Grimaldi Lines cruise and would happily do so again.
Once You Arrive in Italy…
While this ferry route is colloquially known as the ferry from Barcelona to Rome, it, like virtually all cruises going to "Rome", actually drops passengers off in the port town of Civitavecchia.
Civitavecchia is roughly 44 miles, or 70 kilometers, from central Rome.
In order to reach Rome's historic center from Civitavecchia, you'll want to either take the train or, if you'd rather keep life simple, book a transfer service.
Here are the pros and cons of each option.
Train From Civitavecchia to Rome
Trains run near-constantly from Civitavecchia to Rome (specifically the Roma Termini Station), making this a very simple option for getting into the city.
The Civitavecchia train station is within walking distance of the main port hub (10-20 minutes), but if you have a lot of luggage, you may prefer to hop on one of the many buses or take a taxi there–just be sure to negotiate carefully with the taxi drivers!
The train journey to Rome takes about 45 minutes on the more expensive high-speed trains, or about 1.5 hours on the cheaper regional trains.
If you'd like to take the train from Civitavecchia to Rome, we recommend checking the schedule and ticket prices here.
Transfer Service From Civitavecchia to Rome
Don't want to deal with the hassle of getting to the train station?
Alternatively, you can book either a bus transfer service or a private car service to take you directly to Rome from the Civitavecchia port.
While a perfect option for some travelers, keep in mind that a bus transfer service may not coordinate with the Grimaldi Lines ferry arrival perfectly.
If you do opt for a transfer option, be sure to book one heading to the center of Rome (usually Roma Termini Train Station), and not one of the airports!
Read More About Visiting Italy and Spain
Find this guide to taking the ferry between Rome and Barcelona helpful, and want to keep planning your trip?
You can browse our 100+ Italy blog posts here, our many Spain blog posts here, or check out these guides: