Alpine lakes, hot springs, mining towns, mountain towns, sand dunes, and 14ers: the sheer variety of travel destinations that make up any list of the best places to visit in Colorado is magnificent.
Known for its snowcapped peaks, national parks, hiking trails, skiing, and beyond, Colorado is, without a doubt, one of the coolest states to visit in the USA.
If you're looking for some new Colorado vacation spots to add to your itinerary, this Colorado bucket list is for you.
Here are the coolest places in Colorado to visit!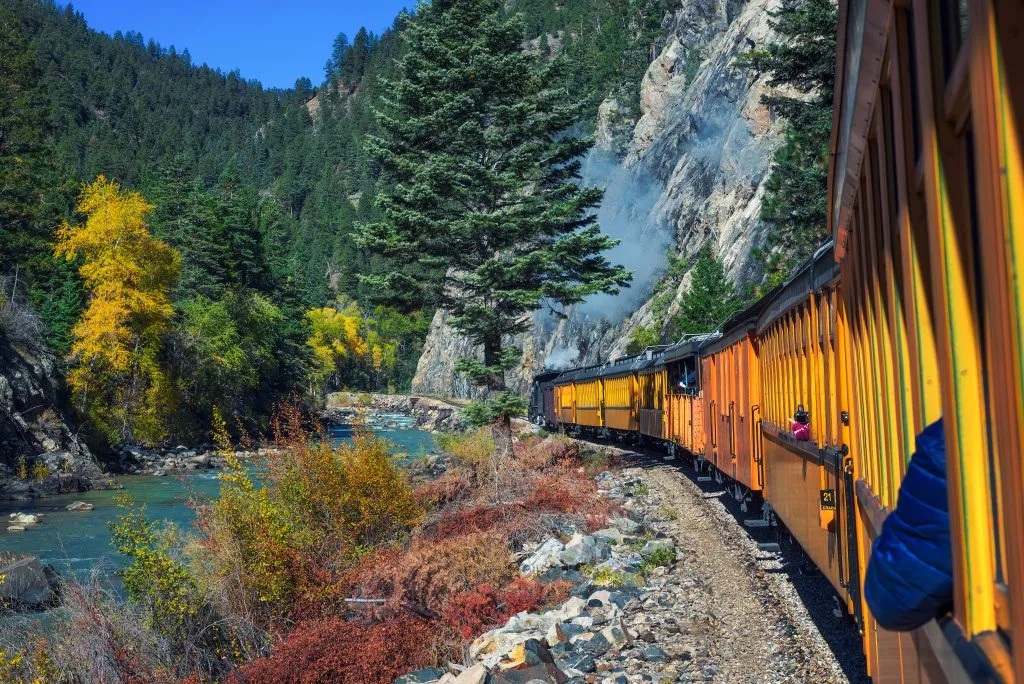 Colorado National Parks For Your Bucket List
Colorado is home to four stunning national parks to visit–and despite the Centennial State's reputation for its incredible Rocky Mountain landscapes, each park is incredibly unique and well worth a visit!
Rocky Mountain National Park
Welcoming more than 3 million visitors each year, Rocky Mountain National Park is not only the state's most popular national park, it's easily one of the top places to visit in Colorado as a whole!
From snowcapped mountains to alpine lakes, and from challenging hikes to relaxing scenic drives, Rocky Mountain National Park has options for all kinds of travelers–the only thing you truly need to justify a visit is an appreciation for alpine beauty.
Some of the most popular things to do in RMNP include visiting Bear Lake, hiking to Emerald Lake and Dream Lake, driving the beautiful Trail Ridge Road, and checking out Old Fall River Road (either by car or by foot depending on the season).
If you're visiting in winter, don't worry, much of the park is still accessible–just be prepared to lace up your cross country skis to visit some of the most popular lakes!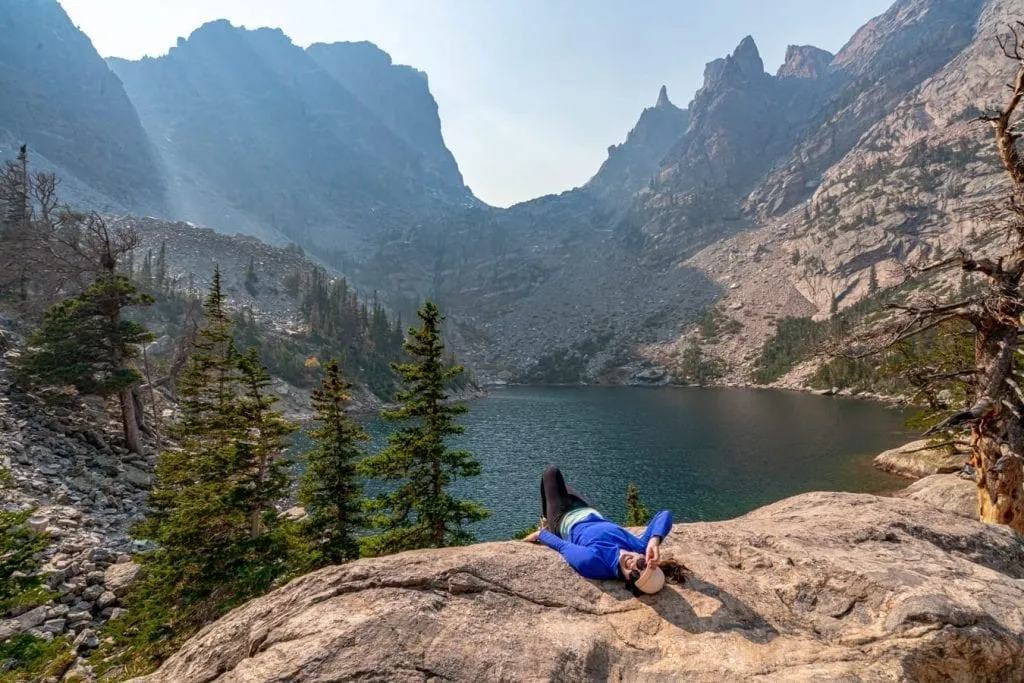 Black Canyon of the Gunnison National Park
From Megan of Red Around the World
Black Canyon of the Gunnison National Park is an often-overlooked national park in Gunnison, Colorado–but if you add it to your list of beautiful places in Colorado to visit, there's no doubt that you'll be blown away.
It is one of the deepest canyons in North America at 8,043 feet deep. It's hard to imagine that, even when you're there looking at it. It's easiest to visit the South Rim just outside of Gunnison which is also where you can access the river at the bottom of the canyon.
There is also access to the North Rim which is perfect if you want to get away from the already meager crowds.
Keep in mind that though the two rims look close to each other on a map, they're a couple hours worth of driving apart.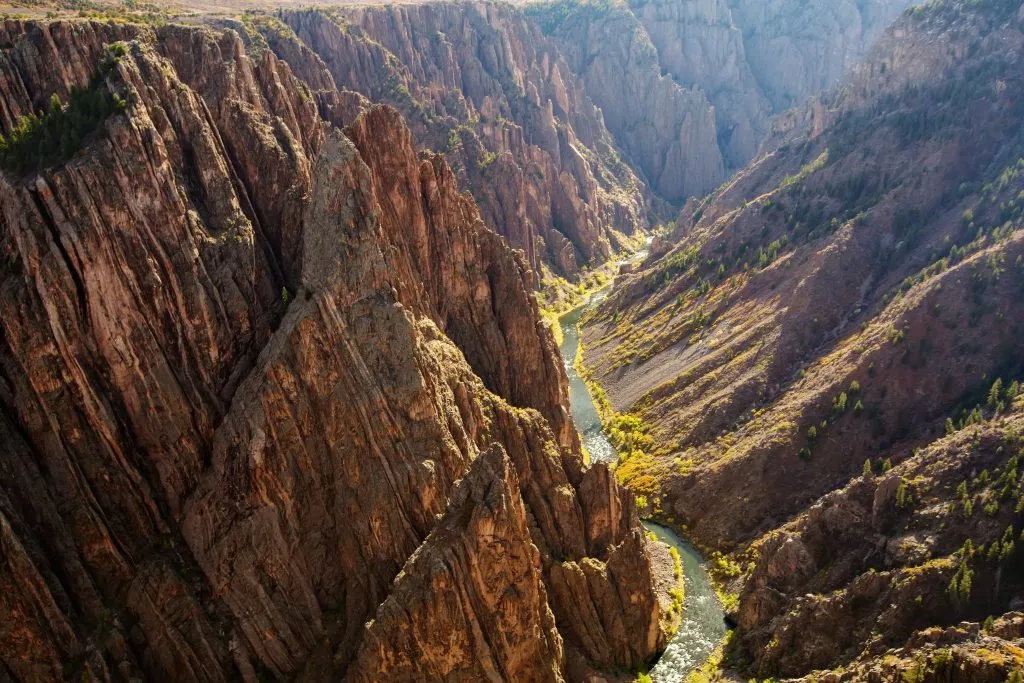 While the park isn't bursting with hiking trails, there are quite a few to choose from and just as many amazing viewpoints to stop at.
Keep your eyes peeled for bears while you're exploring the park.
Even if you just have a couple of hours, it's totally worth visiting. Most of the trails are short, under three miles round-trip.
The Oak Flat Loop Trail is great for people looking to hike below the rim but not all the way to the river. It's two miles round-trip and can be narrow in some places, so be careful.
Also make sure to drive down to the river, even if just for the experience.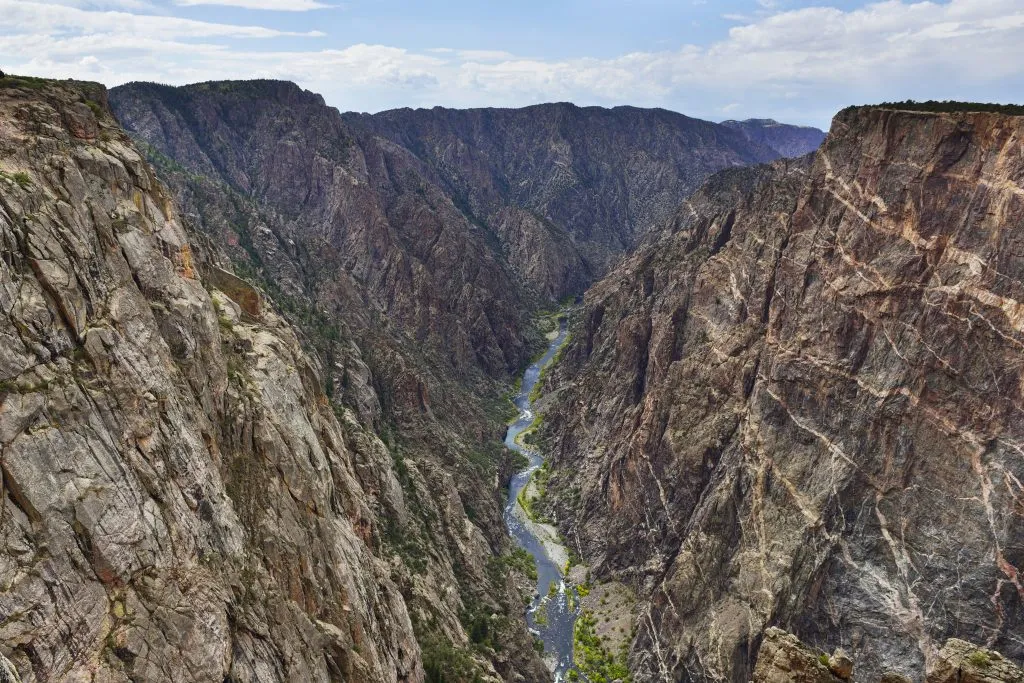 Mesa Verde National Park
From James of Parks Collecting
Mesa Verde National Park is home to 600 cliff dwellings.
The Ancient Puebloans built their villages in overhangs in the side of steep cliffs and climbed down from above, using hand and footholds carved directly into the cliff.
Today, you can see many of them from overlooks at the top of the mesa and see some of them up close on guided tours. Bear in mind that you need to climb down ladders or steep steps to visit them.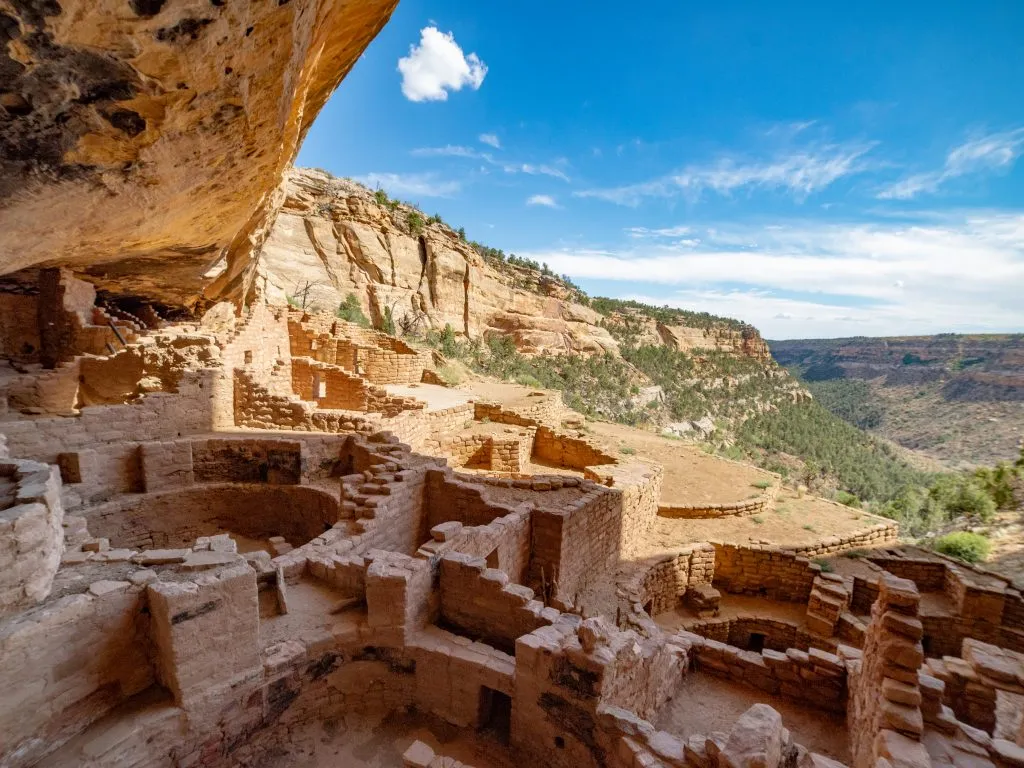 The cliff dwellings are truly incredible to see. Highlights include Cliff Palace (the largest), Long House, and Balcony House (where you need to crawl through a very narrow tunnel to exit).
Each year, some of the other dwellings are also opened up to small group visits, with a ranger as a guide. You need to hike to these, and often climb down the original hand and footholds (with the help of modern-day chains to make it safer).
Whether you see the cliff dwellings from overlooks, on a guided tour, or a small group back-country hike, you are sure to be fascinated by them.
Great Sand Dunes National Park
From Rai of A Rai of Light
Great Sand Dunes National Park, found in the Saguache and Alamosa Counties of southern Colorado, encompasses more than 100,000 acres of open-air adventure.
The fascination not only lies with the tallest sand dunes in North America, but also the surrounding landscape that features forests, snow-capped mountains, and rivers.
There is so much to do that 3 days is the minimum number of days to spend in and around the surrounding area. Top sights in the preserve include High Dune, Zapata Falls, Medano Pass.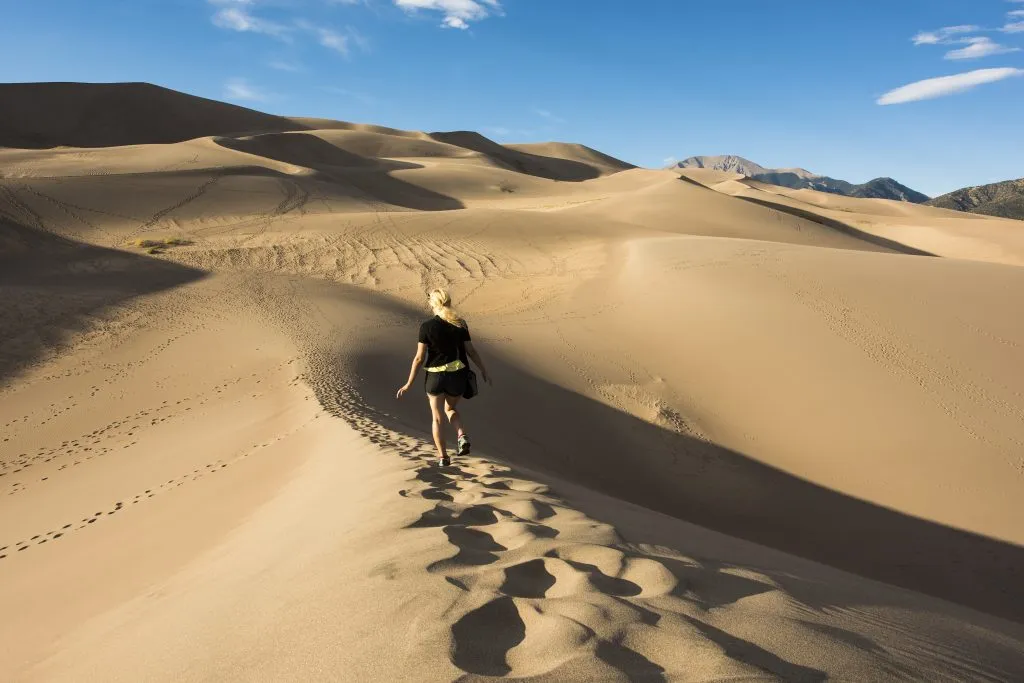 Sandboarding is a popular activity and should not be missed. Other activities worth trying include sledding, horseback riding, and hiking to catch a beautiful sunrise.
The park is always open and no reservations are required. However, the best time to visit is during spring and fall.
The closest town is Mosca, but the park is easily reached from any major city as the San Luis Valley Airport is a mere 45-minute drive from the park's entrance.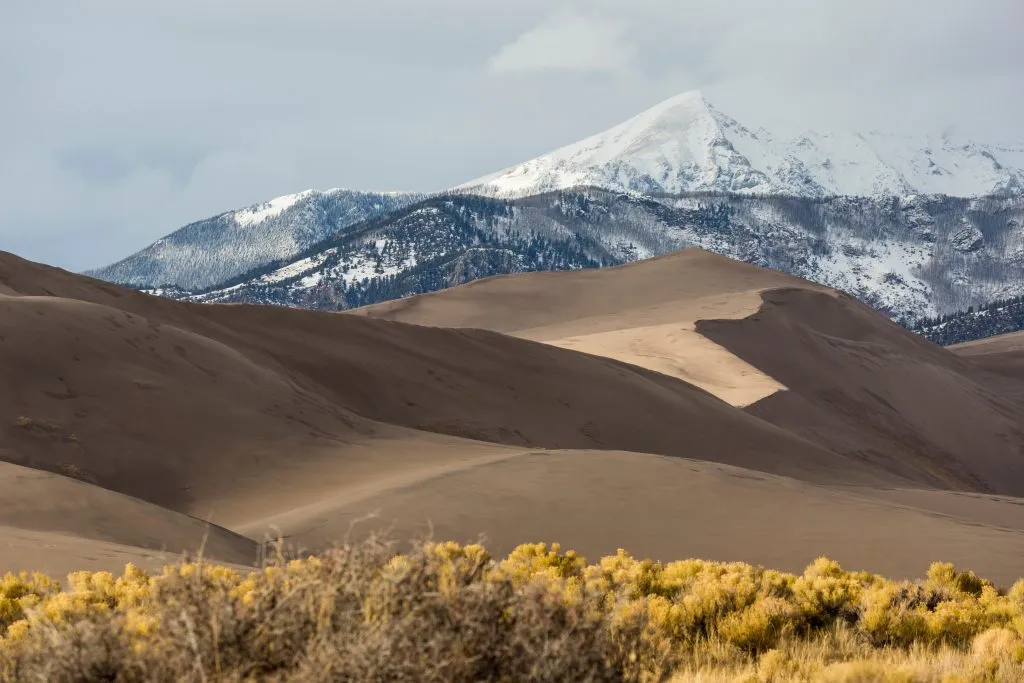 Cool Cities + Small Towns to Visit in CO
Estes Park
Known as the gateway to Rocky Mountain National Park, the charming small town of Estes Park easily ranks among the best places to visit in Colorado.
With its beautiful downtown (don't miss a chance to stroll along the riverwalk!), its huge prevalance of elk living in and around the town, its beautiful lake, and the world-class nature of nearby hiking opportunities, Estes Park belongs on any Colorado bucket list.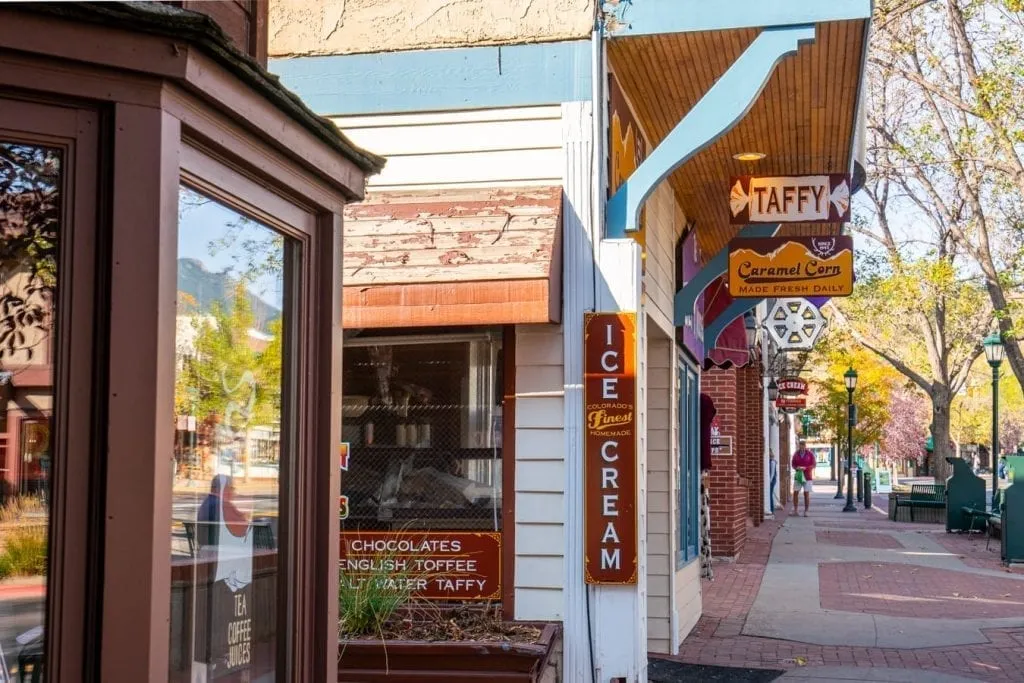 While in Estes Park, be sure to stop by the historic Park Theatre, consider a whitewater rafting trip, go for a scenic drive, check out one of the town's breweries, and pay a visit to the beautiful Stanley Hotel, which inspired Stephen King's The Shining.
Even if you don't check in, the hotel is still worth a peak!
And, of course, the main attraction lies just outside of town: no trip to Estes Park is complete without plenty of time spent in Rocky Mountain National Park!
Where to Stay in Estes Park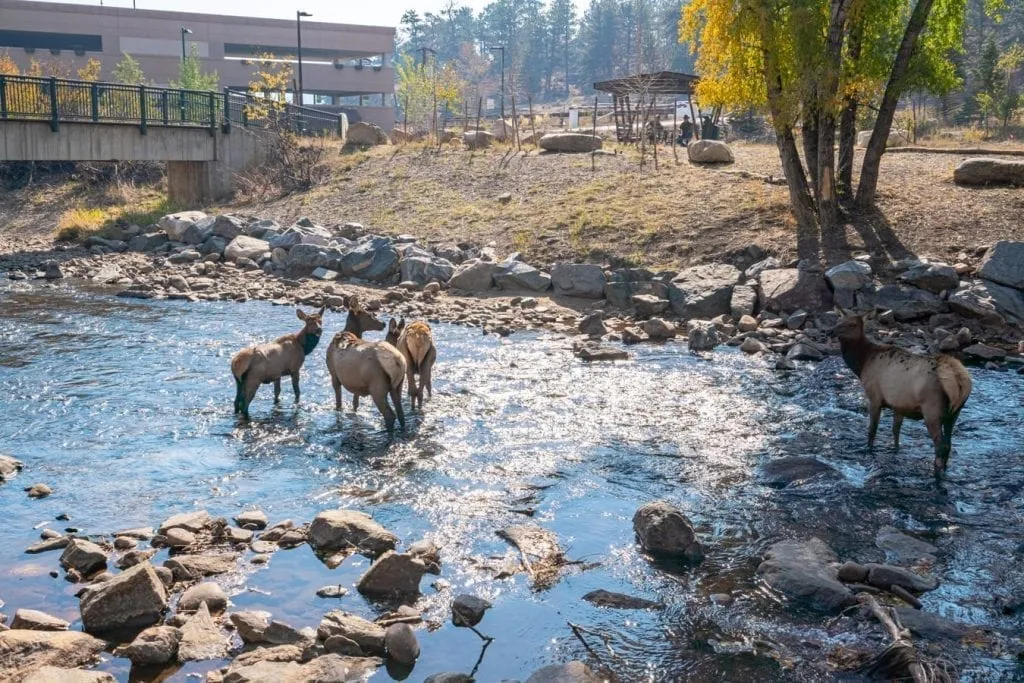 Crested Butte
From Martina + Jurgen of PlacesofJuma
Crested Butte in the Rocky Mountains is probably one of the most recommended places to visit in Colorado.
It is famous as a ski resort and is also considered to be the capital of wildflowers, making Crested Butte a fantastic year-round travel destination in Colorado.
In winter, the challenging ski slopes attract the best skiers and snowboarders. The cross-country ski trails, which are located around the city, add a special beauty to the unique landscape.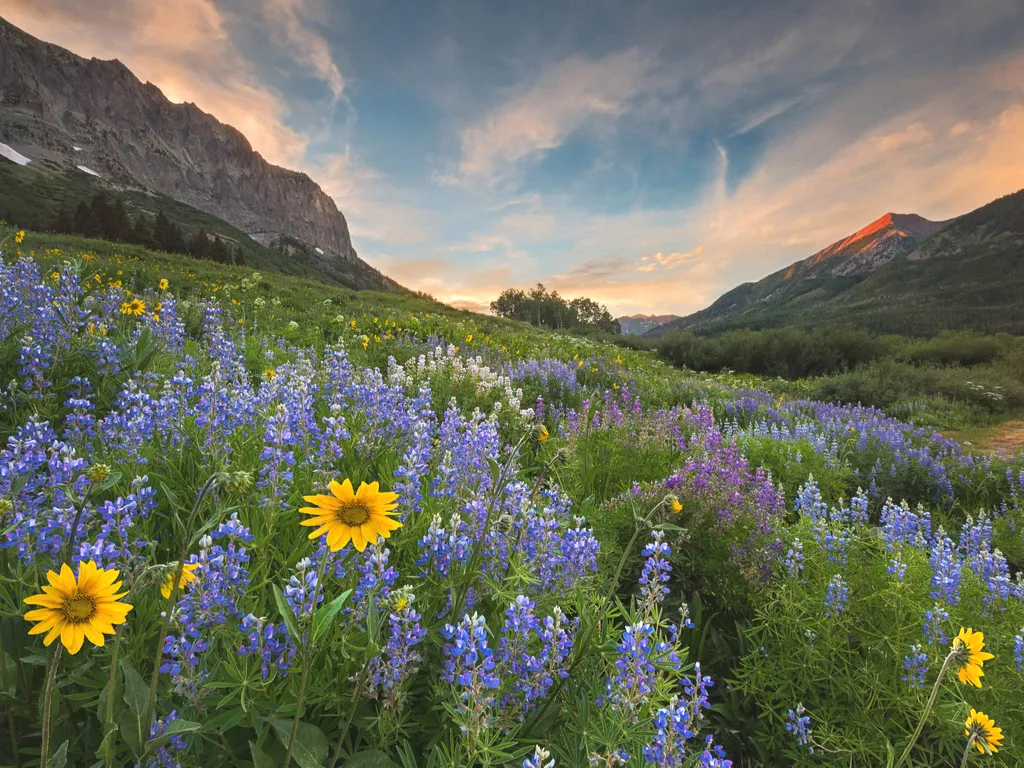 In the warm months, mountain bikers and hikers come to experience the unique nature of the region and the splendor of the flowers.
But not only is the surrounding nature gorgeous, but the town is also pretty too!
Crested Butte is an extremely pedestrian-friendly town, and walking around, you will discover picturesque historical buildings, great restaurants, and plenty of mountain views.
We also recommend a visit in July, when the famous Crested Butte Wildflower Festival takes place.
Where to Stay in Crested Butte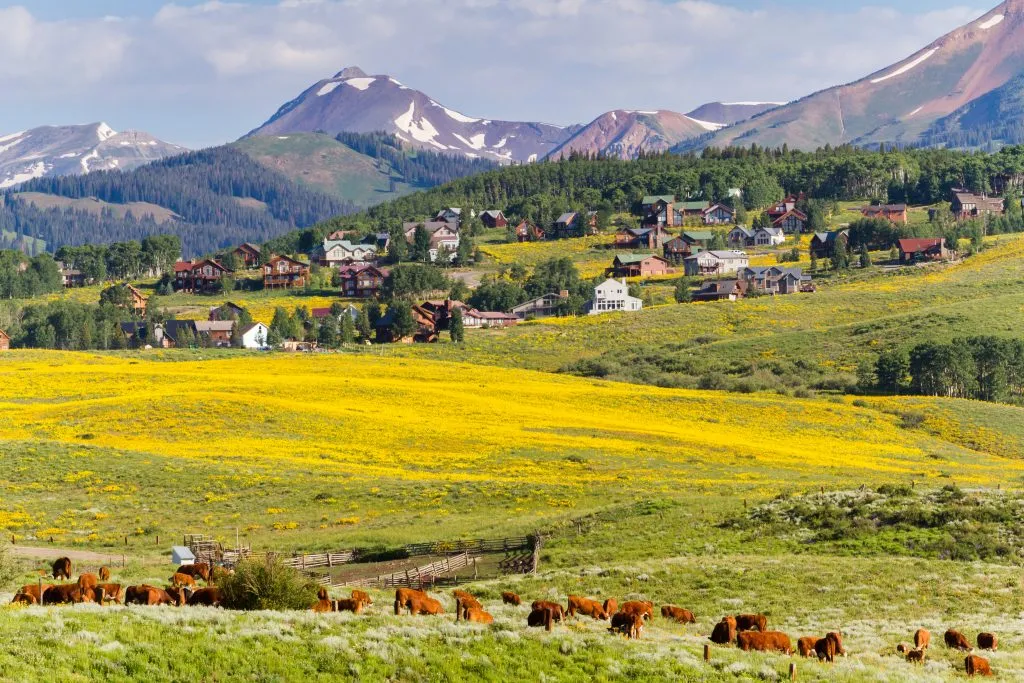 Denver
Colorado's capital city is arguably one of the trendiest and fastest-growing cities in the country–and given that Denver offers a fantastic array of things to do while also being located within proximity of epic mountain hikes, it's no surprise.
Known for its breweries, parks, and proximity to Rocky Mountain National Park as well as popular mountain towns like Boulder and Estes Park, Denver makes a fantastic weekend getaway destination.
While you're in Denver, consider catching a game at Coor's Field, seeing a show at the iconic Red Rocks Amphitheatre, strolling down the 16th Street Mall, stopping by Larimer Square, and–of course–hitting up a few of those popular breweries.
If you're looking to add some museum-hopping to your Denver itinerary, the city also has you covered, from classics like the Denver Art Museum to more unique options like the Wings Over the Rockies Air & Space Museum.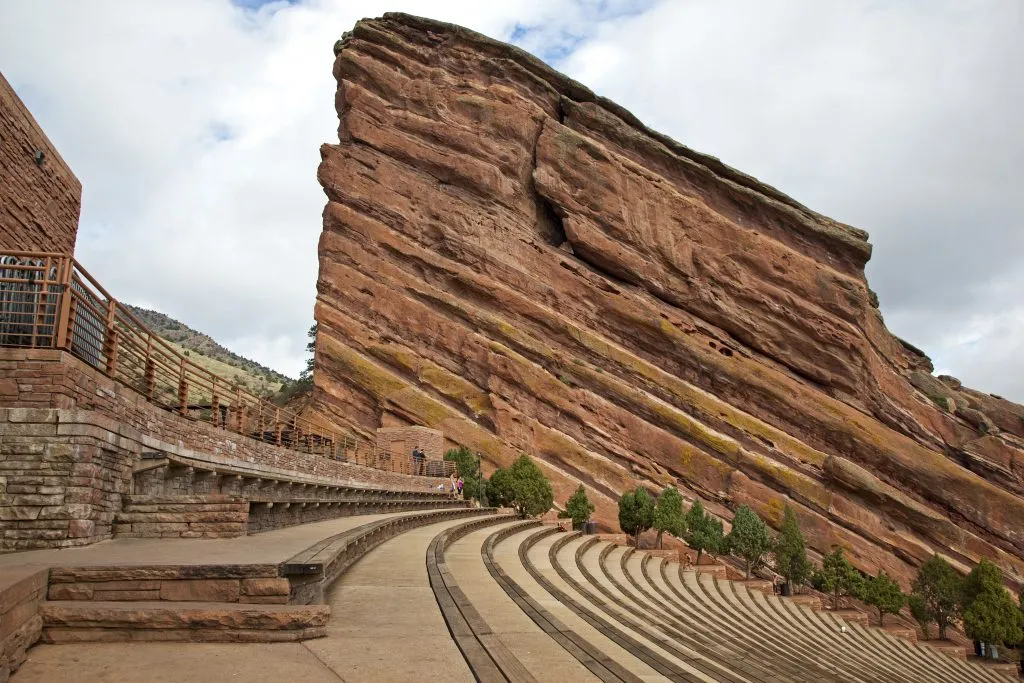 Steamboat Springs
From Liz of Peanuts or Pretzels
Steamboat Springs might be a popular ski town in Colorado and home to many former Olympians, but a visit here can feel less like your typical Colorado ski resort vacation and more like an adventure.
This is a town with a vibrant local community, humorous traditions, and lively Western history.
A four-season destination, there's plenty of things to do year-round in Steamboat. But for many, winter is the most magical time.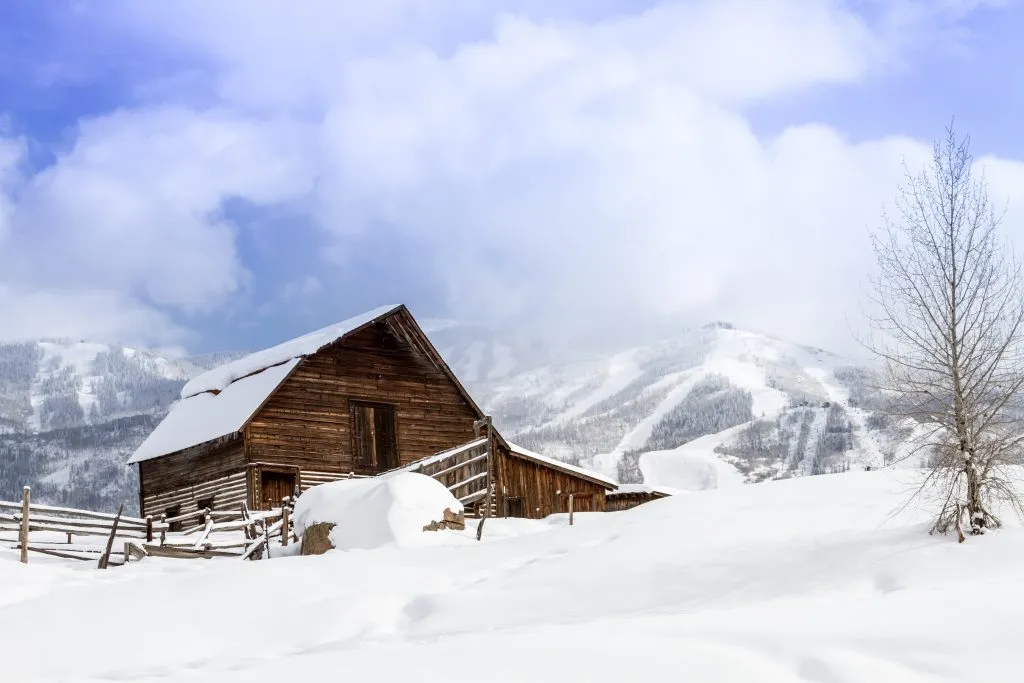 Winter sports are everywhere, not just the main ski resort.
The locals even have their own hill in the center of town and during the Winter Carnival each February, the town comes alive with ski contests (complete with light-up costumes and fireworks), outdoor concerts, sculptures, and parades where horses pull thrill-seekers on skis over jumps right through the middle of town!
After all of that winter fun, take a soothing dip in one of the hot springs around town, such as Strawberry Hot Springs, a local favorite for its natural scenery tucked back in a canyon.
Where to Stay in Steamboat Springs
Breckenridge
From Karen of Outdoor Adventure Sampler
Consistently ranked among the best places to visit in Colorado, Breckenridge is a charming town in the heart of the Rockies with non-stop activities and scenic beauty.
Visit the craft breweries and fabulous restaurants in this town surrounded by mountain peaks. Breckenridge chefs feature local farm-to-table ingredients. In Breckenridge's historic district you can learn the story of this old mining town.
Breckenridge is famous for its world-class cross country and alpine skiing, making it one of the most classic Colorado vacation spots. The Breckenridge ski resort boasts 5 mountains and 187 trails.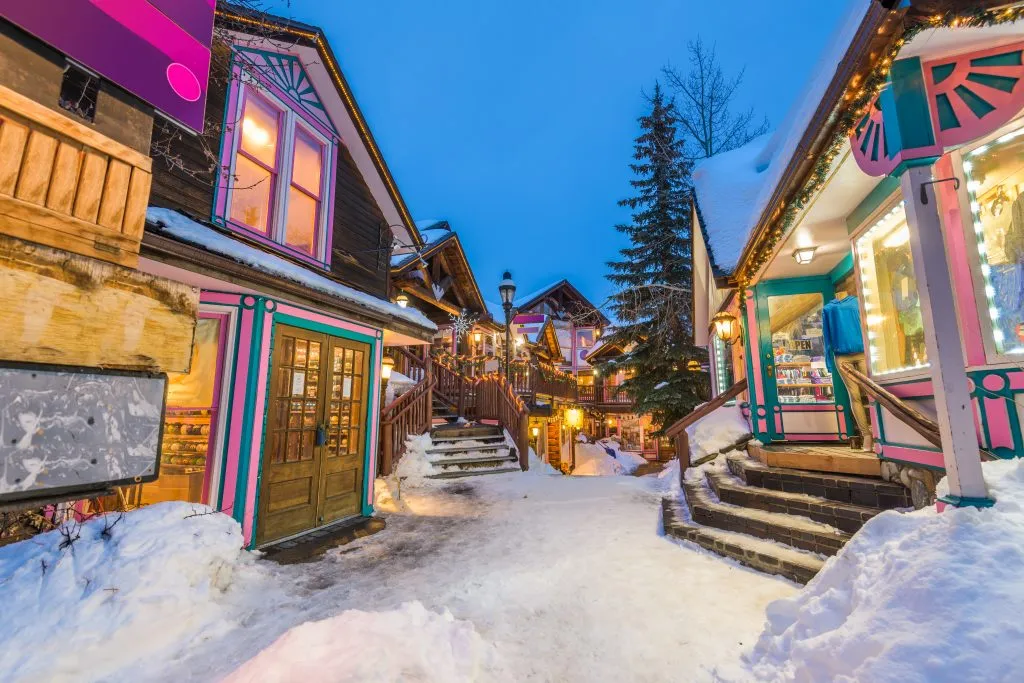 In the summer you will find wildflowers as you hike into an alpine meadow or a cascading waterfall. In fall, the blazing colors of the aspens are spectacular.
Breckenridge is an outdoor enthusiast's mecca. Rafting, ziplining, fly fishing, and biking are a few of the outdoor adventures to try. Hikers will love the hundreds of nearby trails.
Don't miss a chance to take the free gondola ride up into the mountains. It's not unusual to see moose or a bald eagle from your vantage point high above the meadows.
Where to Stay in Breckenridge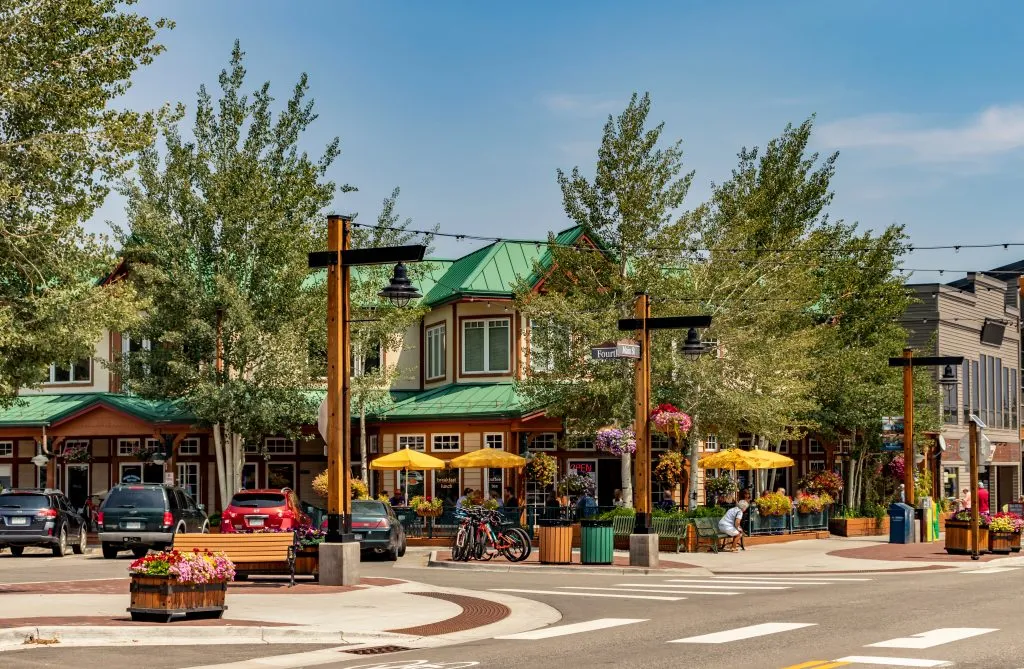 Glenwood Springs
From Mark of Summer Camp Hub
Glenwood Springs is a city right by the Rocky Mountains famous for being home to some of the best hot springs in Colorado.
It's renowned as an excellent Colorado vacation spot for just about everyone, including families and would-be adventurers. 
If you're looking to soak in hot springs, you need to visit Iron Mountain Hot Springs. There are 16 hot springs you can enjoy while getting a scenic view of the Rocky Mountains.
If you're looking to go hiking, then the Glenwood Canyon is readily available with hikes like the Grizzly Creek and the Hanging Lake.
There are also plenty of other outdoor thrilling activities you can do like paragliding and rafting.
If you're visiting as a family, there are plenty of outdoor kid-friendly activities children can participate in.
With such a huge opportunity for children to receive an outdoor education, it's no surprise that there are numerous summer camps in the state and city.
Apart from outdoor adventures to partake in, be sure to visit the famous comedy shows that go on at the Glenwood Vaudeville Revue.
Where to Stay in Glenwood Springs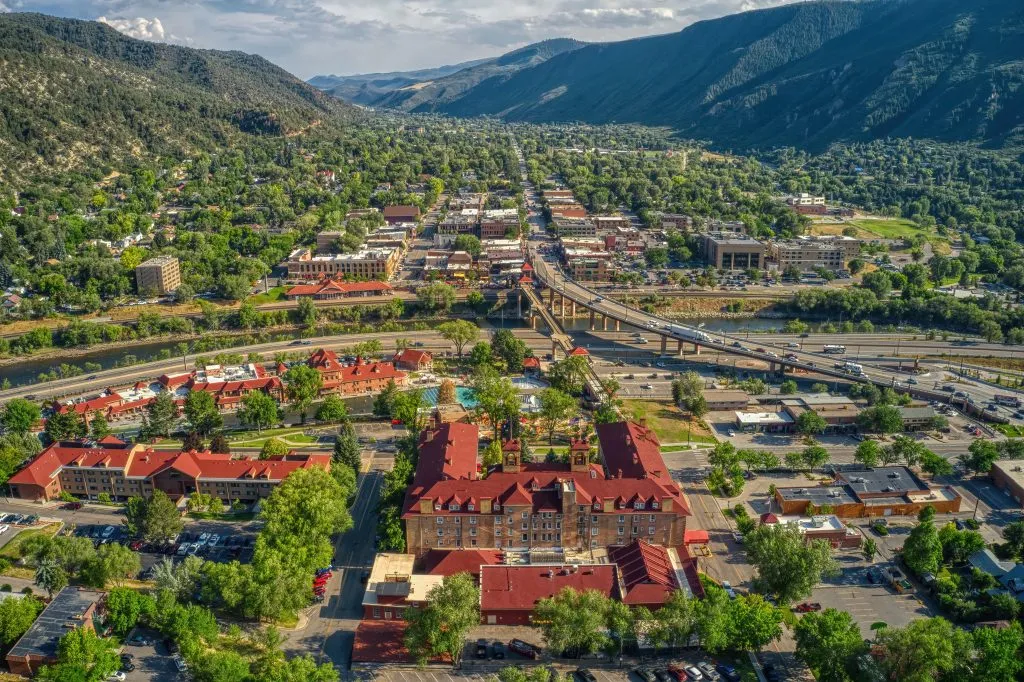 Manitou Springs
From Melissa of Navigation Junkie
Manitou Springs is a historic city located just outside of Colorado Springs with roots tracing back to the Pikes Peak gold rush.
It is the perfect Colorado bucket list destination for some small-town charm, natural beauty, culture, and fun!
A visit to Manitou Springs would not be complete without taking a self-guided walking tour of the springs. There are eight springs in total along a 1.4-mile trail through town, each with its own unique mineral content.
The Manitou Cliff Dwellings, authentic relocated Pueblos, is another must-visit spot in Manitou Springs.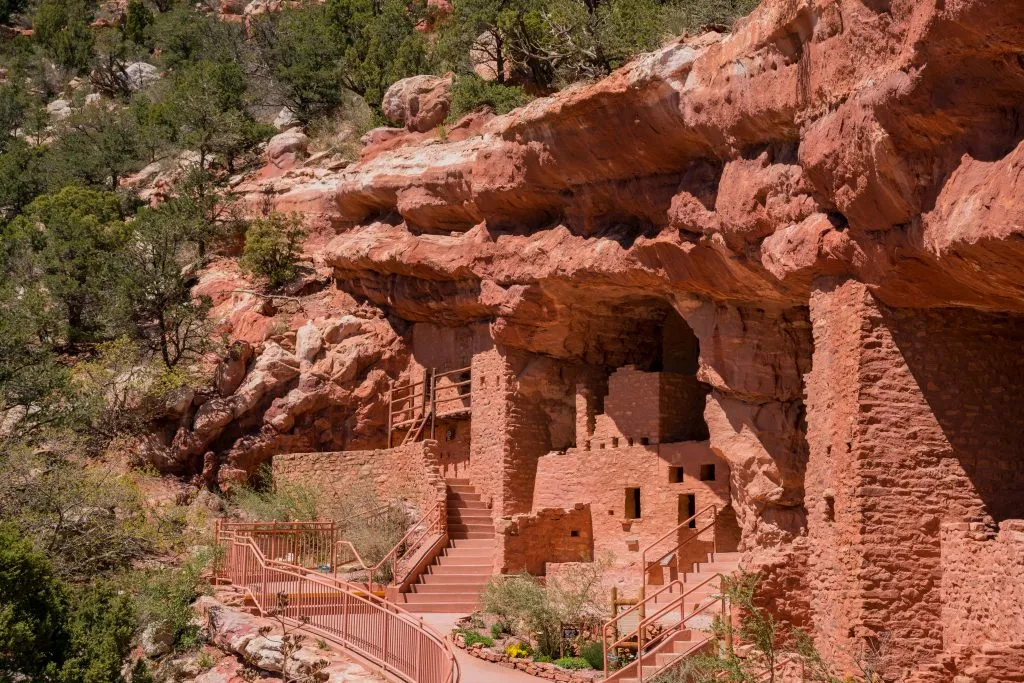 For some more hiking, climb the Incline near Pikes Peak for some stunning views, or if you prefer not to hike, drive the Pikes Peak Highway to the summit.
After a long day of exploring, find plenty of food and bar options in downtown Manitou Springs.
If traveling with kids, be sure to check out the world-famous Penny Arcade for games, kiddie rides, and prizes! And finally stop in at Pike's Peak Ice Cream for some tasty treats and ice cream!
Where to Stay in Manitou Springs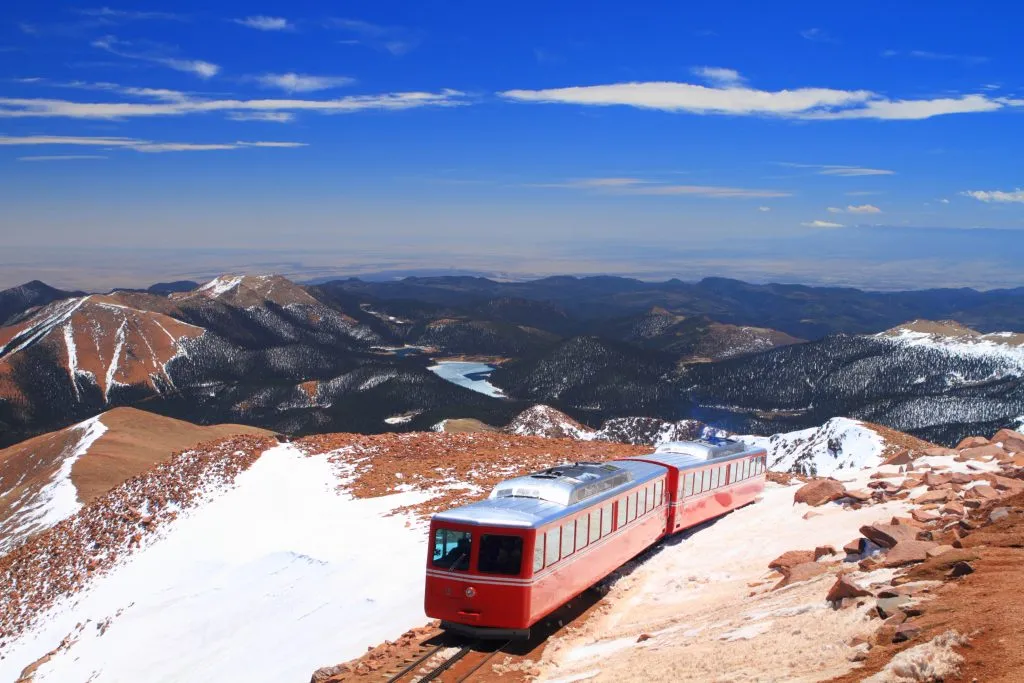 Telluride
From Daria of The Discovery Nut
Telluride is a small but mighty town with colorful mining history and unparalleled landscapes that draw visitors from all over the country.
Tucked away in the box canyon in San Juan Mountains in southwest Colorado, Telluride is definitely an exclusive destination as it's not easy to get to. It takes about 5-6 hours from Denver to get here, and the local airport doesn't have big commercial flights.
Telluride is a scenic destination that is renowned for its year-round outdoor opportunities, gorgeous nature, and a vibrant art scene, so it's not just skiing that brings so many people here (Although Telluride does have some great slopes).
Telluride also offers some of the best hiking trails in Colorado from the iconic Blue Lakes a short drive away to Jud Wiebe Memorial Trail that can be accessed from downtown Telluride.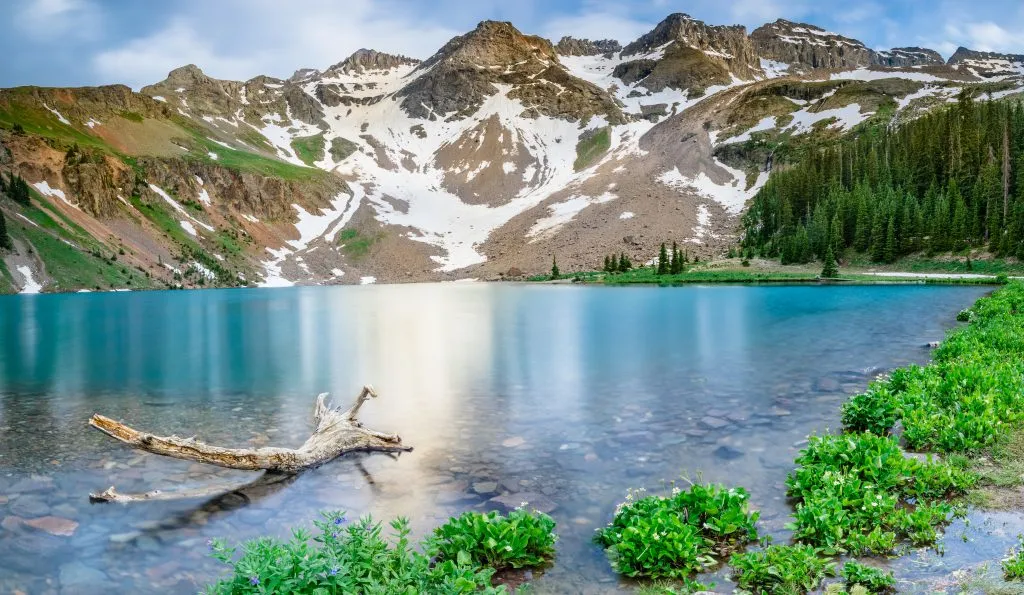 For an amazing experience, take a free gondola between Telluride and Mountain Village from where you can get a panoramic view of the San Juan Mountains.
Visitors also enjoy an ice rink at Hotel Madeline or get a tour of the area to learn about its history of silver mining.
Downtown Telluride is home to a big art scene with several galleries and you can easily participate in one of the organized tours.
Where to Stay in Telluride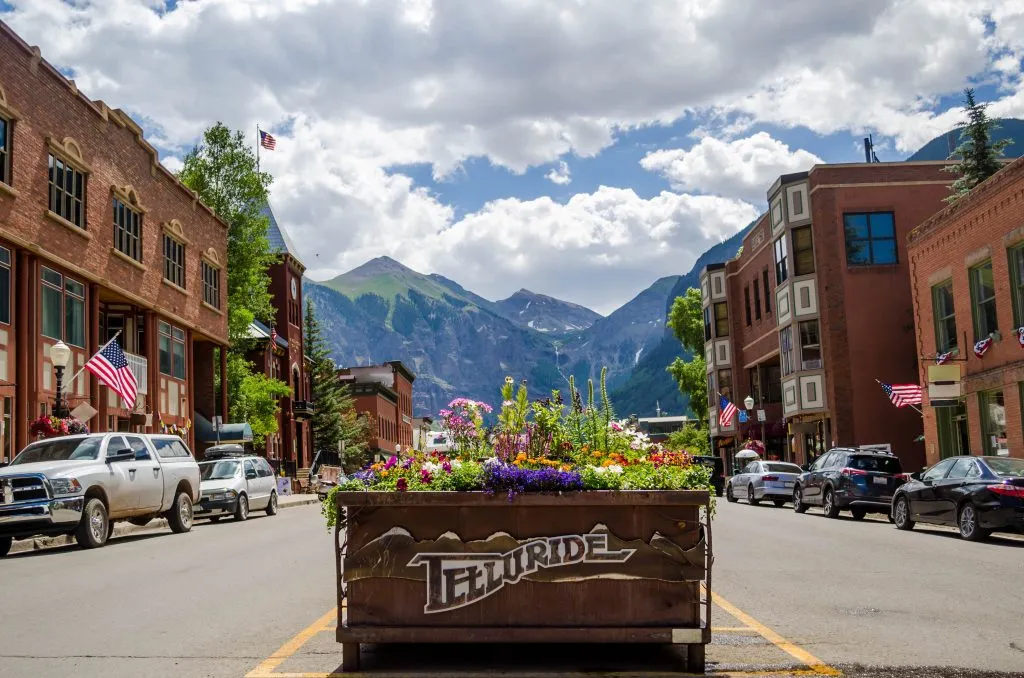 Vail
From Jess of I'm Jess Traveling
Vail, Colorado is one of the best places to visit in the state. Known for its world-class ski runs and luxurious accommodations, Vail is a sought-after destination worldwide.
You can travel to Vail year-round but the best time to visit Vail is in the winter. With over 5,000 acres of skiable terrain, Vail Ski Resort is not only one of the biggest in the United States but it's also extremely popular.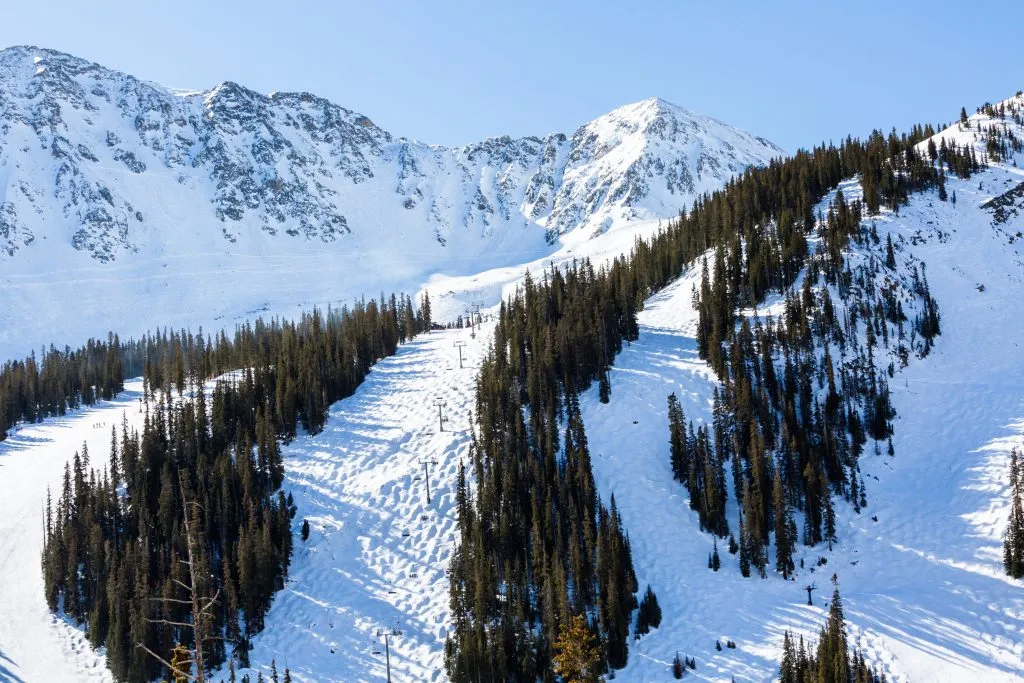 From the legendary back bowls to the bunny hill, Vail mountain offers something for every ability level.
Vail Village is full of boutique shops, fun bars, and tasty restaurants. One of the best bars in Vail Village is Vendetta's. Come here for a fun environment, apres drinks, and cheap pizza.
If you are looking for more of an intimate dining experience reserve a table at one of the several on-mountain restaurants like Game Creek.
Whatever it is that peaks your interest, Vail, Colorado is a Colorado travel destination for the whole family to enjoy.
Where to Stay in Vail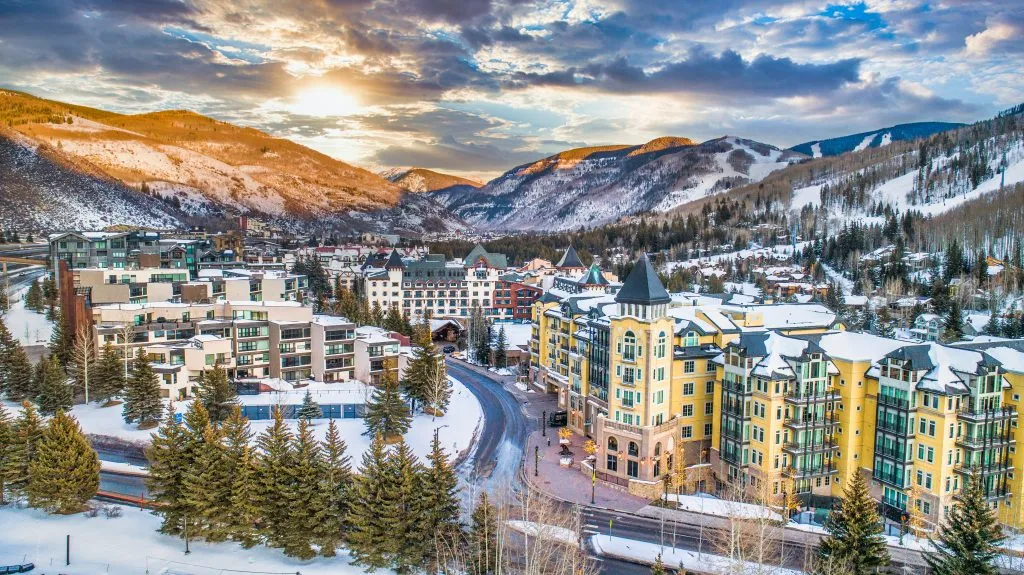 Pagosa Springs
From Agnes of The Van Escape
Pagosa Springs is a town picturesquely situated on the San Juan River in the southwestern part of Colorado.
It is worth adding it to the road trip itinerary, especially when you plan also visit Durango and Great Sand Dunes National Park. Pagosa Springs will be the perfect stop for a longer break on the US-160W route.
The town is famous for its magnificent thermal springs, thanks to which it owes its name. In Ute, "pagosah" means "healing waters." Pagosa is the home of the world's deepest geothermal hot spring.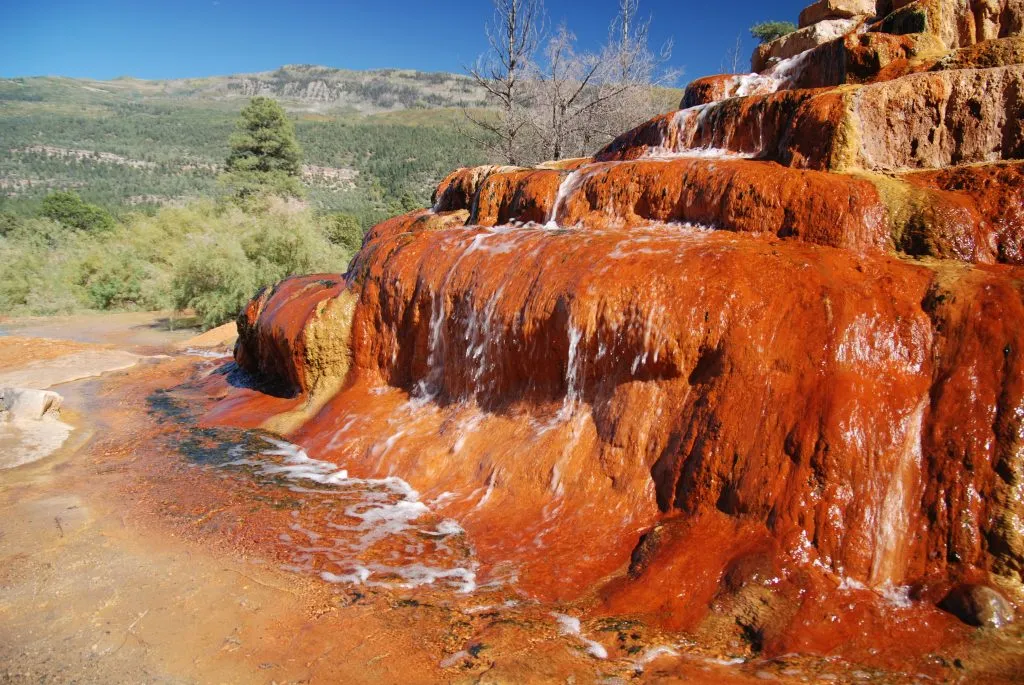 So, the best thing you can do in this town is soaked up the hot springs and relax.
The mineral-rich waters fill the baths at The Springs Resort & Spa, The Overlook Hot Springs, and Healing Waters Resort & Spa. Each of them is open to the public.
In addition to the hot springs resorts, there are interesting and picturesque hiking trails around Pagosa Springs. You can admire fabulous waterfalls like Treasure Falls or Piedra Falls. Moreover, rafting and kayaking trips are popular on the San Juan River.
Where to Stay in Pagosa Springs
Colorado Springs
From Jenny of Limitless Hiker
Spend a weekend or even a long weekend exploring Colorado Springs. It's the perfect amount of time to experience the highlights of this small town in Colorado.
Colorado Springs is well known for its Manitou Springs Incline which gains nearly 2,000 feet of elevation over less than 1 mile. Whether you're looking for a tough workout to start training for Colorado 14ers (14,000-foot mountains), or just want to challenge yourself, this incline trail is a must.
Colorado Springs is also known for the beautiful Garden of the Gods park.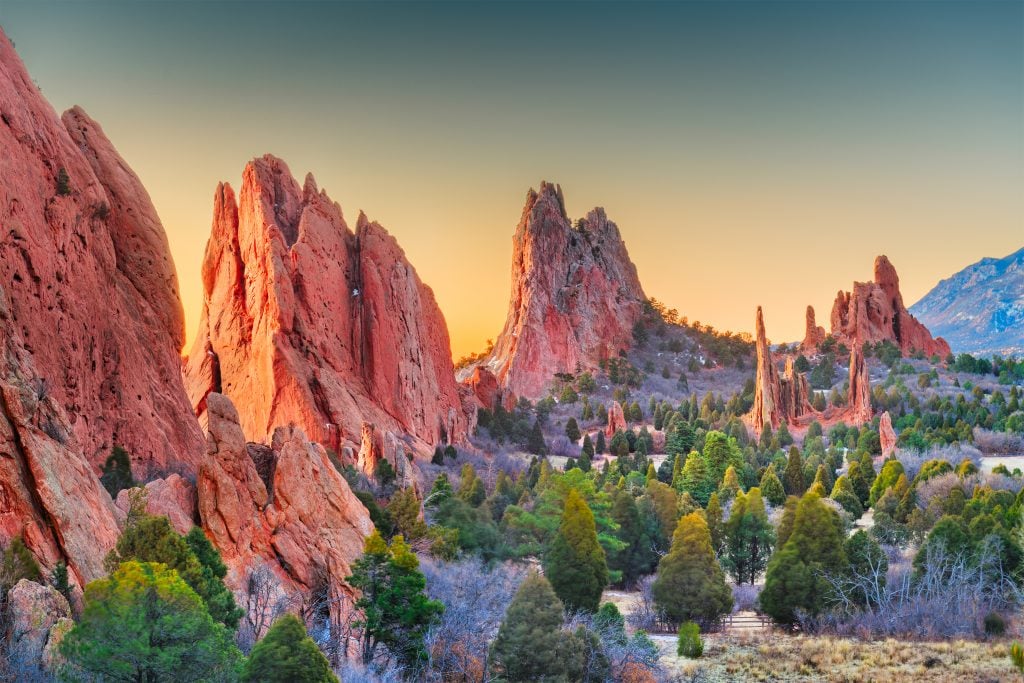 The Garden of the Gods is known for its bright orange rock formations. It's a popular spot among rock climbers or you can spend some time biking around or even hiking around.
Next on the list of must-see places in Colorado Springs is Pikes Peak. Which is the only 14er in this area. You have the option of hiking to the top, which is 26.2 miles round trip with around 7,500 feet of elevation gain, or you could also hike one way and have someone pick you up at the top. The other alternative is to drive to the top.
After you've had a good workout from all of that hiking, head over to the SunWater Spa and soak in their hot springs. This is a rewarding treat after a hard workout.
Where to Stay in Colorado Springs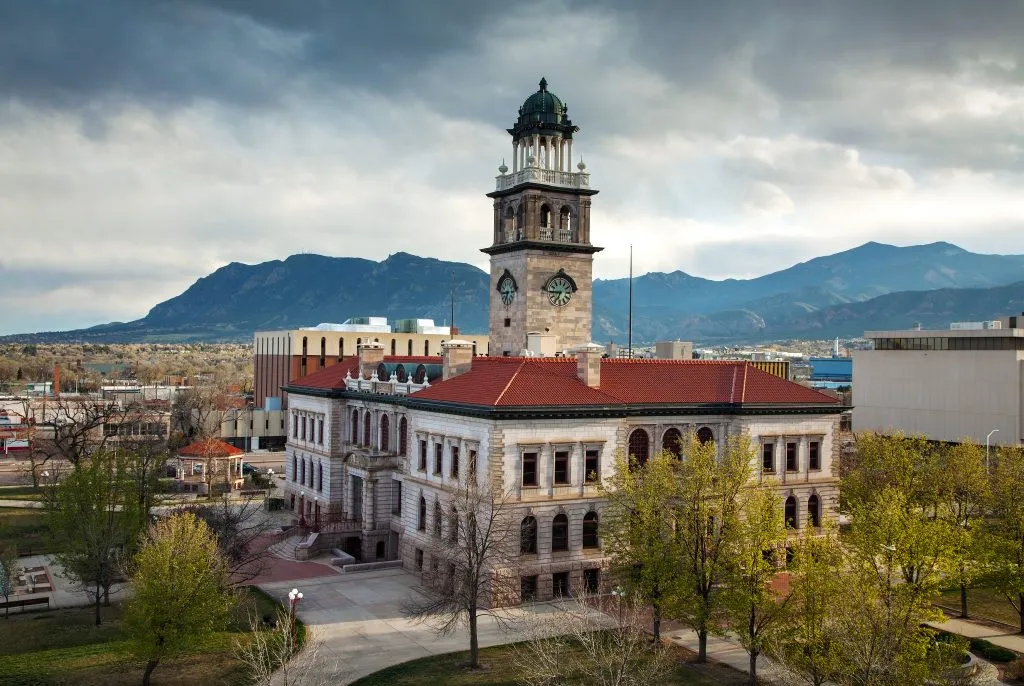 Aspen
From Ankita of My Travelling Stilettos
Nestled in the Roaring Fork Valley in Colorado's Rocky Mountains, Aspen is the most famous ski resort town in the US and one of the best vacation spots in Colorado.
Long snowy winters thanks to the elevation of 8000 ft and proximity of four world-renowned Ski Resorts made it the favorite ski destination for celebrities and private citizens alike.
It is situated 200 miles away from Denver and can be reached easily by road.
Skiing, snowboarding, snowshoeing, ice skating, snowmobiling, sledding are the most popular activities to do in the winter.
Not an adventure junkie? Explore Aspen town.
Visit Wheeler Opera House and Hotel Jerom, catch glimpses of annual film and music festivals or experience a fine dining meal from the plethora of world-class restaurants.
Spring and falls are the ideal time to take mountain gondola rides to the top of Elks Mountains and enjoy breathtaking views along the way.
Aspen has many hiking and mountain biking trails to enjoy when it is not snowing.
Where to Stay in Aspen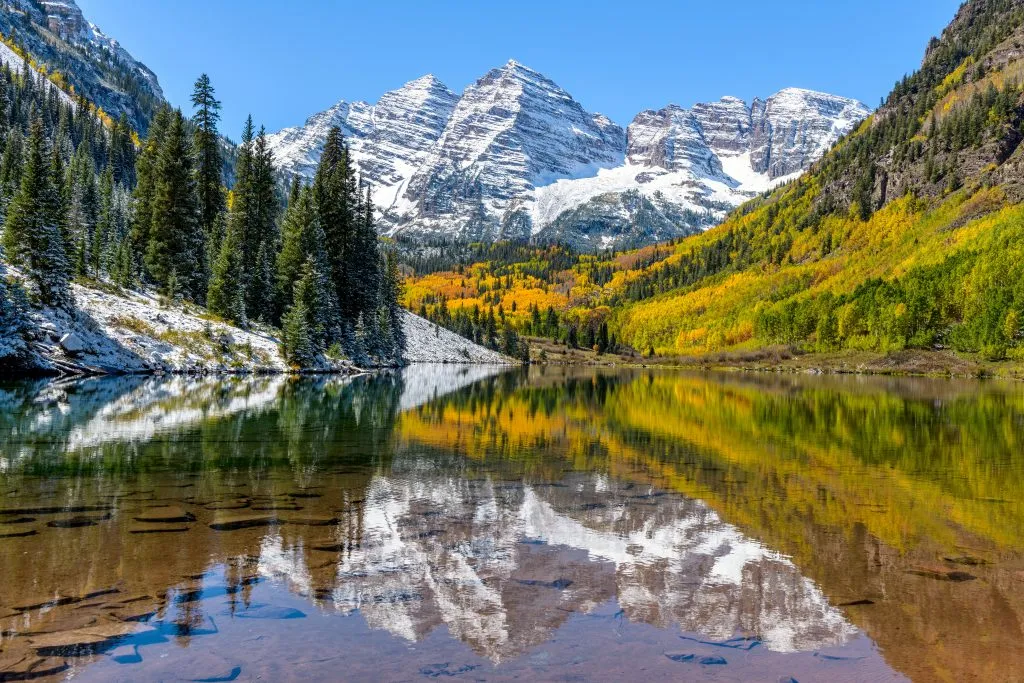 Grand Junction
From Trijit of Budget Travel Buff
Looking to get beyond Colorado's famous ski towns and find some cheaper places in Colorado to visit that are still worthy of a Colorado bucket list? Look no further than Grand Junction.
Located at the confluence of the Gunnison and Colorado rivers, Grand Junction is such a beautiful place that offers everything from natural scenic views to Colorado adventures without burning a hole in your pocket.
It is just a short drive away from Utah and around 245 miles away from Denver. Not only for outdoor adventures but this popular Colorado town is also known as Colorado's Wine County as it is home to many wineries.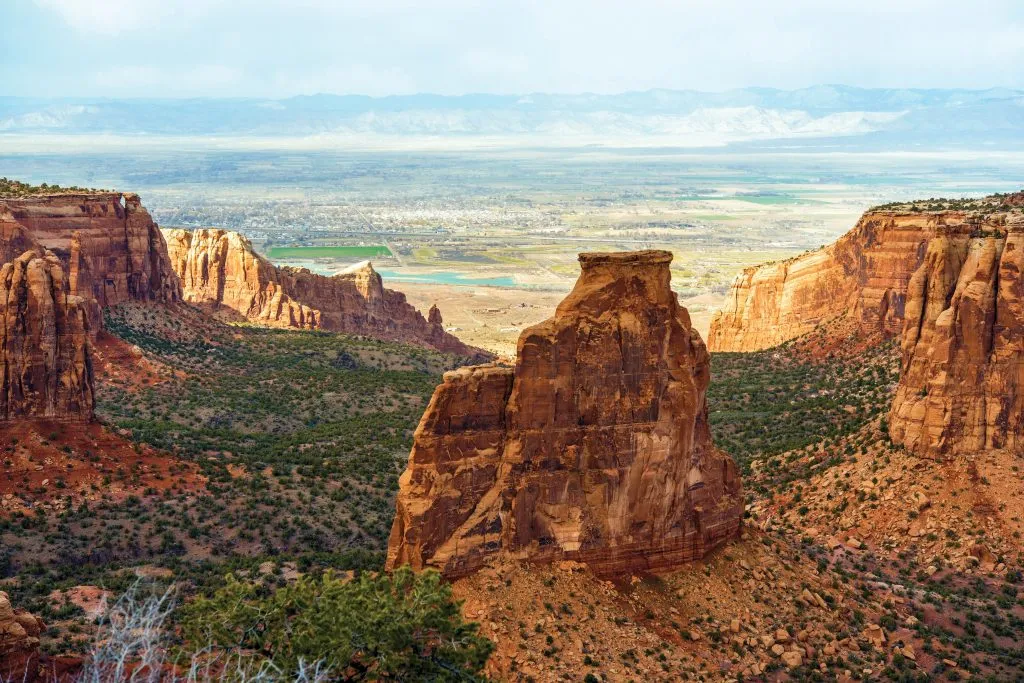 From exploring historic downtown to wine tasting and hiking nearby trails, you will find plenty of things to do in Grand Junction.
Discover Grand Junction's historic downtown district which is filled with varieties of mixed art galleries, sculptures, local boutiques, restaurants, and breweries.
Next, visit the Colorado National Monument, where you just may think that you've been transporated to the rocky landscape of southern Utah.
Located just a short drive from downtown, these natural stunning landscapes of red rock formations will leave you awestruck.
Grand Junction is also a great place for wine lovers. If you visit this place in summer or spring, don't miss a wine tasting tour. Enjoy the views of the vineyards while sipping on some of the best quality wines.
Where to Stay in Grand Junction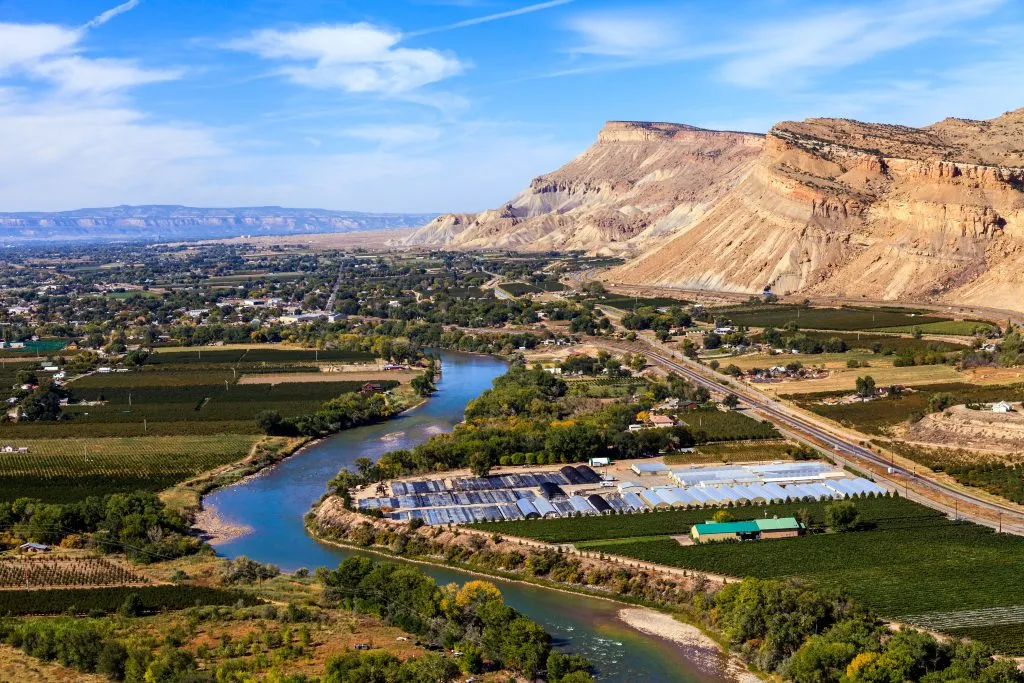 Golden
From Krystianna of Delightfully Denver
One of the most underrated places to visit in Colorado is the town of Golden!
This town has deep-rooted wild west vibes and is home to some amazing attractions that you won't want to miss when visiting this state. Plus, one day in Golden is all you need.
Even though Denver is home to Coors Field, Golden is actually where Coors Brewery is located.
The brewery hosts tours for the public, and you can even catch a shuttle bus from downtown Golden to easily get there if you're traveling without a car.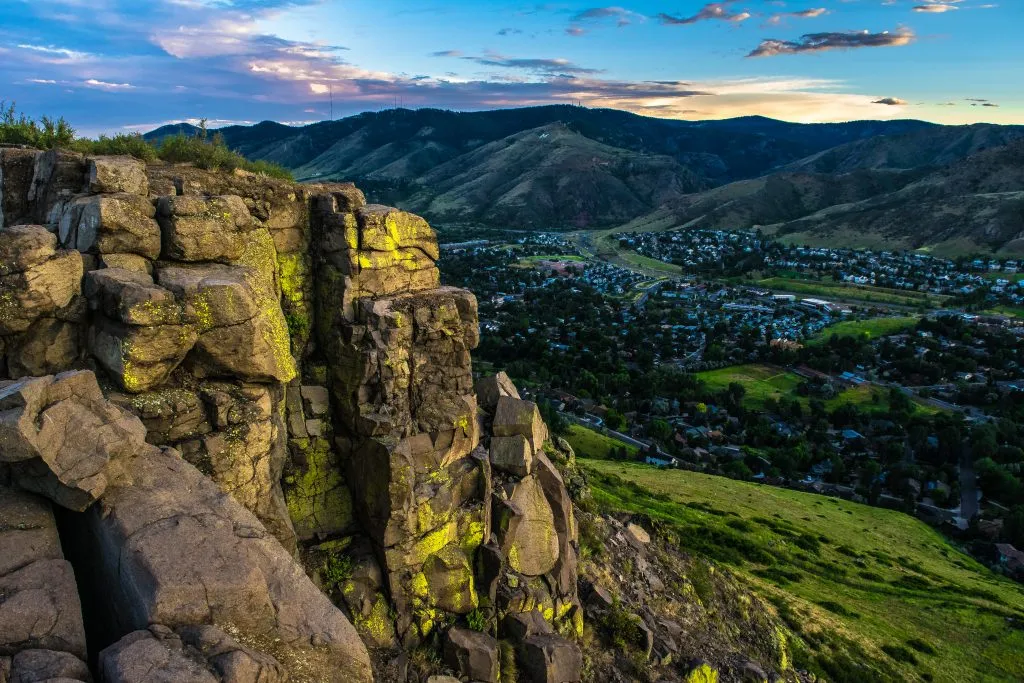 Golden is also one of the best towns near Denver for hiking. There are a few mountains to hike here, including Lookout Mountain and Table Mountain, and both are equally great.
Downtown Golden is lovely too. There's a huge "Welcome to Golden" sign that gets decorated for the holidays. You can find a bunch of local shops and restaurants throughout downtown Golden like Woody's Wood Fired Pizza.
If you're wondering where to go in Colorado and want to visit a small western town, Golden is the perfect place!
Where to Stay in Golden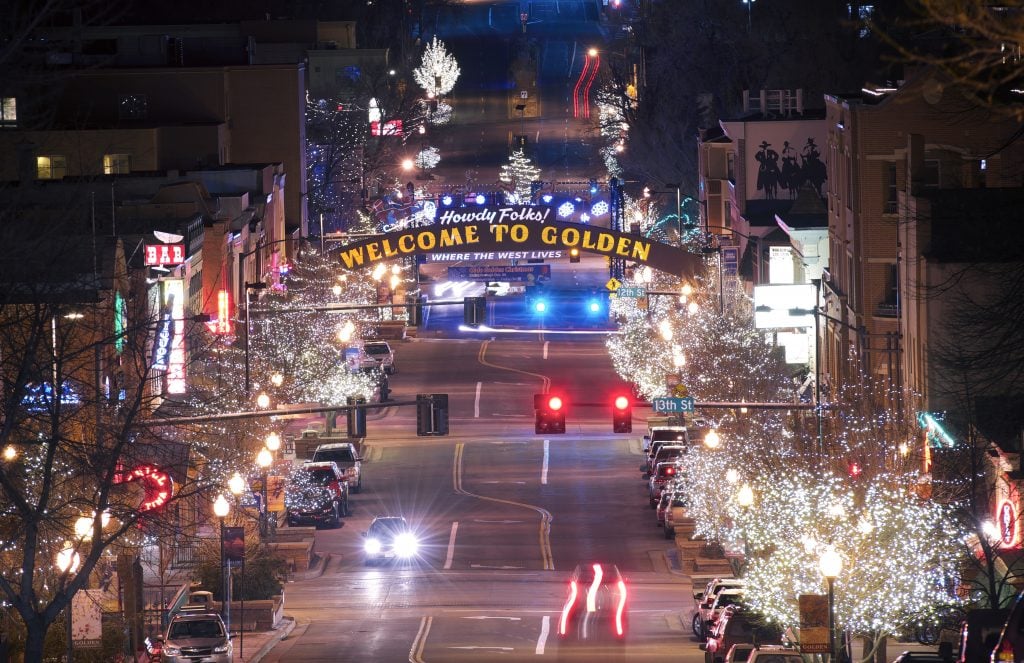 Canon City
From Corritta of It's a Family Thing
One of the best-kept secrets of Colorado is Canon City. I know you may be wondering what makes this one of the best places in Colorado, and that's the Royal Gorge Bridge.
Only an hour away from Colorado Springs, Canon City is a small town with a big bridge. The Royal Gorge Bridge is the highest suspended bridge in the United States. The bridge is over 900 feet above the Arkansas River.
It is a sight to see and even more amazing to walk. Along with walking across the over 1200 footbridge, you can also ride the gondola across the gorge, zipline, or fly on the royal rush sky coaster.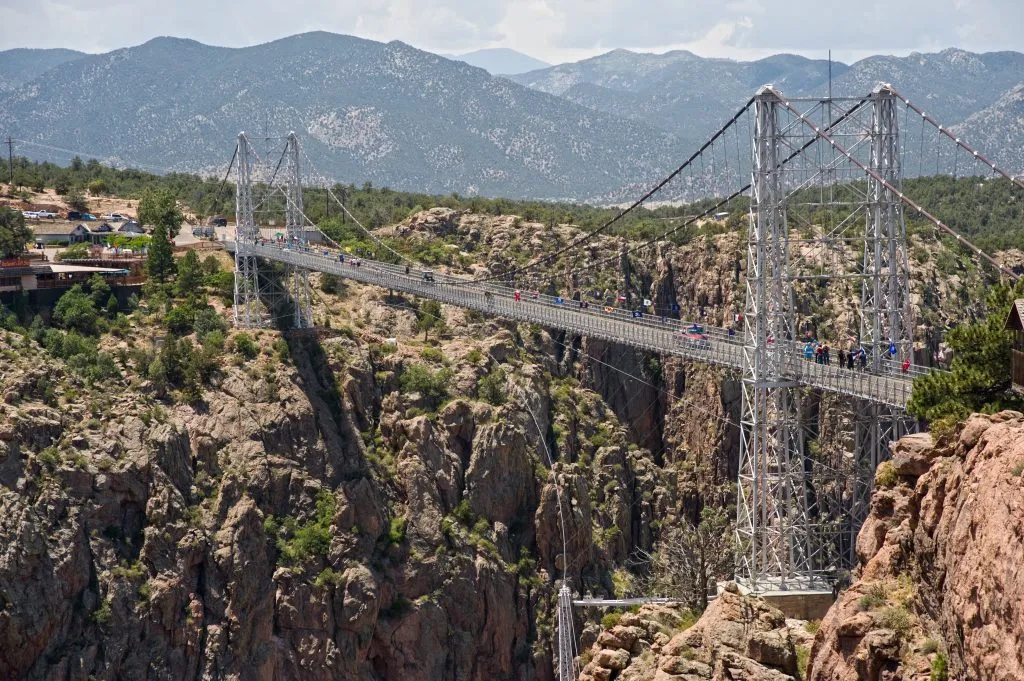 As if that wasn't enough, you can head down to the gorge and enjoy a train ride along the Arkansas River. You can relax and have dinner while learning more about Canon City.
If you are up for an adventure, you can raft on the Arkansas River. Take of the waters while taking in the beautiful scenic views.
In the spring, you can enjoy the music and blossom festival, which is a celebration of the upcoming cherry and apple crop.
Canon City is the perfect small-town with diners, shops, boutiques, and few traffic lights. Be sure to stop at Julian's Taco Shop downtown; you won't regret it.
Where to Stay in Canon City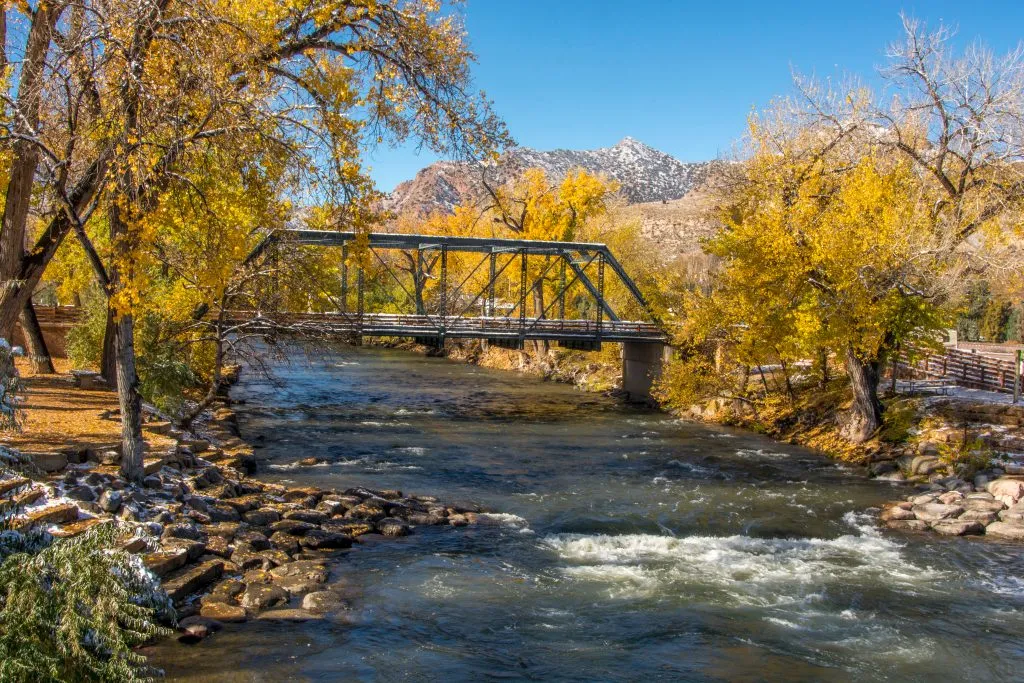 Aurora
From Dymphe of Dym Abroad
Aurora is one of the best places in Colorado. You find the city to the east of Denver.
There are lots of great things to do and see in the city of Aurora. For example, there are a lot of outdoor activities and there is beautiful nature.
One of the best things to do in Aurora is going to Cherry Creek State Park. This is a beautiful park with lots of places with water. It is the perfect place for a relaxing walk while seeing the Rocky Mountains in the background.
Another great thing about Cherry Greek State Park is that there are many water activities. Besides that, another great thing to do in Aurora is visiting the Wings Over the Rockies Air & Space Museum. This is a very interesting museum to visit.
Also, you should go to Fiddler's Green Amphitheatre. This is a very large outdoor amphitheater where many events throughout the year take place.
Where to Stay in Aurora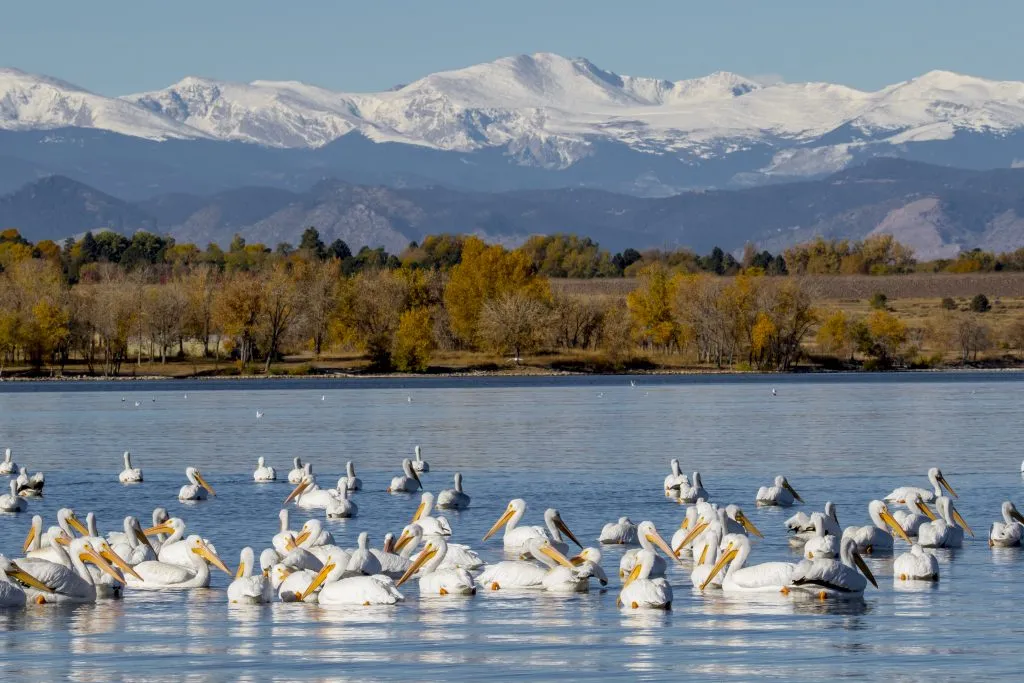 More of the Best Places to Visit in Colorado
Mount Evans
From Allison of She Dreams of Alpine
If standing on the summit of a 14er is on your Colorado bucket list, don't miss a trip to Mount Evans.
You can reach the 14,265-foot summit of this mountain in multiple ways, so you get to decide how hard you want to work to get to the top.
Mount Evans is located about 60 miles west of Denver, along Mount Evans Scenic Byway (aka Highway 5), which is the highest paved road in the whole country.
You can actually drive it straight to the top with only a short stroll to the true summit from the parking lot.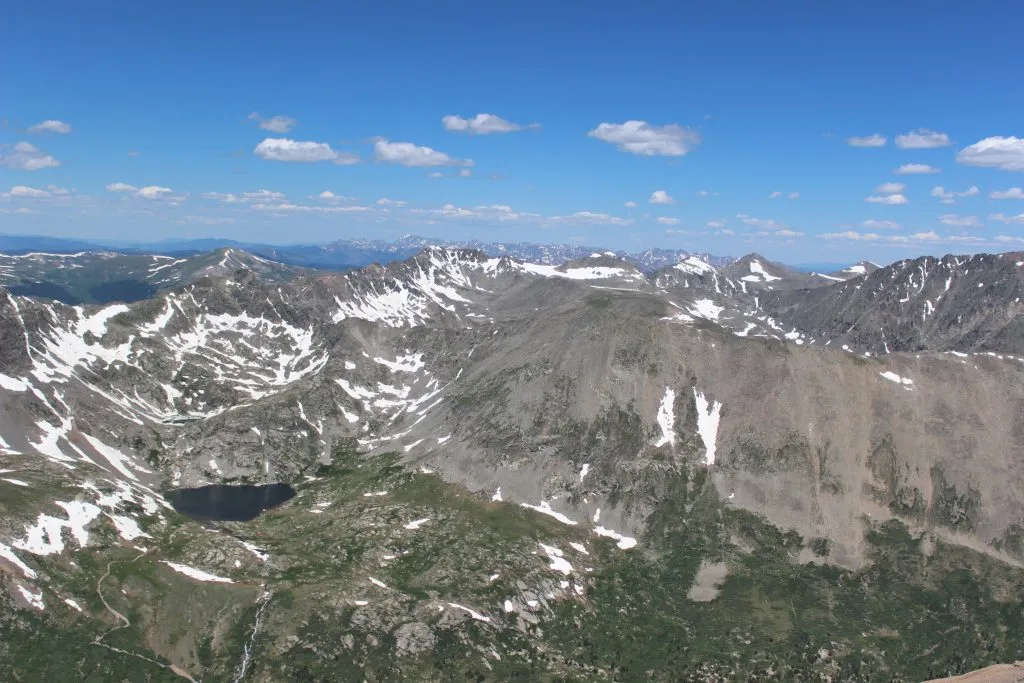 For the extra bragging rights and experience of hiking a 14er, pull off earlier on the road and park at Summit Lake trailhead.
From there, hike approximately 4.5 miles round trip (with 2300 feet of elevation gain) to get to the summit of Mount Evans.
If you prefer pedal power, you can bike to the summit as well.
Be aware that the road to the trailhead and summit is closed in winter, so plan to visit Mount Evans in spring, summer, or fall.
Where to Stay in Mount Evans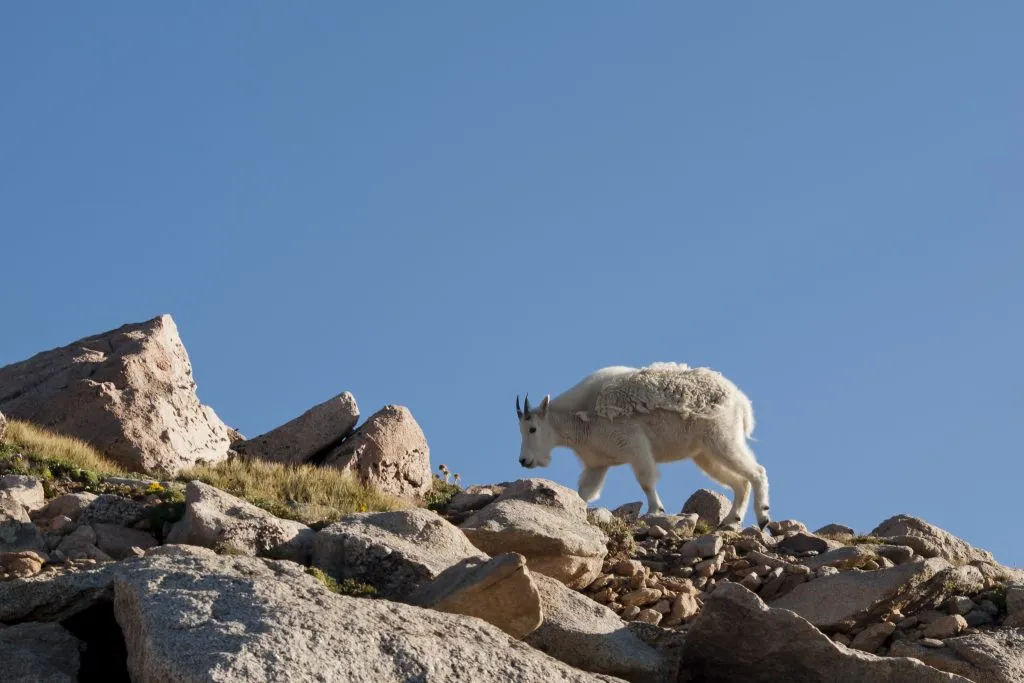 Grand Lake
From Jesal of Tourist to Travellers
Grand Lake Colorado, the largest natural lake in Colorado is a picturesque sight with snow-capped mountains and a breathtaking backdrop of the wild Rocky Mountains, and it ranks among the best Colorado vacation spots!
At 8300 feet above sea level, the scenery is unmatched and the sprawling greenery is soothing to one's eyes.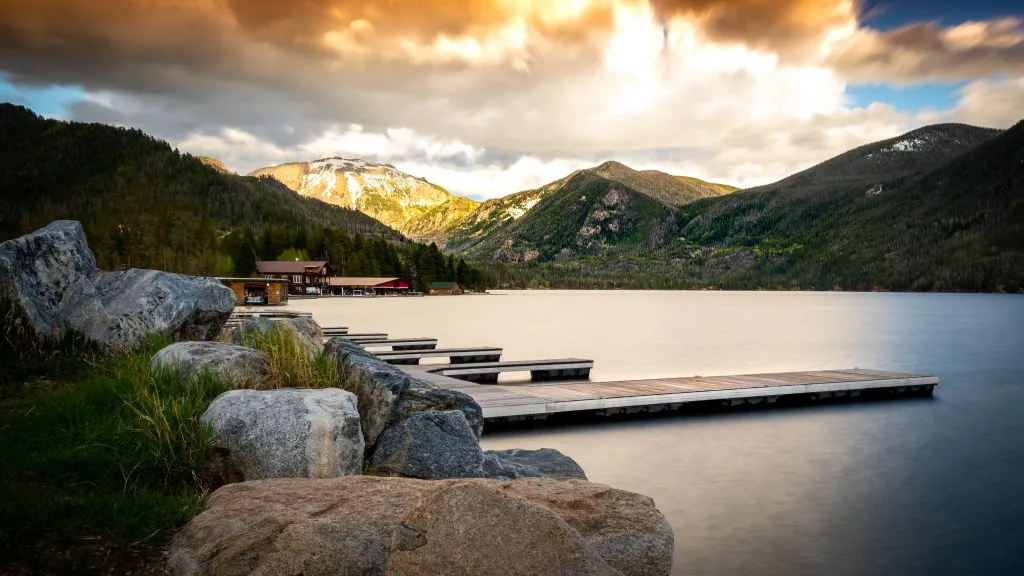 It's also an ideal basecamp for the adventure seeker.
While visiting Grand Lake, be sure to take a scenic walk along the lakeshore, relax on the beach, take a few hikes to enjoy the scenery, and keep an eye out for wildlife.
You could hire a cozy cabin in the woods and spend some time with your loved ones.
If you're visiting this beautiful place in Colorado during winter, consider trying out skiing or snowboarding during your trip.
Where to Stay in Grand Lake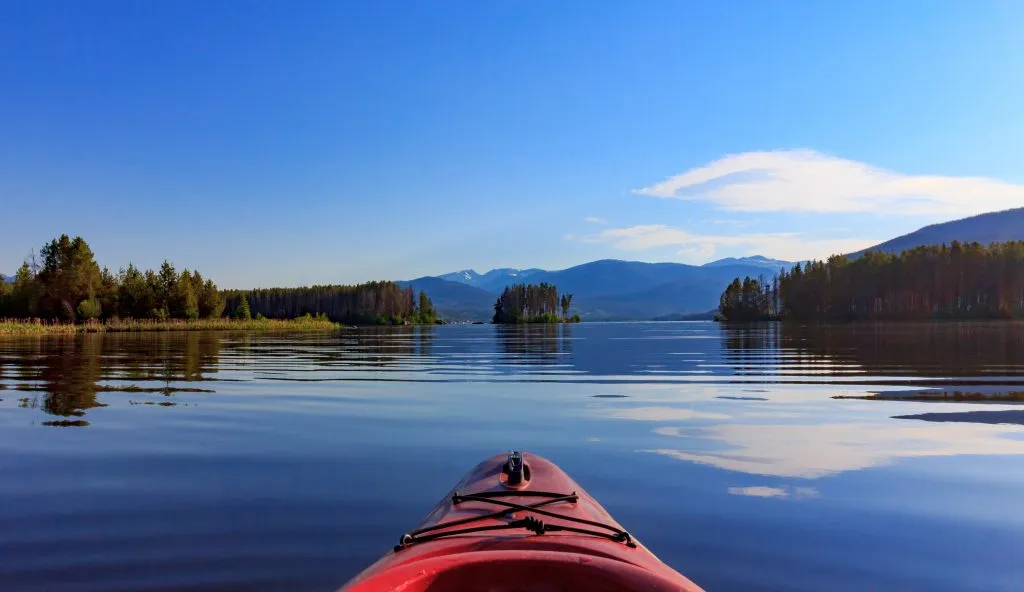 Willow Lakes
From Meg of Fox in the Forest
Willow Lakes in Colorado brings the drama of the Colorado Gore Range to life.
If you're up for a challenging hike that makes up for every drop of sweat with fantastic scenery, this is definitely one of the best places in Colorado to please your adventurous soul!
Known for its rugged trails, fantastic mountain views, and jaw-dropping views of alpine lakes (one which is backdropped by an impressive series of gendarmes, the Zodiac Spires), Willow Lakes will greet you every step of the way with yet another wonderful view (usually better than the last!).
Another highlight? The entire trail is lined with flowers, which makes it one of the best wildflower hikes in Colorado!
One of the coolest things to do at Willow Lakes (aside from dropping your jaw to the ground at the scenery) is camping in one of the most beautiful places to visit in Colorado.
Where to Stay in Willow Lakes
There are several campsites along the last mile of the trail. Few things in life are as amazing as spending a night under the stars here!