Considering taking a Florence to Venice day trip when you're in Italy?
It's a popular day trip option, and with a fast train available that takes around 2.5 hours to travel between the two beautiful cities, it's easy to see why.
That being said, it's the not right day trip for everyone, and complicating factors (namely Venice's infamous crowds) make visiting Venice for a day from Florence stressful for some travelers.
If you're considering a day trip to Venice from Florence, here's everything you need to know before you go: how to get there, what to do, and whether a Venice day trip is the right option for your travel style.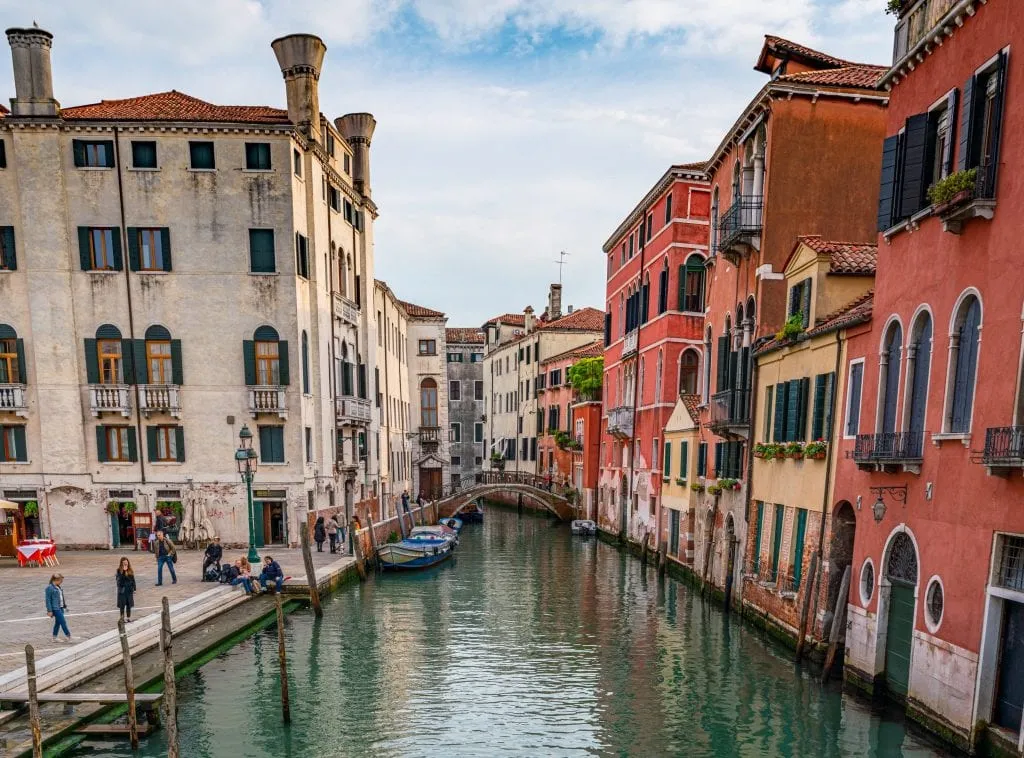 Some links in this post may be affiliate links. If you make a purchase through one of these links, we may earn a small commission at no extra cost to you. Please see our

disclosure policy

for more detail.
The #1 Rule for a Florence to Venice Day Trip
Taking a day trip to Venice from Florence is popular, but the most important rule to follow when doing so is simply this: manage your expectations.
Venice is a crowded city, yes, but never more so than during the middle of the day when the daytrippers are out and about, and you'll likely have to contend with very heavy crowds at popular spots like the Rialto Bridge and Piazza San Marco on your Venice day trip.
Taking a Venice day trip from Florence also makes for a very long day in which you'll spend nearly 5 hours on trains, then potentially additional time on a vaporetto (water bus) once you arrive in Venice.
And, of course, there's no way to see everything Venice has to offer on a Florence to Venice day trip, so you'll need to pick and choose which parts of Venice to see carefully.
If you have your heart set on going, I don't want to discourage you–if a Florence to Venice day trip was my only opportunity to see Venice for the foreseeable future, I can't say I wouldn't go myself–but I do want to be clear that it will be a long day and you likely won't see Venice at its very best.
If that sounds like a fair trade-off in order to have a chance to admire Italy's stunningly beautiful canal city, here's how to make the most of it!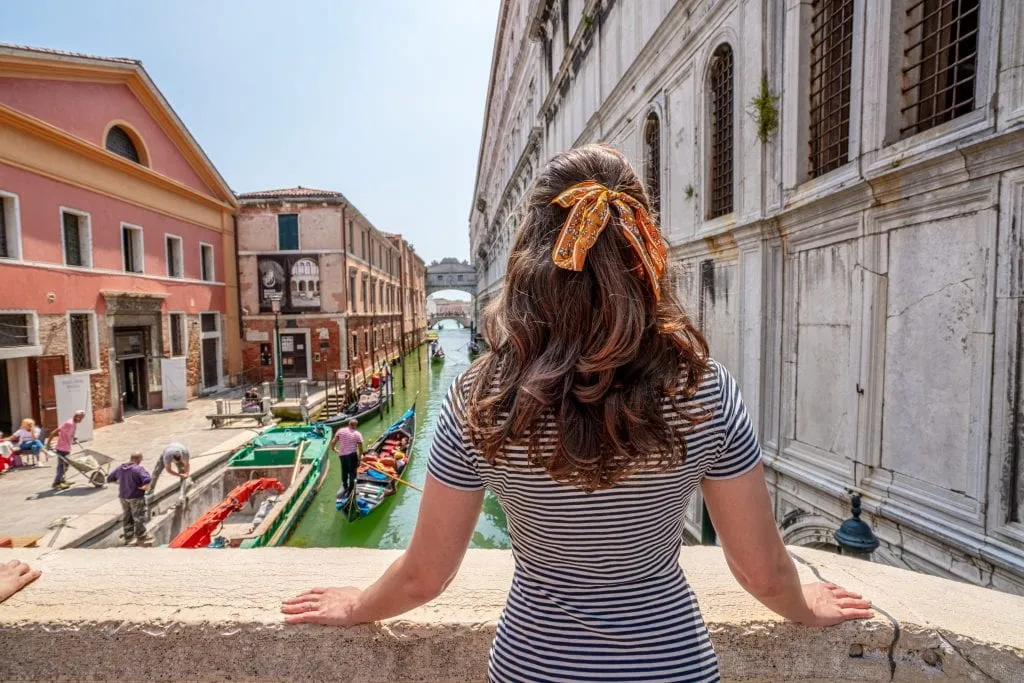 How to Get to Venice from Florence Independently
When taking a Florence to Venice day trip, there is exactly one method of transportation that makes sense: the fast train.
Slower, regional trains and driving yourself both take way too long and aren't viable for a day trip, but the fast train will take you from Florence to Venice (and vice versa) in a bit over two hours, and several trains run each day.
These trains have dynamic pricing, and the closer you get to your day trip to Venice, the more expensive the tickets will be. For that reason, we suggest purchasing your tickets as soon as you can commit to your dates!
We recommend searching for train tickets through Omio, which will search multiple train companies and help you find the best tickets and schedule for your Venice day trip.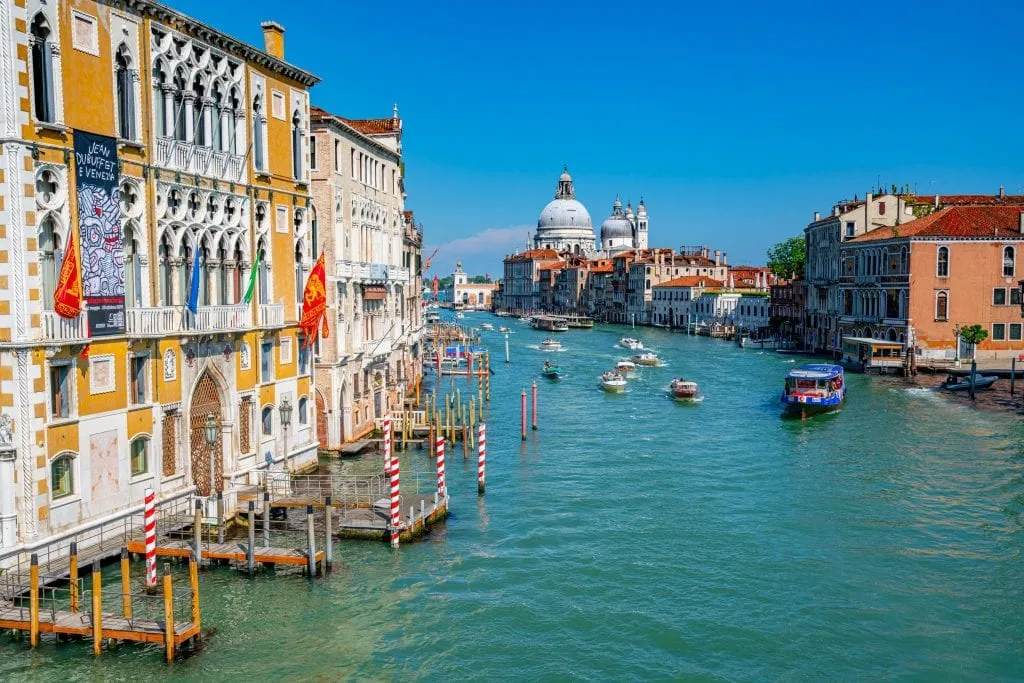 Be sure to buy tickets from Firenze Santa Maria Novella train station to the Venezia Santa Lucia train station–don't accidentally buy tickets for (or get off at) Venezia Mestre!
Also, keep in mind that once you get off the train in Venice, you're not quite to the center of town yet–you'll need to either walk or take a vaporetto for 20 minutes (we recommend getting off at the Rialto Bridge) to reach the heart of Venice's sightseeing.
Either way is a lovely way to start your day trip, however, an impromptu Grand Canal cruise of sorts via vaporetto as you arrive in Venice for the first time never fails to impress!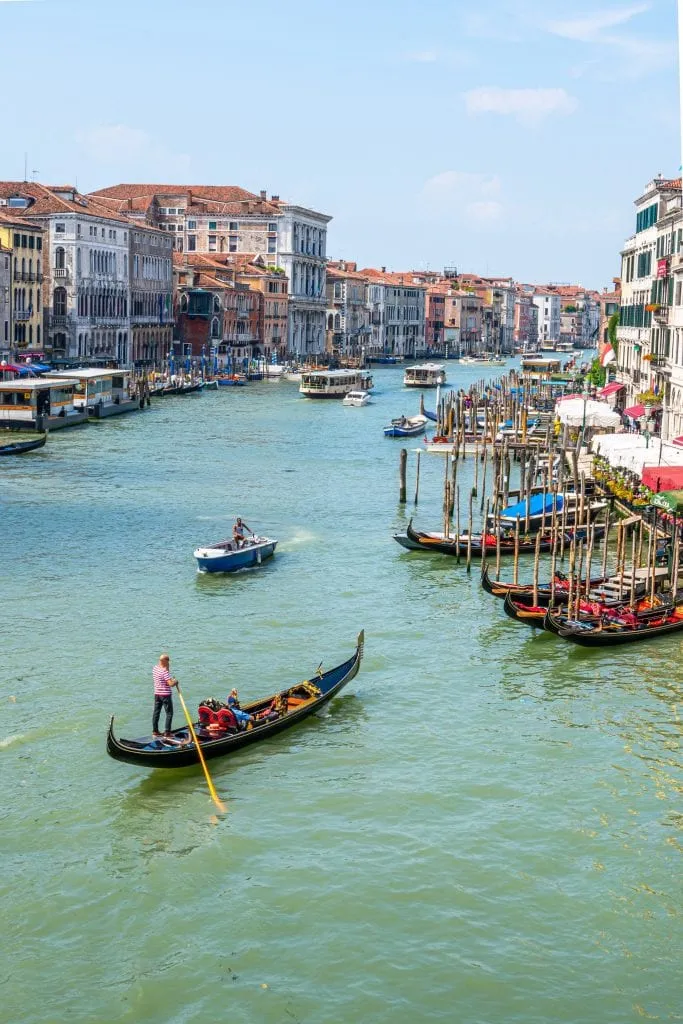 What to Do on a Day Trip to Venice from Florence
Since Venice is a small, walkable city, it's possible to cover several of the city's famous highlights in a single day!
We more or less recommend following our one day Venice itinerary during your day trip, however, you'll likely need to trim a few things here and there to leave time to travel from Florence to Venice and back.
Here are a few ideas to give you an idea of what you can see on a day trip to Venice.
Pay a visit to Piazza San Marco.
Piazza San Marco is Venice's (enormous) best-known piazza.
Set right up against the lagoon and home to several of the city's most famous sights, Piazza San Marco is busy and bustling, and generally quite crowded with vendors and tourists alike.
While you're there, take a stroll through the piazza–it really is lovely–and if you're so inclined, take an iconic photo with Venice's pigeons (not our thing, but it's a popular thing to do!) or sip a (very expensive) coffee at one of the famous cafes that line the piazza (Caffe Florian is the best-known).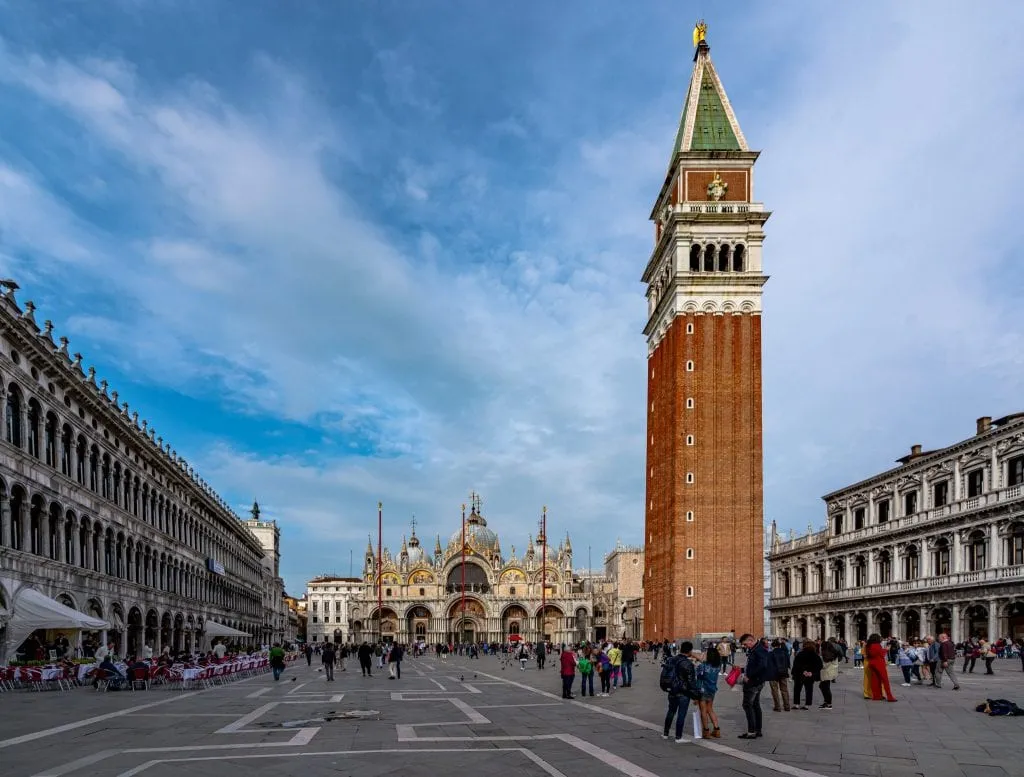 Seek views of Venice from above.
Venice from above is an absolutely beautiful sight, and even on a Venice day trip, we recommend squeezing a view in.
San Marco Campanile has the best views of Venice, but is crowded and often comes with long lines.
Scala Contarini del Bovolo has a less impressive view (no water) but is still an excellent place to visit and is much, much less crowded.
Either one would be a fabulous addition to your day trip to Venice!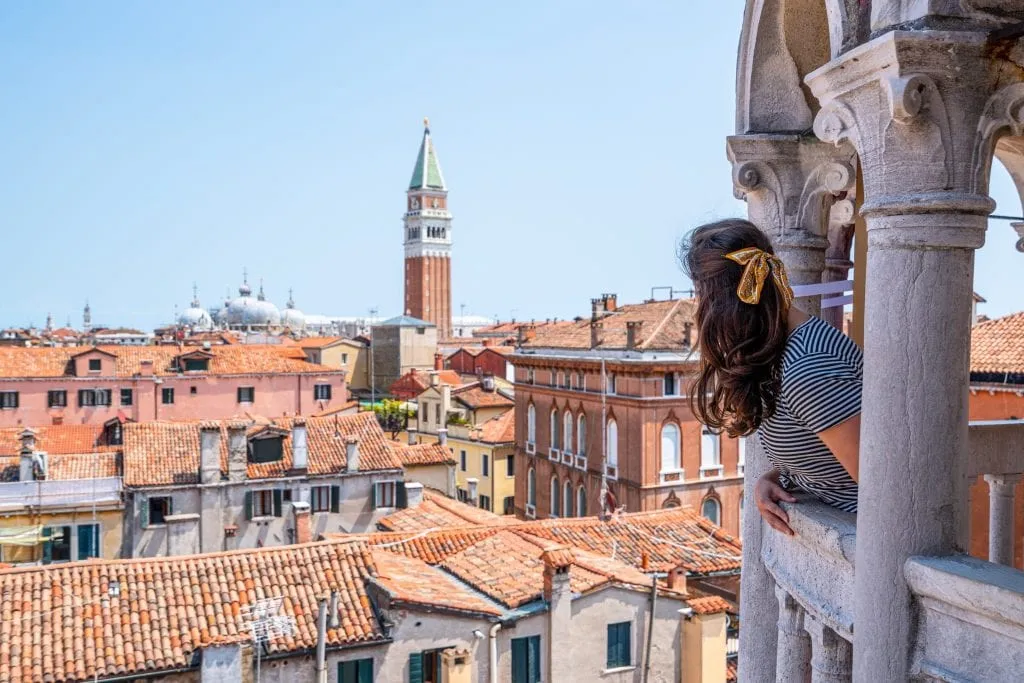 Stroll across the Rialto Bridge.
Of the four bridges that cross Venice's Grand Canal, the Rialto Bridge is both the oldest and the loveliest, with shops lining both sides of the stone bridge.
Once upon a time, the Rialto Bridge was the only way to cross the Grand Canal without boarding a boat!
While crossing the bridge, be sure to take the time to admire the Grand Canal views from both directions, and once you're finished on the bridge itself, be sure to spend a little time browsing the nearby Rialto Market.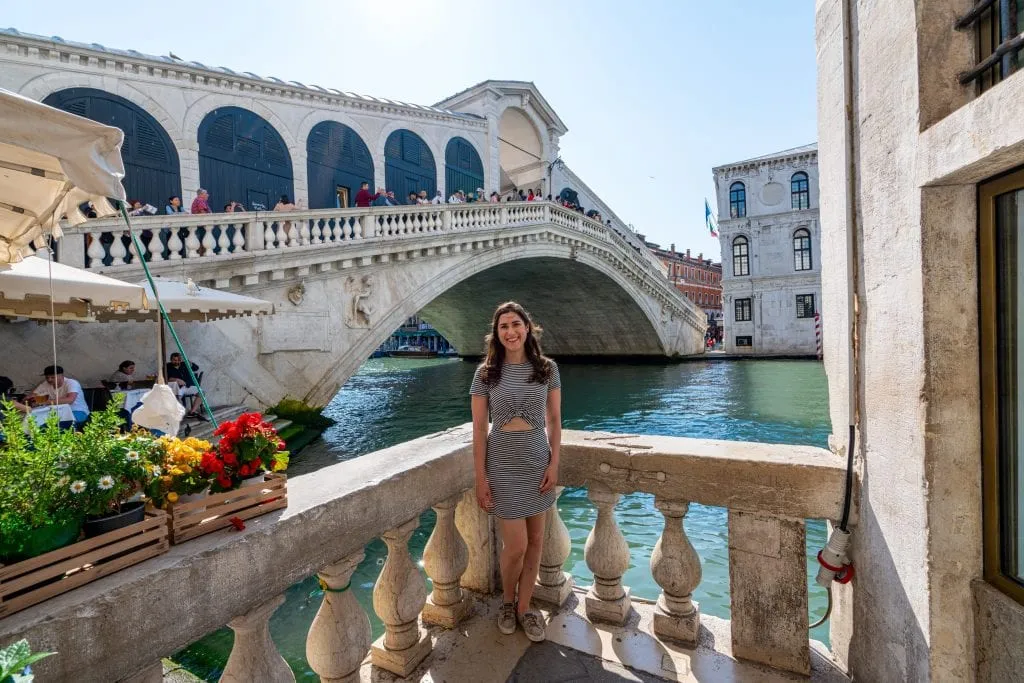 Marvel at St. Mark's Basilica.
Dripping in Byzantine-style detail and utterly opulent, St. Mark's Basilica is an icon of Venice and absolutely worth a visit.
Lines can get very long though, so on your Florence to Venice day trip, you'll likely want to purchase skip-the-line tickets (available for 3 Euros) to tour the inside.
Alternatively, you can simply take a moment to admire the exterior.
Be sure to check out the mosaics and the Horses of St. Mark (the ones visible outside are a replica, the originals are inside–you can see them if you go inside and pay a few extra Euro to head to the small second-floor museum and balcony!).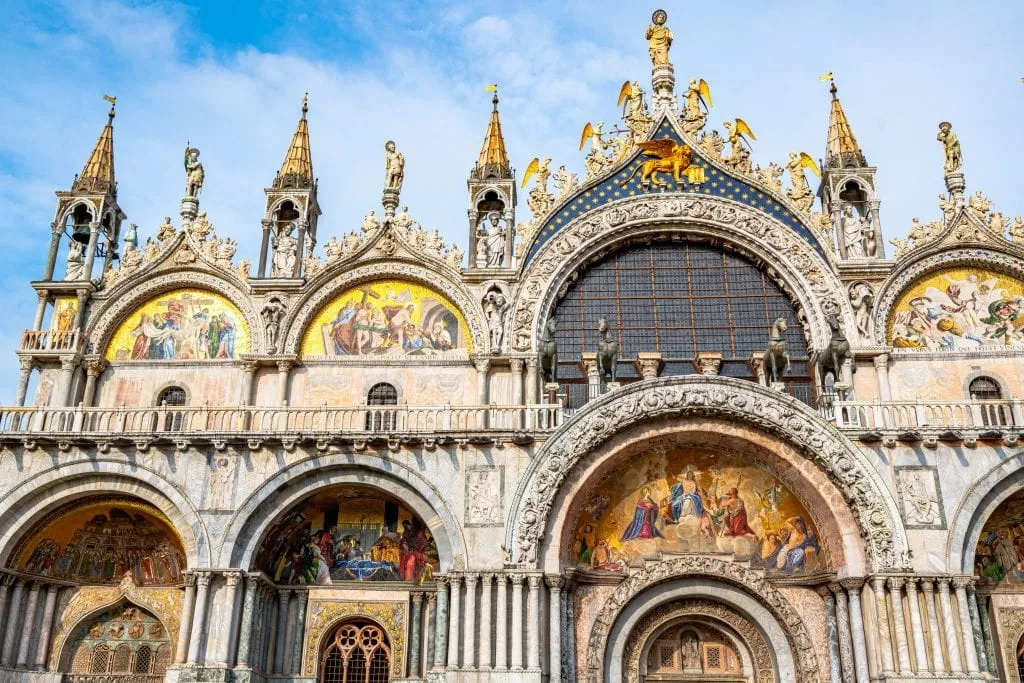 Ride a gondola through the canals of Venice.
This bucket-list item comes with a steep price tag, but if you've always dreamed of gliding along the Venetian canals in a gondola, it definitely belongs on your list of what to do on your Venice day trip!
We have a full guide to taking a gondola ride in Venice that we recommend reading if you plan to take one, but essentially, you don't need to worry about booking ahead if you're taking a private ride, but it's helpful if you're taking a shared one!
Book your shared gondola ride in Venice now!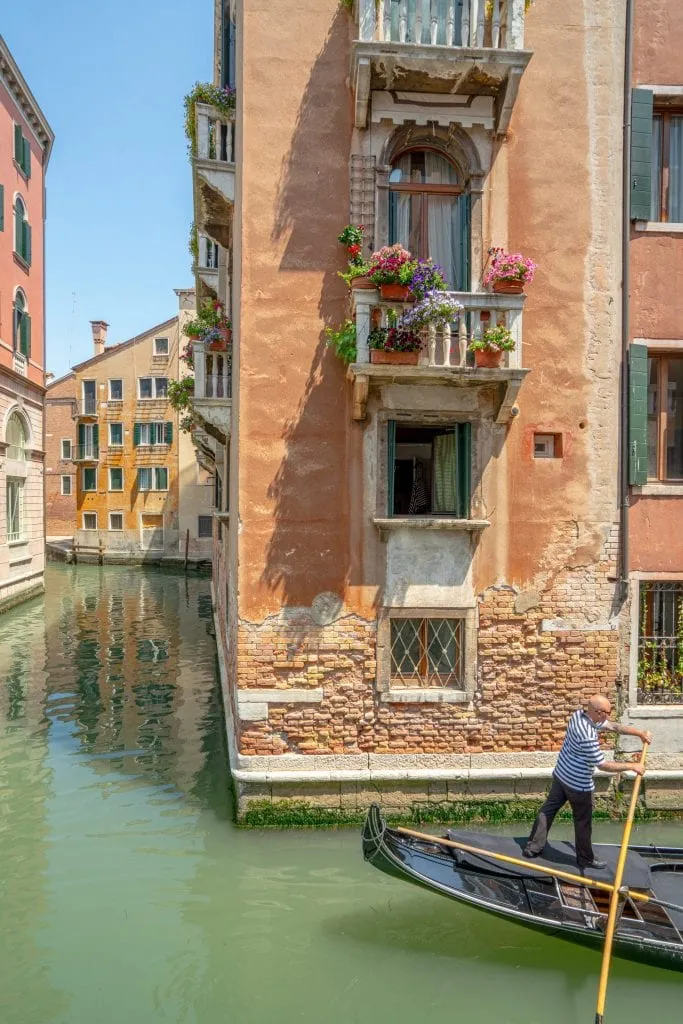 Stroll along the Riva degli Schiavoni.
If you walk between San Marco Campanile and the Doge's Palace toward the water, you'll very quickly find yourself on the waterfront of the Venetian Lagoon–the Riva degli Schiavoni.
From here, you'll have beautiful views of gondolas bobbing in the water, San Giorgio Maggiore across the water, and–if you turn left and keep walking–the Bridge of Sighs.
Admire the Bridge of Sighs.
While the Bridge of Sighs is technically more famous for the view from the bridge than the view of the bridge (as the story goes, prisoners crossing the bridge to await their fate in court would sigh at the beauty of the lagoon–often for the last time), there's no doubt that it's worth admiring from the outside, too!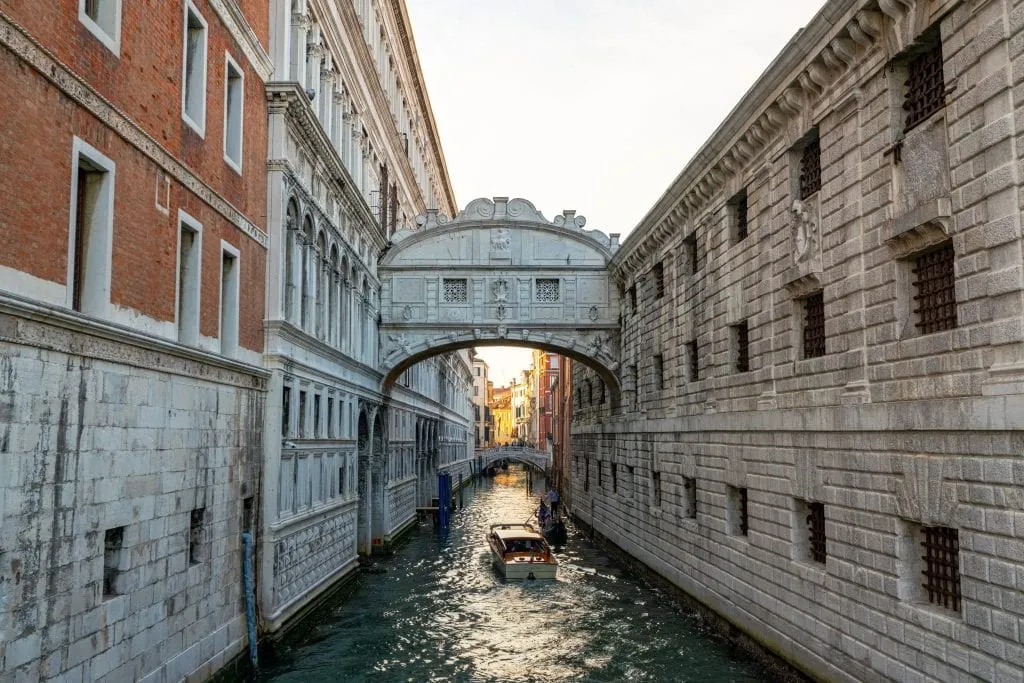 Seek some peace in the quiet(er) sestieri of Venice.
While the two most popular sestieri, or neighborhoods of central Venice (San Marco and San Polo) can feel overwhelming with their large tourist crowds, as you stroll further out into Castello, Dorsoduro, or Cannaregio, Venice quickly becomes a much quieter place–so much so that it's fairly easy to have a view of a small Venetian canal all to yourself!
Be sure to make one of these neighborhoods part of your Venice day trip, especially if you tend to be turned off of a destination by heavy crowds.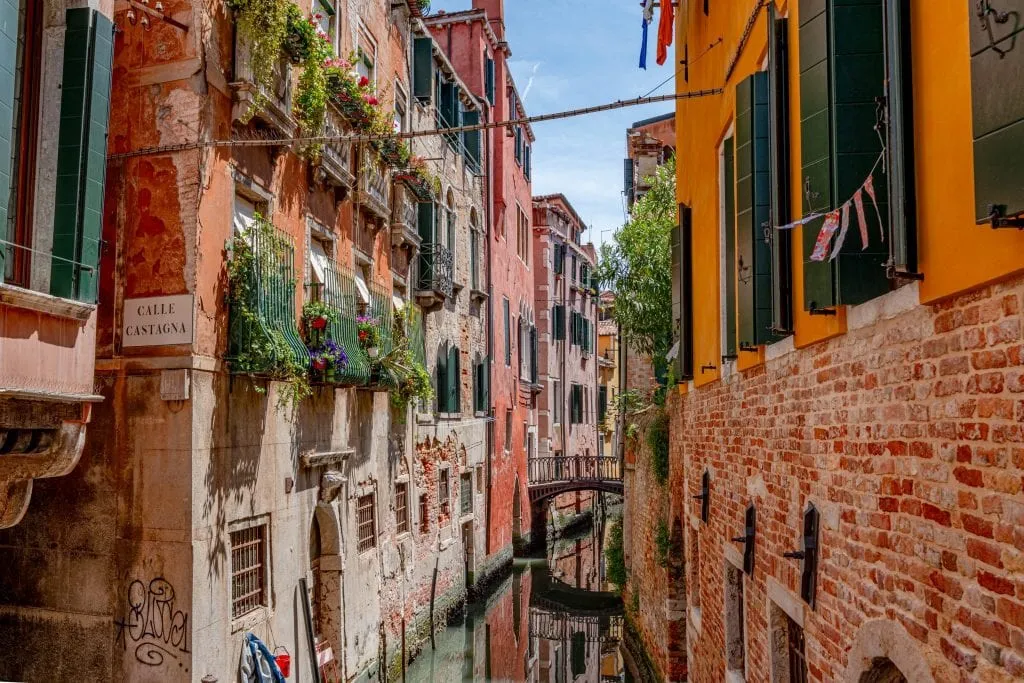 Travel Tips for Your Day Trip to Venice from Florence
Don't expect to see it all.
Obviously this is the first rule of any day trip, but it bears repeating here: taking a Florence to Venice day trip can be lots of fun, and definitely worth the effort to the right traveler, but it makes for a long, busy day… and you won't see it all.
Limit your lines–skip-the-line tickets are your friend.
If you have your heart set on touring the Doge's Palace or marveling at the interior of St. Mark's Basilica on your day trip to Venice, you'll definitely need skip-the-line tickets–you won't have a minute to waste!

Book your tour of the Doge's Palace + St. Mark's Basilica today!

Not into tours but still want to see the palace?

You can still skip the line at the Doge's Palace by purchasing a priority ticket in advance.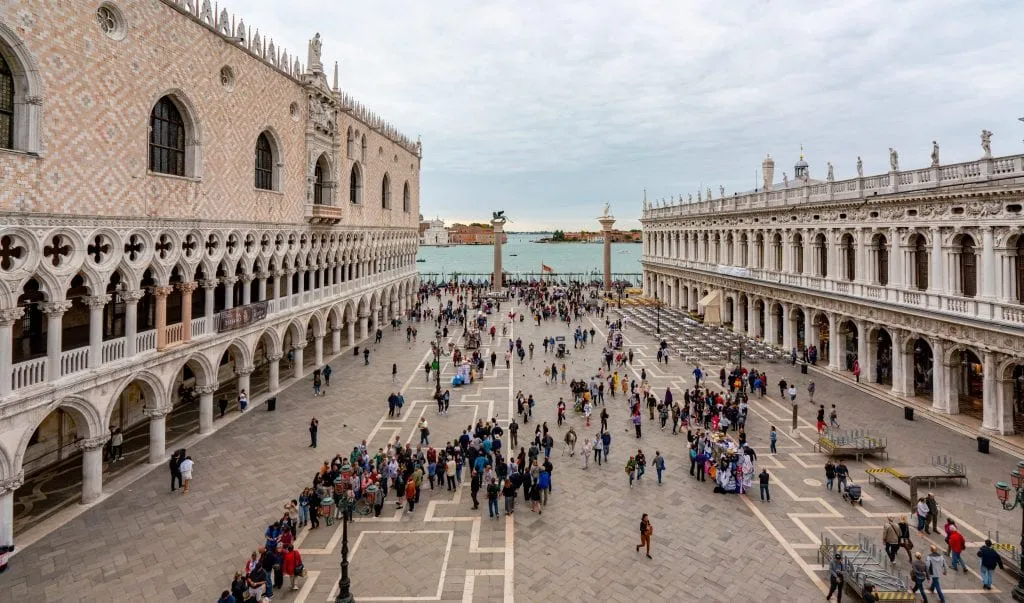 Make use of the vaporettos.
As tempting as it may be to spend the entire day walking through Venice–and it would indeed make for a lovely Venice day trip if you're not particular about seeing any specific sights–be sure to make use of the vaporettos (aka waterbuses) when it makes sense throughout your stay.
We'd recommend a vaporetto ride as soon as you arrive–not only will you be able to start your sightseeing in the heart of Venice's touristic center that way, you'll also start your Venice day trip with absolutely sublime views as you travel down the Grand Canal by vaporetto.
Want to take a couple different vaporetto rides during your day trip to Venice?

Buy your Venice transportation pass now to save time on the ground!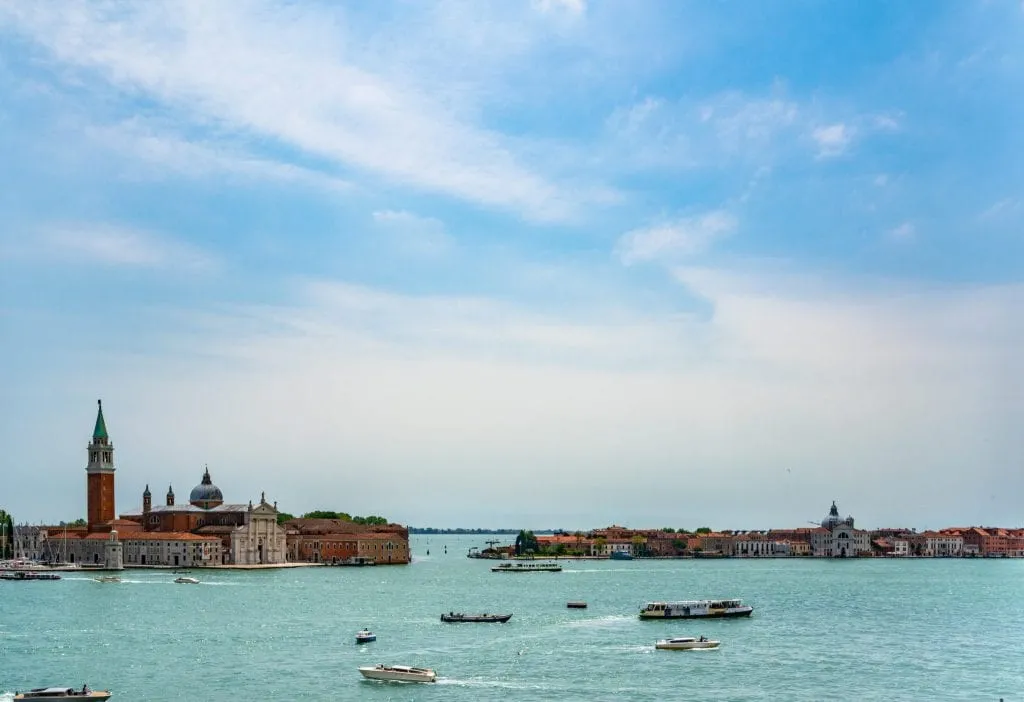 Keep an eye on the time.
It's easy to lose track of time and distance when you're meandering through the beautiful streets and small footbridges of Venice–but be sure that you leave enough time during the early evening in Venice to get back to the train!
If you're planning on returning to the train station via vaporetto, be sure to leave a buffer in case there are crowds during rush hour.
Dress comfortably (and pack light).
More than 4.5 hours on trains, several hours of walking, plenty of stairs and bridges… the more comfortably you can dress on your day trip to Venice from Florence, the better.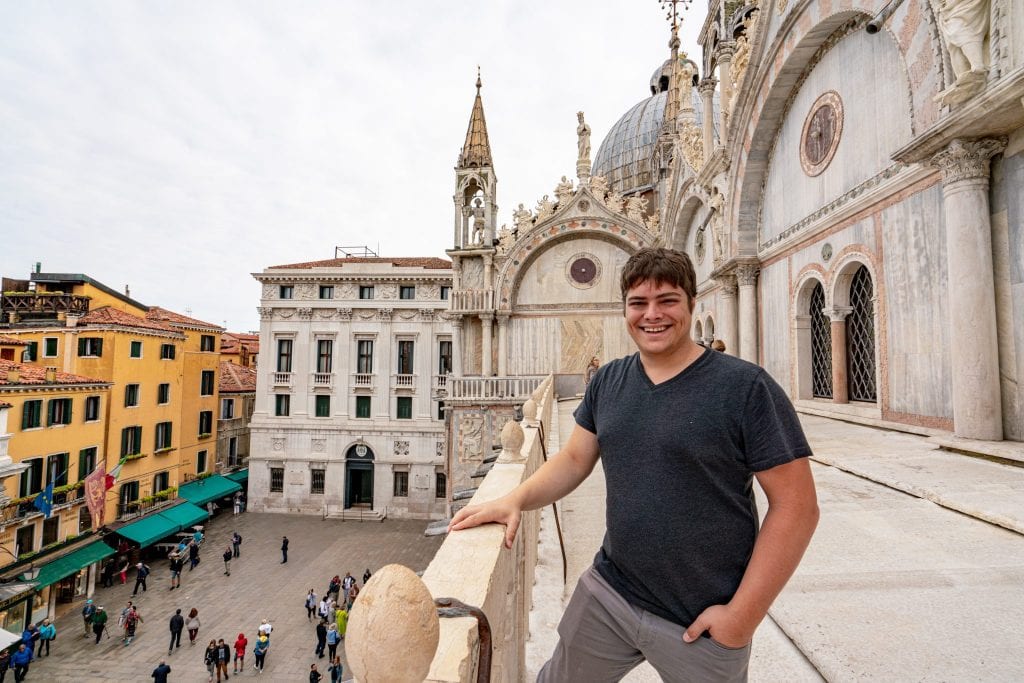 Leave time for breaks.
Long day trips can often come with awkward time lags: after rushing to get there and rushing through the first few hours of sightseeing, you can often come to a point where you're tired, a little disoriented, and not quite sure how to handle the rest of your day (at least, that's how it often goes for us).
Luckily, Venice is the perfect environment for taking picturesque breaks to figure out your next sightseeing steps: sure, sitting down at a cafe overlooking a canal is a bit pricey, but it's a great way to take a break and regroup during your Venice day trip, too.
Don't try to see the outer islands on your Venice day trip.
As tempting as it may be to squeeze in a visit to the glass-blowing island of Murano or the colorful fishing village of Burano, your day trip to Venice is already going to be packed full of activity and a whole host of transportation logistics–it's not worth it to try to squeeze in an outer island that will eat into a big chunk of your day.
Burano, for example, is a 45-minute vaporetto ride each way from Venice.