With over 2,000 documented sandstone arches, exciting hikes, and a gorgeous scenic drive featuring views of the (frequently snowcapped) La Sal Mountains rising up over the desert, there are plenty of reasons to enjoy one day in Arches National Park!
Arches is one of our favorite national parks in the country, thanks not only to its unique landscape and magnificent hikes and views but for its incredible location.
Situated just outside of the delightful small town of Moab, Utah, an Arches National Park itinerary can easily be combined with a visit to nearby Canyonlands National Park and Dead Horse Point State Park, as well as the hundreds of other outdoor activities available in the surrounding area.
For that reason, even if you've allowed a few nights to Moab, there's a good chance you'll want to conquer Arches National Park in a day–and we can help!
With even a single well-planned day in Arches NP, you can explore some of the best hikes and most iconic views in the park.
Here's the perfect itinerary for spending one day in Arches National Park, created after several visits to this gorgeous place.
How We Structured This Arches NP Itinerary
We designed this one day Arches National Park itinerary for first-time visitors looking to see as much of the park as possible, all with 24 hours in Arches or less.
For that reason, we skip past the longest hikes in favor of several shorter jaunts–a travel style that Arches itself seems practically designed for!
The longest hike on this itinerary is 3 miles round-trip (and you can skip it if it's not your thing), while many attractions lie barely off the road.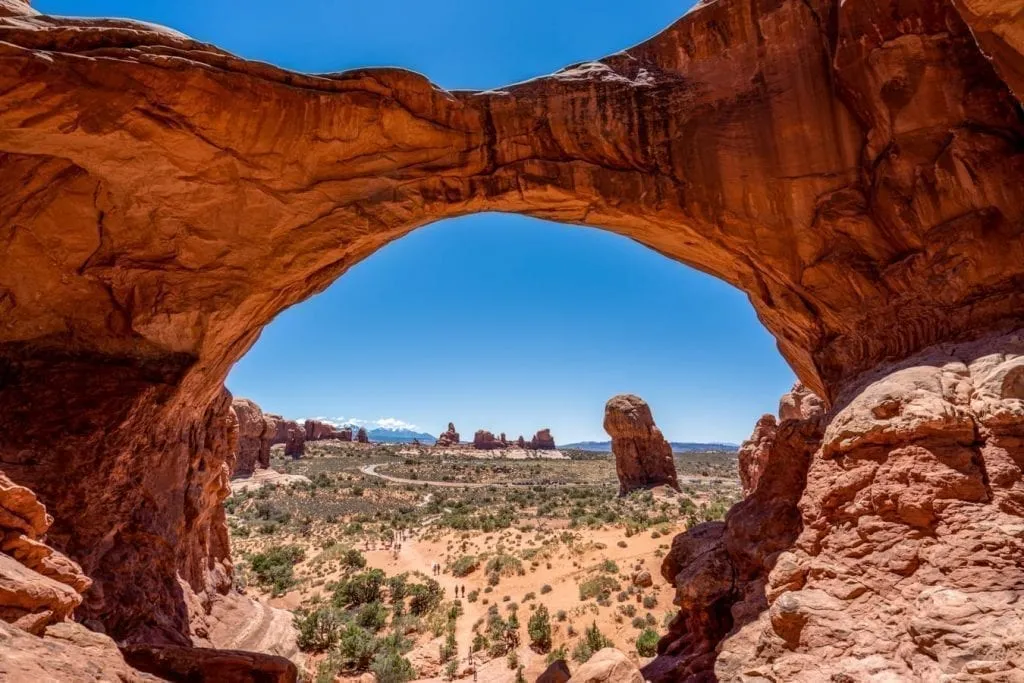 If you hike to every spot we've included, you'll hike about 7 miles in total over the course of the day.
Keep in mind that this itinerary for Arches NP is an ideal: limited parking and constantly increasing popularity mean that you'll need to be somewhat flexible as you explore.
That being said, this one day Arches itinerary is as geographically efficient as possible, having you start at the end of the Scenic Drive and work your way back toward Moab throughout the day.
Getting Around Arches National Park
Of course, you'll need a car to visit Arches National Park!
If you plan to rent one for your trip, we highly recommend Discover Cars, which will sift through dozens of companies to find the best combination of low prices and reasonable rental terms for your trip.
Browse rental cars for your trip to Arches National Park today!
This Arches National Park itinerary doesn't include any 4×4 only sections of the park.
However, if you'd like to explore them (or are renting a car for other national parks as well), you can either rent a compatible car yourself or book a 4×4 tour for a day!
The Perfect One Day in Arches National Park Itinerary
Meander down the Scenic Drive to the Devils Garden Trailhead.
Roughly 18 miles north of the Arches National Park Visitor Center (which is located right by the entrance), you'll dead-end into the Devils Garden area–home to some of the most spectacular sights in the park!
For your one day in Arches, we recommend that most visitors head all the way to the back of the park first in order to nab a parking spot (frequently a difficult thing to come by in Arches) at this popular destination.
While the Devils Garden does open up into the longest hike in the park, you don't need to complete the whole trail in order to see some incredible sights.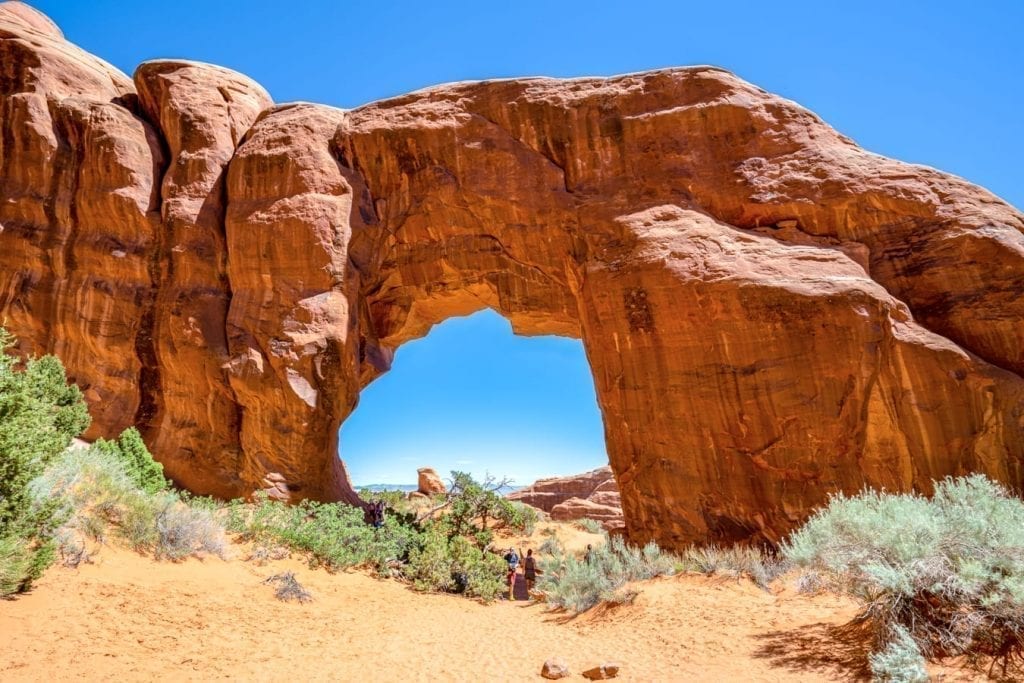 Hike to Landscape Arch and Pine Arch.
From the Devils Garden Trailhead, Landscape Arch–probably the most revered arch in the park after the famous Delicate Arch–is a must-see.
Measuring a whopping 306 feet long, and at some places narrowing to a mere 7 feet, Landscape Arch is one of the most visually impressive arches in all of Arches National Park.
Unlike most arches on this list, you can't walk under Landscape Arch–it's behind a fence in order to protect it–but the view is still phenomenal.
Hiking to Landscape Arch and back takes 1.6 miles round trip along an easy, compact trail, with very small distance additions in order to hit up Pine Arch (highly recommend) and Tunnel Arch (less impressive, but so close by that it's worth a quick look).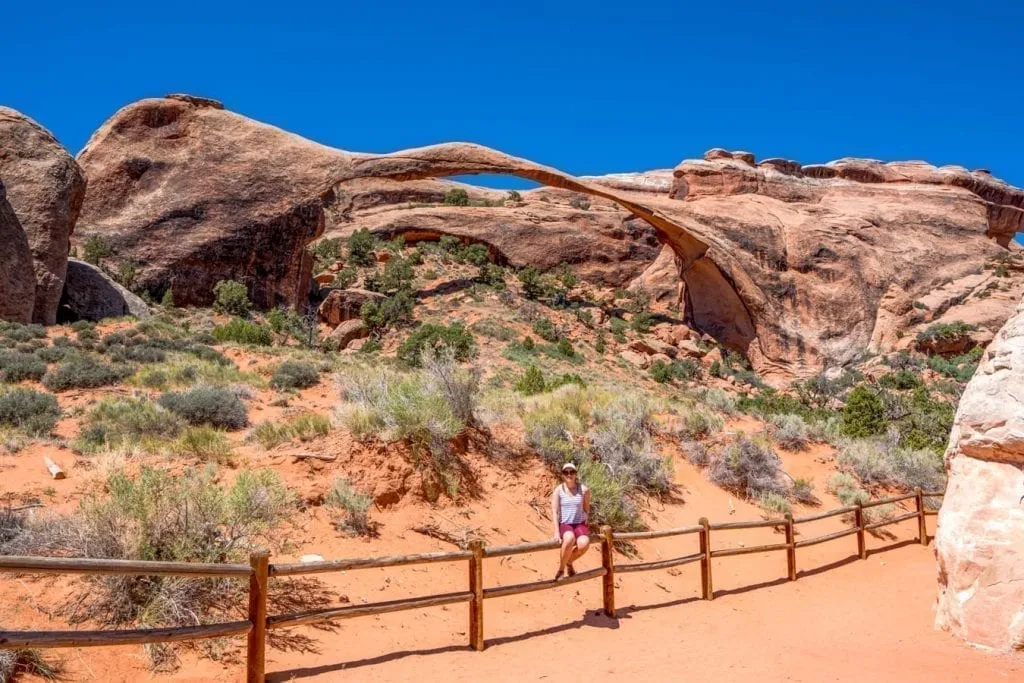 Explore Sand Dune Arch and Broken Arch.
Once you're ready to move on from the Devils Garden, it's only a (very) short drive to your next stop: Sand Dune Arch and Broken Arch!
You'll find these two gorgeous arches along the same short trail.
If you hike to Broken Arch and back, it's an easy 1.3 mile round trip hike, with a short detour to visit Sand Dune Arch.
If you're short on time and only visit Sand Dune Arch, it's a quick 0.3 mile round trip visit.
Despite its name, the striking Broken Arch is not broken at all, but cracked.
In addition to the beauty of the arch itself, there are gorgeous views of the La Sal Mountains visible from Broken Arch–be sure to climb through the arch for the best views!
As far as Sand Dune Arch goes, visiting this shaded spot is like a breath of cool air on a hot day.
The silky smooth sand is cooled by the shade provided by the fins that surround it, making this a fantastic place to relax and catch your breath when spending a day in Arches National Park.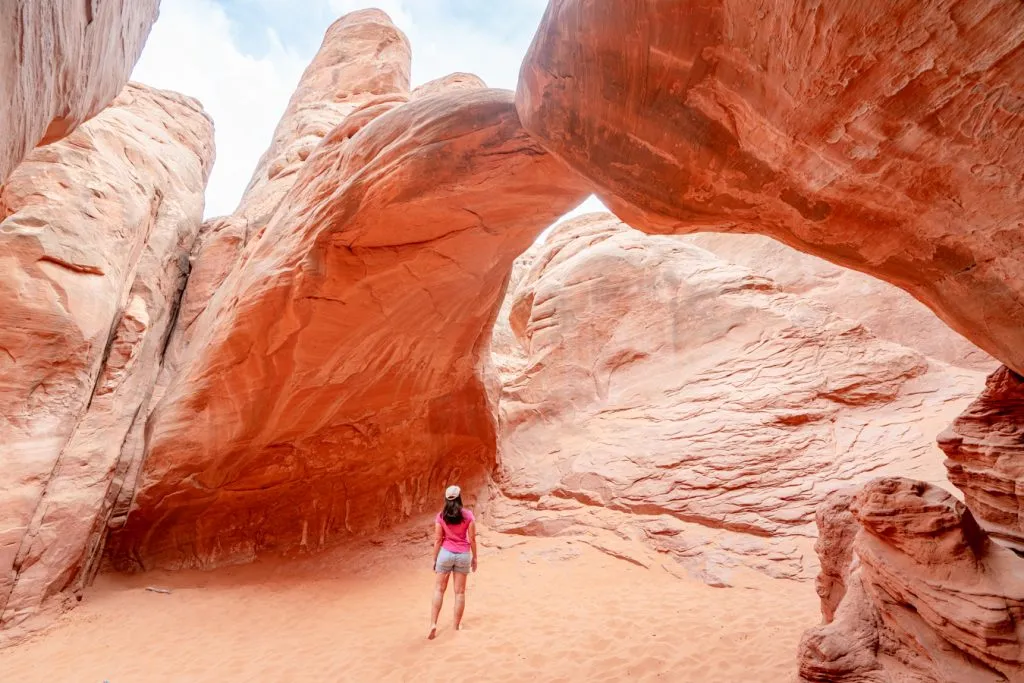 Hike to the famous Delicate Arch.
At this point in your visit, you'll be within reach of the most famous arch in Arches National Park, and the most famous arch in Utah!
Delicate Arch lives up to its status as the most magnificent arch in the park, and the 3 mile round trip hike to access it is the longest time commitment of any stop on this itinerary for Arches National Park.
Personally, we don't think that either viewpoint of Delicate Arch (Upper Viewpoint and Lower Viewpoint) are worth taking the time for with only one day in Arches to work with, unless you would rather avoid the hike.
If you do hope to hike, head straight for the trailhead, checking out the Wolfe Ranch as you get started.
Be sure to climb all the way down to Delicate Arch in order to better appreciate its size!
We have all the details you need for successfully hiking to Delicate Arch in this guide.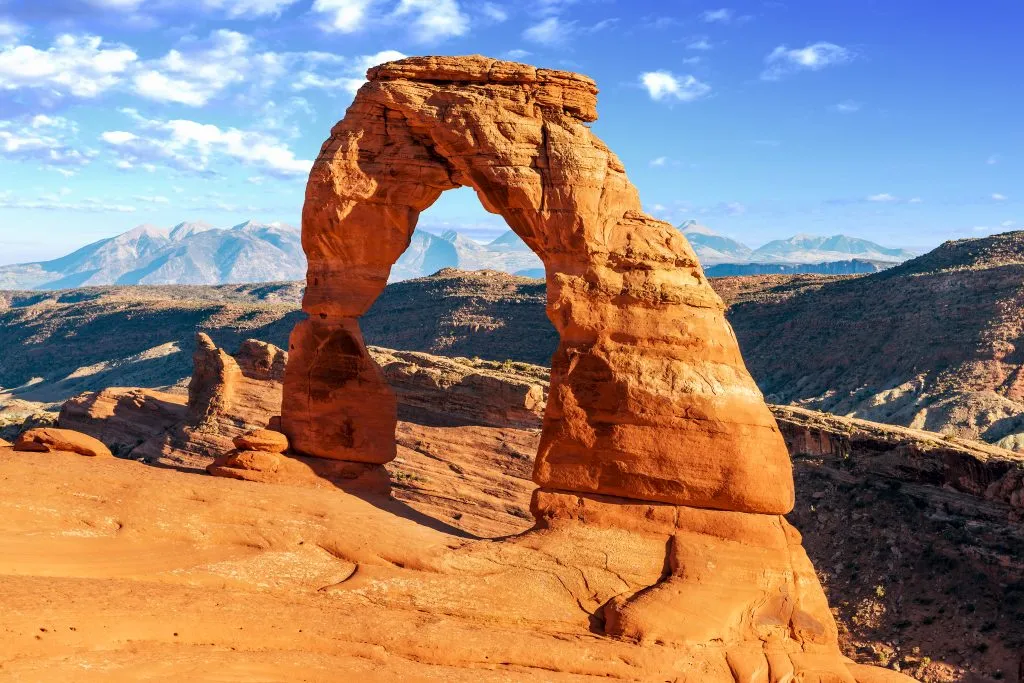 Check out Double Arch.
After wrapping up at Delicate Arch, head to the parking lot for Double Arch, where you'll be able to access several of the most popular arches in Arches National Park with very little effort!
The gigantic Double Arch is among our favorites for its combination of impressive size and easy access: the stroll from the parking lot to access it is only 0.5 miles round trip.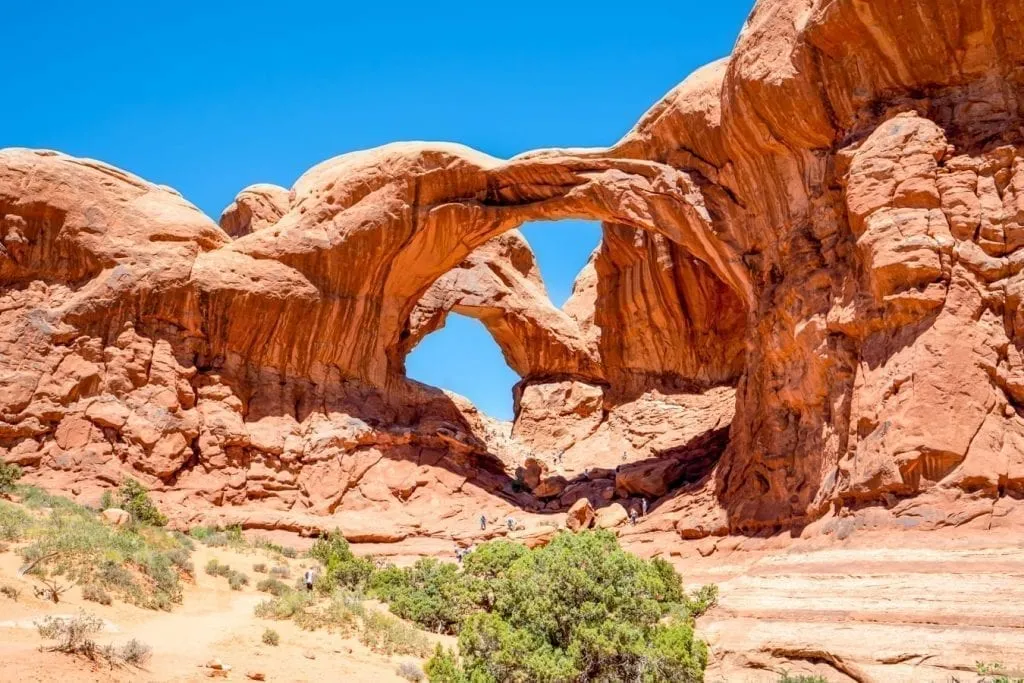 Pay a visit to the Windows and Turret Arch.
Right across the parking lot from Double Arch, you'll find the final short hike listed on this Arches itinerary.
The Windows Trail features the North Window, South Window, and Turret Arch in an easy 0.7-mile loop.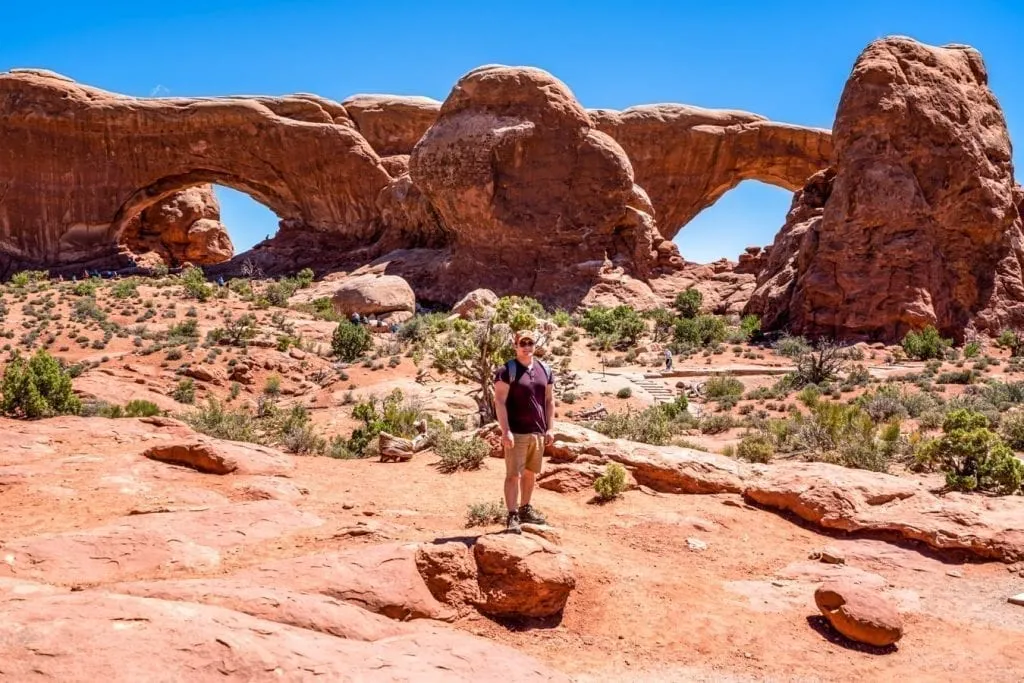 Stop by Balanced Rock.
This peculiar rock looks like it should topple over at any moment–and this unique view paired with its easy access just off the road makes it one of the most popular stops in Arches NP!
Since you can see the rock as you're making your way down the scenic drive, I'd say that if you have to sacrifice one stop on this Arches National Park itinerary due to issues with time or parking, I'd make it this one.
But that being said, it's still a very cool sight and worth pulling over for if you can.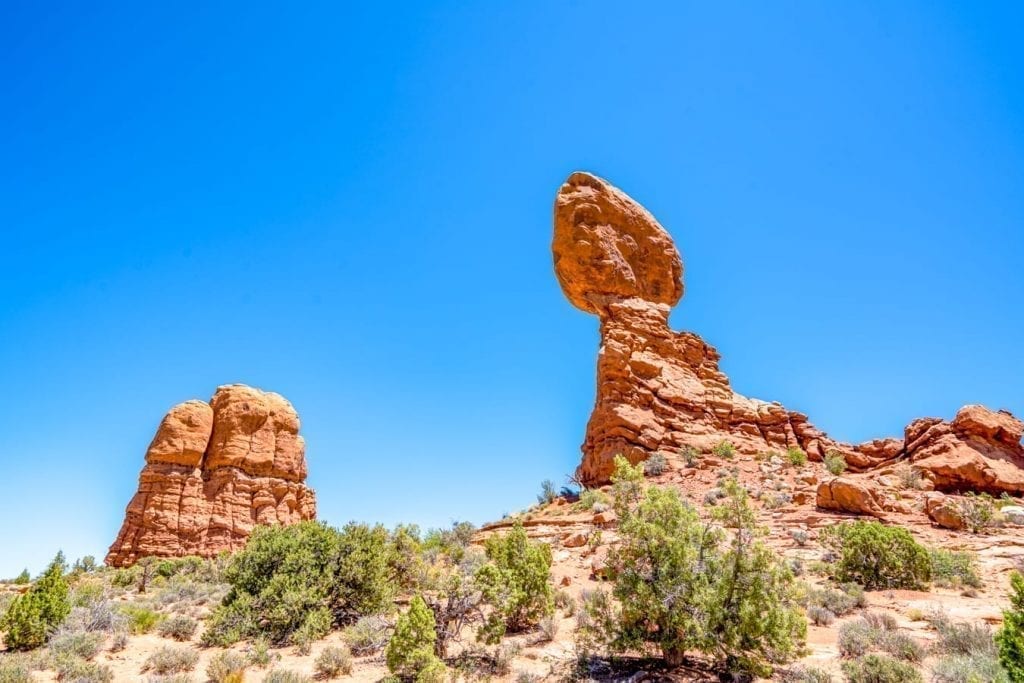 Check out some viewpoints as you drive back toward Moab.
The many viewpoints in Arches are beautiful, but since parking also tends to be less of a challenge at them, they're easy to save until after you explore more of the best things to see in Arches in a day.
Courthouse Towers Viewpoint, Park Avenue Viewpoint, Petrified Dunes Viewpoint, and La Sal Mountains Viewpoint are all located fairly close together along the scenic drive, and you'll pass each of them as you drive back toward Moab from Balanced Rock.
Other viewpoints worth considering (though you'll need to double back or visit them earlier in the day) are Fiery Furnace Viewpoint, Panorama Point, and Salt Valley Overlook.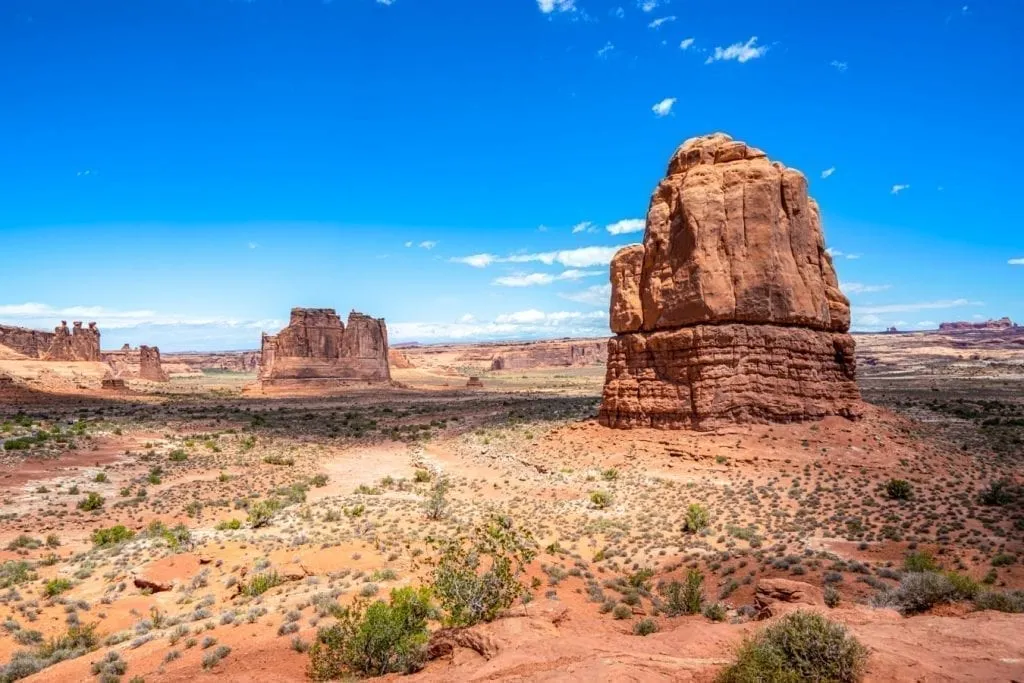 Bonus: return after dark for stargazing in Arches National Park.
Arches is open 24 hours a day, 7 days a week, and is recognized as an official International Dark Sky Park–and the stargazing is magnificent!
If you have the energy, there's no better way to wrap up your one day Arches itinerary than by returning at night in order to soak up the views of the night sky.
Visitors planning to explore the park after dark should proceed carefully–don't forget to pack flashlights and a headlamp!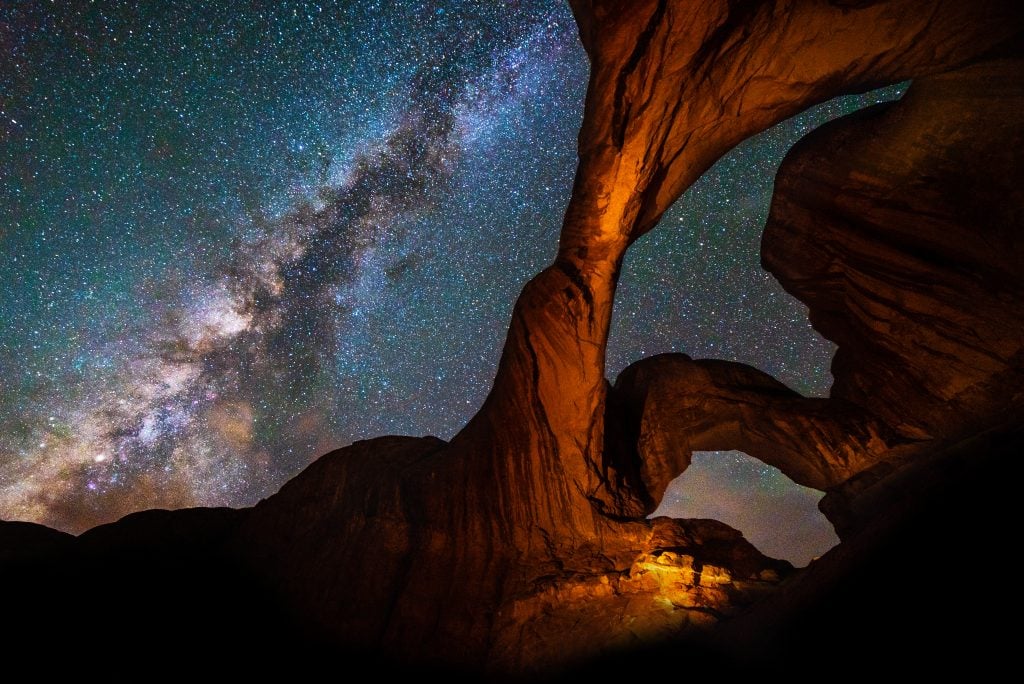 Where to Stay Near Arches National Park
Without a doubt, the best place to stay when spending a day in Arches National Park is in the outdoorsy town of Moab, Utah, which is packed with restaurants, breweries, shops, tour companies, and anything else a visitor could require.
Here are a few popular places to stay in town!
Fair warning: Moab can be quite pricey for such a remote spot, as its proximity to some of Utah's most popular destinations mean that its hotels have no trouble staying full (even as they keep building more and more of them).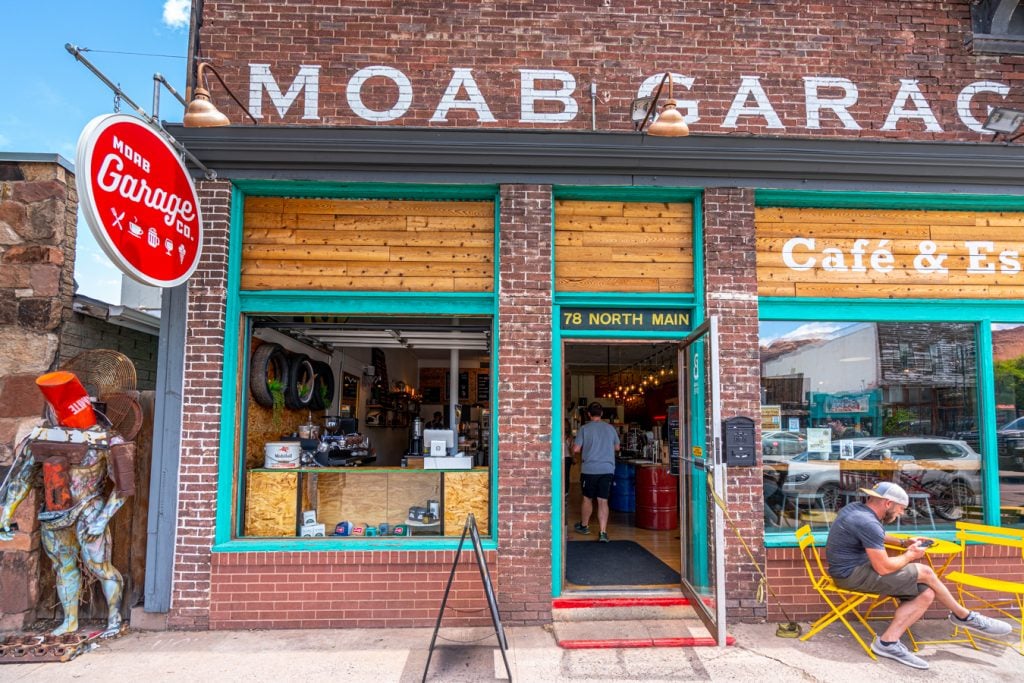 Budget
Red Stone Inn — Centrally located in Moab, the Red Stone Inn feels like a callback to another era of American road trips.
If you're looking for an inexpensive slice of Americana, the Red Stone Inn is a great option–and the swimming pool and laundry services located on-site are a selling point, too.
Check rates & book your stay at the Red Stone Inn!
Mid-range
Comfort Suites Moab — We stayed here during one of our more recent trips to Moab, and couldn't have been happier with the comfortable rooms, exceptional customer service, and great location in Moab.
Luxury
Hyatt Place Moab — Moab isn't exactly a destination that lends itself to luxury, but those looking for some great creature comforts during their trip will find them at the new, swanky Hyatt Place Moab, which is just a few years old!
In addition to its swimming pool, included breakfast, and great rooms, Hyatt Place Moab also boasts an exceptional location on the edge of Moab, just minutes from Arches National Park.
Vacation Rental
My Place Hotel — Need access to a kitchen while exploring the best activities in Moab?
Consider the studios at the brand-new My Place Hotel!
We stayed here on our most recent trip to Moab, and loved the kitchen access (though be warned, it's not stocked, so bring your own dishes and cookware), the view, the extreme cleanliness, and beyond all, the location.
My Place Hotel is located on the edge of town, a short drive from Arches National Park, making it an ideal place to stay for hikers.
It's also pet-friendly, a must for Ranger!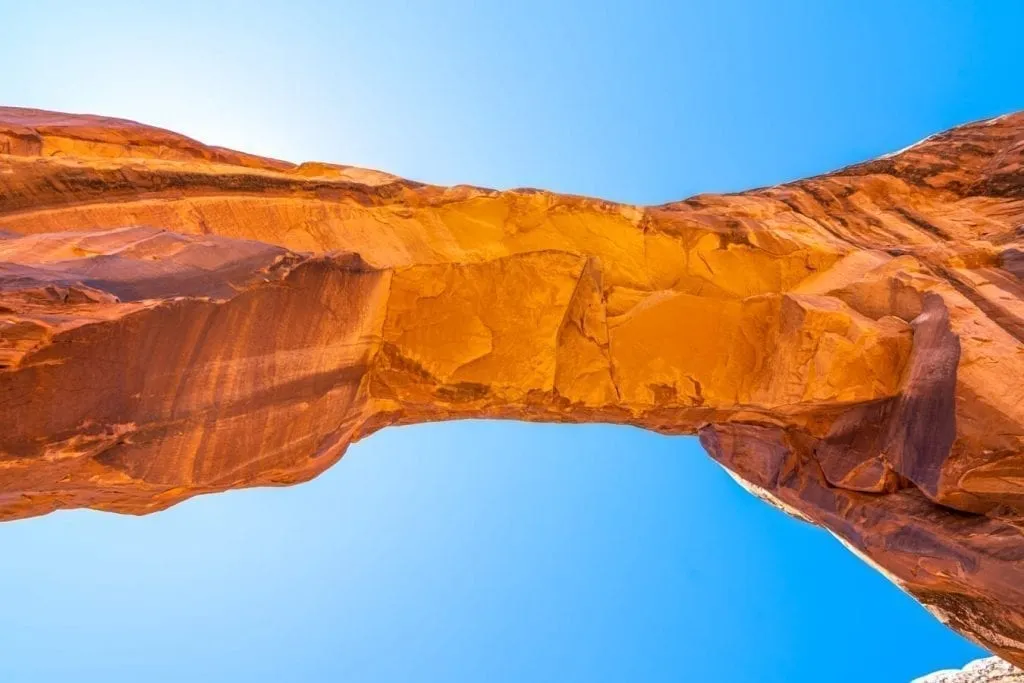 Tips for Exploring Arches National Park in a Day
Check to see if you need a reservation.
Starting in April 2022, Arches National Park is piloting a reservation system to enter the park between 6:00 AM and 5:00 PM.
This applies daily between April 3 and October 3, so be sure to book your dates as soon as you can!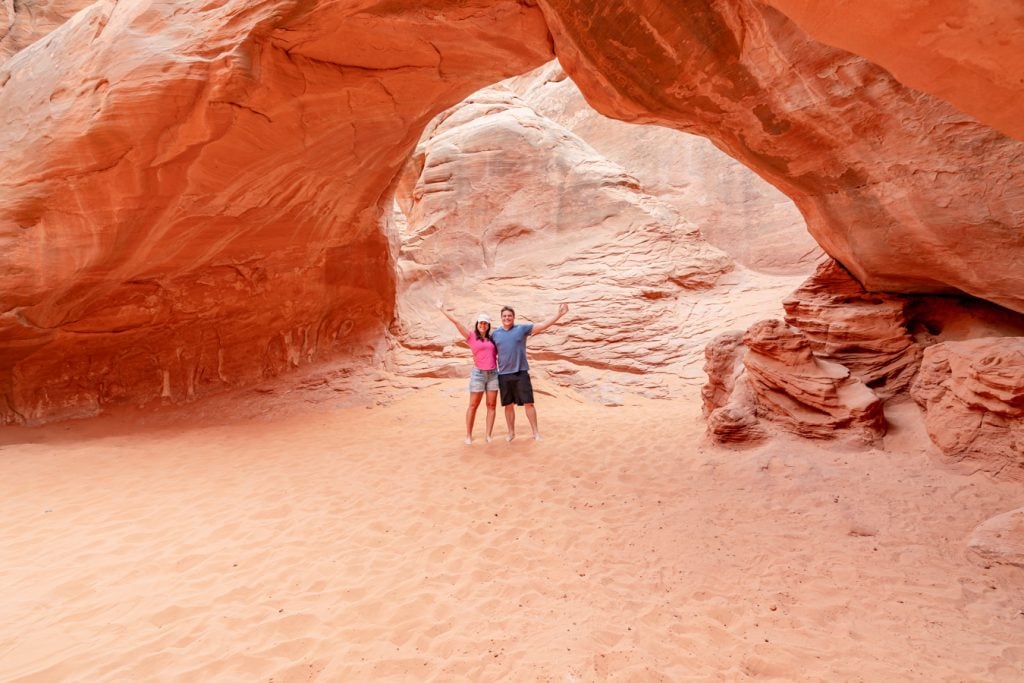 Get an early start.
How early?
Literally as early as you can stand to wake up–early enough to be in the park at sunrise if you can swing it!
Not only do you want to maximize the amount of time you have available to explore, the park's extreme popularity paired with its limited parking at popular sights means that seeing the best of Arches in a day is something of a competitive sport.
The earlier you get started, the more likely it is that you'll be able to enjoy all the best things to do in Arches in a day.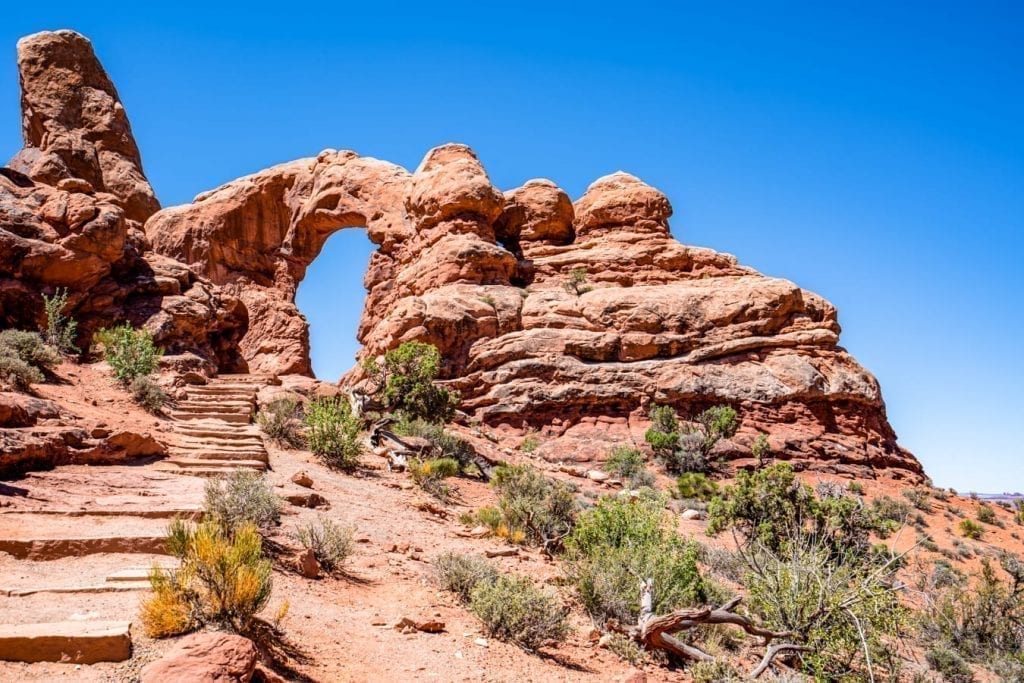 Be flexible with your Arches itinerary–especially during the high season.
This goes hand-in-hand with the above Arches travel tip: flexibility, patience, and an alarm clock are essential ingredients to enjoying this Arches itinerary, especially if you're visiting during high season (which the National Park Service defines broadly as "spring through fall").
While we created this itinerary for Arches National Park in the hopes that visitors can explore the best sights without doubling back and spending too much time driving from place to place, that's much easier in December than in July.
(And, for what it's worth, Arches is stunning in the winter–don't hesitate to visit then if you can!).
If there is one place in particular that stands out above the rest as a "must-see" during your Arches one day itinerary, consider heading there first thing in the morning before continuing on.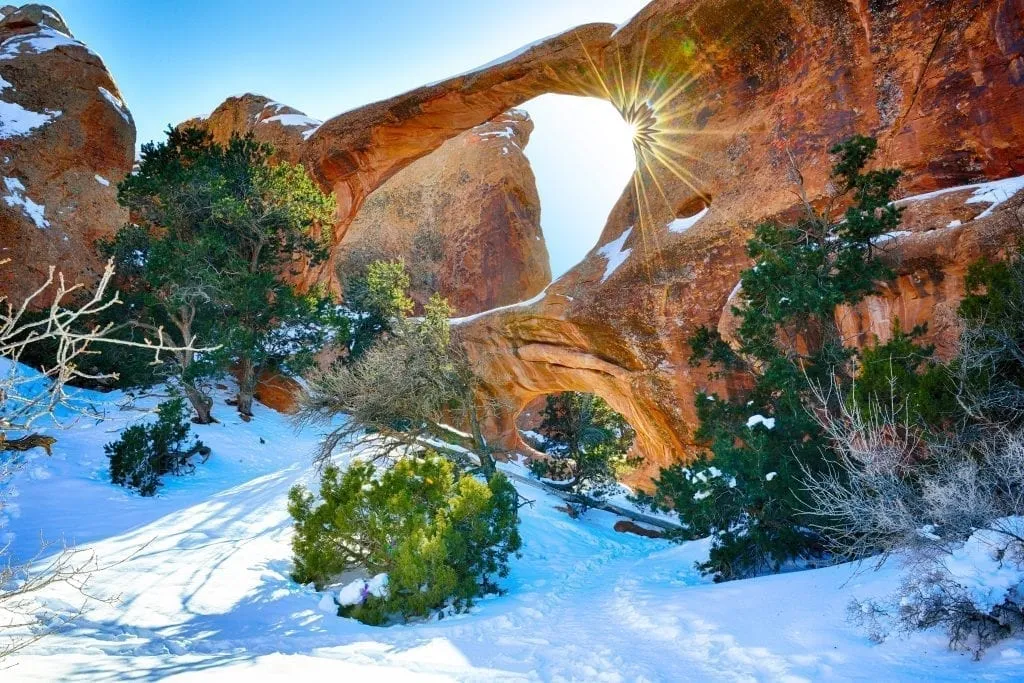 Consider picking up an America the Beautiful Pass.
For the incredibly affordable price of $80, an America the Beautiful pass will grant you general access to all US national parks and federal lands for an entire year!
It's truly one of the best deals in travel, and considering that Arches National Park costs $30/car to visit, national park lovers will break even on the cost very quickly.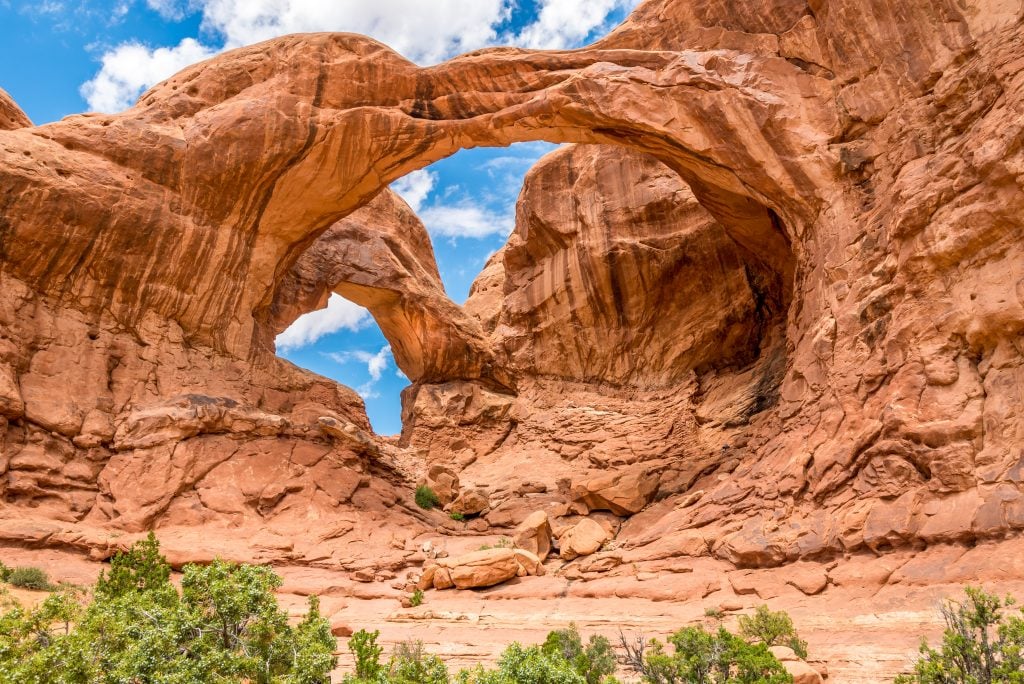 Don't count on having cell phone coverage when visiting Arches National Park.
Cell phone coverage in the park is spotty at best, especially once you're out on trails.
Download anything you need before you go, and consider keeping the paper park map with you as you explore!
Buy travel insurance.
We don't ever suggest traveling without travel insurance–anything can happen on the road, and exploring a national park is definitely a case of better safe than sorry.
We use and recommend Safety Wing for road trips in Utah.
Plan for lunch.
There isn't any food service in Arches NP, and when you're trying to see Arches in a day, you likely won't want to drive all the way back to Moab for lunch, either.
We recommend packing a picnic lunch for the day and enjoying it at one of the many incredible viewpoints instead!
You'll want to bring some extra snacks, as well.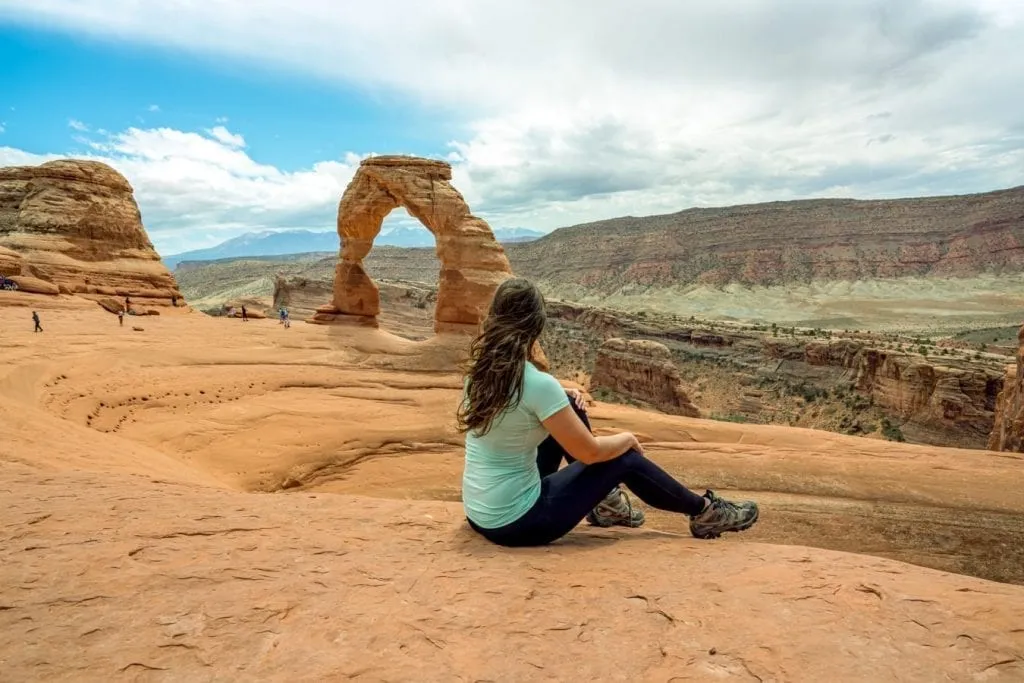 Beware the heat.
Everyone talks about it, but it really can't be overstated: the heat in Arches National Park in summer is can be deadly, and not to be trifled with.
Water, sun protection, and keeping an eye on the weather need to be at the forefront of your mind if you're spending a day in Arches NP in the summer.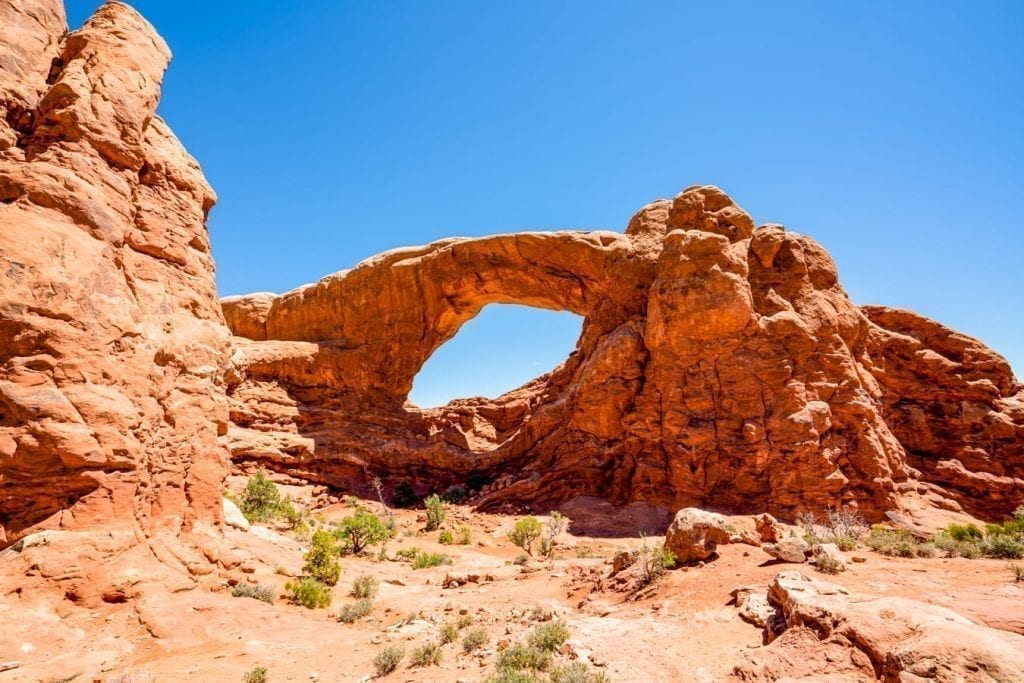 More Than a Day in Arches National Park?
Lucky enough to have more than one day in Arches National Park?
You won't run out of things to do!
Our first recommendation with more time would be to hike the full Devils Garden Trail, complete with the Primitive Trail addition, which adds up to 7.2 gorgeous miles packed with views and arches galore.
It's one of the best hikes in the park, but can be difficult to squeeze into a single day in Arches if you want to see the maximum number of sights.
Other options include hiking Fiery Furnace (you'll need a permit or to join a ranger-guided hike–more details on that from the National Park Service here) or Park Avenue.
To avoid the crowds entirely, consider striking out on 4×4 only roads (with the right vehicle, of course) to hit up more remote arches like Marching Men Arch.
Want to visit 4×4 only areas but don't want to drive?
A 4×4 tour in Arches is a fantastic way to spend a day in Arches National Park!
And, of course, Arches NP itself isn't the only attraction in the Moab area: with more time, Canyonlands National Park, Dead Horse Point State Park, and beautiful spots like Corona Arch and Faux Falls may also be calling your name.