Trying to decide what to wear in Rome can be a surprisingly daunting task, especially if you've never been there before!
The Eternal City is known for its scorching summers, fashionable residents, and hundreds of interesting sights that lend themselves to long days of sightseeing (some of which come with a dress code–looking at you, St. Peter's Basilica).
If you're trying to put together your Rome packing list, let us help: Rome is one of our favorite cities in the world, and we have visited the city in all seasons, for up to a month at a time per trip.
Admittedly, this guide of what to wear in Rome is weighted heavily toward the female side of things–sorry, gentlemen–but we throw in some packing tips for the men as well, so guys, feel free to skip down to the men's section.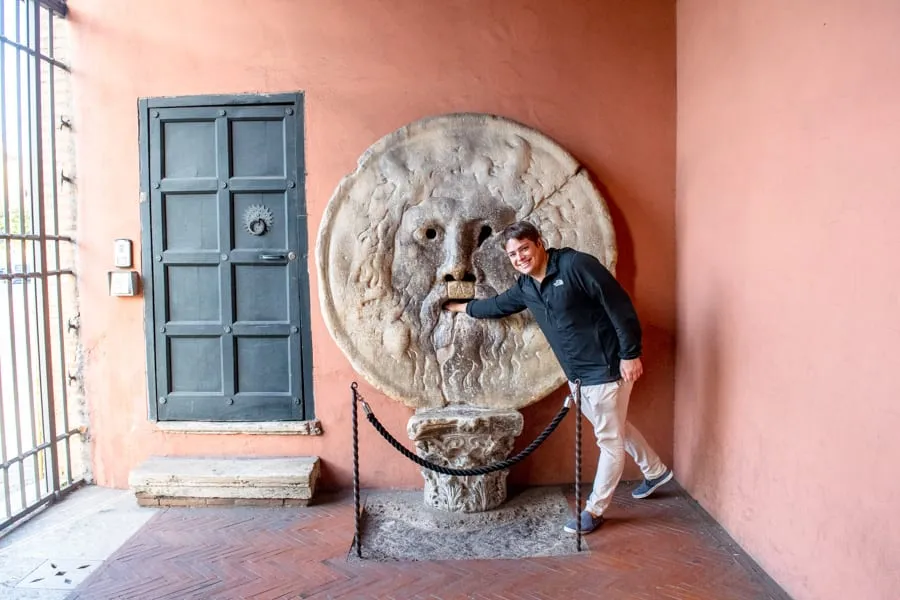 Some links in this post may be affiliate links. If you make a purchase through one of these links, we may earn a small commission at no extra cost to you. Please see our

disclosure policy

for more detail.
What to Know Before Packing for Rome
Romans tend to dress a bit on the formal side.
No suits or cocktail dresses required, of course, but crisp, tailored, intentional outfits are the norm in Rome.
Loose or ill-fitting clothing, ripped or stained items, and anything athleisure will look out of place in Rome (except perhaps near the Colosseum or Vatican City, where you'll almost exclusively be surrounded by other tourists).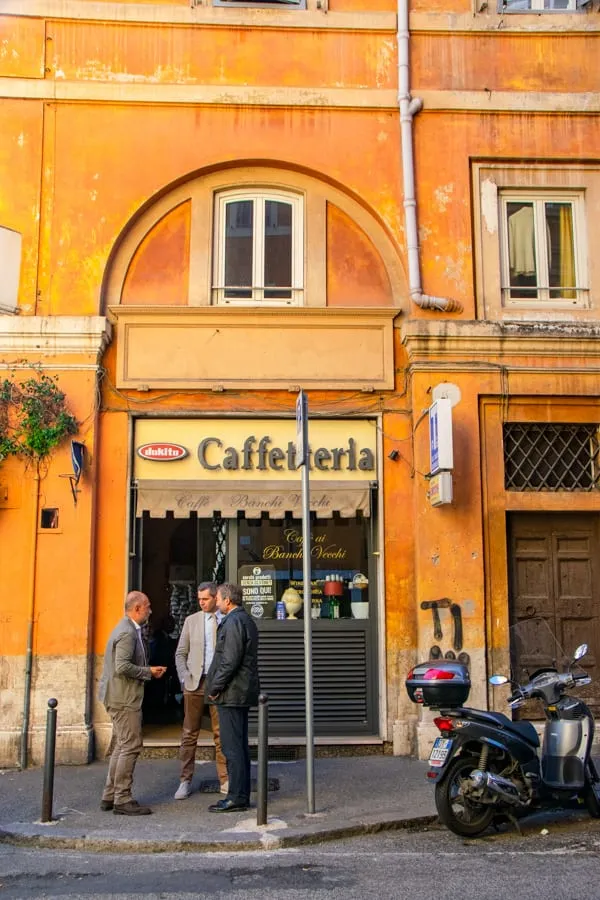 If you want to blend in, dress for the season, not the weather (within reason).
For example, by early November in Rome, you'll see trench coats start to show up on the locals–even if the temperature still only calls for a light jacket.
You clearly don't need to follow this tendency to the letter, but keep in mind when making your Rome packing list that the month you travel matters just as much as the weather.
Many religious sights, including St. Peter's Basilica, require modest dress.
That means no shoulders and no knees for both men and women. Be sure to bring at least one church-appropriate outfit with you, and if you think you'll be visiting churches and catacombs on more than one day, consider throwing a scarf or cardigan in your day bag so that you're able to transform into a church-ready outfit in an instant.
Comfortable shoes are an absolute must.
Visiting Rome requires a lot of walking, and a surprising amount of that walking is done on non-smooth surfaces–think of exploring the winding cobblestone streets of Trastevere or climbing Palatine Hill, for example.
Leave the heels at home, and resist the temptation to break in new, beautiful Italian shoes during your trip to Rome if you can. I definitely failed to follow my own advice once and broke in a pair of new Italian boots by walking around Florence, and it was ridiculously painful (the same boots sadly got lost in Naples a year later–RIP boots, I still miss you).
I've been wearing these shoes in Europe during the summer lately and love them. Boat shoes are also a great option, and Converse are popular with backpackers and travelers along the tourist trail. For winter a warm waterproof boot is a better option.
The Most Important Tip About What to Wear in Rome
Cheesy, but true: the absolute, 100% most important thing to consider when deciding what to wear in Rome is knowing what you will be comfortable in!
The most fashionable outfit in the world can still add unnecessary stress to your trip if it isn't a style you're comfortable wearing, your shoes pinch, the fabric on your shirt itches… you get the picture.
Ultimately, whether a random Italian you'll never see again thinks you dress a bit strange (trust me, it's not the weirdest getup they've seen on a tourist) doesn't matter a single bit in the grand scheme of your trip, so don't overthink it!
That being said… when in Rome, it can be an absolute blast to do as the Romans do, and it can enhance your trip if you feel at ease and like you (somewhat) blend in the city.
And, while none of us foreigners will ever truly pass for Roman, avoiding the college-t-shirt-and-baseball-cap look can cut down on the number of times you're hassled by scam artists or energetic salesmen in the city and the number of times that you're targeted for pickpocketing.
You'll also sometimes get better service in places like restaurants in exchange for dressing well in Rome, which is a nice plus!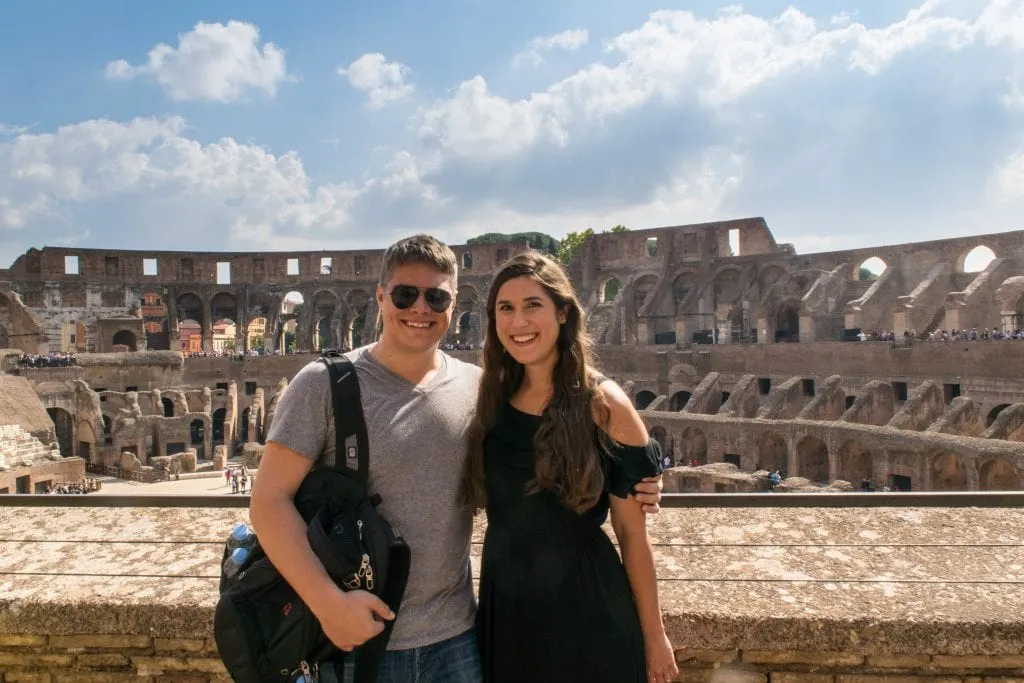 What to Wear in Rome During Spring: March, April, May
If there's one word to keep in mind when deciding what to wear in Rome during spring, it's layers: you'll likely experience some warm days during your trip to Rome, but especially early in spring, cool nights are still common.
Dresses
I adore wearing dresses in Rome: they're fashionable, they're easy to make into a put-together outfit, they're simple to pack, and they're fun to wear.
Since this is Rome, neutral options will always be popular, but pops of bright color are great–Romans aren't nearly as known for their love of black as, say, Parisians or New Yorkers. Think something like this or this.
Spring evenings in Rome can still be quite cool, so consider bringing a couple of pairs of tights with you to layer under your dresses as needed–they're very popular in Rome!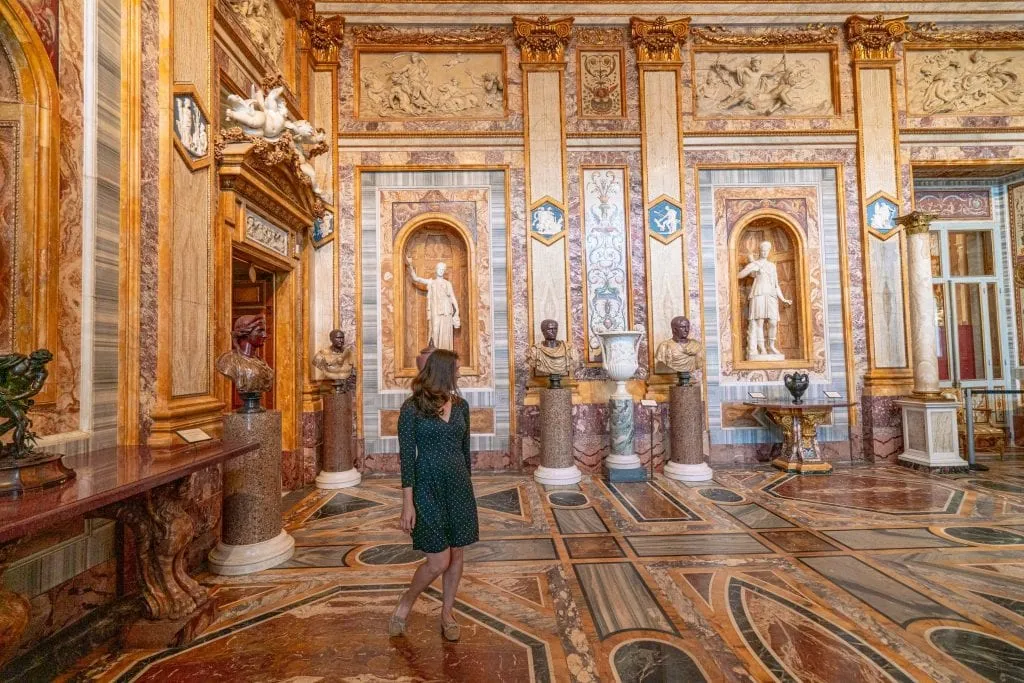 Tops
For tops, choose something with a bit more to it than a basic t-shirt–while you can stay quite casual, think something with a bit of structure or pretty detailing, like this or this.
Bottoms
If they're your style, spring is a great time to break out pretty skirts like this in Rome–remember to pack tights as I mentioned above!
Shorts aren't really popular for women in Rome, especially outside of the hot and muggy summer months.
Dark, skinny jeans are always in style and make a great combo with a brighter top–I have this pair and absolutely adore them.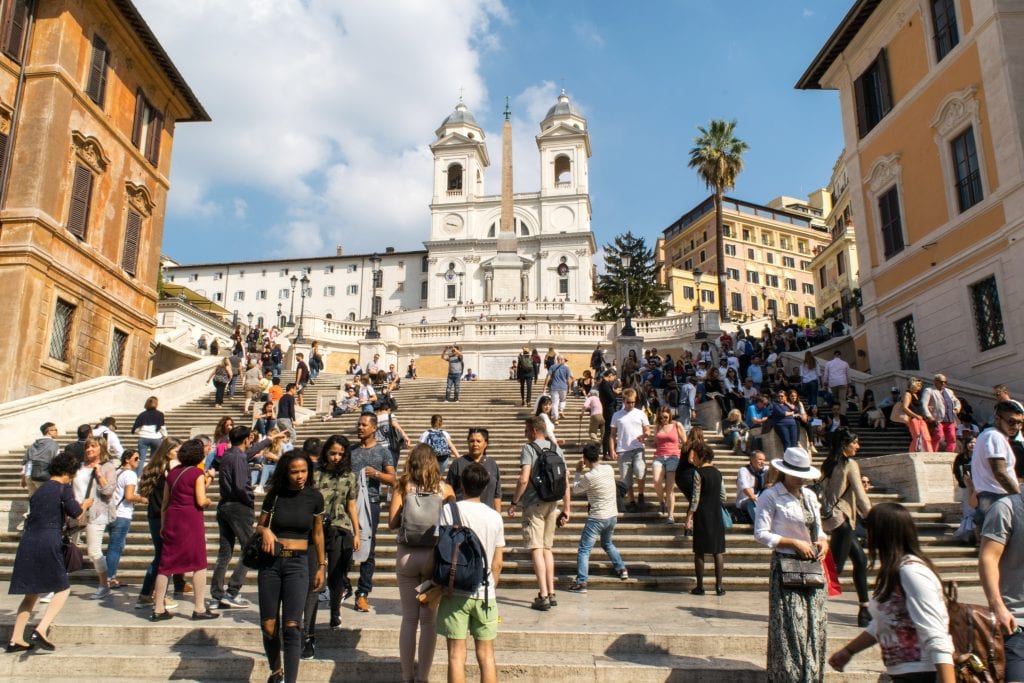 Shoes
Spring is a great time to wear booties or ankle boots like these in Rome–really, they're popular year-round in the city and do a great job of looking fashionable while also protecting your feet and being comfortable to wear.
Substantial flats are also an option, but make sure that they have good arch support! The last thing you want is aching feet while in Rome.
If you're more of a comfort-over-fashion person, a sleek, subtle pair of tennis shoes like these won't stand out much with jeans.
Jacket
Winter may be over, but you'll still want a jacket during a spring trip to Rome: consider something simple and easy to pack like this, and opt for a neutral color–you can never go wrong with black!
Accessories
Definitely pack a bright scarf for a pop of color when choosing what to wear in Rome in spring!
What to Wear in Rome During Summer: June, July, August
Summer in Rome is scorching hot, so come prepared to sweat, and be sure to pack plenty of sunscreen.
There's no getting around it: summer in Rome is both hot and humid, and while there's never exactly a bad time to be in Rome, we'll never personally plan to travel there on purpose in the months of July in August–so if that's when you're coming, plan ahead and pack well.
Dresses
Think light and airy dresses like this. I'd recommend bringing at least one dress that hits below the knee so you can visit the Vatican and other churches around Rome without worrying about the dress code–plus maxi dresses are so photogenic anyway, and a great way to feel dressed up in Rome with minimal effort!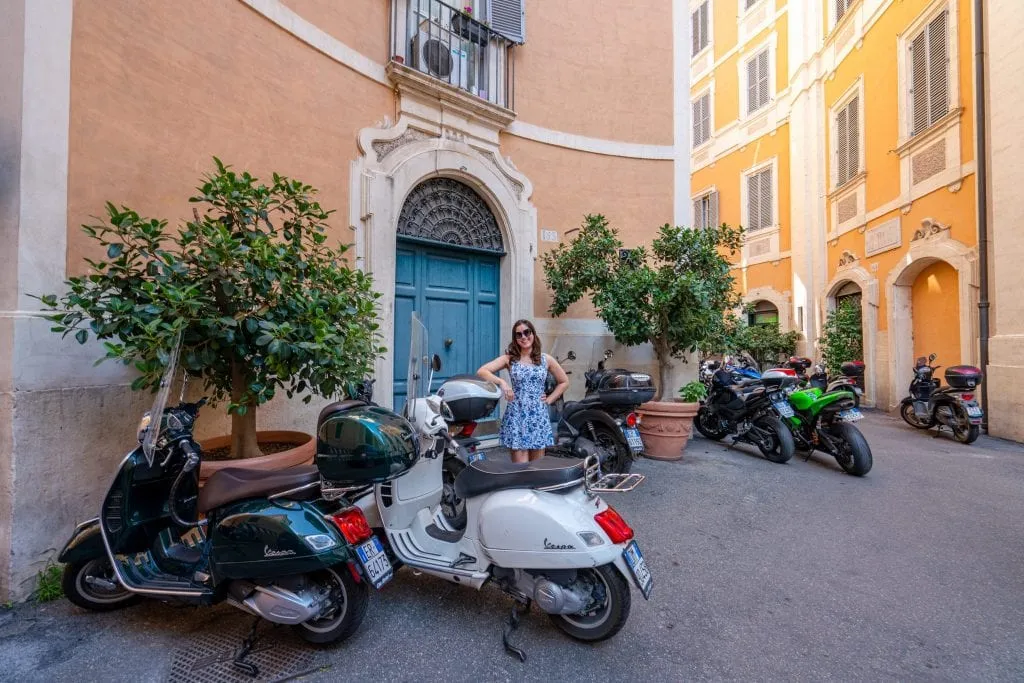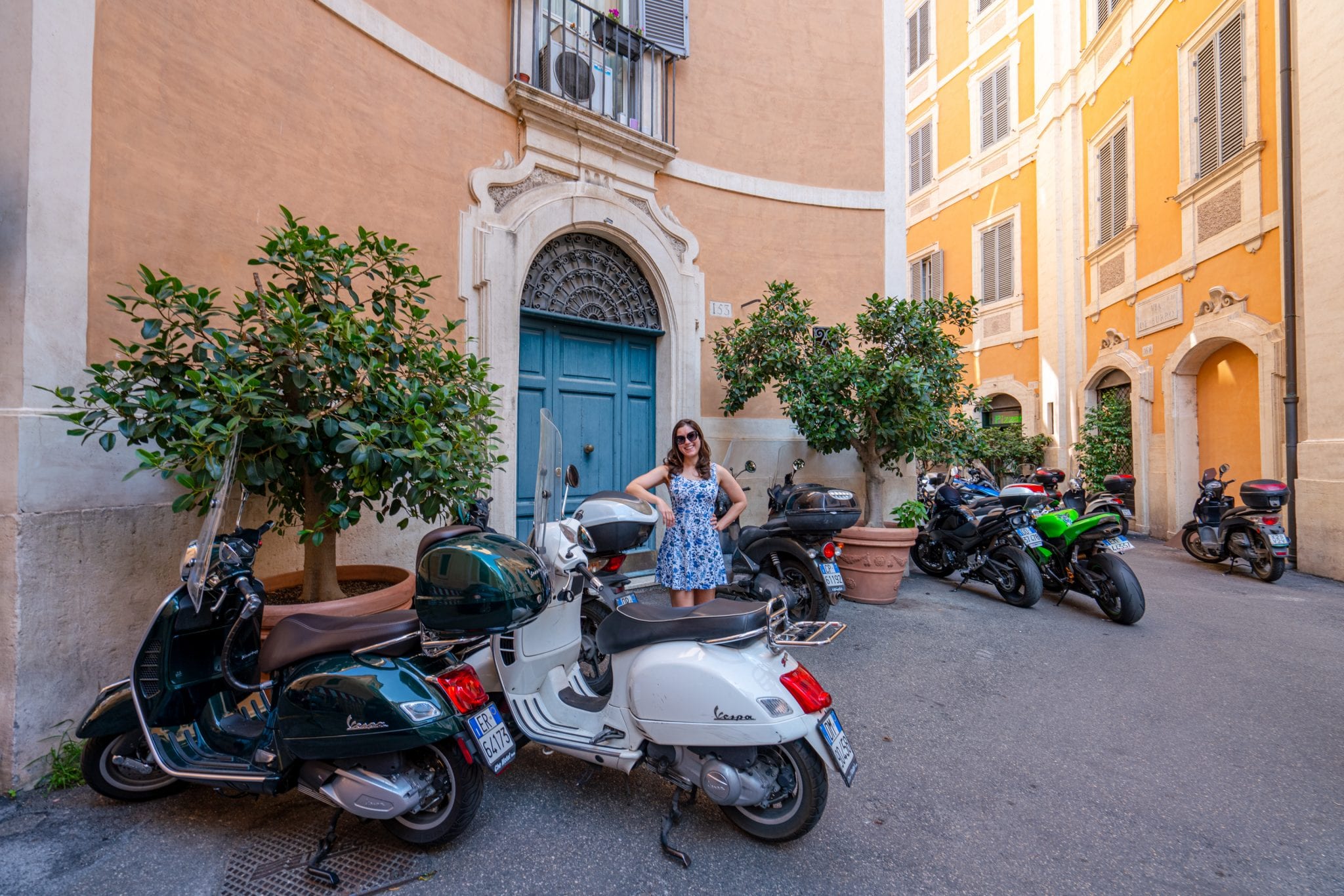 Tops
While you'll still want some detailing to your tops during summer in Rome, you'll also want to focus on staying cool: light fabrics are key!
Bottoms
Don't even think about wearing jeans in Rome during the summer: it's simply too hot. If you're most comfortable in pants, opt for lighter fabrics.
However, skirts are also a great option during the summer in Rome. Skirts like this and this are fashionable and easy to wear in the city.
You won't see a lot of Roman women wearing shorts in the city–at the beach yes, in Rome itself no–but so many tourists will be wearing shorts in Rome during the summer that if you absolutely want to bring a pair or two, you won't stick out like a sore thumb. Personally, I very rarely, if ever, wear shorts in Rome.
Shoes
Cute, strappy sandals look wonderful in Rome, but unfortunately, many pairs don't offer a lot of support to your feet, which you absolutely need! During last spring and summer in Italy, I opted for these shoes and I didn't feel like I stuck out and my feet were extremely comfortable.
If you opt for sandals, go with something a bit more support, like these.
Jacket
You certainly won't need a jacket to wear in Rome outside during the summer, but Italians love to turn the air conditioning way, way up, especially on trains.
Consider packing a light jacket–I usually bring something like this–in the summer to throw in your bag and use in cold museums and trains.
Accessories
You'll definitely want to wear a hat in Rome during the summer! It'll keep the sun off your face, keep you comfortable, and make styling your hair easy. Something like this is a great option, but if you don't feel like shopping before you leave, you can find souvenir hats of every quality and price all over Rome.
What to Wear in Rome During Fall: September, October, November
Wondering what to wear in Rome during the fall? Fall–particularly late September through early November–is our favorite time of year to travel in Italy, and Rome is no exception.
Weather varies dramatically in Rome during these months, with September often still producing warm temperatures that feel more like summer, with more rain, clouds, and cooler temperatures becoming the norm as the season edges into November.
Dresses
Cozy dresses in neutral colors and jewel tones are the perfect option for Rome in the fall! I personally love wearing dark red in Rome and think that dresses like this, paired with tights depending on the weather, look amazing against the colorful buildings in the city.
Black is also extremely popular of course, and you can't go wrong with a look like this.
Like in spring, if you're packing for a fall trip to Rome, be sure to throw in a few pairs of tights to layer under your dresses. You'll blend in more, stay warm, and look great all at the same time.
[instagram url=https://www.instagram.com/p/BtyU8lWA27L/]
Tops
Pretty tops in neutral colors are perfect wearing in Rome in the fall. Think something like this.
Bottoms
Like in spring, dark, skinny jeans are always in style in Rome and make a great option when you're deciding what to wear in Rome during the fall. I love this pair and happily pack them for Rome.
Skirts like this layered with tights are also adorable and easy to wear.
Shoes
You can sum up what footwear to wear in Rome during the fall in one word: boots.
A pair of dark brown or black boots, either short or tall depending on your style, will blend in perfectly in Rome while also being comfortable. Just make sure you bring a pair that is already broken in and, as always in Rome, avoid heels!
I generally wear a pair similar to these in Rome during the fall and am always comfortable.
Jacket/Coat
By November in Rome, you'll start to see the locals breaking out their trench coats, even if the weather is still mild!
I wouldn't bring a particularly thick one, but a lightweight trench coat like this is an easy way to look fashionable and pulled together during late fall in Rome, and will keep you warm during the cooler nights.
Accessories
Want to blend in without packing too much in Rome during the fall? Bring all the cozy scarves (and then once you're there, shop for even more!).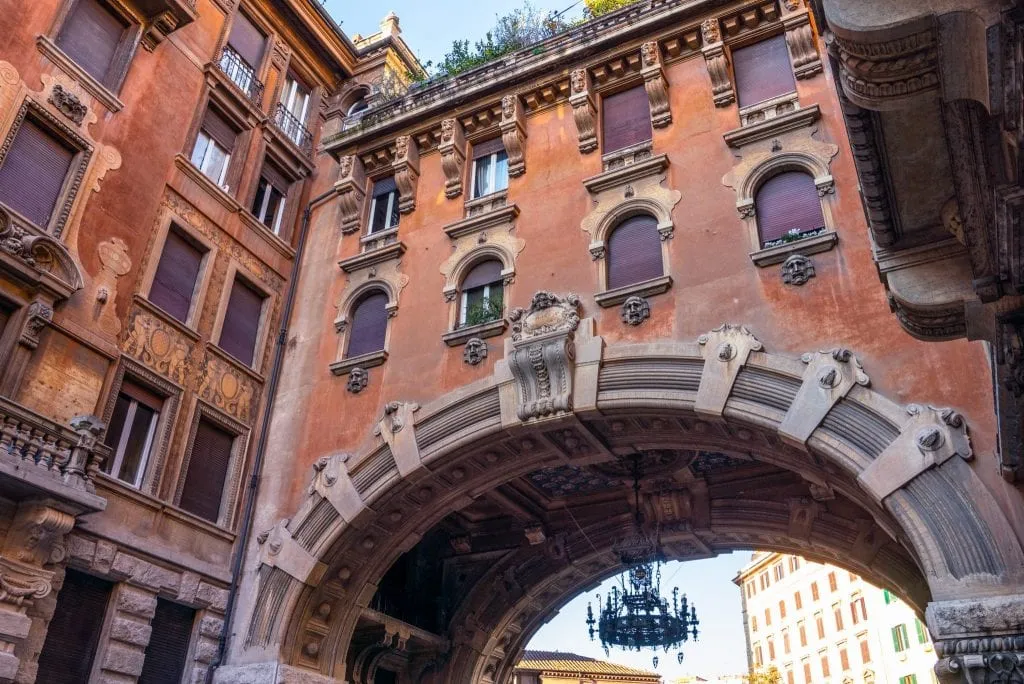 What to Wear in Rome During Winter: December, January, February
Rome's winters are generally mild and wet, with December clocking in as the rainiest month of the year and January the coldest (but since average high temperatures only get down to about 55 degrees Fahrenheit or 13 degrees Celsius, it's really not much to worry about).
Still–most of us don't spend our days at home walking around outside sightseeing all day, and it can get surprisingly chilly to stay outside in those temperatures for long periods of time!
Plus, since Romans tend to dress according to the season, you'll see plenty of traditional winter wear like coats and boots on the street.
Dresses
Warm sweater dresses like this one and this one, layered with fleece-lined leggings, are a great way to stay warm during winter in Rome without compromising on style!
Tops
Cozy sweaters in dark and neutral colors look fabulous during winter in Rome. Consider packing something like this.
Bottoms
Not much has changed from other seasons here: if you're deciding what to wear in Rome during the winter and prefer pants to dresses and skirts, dark, skinny jeans are an easy go-to (this is my beloved pair).
A fan of skirts? Much like spring and fall, a skirt with a layer underneath (in the winter, I'd recommend fleece-lined leggings) is a great choice–aim for heavier, warmer fabrics like this.
Shoes
All the boots! Winter in Rome is a great time to wear beautiful boots with all your outfits. If rain is in the forecast, choose something waterproof. If not, leather is always a tried-and-true staple. A pair similar to these is a great basic choice, and similar to what I wear in Rome during the winter.
Jacket/Coat
Cozy pea coats are the way to go when you're deciding what jacket to wear in Rome during winter–think warm but not overly heavy, in a neutral color (black is by far the most popular color for coats in Rome).
Definitely choose something you're comfortable having in all your photos because it's likely to show up in just about all of them!
[instagram url=https://www.instagram.com/p/BuEjJq5AKnm/]
Accessories
In addition to a warm scarf, you'll want to bring a cozy hat and a good pair of gloves. If you plan to be snapping photos and videos on your smartphone when in Rome (who isn't?), I recommend choosing a glove compatible with smartphone usage–these e tip gloves are a great choice.
What to Wear in Rome For Men
Since men's clothing tends to be much simpler and includes less variation than women's clothing, I'm going to roll all seasons together here–if you're a man packing for Rome, this is what to wear!
Tops
If you're the formal type, casual button-up shirts won't look out of place in Rome!
If you're visiting during summer and you're more the t-shirt type, that's fine–Jeremy is and never sticks out much–but opt for crisp, well-kept shirts, preferably with a little bit of structure or detailing to them–like this, for example. In other words, casual is fine, but avoid the I-wore-this-to-the-gym look.
Avoid tank tops–they're not acceptable to be worn into churches, and they're not a popular look for men in Rome.
During fall and winter, well-fitted sweaters are a great choice to wear in Rome.
Bottoms
Dark, well-fitted jeans like these and a pair of chinos are both great options for men visiting Rome year-round.
In the heat of summer, you can opt for tailored shorts if you can't stand the heat (it's brutal, seriously)–you'll be far from alone, though they aren't the most popular option among Italian men. If you're going out at night to a nicer venue, however, you'll still want to break out the pants.
Keep in mind that the knees-must-be-covered rule of Italian churches does include men as well. It's not necessarily entirely common for men to be turned away for wearing shorts that hit at the knee–you'll see men in standard shorts in churches throughout Italy–but it is a possibility, so before you jump in the giant line at St. Peter's Basilica, consider throwing on some pants.
Shoes
When deciding what to wear on your feet in Rome, think comfort: you'll be walking a ton, so make sure any shoes you bring are well broken in!
Supportive slip ons are fine, or even subtle sneakers–but think dark-colored and low-profile, not chunky white tennis shoes.
If they're your style, men's boots like these are a great option during fall and winter!
Jacket/Coat
During spring and early fall, you'll definitely want to bring at least a light jacket to keep you warm at night. In summer you may want to pack one as well–museums and trains can be extremely cold when the air conditioning gets cranked up.
Look for something like this, for example. Jeremy brings this jacket just about everywhere and loves it.
During winter, look for a warm, fashionable coat that you're happy to have in all your photos (because you'll likely be wearing it every day!). Something like this is a great choice.
Accessories
Roman men love their scarves, so feel free to bring one at any time of year–but if you're traveling in the colder months, you'll absolutely want to have one! I also recommend bringing a hat to protect your face from the sun, especially in the summer–though if you'd rather wait until you get to Rome, there will be plenty for sale there!
Accessories Everyone Should Pack for Rome Year-Round
Scarf
Romans love scarves, and you'll see both men and women wear them year-round.
They're great for throwing into your bag if you think you might be visiting churches that day and your shoulders aren't covered, if you think you might get cold, or if you just want to have a fashion accessory on hand for photos–they're a great way to get that quick pop of color in your outfit that looks great in Rome.
For spring and summer, aim for something light and bright, and in winter, go for cozier options–I'm consistently amazed at how a warm scarf in winter can immediately make life so much more comfortable.
Sunglasses
Sheek designer sunglasses are popular in Rome, and a great way to save your eyes during outdoor sightseeing–but even if you don't want to shell out the cash for an expensive pair (or don't want to risk losing them abroad), having a fashionable pair of sunglasses onhand in Rome is almost certain to improve your trip.
Umbrella
Want to make sure that you don't have to worry about all the items you carefully picked out when deciding what to wear in Rome don't get soaked in a sudden rainstorm? Bring a packable travel umbrella!
We bring ours everywhere and it has been a lifesaver more than once.
What NOT to Wear in Rome
Remember what I said above about what you're comfortable in being the #1 rule when deciding what to wear in Rome? Still true.
But, unless you absolutely can't stand to leave these items at home, consider leaving them off your Rome packing list.
College/University T-Shirts
These 100% scream "American tourist". If you're young, they scream "American foreign exchange student".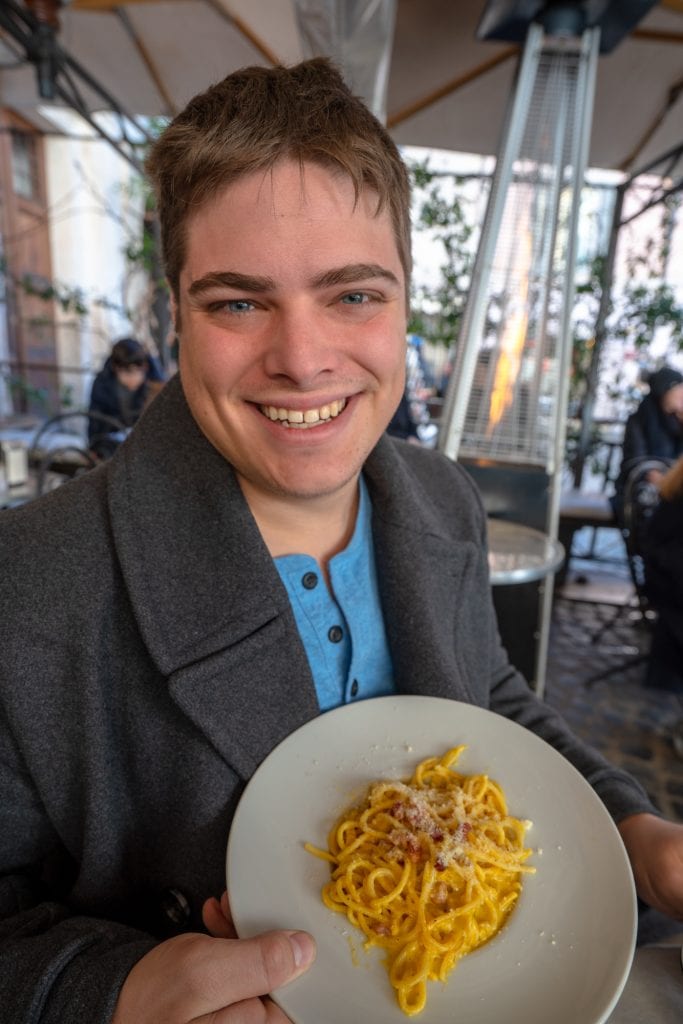 Baseball Caps
Same as above. I actually do wear my baseball cap occasionally in Italy (mostly hiking and at the beach) because again, comfort above all else, but never in Rome.
Chunky Tennis Shoes
Sleek, subtle black sneakers like these Nikes? Perfectly fine in Rome. Chunky, giant, belongs-in-a-gym tennis shoes? You'll stick out as a tourist for sure.
A Curling Iron/Hair Straightener/Hair Dryer
Okay, this isn't exactly something to wear in Rome, but since it pertains directly to appearance, it's worth mentioning: if you're coming from outside of Europe, these items won't work in Italy, even with an adaptor!
You'll need a converter (which is both heavier and more expensive than an adaptor) in order to use them.
Your options are 1) do without (most hotels have a hair dryer anyway), 2) buy a converter ahead of time, or 3) buy a European or dual voltage device before leaving (or once you arrive in Italy). Bear in mind that dual voltage devices can be a bit weaker!