Boston is one of our absolute favorite cities in the USA, and luckily, even one day in Boston, MA is enough to get an overview of what makes the city so special!
We once spent a delightful summer living in Boston, and return visits have continued to leave us increasingly enchanted with the city.
With its gorgeous architecture, deep ties to American history, and impressive walkability, Boston is incredibly fun to explore, whether you have a mere 24 hours in Boston or months to uncover Beantown's best attractions.
We designed this one day Boston itinerary to help you discover as many of the city's highlights as possible in a single day–all of which are found along a walkable route!
The famous Freedom Trail, the charming North End (also known as Boston's Little Italy), stately Beacon Hill, and the bustling Market District are all touched on here, and our hope is that you say goodbye to Boston already excited to plan your next visit.
Here's how to see the best of Boston in a day!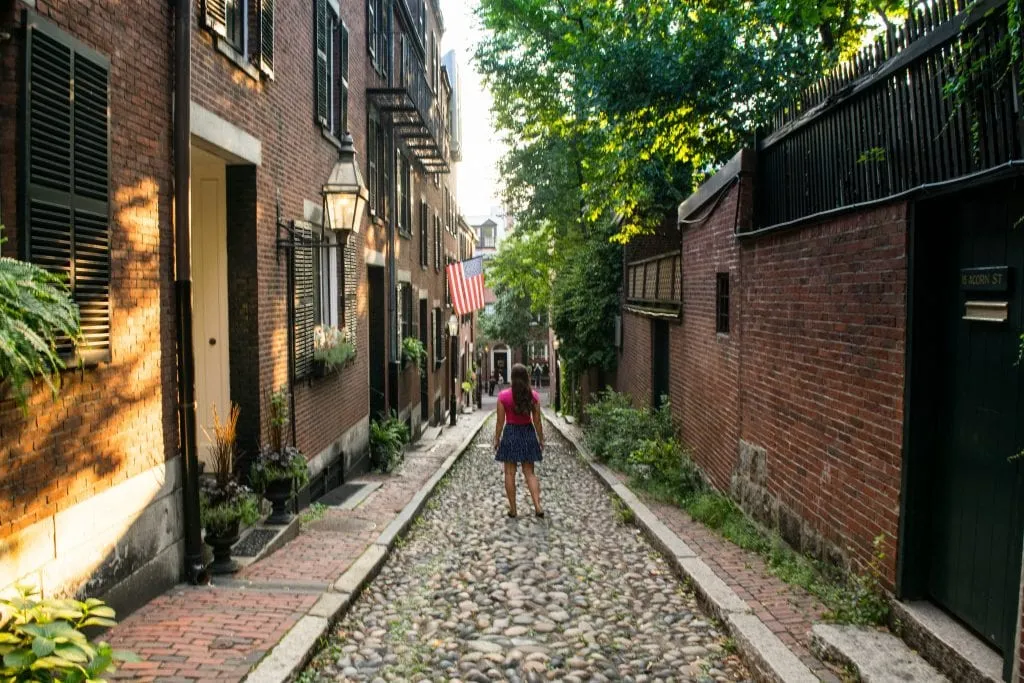 The Perfect One Day in Boston Itinerary
Start your morning in the Boston Public Garden.
The Boston Public Garden is one of our favorite places in the city and the perfect place to kick off your day in Boston.
The garden is quiet and beautiful, and it's a great place to relax, take a walk, and enjoy a bit of peace in the midst of the hustle and bustle of the city.
With only 24 hours in Boston (or less, if you're planning a day trip to Boston) you don't need to spend long here, but it's worth stopping by and makes a convenient starting point.
Be sure to check out the Make Way for Ducklings Statue, put in place for the famous children's book that features Boston, while you're there!

If you'd like to enjoy views of the Public Garden from the water, the swan paddle boats in the garden's pond are famously inexpensive at $3.00/ride.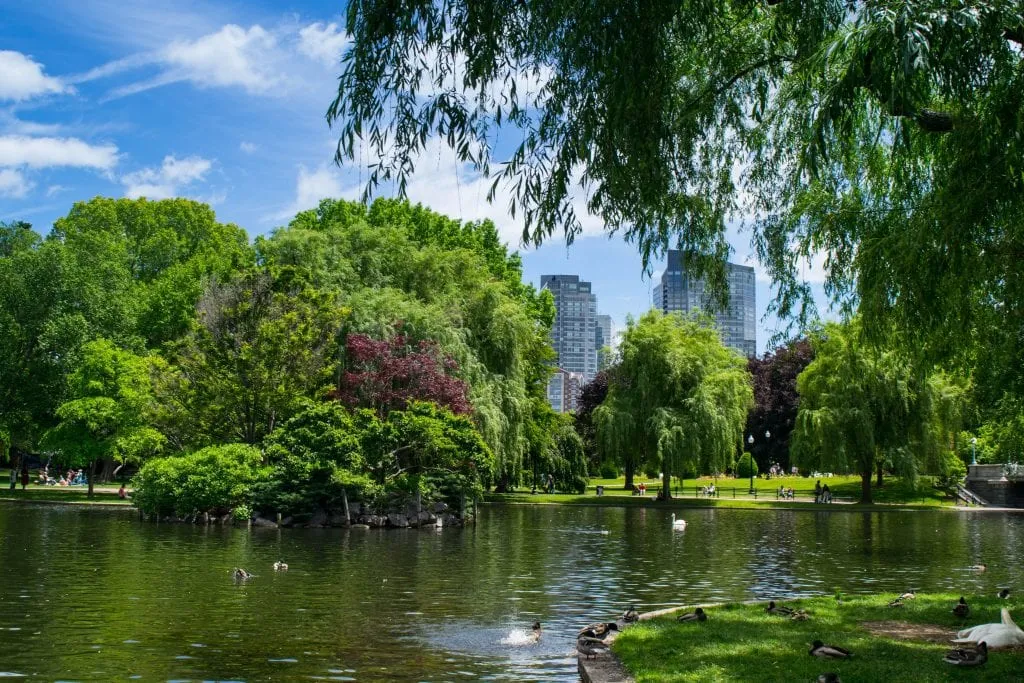 Stroll through the Boston Common and enjoy views of the Massachusetts State House.
Located right next door to the Public Garden, the Boston Common is the heart and soul of the city.
Established in 1634, it's the oldest public park in the USA–though the surroundings are quite a bit different than they were back in the 17th century!
Today, the Common is extremely centrally located, and within a few minutes walk from here you can be in Beacon Hill, in Back Bay, at the Massachusetts State House, in the Theater District, shopping at Downtown Crossing (where you'll find all the standard chain stores), or exploring a piece of American history (which, of course, the Boston Common itself also is).
The park is gorgeous to walk through–be sure to take in plenty of views of the gold-domed Massachusetts State House while you're there!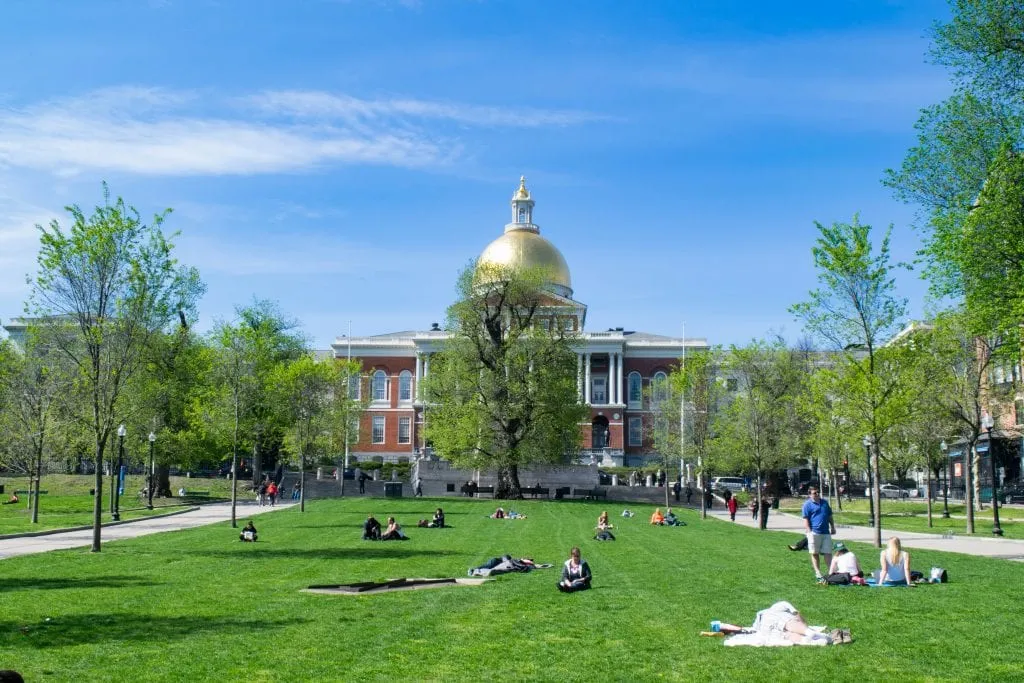 Meander through Beacon Hill, one of the prettiest places to visit in Boston.
Located directly north of the Boston Common (more or less behind the state house), Beacon Hill is widely considered one of the most beautiful neighborhoods in Boston and is my personal favorite to explore.
This is where you'll find the Boston that you see on postcards: redbrick mansions, black shutters, a cobblestone path or two, tree-lined streets.
We recommend walking from Boston Common up to Louisburg Square, which boasts some of the most prestigious addresses in Boston (former Secretary of State John Kerry lives here).
From there, take a quick stroll to Acorn Street to take advantage of one of Boston's most photogenic spots.
Just be sure to be cognizant of the residents as you snap photos!
Beacon Hill is a very residential neighborhood, and while photos and admirers are generally welcome, blocking doorways and climbing stoops is not.
Stop by Park Street Church and the Granary Hill Burying Ground.
After enjoying a bit of time in Beacon Hill, head back down to Boston Common and pay a visit to the Park Street Church and Granary Burying Ground, which are located right next door to the Common.
While you can see the bulk of the cemetery from the street, it's a shady, peaceful spot, and worth a quick peek inside (only a quick one, though: this one day Boston itinerary features a somewhat outsized number of burying grounds).
As you step inside, you'll notice a large monument with a very familiar name in Granary Burying Ground!
Benjamin Franklin's parents are buried here, and a monument to the family is erected toward the center of the cemetery.
Visit King's Chapel and Burying Ground.
The King's Chapel is my favorite church in Boston to go inside–not because it is ornate, but because it is so unusual among US churches.
Built originally as an Anglican Church in the 18th century, the church has enclosed "boxes" instead of rows of pews.
Originally, prominent families who were members of the church would have a box of their own that they would sit in each Sunday.
The King's Chapel still has an active congregation–but these days, instead of Anglicans, Unitarians call the chapel home.
Tony Hisgett
,
CC BY 2.0
, via Wikimedia Commons
Sample the original Boston Creme Pie at the Omni Parker House.
Think you need to make a reservation and sit down to a meal to eat the original Boston Creme Pie?
You definitely don't!
The Omni Parker House has a small shop on the first floor selling the delicious cakes, and stopping to pick one up is a great way to sample the flavor without eating up too much of your one day in Boston (pun intended).
If you want to also try the original Parker House rolls (which are, in fact, delicious), then consider following in the footsteps of Ulysses S. Grant, John F. Kennedy, Franklin D. Roosevelt, and many more by planning a meal (or even an overnight stay) at the Omni Parker House as well.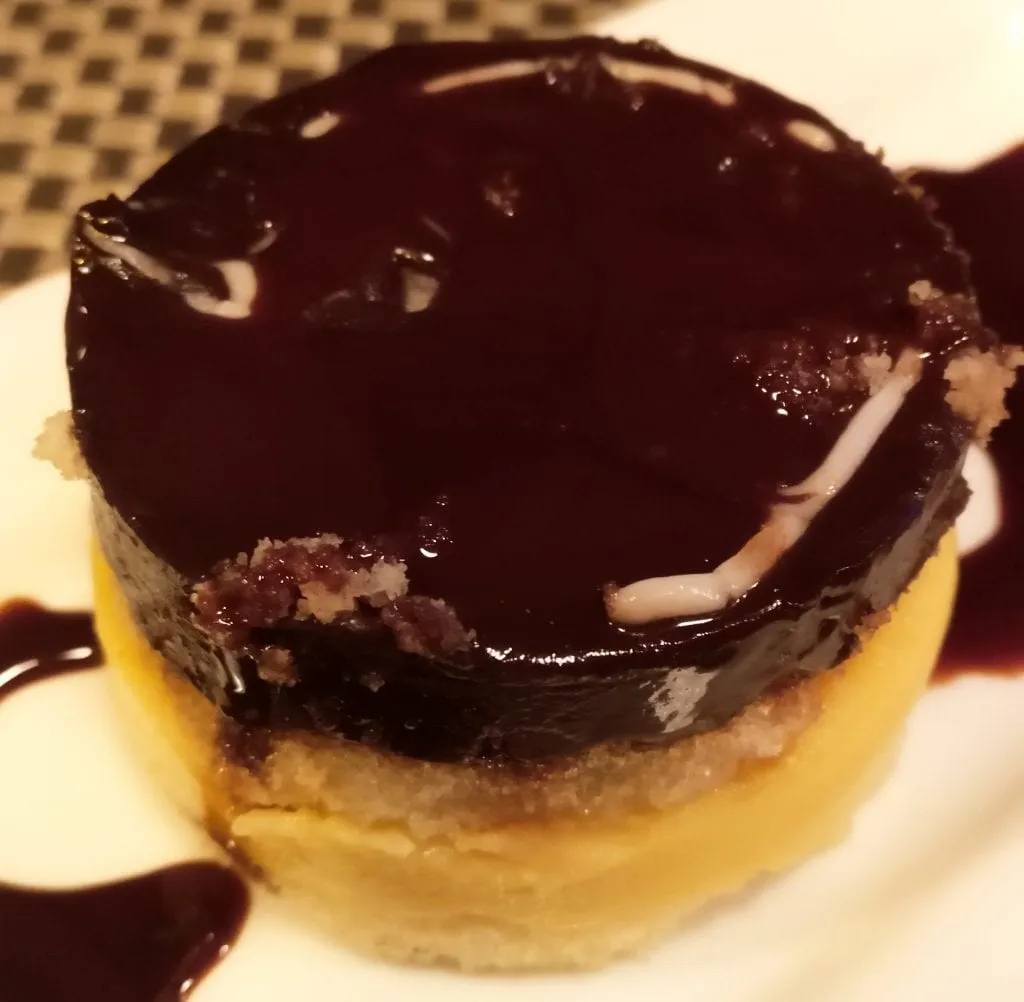 Stop to admire the Old Corner Bookstore.
The former home of Anne Hutchinson has acted as a bookstore, an apothecary, a private home, a Boston Globe souvenir shop, a diamond store, and now a Chipotle: talk about evolution!
The building is still worth a nod as you go by, though (and is officially part of the Freedom Trail, despite its concurrent status as a place to grab a burrito).
The Old Corner Bookstore also happens to be set right across from the Irish Famine Memorial–a striking statue worth taking a look at during your day visiting Boston.
Pay a visit to the Old State House and the site of the Boston Massacre.
As the oldest surviving public building in Boston, the Old State House has seen more than its fair share of American history!
This building was once the seat of the colonial government, then became the seat of the Massachusetts state government, and eventually Boston City Hall.
And, of course, it was the site of an important moment in the American Revolution: the Boston Massacre, which is commemorated with a plaque in the exact location of the altercation.
The Old State House has been a museum since the 19th century, after more than 100 years in public service and a brief stint as a commercial building.
As you wander your way through Boston on your way to the Old State House, be sure to note the Old South Meeting House along the way!
Head to the Boston Market District to browse (and snack).
The Market District is easily one of the most iconic places to visit in Boston, and a must-see when sampling Boston in a day!
Made up of several markets that are found in very close proximity to each other, there have been markets operating in this area since at least 1743.
Starting with the most famous (though not necessarily the best place to shop), keep an eye out for: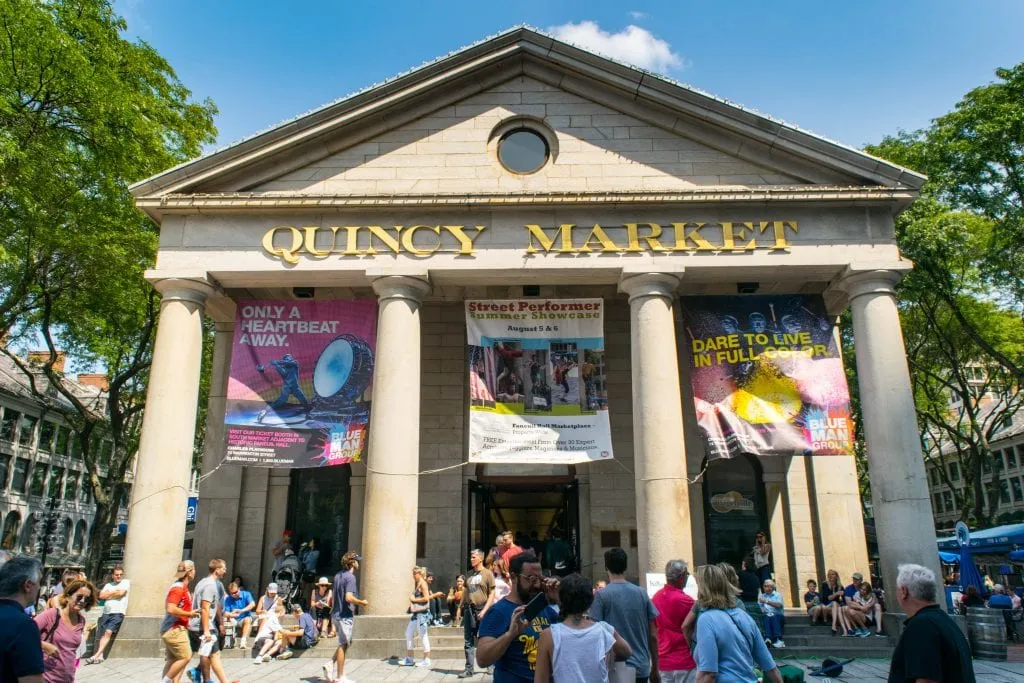 Faneuil Hall Marketplace
Made up of closely located Faneuil Hall, Quincy Market, South Market, and North Market, this is the heart of Boston's historic market district.
It's also one of the most touristy places in the USA, comparably with places like Fisherman's Wharf in San Francisco or Navy Pier in Chicago.
It's definitely worth stopping by this historic spot during your day in Boston, but we wouldn't recommend spending long here (and based on the usual levels of crowds, you probably won't want to).
Boston Public Market
Looking to purchase some New England specialties, whether to devour immediately or to take home as souvenirs?
Boston Public Market is the perfect spot for that: featuring exclusively New England-based products and companies, you can pick up anything from produce to donuts to crafts here.
This is one of my favorite spots in Boston–and not just because of how good the ice cream is!
Haymarket
If you're lucky enough to have your 24 hours in Boston overlap with a Friday or Saturday, be sure to swing by Haymarket (located right in front of the Boston Public Market) to check out a fabulous farmer's market!
Pause at the New England Holocaust Memorial.
Right in between the Boston Public Market/Haymarket area and the Faneuil Hall Marketplace sits the sobering New England Holocaust Memorial.
It takes very little time to walk through–no line, no entrance fee–but is absolutely worth taking a moment to slow down and appreciate.
Make your way into the North End for some sightseeing.
Boston's North End (also known as "Little Italy", though you won't catch a local calling it that) is the oldest neighborhood in Boston and a fascinating sort of place.
Once a neighborhood popular with Italian immigrants, today it is more popular with tourists thanks to its beautiful architecture, many historic sights, dozens of restaurants, and famous pastry shops.
Here are a few things to be sure to check out when visiting the North End!
Paul Revere House
The oldest remaining building in downtown Boston once belonged to none other than Paul Revere!
Whether you head inside for a tour as part of your one day Boston itinerary, or simply admire the facade as you stroll by, be sure to note this piece of American history sitting in the North End.
Old North Church
And speaking of Paul Revere…
The whole "one if by land, two if by sea" story?
That lantern was said to have been hung here, at the Old North Church (which also happens to be the oldest church in Boston that is still standing today).
You'll find a statue of Paul Revere on his horse nearby as well.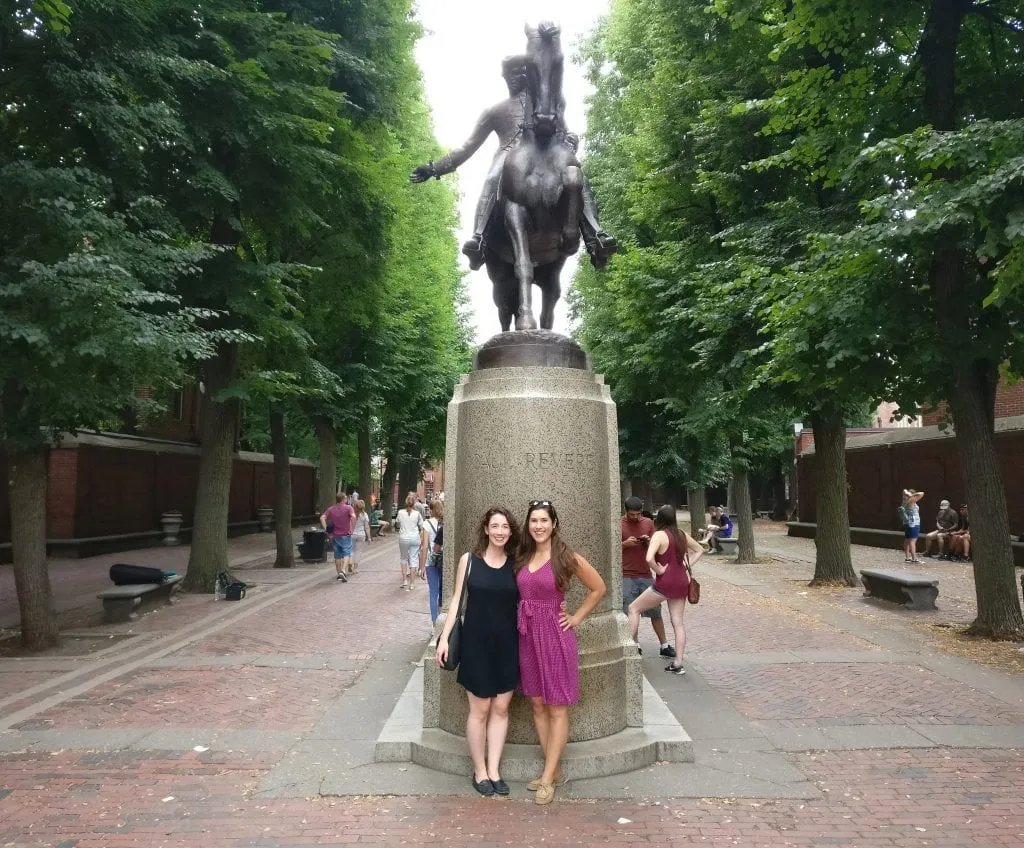 Copp's Hill Burying Ground + The Spite House
Boston's second-oldest cemetery holds more than 1200 marked graves that include plenty of notable burials from the colonial era… but that's not the only reason to visit.
Right across the street from Copp's Hill Burying Ground sits the Spite House (also known as the Skinny House), which is home to one of my favorite Boston stories.
As the story goes, two brothers inherited land from their father.
While one was away serving in the American Civil War, the other brother built a large home, taking over part of the soldier's inheritance.
When the soldier returned home, he built the "Spite House"–incredibly skinny, and yet incredibly effective at blocking his brother's view.
The legitimacy of the story is somewhat questionable, but it's a classic Boston tale.
Enjoy an Italian-American dinner in the North End.
While the North End is indisputably touristy today, it still serves up incredible Italian-American food… if you know where to look.
Like many iconic neighborhoods around the world, you'll find a mix of mediocre-to-terrible tourist traps and delicious restaurants here, so it's imperative to check reviews before sitting down!
We have loved our experiences at both Ristorante Euno and Tresca (pictured below: everything was delicious, but their house special of chicken parm made with vodka sauce was a standout!).
Not in the mood for Italian-American food?
I can't say I understand, but you do have options!
The Bell in Hand Tavern (the burger is one of my favorites) and the Union Oyster House are both Boston classics that you can find nearby, and Neptune Oyster is another excellent option (I'm not an oyster fan and found plenty of tasty options when visiting).
More into ambiance than anything and not ready to hang up your sightseeing hat?
A scenic dinner cruise on the Boston Harbor might be right for you!
… and some classic pastries for dessert!
If you've heard one thing about eating dessert (and specifically cannoli) in the North End, it's probably about how delicious Mike's Pastry is.
If you've heard two things, it's probably that Modern Pastry is better and more "unknown".
Here's what we can tell you firsthand: Modern Pastry is tasty (though it's no longer unknown and getting more popular every day), and the line at Mike's Pastry is always too long for us to bother with (though we've heard from others it dies down sometimes–if you visit in the winter, you might get lucky!).
Looking for something slightly further off the beaten path?
We found the beautiful Caffé Vittoria thanks to my stepmom (a Boston local of 30 years) and it's now our go-to pastry spot in the North End, with great prices, a beautiful interior, and delicious desserts.
What about the Freedom Trail?
If you know of one attraction in Boston, it's probably the Freedom Trail.
This famous 2.5-mile sightseeing trail covers 16 historical sights related to American history in Boston and it is easily (and deservedly!) one of the most popular things to do in the city.
So don't worry–it's definitely on the list!
In fact, the vast majority of the 16 sights on the Freedom Trail are covered as part of this one day Boston itinerary, including the Boston Common, Park Street Church, King's Chapel, Faneuil Hall, every historical sight I discuss in the North End, and more.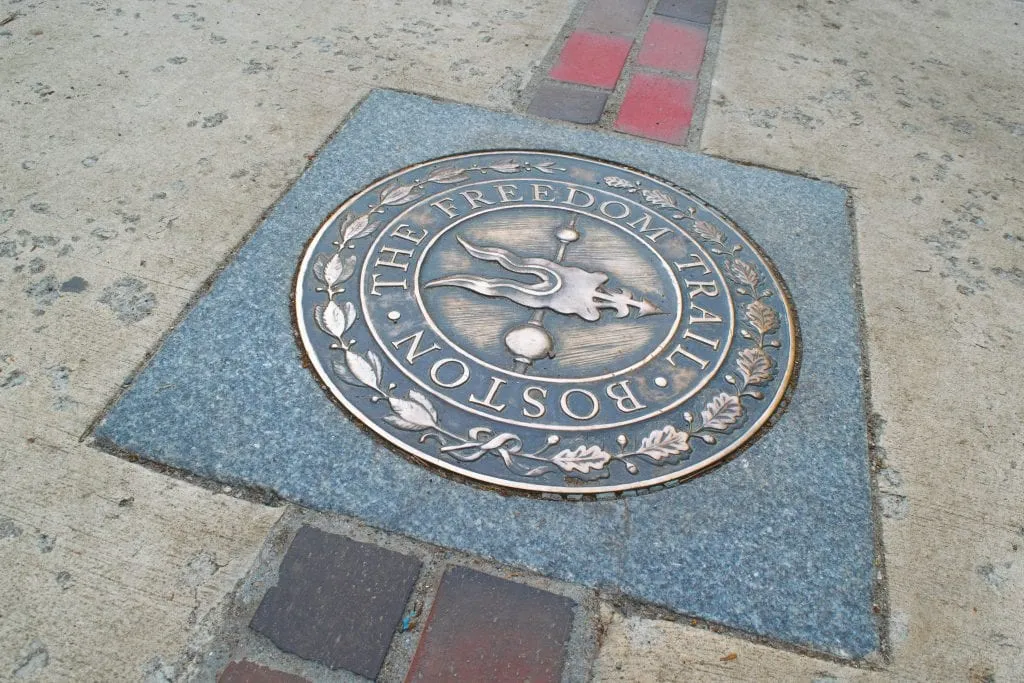 By following this Boston itinerary, you'll spend quite a bit of time walking the Freedom Trail, and you'll have tons of opportunities to check out the brick markings that denote where it leads!
Rather than simply list something so vague and malleable as part of the itinerary, though, we wanted to be sure to give specific suggestions.
After all, the trail can be seen in any order and doesn't need to be seen all at once!
With only 24 hours in Boston, you likely won't be able to tour the interior of each building, but you'll see them from the outside and can pick and choose which ones to enter.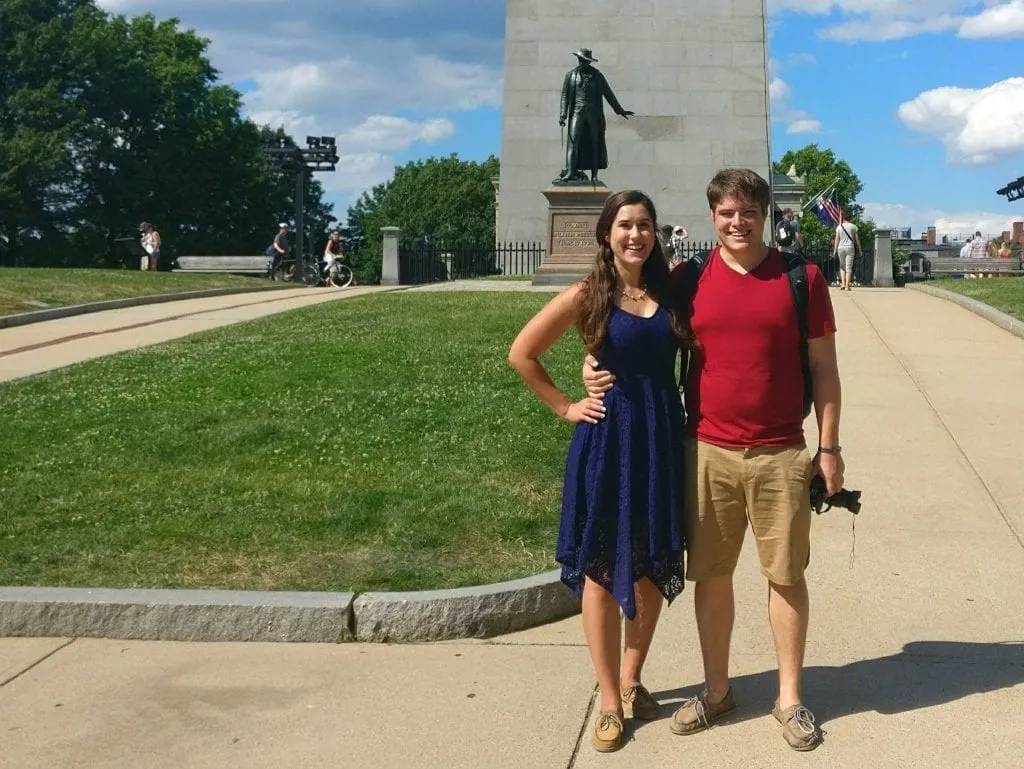 Where to Stay in Boston, MA
With only 24 hours in Boston, we recommend staying somewhere close to a Boston T (metro) stop that is near the center of the action.
The North End is a tempting option, but it is fairly difficult to get in and out of.
Back Bay or the Historic Downtown area along the Freedom Trail are both ideal places to stay.
The Theatre District (near Downtown Crossing and Chinatown) is another solid option with a great central location.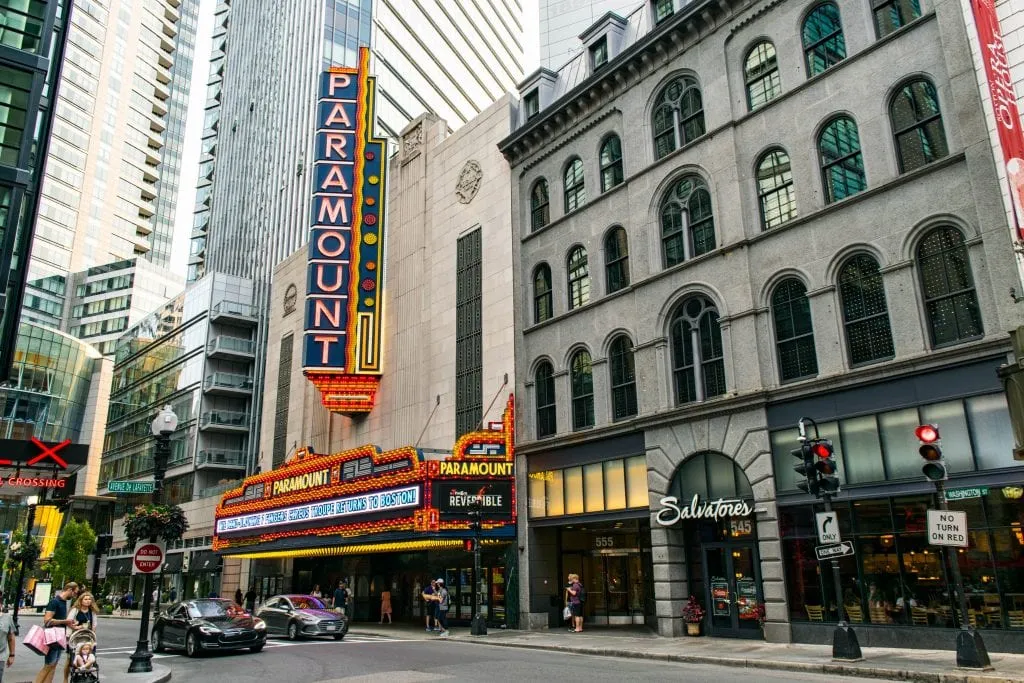 If budget is an issue, you may need to go a bit further out. That's not a problem–just make sure you're within walking distance of a T stop!
For budget travelers not willing to sacrifice on location, the HI Boston Hostel is a great option.
Mid-range travelers will love the location (and breakfast) at the Boston Park Plaza.
Want access to a kitchenette in your room? Copley House features some studios and apartments!
For travelers looking to splurge, the Boston Omni Parker House Hotel has it all: history, a prime location on the Freedom Trail, plenty of ambiance, and of course, the original Parker House rolls and Boston cream pie served right on-site.
More than 24 hours in Boston?
If you're lucky enough to have more than 24 hours in Boston, it's safe to say that you absolutely will not run out of things to do!
With a full weekend in Boston or more, the first things we'd recommend adding on would be plenty of time exploring the neighborhood of Back Bay, getting out on the water with a whale-watching cruise or harbor cruise, and visiting at least one museum.
Boston is chock full of world-class museums, but you can't go wrong with the Isabella Stewart Gardner Museum (the Venetian-style building alone is worth a visit, and the museum is famously the victim of a heist), the Museum of Science, or the Boston Tea Party Ships and Museum (especially if you're visiting Boston with kids, but it's fun for all ages).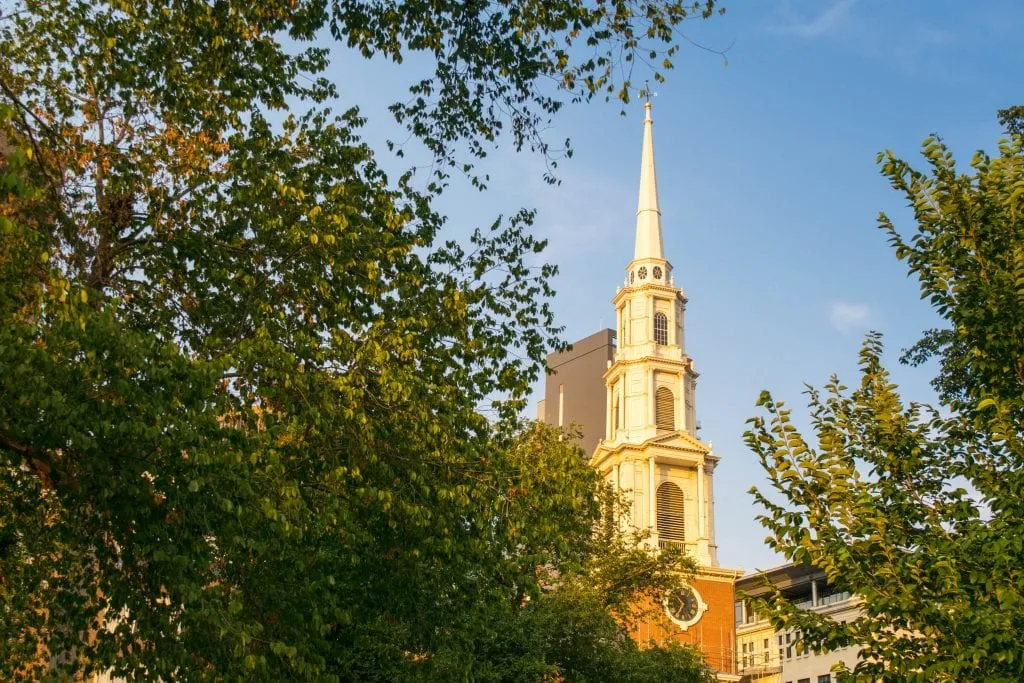 Other fun things to do in Boston include visiting Fenway (or even attending a Red Sox game), saying hello to the penguins at the New England Aquarium, or digging into some of Boston's hidden gems and visiting quirky attractions like the Mapparium (one of the most memorable maps we've ever laid eyes on!).
If you'd like to complete the Freedom Trail, the USS Constitution, and the Bunker Hill Memorial are both a bit further from the city center than the attractions covered in this one day Boston itinerary, but they're well worth a visit!
And, while it doesn't make sense with only 24 hours in Boston, if you are staying longer and checking out some of the above attractions, be sure to price out a Boston Go Card to see if it can save you money on your trip!
Here's our full guide to 55 cool things to do in Boston.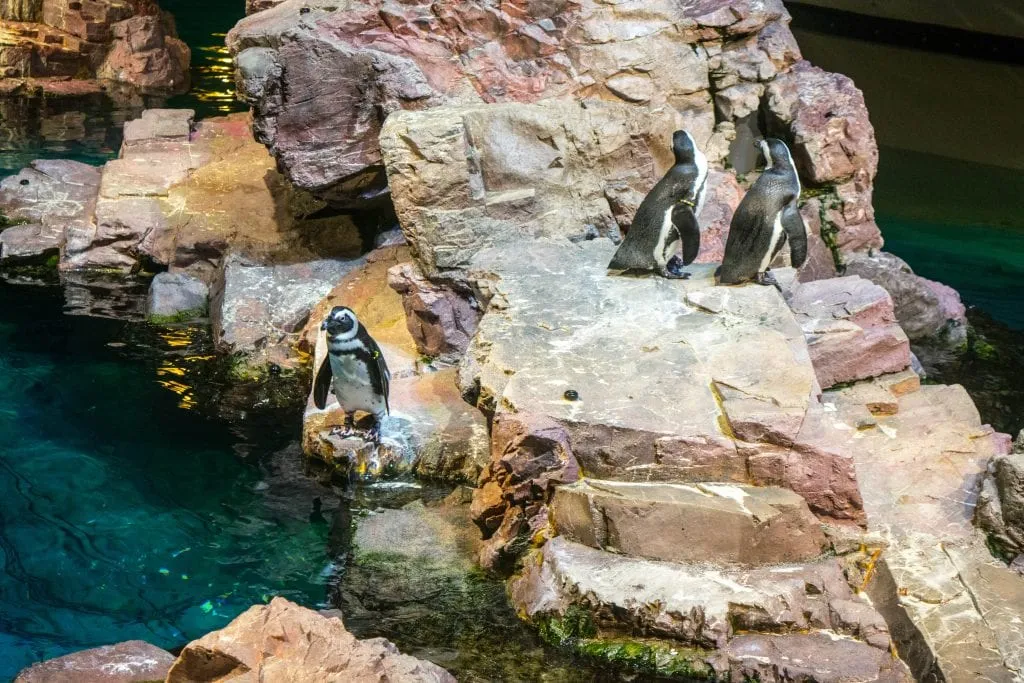 Getting Around During One Day in Boston
Thanks in large part to the fact that Boston's historic core was built long before horseless carriages took over the roadways, the best things to do with a day in Boston are found surprisingly close together!
This entire one day in Boston itinerary is found along a walkable route that takes about an hour in total to cover, though that depends highly on how much you meander in places like the Boston Common and Beacon Hill (and meandering is truly one of the best parts of visiting Boston).
Walking doesn't appeal?
If so, the wildly popular Boston Duck Tour or a Hop-On/Hop-Off Bus Tour might be right for you.
If you want to trim just some walking, or need an efficient way to get back to your hotel at the end of the night, Boston's subway system (the T) has several stops near this route that you can take advantage of.
If you're driving into the city for the day, there's a very convenient parking garage right under the Boston Common that will deliver you more or less right to the starting point of this Boston itinerary.
Alternatively, you could park in a garage outside the city center and take one of the commuter rails into the city (less convenient, but generally less expensive and allows you to avoid driving into the city center).
Quick Tips for Seeing Boston in a Day
Pick and choose your indoor attractions (weather permitting).
This itinerary for Boston mentions several buildings-turned-small-museums that don't take long to step inside individually, but add up to eat up a decent chunk of your day (and in the case of some, your wallet).
For places like the King's Chapel, Old South Meeting House, Paul Revere's House, etc., we're assuming that you'll see each from the outside as you walk the Freedom Trail, and pick and choose which to enter based on your personal sightseeing style.
And, you may be more inclined to spend more time inside museums on a winter day than a summer one!
Tickets generally run between $5 and $15 per adult for each attraction.
Some Freedom Trail attractions, like Faneuil Hall , the Boston Common, and the burying grounds, are free to visit.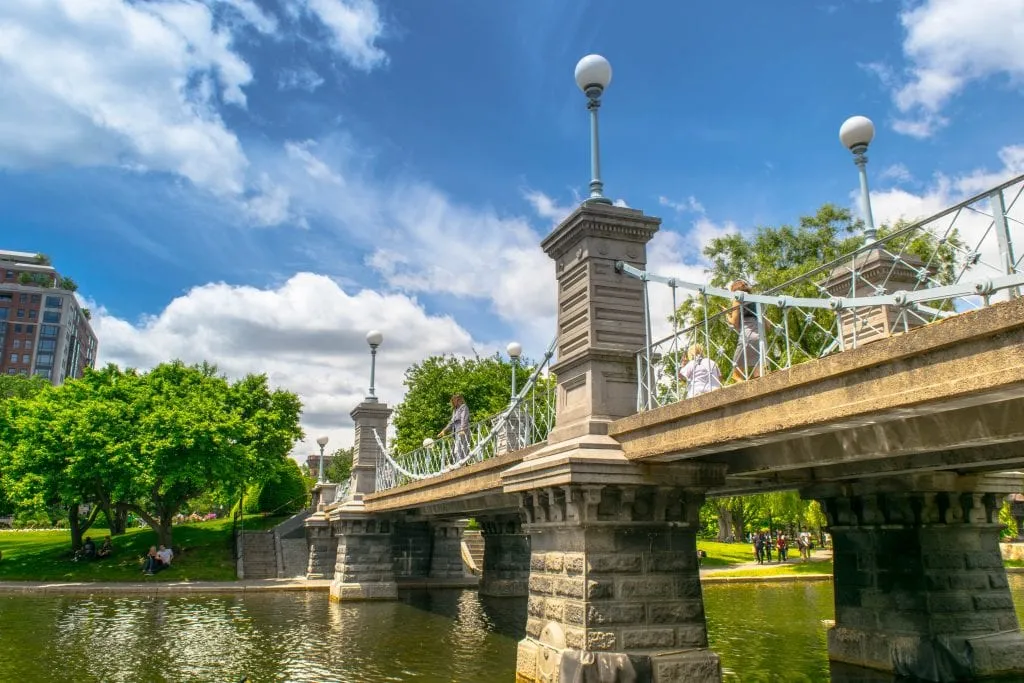 Don't want to walk? Consider a Duck Tour.
Cheesy? Yes.
Entertaining? Absolutely.
Boston's Duck Tours are famous for the unmistakable truck-slash-boat contraptions that they cart tourists around in by both land and sea, and they're very popular with visitors of all ages.
Corniness aside, if you're looking for an excellent way to get an overview of Boston's most famous sights and history without too much walking, a Duck Tour might be the right choice for you!
The tours do sell out, especially in the summer, so be sure to book in advance if you want to make a Duck Tour part of your 24 hour Boston itinerary!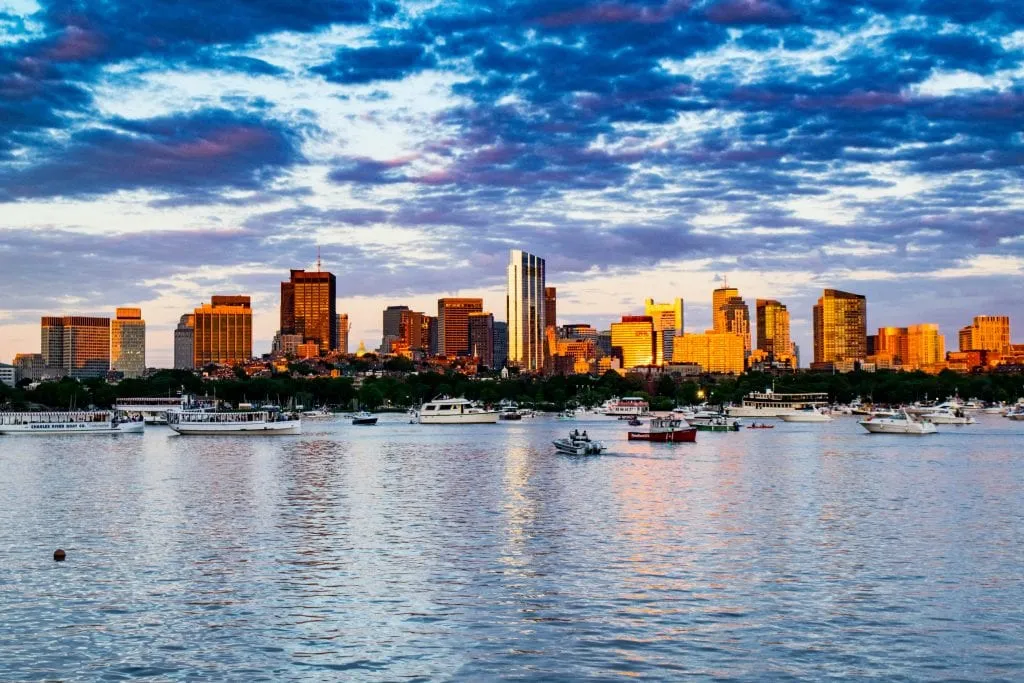 … but wandering is at least half the fun.
I truly can't overstate this enough: Boston is one of the absolute best cities in the US to explore on foot (personally, I'd say Savannah is the other city closest to its level, with places like New York, Charleston, and New Orleans also ranking extremely close).
If you arrive in Boston with dry weather and no mobility issues, wear your most comfortable shoes and spend the day hitting the pavement!
You'll see and experience much more on foot in Boston than you would any other way, and hopefully have a lot of fun as you do.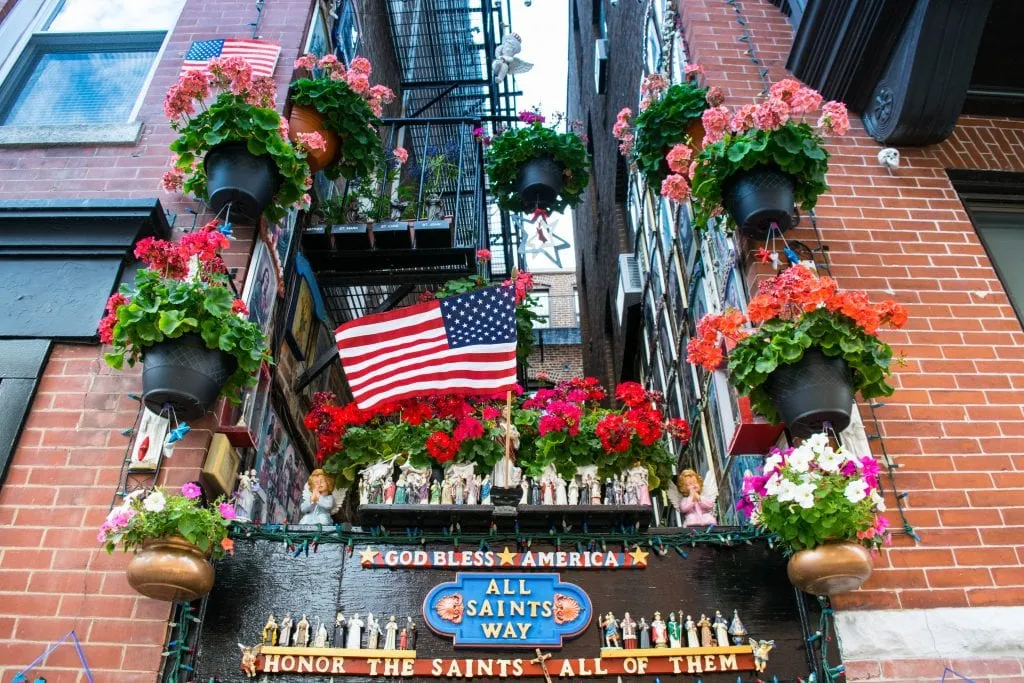 Keep the season in mind.
Boston is an extremely seasonal destination, with sightseeing crowds peaking in the summer and fall (when the fall foliage is at its best in New England, the crowds are plentiful in Boston).
… but Boston can be enjoyed year-round.
Summer and fall may be most popular, but there are benefits to visiting Boston year-round… as long as you're willing to bundle up!
Winter, while cold and dark, is a much less crowded time to spend a day in Boston (and it's much easier on the wallet).
Spring brings temperamental weather, but increasingly longer days and the fun of watching the city wake up.
With a big enough coat and thick enough boots, we'd be happy to visit Boston year-round.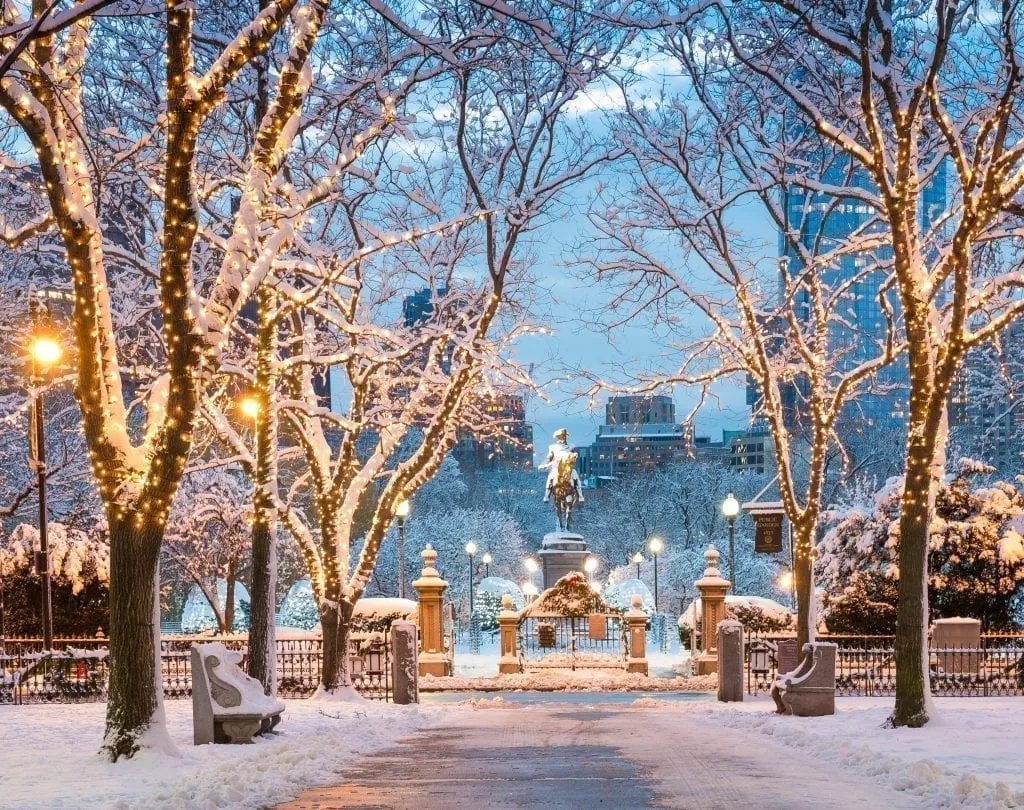 Make your dinner reservations in advance.
This itinerary for Boston in a day suggests having dinner in Boston's famous North End… and while the experience is absolutely worth it, you don't want to show up without a reservation!
The neighborhood's restaurant scene is incredibly popular, and without planning ahead, you may end up finding yourself without a table–or worse, at a tourist trap restaurant rather than a delicious one.
Same-day or next-day reservations are generally all that's needed on weekdays and/or if you're willing to eat on the early or late side, but ideally, it's best to plan at least a couple of days in advance (or longer if you're heading out on a summer Saturday night and are hoping to nab a table at a trendy new place).
Read More About Visiting Boston (and New England)
Planning a trip to Boston soon, and want to keep reading?
You can browse all of our 100+ USA blog posts here, or check out these guides:
Your One Day Boston Itinerary Map
Take This Map With You! Click each highlight to pull up the name of the destination. To save this map to "Your Places" on Google Maps, click the star to the right of the title. You'll then be able to find it under the Maps tab of your Google Maps account! To open the map in a new window, click the button on the top right of the map.