If there's one thing we've learned about putting together the perfect packing list for Europe in spring, it's to always expect it to be both colder and rainier than you hope for… especially if, like us, you hail from a climate where summer weather starts sneaking into the calendar as early as March or April.
It's not all bad news, though–March, April, and May are wonderful months to travel in Europe!
Delectable farmer's markets, adorable small towns decked out for Easter, coastlines that are slowly waking up from their winter hiatus and aren't crowded yet, and blooming flowers everywhere you look are just a few of the fun things to see during spring in Europe!
And, after many springs spent hopping around the continent, we have plenty of ideas on how to put together the perfect spring packing list for Europe (many of which come from learning from our mistakes).
We've rounded up everything you need to pack for Europe in the spring here–plus some advice on what to wear.
How to Use This Packing List for Europe in Spring
While we talk mostly in general terms about packing for spring in Europe here, it's of course important to remember that the continent has a wide variety of landscapes and weather patterns to offer!
Spring in the south of Europe is a totally different temperature than more northern parts of Europe, and the best things to wear in Scotland in March will of course be wildly different than what to wear in Sicily in May.
This packing list is designed to cover packing for Europe in March, April, and May, with an emphasis on visiting central and southern Europe.
Think strolling the streets of Paris, visiting the castles of Germany, or eating your way through Rome–that's what this guide to what to wear in Europe in spring is designed for.
You will be prepared for spring showers and cold snaps, as well as bright sunny spring days.
Of course, always be sure to carefully check the weather in the destinations you're planning to visit as your trip gets closer, but this spring packing list for Europe will provide a great jumping-off point for deciding what to bring (and what to leave behind).
All of the photos of Jeremy and me in this blog post were taken throughout Europe in March, April, or May–and as you can see, that has called for everything from peacoats to sundresses depending on the trip!
(Planning a trip to Europe in a different season? We also have packing lists for visiting Europe in the summer, fall, and winter!)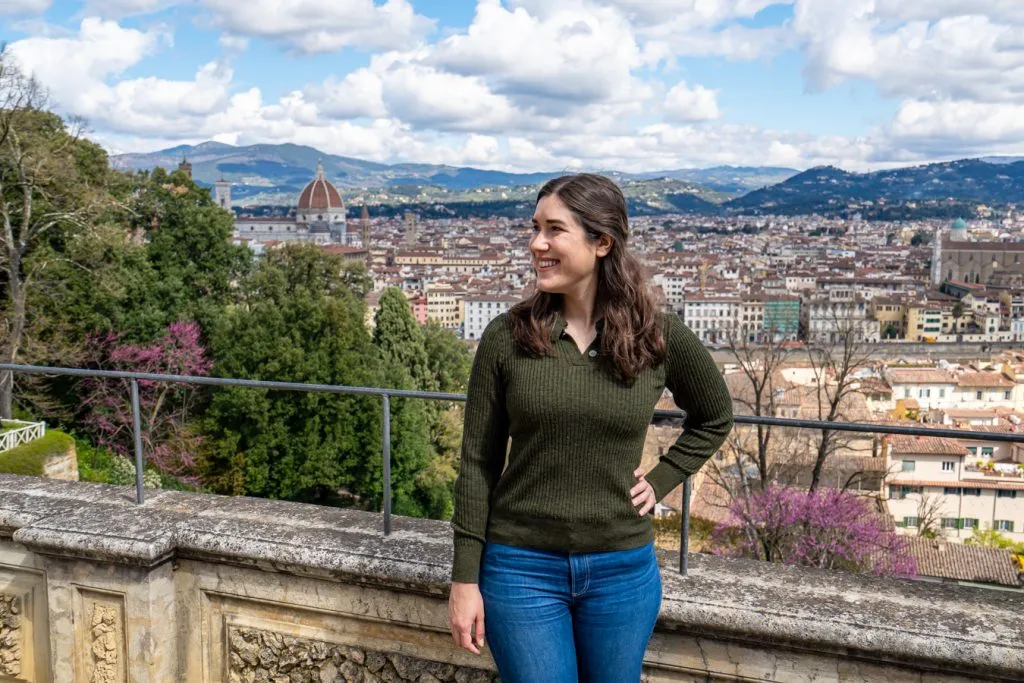 The Absolute Essentials for Visiting Europe in Spring
Passport — If you're traveling internationally, your passport is an absolute must: there's no point in packing for Europe in the spring without it!
Travel Insurance — No one like to think about the possibility of canceled or interrupted trips, let alone accidents on the road.
Anything can happen while traveling, though–and that's where travel insurance can help.
Check travel insurance policy inclusions and prices with Safety Wing for your trip here.
Visa (If Needed) — Though 26 countries in Europe are part of the Schengen Zone that allows many nationalities (including US citizens, Canadians, and Australians) to enter and travel freely between their countries for 90 days for tourism, that still leaves around half of Europe's countries that are not part of this agreement.
Regardless of where you are from, always double-check entrance requirements before showing up at the airport to fly to any European country (or any country at all that isn't your own, for that matter).
Money — We recommend bringing two credit cards (one to use, and one to keep as a backup), and two debit cards. Ideally, bring cards with no foreign transaction fees.
We've never felt it necessary to obtain currency before arriving (we just withdraw from an ATM when we get there), but you can purchase most currencies in your home country if it makes you feel more comfortable.
Keep in mind that not all countries in Europe are on the Euro, so be sure to double-check what currency you'll need based on your itinerary!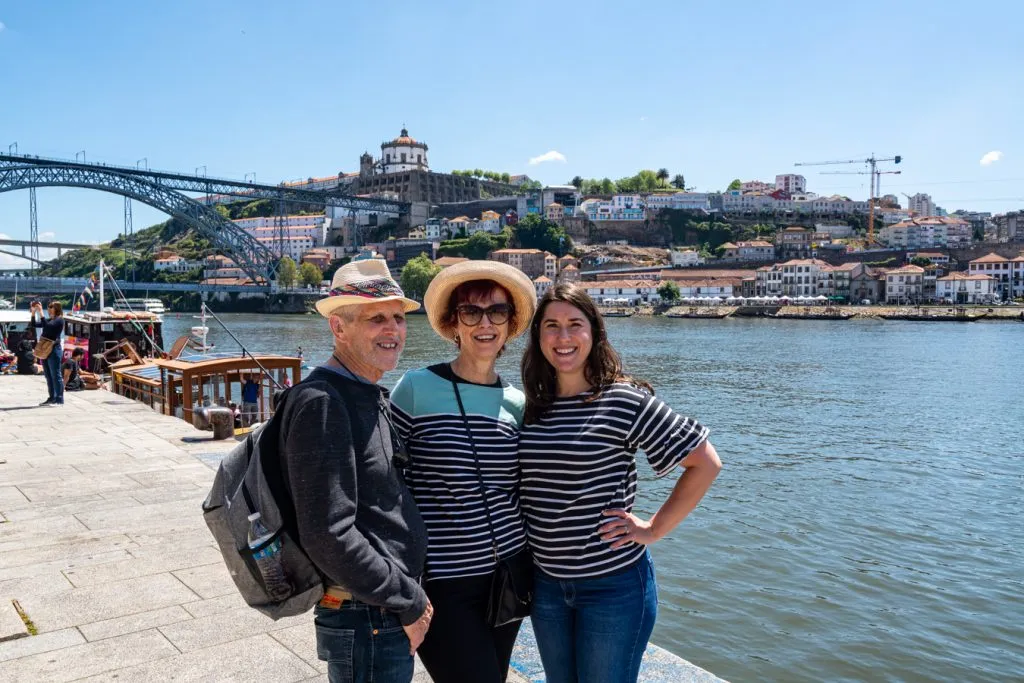 International Driving Permit — If you are visiting Europe this spring from outside the EU and plan to rent a car, you may need an International Driving Permit to do so!
Italy is particularly well-known for enforcing this requirement.
Be sure to check the rental requirements in any country that you plan to drive in before you arrive!
Travel Gear You Should Definitely Pack for Europe this Spring
Camera — We use a Sony a7R III and absolutely adore it, but whatever camera you're comfortable with works–just make sure you have something with you to preserve your memories!
Travel Adaptors for Europe
— If you're coming from outside of Europe, you'll definitely need adaptors for your electronics.
Be sure to check the requirements for the particular countries you visit–the United Kingdom, for example, is well-known for using different plugs than most of the continent.
Pacsafe
— We can't recommend our Pacsafe
enough: this travel safe is affordable, sturdy, easy to pack, and will help keep your valuables safe wherever you stay (not that you should need to worry much about theft from your hotel room during your trip to Europe, but it's better to be safe than sorry!).
Portable USB Charger
— Don't stress about your phone dying while you're sightseeing: add a portable charger to your packing list for Europe this spring.
Reusable Water Bottle
— Save both money and plastic during your spring trip to Europe and add a reusable water bottle to your packing list for Europe! I love this metal one.
Apple Air Tags — Air Tags are a relatively new addition to our Europe packing list, but we've absolutely loved having the extra security when checking out luggage! They'll be coming with us from now on.
Tote Bag
— Incredibly light and easy to pack, a tote bag can serve as a grocery bag, beach bag, laundry bag, or just about anything else.
They're incredibly handy and we recommend adding one to your packing list for Europe this spring.
We've been carrying ours for years and it still comes in handy constantly and is holding up perfectly!
Swiss Army Knife
— Want to open wine bottles in your hotel room, slice cheese from the market, or cut up that baguette from the bakery? You'll be so glad you brought along a Swiss Army Knife!
Comfortable Day Bag — We currently use Pacsafe's sleek anti-theft backpack and love it, but if you don't want to shell out the cash for this trip, that's totally understandable.
Just aim for something comfortable to wear, not flashy, and medium-sized–we used a Northface Jester backpack for years and loved it as well.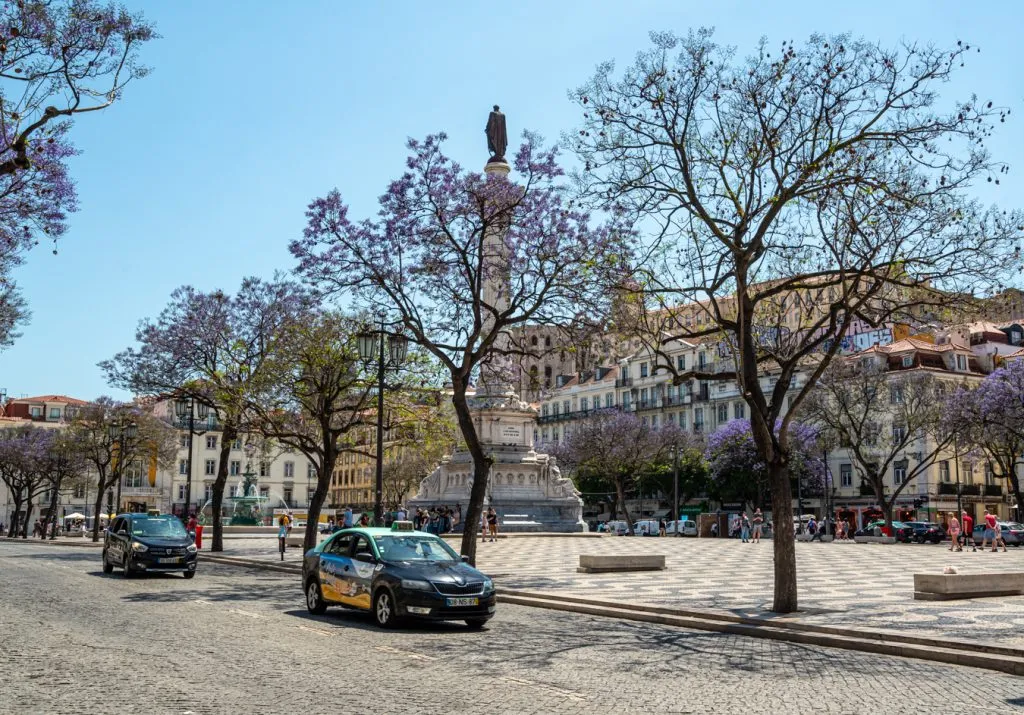 Travel Umbrella
— As I mentioned at the top of this post, putting together a packing list for Europe in the spring definitely means preparing for rain!
An umbrella is a must-have on a spring trip to Europe, and by buying a dedicated travel umbrella before you leave, you'll end up with a much higher quality umbrella than if you buy one from a street vendor once it starts pouring.
Student ID — If you're a student, you'll be entitled to lots of discounts on museums and attractions throughout Europe.
Be sure to add it to your packing list for Europe (but do keep in mind that some student discounts are only available to travelers studying in the EU–double-check before counting on the discounts!).
Cell Phone — We spent more than a year traveling without working cell phones, just relying on wifi… and while that's completely fine, we would never go back
Consider purchasing an international plan for your cell phone (most carriers offer them), or, if you have an unlocked phone, you can just buy a local SIM card once you land in Europe.
You can also buy EU SIM cards online before you go, though it's not strictly necessary!
Purell Hand Sanitizer
— We carry this everywhere, and never been sorry to have it floating around in our day bag.
Sunscreen
— Because spring sun happens and sunburns are never a good look in vacation photos.
Packing List for Europe: Spring Wardrobe for Women
You'll want to structure your personal wardrobe for traveling in Europe based on where you're going, of course.
A glamorous trip to Rome calls for different clothes than hiking in Iceland or soaking up the first rays of sun in Greece–but if you're looking for a great all-in-one spring packing list for Europe, this is it!
Spring in Europe is a really special time, places that close down for winter start opening up and preparing for the summer season and the weather starts to have more warm sunny days than cooler.
These picks reflect my personal favorite things to wear in Europe in the spring.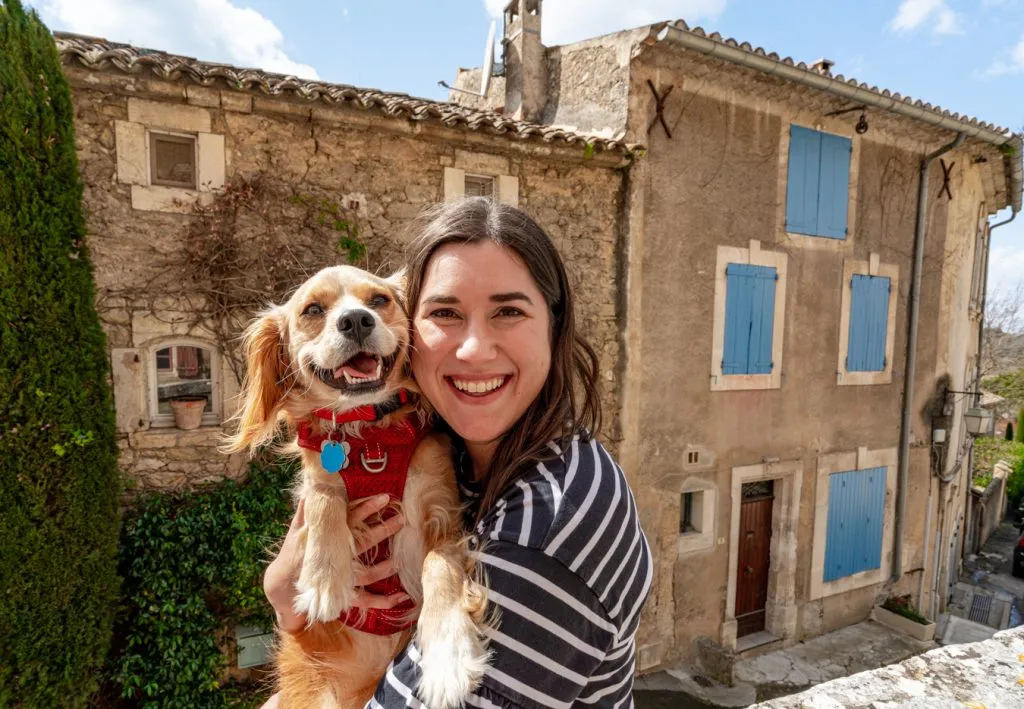 Dresses
I love wearing dresses in Europe in the spring (and year-round, frankly)!
They're easy to pack, easy to wear, look great just about anywhere you go, and manage to look pulled together while only requiring one piece of clothing.
When it is a little colder you can add tights and a jacket, layers are key in spring in Europe!
Dresses like this and this are generally what you'll find me in when traveling through Europe in the spring. Be sure to bring at least one or two maxi dresses (I love this one, for example), which fulfill the double purpose of being extremely photogenic while allowing you to visit religious sites like churches and mosques without issue.
Tops
Simple blouses like this are perfect for most places in the fall in Europe.
Be sure to also bring a sweater or two along–thinner ones are easier to pack and layer, so keep that in mind when shopping. Something like this is a great option.
Bottoms
A Europe packing list for spring absolutely requires a pair of jeans–I'm obsessed with this pair and had them for years, but am branching out with straight-legged jeans now after a decade of skinny jeans.
If it's not quite warm enough for shorts so jeans are a perfect low-maintenance polished option.
If you prefer wearing pants, you might also like to bring an additional pair of jeans–black ones like these are a great way to mix things up.
If you are like me and prefer to wear dresses and skirts more often than not, a cute skirt like this layered with tights is a fashionable and comfortable choice for your Europe spring packing list.
It also provides you with options if it is warmer, then you can forgo the tights.
Bathing Suits
Depending on if you're planning to visit some warmer beach destinations, I'd pack 2-3 bathing suits for visiting Europe in the spring. I love choices like this and this.
If you're planning on trying out any active water activities like snorkeling or scuba diving, consider packing at least one one-piece suit, too.
Shoes
The absolute most important rule when determining what shoes to put on your packing list for Europe this spring is making sure that they're comfortable to walk in!
I've been wearing these white sneakers in Europe during the spring lately and love them, and this pair is another longtime favorite of mine.
Boat shoes are also a great option, and Converse are popular with backpackers and travelers along the tourist trail.
You might also prefer to bring a pair of boots, evenings can still be cold so you will be thankful for something drier and warmer than sneakers! Something like this is perfect.
Jacket
Spring in Europe is the optimal time to plan for layers.
We once visited the Amalfi Coast and Cinque Terre during an unseasonably cold and rainy May… and we were so glad we had brought layers!
A light jacket like this is also a great option paired with an umbrella in your bag.
If you're heading to outdoor-focused, more rainy places like Ireland or Scotland, you'll also want to pack a rain jacket.
Accessories
Sunglasses are essential for traveling in Europe during the spring, that hazy spring sun can be strong!
You can either purchase them ahead of time or plan on picking them up as souvenirs.
Cheap sunglasses are sold on just about every corner in Europe, and designer sunglasses from European brands are generally far cheaper within the EU (I once paid under 200 Euro for a pair of Valentino glasses listed on Saks' website for $400).
Scarves are also great for having handy if it gets chilly and to layer over a light jacket.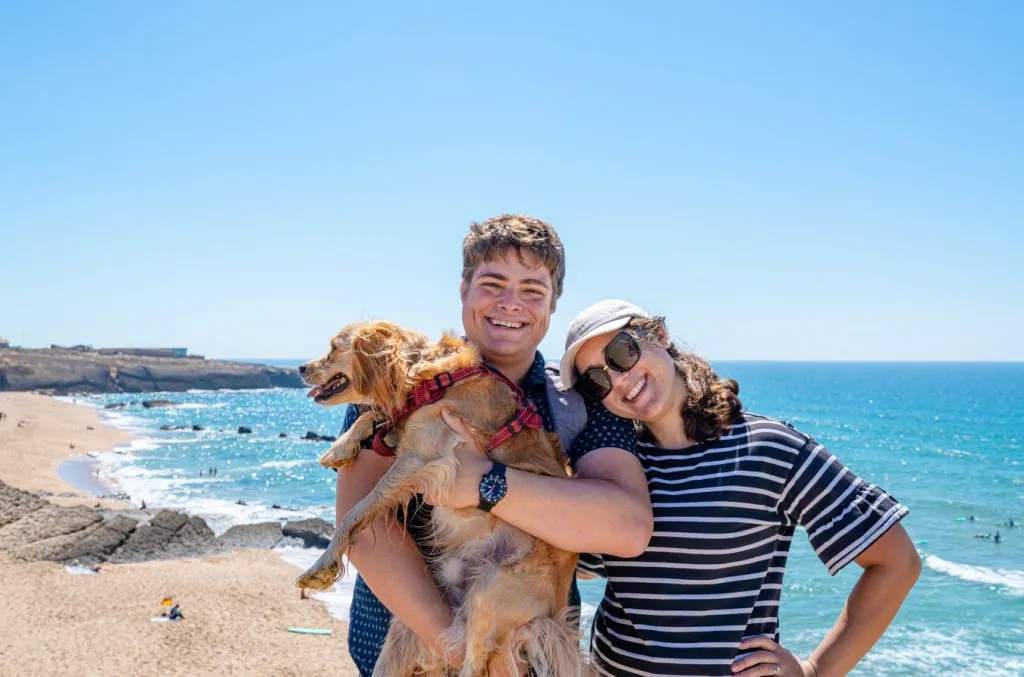 Packing List for Europe: Spring Wardrobe for Men
Tops
Fitted, casual shirts like this and light sweaters like this are both great options for men when packing for Europe in the spring.
Bottoms
Casual slacks or chinos like these are a versatile and easy option for your spring in Europe packing list.
We recommend bringing at least one pair of fitted jeans like these as well.
Shoes
Jeremy tends to opt for light, casual shoes like these during spring in Europe–whatever you pack, just make sure that they're well broken in and easy to walk in for hours before adding them to your spring packing list for Europe!
Subtle boots like these or classic shoes like these are both good options.
Bathing Suit
If you're planning on hitting warmer beach destinations in Europe this spring, make sure to bring one or two bathing suits along with you. Suits like this work perfectly.
Jacket
Depending on the weather for your trip to Europe, you may not need a heavy jacket at all when visiting Europe in the spring.
Jeremy is comfortable in this jacket all the way through most of March, April, and May in Europe, give or take additional layers.
Other Travel Gear for Your Europe Packing List for Spring
Dry Bag
— Any spring trip to Europe that includes time on the water, whether that's hitting the beaches in Sicily, whitewater rafting in Montenegro, or soaking up shoulder season before the crowds arrive on the Greek isles, can benefit from a dry bag to keep your camera and cell phone safe (without leaving them behind).
Swim Goggles
— If you're hitting the beach in warmer southern Europe, definitely add swim goggles to your packing list for Europe in spring–they're cheap, small, easy to pack, and make swimming so much more fun!
Sea Bands
& Non-Drowsy Dramamine
— If you're prone to motion sickness like me, I strongly recommend adding Sea Bands to your spring packing list for Europe.
I use them on all boats and the occasional bus, and if things get really bad, take some Non-Drowsy Dramamine as well.
Trust me–you don't want to miss out on the joys of boating around the Mediterranean due to seasickness!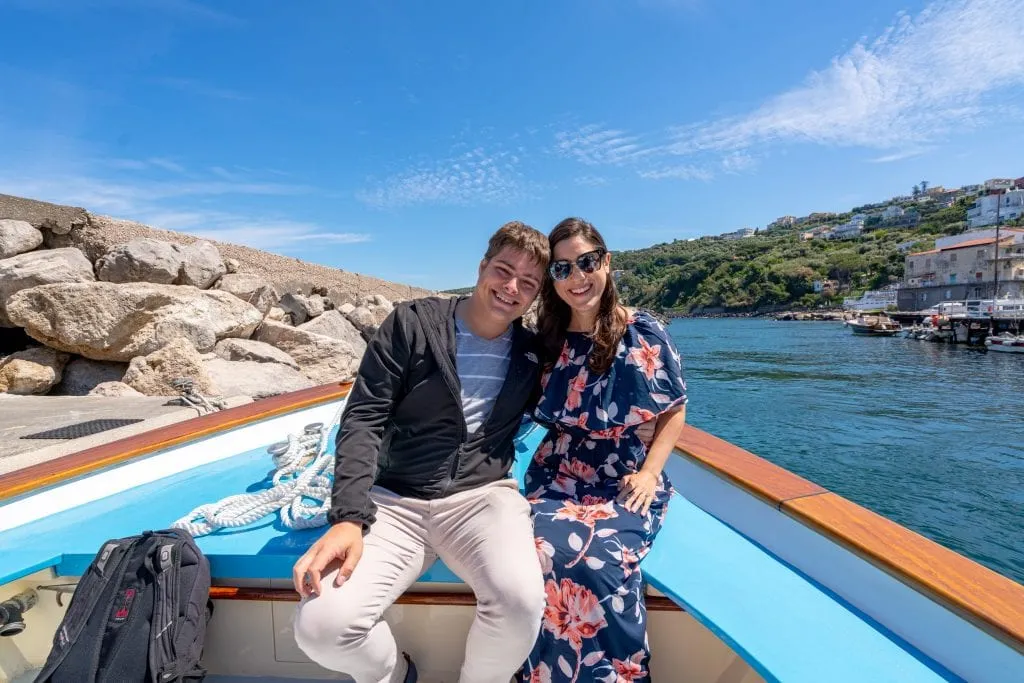 Tripod
& Wireless Remote
— If you're traveling with a group and want to ensure that you get pictures of everyone together, a tripod and a remote will allow you to snap non-selfie photos easily!
True, it's a bit of a pain to carry and not advised in busy areas, but the memories are priceless and the photos you end up with are generally so much better than the ones you get by asking a stranger to snap a photo for you.
Extra Memory Cards
— Don't stress about your camera's memory card getting full–bring extras along! They're so tiny you'll barely notice them, anyway.
Travel Journal
— If you want to keep a travel journal during your spring trip to Europe but can't commit to a huge amount of writing each night, I can't recommend the One Line a Day Journal
enough–I've been using it for more than 5 years now (I'm on my second volume) and absolutely love it.
Money Belt — This is up to you: we no longer use one, but if you're more comfortable having your passports on your person while exploring Europe this spring, you can consider bringing one.
We used to use this one
and had no complaints. These days, we prefer just to leave valuables in our Pacsafe
during the day.
Basic Medication — Some people prefer to buy medication for basic headaches, fevers, and stomach aches as needed, but who wants to deal with language barriers when they're sick?
We've never regretted adding our own over-the-counter meds to our Europe packing list.