With incredible access to outdoor adventure, excellent food, a delightful array of breweries, and interesting history, the best mountain towns in Colorado make for incredible vacations.
We've been lucky enough to visit Colorado enough times to have lost count, visiting cities, small towns, countless hiking trails, and each of the Centennial State's 4 national parks along the way.
Like most repeat visitors to Colorado, over time we've gravitated to a short list of favorites among the state's many mountain villages and return to them again and again.
To make sure this Colorado mountain towns guide has enough variety, we asked several other travel bloggers to contribute their beloved favorite getaway spots too!
Whether you're planning a quick weekend getaway for a bit of summer hiking, a full winter vacation in one of Colorado's top ski towns, or something in between, one thing is for sure: there's a small town included in this guide that's perfect for you.
We have offered suggestions for the best hotels in Colorado for each place but you could also combine a few of these stops and turn it into a Colorado road trip! You can rent incredible RVs and camper vans from Outdoorsy, book here for your next road trip!
Here are some of the prettiest mountain towns in Colorado, plus a map to help you choose the right one for your vacation!
The Best Mountain Towns in Colorado to Visit
Estes Park
Known as the gateway to Rocky Mountain National Park, the charming small town of Estes Park easily ranks among the prettiest mountain towns in Colorado.
With its beautiful downtown (don't miss a chance to stroll along the riverwalk!), its huge prevalence of elk living in and around the town, its beautiful lake, and the world-class nature of nearby hiking opportunities, Estes Park belongs on any Colorado bucket list.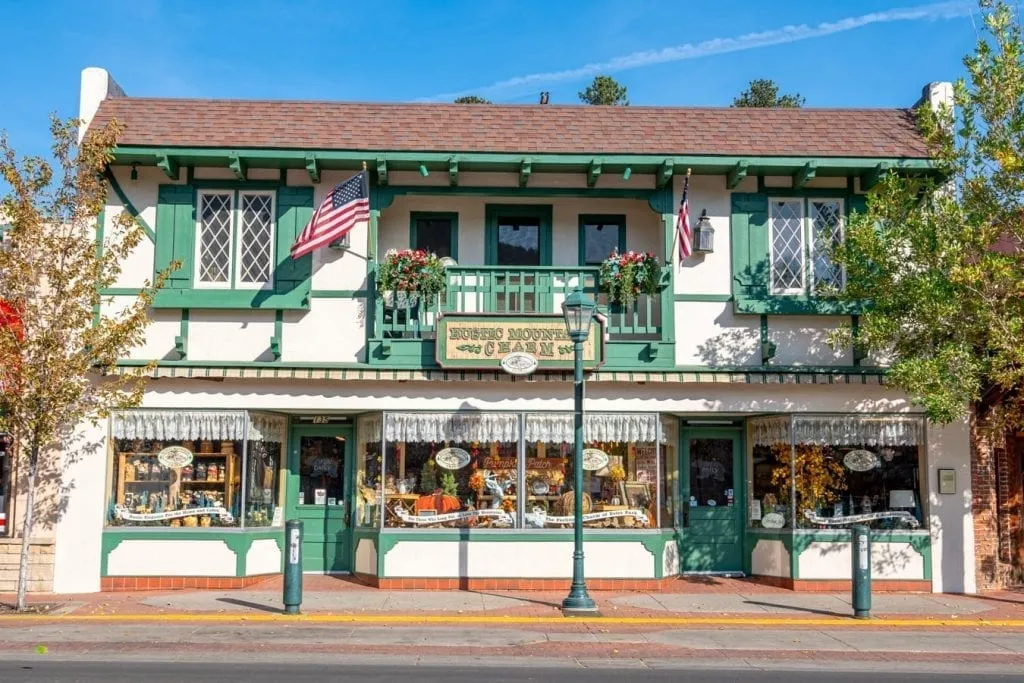 While in Estes Park, be sure to stop by the historic Park Theatre, consider a whitewater rafting trip, go for a scenic drive, and check out one (or more) of the town's local breweries.
You can also pay a visit to the beautiful and historic Stanley Hotel, which inspired Stephen King's The Shining.
Even if you don't check in, consider stopping by the gorgeous Whiskey Bar & Lounge for a taste of the ambiance (but the hotel gets great reviews and makes for a great base in town, too).
And, of course, the main attraction lies just outside of town: no trip to Estes Park is complete without plenty of time spent in Rocky Mountain National Park!
Where to Stay in Estes Park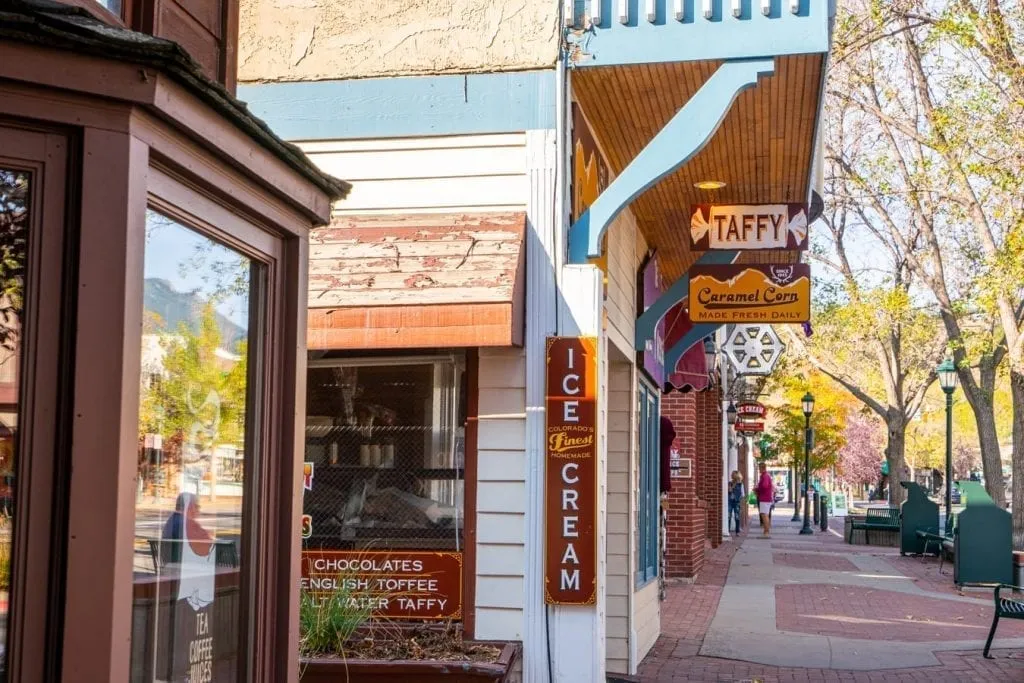 Silverton
From Chris of Around the World With Me
Nestled between 13,000-foot peaks in the San Juan Mountains of southwest Colorado, charming Silverton saw booms of both silver and gold mining in the 1800s and early 1900s.
Today the town is a national historic landmark, and it is easily one of the best mountain towns in Colorado to plan a vacation to.
The town itself is tiny, with just a few blocks of restaurants, shops, and hotels. Barely 600 people call it home.
But at any given time, it's hopping with adventure-seeking tourists craving a bite or a brew between jaunts up the mountains.
Silverton is both a summer and winter destination, so long as you love skiing and hiking.
There are two main ski resorts in Silverton. One literally on the edge of town and one a bit outside, high in the mountains.
But Silverton is not near the top of the list of Colorado's best ski towns. Summer is the best time in Silverton, with epic hikes all around.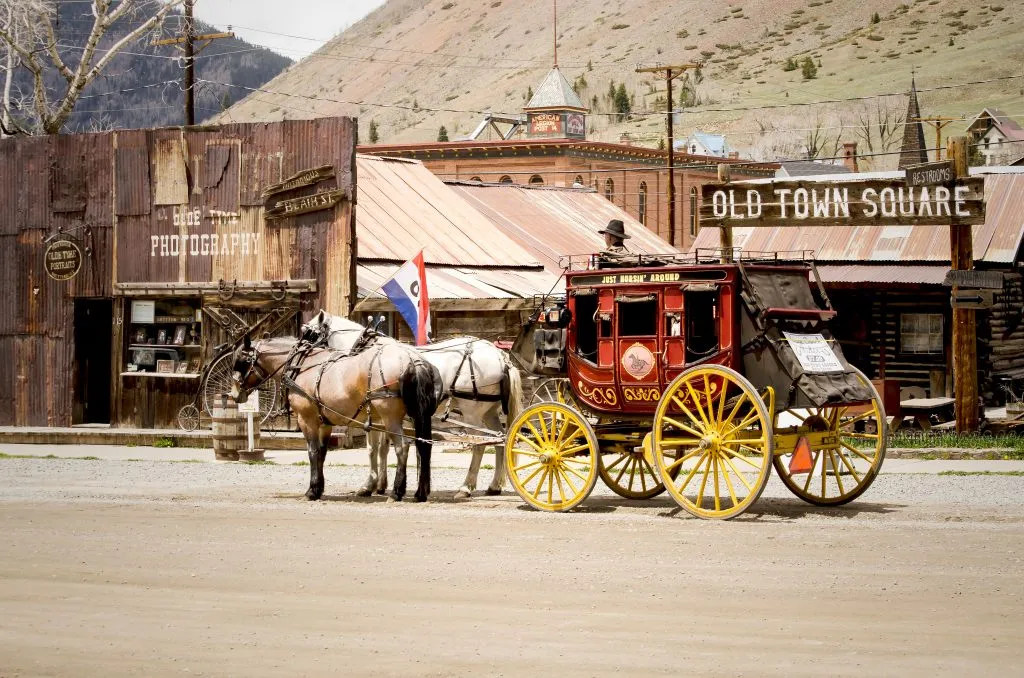 One of the most beautiful hikes in all of Colorado is Silverton's Ice Lake Hike.
The trailhead is about 20 minutes from Silverton, mostly along a dirt road.
A steep hike up a series of switchbacks over about 3.5 miles leads you to an alpine paradise of sky-blue lakes and treeless mountain peaks.
If backcountry camping isn't your thing head back into Silverton to one of the many boutique hotels and enjoy a fabulous dinner in this historic mountain town!
Visiting Silverton is also the perfect opportunity to ride the famous Durango to Silverton Narrow Gauge Train, which will give you a great feel for what traveling to this mining town must have felt like a century ago!
Where to Stay in Silverton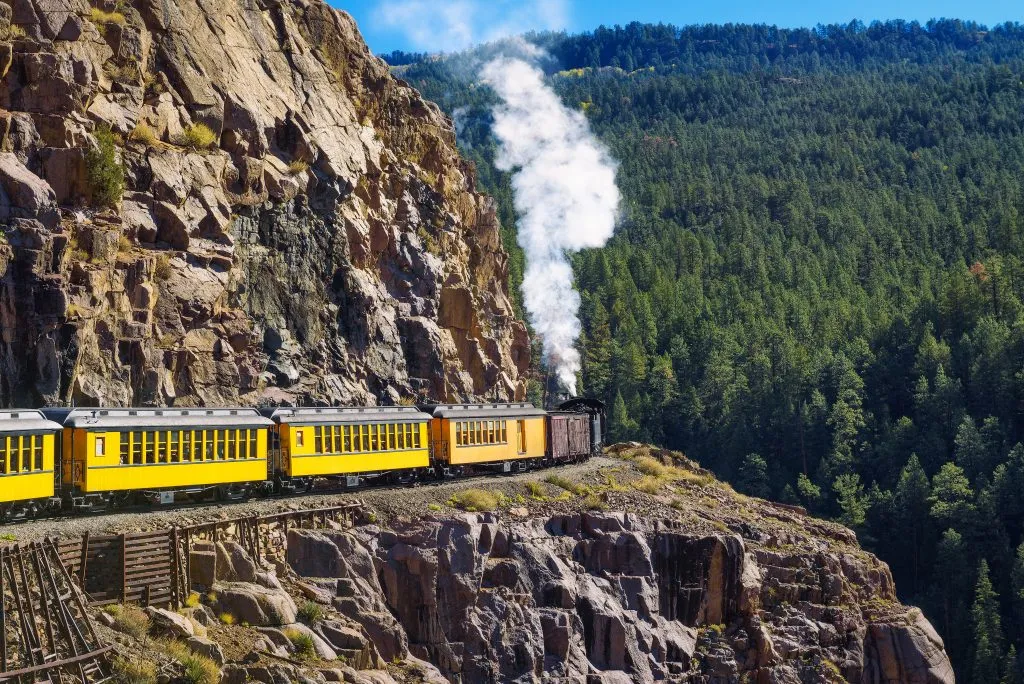 Grand Lake
From Stephanie of History Fangirl
While the more famous Estes Park often overshadows it, Grand Lake is the perfect quiet mountain town to base yourself in order to enjoy the western reaches of Rocky Mountain National Park.
From Grand Lake, you can easily explore Trail Ridge Road, Lake Irene, the Holzwarth Historic Site, and Adams Falls.
This makes it a popular place to stay for those exploring Colorado's national parks, but it's not the only reason to visit Grand Lake!
In the summertime, you can enjoy Grand Lake, the largest natural lake in Colorado.
You can canoe, kayak, and SUP on the lake, or you can enjoy the views from the balcony of your hotel.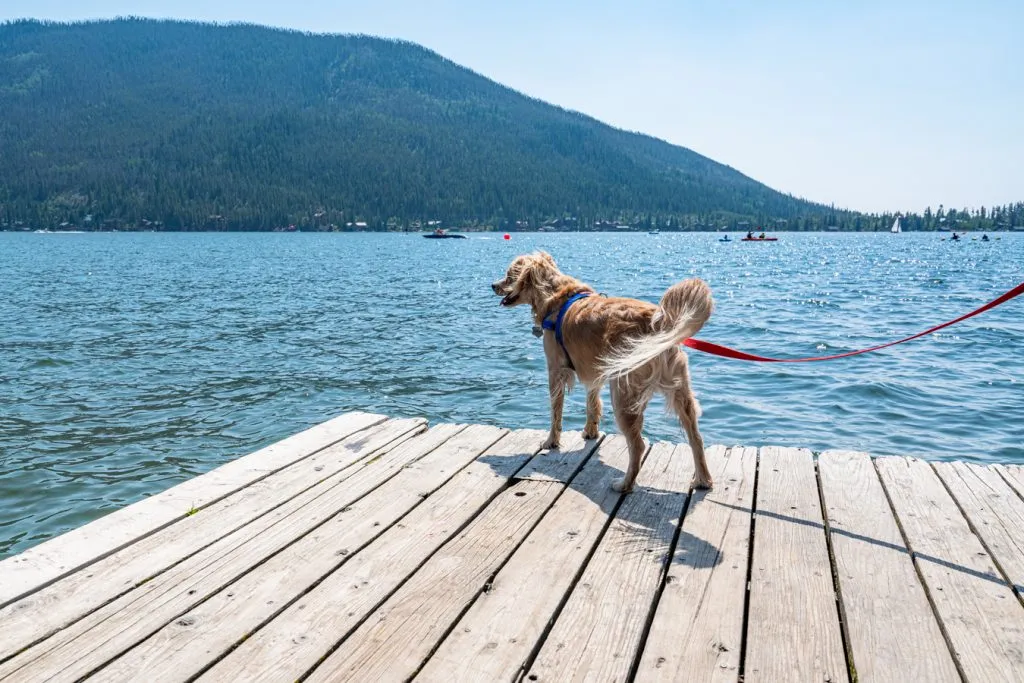 In winter, you can see why Grand Lake has earned the nickname the "Snowmobiling Capital of Colorado."
Other favorite winter activities here include snowshoeing and skiing. Yes, even when major parts of the park are closed for winter, there's still plenty to do here!
While visiting Grand Lake, be sure to see some of the town's attractions like the Kauffman House Museum, which is housed in the area's first hotel.
You can also take in a show at the Rocky Mountain Repertory Theater, which is dedicated to bringing world-class theater to Grand Lake.
Getting here is simple, as Grand Lake is two and a half hours from the Denver Airport and about two hours from Estes Park if you drive through RMNP on Trail Ridge Road (weather permitting).
Where to Stay in Grand Lake
Crested Butte
From Allison of She Dreams in Alpine
While there are a lot of amazing mountain towns in Colorado, Crested Butte stands out as one of the best for so many reasons!
From mountain biking to wildflowers to a bucket list hike – along with some tasty bites to fuel your adventures – Crested Butte has something for all outdoor lovers.
Mountain bikers are drawn to Crested Butte like a moth to a flame thanks to the awesome trails for all levels.
Trail 401 is a rad advanced trail that heads above the treeline for panoramic mountain views – and an exhilarating 1,500-foot descent through the aspens on your way down.
Beginner and intermediate riders will love the Lupine Trail, which features easy hills, a great perspective of the town, and fields of the namesake flowers.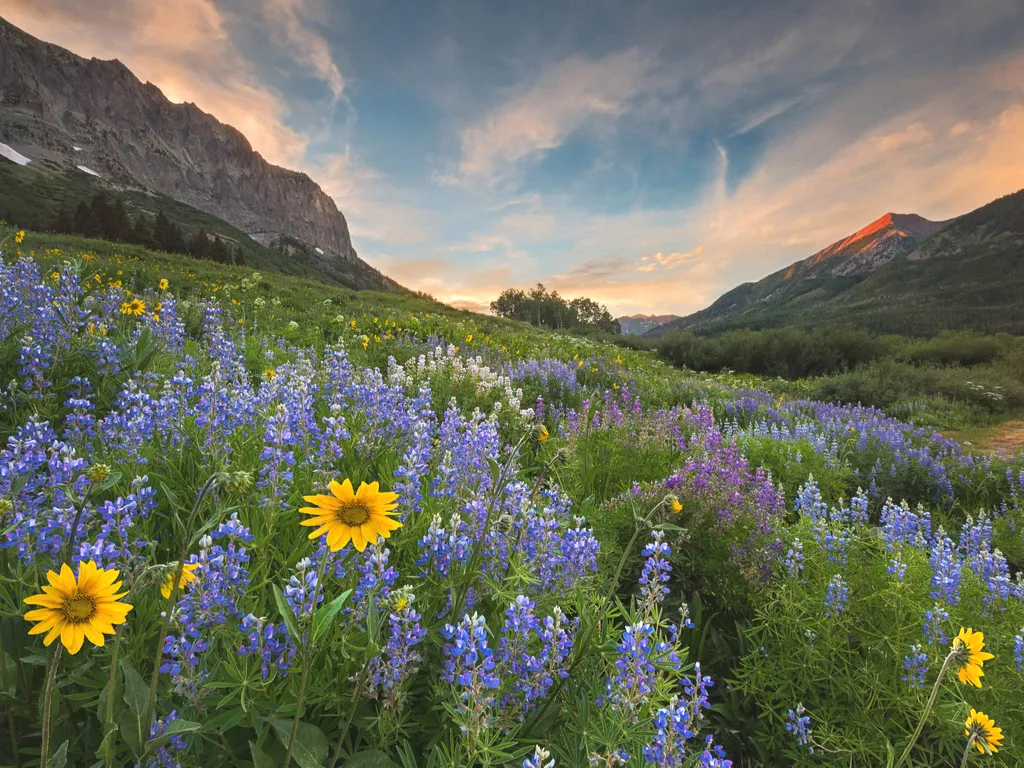 Speaking of flowers, Crested Butte is known as the "Wildflower Capital of Colorado" for the incredible rainbow of flora that bloom in mid-to-late summer.
Tons of hiking trails will take you through the colorful blossoms, including the incredible Crested Butte to Aspen hike.
This 11-mile hike over the 12,500-foot West Maroon Pass is truly one of the most epic day hikes in Colorado.
After a day full of outdoor adventures, head to one of the many wonderful restaurants in Crested Butte.
The Last Steep offers great pub grub, while Bonez is the place to be for tacos and tequila, and Secret Stash will fulfill your craving for delicious pizza.
Where to Stay in Crested Butte
Granby
From Jody of My Travel Obsession
If you are looking for the perfect mountain town with fewer crowds than some of the more famous options, Granby is the Colorado getaway spot for you!
Surrounded by stunning mountain scenery, Granby has all the mountain activities whether visiting in the summer or winter months.
In the winter, head to Granby Ranch Ski Resort, which is smaller than some ski resorts (which usually means fewer crowds), but with everything you need.
Here, you'll find excellent slopes for all levels, ski lessons, ski and snowboard rentals on-site, and some of the best pizza you'll ever eat at Bluebird Bistro.
Don't forget these ski essentials before you hit the slopes!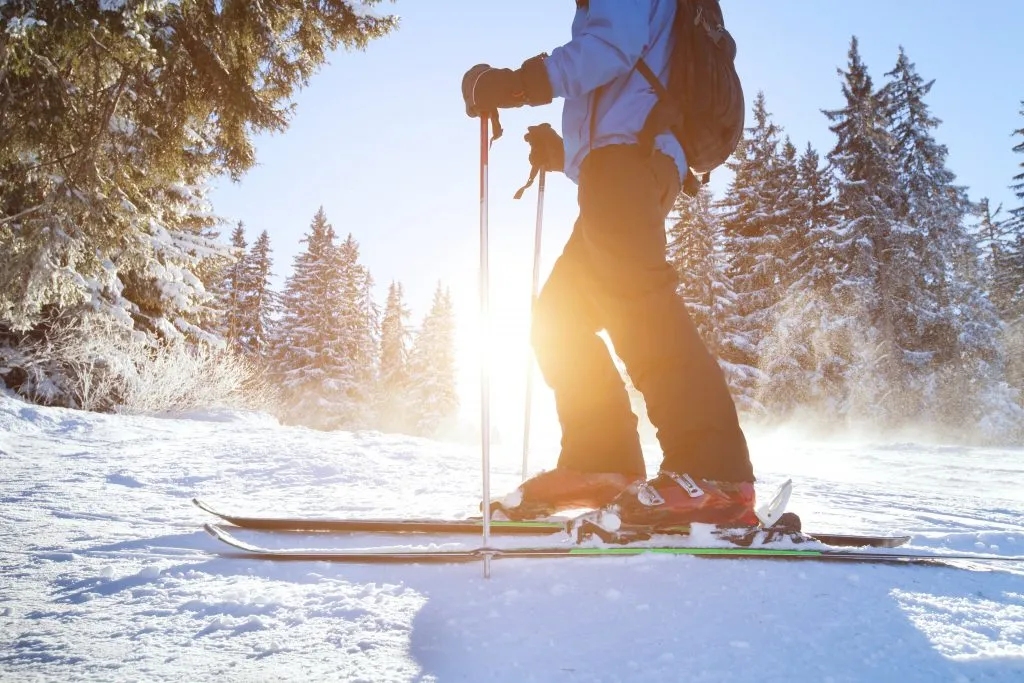 Make sure you squeeze in a trip to Colorado Adventure Park just down the road, too, for heart-pounding snow-tubing fun.
In the summer, enjoy countless outdoor activities. Visit Lake Granby and rent a boat from one of several marinas or try to catch a fish or two.
If hiking or mountain biking is your thing, you'll have plenty of options.
Granby is the perfect base camp for exploring Rocky Mountain National Park, the Arapahoe and Roosevelt National Forests, and Fraser Valley.
And if you need a day of shopping, Granby has you covered as well.
From boutique shops to tackle stores, you'll find everything you need for a memorable trip!
Where to Stay in Granby
Steamboat Springs
From Jessie of Pocket Wanderings
Brimming with charm and character, the CO ski town of Steamboat Springs is the perfect setting for either a summer or winter adventure.
It's a haven of nature, with mountains, valleys, lakes, and a river, offering plenty of outdoor activities for adventure lovers.
In winter, Mount Werner offers some of the best skiing and snowboarding in the US.
The snow is so light and fluffy that it's known across the world as the "Champagne Powder" resort, and it's also a great ski resort for beginners.
As well as skiing beautifully groomed pistes, there are a whole host of other winter activities on offer in Steamboat Springs.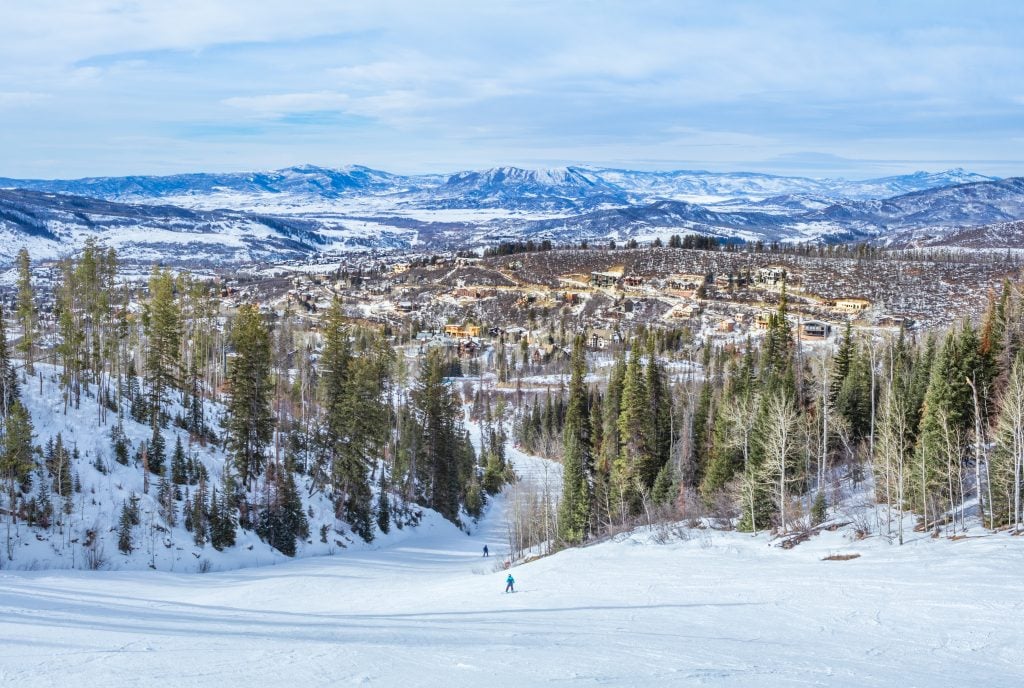 These include cross-country skiing, snowshoeing, sleigh rides, snow tubing, snowmobiling, and ice skating.
In summer, popular activities include mountain biking, fly fishing, off-roading, or horseback riding through Strawberry Park Hot Springs.
Explore some of Colorado's most spectacular trails and off-the-beaten-track paths, all surrounded by spectacular views.
Steamboat Springs is a breath of fresh air from some of the world's glitzy ski resorts. It's a laid-back town where skiers wearing cowboy hats aren't an unusual sight.
Where to Stay in Steamboat Springs
Woodland Park
From Jessica of Unearth the Voyage
There are so many gorgeous mountain towns in Colorado, but one of the best towns to put on your radar is Woodland Park, CO.
Woodland Park is nestled in the mountains just outside of Colorado Springs and is the backyard to Pike National Forest which is where Pikes Peak is located.
Pikes Peak is the only 14,000′ mountain in Colorado that you can drive to the summit of.
Driving up Pikes Peak (or if you'd rather not drive, taking the cogwheel train) is one of the best things you can do while visiting Woodland Park!
Besides driving to Pikes Peak, there is a ton of other fun stuff to do in Woodland Park like going to the Farmer's Market every Friday in the summer, going hiking, going OHVing or going camping.
Woodland Park is also home to the Mountain Artists Festival which takes place every August.
If you're looking for a great thing to do in the winter at Woodland Park, go ice skating at the sports complex located right in town!
Where to Stay in Woodland Park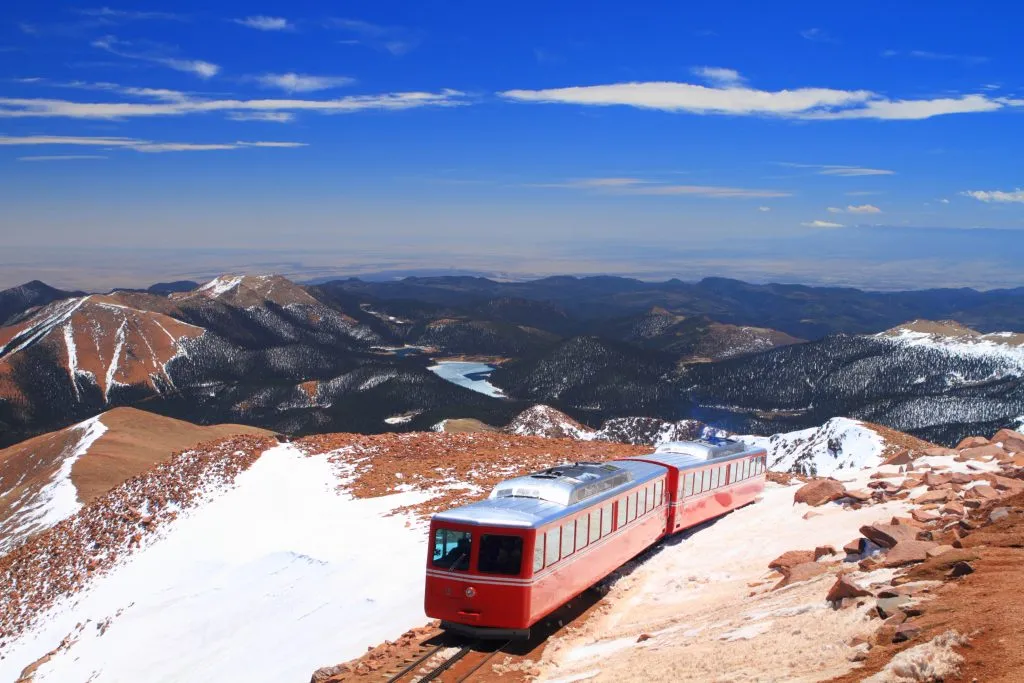 Vail
From Cazzy of Dream Big Travel Far
A small town known best for its world-class ski resorts and facilities, visiting Vail is something everyone should do when in Colorado, especially if you're a ski enthusiast!
Vail has a charming European ambiance that's perfect for families and couples alike.
The snowy landscape during wintertime poses as a fine backdrop for its many ski resorts, whereas the glades are well-groomed with endless slopes to glide down.
One could also ride a gondola and be suspended above the grand peaks of Vail.
The many shops and restaurants the pepper downtown Vail are worth enjoying too!
Winter hiking is also possible for the adventurers out there, leading you on magical treks around the mountains.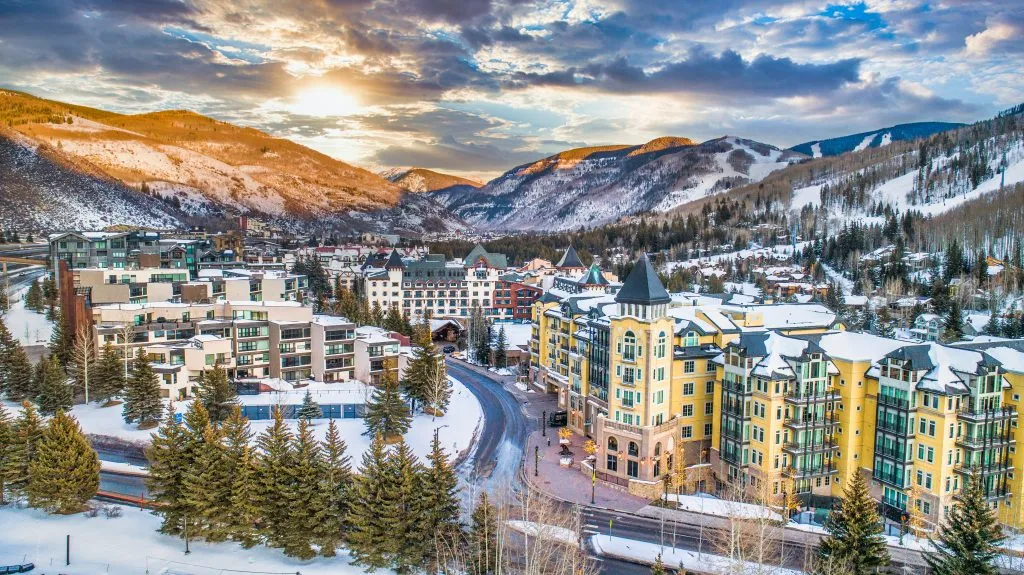 Dog sleds and snowmobiles can be a great way to explore the Gore Range, then make sure to drop by the peaceful Betty Ford Alpine Gardens.
Despite its winter fame, Vail also has a lot to offer over the summer!
From 166 miles of hiking trails to paddle boarding, kayaking, and gorgeous rivers, this town is indeed the perfect mountainous escape, no matter the season.
There are summer gondola rides and mountain coasters to get your adrenaline pumping while enjoying the rolling alpine views.
Moreover, the warmer months are the right time to experience Vail's long history and unique culture.
With endless art, festivals, and music, it's when the town itself comes to life!
Where to Stay in Vail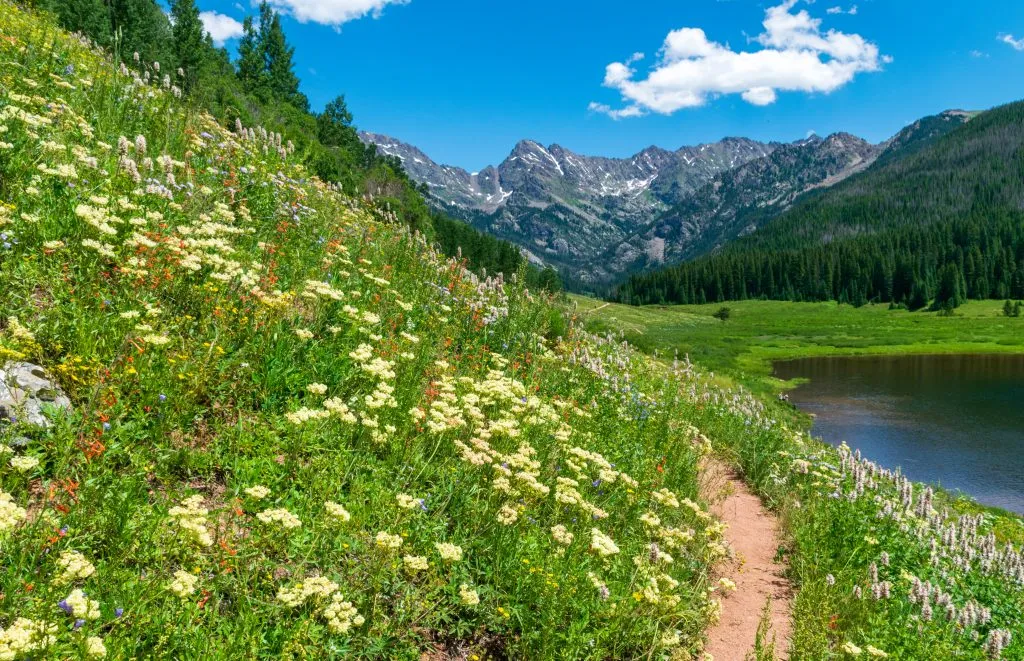 Breckenridge
From Kassidy of The Hiking Helper
Nestled deep in the peaks of the Rocky Mountains, just under 2 hours from Denver, is the small mountain town of Breckenridge.
Known best for its fantastic skiing and snowboarding resort, Breckenridge Resort, it's also filled with fantastic views and many other great activities for visitors.
Because of its location, with so many great views of the surrounding peaks, Breckenridge has often been called one of the most beautiful ski towns in America.
You can see this through a simple stroll down Main Street, where you can shop around in over 300 boutiques and local shops.
Or dine at one of the many, many restaurants along the street.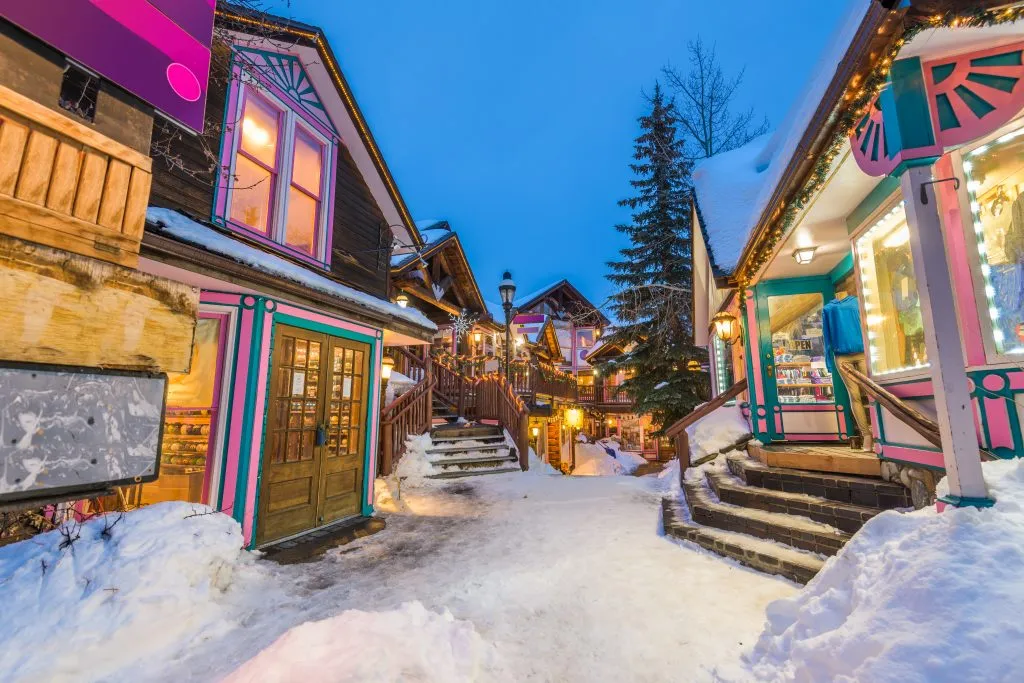 Of course, one of the best things to do is hit the slopes, and with nearly 200 runs, you could spend multiple days exploring the resort.
Hiking is never a bad idea in Colorado, and Breckenridge is no exception! There are many trails around that lead to fantastic viewpoints.
Be sure to be prepared for any weather, especially if you're hiking in the winter.
A few other fun activities include visiting the Breckenridge Troll, visiting some of the museums, or taking a tour of the mines.
No matter what you choose to do in Breckenridge, it'll feel like a magical time.
Where to Stay in Breckenridge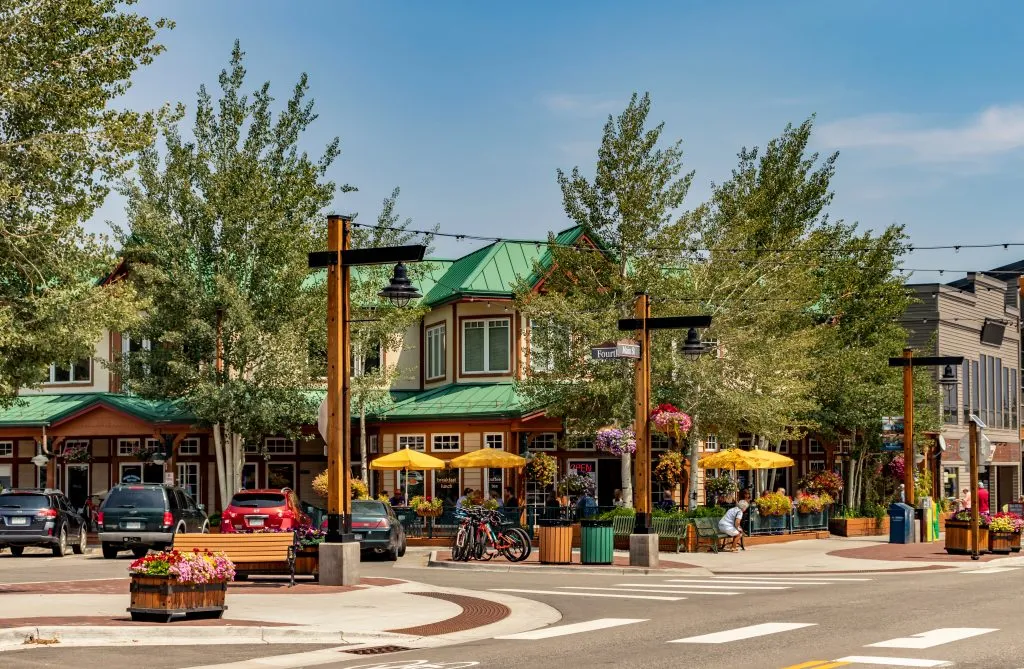 Manitou Springs
From Kylie of Between England and Everywhere
A great mountain town in Colorado is peaceful Manitou Springs.
Manitou Springs is just 15 minutes from Colorado Springs, perfect if you are looking to stay somewhere a little quieter than a larger city.
There are plenty of bars and restaurants to sample, plus several interesting things to do in Manitou Springs.
As the name suggests, it is known for its 8 natural water springs which each have a slightly different taste.
Simply take a reusable water bottle and refill it at the locations around the town!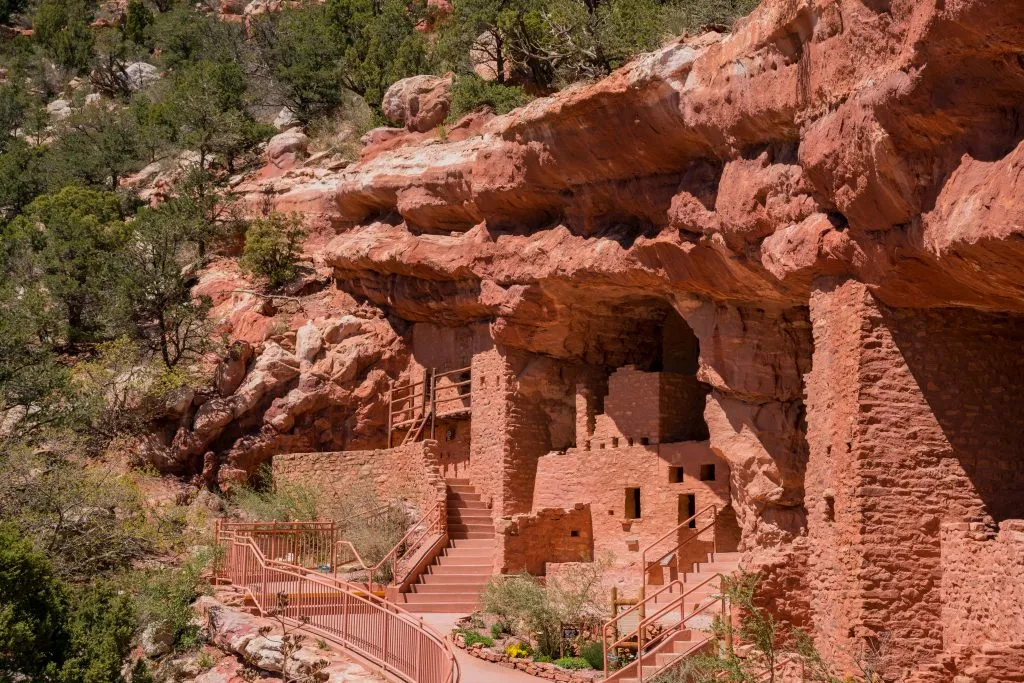 Arcade Amusements Penny Arcade has a wide range of different arcade machines from retro ones to more modern machines.
Several only cost a penny to play which is awesome for some budget-friendly fun!
A short drive away you'll find the Manitou Cliff Dwellings, which are around 800 years old and were originally located in southwest Colorado.
In the early 1900s, the dwellings were carefully moved to the current location to be preserved and have been open to the public since 1907.
For those that enjoy physical challenges, the Manitou Incline is a 1-mile long hike with an incline of 41%.
It used to be a mountain railway line and now consists of 2744 steps. It takes around 2 hours to reach the top.
Where to Stay in Manitou Springs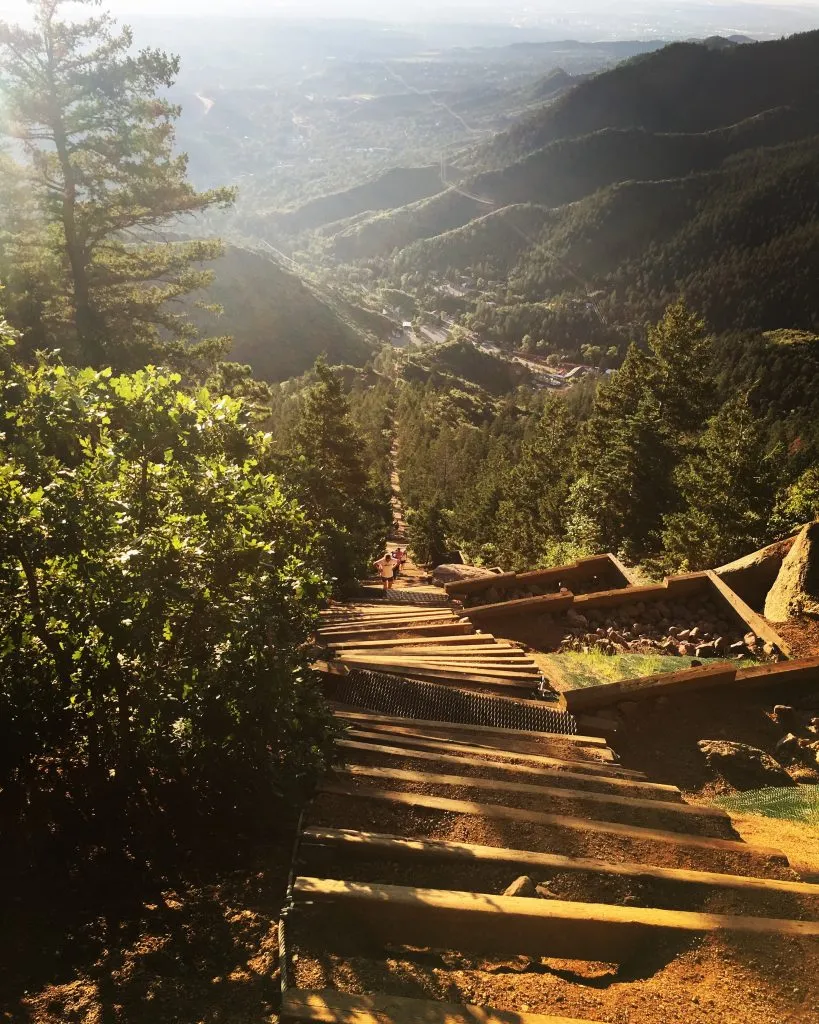 Telluride
From Anjali of Cheerful Trails
Perched atop an elevation of 1,850 feet in a box canyon in the San Juan Mountains is Telluride, one of the prettiest mountain towns in Colorado.
Telluride has an authentic small-town feel with a historic downtown lining up many boutique stores, restaurants, galleries, rooftop bars, and interesting local artisan shops.
The backdrop of the Rocky Mountains and blooming wildflowers at the edge of the downtown creates an enchanting aura that you can only experience while walking through the streets.
The Last Dollar Saloon rooftop is a nice bar for having drinks and seeing the sunset over the mountainous landscapes.
You will also find campgrounds a short walk away from downtown.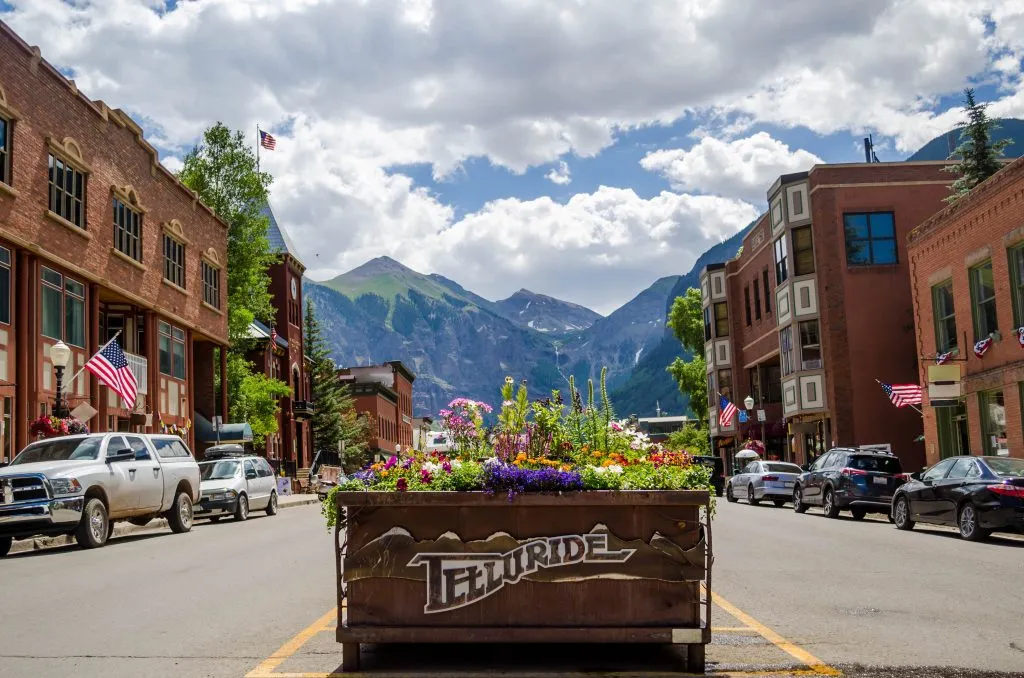 Telluride caters to both summer crowds who come to enjoy the festivals and hiking spots, and the winter crowds who come for activities like skiing, sledging, snowmobiling and snowshoeing.
The Telluride Ski Resort is your perfect place for participating in all kinds of winter sports, and a day here makes it easy to appreciate why Telluride is considered one of the best ski towns in Colorado.
On the back side of the resort, you can see the very scenic location Alta Lakes.
This nature lover's paradise features a series of lakes with an alpine setting that's ideal for fishing, swimming, hiking and camping.
The popular Telluride Bluegrass Festival takes place each summer and attracts music lovers from all over the world.
Where to Stay in Telluride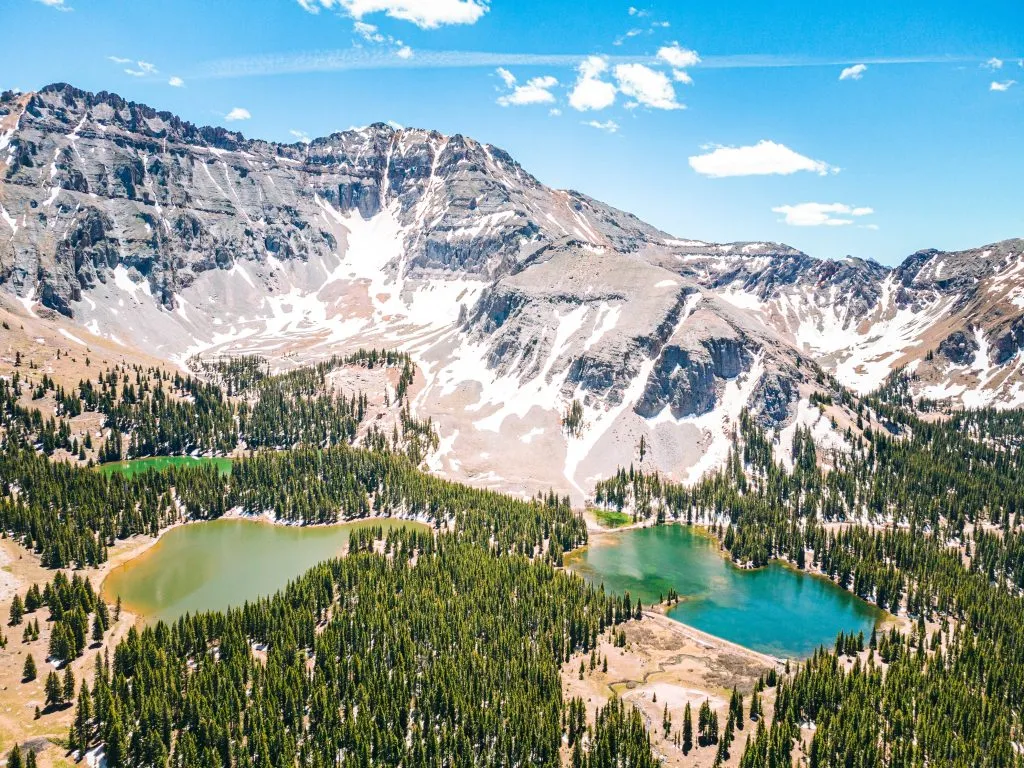 Frisco
From Sierra of Island and Alpine
One of the best mountain towns in Colorado to visit (or move to!) is Frisco, located along the Dillon Reservoir between the towns of Breckenridge and Keystone.
The area offers plenty of activities to enjoy year-round as well as stunning views.
Frisco Adventure Park is a top activity in the charming town with activities that accommodate the weather through all seasons.
Biking trails, disc golf, and a skate park welcome visitors during pleasant weather.
When snow hits the mountains in winter, the park is ready with tubing hills, snowshoeing, and beginner skiing and snowboarding.
Larger ski resorts are only a very short drive away.
Main Street makes up the core of a charming downtown area of the town complete with The Frisco History Museum, plenty of tasty breweries, and quaint shops.
The Frisco Bay Marina is a large, sandy beach with a lake for kayaking and paddleboarding. Rentals are available on-site or you can bring your own.
Don't miss renting bicycles, taking the provided shuttle to Breckenridge, and then riding down the mountain back to Frisco along the Blue River Trail.
The views are incredible and it is a great way to take in the landscape.
Where to Stay in Frisco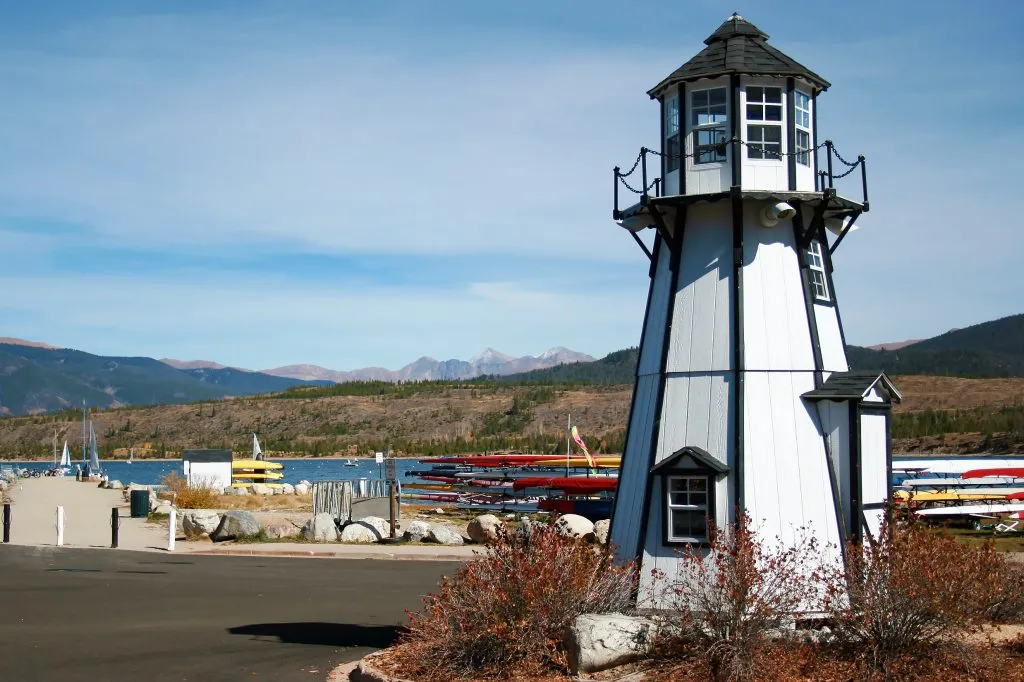 Winter Park, Colorado
From Rachel of Caribbean Uncovered
Winter Park is the perfect destination for a Colorado mountain getaway during any season.
Skiing at either of the two ski resorts – Winter Park and Mary Jane – offers something for everyone, whether you like to take it easy or race down the slopes.
You can easily access the ski resort from town thanks to plenty of parking lots and bus stops.
When your day is done, take a break from skiing and enjoy one of the many hole-in-the-wall breweries and food trucks found in Winter Park.
For those who love the winter but don't ski, there are plenty of options, like snowmobiling or just going on a scenic winter hike.
Adventurers will find beauty at every turn by trekking up to Byers Peak summit or camping and stargazing at Meadow Creek Reservoir in warmer months.
Whatever season you choose to visit this mountain town, you'll find opportunities at every corner that you won't soon forget.
Where to Stay in Winter Park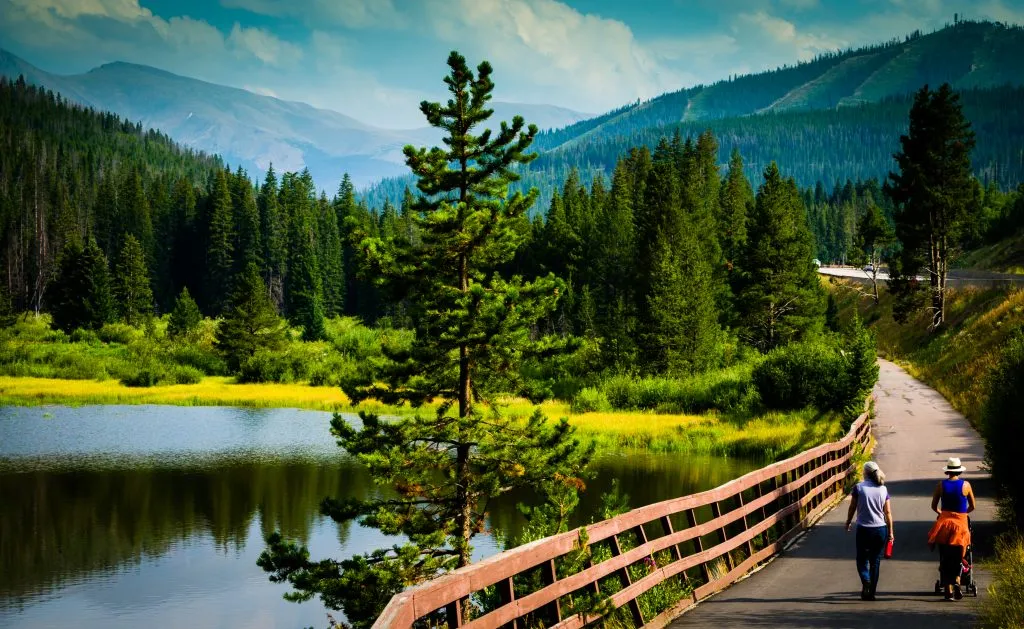 Durango
From Anwar of Beyond My Door
Located in southwestern Colorado, Durango is a perfect jumping off point for adventure in Colorado.
The city is located amongst some of the best preserved pueblos in the United States both within Colorado and neighboring New Mexico.
One of the top things to do in the area is visiting Mesa Verde National Park, with some of the best preserved cliff dwellings anywhere.
For those who want to see more, there's nearby Canyon of the Ancients (with the highest concentration of Puebloan ruins/artifacts), and Aztec Ruins and Hovenweep National Monuments a bit further away.
Beyond that there's access for hiking, camping, and four wheel driving in the nearby open lands and national forests.
There's also skiing nearby, with Hesperus a small ski resort located close to Durango. For those looking for a more relaxed atmosphere there are several museums in the area to check out as well.
You can learn about the historic Durango,ride the Silverton Narrow Gauge Railroad, visit the lovely Powerhouse Science Center, or explore local history at the Animas Museum.
Relaxing at the recently renovated Durango Hot Springs is also a perfect way to end any day or weekend.
Where to Stay in Durango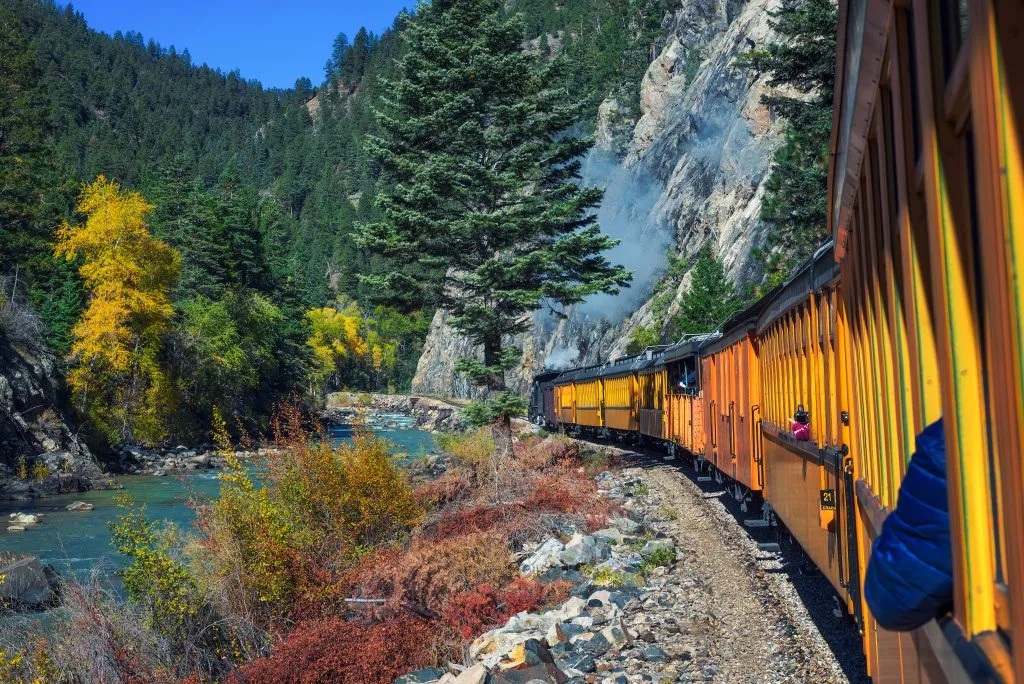 Glenwood Springs
From Meg of Fox in the Forest
One of the best mountain towns in Colorado is Glenwood Springs, a quaint alpine village in the Rocky Mountains that is known for its amazing hot springs.
If you're looking for the best things to do in Glenwood Springs, go for a relaxing dip at Glenwood Hot Springs. It's a family-friendly spot that is perfect if you have kids.
Alternatively, Iron Mountain is another quiet hot spring that overlooks the Colorado River, and has a more romantic atmosphere for couples planning a mountain getaway in Colorado.
However, because you're surrounded by the majestic White River National Forest, you can't leave Glenwood Springs without doing some local hikes.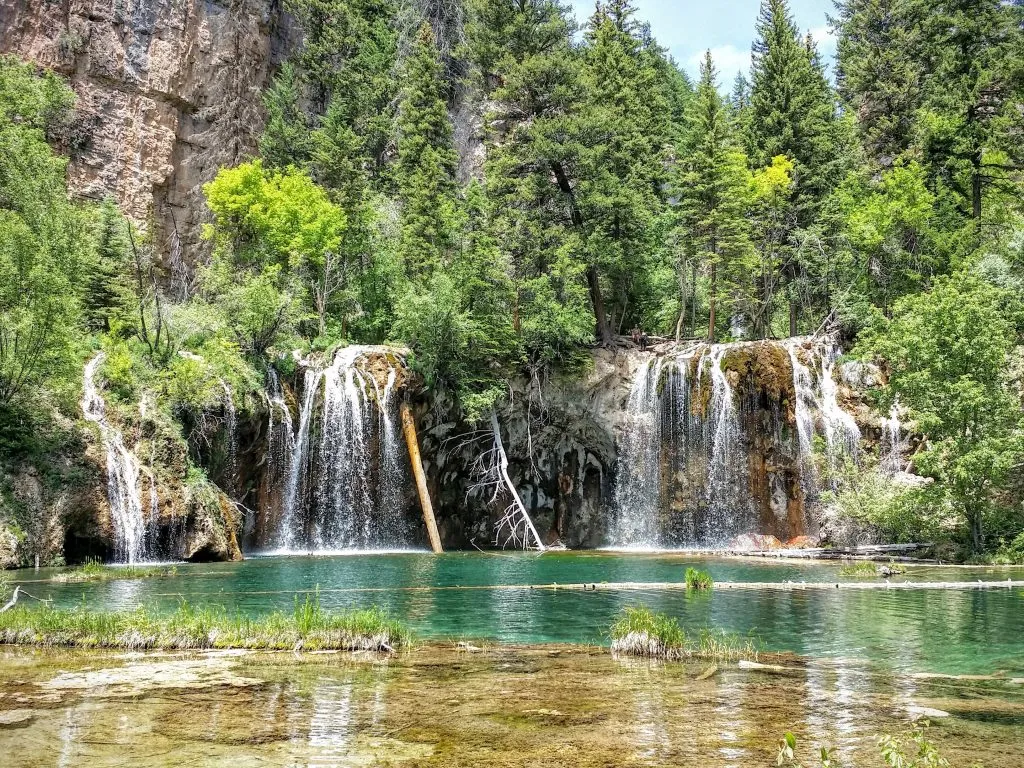 The most famous of them all the nearby hikes is Hanging Lake, a stunning, alpine lake with a beautiful waterfall that is not to be missed.
Plus, it's located only 7 miles from Glenwood Springs!
Therefore, it's easy to access and takes you on a scenic, 1.2-mile trek from the base of Glenwood Canyon through Deadhorse Creek Canyon.
It's a popular hike, so permits are required.
Then, after your hike, grab some delicious tacos and hot dogs at Slope & Hatch before having a beer at the Glenwood Springs Brew Garden.
Where to Stay in Glenwood Springs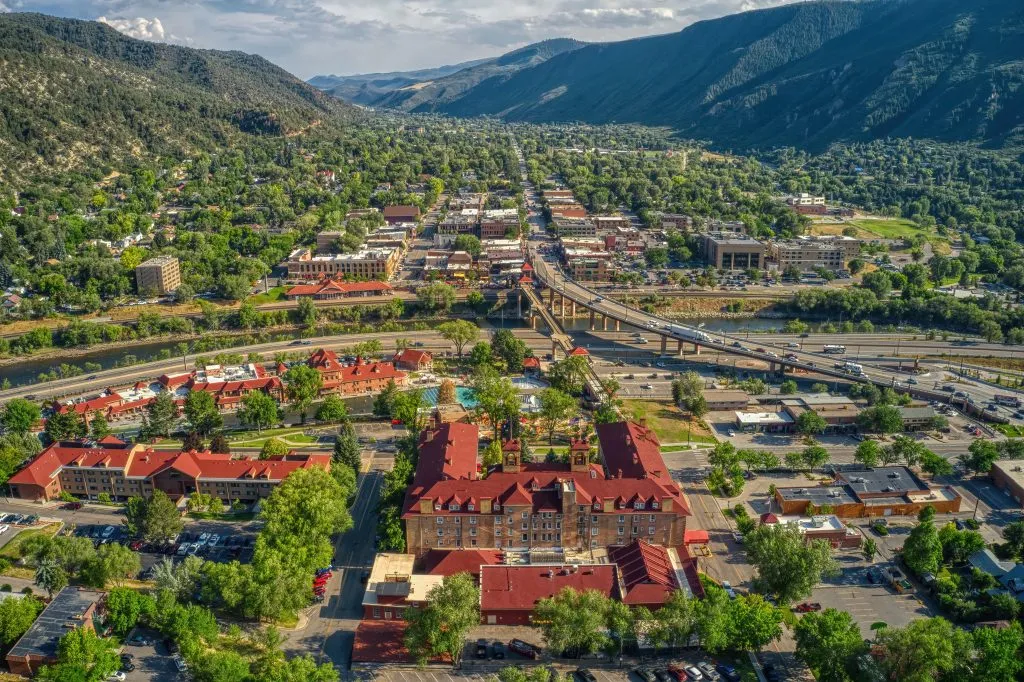 Ouray
From Agnes of The Van Escape
Ouray is a picturesque mountain town located in the heart of the San Juan Mountains at an elevation of 7,800 feet.
It's surrounded by steep, 12,000 to 13,000-foot peaks that have earned the town the name "Switzerland of America."
Steep mountainsides, waterfalls, valleys, and wildflowers make this place resemble the European Alps.
Most importantly, the town offers year-round activities.
Ouray is on U.S. Route 550, also known as the Million Dollar Highway, one of the most scenic routes in Colorado.
Ouray is about 70 miles north of Durango and only 36 miles south of Montrose, making it a good starting point for visiting the South Rim of the Black Canyon of the Gunnison National Park.
Regardless of the season, one of the best things to do in Ouray is soaking in the five famous sulfur-free hot springs in the heart of town with views of the mountains.
It's worth walking through the historic downtown with its colorful, architecturally attractive buildings.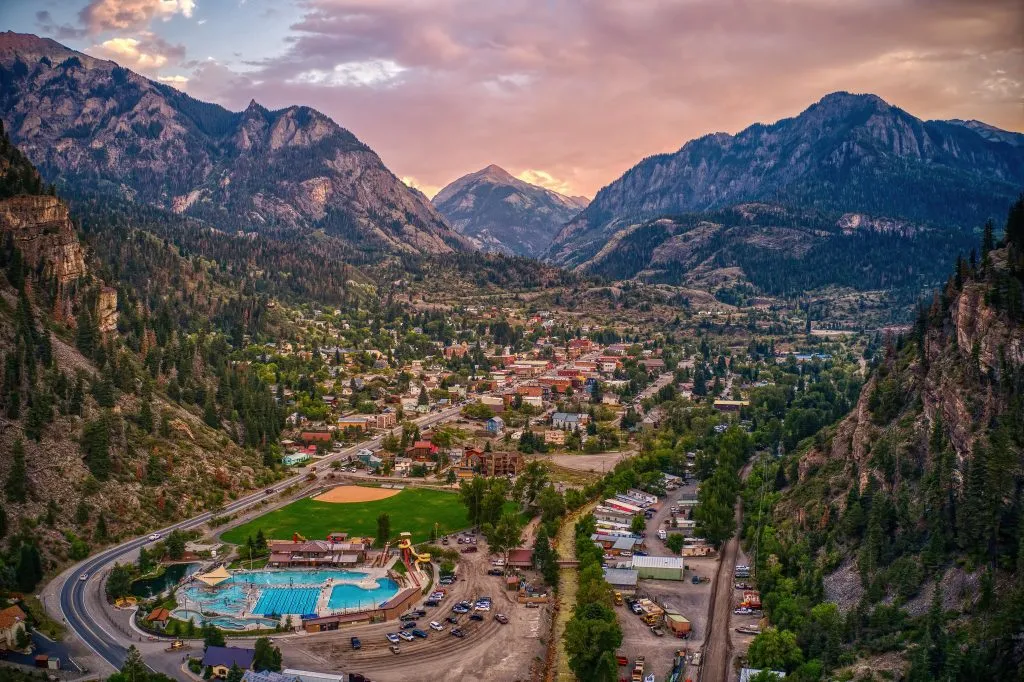 The Ouray Alchemist Museum, Ouray County Museum, and the Wright Opera House are the most exciting places to visit.
In summer, Ouray is a paradise for outdoor lovers. Visitors can take the Ouray Via Ferrata and climb along the cliffs of the Uncompahgre Gorge.
One of the best experiences is hiking the Ouray Perimeter Trail, a spectacular 6-mile trail that follows the town's contours.
The trail gains 1,600 feet in elevation and ends at its highest point at 8,500 feet above sea level. Mountain biking is also popular.
In the winter, the town is known for the Ouray Ice Festival, skiing and sledding adventures, and the Ouray cross-country ski trails.
While you're there, be sure to sample local beers at Red Mountain Brewing and the Ouray Brewery.
Where to Stay in Ouray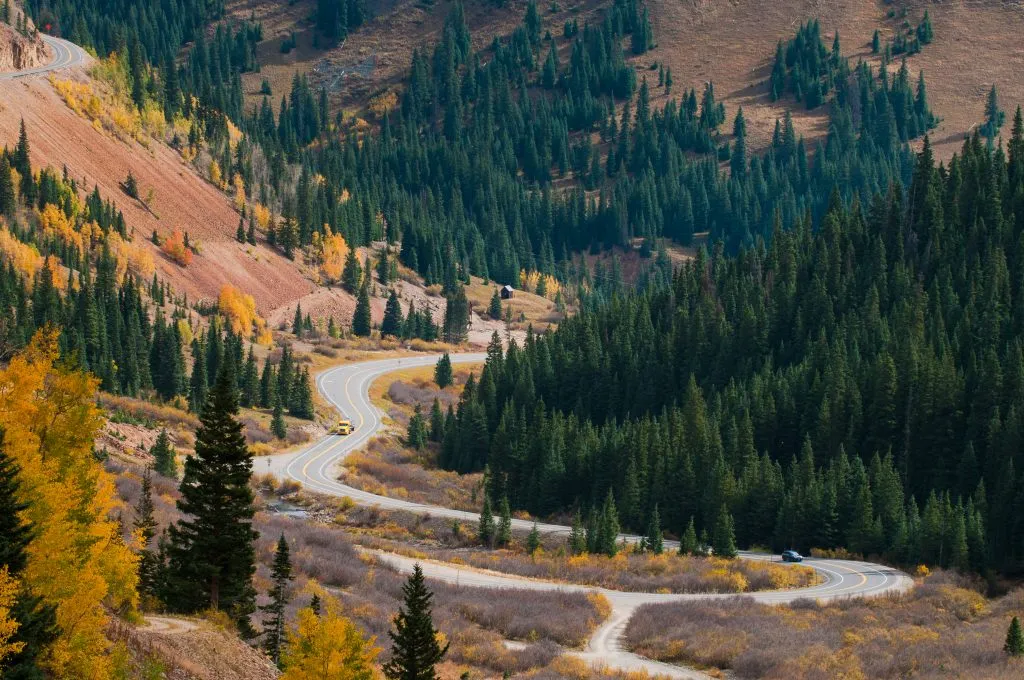 Pagosa Springs
From Amber of Amber Everywhere
Nestled in the San Juan Mountains of Colorado is the small town of Pagosa Springs.
Located 35 miles north of the New Mexico border and 5 hours from the capital of Denver, Pagosa Springs is known for its geothermal hot springs, access to the nearby Wolf Creek Ski Area, and plentiful hiking.
This small town is perfect for a mountain retreat in Colorado that's a little further off the beaten path.
In town, don't miss a trip to the Pagosa Hot Springs, a collection of 25 hot spring pools at different temperatures (ranging from 45 –114 °F) along the San Juan River.
You can purchase a day pass to the hot springs, or stay in the adjoining resort overnight.
Given the relatively chilly nighttime temperatures in the Colorado mountains, visitors enjoy soaking in the hot springs year round.
In the winter, skiers will love the nearby Wolf Creek Ski Area, known for receiving more annual snowfall than any other Colorado ski resort.
This relatively small ski resort includes 8 lifts and 77 total runs.
Summertime visitors can stay for the Folk 'N Bluegrass Festival or the Four Corners Folk Festival, both of which take place annually in Reservoir Hill Park.
Where to Stay in Pagosa Springs
Aspen
From Erin of Super Simple Salty Life
Aspen is a famous Colorado ski town located deep in the Rocky Mountains
Just a four-hour drive from Denver, Aspen creates a great escape year-round for visitors who prefer their travels to be a little more exclusive and luxurious.
Popular among shoppers, upscale boutiques, art galleries, and high-end shops line the perfectly manicured streets downtown.
World-renowned for its ski resorts and chalets, Aspen is definitely a snow lover's paradise.
The town sits at nearly 8,000 feet in elevation with peaks towering above 14,000 feet.
The Aspen-Snowmass ski resort area boasts four mountains perfect for skiing, snowboarding, and snowshoeing in the winter.
In the summertime, the Roaring Fork River becomes a popular spot. The river runs right through downtown Aspen and is a great location for fishing, whitewater rafting, and family float trips.
There are also tons of trails just outside of town for hiking and mountain biking surrounded by wildflowers, tall pine and fir trees, and, of course, aspens!
One particular highlight of the Aspen area is visiting the Maroon Bells, twin mountains located a few minutes from town that attract over 300,000 photographers and hikers every year.
With hikes ranging from easy to strenuous, there is something for every member of the family to experience.
Travelers can take the free shuttle bus from Aspen directly to the Maroon Bells Scenic Area from May to October.
Where to Stay in Aspen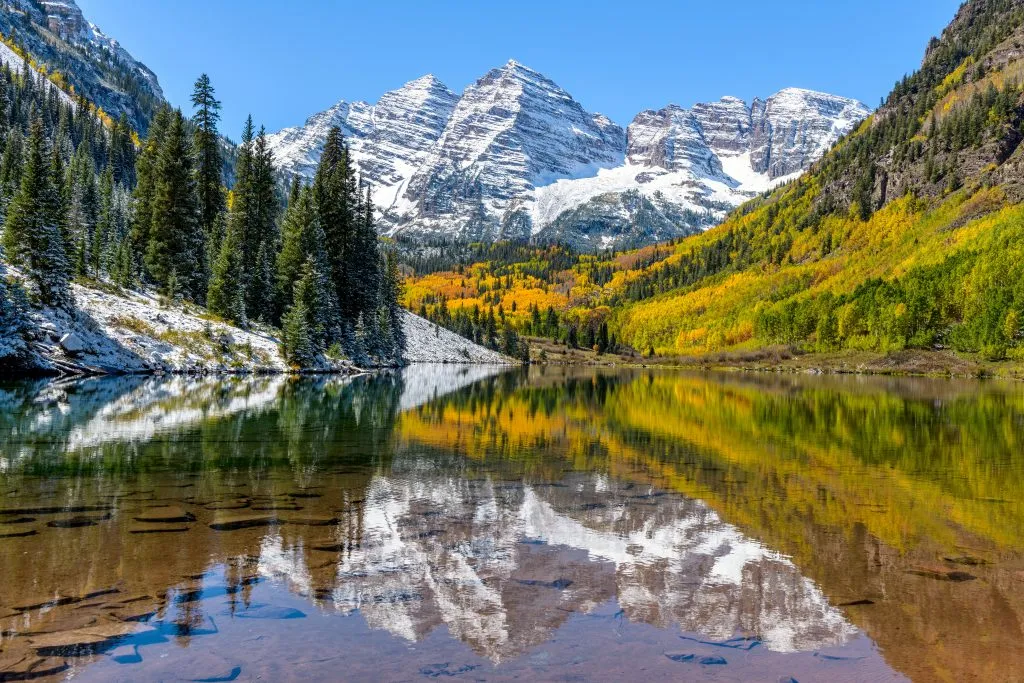 Fort Collins
From Erin of The Epicurean Traveler
With year-round recreational activities, Fort Collins is an outdoor lover's playground along the Cache la Poudre River at the base of Colorado's Rocky Mountains.
While staying in this Colorado Front Range destination, you can set off to explore the nearby Rocky Mountain National Park, hike and cycle year-round in rugged landscapes, go whitewater rafting, and sip craft beers at more than 20 local breweries.
In winter, go snowshoeing around Horsetooth Reservoir or through Poudre Canyon, or peddle a fat bike through the snowy landscape of the nearby Cameron Pass or Lory State Park.
Over the summer, rent an e-bike for a scenic, leisurely bike ride along more than 285 miles of wide, flat bike lanes, or ascend the nearby mountains for a heart-pumping workout with stunning birds-eye views.
In addition to year-round hiking and biking, Fort Collins visitors will find plenty of opportunities to go climbing outdoors and indoors at a climbing gym with 20,000 sq ft of climbing space.
Besides outdoor recreation, Fort Collins offers public art in the form of pianos painted with colorful murals around town, unique boutique shops, and brewery tours.
Where to Stay in Fort Collins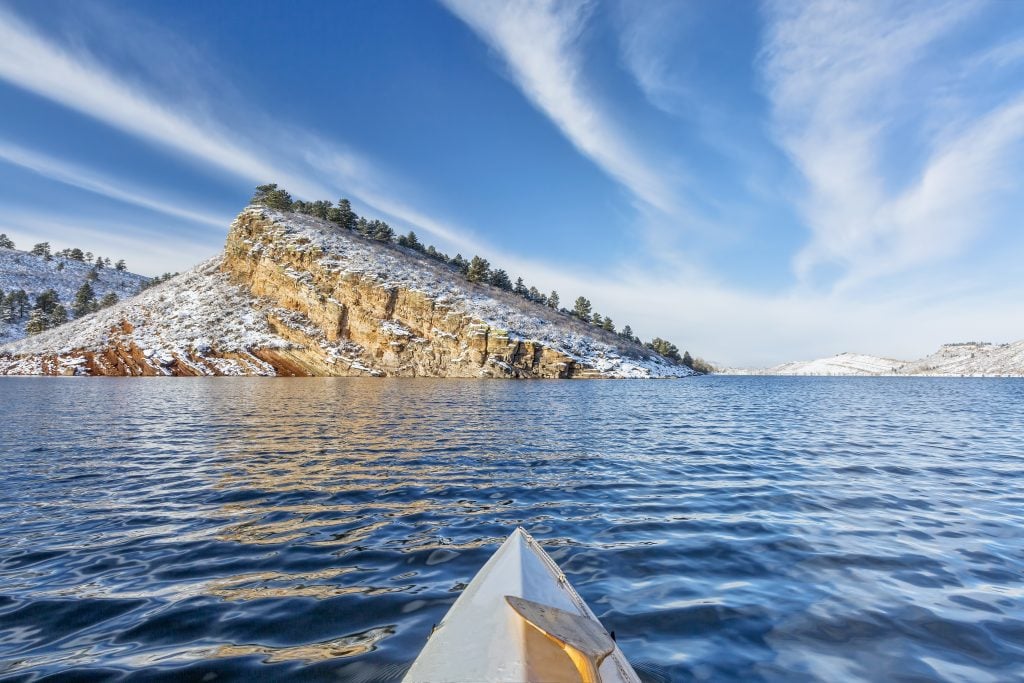 Colorado Springs
From Kristin of World on Wheels
It may be more of a city than a town, but no round-up of the best mountain towns in Colorado is complete without mentioning the ever-popular Colorado Springs!
Here, you'll find plenty of fantastic things to do, and Colorado Springs can be easily added as a stop on your Colorado road trip.
While there are no national parks close by, Colorado Springs offers plenty of activities for mountain lovers.
Take the cog railway (or drive) to the summit of Pike's Peak for incredible views.
Make sure you try the world-famous donuts while at the summit–these nutmeg-flavored donuts are absolutely delicious!
Additionally, you can visit the famous red rock formations at the Garden of the Gods.
These ancient formations are like mother nature's works of art and will have you in awe as you pass through them.
Finally, if you enjoy hiking, plan to visit Seven Falls near the Broadmoor Hotel.
The adventurous can climb hundreds of stairs that ascend next to Seven Falls to access additional hikes and pretty views.
Even if you don't make the arduous climb, the easy walk down the canyon to reach the falls is an experience in itself.
Speaking of the Broadmoor Hotel, it's an incredible (and somewhat iconic) place to stay in the area. They serve a famous mouthwatering brunch that you'll have to try.
The grounds are also beautiful and the hotel is a perfect base for enjoying a Colorado mountain getaway.
Where to Stay in Colorado Springs
Map of the Best Colorado Mountain Towns
Take This Map With You! Click each highlight to pull up the name of the destination. To save this map to "Your Places" on Google Maps, click the star to the right of the title. You'll then be able to find it under the Maps tab of your Google Maps account! To open the map in a new window, click the button on the top right of the map.