November 3, 2018
A Visit to Delightful Dubrovnik
Croatia
When planning our trip to Dubrovnik, the advice we got from other travelers and Croats alike was clear: "One day, maybe two, is plenty! It's a small city, there's really not much there."
Well, I'm sure they meant well, but we definitely should not have taken their advice. We scheduled two days of our Croatia itinerary in Dubrovnik, with a partial day on either end, and it was not enough.
Dubrovnik is magical. It is one of the most beautiful cities I have ever been to, the coast is incredibly gorgeous, and it has a perfect blend of sites: historical and modern, natural and man made.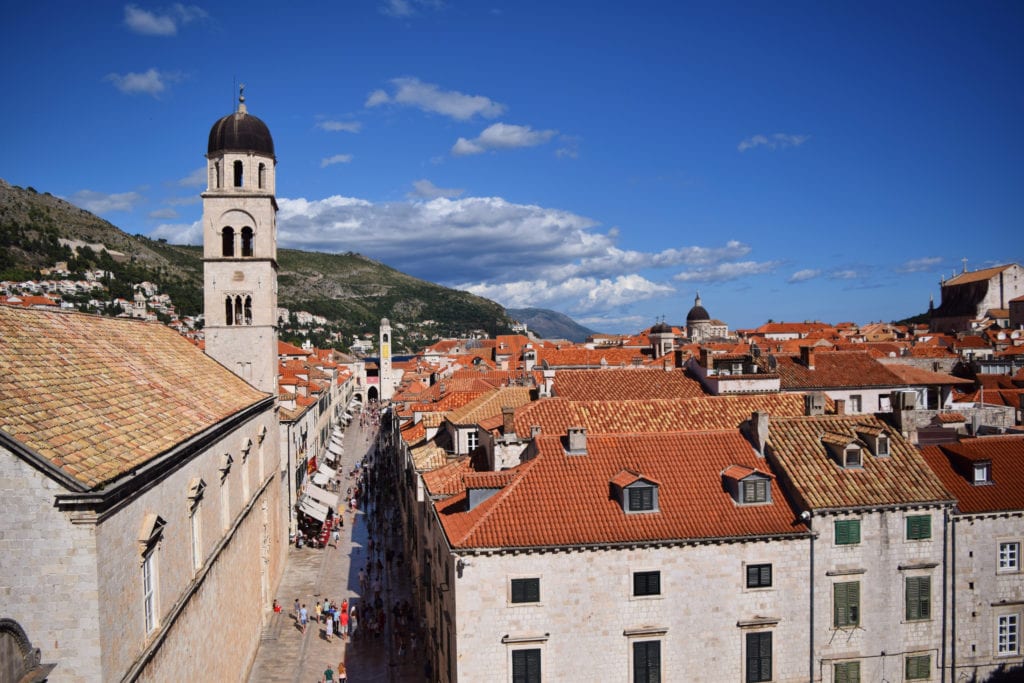 Here are some of our major highlights and favorite things to do in Dubrovnik from our two too-short days in the city:
1. Walking the city walls.
Walking the city walls is easily one of the most famous things to do in Dubrovnik, and with good reason: the city's defensive walls are 5-16 feet thick, date back to the 10th century, and offer utterly breathtaking views of the Old Town and Adriatic Sea below.
The walls reach all the way around the city, and the entire loop is open to the public. We spent about two hours walking the full circle, with plenty of stops to take photos and soak in the beautiful views.
Be sure to bring water and sunscreen, and be prepared to get very hot: there is little to no shade on the walls, so a hot day will cause you to bake in the sun.
Dubrovnik Travel Trip:

A walk on the walls costs 120 HRK (just under $18 USD), while a one day Dubrovnik Card costs 170 HRK and includes free entrance to the walls, in addition to many other attractions and a 24 hour bus pass. The bus pass is good for 24 hours from the first use, and the card is good for the date on which the first attraction is stamped. It is incredibly easy to get your money's worth out of this card, so take a look at what is available and plan accordingly if multiple things to do in Dubrovnik that are included with the card interest you.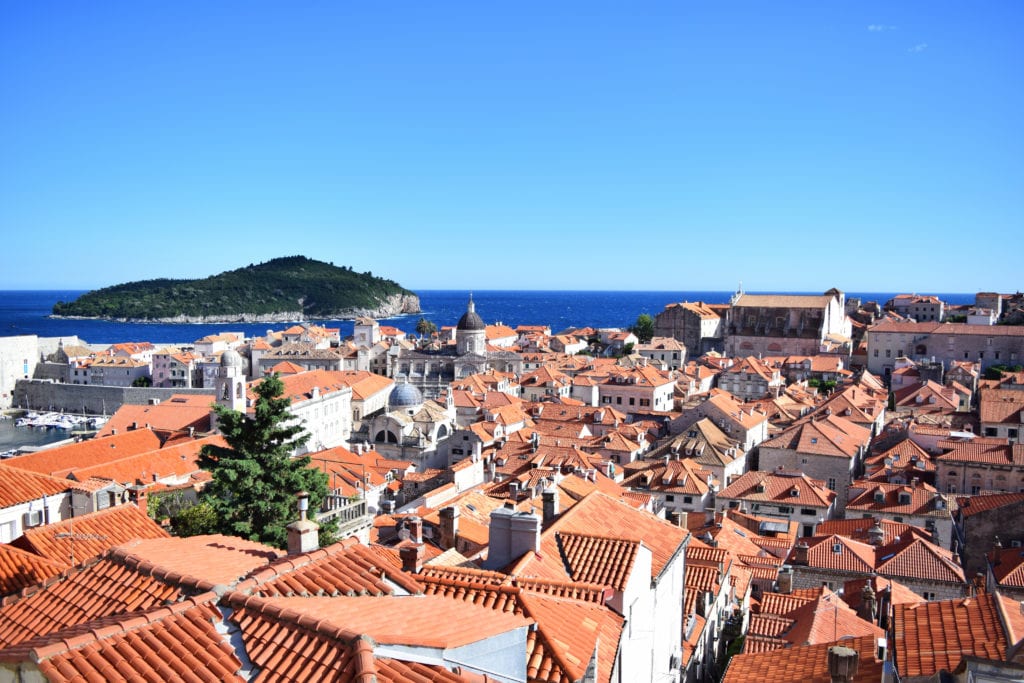 2. Kayaking around Lopud Island.
Walking on the walls is a wonderful way to see Dubrovnik–and, as it turns out, so is kayaking outside of them.
Kayaking tours are very popular in Dubrovnik, and most seemed to run about $35 USD for a half-day group tour, with a small upcharge for the tours that take place during sunset.
This was, hands down, our favorite excursion of the European leg of our trip.
Our tour took us alongside Dubrovnik's city walls, around Lopud Island, into a cave only accessible from the water, and to a small cove for swimming (and, if you're Jeremy, cliff diving!). The views were spectacular, of the city, the island, and the sea.
The only downside was that the wind picked up significantly about 3/4 of the way through our tour, so we weren't able to stop for photos of Dubrovnik as the tour normally does.
We will absolutely kayak again the next time we are in Dubrovnik, whether we choose to do another group tour or simply rent the equipment (also an option!) will depend on our mood and the weather.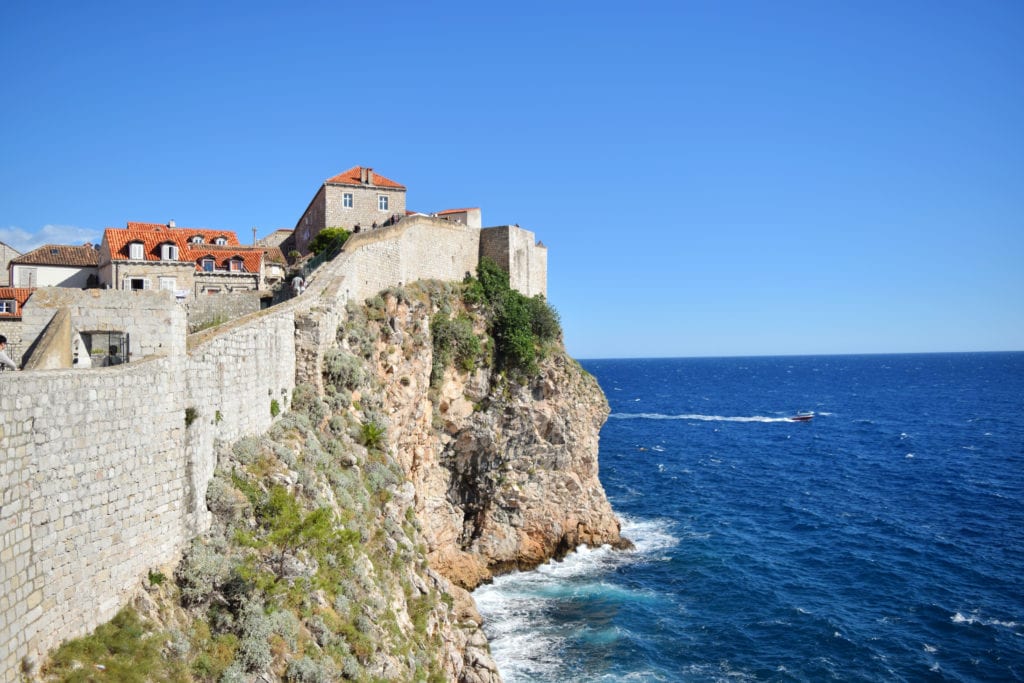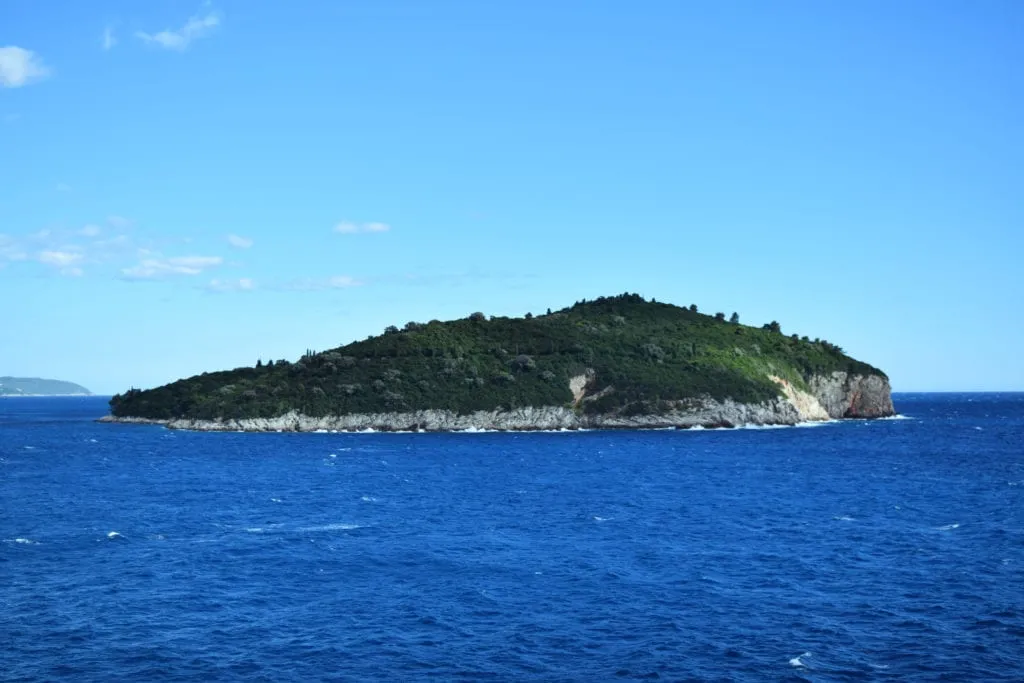 Dubrovnik Travel Tip:

As a popular cruise destination, Dubrovnik and its attractions can become overrun by crowds in the summer. If possible, check here before finalizing your dates and try to plan for a time that the cruise crowds will be lower–if you visit Dubrovnik's old town on a particularly heavy-trafficked day, I would recommend trying to explore after the cruise ships have left between 4-6pm.
3. Dubrovnik sunsets.
Dubrovnik is home to some spectacular sunsets. Our Airbnb was well outside the city walls and high on the cliff–while this made for a little bit of patience when it came to reaching Old Town, one of our favorite things to do in Dubrovnik ended up being watching the sun go down from near our Airbnb every night. If we visit again, we may consider splurging on amazing accommodation in Dubrovnik just to get perfect views of the sunset!
Airbnb is always the first place we check when looking for lodging while traveling. Never tried it? Use our link to sign up and get a discount off your first stay!
4. Hanging out with some birds.
I have always been a big fan of birds–I had several pet parakeets as a child, the most tame of them being Percy, who followed me around the house, sat on my head, and ate off my plate.
Jeremy, on the other hand, is not a bird fan at all, and is fairly uncomfortable around them–sadly for me, this means I'll likely never have one as a pet again.
Enter this group of adorable tropical birds, whose owner was happy to lend them out for a little affection for the low price of 20 HRK (about $3.50 USD).
Animal attractions are a touchy subject, and with good reason–many, many animals are horribly mistreated in the name of tourism. I know that not everyone would be comfortable interacting with birds who have had their wings clipped, so I hesitated to mention this at all, but they truly were a highlight of my trip (I won't say "our"–Jeremy was unmoved by the encounter).
These guys had bright eyes, smooth feathers, and were friendly and playful. They were neither aggressive nor docile, and in my non-expert opinion, I thought them to be well cared for and stimulated.
Their owner (dressed in a pirate costume, of course) was also a pleasure–he didn't rush us, took plenty of photos, and seemed to genuinely care for the birds. After seeing the horribly mistreated monkeys and snake charmers of Marrakech and watching people relentlessly have to shake off their predatory owners, it was a great change of pace.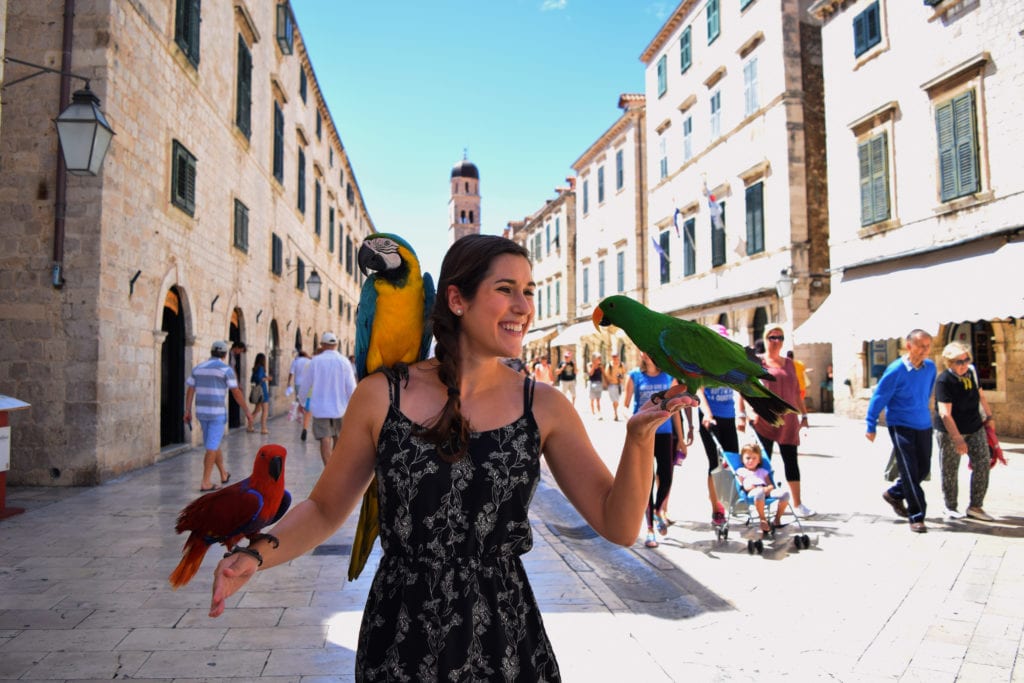 5. Climbing to Lovrijenac Fortress.
Set across a small bay from Old Town (the same bay where many kayak tours leave from), Lovrijenac Fortress offers incredible views of Old Town and the sea.
We stopped by within an hour of closing time, so only a few other people were around. Though we weren't facing the correct direction to see the sunset, we were still able to watch the light grow softer and softer over the orange rooftops as we climbed up and down the various levels.
For fellow Game of Thrones fans: Lovrijenac Fortress has been used in multiple Game of Thrones scenes, including the interior of the Red Keep and  the season two festival thrown in honor of Joffrey's name day.
The fortress doesn't require a long visit, but it is definitely worth stopping in.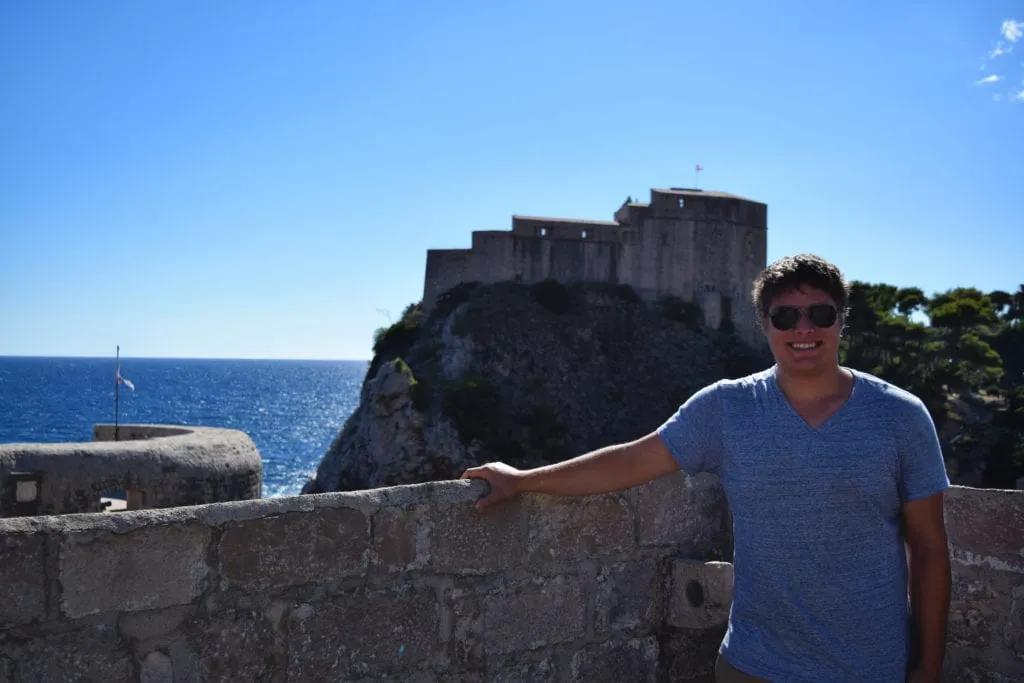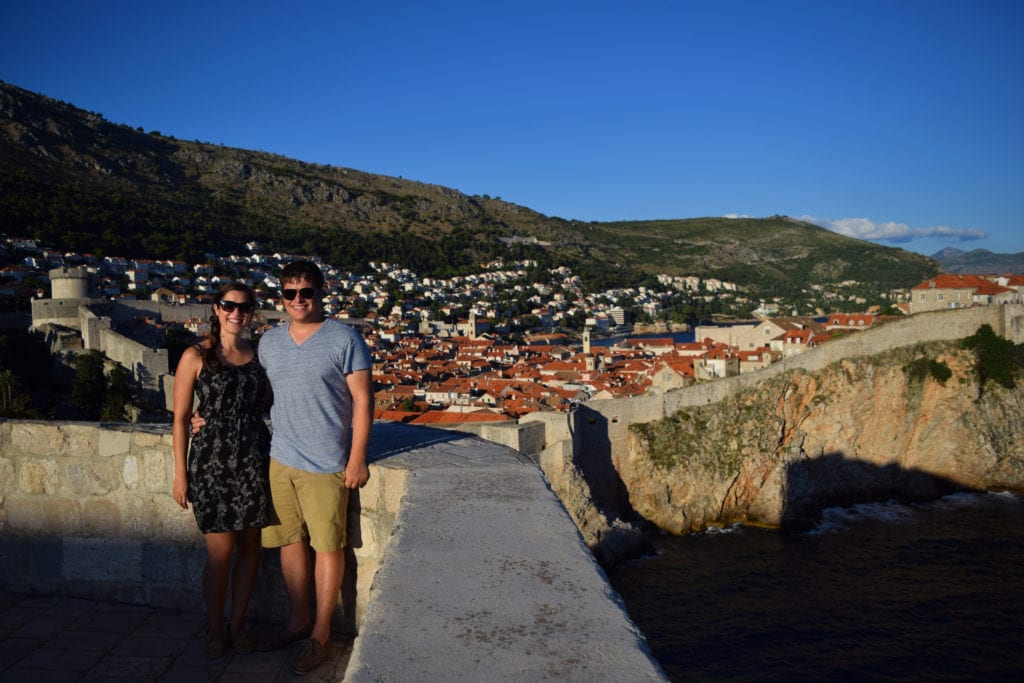 Dubrovnik is one of those locations that we will never forget, and moving on too early from this captivating place is one of my only travel regrets from our RTW trip to date. Any detailed Dubrovnik itinerary we see just gives us more reasons to come back and explore more thoroughly!
We had already booked our lodging for Mostar and Sarajevo when we arrived in Dubrovnik, so we were locked into our dates–but there are still so many things to do in Dubrovnik that we haven't had a chance to get to yet, not to mention exciting day trips in the area like traveling from Dubrovnik to Kotor. Dubrovnik, we will be back for you–possibly as part of that extended Croatia road trip we keep dreaming about!
Some links in this post are affiliate links. If you click through one of these links, we may earn a small commission at no extra cost to you. We are committed to only ever recommending products and services that we personally use and like.