April 30, 2018
8 Exciting & Unusual Things to Do in Budapest
Hungary
Budapest is one of those cities that it is simply impossible to be bored in: hot or cold, sunny or rainy, there are always plenty of amazing and even unusual things to do in Budapest.
After two visits here, we still haven't even come close to knocking off everything on our must-see list, but we have found some favorite spots and offbeat adventures that are worth having around the city.
If you're researching what to do in Budapest, I'm assuming that you already know to climb Gellert Hill, check out Parliament, photograph Fisherman's Bastion, and try out one of the thermal baths (Gellert and Szechenyi are the Instagram favorites).
Hopefully after you've finished all that, you still have some time left. Wondering what to do in Budapest to get a little off the beaten path? Check these ideas out!
Exciting & Unusual Things to Do in Budapest
Get underground.
Budapest is built over a couple of incredible cave systems, and the best part is, some of them are open for tours!

You could opt for a standard walk around a beautiful cave with stalagmites and stalactites… or you could go the adventurous route.
Our adventure caving tour with Caving Under Budapest took us into the cave through the entrance of a what was once used as a war-time bomb shelter, where we descended underground and spent the next several hours squeezing through tiny crevices, climbing walls, and enjoying an incredible, naturally formed "playground" as our guide Kazer christened it.
At one point, he even had our group turn our headlights completely off, submerging us into the deep, awe-inspiring darkness that is only present underground. From there, we traveled from one room to the next, holding hands and totally and completely cut off from our eyesight.
It was amazing.
Jeremy and I have always adored adventure cave tours, and this one landed a place among our favorites (along with the ATM Cave in Belize and Cascade Caverns near San Antonio, TX).
When we finally emerged into the sunlight at the end of our tour, we were exhausted, starving, dirty, and completely unable to stop grinning.
Visit the Szabo Ervin Library.
When we walked into the incredibly gorgeous art deco rooms of this library, I had two thoughts: 1) I cannot believe this place isn't more well known, and 2) this is everything I dreamed of as a child.
Picture some of the rooms of Versailles, add books and random students who are studying, and that's more or less the level of opulence in this place–and as a result, I spent about half our time there having major Beauty and the Beast flashbacks.
For a mere 800 HUF (a little over $3.00 USD), you can enter the library through the pretty-but-not-so-remarkable lobby and ascend to the fourth floor, where the most beautiful wing of a library that I have ever seen is waiting to be discovered, and then savored.
Check out the For Sale pub.
Not as well known as the ever-popular ruin bars, I've wanted to visit this place ever since seeing a picture of it years ago: the For Sale pub is decorated by guest's artwork, receipts, pictures, and just about any other form of paper you can think of hanging from the ceiling. Add in a brick fireplace, worn wood floors with straw on them, and dark lighting, and you have the makings of a beautiful place to grab a drink or a bite to eat.
While the prices aren't the cheapest you'll find in Budapest (this is a bit of a tourist attraction, after all, and located right across from the famous Central Market Hall), we found them to be completely reasonable–and the portions so enormous that they actually warned people on their menu about them!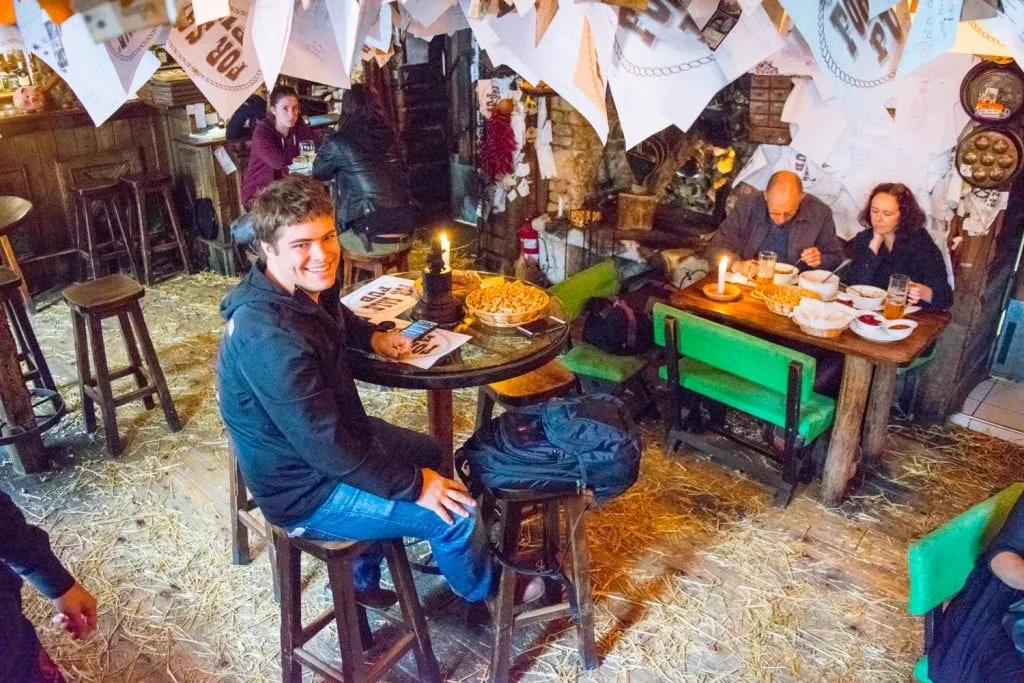 Ride the Budapest Eye.
While not nearly as well known as its namesake in London, the Budapest Eye gives you absolutely amazing views of the city.
Landmarks like Gellert Hill, St. Stephen's Basilica, Parliament, and the Danube are all clearly visible, and we loved getting a bird's eye view of the city (okay, loved minus me panicking a bit about being on a Ferris wheel–I've been scared of them since I was a kid–but Jeremy didn't have any reservations!).
At 2400 HUF (just under $10 USD/person) it's not the cheapest thing you'll do in Budapest, but the long ride of about 10-15 minutes and the views are definitely worth it.
Go see the Cave Church.
The Cave Church is exactly what it sounds like: a church built into a cave. It is quite an impressive site, and walking through the entrance to see the exposed rock walls towering over the gift shop definitely set the stage for a memorable visit!

The tour (600 HUF/$2.30 USD) is completed by an audio guide, so no need to wait for a group, and walks you through the fascinating history of this church–including when it was sealed off with a concrete wall for decades during the Soviet era.
We've been in many fascinating houses of worship while traveling, but the unusual location of this one definitely means we won't be forgetting it anytime soon!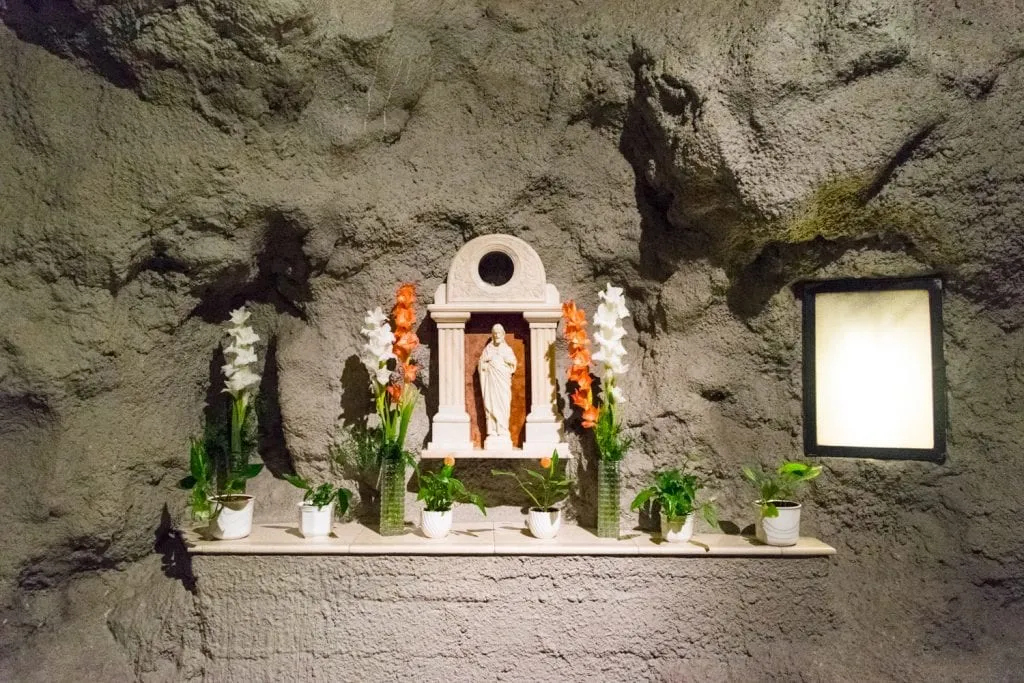 Don't check out these unusual things to do in Budapest without travel insurance! We use and recommend World Nomads for their affordability, ease of purchasing & the clarity of their contract!
Explore the Labyrinth of Buda Castle.
During our 2015 trip to Budapest, we were thrilled to stumble across this quirky labyrinth: famous for holding Vlad the Impaler (aka Count Dracula) for 14 years in the 15th century, this labyrinth is equal parts bizarre, hilarious, interesting, and creepy.
Wax mannequins are set up in places around the labyrinth (bizarre and hilarious), the history of the place is fascinating, and the section that they have set up to immerse you in complete darkness can be quite unnerving–especially when an Australian backpacker hears you acting a little nervous about it, and jumps out to terrify you in complete darkness–which is what happened to me!
Within 30 seconds, being scared by a random backpacker touring the labyrinth with us was a hilarious experience (and he was nice enough to snap a photo of Jeremy and I before moving on, where you can clearly see the manic energy in my eyes), but my heart jumped at the time!
If you look up the labyrinth online, you may come across some information stating that it closed in 2011. Don't be discouraged–the labyrinth is definitely still operating (new TripAdvisor reviews go up for it all the time). Tickets are 2500 HUF (about $9.50 USD) per person.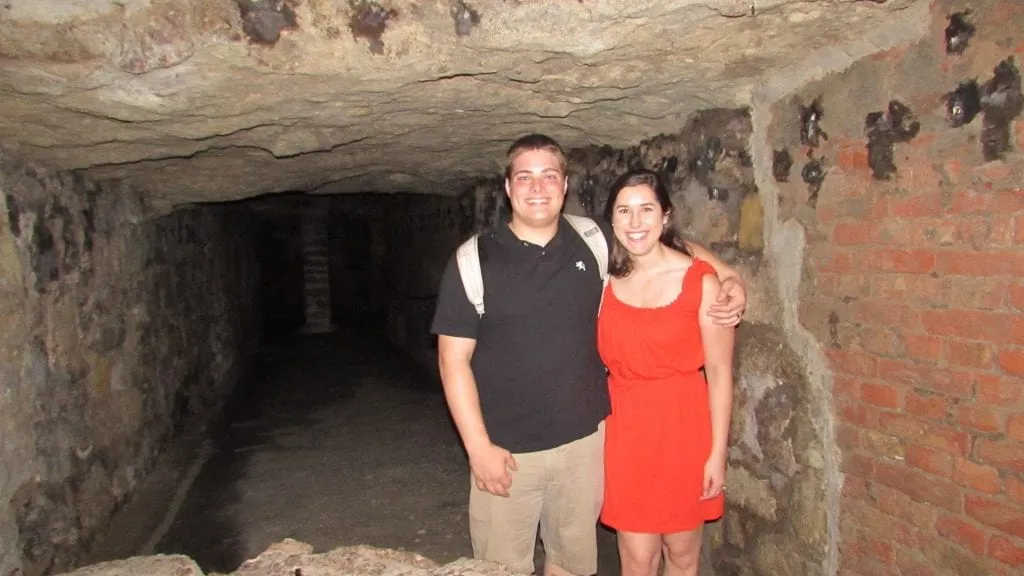 Try some coffee and cake at Central Cafe.
Somehow, the famous (and yes, opulent and gorgeous) New York Cafe claims all the spots on lists of things to do in Budapest, but Budapest's cafe culture extends well beyond that: throughout the late 19th and early 20th centuries, cafe culture ruled Budapest.
Central Cafe was the intellectual hotspot, playing host to Hungarian novelists, poets, and other writers of all kinds.
Now, Central Cafe is a gorgeous and elegant place to try traditional Hungarian cakes (I'm mildly obsessed with their Esterhazy cake), and sip a cappuccino or a glass of wine.
Central Cafe is well known in Budapest, so prices are a bit high here (we didn't choose to stick around for a meal at any point because of that), but they have nothing on places like the New York Cafe, where a cappuccino costs 6 Euros!
The inside of the cafe is divided into two halves, one for meals and one for drinks and dessert, so we never felt rushed or crowded during our time there–which was wonderful, because a leisurely experience is exactly what we want in a place like this.
In keeping with modern times, they even have amazing wifi–the essential tool of a whole new generation of writers.
Read Next: Eating Our Way Through Budapest with Taste Hungary
Take the Hidden Budapest Tour with Absolute Walking Tours.
We started our two weeks in Budapest this trip with an afternoon with Bogota, our amazing guide for our Hidden Budapest tour. The three of us, plus one Australian lady, made up the tour group, and the four of us traipsed around from neighborhood to neighborhood, learning all about under-the-radar things to do in Budapest along the way (along with some highlights!).
It was an incredibly invigorating afternoon, and included a great stop for a drink at Szimpla Kert, Budapest's biggest ruin bar, at the halfway mark–perfect timing, and it kept our feet from aching the way they can after long walking tours.
Bogota was wonderful about letting us lead the way, stopping to chat about anywhere we were interested in and providing amazing restaurant recommendations once she found out we were looking for places to eat.
Without her, we wouldn't have ended up at the beautiful Szabo Ervin Library, and we wouldn't be full of new, off-the-wall facts about Budapest–like the fact that the (still living!) inventor of the Rubik's Cube is Hungarian and that's why there's a giant piece of street art dedicated to the puzzle, or about the existence of the Two-Tailed Dog Party (a political party that started as a joke but is now actually morphing into discussing policy issues more substantial than street art).
Tours are a bit of a splurge at 40 Euros/person, but if you're looking for a great introduction to some of the more unusual things to do in Budapest in a way that has a personal touch, you can't beat it.
Read Next: The Ideal 3 Days in Budapest Itinerary for First Time Visitors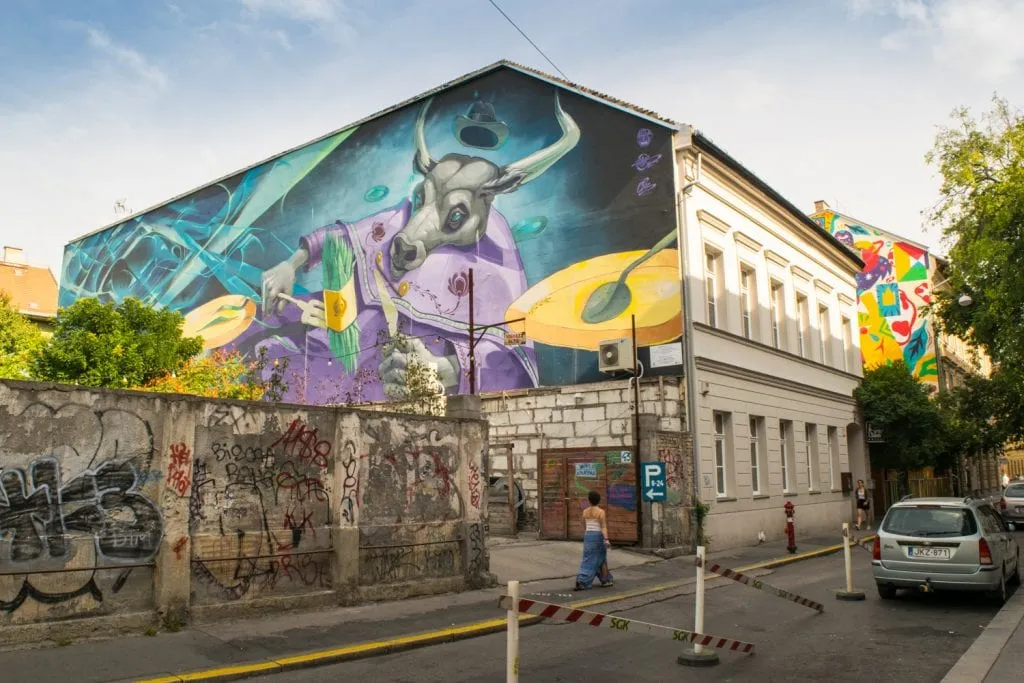 Budapest is, without a doubt, one of those places that we'll keep coming back to–not only for the highlights, the raw beauty, and the prices, but also because of all the incredible, off-the-wall, unusual things to do in Budapest.
Trying to decide which side of the river to stay on in Budapest? Check out our advice here: Buda or Pest: The Best Place to Stay in Budapest!

Where We Stayed in Budapest:

AEG Apartman in Budapest — We adore this apartment! The location is perfect (about a five minute walk from St. Stephen's Basilica, the Opera House, and a metro stop), and the apartment itself is beautiful and airy. The host, Gergley, was very kind and easy to work with. The next time we go to Budapest, we will immediately check and see if this apartment is available before considering any other lodging!

Never used Airbnb before? Sign up with our link to receive a discount on your first stay!

Though we stayed in an Airbnb for this trip, on a shorter trip to Budapest, we would likely stay in a hotel similar to these (midrange with good reviews, an excellent location, air conditioning, and wifi):

Jackquaters (9.0 rating on Booking.com) — Located right next to Vaci Utca and only 100 meters from the Danube, Jackquaters is the perfect location for anyone visiting Budapest. Budapest highlights like the Chain Bridge and Great Market Hall are within easy walking distance.

Feodorm Apartments (9.3 rating on Booking.com) — Perfect for the budget conscious traveler who wants to be close to the action, Feodorm is located a short walk from the Hungarian Parliament Building.

You can also get more ideas on where to stay in Budapest from Europe Up Close!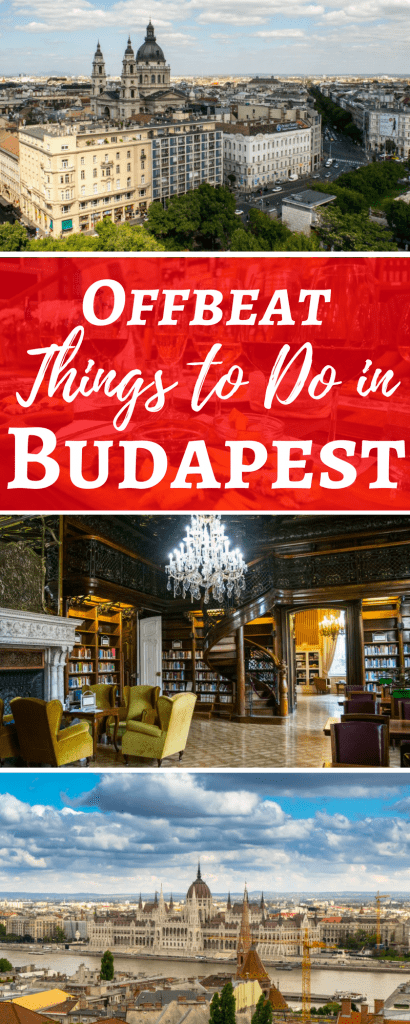 Many thanks to Caving Under Budapest and Absolute Walking Tours for hosting us on our adventures with them! All opinions are, as always, our own.

Some links in this post about unusual things to do in Budapest are affiliate links. If you click through one of these links, we may earn a small commission at no extra cost to you. We are committed to only ever recommending products and services that we personally use and like.

w